Here we share our guide to the best staircase wall painting ideas including wall color combinations and staircase wall paint colors.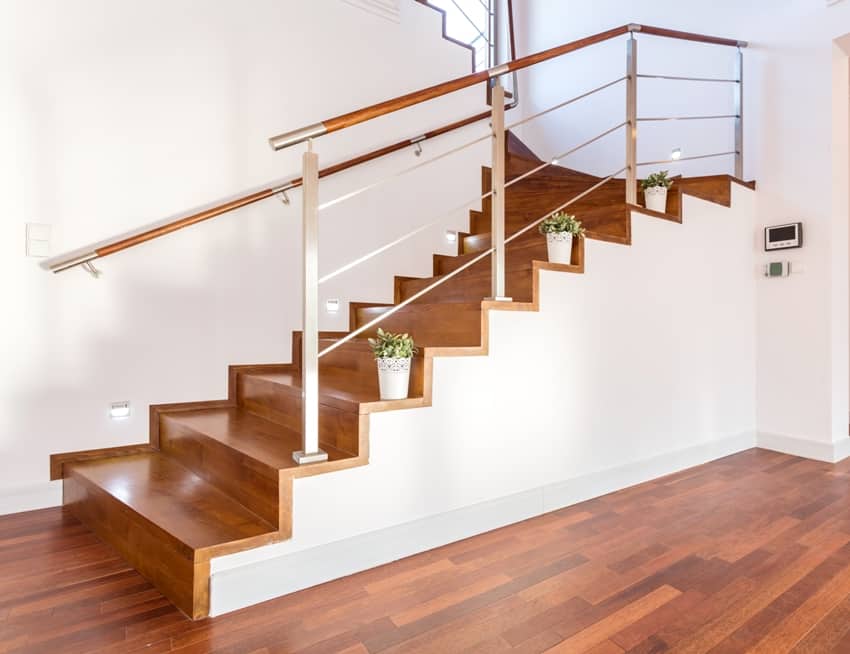 Let's say that you've finally decided to renovate or update your home. That's great news! You're probably all over the place and don't know where to start.
You probably have tons of ideas already for your bedrooms, for the kitchen, for the living room space, the dining room, the bathroom, and so on and so forth.
But remember that you might be neglecting an important piece of prime real estate in your design plans: the staircase.
Although the staircase probably comes last in the things that you are planning to renovate in the home, what you need to understand is the fact that it is one of the first things that any prospective home buyer usually checks out.
Go back to that time when you were house hunting and you were visiting one property after the other. Did you not explore the staircase front and center as soon as you found out there was one? Definitely.
Most homes are built in such a way wherein it's one of the very first things you see when you enter a home so it only makes sense for you to give it the necessary improvements to make the aesthetics of your home go to that next level.
No matter what your preference or budget might turn out to be, there's bound to be one out there that can be perfect for you and for your home's staircase space. One of the greatest things about this update in the home is that a few additions can make all the difference in the world.
You could go with the small stuff such as adding in a carpet runner or some hanging frames and other adornments but on the other hand, you can go big and rip out the existing wallpaper or paint over the old paint job. It really is all up to you.
Read on to see more staircase wall painting ideas and paint color options for your staircase update.
Paint Colors For Staircase Walls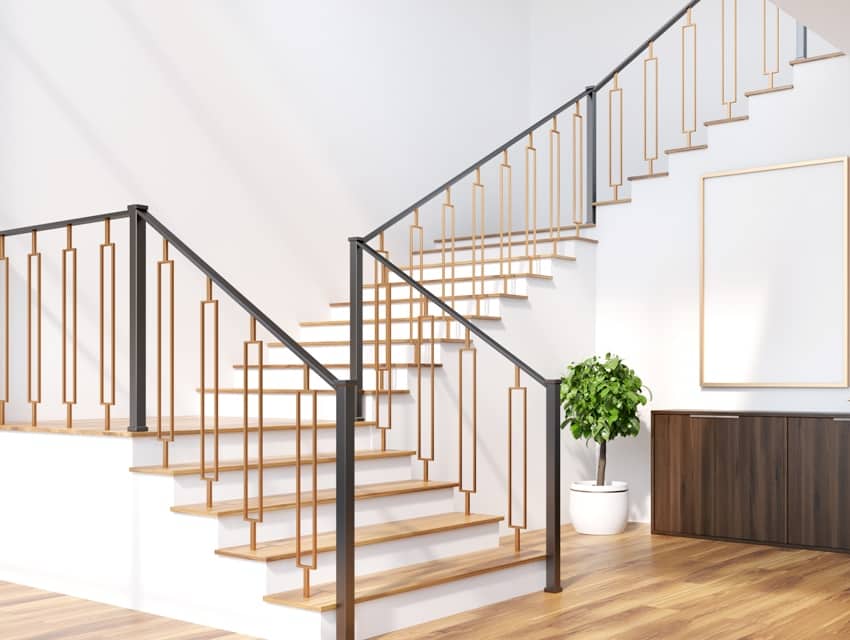 Allow us to just leave it right here. Nothing updates a staircase faster than a fresh coat of paint. If you want to see an upgrade that won't potentially burn right through your budget, then this should be the first thing on your list.
You need to understand that although there are a lot of paint color options available in the market, you should start with the fundamentals.
Make sure that you go for a paint that has a flooring grade formula. Keep in mind that the stairs go through a lot of wear and tear and regular paint just won't do it as it won't hold up well as the flooring grade ones.
You should add in extras if you're planning to paint the steps as well. Some anti-slip additives in the paint will drastically limit slips and accidents on the staircase once the upgrade is done.
Classic White
This is the perfect color if you want to create a clean, classic, and timeless look for your staircase wall painting ideas. It allows you to paint over the imperfections in the wood while at the same time make the staircase area look bright and airy and more spacious.
We suggest something that's true and classic to its core such as the Pure White SW 7005 for full and total coverage that keeps up with the times.
Two-toned
The right color combination is a small tweak that can create a huge impact in your staircase area. You can paint it in a color that's analogous to each other, or colors that sit right next to each other in the color wheel for a subtle textured vibe or you can go for extreme contrasts for that color-blocked look that's striking and modern.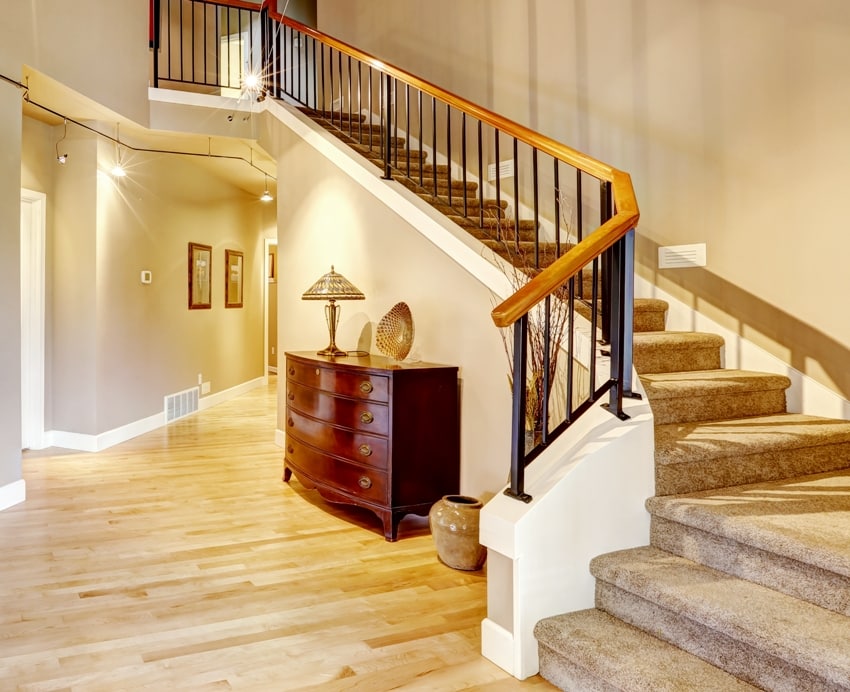 One of the most popular two-toned combinations is having Intellectual PPU18-19 for the lower part of the staircase wall and a much lighter and airier Polar Bear (75) on the upper part of the walls.
Emerald Green
If you want to go for staircase walls that pop out and make a statement, emerald green comes highly recommended. This creates a dramatic focal area for the stairs. It's unexpected and it questions the visual senses. Read more about colors that go with green here.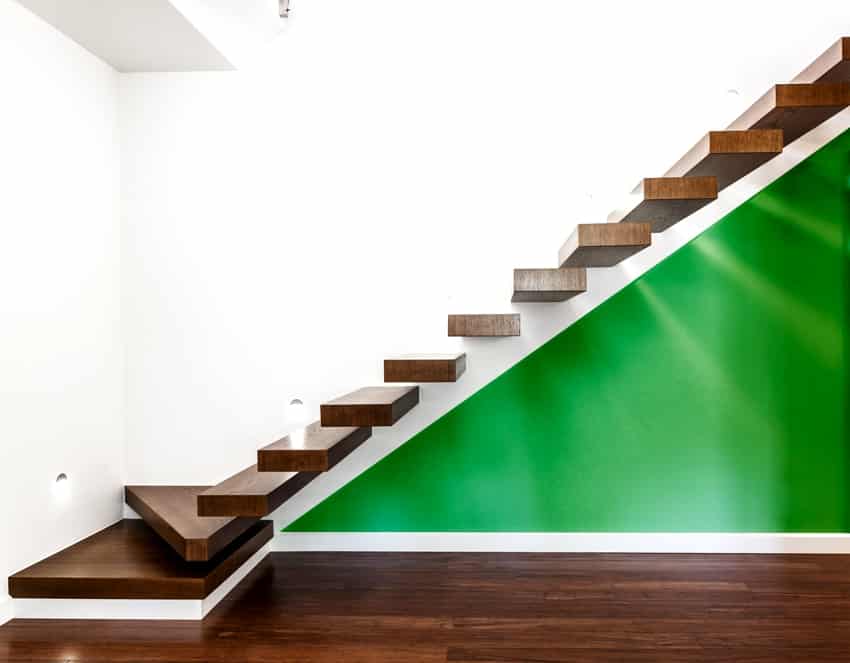 This color can inject life and energy into any space and the staircase walls can definitely come alive with this. You have all the freedom in the world to pick out your choice of green but something lush and rich like Frosted Emerald SW 9035 will really transform your staircase area with the first coat of paint.
Dark Gray
If you aren't the type who likes bright pops of colors and would instead want to go for something more moody for your staircase walls, dark gray is a great option.
It adds drama but it's also a dark neutral that allows you to add anything such as photographs and paintings and you're guaranteed that it will blend in well with it.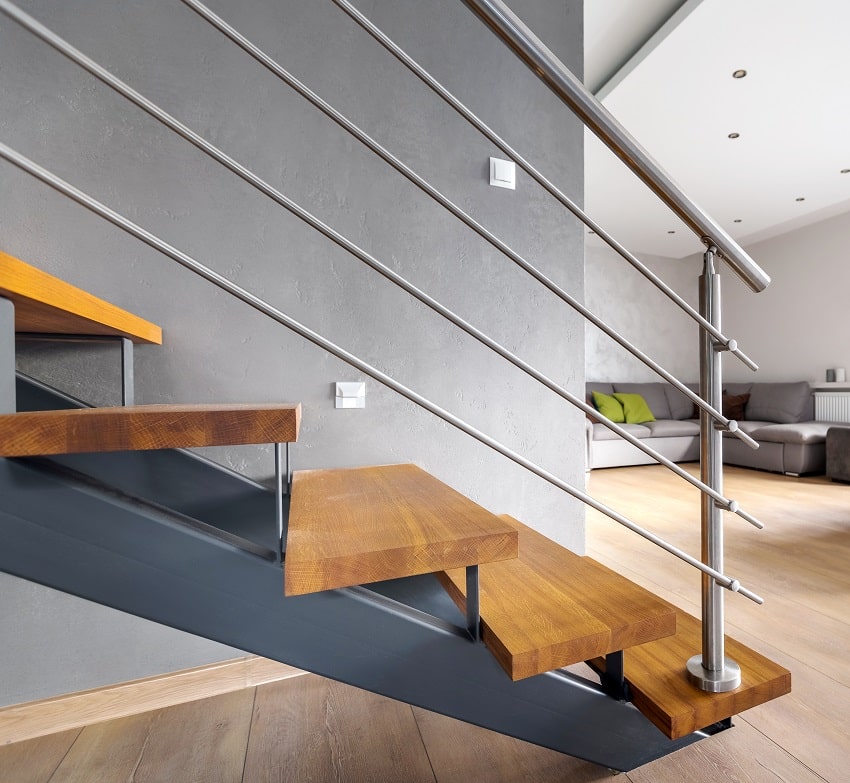 If your staircase area happens to get enough natural light, going for a dark gray such as Kendall Charcoal HC-166 can give you that sophistication you've always wanted for your walls. See more ideas on what color wood floor goes with gray walls.
Light Blue
This color is a great way to update the airiness and add in some personality into an otherwise cramped staircase area. It's light and airy and it opens up the space, which can be great because staircases in general don't really get a lot of natural light to begin with.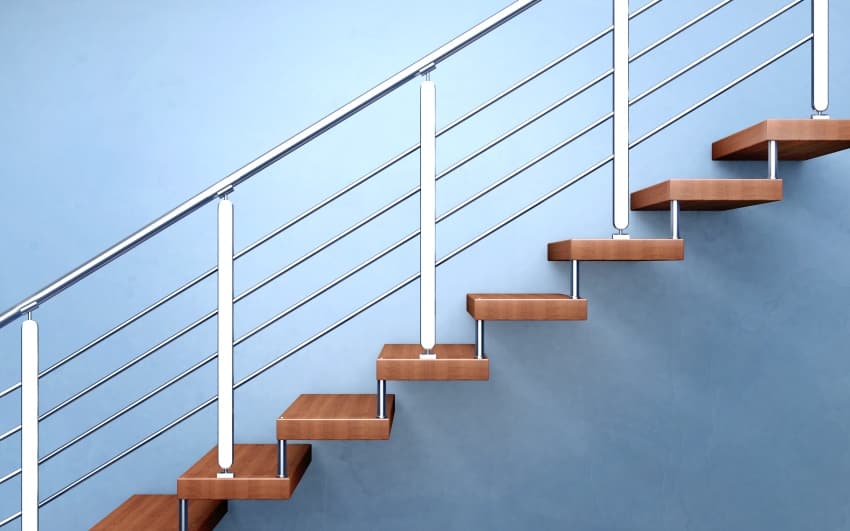 A great pop of color such as Ocean Air 2123-50 can deliver it with subtlety while at the same time make the space really sprawl open before your eyes.
Here are more staircase wall painting ideas to help you find the color that matches your personal sense of style.
Staircase Wall Color Combinations
Here we share different color combinations for staircase walls including a variety of tone tone designs.
Blue and White
This provides a coastal vibe to your stairway walls and makes it look lighter and airier. This breath of fresh air will provide a positive impact to an otherwise cramped space, as with how most staircase areas are.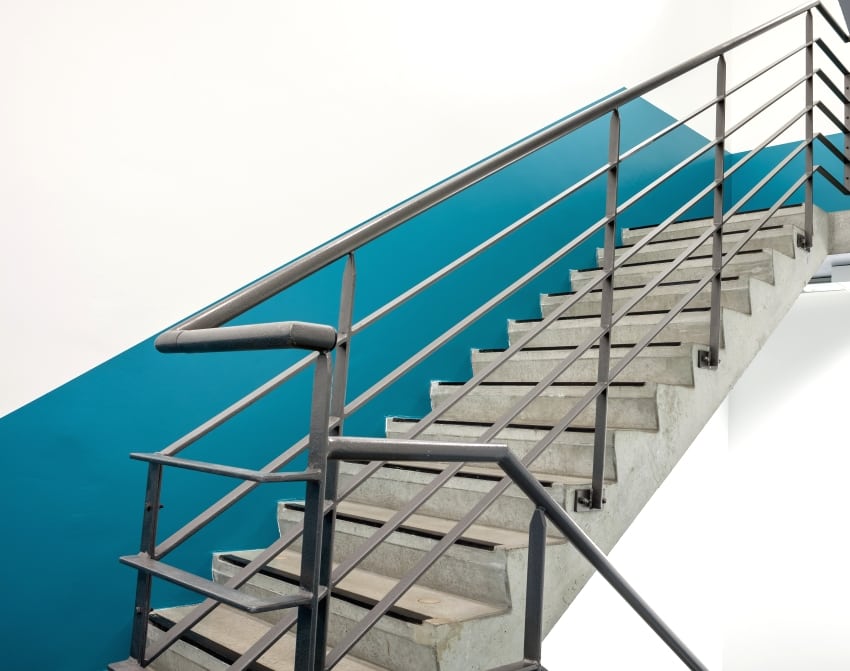 If you want to go for a paint color that does a little bit of both, try Best Bright Blue: Breath Of Fresh Air By Benjamin Moore. It's a breezy blue shade that has hints of white in it and is also something you can paint over anything you would easily want in white.
Yellow and Cream
They aren't the brightest colors out there but there's something charming about this clean, sunny look on your stairway walls. It gets a lot of wear and tear due to the foot traffic and some extra warmth and brightness in the walls certainly wouldn't hurt.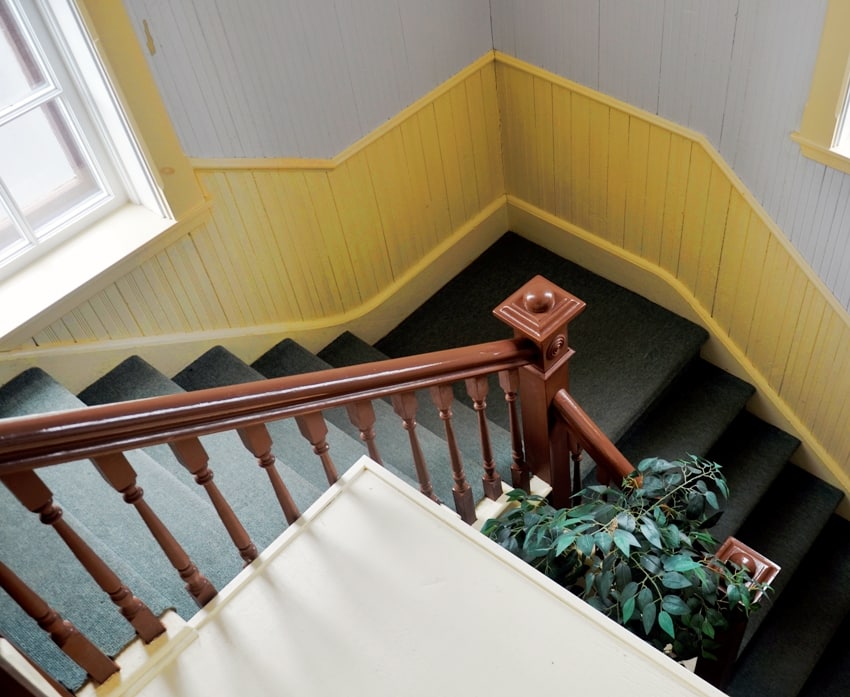 A yellow hue such as Buttercup 2154-30 will blend in well with the cool bluish undertones of a cream color like Swiss Coffee (OC-45).
Forest Green and Neutral Browns
This is a fresh look that mimics the vibe of a garden environment. Interiors can look stuffy at times and borrowing this vibe from the outdoors may turn out to be just the update you need for your staircase walls.
We suggest a rich combination of RV 60 09/Amazona Green and Skinny Latte by Valspar for this color concept.
Bold Orange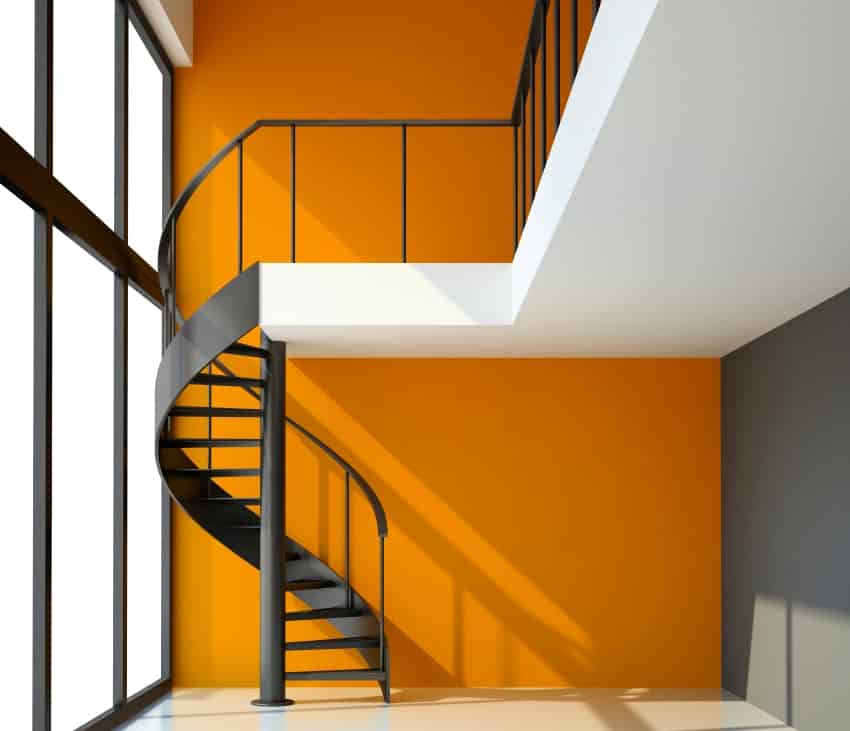 Small spaces and dark colors make you feel uncomfortable and with good reason and although this may be true for most colors, orange stands out from the rest of them because of its close correlation to yellow.
It has a warm undertone so it doesn't close the space up as much as the other dark colors do. Read more about colors that go with orange here.
More than that, it makes for an impressively striking staircase area that's bound to start conversations the moment people start walking into your home. A brazen orange like SW 6891 in Mandarin by Sherwin-Williams is definitely a paint shade to watch out for.
Best Paint Color For Stairway Walls
The best paint color for stairway walls is white since it helps lighten the space. However read to on see other popular colors that can add more personality to the space.
White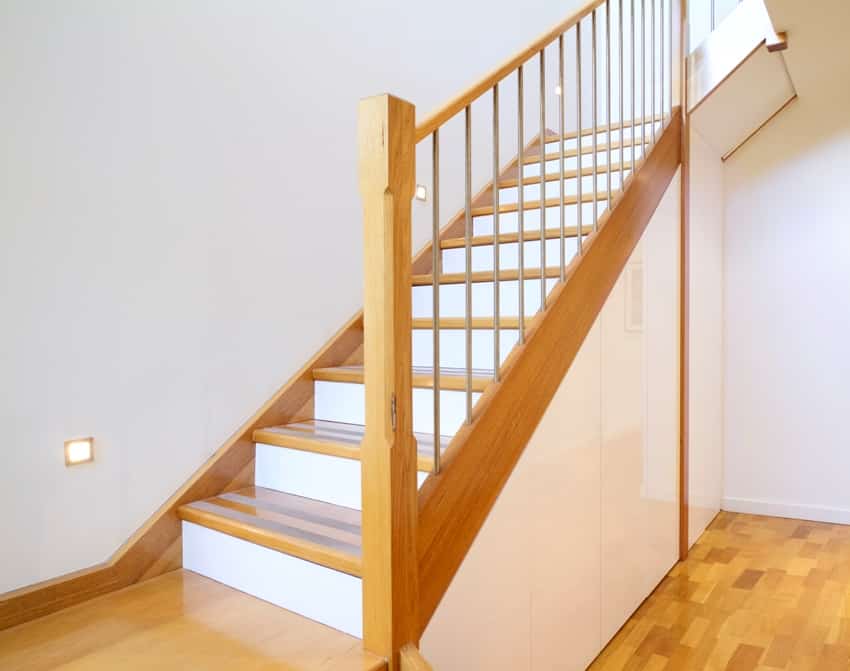 It's a no-brainer. White goes well with everything. It provides a blank canvas for artworks and pictures that you might want to hang up on your stairway walls and blends in with everything that you could possibly think of.
You can look into strong white such as Extra White (SW-7006) by Sherwin Williams or Simply White OC-117 from Benjamin Moore.
Gray Colors
It's classy and adds a calming effect to the staircase area. The lighter greys are perfect for ill-lit stairwells as they can counteract the fact that there isn't a lot of natural light coming into that part of the house.
Agreeable Gray SW 7029 from Sherwin Williams can turn out to be your perfect light shade of gray for the staircase.
Teal Colors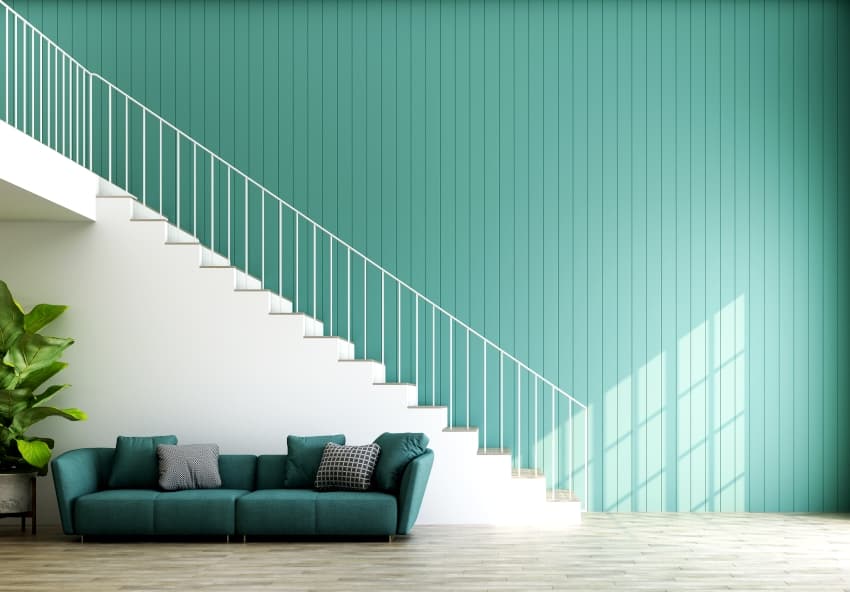 Teal looks great in any setting and in any room of the house and it will definitely make your stairwell pop out. Base your teal shade on the amount of light you are getting in your staircase area.
If you happen to get a lot of natural light, you can go for bolder shades of teal. If the area is a bit dark, you can go for the lighter ones so as not to weigh the space down.
We particularly fancy Wish You Were Here by Clark + Kensington. It has the perfect light shade of teal that doesn't weigh down on the staircase area.
Are there any of your favorite staircase wall painting ideas that we missed. Let us know your thoughts in the comments. For more like this visit the best living room paint colors page.