This gallery of Roman shade styles includes what they are, how they work, different types of Roman shades, materials, where to use them, and measurement tips.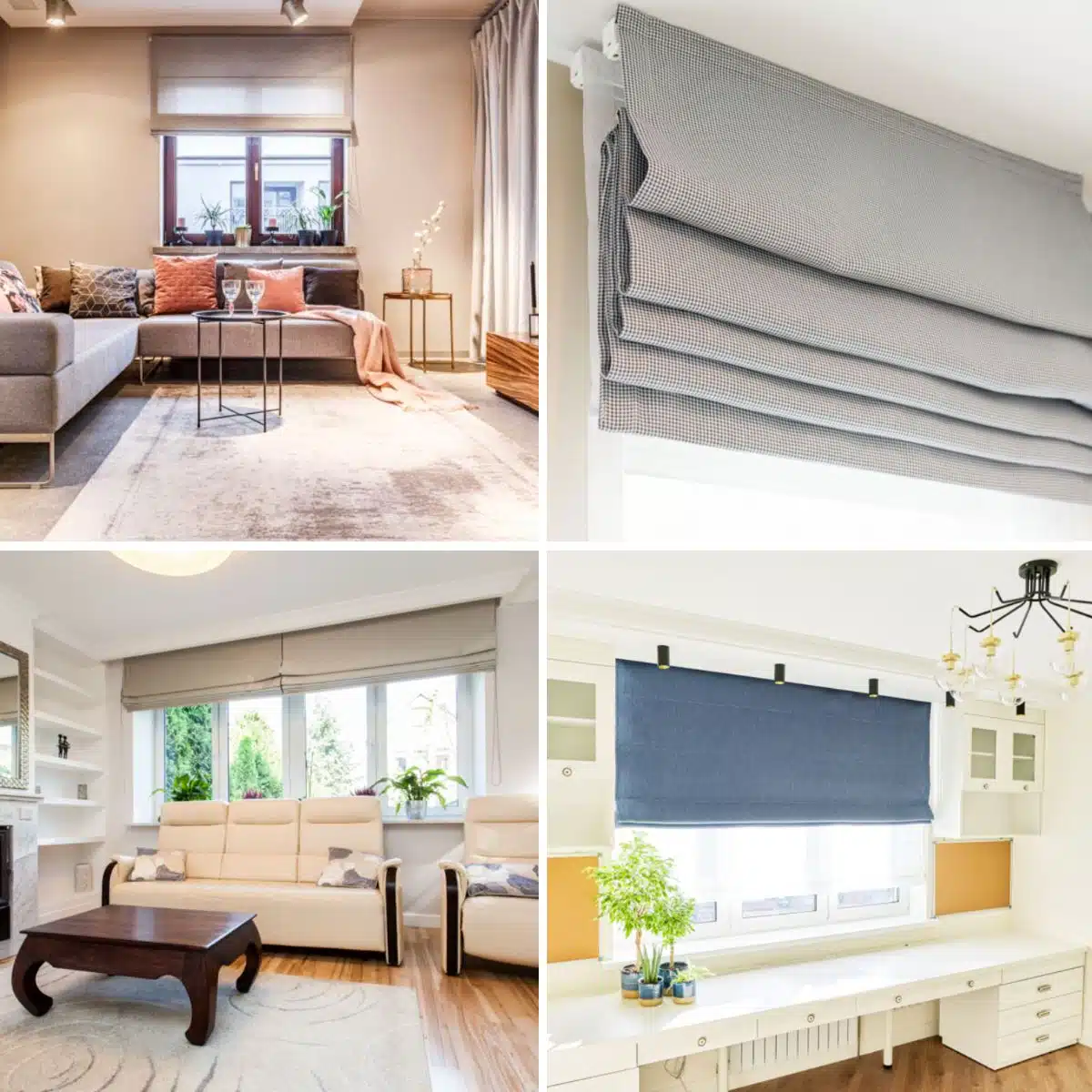 Elegant full-length drapes may bring grandeur and refinement to any space. However, oftentimes, a clean and minimalist look at the window is desirable, particularly if the space is a bit tight. Roman shades are a traditional décor standard recognized for the delicate, sophisticated sheen they add to any room.
Roman shades are cloth window treatments that can be raised and lowered using a rope system and grommets attached to the back of the fabric. The fabric piles uniformly in horizontal folds when raised.
A Roman shade will not only keep the sunlight out of your home's interiors, but it will also give luxury to the space. You can learn about the various Roman shade styles currently available.
Quicklook: Different Types of Roman Shades
• Blackout
• Cordless
• Custom Type
• Outside Mount
• Inside Mount
• Relaxed Type
• Shades for Doors
• Top Down Bottom Up
• Shades with Curtains
• Flat
• Shade Valance (Faux)
• Patterned
• Balloon
• Cellular
• Motorized
• Modern
• Magnetic
• Hobbled
• Waterfall
• London
• Light Filtering
• Insulated
• Rod Pocket
• Sheer
• Soft Fold
• Textured
What Are Roman Shades?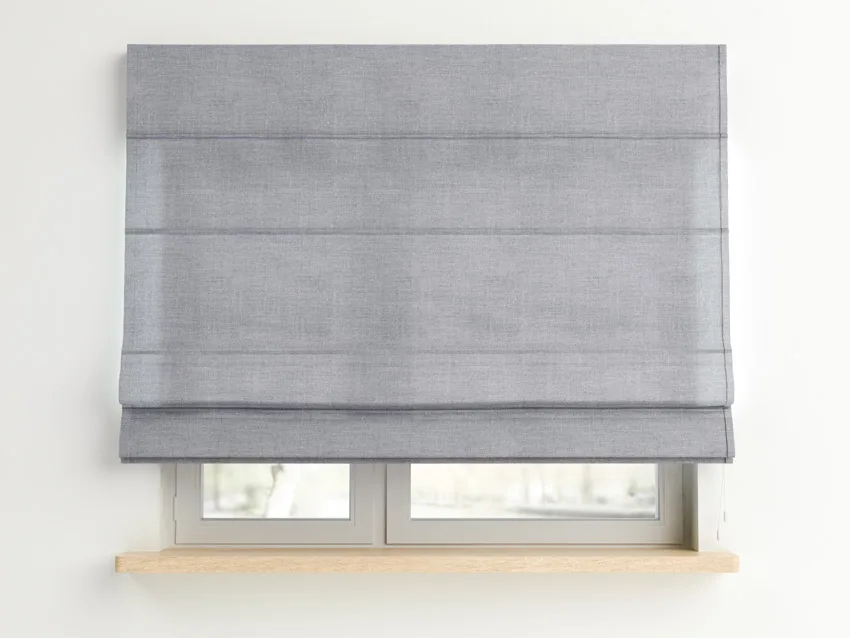 Roman shades are derived from the old Roman Empire styles. The Romans were extremely sophisticated as a civilization in all aspects of life. They had a long-lasting impact on the modern world, and many of their innovations are still being used today.
The Romans utilized removable canvas shades to protect the crowd and keep them cool under the Mediterranean sunlight when the Colosseum was still being used as a gladiator battleground. The configurable screens can be moved using a pulley and rope mechanism. Over the decades, this evolved into the advanced and retractable screens we see nowadays.
Roman shades are flat fabric shades that fold up from the bottom (or down from the top when specified that way) in an accordion fashion. They are similar to Austrian and pouf shades in that they are drawn up with cords strung through small plastic rings. – Window Treatments, Karla J. Nielson
Roman shades are simple and convenient-to-use types of window shades. The main function is to keep sunlight out of locations where it would otherwise enter. With their tremendous minimalism, they greatly contribute to the attractiveness of any space.
Because of the focus on refinement and minimalist aesthetics in the present day, they are very widely known. The shades' distinctive design enables them to stack up at the upper end of the window. This can be either seamless, folded, or pleated.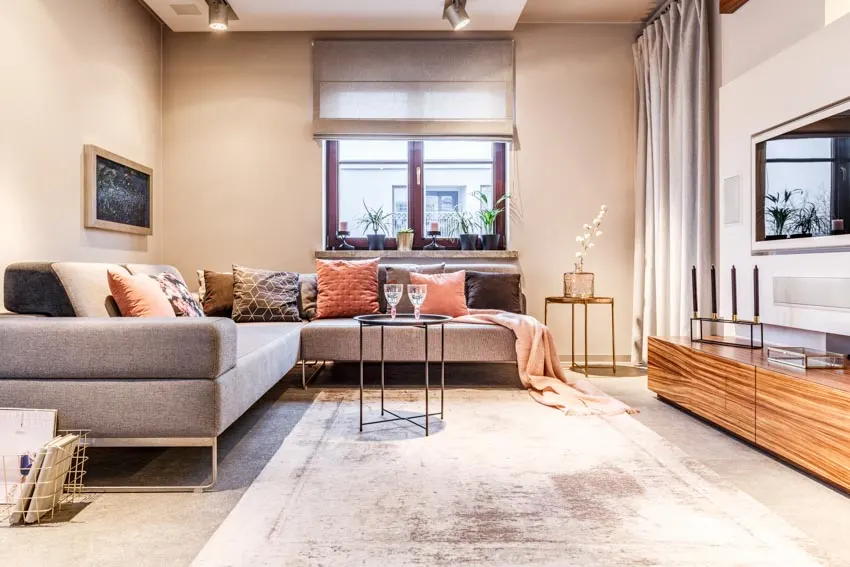 When Roman blinds are opened/stacked, sunlight can enter. They have a seamless and uniform appearance when closed. The shade's bottom part is engineered to stack properly. There are several horizontal cables at the backside of the Roman shades.
They are supported by strengthened rods that enable the user to modify the shade's height to their personal taste. This provides users a lot of command over the light in the space.
Furthermore, they include an exterior mounting that aids in blocking out sunlight and enhances the seclusion of the homeowner or user. It is often affixed to the outside of the window framing and is somewhat broader than the window. This hinders light from entering and gaps between the windows from forming.
How Do Roman Style Shades Work?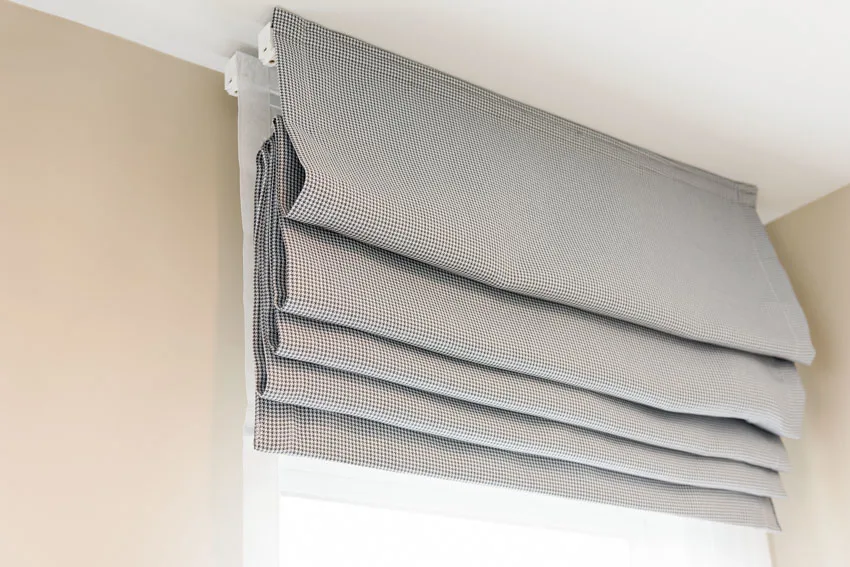 The Roman shade gently folds up as the string is pulled. While most Roman shade styles can be produced from a variety of materials and styles, their defining feature is that they fold as they rise, adding an appealing warmth to your décor.
As previously stated, Roman shades are quite simple to operate and utilize. With a simple pull of the associated cord or rope component, you can raise and lower the shades to permit the appropriate amount of lighting to illuminate or shade your space.
A narrow cording is strung through separately bonded rings located in parts of the shade fabric, allowing for pleats to be generated in the material as the cord is constantly pulled. This also allows the blind to shape and re-adjust in your selected window spot.
The cords or strings are also properly obscured to the side of your blinds, which means that small details like this are out of vision and will not detract from the overall appearance and feel of the environment you have established.
An even more fascinating aspect about roman shades and how they function is that they are excellent for insulating your window areas. Putting your shades in position helps to regulate the temperature in the space they are occupying, whether it is during the sweltering summertime or the icy cold winter seasons.
This functionality can be useful in your home by retaining heat whenever it is cold or maintaining a room's coolness when conditions outside are hot, and henceforth features like this might ultimately conserve your funds on air conditioning and other expenses.
Roman Shade Types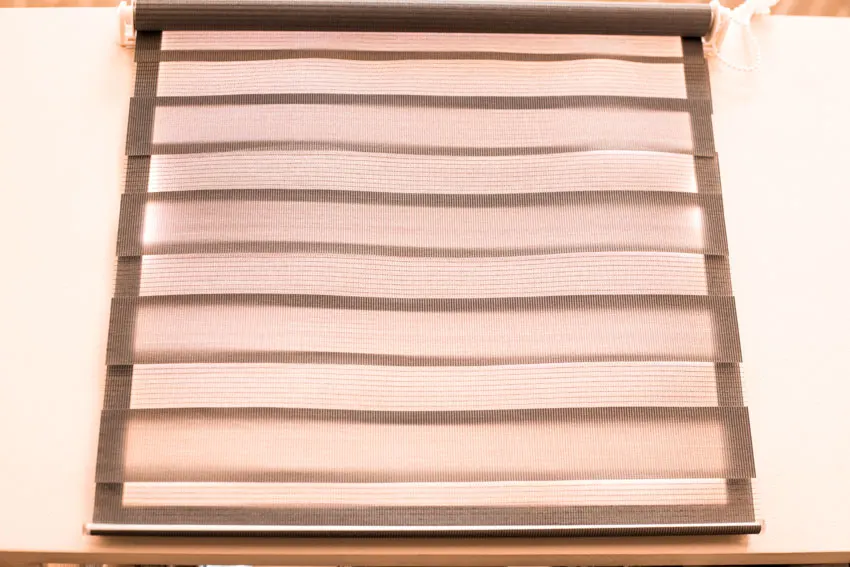 Here are some of the most popular Roman shade styles and features currently available.
Blackout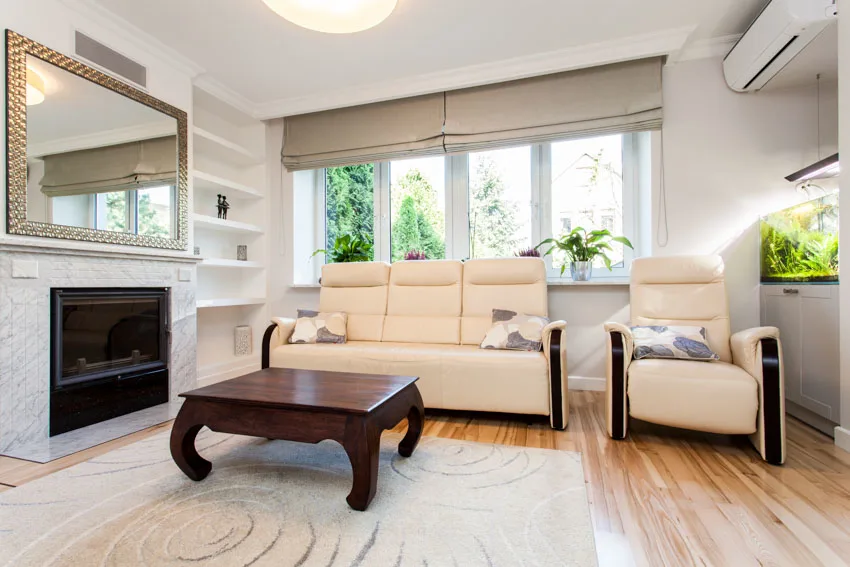 Blackout Roman shade styles consist of an opaque fabric intended to fully block out light. They are prevalent in hotel rooms, workplaces, and classrooms but also an excellent option for bedrooms and nursery rooms.
Although the terms are commonly used interchangeably, blackout Roman shades are not similar to room-darkening types of window blinds. Room-darkening blinds eliminate about 95% to 99% of the illumination that enters a room.
In contrast, blackout Roman styles can reduce the brightness by up to 100% in certain circumstances. They will not completely darken your environment but efficiently shade it at any moment of the day.
The majority of window treatments offer some form of light regulation and privacy. Blackout Roman shades, on the other hand, are particularly engineered to prevent all light from penetrating a room. Light exposure when sleeping has been shown in studies to significantly impact sleep quality.
Blackout shades are a major breakthrough for those who work the graveyard shift such as doctors, law enforcement officers, nurses, and firemen. They can also be used in nurseries to keep infants sleeping during naps and bedtime.
Even so, blackout Roman shades have not always been a common pick for window treatments, but some new models allow you to appreciate them more than ever before.
Cordless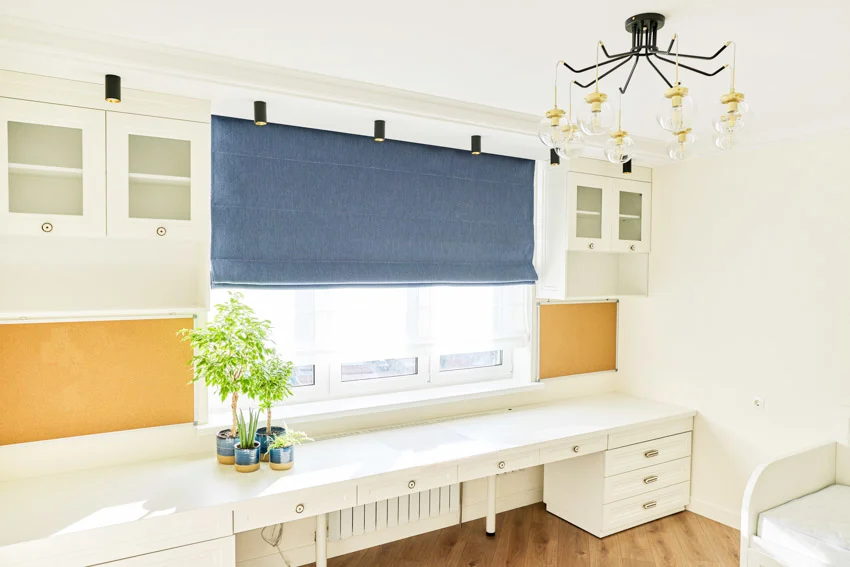 Cordless window shades are often built with slats to give semi-private window treatment. They filter light instead of completely blocking it, thus it has limited light control. Nonetheless, these shades give adequate seclusion in any room.
They do not have any cords to draw to lift them; instead, they have a string in the center that you drag to lift them. They might even have motors or magnetic mechanisms that allow you to lift or lower them. As they rise, they create folds.
Cordless raised Roman shade styles are an excellent choice for many windows, but the full window must be convenient to operate and within reach. Because there are no cords, installing cordless roman shades on taller windows may make it harder to fully raise the shade.
Custom Type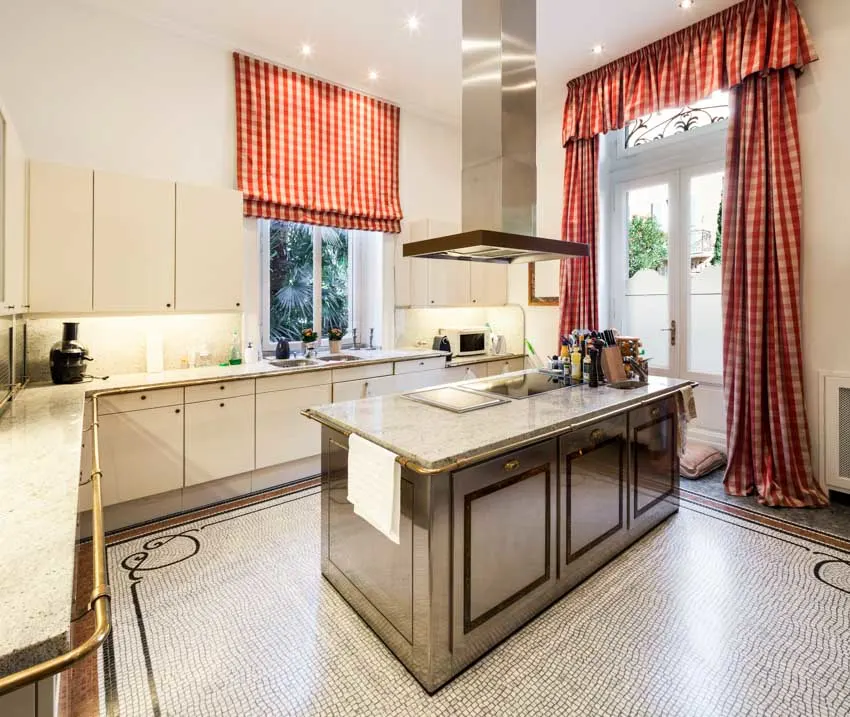 There is no need to be concerned if none of the other Roman shade styles are appropriate for you. You might look into the dozens of services that allow you to design your own customized Roman shades.
You can select the fabric and design you want and the level of lighting control, protection, and comfort you require. Searching for custom Roman shades is preferable instead of settling for off-the-shelf designs.
If you have a one-of-a-kind window size, you will be able to create Roman shades that fit the dimensions of the windows in your home. There are also many trims and tapes obtainable to give some vintage touch to your shades.
Outside Mount Shades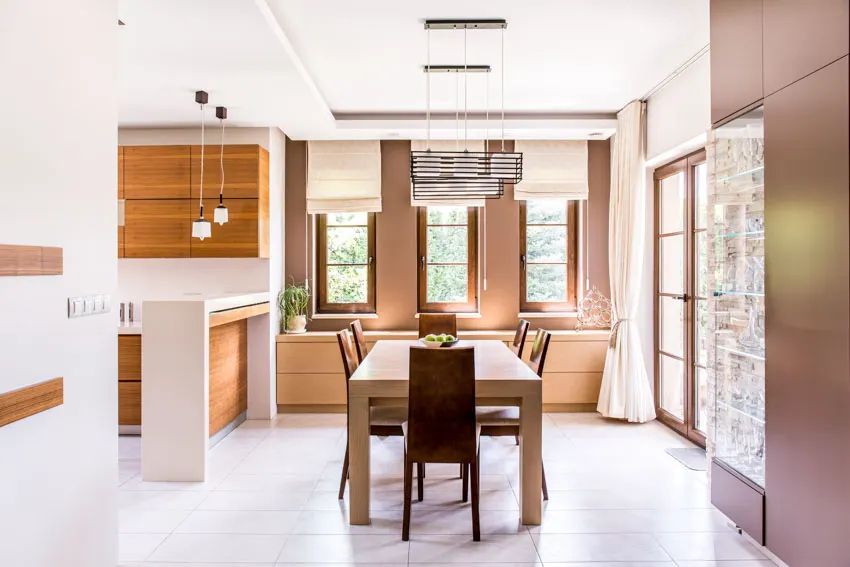 Outside-mount Roman shades can be installed in a variety of thicknesses and lengths above and beyond the window framing, contingent on the intended look. Outside-mount Roman shades have several advantages and can be used in a variety of settings.
One of the most significant benefits of an outside-mount shade is the ability to customize the width and height of the window treatment as well as where it sits on the wall. For instance, if you have small types of windows that are far from your ceiling, you may utilize an outside-mount shade placed high to produce the impression of a larger-sized window.
Moreover, outside-mount Roman shades are also great for hiding mismatched windows because you can purchase them of the same size and generate a sense of uniformity on your wall.
Light filtering can be a key functionality for window treatments in bedrooms, entertainment areas, and perhaps home offices. Outside-mount Roman shades give enhanced light-blocking along the window's edge.
In addition, for total darkness, blackout curtains should be layered over shades and a cornice added. However, if you want a shade-only look, you may select an outside-mount Roman shade for total window coverage.
Inside Mount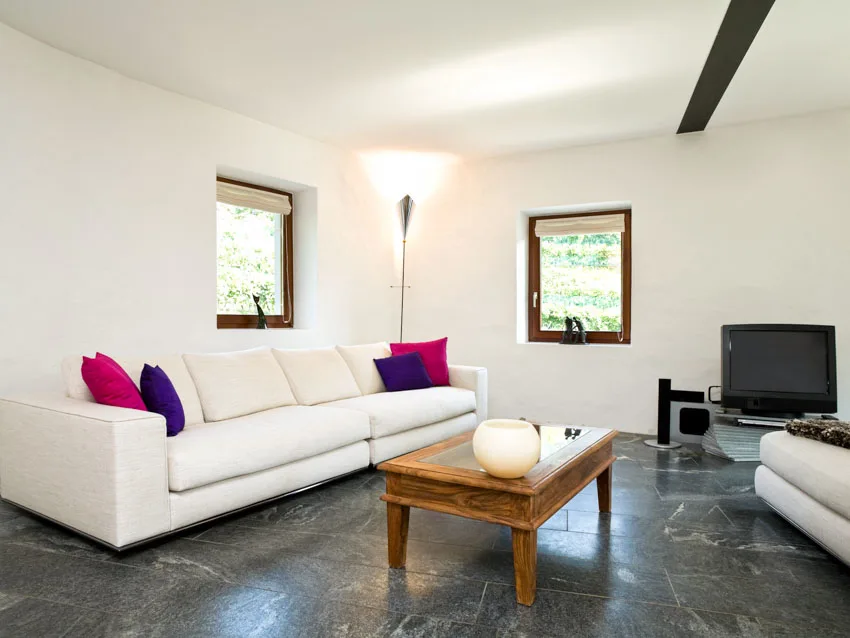 If your windows have enough depth and you want a clean, minimalist design, you can choose an inside mount for your Roman blinds. The outside mount will not function if the window trimming is very near to the ceiling.
In this case, inside-mount Roman Shades may work for this since they will fit nicely inside the window frame. They will perform well and appear lovely.
Inside-mount Roman shades complement the trim-work that forms a frame around the shade material. They have a clean, streamlined appearance. When layering curtains or drapery over inside-mount Roman shades, an inside-mount is preferred whenever practical.
This reduces the amount of light that enters the room through the integrated window treatments. Inside-mounted Roman shades are less susceptible to brushing and tangling as individuals pass by in tight locations.
However, even when fully extended, inside-mount Roman shades stack to the window's upper end, minimizing the visible window's area. Plastic or soft foam enclosures might not firmly support the anchor screws. An inside-mounted shade might be obstructed by overhanging window hardware.
Relaxed Type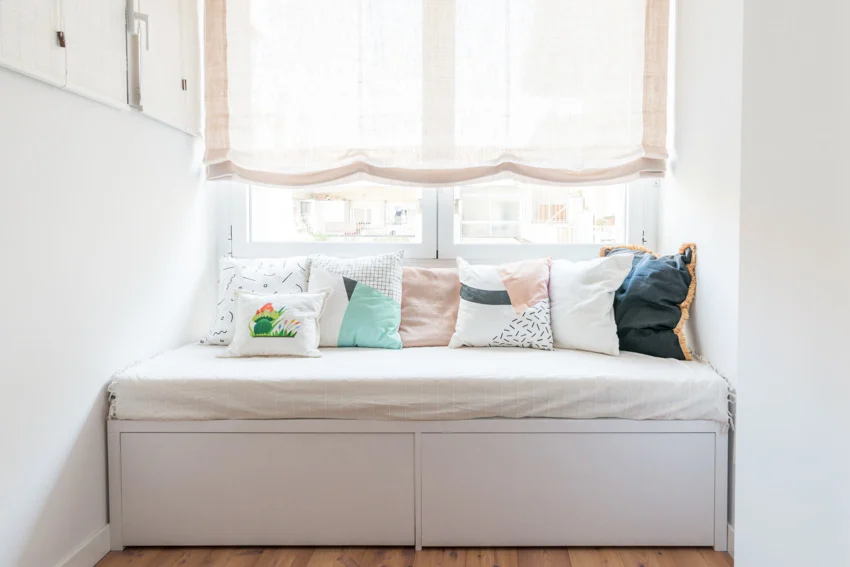 Relaxed Roman shades would be a terrific accent to your house if you wish to opt for an extra informal or stylish look. When you pull this Roman shade design up, the fabric pleats usually hang curved and wider in the center. With this style, the Roman shade resembles a "smiling" appearance.
Aside from that, relaxed Roman shades are typically utilized in less professional environments since they offer a more relaxed atmosphere. They are suitable for usage in the kitchen, playroom, bathroom, and bedroom. Because they have a soft feel, they are also suitable for use in baby spaces or nurseries.
Some individuals like to add matching cushions and throw pillows to their relaxing Roman shades, and it is all worthwhile for the softer ambiance that these relaxed Roman shades produce.
You may necessitate many scoops if you are selecting relaxed Roman blinds for a collection of windows or a bigger picture window. This will help make sure that the shades' appearance is preserved and that they keep on functioning effectively.
The unconstructed, laid-back Roman shades in space are often the finest feature of the room since they make it seem cozier. They also tend to highlight the fabric you have chosen, so be truly sure that it is something you truly like!
Shades for Doors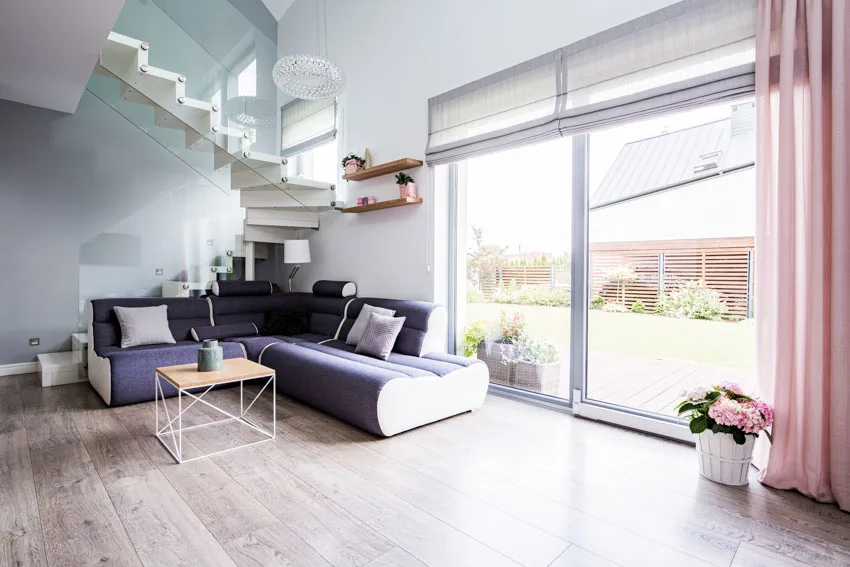 Roman shades, when correctly installed, can cover the whole width and length of your door's display frame pure and simple. When you purchase Roman shades, you can be certain that the window coverings can be custom cut to provide the ideal level of coverage.
You can also modify your Roman shades to create a greater privacy level if you have a glass front door or if it's too visible. Some Roman shade manufacturers provide privacy and blackout linings that can be applied to nearly any of your window treatments. However, they do not block door knobs, hinges, or bolt latches.
Another advantage of installing Roman shades on your doors is their adaptability. Depending on the general design style of your home, you may prefer a fitted flat Roman shade or a relaxed shade with a little more personality. Whether pulled up or dragged down on your doors, these Roman shade styles will look clean, sleek, and classy.
Top Down Bottom Up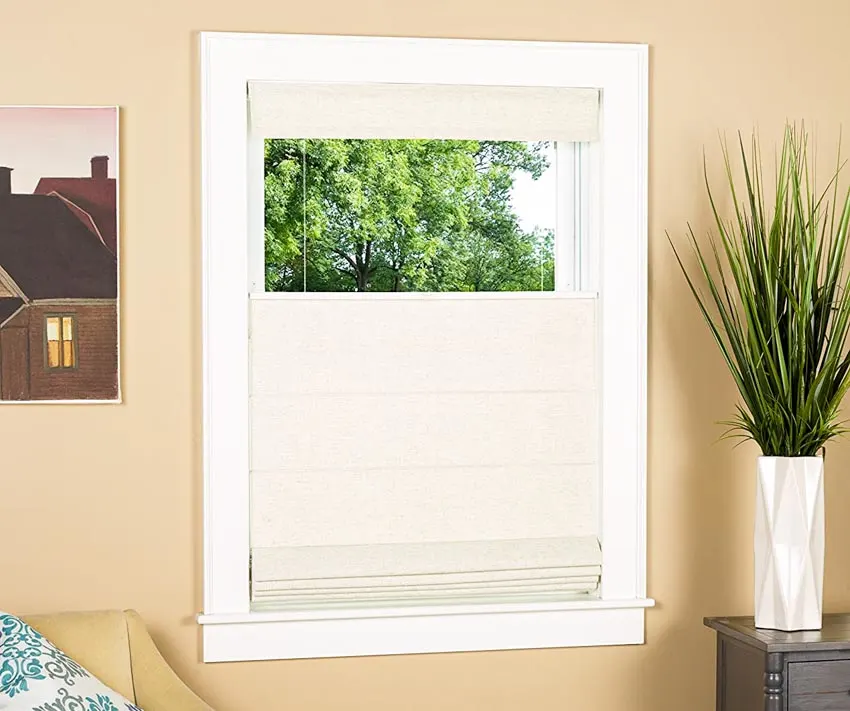 See this top down bottom up roman shade set at Amazon [sponsored link]
Top-down bottom-up Roman shades are becoming increasingly popular. Top-down blinds can be lifted from the bottom or dropped from the upper part.
As a result, they are a perfect and versatile solution that offers the user a variety of lighting settings. They allow you to have some seclusion without fully darkening the room. You will also be able to look outside without needing to completely open the blinds if desired.
The fabric material is often utilized as a decorative element. Other shades obscure the patterns and colors when they are completely closed or lifted. Top-down blinds allow homeowners to appreciate the colors and patterns of the materials while also providing a glimpse of the outdoors.
Shades with Curtains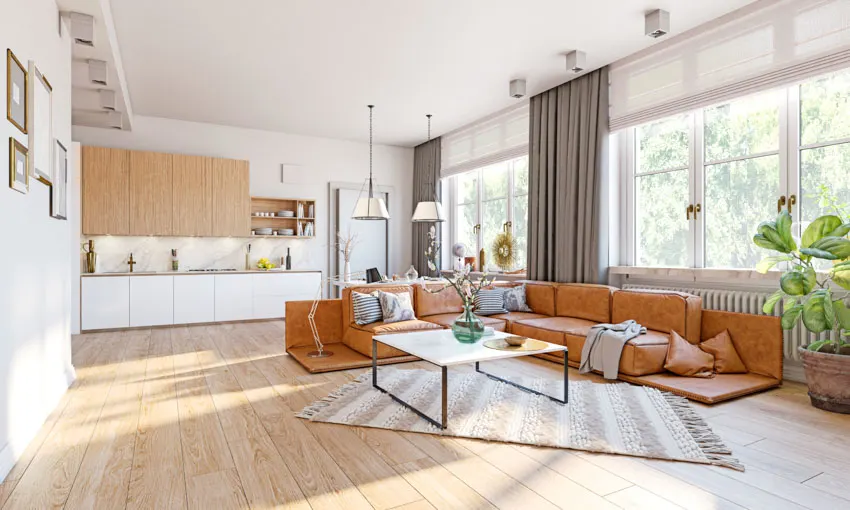 If you want to add a hint of luxury or artistry to your space, you can consider adding some soft-looking types of curtains to your windows. Roman shades complement curtains since they come in various styles and designs.
Numerous individuals like smooth, silky fabrics or the light-screening forms of Roman shades, but they might limit privacy and lighting levels.
Curtains can give an additional layer of insulation as well as room-darkening capabilities. This also implies you can experiment with more ornamental Roman shades, including balloon shades.
Flat

Flat Roman shades are the most widely used form of Roman shade due to their minimalism and gracefulness. They offer a low-key yet traditional style to the area and are available in a variety of textures and colors.
When you completely extend flat fold Roman blinds, the folds stack atop of each other, resembling an accordion. Every fold is sleek and precise, giving the entire window a simple, fitted appearance.
Aside from that, flat Roman shades are well-known for their fold recall, which is fast and easy to adapt. If you want to spruce up the space, they frequently come in bold and large patterns.
Various huge fabric designs can also be used to appear focused on each shade. This guarantees that they appear consistent across various windows.
If you use a softer fabric, it will add depth to the layout by making it appear more multilayered. When open, flat shades rest level against the window. Numerous people enjoy the flat shade's minimalistic and exquisite appearance.
The slender contour of the flat shades will look wonderful if you have French doors or narrow windows. The additional fabric also offers excellent light management, but it depends on how much you would want it to be pulled.
It is critical to include them in places where the blinds may be designed in the upright position, as they may not raise completely if they are obstructed by the design of such shades. They are, nevertheless, simple to use and do not require any styling.
Shade Valance (Faux)

A Roman shade valance is just a static valance that has been designed to resemble a Roman shade. Its length is not able to be adjusted as frequently as a shade, nor can it be dragged up or down. It is also known as an imitation Roman shade or a Roman shade valance.
Patterned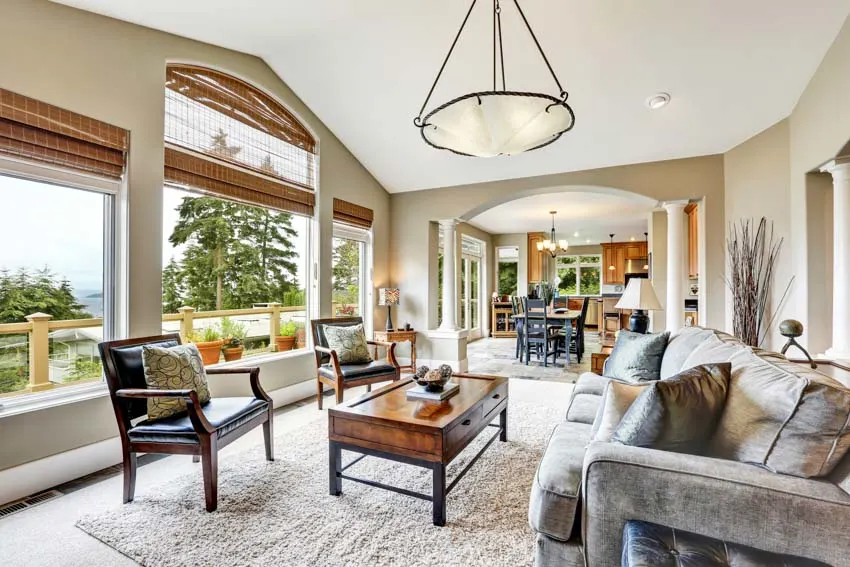 Patterned Roman types of window shades have unique motifs embroidered into the fabric at consistent intervals. They occur on the front part of the shades, giving them a unique appearance.
This appearance is ideal for patterns and stripes since they will not interfere with the pattern. Such designs provide a softer, fitted appearance that creates pronounced folds when the blinds are raised. These are available in a variety of textures and patterns, as well as color combinations.
Moreover, patterned Roman shade styles are classic and unrivaled in the shade industry. There is so much variation in their styles and looks that you will undoubtedly find one that is appropriate for your home. These Roman shades are ideal for anybody, regardless of their preferences or interests.
Balloon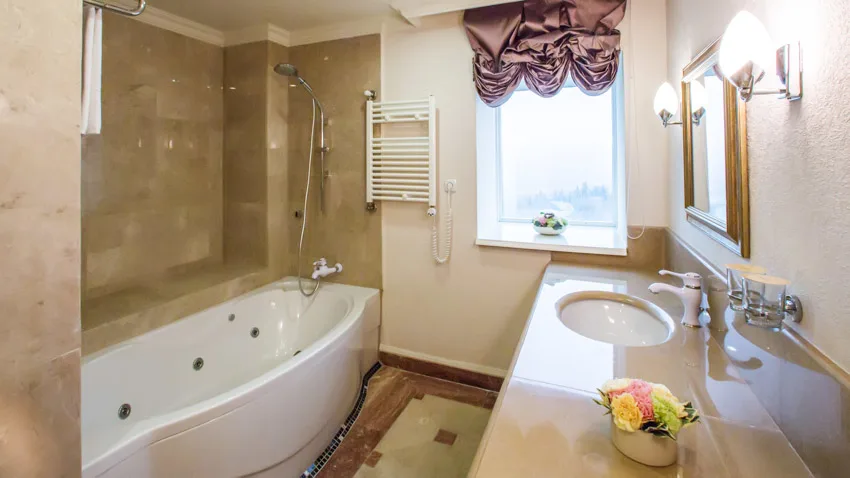 Balloon Roman shades are available in formal and informal forms, making them ideal for use in various settings. This style is ideal for places that require more of an aesthetic accent than a functional purpose. This is because they require a lot of adornment, which might be difficult if you drop or lift them frequently.
Aside from that, Roman balloon shades offer a larger appearance, which can be pleasant if dressed up. Softer fabric materials are also ideal for this appearance because they appear more multilayered and are easier to style.
Such eye-catching window treatments are made of a lot of cloth. This fabric peeks out when the shade is closed and delicately pleats when pulled up.
Cellular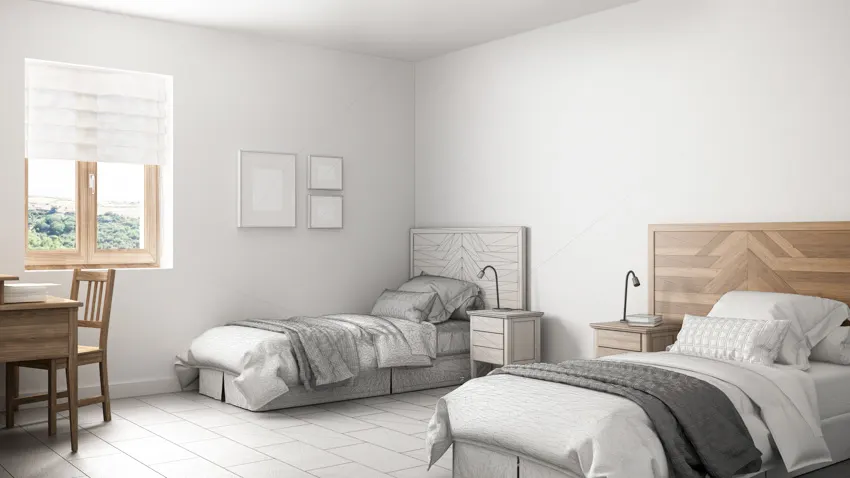 Indeed, cellular Roman shades offer a simple and minimalistic style that works well in a variety of settings. They are ideal for casual spaces where window coverings are used daily.
The straightforward design will help give the area a relaxed and comfy vibe. You may also use them in formal settings to give a splash of color without drawing too much attention.
The contoured design of the cellular Roman blinds is also energy-efficient since it keeps the room from getting too hot or cold. You may also choose blackout or thermal options that are incredibly energy-efficient.
Motorized
You may use a remote control to lift and drop your Roman shades with motorized window treatments. You can select between a battery-powered portable remote or a wall-mounted control.
Multiple roman style motorized blinds can be controlled by a single remote control. This Roman shade type is ideal for difficult-to-reach windows or for child protection.
Modern Design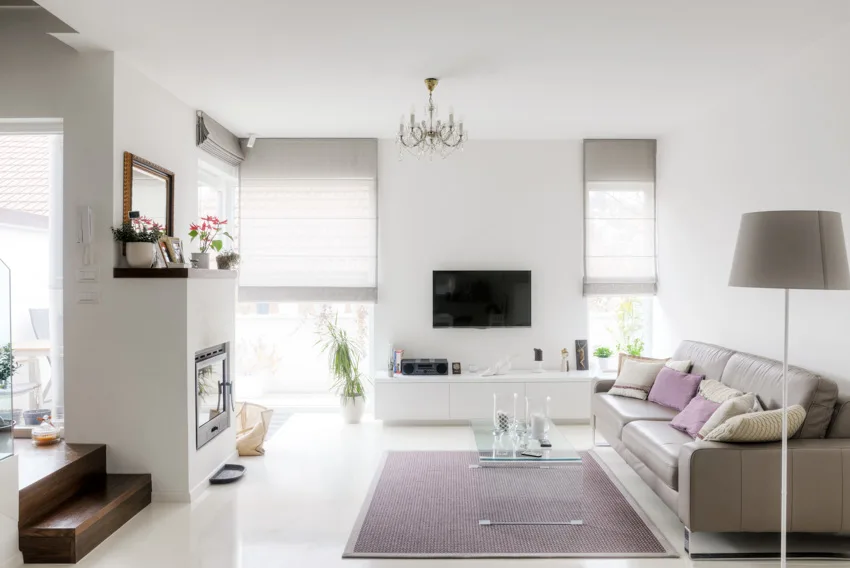 Modern-design Roman shades elevate this appearance to a completely new level. Modern Roman shades are available in stacking and rolling configurations. Rolling versions have no unsightly internal lift wires and have a fabric meant to roll entirely to exceed the headrail. This implies that you will have a clear view over the window.
This stacking form of Roman shade has no visible cords, making it suitable for pets and youngsters. This also produces an unobstructed, clean appearance on the front and back. You will be able to acquire them in practically any fabric you want.
Furthermore, they are created to be eye-catching, with precise tailoring, rich fabrics, and sparkly embellishments. This allows you to make them appear as artistic as you desire, adding a more modern touch to the conventional Roman shade style. Numerous individuals love the streamlined style when they wish to bring a more trendy touch to their living spaces.
Magnetic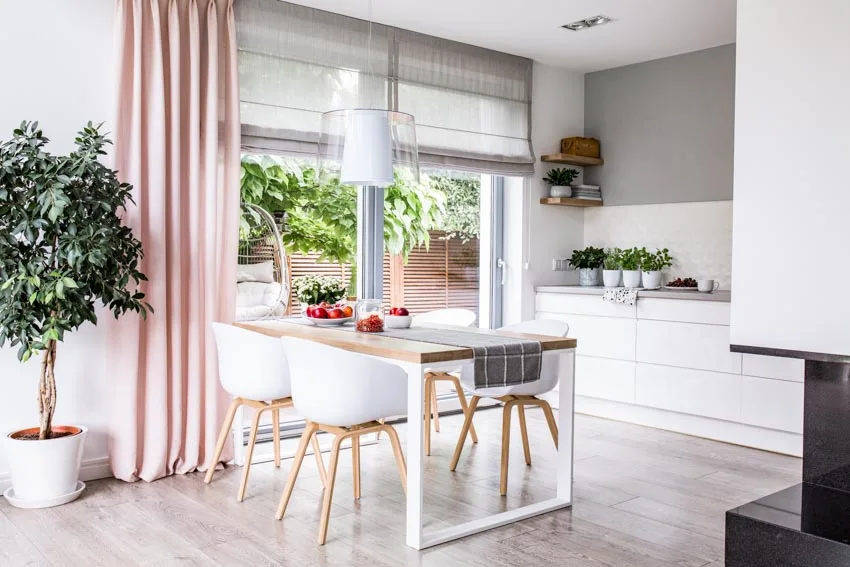 Magnetic Roman shades are modern, fashionable, secure, and functional. To use, you can raise the shade to one of many preset heights, and the effective magnets will effortlessly snap to the appropriate height.
They are a contemporary take on a classic design, making them ideal for taking any room to the next dimension, whether it is a discrete workspace, kitchen, bedroom, or family room.
Due to their cordless design, these are also ideal for lounge rooms, nurseries, kitchens, bedrooms, and game rooms. They come in a range of fabrics and are likely to complement and compliment the design of any room.
The installation is simple and takes only a few minutes because it is designed considering the consumer. The shade may be mounted indoors and outside with all hardware provided.
Hobbled

Hobbled Roman shades are a distinctive style that will appear great on your windows. They feature folds that resemble waterfalls and are quite silky. The fabric gently piles up at the bottom as you lift this type of Roman shade.
These precise folds at the bottom create a clean customized style that works well in both formally and informally designed settings. The folds and pleats flow down the shade, creating depth that can be difficult to recreate with flat shades.
The shades' sewn style provides a flat finish that blends well with plain colors or tiny patterns. Using the proper design in the right environment will offer the room an enticing aesthetic that is unlike any other type of window treatment.
The fabric threads in the shades are visible even when the shades are entirely lowered or elevated. This delicate ruffle appearance is great for those who wish to appear big or thick. They are ideal for larger or various windows. Hobbled Roman shades contain supplementary cloth that inhibits heat and light.
Waterfall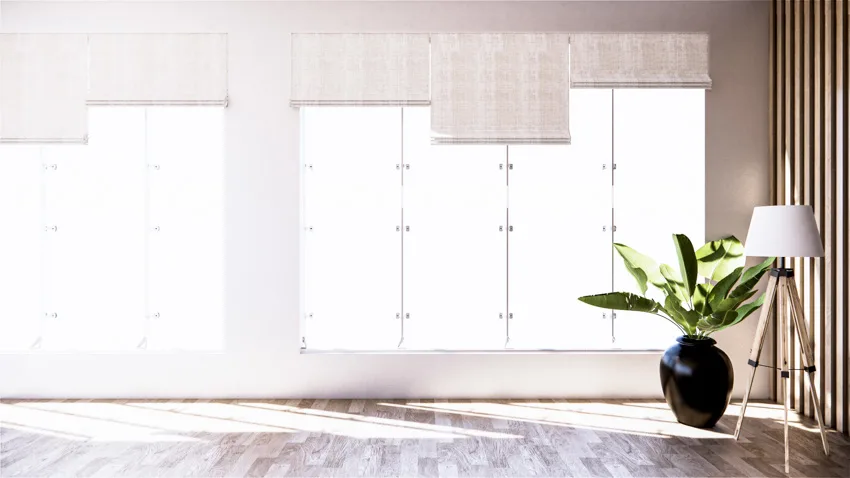 Like the hobbled style, this shade design has delicate, cascading folds that produce a lovely movement when lifted and lowered. Waterfall Roman shades stack perfectly and offer elegant complexity to your house, gently adding a touch of luxury.
London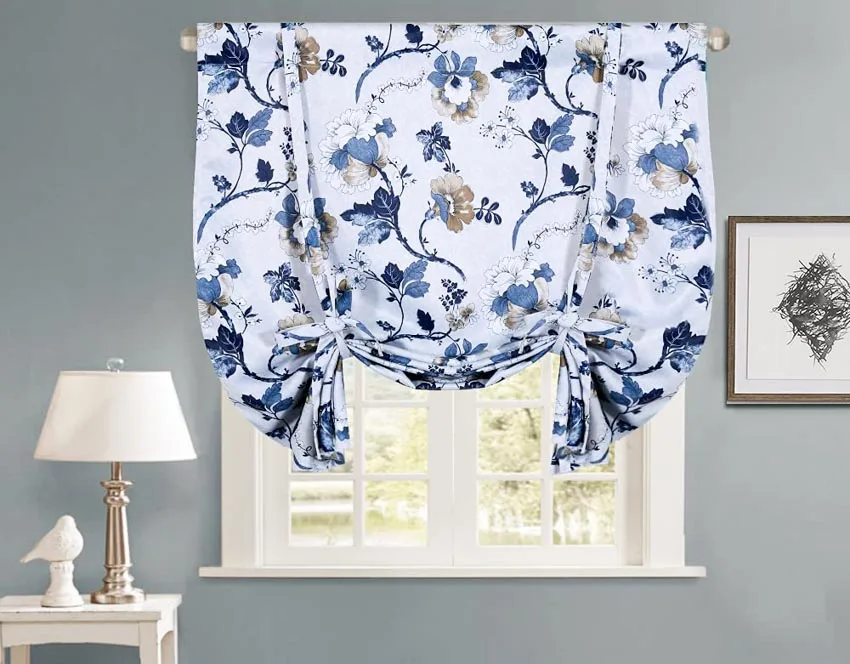 See this London Roman shade set at Amazon [sponsored link]
London Roman shades have tails on each side and a relaxed center. The two folds are informal, like a relaxed shade, but they also bring a quirky touch to the area. They are ideal for informal places such as bathrooms, kitchens, as well as bedrooms.
Light Filtering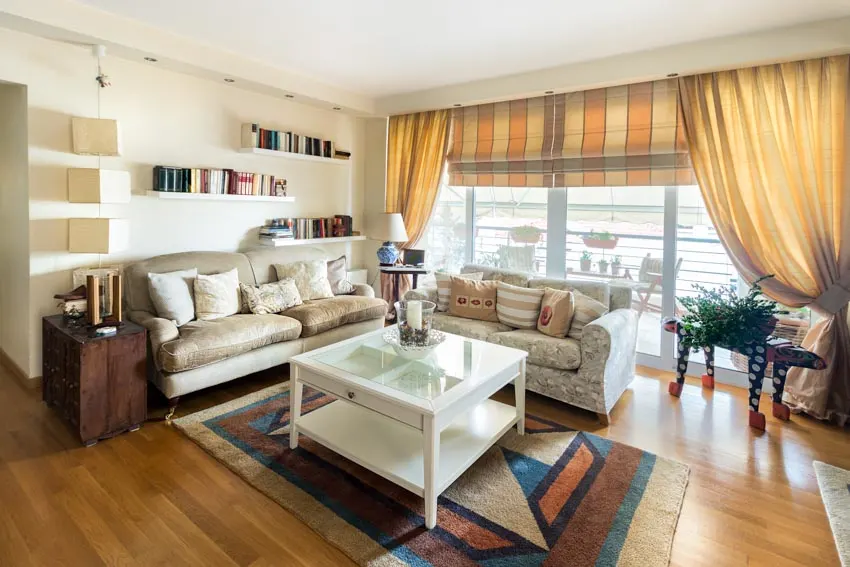 Light-filtering shades Roman provide the seclusion you would want from a shade during the daytime. They permit natural lighting to enter while keeping watchful eyes out.
Light-filtering Roman shades are often made of sheer or slightly opaque fabric materials. These textiles will let in just the proper light output to keep a space looking pleasant and bright, even when the shades are totally closed.
Insulated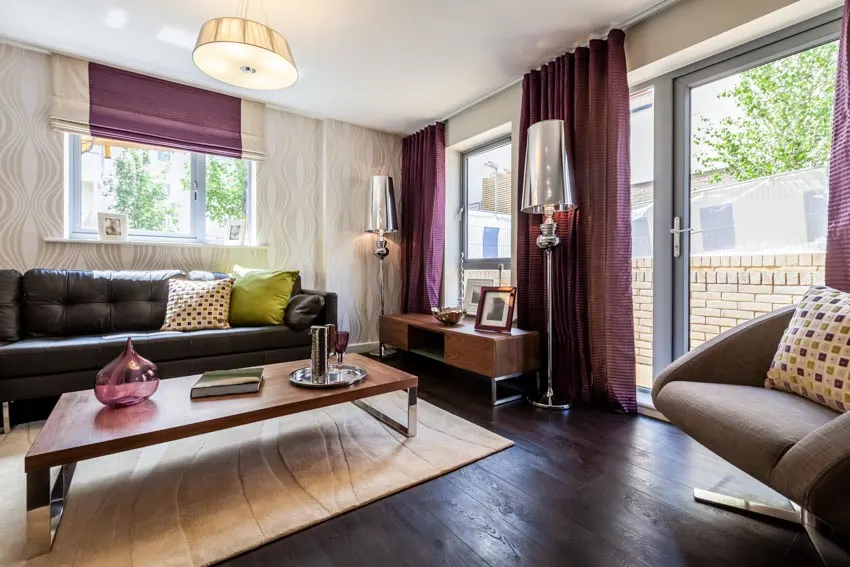 Insulated Roman blinds give an element of energy-efficient insulation by using a specifically engineered cellular shade lining. These Roman Shades have a flat panel style that flows over the window. When uncovered, they snugly nest behind one another. The cellular shade liner conceals connections while still providing greater insulation.
Insulated Roman shades can be just as efficient as dual-paned glass windows without the high cost of installation. Not to add that putting excellent window treatments increases your home's profit potential.
Moreover, these insulated Roman blinds contribute to lower energy expenditures. Homeowners who use windows with light-filtering properties can screen the sun's rays, which rapidly heat up the house in the summertime. In the wintertime, you can utilize the cellular shade liner to allow in some much-needed light, and at night, lower the roman shade to keep colder air out.
Rod Pocket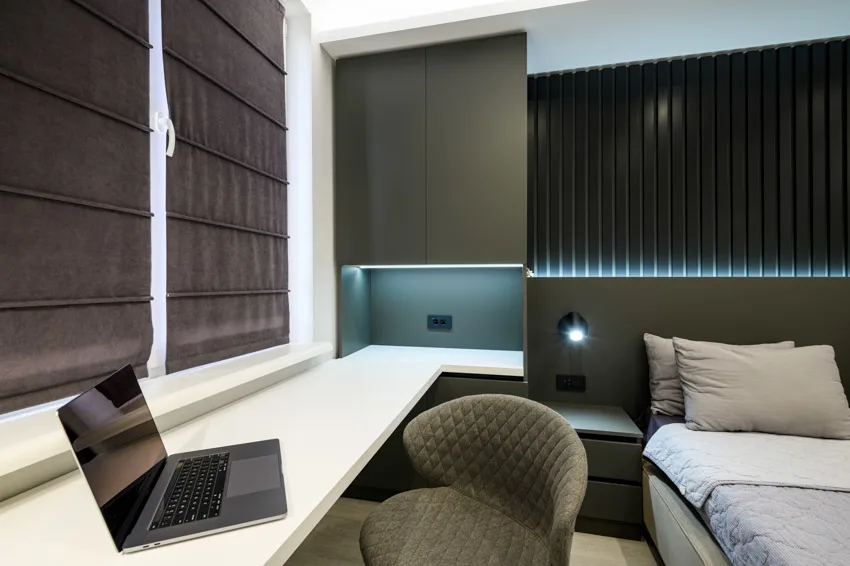 The Roman-style window treatments with rod pockets are one of the multiple alternatives offered to the buyer, and they are among the most expensive options. This is due to the fabric material commonly used with curtain rods for Roman blinds.
When the curtain is drawn open, this rod at the extreme upper end gives the support to keep the entire material in a compressed shape at the top. Because there is little reinforcement at the top of the screens, this type of appearance cannot be accomplished with standard Roman-style shades.
In actuality, the shades installed on the curtain rod's core element is this type of beautiful appearance that draws emphasis to it. A heavier weight may be applied to the fabric because there is strong support throughout the upper end of the shades. For the vast part, rod-supported blinds can withstand the stress that a standard set of window screens cannot.
Sheer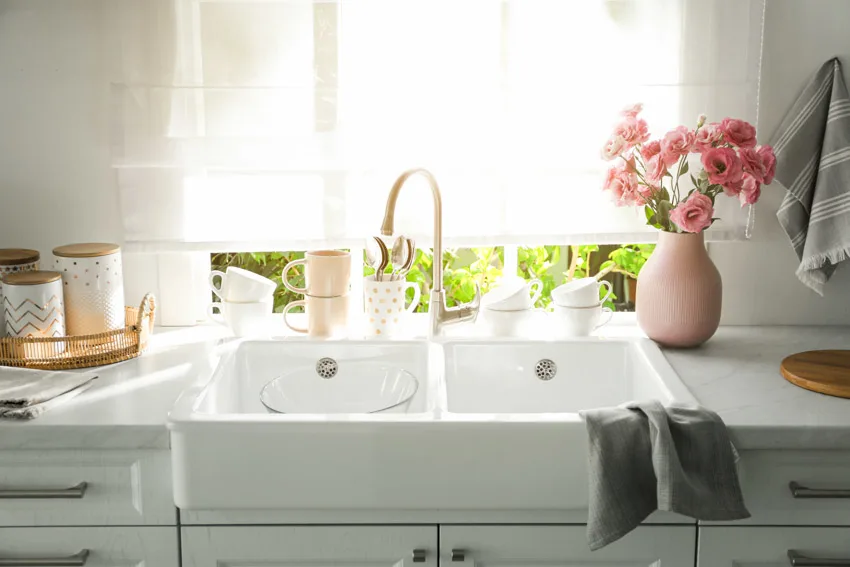 Whether you live in a small ranch-style house or a majestic mansion, you can hardly go astray with sheer Roman shades. Using the sheer fabric of gorgeous Roman shades, you may enjoy gentle lighting, observe the birds in your garden, and enjoy the right level of privacy.
Sheer Roman shades are a practical way to add aesthetic appeal to a window. You can use sheer Roman shades behind curtain pieces for a great blend of privacy and light reduction. Since they are delicate and eye-catching, sheers allow you to dress up your draperies without going overboard. Read more about different ways to hang sheer curtains here.

Soft Fold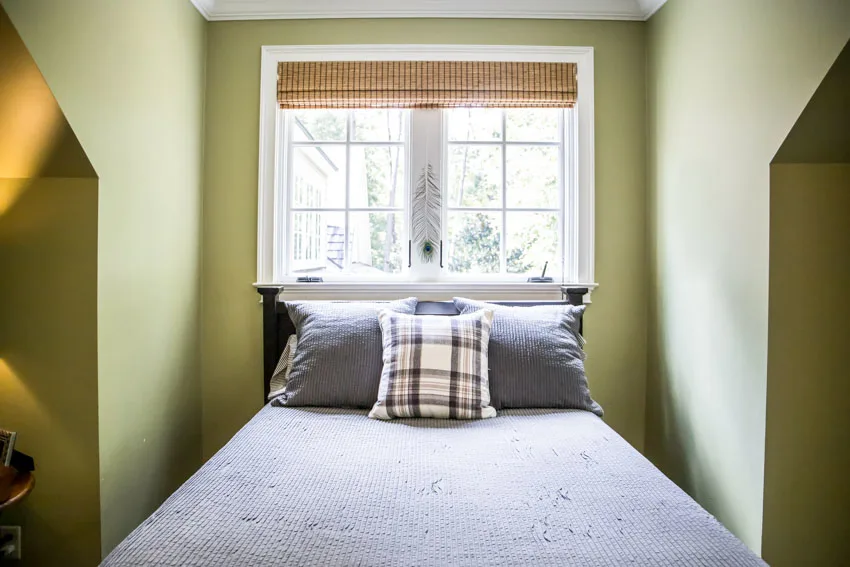 Soft-fold Roman shades are also referred to as looped or teardrop Roman shades. They feature unique cascades that descend in a rippling pattern to the ground. This shape is ideal for individuals who prefer flowing folds through the shade when it is lowered or lifted.
They have an easygoing air, which can produce an open or romantic atmosphere. They can also be designed more anciently or conventionally, making them appropriate for more formal settings. They are Roman shade signature styles because they are most akin to the ancient Roman era designs.
This design's soft folds also generate a substantial insulating layer, which can assist you in saving money on energy expenditures. This hue is widely available since it comes in a wide range of textures, designs, colors, and materials. Woven and non-woven options will be available as well as space-darkening and light-filtering components.
Textured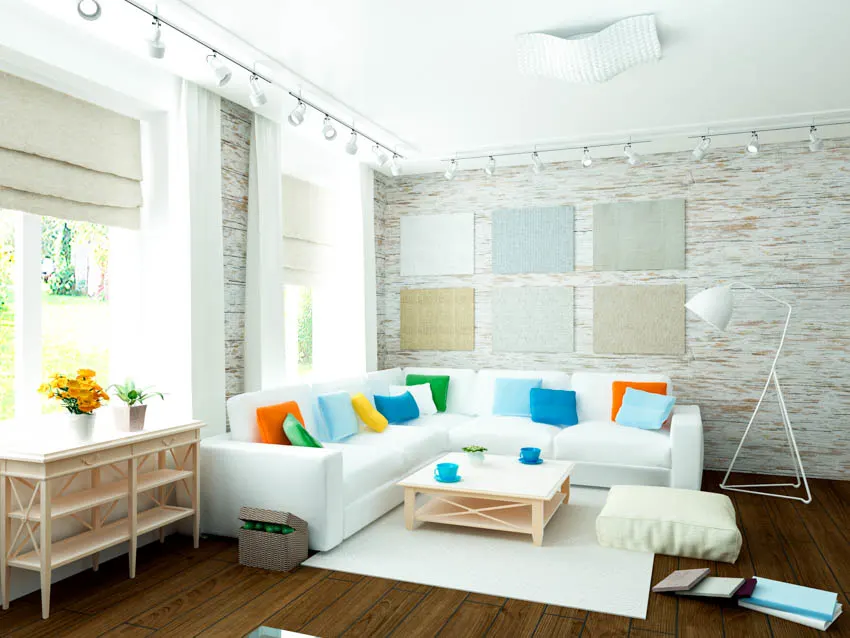 Textured Roman blinds are sewn with a seamless front and are available in a number of naturalistic materials and fabric selections. These Roman blinds give your windows a classic fabric appeal. Textured Roman shades, with attributes such as the continuous flow of fabric from the headrail down to the lower railing, will not detract from the attractiveness of the shade when lifted.
In terms of advantages, textured Roman shades are all about appearance. If you want window treatments that stand out, these are the shades to go for. These shades are also more robust because they are frequently made of woven, twisted, or mixed fibers.
Shade Materials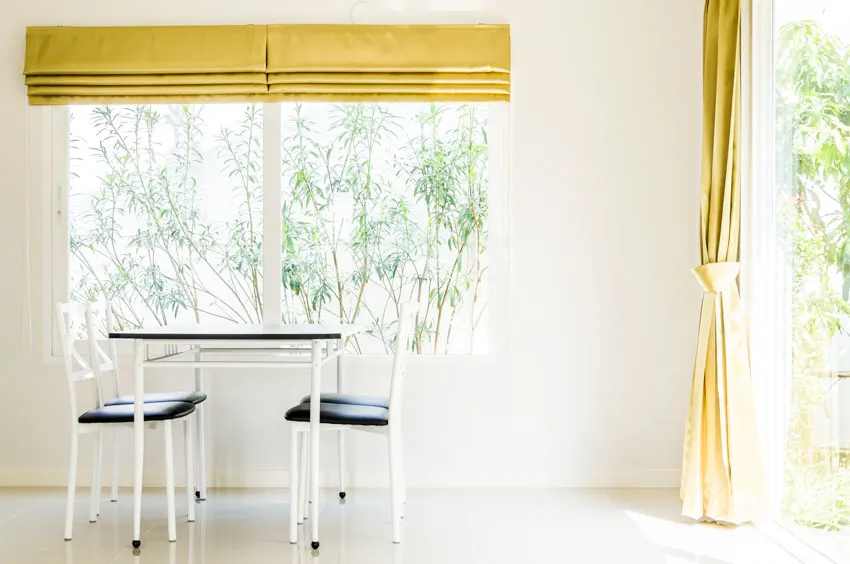 Here are the different shade materials frequently used for these types of window treatments.
Bamboo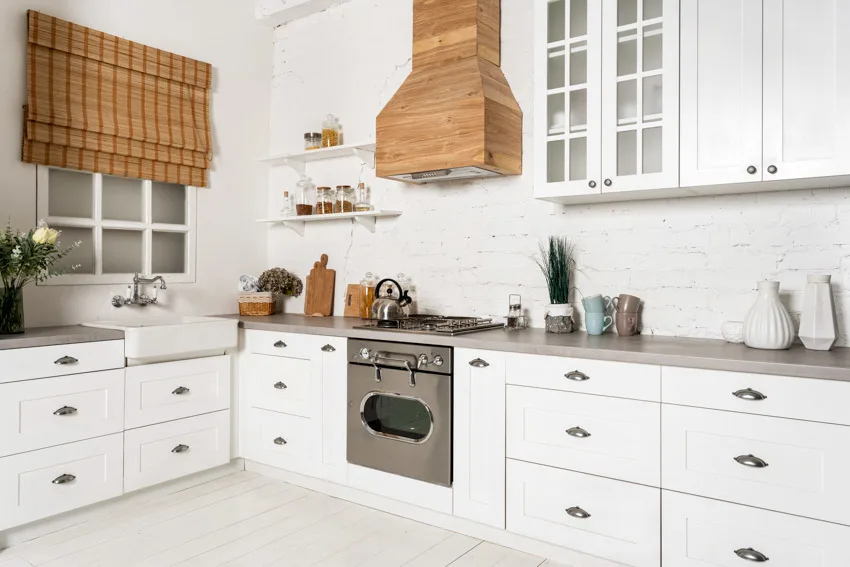 Bamboo Roman shades are an environment-friendly selection made entirely of naturally derived materials. They are primarily composed of bamboos, grasses, Jutes, as well as reeds. Bamboo Roman blinds are available in rich neutral colors and patterned finishes. They are also available in a number of styles, varying from sleek flat to Roman.
These are an excellent choice for rooms that require mild, diffused natural lighting. They are also highly versatile, enabling you to integrate and combine various types and textures of Bamboo shades to complement your room's aesthetic.
You can take into account combining bamboo Roman shades with a blackout lining for complete opacity. When used with a blackout lining, these can fully block out sunlight, resulting in increased energy efficiency.
Fabric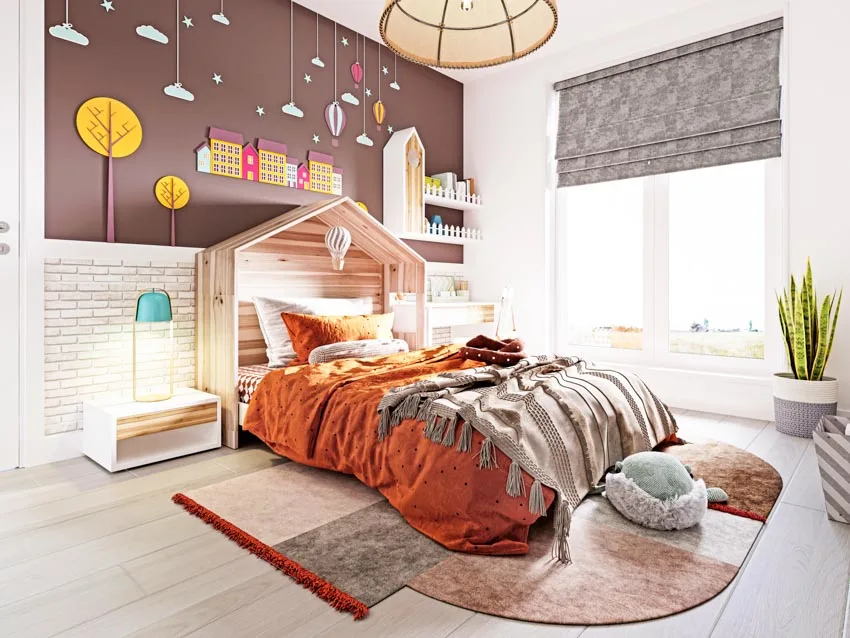 Roman blinds can be produced from a variety of fabric selections. These encompass both natural materials such as cotton and linen and manufactured materials such as polyester. Here are the most typical fabrics for Roman shades and a brief description of their features.
Cotton/Cotton Blend: For Roman shades, manufacturers often utilize medium-weight cotton. The weight increases the blind's endurance while decreasing maintenance with more vulnerable shade fabrics such as silk. Cotton blinds are easy to clean and maintain, making them a widely known selection for purchasers who seek utility without a lot of upkeep.
Another common fabric for Roman shades is cotton blends. Cotton is frequently blended with nylon, polyester, or other manmade fibers. This is because such materials are water-resistant. These fibers are also fire-resistant and resistant to color fading caused by sunlight.
Cotton-blend Roman shades are suitable for windows exposed to moisture in bathrooms and kitchens. Cotton Roman shades have a natural style that works well with stylish designs, cabin décor, and nautical aesthetics.
Faux Silk (Synthetic): Real and synthetic silk is now among the most popular Roman shade fabrics. Silkworm cocoons are used to make genuine silk. The material has a shimmering sheen to it and is very soft. It is indeed light and airy along with a delicate silhouette.
Polyester is commonly used to make synthetic silk. It is firmer and more robust than silk materials, thus these window treatments will last longer than genuine silk designs. Polyester is also resistant to fading. If durability and lifespan are important to you, you can choose faux or synthetic silk Roman shades over real silk choices.
Genuine and synthetic silk Roman shades are both prominent among those seeking a modern and sophisticated appeal. Such shades would look great in stately living rooms, dining spaces, as well as bedrooms. These shades go well with gentle furnishings and décor with minimalist elements. They are more pricey than other fabrics because they are more exquisite.
Patterned Fabric: Although Roman shades are available in a variety of colors, they also come in dozens of distinct designs and patterns. The possibilities are unlimited, from lavender and duck eggshell blossoms to teal patterns. Such shades can be made of cotton or polyester with printed patterns. Some are woven fabrics such as jacquard and damask.
Patterned Roman shades are ideal for those looking for louder window treatments that can make a bolder impression than a simple fabric in a single color. They're perfect for larger windows, such as bay windows. They can also be used in restrooms and small locations that could use a splash of color.
Linen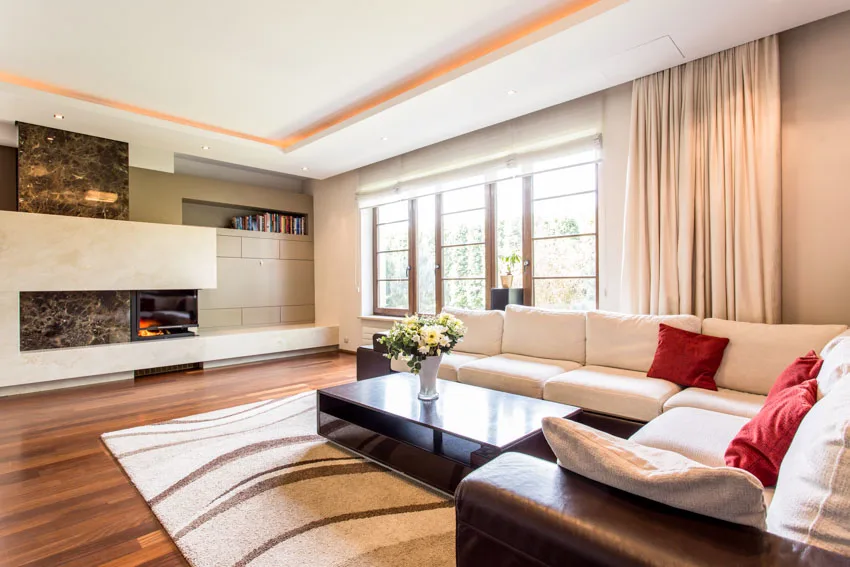 Linen, the same as cotton, is an organically derived fabric. Linen Roman shades are available in neutral colors such as white and beige, making them suitable for both modern and coastal-inspired décor.
They have an airy appearance and can be used in damp environments like bathrooms as well as kitchens. In actuality, linen is inherently antibacterial and mold and mildew-resistant. Linen fabrics have a flexible weave, making them well-insulated and great for allowing light to pass through into the space.
As a result, they are not suitable if you are searching for thermal blinds. They are, nevertheless, an excellent choice for folks who prefer shades that allow air to circulate and enliven up a room.
Additionally, linen Roman shades do not wrinkle and are quite durable. They are frequently used in kids' rooms since the fabric is durable and not prone to breaking.
Wood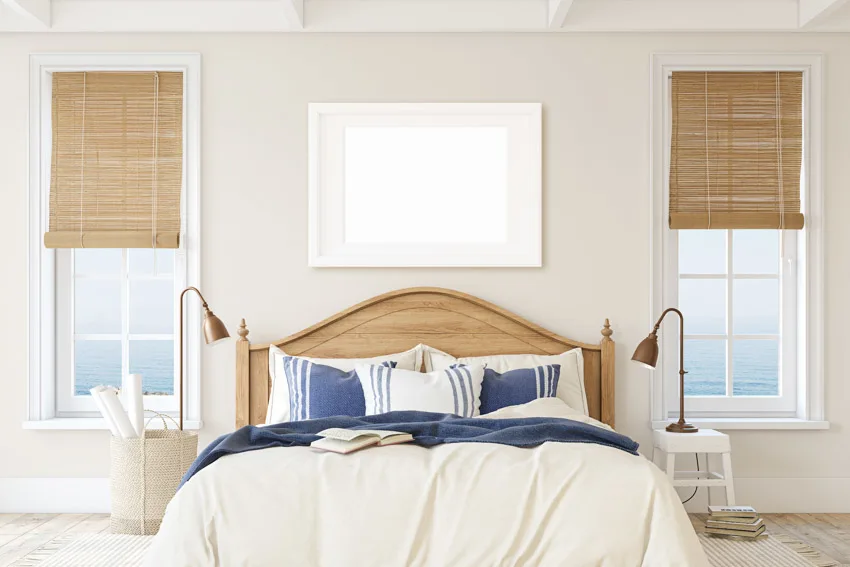 Genuine wood Roman shades offer an exquisite, ageless, and natural look that is difficult to match. Furthermore, wood is visually adaptable and can adapt to any environment, bringing natural structure and depth to any area.
Wooden Roman shades frequently feature texture-rich wood accents available in a range of stains and treatments, making it simple to choose one that suits or even custom-complements your home design. Furthermore, wooden Roman shades often accentuate your current wooden furnishings and floors.
Another advantage is that wood can greatly reduce energy usage and expenditures due to its inherent insulating capabilities. Compared to fabric shades, wooden shades are more durable than aluminum and vinyl Roman shades. Furthermore, as opposed to other materials, wooden shades and shutters give excellent privacy.
Furthermore, when closed, wooden Roman shades provide exceptional light management. They are also quite easy to maintain. They can easily be wiped tidy promptly with a dry cloth or sometimes with a moist one.
Best Areas for This Type of Shade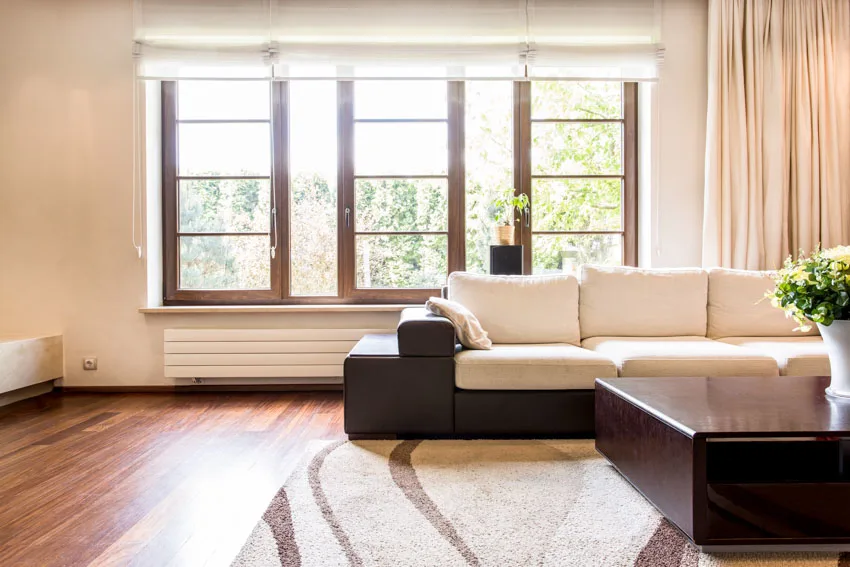 Kitchen: Roman shades, a more unique shade selection for the kitchen window, are a terrific way to add a burst of color or a striking pattern as a touch of elegance to an otherwise simple environment. But because humidity might be a concern in the kitchen, you can use Roman shades in the dining area rather than on windows over sinks.
Bedroom: Roman shades have the soft, rich effect of ornament and offer a beautiful, peaceful ambiance to your bedroom. Also, there are nearly as many designs of Roman shades as there are materials employed to construct them nowadays.
To get a clean, pristine aesthetic, you must select cordless Roman blinds with no visible connections. Because they are cordless, they are also a safer choice if you have little children and pets. They come in a flat or complete fold that rolls straight up into the headrail, as well as a complete fold that fits snugly into the headrail.
Living Room: Roman shades are ideal for the windows in the living room. They can provide a touch of elegance and formality for guests, celebrations, and other special occasions while also withstanding daily use over time. Roman shades for living rooms are guaranteed to be a favorite in your home.
Furthermore, Roman shades have the luxury of what designers commonly regard as an "ageless" appearance. They have been around for centuries and never seem to go out of fashion. Hence, they are perfect for living rooms.
Bathroom: Because they are useful, practical, and make a gorgeous impact, Roman shades provide everything you desire in bathroom window treatments. These shades allow you to manage ambient light, soften rough bathroom walls, and dampen sound.
Roman shades can enhance seclusion while filtering or blocking out light, making them ideal for bathrooms, which need maximum privacy.
Bay Windows: If your bay window has other fascinating architectural aspects, such as the elaborate moldings on the arch, a simplified kind of shade, such as the flat Roman shade, can enable those features to flourish while still bringing appeal with the color and gentleness of a fabric accent.
When these shades are lifted, the flat Roman shade's clean stacking can provide the impression of a fabric-made valance. If you are having difficulties finding a drapery design that you prefer for a bay window, you can take into account Roman Shades. These contribute the same gentleness and richness to the fabric without the rods or length limitations.
Front Door: For generations, Roman shades for doorways have been used. Even as the shapes and fashions have evolved, the timeless attraction of these shades remains accessible to all. Roman shades are not just traditional fabric-based window treatments, but they are also door treatments that can be lifted and lowered with a pulling string.
Patio Doors: Roman Shades are a reliable door window treatment option for your patio doors since they are sleek, classy, and extremely functional. Each Roman shade's lower-end folding offers a smooth aesthetic when the shade is dropped and a sleek stacking when the shade is lifted.
How to Measure Roman Window Treatments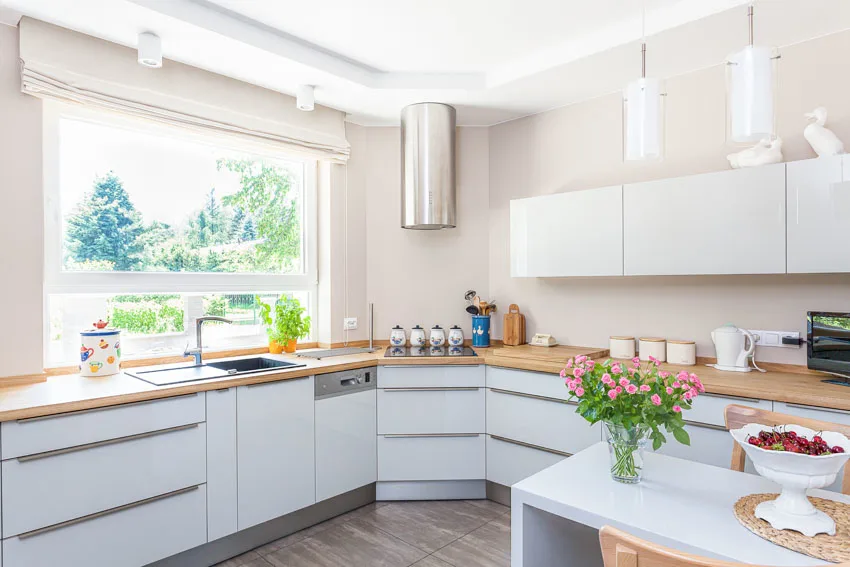 Steps on Measuring For Roman Shades Inside A Window Recess
• Use a metallic tape measure instead of a fabric one, which might stretch and give an imprecise measurement.
• Measure at the location where your Roman shade will be installed to ensure that all window catches and others are cleared.
• Measure within any tiling or other restrictions inside the recess that might affect the shade's ultimate operating width.
• Round each measurement to the closest 0.1cm in centimeters.
• Measure each window separately, even if they appear to be the same size.
Steps on Measuring For Roman Shades Outside A Window Recess
• Use a metal tape measure rather than a fabric one, which might stretch and provide an unreliable reading.
• Measure in centimeters and round to the closest whole centimeter.
• Measure each window independently, even if they appear to be the same size.
Note: The conventional brackets that come with made-to-measure Roman shades can be face- or top-fastened, making them ideal for inside or outside recess fitting.
How to Install This Shade Type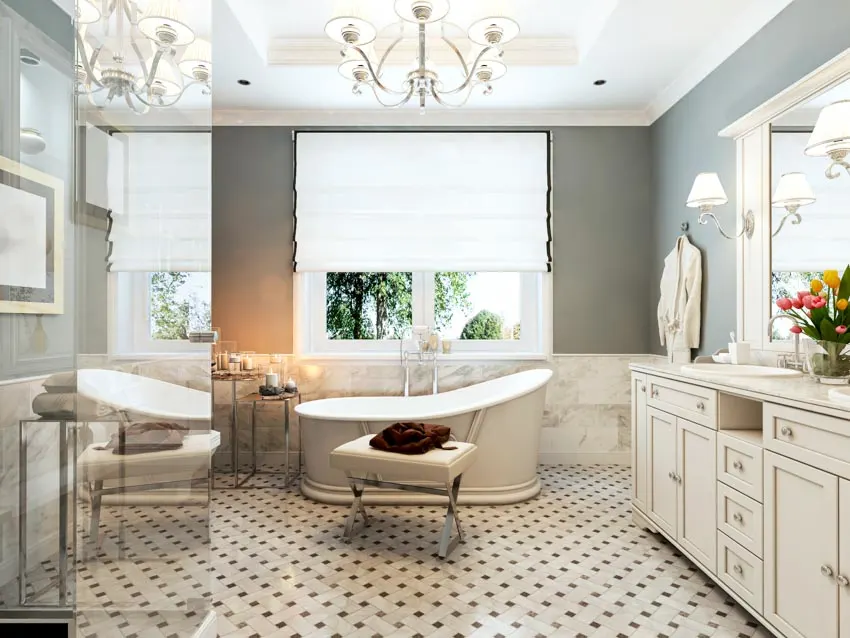 Step 1: Start Mounting the Shade Brackets
For Inside Mount: Install each bracket into the upper end of the window framing when placing fabric Roman shades inside the window framing. Ensure that the brackets are installed so that they do not impede the mechanics within the Roman shades' headrail.
Install the Roman shade brackets uniformly distanced from the shade's edges and at the same spacing from the window frame's front part. You must install the brackets using 2 screws on each one of them.
For Outside Mount: The mounting brackets for an outside mount Roman shade should be fastened to the walls atop the window. The leveling of the Roman blinds is crucial to their effective function.
Mark the spot where the brackets must be mounted with a leveling device as well as a pencil. Install the brackets towards the edges of the Roman shade headrail, but not in such a way that they interfere with the mechanics within the headrail of the Roman shade itself.
Step 2: Start Placing the Roman Shades
Install the Roman shade after the brackets have been attached to the walls or window framing. Put the shade headrail's frontal edge into the mounting brackets. Clasp the shades into position by pressing the back edge of the shades into the mounting brackets.
How to Clean These Shades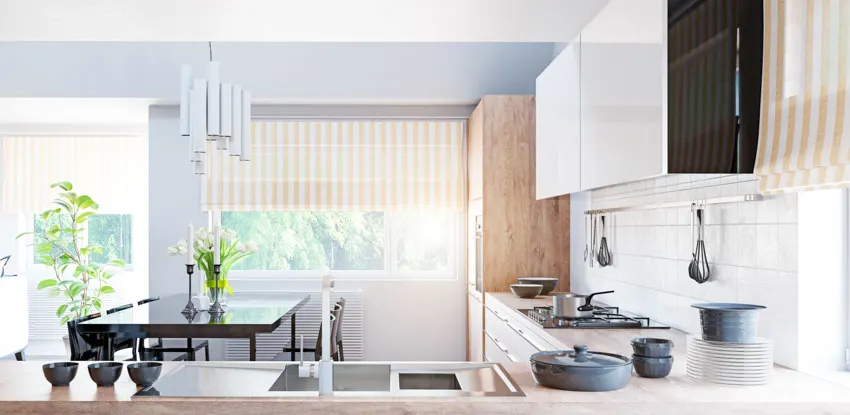 You should perform these shade cleaning duties on a weekly, bimonthly, or monthly basis, depending on how dirty your Roman shades can get. These tasks are quick and simple to complete. Maintaining them regularly makes extensive cleanings much simpler.
Here are some of the tasks you might apply when cleaning your Roman shades:
• Vacuuming: Firstly, raise your Roman shades. Afterward, using the upholstery brushing tool, carefully vacuum your shades to remove dust and grime. The heaviest collection occurs along the folds or wrinkles of your Roman shades, so give special treatment to these places.
• Other Dust Removal Methods: You can use a towel or duster rather than a vacuum for your delicate Roman sh. Some fabrics, particularly those with trimmings or other decorations, necessitate special handling with very light cleaning material, such as a microfiber cloth. This will effectively collect dust. A lint roller can also be used to remove dust off seamless Roman shades.
You will be able to tell when your Roman shades require additional cleaning. A mistake can lead to a mark or a spill that detracts from the attractiveness of your shades. But whenever this happens, try following these techniques below:
• Removing Stains and Spills: Baking soda can be used to remove spills and stains. Distribute this immediately to the Roman shade's affected part. On stains and spills, add equal measures of water and regular vinegar. Simply wipe the shades with a towel dipped in this mixture.
Afterward, using a small amount of soap combined with water, rinse with regular water. A small quantity of dish soap mixed with water is also useful for removing stains and spills. Rinse after spotting or sponge cleaning with this cleaning solution.
Finally, you should clean your Roman shades more thoroughly at least once a year. Your technique of selection will be determined by the material and the difficulty of disassembling and reassembling your Roman shades. Your shades' labels should provide details about approved cleaning procedures.
• Laundry and Washing: Many people like cotton and poly-blend fabrics for Roman shades since they can be laundered or sanitized simply at home in your washing machine. Simply remove the headrail and any fasteners or rods that are attached to the shades. Next, wash them in cool water in a mild washing mode. Spread them evenly to dry and iron as needed.
• Hiring Professional Cleaning Services: Numerous cleaning services will clean Roman shades as well. You just need to prepare them beforehand by detaching the fasteners, rods, and headrail. Afterward, you can get them professionally cleaned.
Professional home cleaning services can also visit your house and clean your shades, saving you the stress of having to remove any components by yourself.
Roman Vs Roller Shades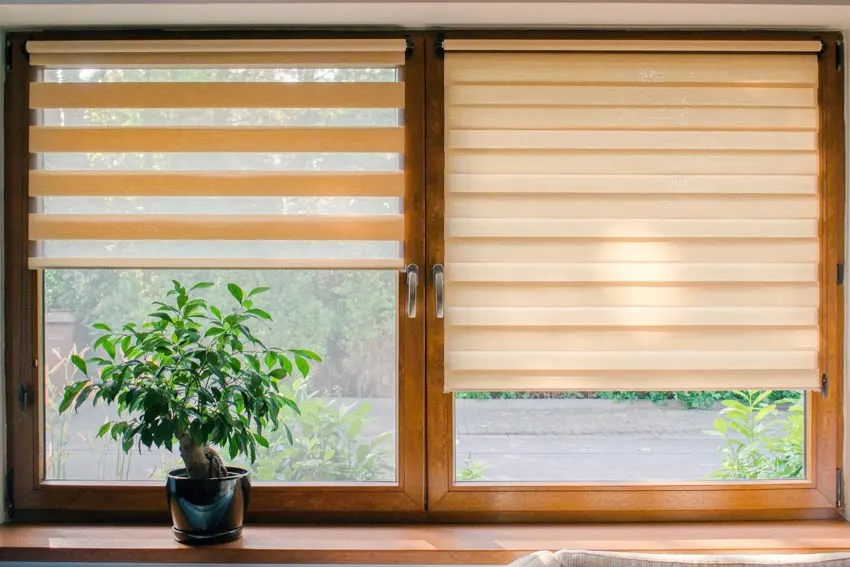 In Terms of Maintenance and Practicality: Roller shades are not only functional, but they can also bring a space together much smoother than ordinary dark shades and do not get as dirty as quickly as Roman shades, which easily get dusty between the folds and are difficult to clean.
In Terms of Aesthetics: If you have a radiator or heater, you will need something more fitted than curtains, which is where Roman shades come in—their aesthetic is very seamless and has a minimalistic and tranquil appearance. They are also ideal for compact places because they do not block out the sunlight or windows completely.
Plus, with Roman shades, you may add unique patterns and colors to complement the room's walls, as if they were a prolongation of the paintwork. However, for a more layered effect, Roman linen sheers with a curtain over them are also genuinely attractive.
Are Roman Type Shades In Style?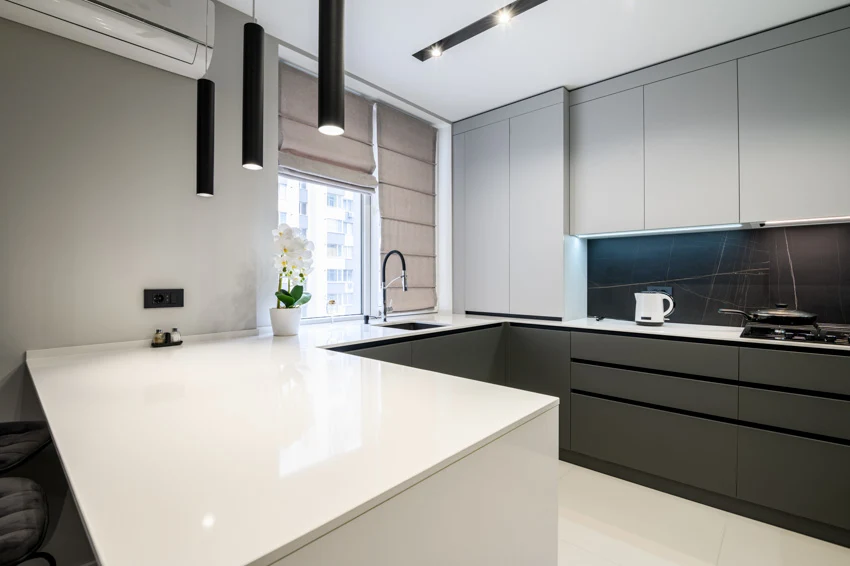 Yes! Most Roman shade styles are still popular among designers who want to emphasize design as well as definitive efficiency. Furthermore, the majority of their designs are timeless, which means they will never go out of style.
See more related content in our article about floor to ceiling window treatments on this page.