Welcome to our guide to the types of kitchen windows including the most popular styles and best designs for your home.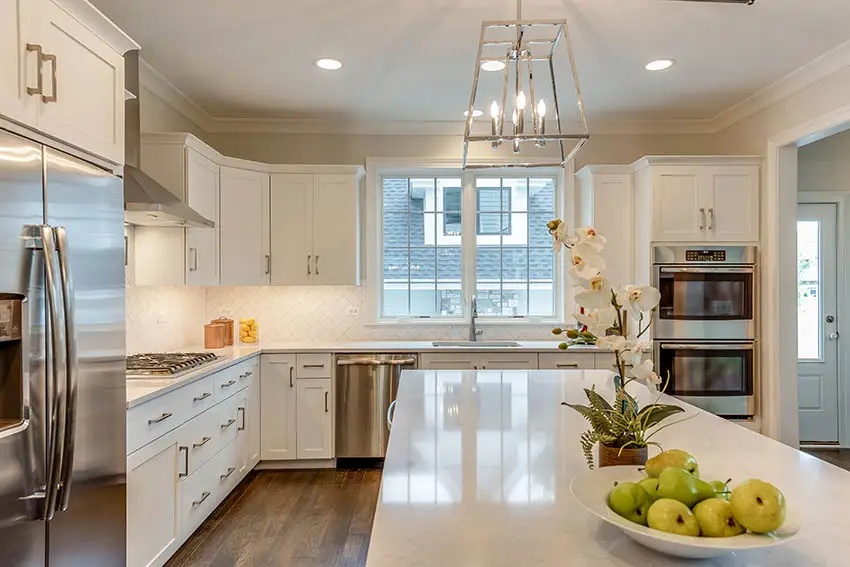 A lot happens in a kitchen on a daily basis, including cooking, baking, and quick breakfasts before work or school. Even when a home has a separate dining room, guests enjoy visiting the kitchen to chat with the cook.
The type of kitchen windows you choose should add function but also attractive aesthetics for dinner guests and visitors.
A kitchen needs plenty of light and daylight is not only helpful, it's the best kind of light for food prep, finding things in cabinets, and the pots of fresh herbs growing on the window sill.
There also needs to be ventilation and a way to get fresh air into the kitchen during the warmer months of summer.
The placement of kitchen windows is important when considering wall space needed for upper cabinets and appliances. Avoid placing windows above a stove, especially a gas stove, where a breeze could fan the flame.
This guide contains information and ideas about how each style of window may work in your kitchen and will help you to choose the best type of kitchen windows for your home.
Kitchen Window Styles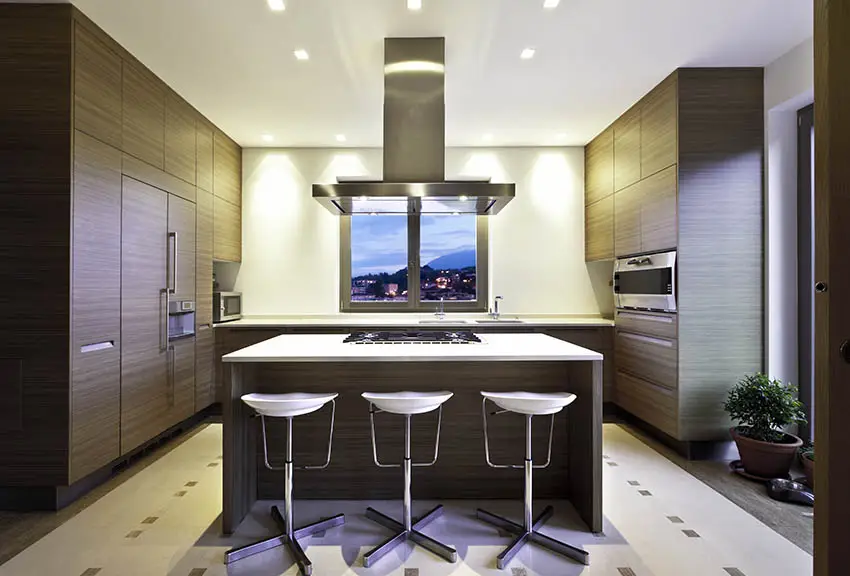 Some homeowners prefer a kitchen window that is as decorative as it is useful, while others want a kitchen window that provides a view of the backyard where children are playing.
If the kitchen faces a stunning outside view, a picture window provides the best viewing area and for air circulation, place smaller windows that open on both sides, such as casement windows.
Read about the types of kitchen windows below and decide which ones work the best for your kitchen.
Double-Hung Windows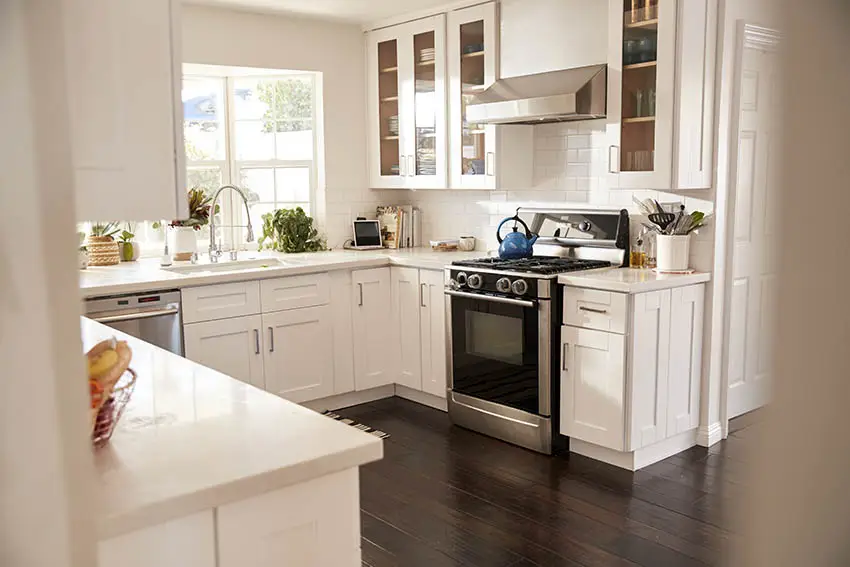 The most common windows found on homes are double-hung and single-hung windows. To maintain the home's design, these types of windows are a simple choice for a kitchen.
They both provide ample airflow and easy operation but may be difficult to reach when installed over a kitchen sink. Double and single-hung windows are typically the most affordable windows.
The major difference between double hung and single hung windows is how the top sash is fixed on a single hung window design. For the double hung design the top sash can be opened for additional air flow.
Visit this page to see the most popular types of windows for the home.
Casement Windows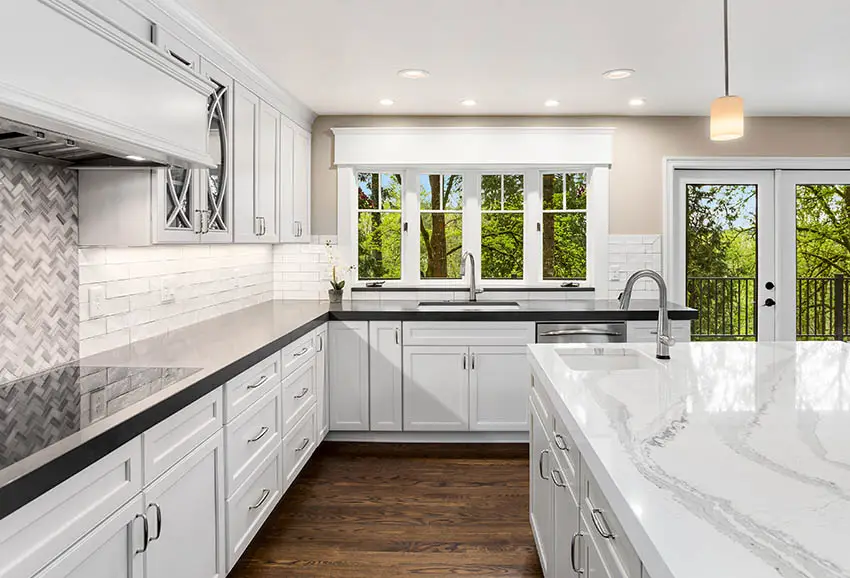 Casement windows provide a more unobstructed view of the outside and have a crank handle to open each sash.
These kitchen windows offer plenty of ventilation and because of the way they open out, they offer more energy-efficiency.
Casement windows come in many sizes and add a stylish look when paired with a picture window or bay window. Taller, thinner casement windows, placed on each side of a larger window, provide needed airflow and add a stylish look. Read more about popular window sizes here.
Picture Windows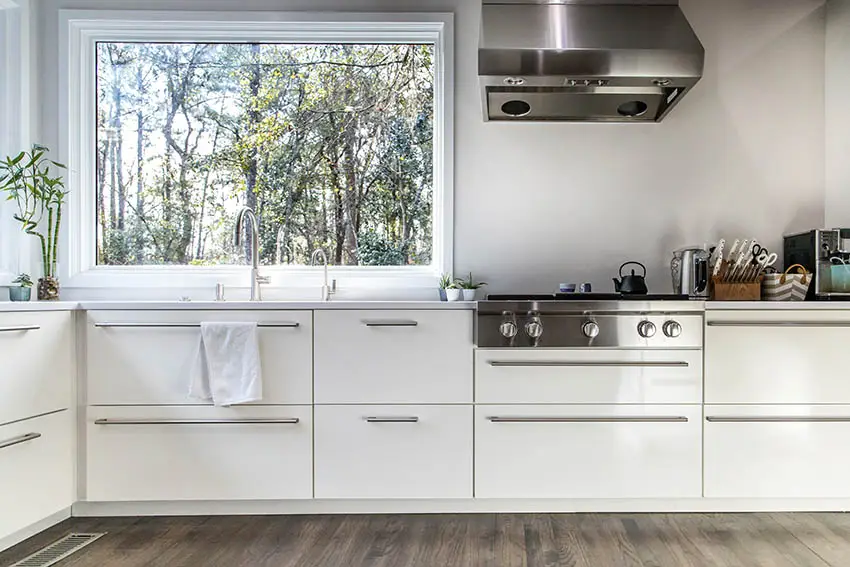 For kitchens with a large outside wall and a view such as flower gardens, mountain ranges, or an ocean shoreline, picture windows bring the outside in, giving the kitchen an open feeling.
Since picture windows don't open, it's best to install them in a kitchen nearby sliding glass patio doors or French doors leading outside to provide a breeze.
As mentioned above, casement windows on the sides of the picture window work well, or a short awning window at the top.
Bay Windows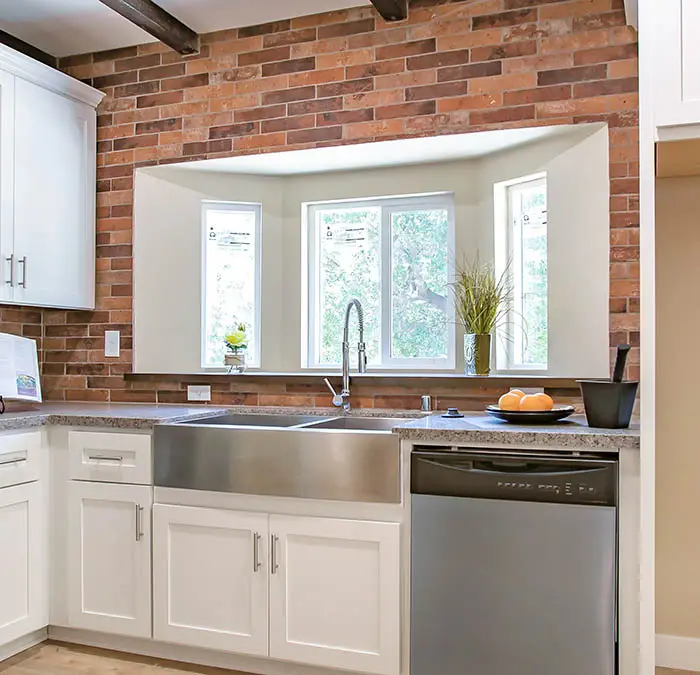 For a kitchen with a breakfast nook, a large bay window opens up space and lets sunlight flow in, creating a pleasant space to sit with morning coffee.
The height of the kitchen bay window typically reaches 12-inches below the ceiling line with the bottom of the window at table height.
Even more dazzling is a floor-to-ceiling bay window the size of the breakfast nook. Bay windows behind the sink make for more counter space and offer a spectacular view. The sill on the bay window is a great place for storage, decorative kitchen items, or potted herbs.
Awning Windows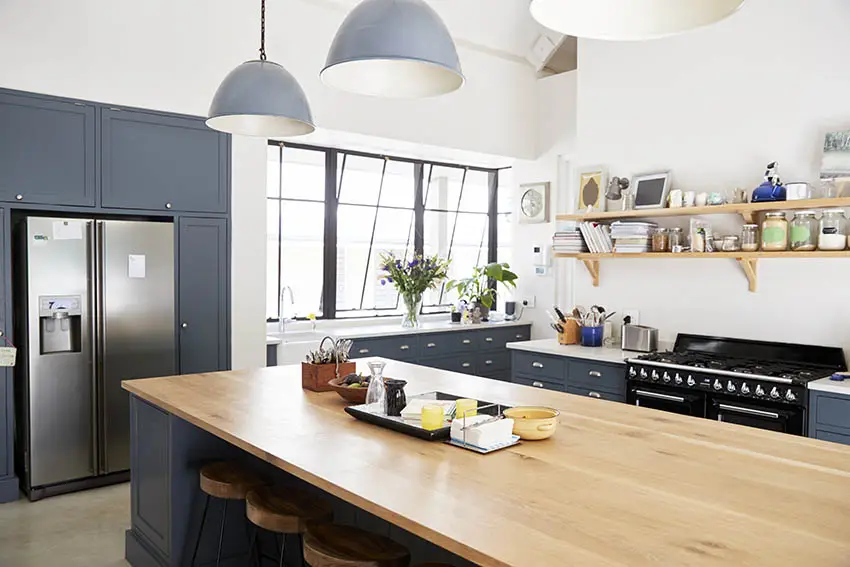 Awning windows have hinges at the top of the frame and open outward with a crank handle. Because the screen is on the inside and the windows tilt out, they can remain open even if it's raining.
This allows fresh air in the kitchen even during inclement weather. Awning windows come in many sizes and configurations making them easy to use along with non-opening windows.
Pass Through Windows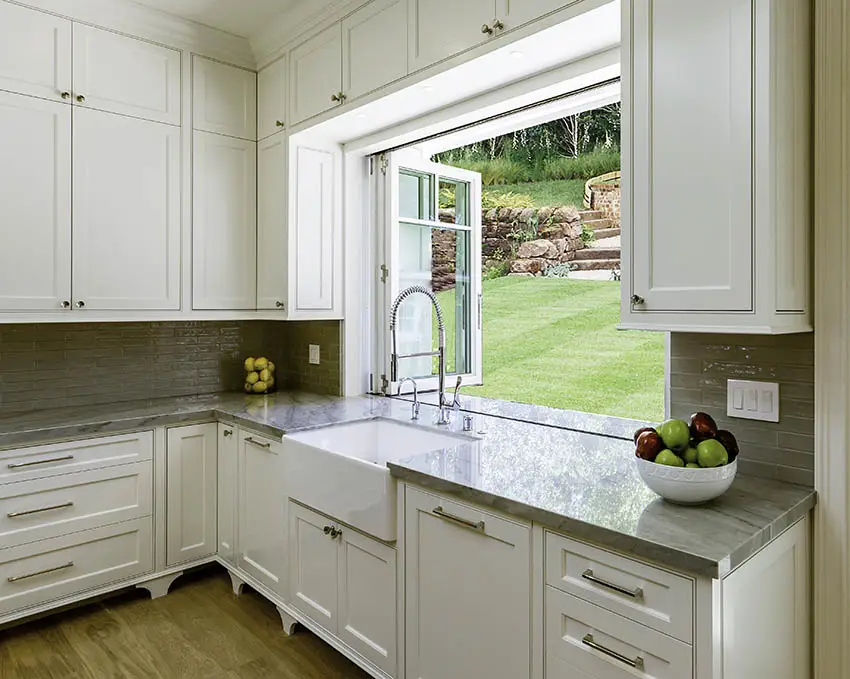 A pass through kitchen window is handy when there's a patio right outside the kitchen wall.
The window opens and closes, at times made with a single-hung window or accordion windows, and provides a shortcut to handing out drinks, food, utensils, and other items for a backyard barbecue.
Pass through windows also work well in a wall between the kitchen and dining room to use as a way to hand dishes of food to place on the table.
Sliding Windows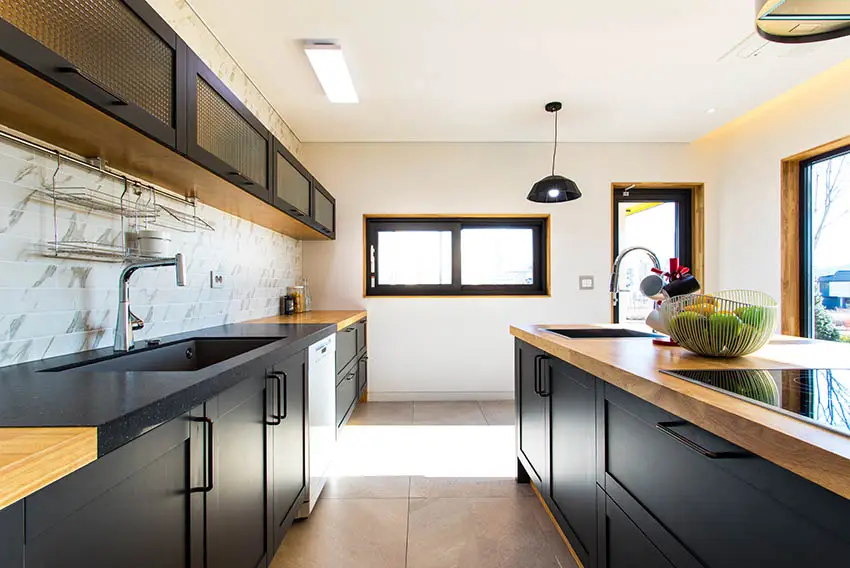 Many kitchens are fitted with sliding windows, especially if the home has mostly sliding windows installed.
Sliding kitchen windows provide similar airflow and light as double and single-hung windows but operate on a track sliding from side-to-side instead of top-down or bottom-up.
As with double and single-hung windows, sliders may present a problem when the homeowner has to reach the window to unlock and push it open.
Garden Windows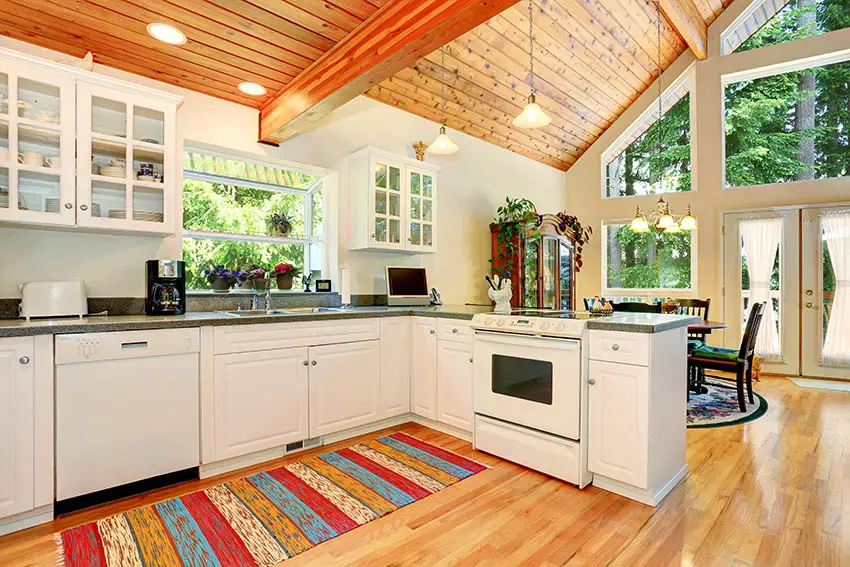 A garden window in the kitchen is a great opportunity to make use of sunshine when growing herbs or other plants.
The window acts as a mini-greenhouse by collecting the warmth during the day and utilizing moisture from the kitchen to create optimum growing conditions.
Kitchen garden windows protrude out from the wall and create an extension of the kitchen and are perfect for placing above the sink.
Window Over Sink
A kitchen window over the sink is an attractive setup for several reasons. The extra light is great for spending time washing and cutting food and later washing pans and dishware.
A window over the sink also provides a view of the outside for the cook or dishwasher, (https://designingidea.com/kitchen-windows-over-sink/) making the clean-up job more pleasant.
Kitchen windows over the sink also allow the window to act as a decorative centerpiece when adorned with curtains, blinds, or other embellishments.
At times, a kitchen window over the sink is the only space in the kitchen where there's room for a window.
Kitchen Window Seat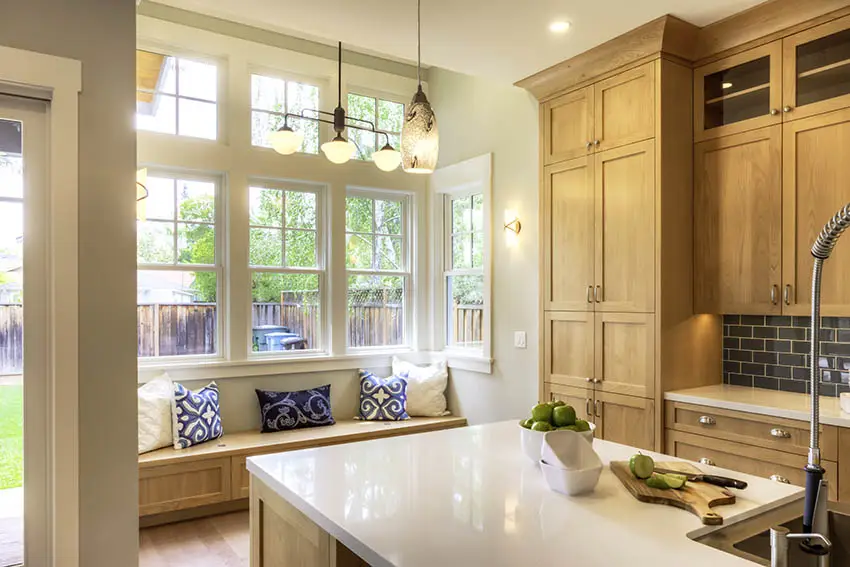 Kitchen breakfast nooks lend themselves to bay and bow windows and if installing a floor-to-ceiling bay window, the inside curvature of the bay can include seats with storage underneath.
This extra space allows for more seating and storage and makes for a great coffee spot for early mornings. See more examples of kitchen window seats here.
Kitchen Windows That Open Out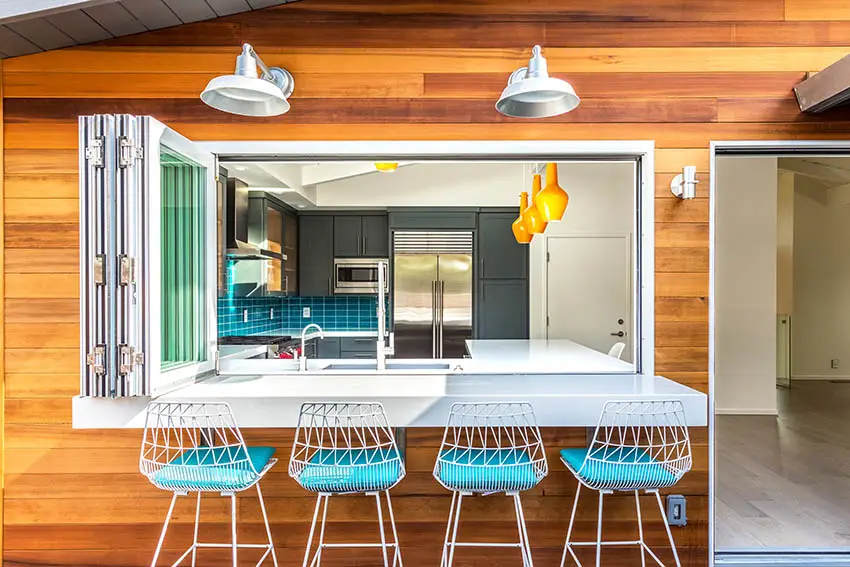 Windows that open out include awning windows, casement, and pass through windows. When fully open, 100% of the window allows fresh air in the kitchen instead of 50% with sliders and double or single-hung windows.
As long as there are no obstructions within the distance the windows extends out beyond the home's exterior wall, windows that open out are a great choice for kitchen windows.
These types of kitchen windows allows extra air and can remain open in bad weather as the tilted window protects from rain or snow getting in the house.