Here we share how to match kitchen cabinets and countertops including choosing colors and remodeling and design tips for best results.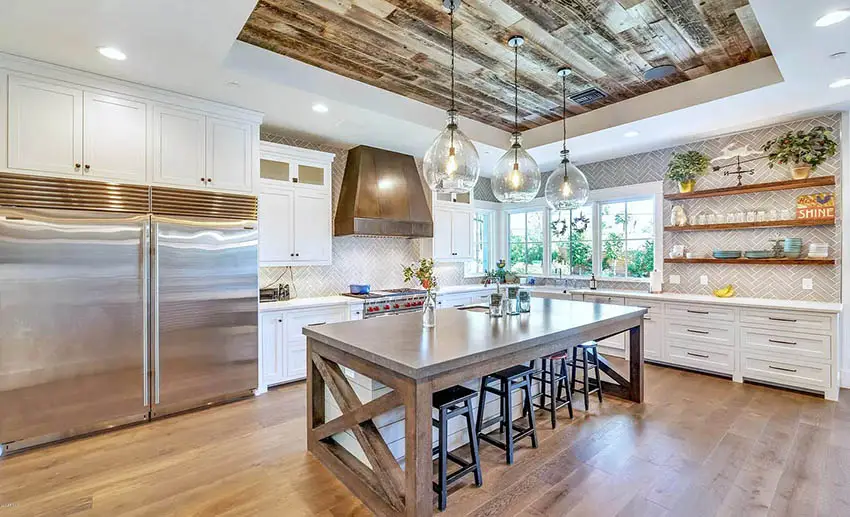 Designing or renovating the perfect kitchen is the dream of many homeowners. After all, you spend a lot of time in your kitchen and you may even entertain guests there – of course, you want it to look fantastic!
However, there are parts of interior design that can seem challenging. For example, trying to match your kitchen cabinets and countertops. Yet, it doesn't have to be hard! Follow these steps to find the perfect match you've been dreaming of.
Where to Start When Matching Cabinets and Countertops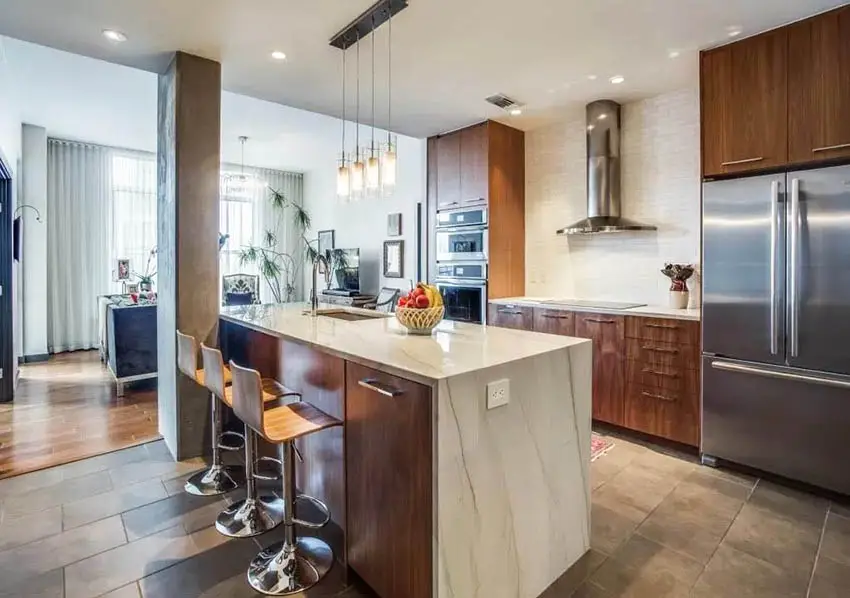 Oftentimes, when you're considering choosing and matching cabinets and countertops, you should take the time to consider a color palette for your kitchen first. This way, you'll have a baseline as to what you're looking for before you start looking at the wide array of options.
Alternatively, you can choose one and match it with the other. For instance, if you've found a countertop you absolutely love, consider that against potential cabinets that would match the countertop you've chosen.
It can also be a good idea to start with the general style you want your kitchen to be. For example, do you prefer modern or rustic decor in your kitchen? It can help to choose a common theme in the decor of the rest of your home so the room transitions well.
Considering Color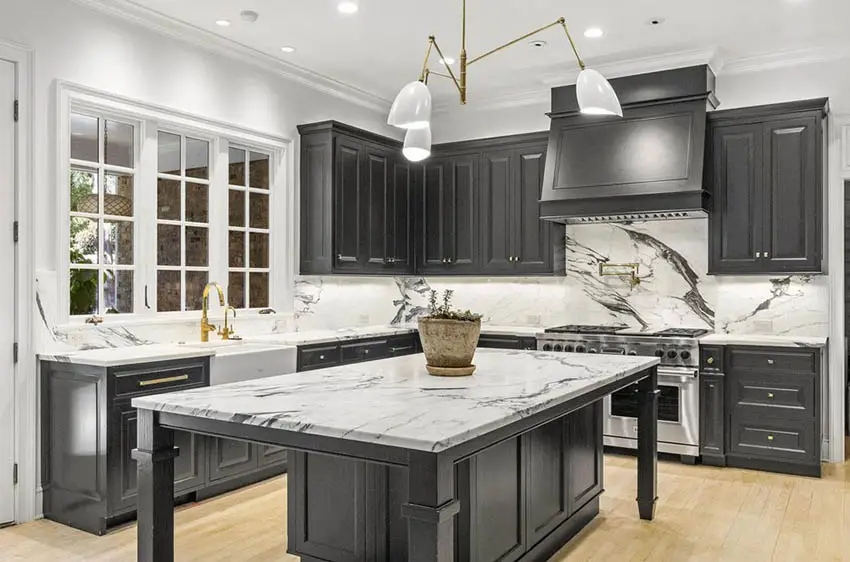 One of the first things to consider when you're thinking about matching up cabinets and countertops is color. One of the most surefire ways to cause discord in interior design is to choose colors that clash with one another.
A good idea is to choose two complimentary primary colors which can be the foundation for your remodel project. You can then bring in another accent color to add character and your own sense of style to the design.
When it comes to color, contemporary and modern styles tend to use more contrast such as bright whites combined with blacks. On the other hand, farmhouse and traditional designs use softer contrasting colors with a more neutral color palette.
Rely On the Color Wheel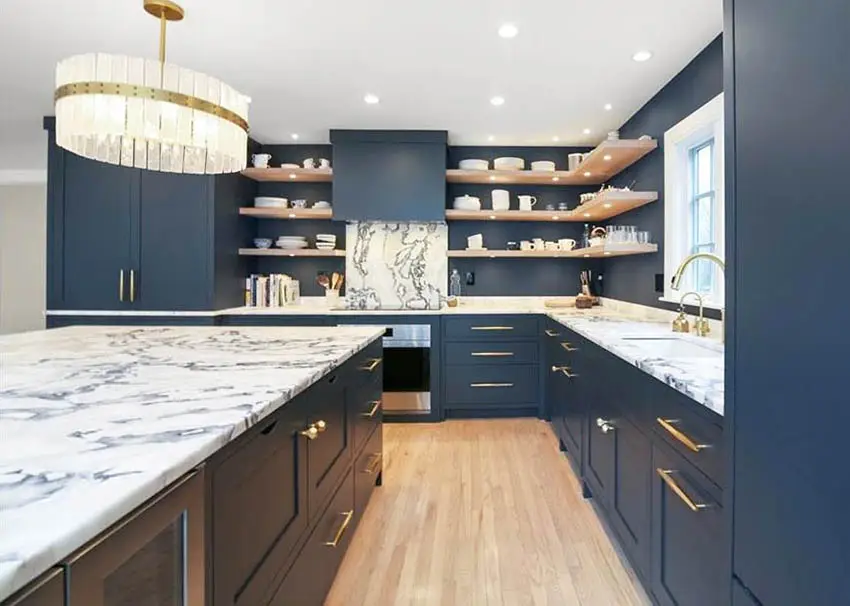 A good reference tool to avoid this is to simply rely on the color wheel. This is a simple wheel that helps you understand how colors correspond with one another.
There are three basic combinations to consider: complementary, neutral, and analogous color combinations.
Complementary colors go well together because they're right across from each other on the color wheel while analogous colors work well together because they're right next to each other on the color wheel. This means that they're similar in hue, so they won't compete with each other according to BHG.
Finally, neutral colors aren't on the vibrant spectrum of a basic color wheel. They include options such as browns, grays, white, and black. However, these are typically used to set a baseline for a room like a kitchen rather than used as accents that will pop and draw the eye to them.
That being said, there are certain situations that you want to avoid. Pairing same-colored cabinets and countertops is a concept you'll generally want to avoid. For instance, white cabinets and countertops might technically not clash but it will leave your kitchen looking a little sterile and bland.
Darker or more vibrant colors combined with themselves are likely to make the appearance of a kitchen a little overwhelming. To provide contrast one can use a different color flooring, backsplash or accent colors.
Managing Countertop and Cabinet Materials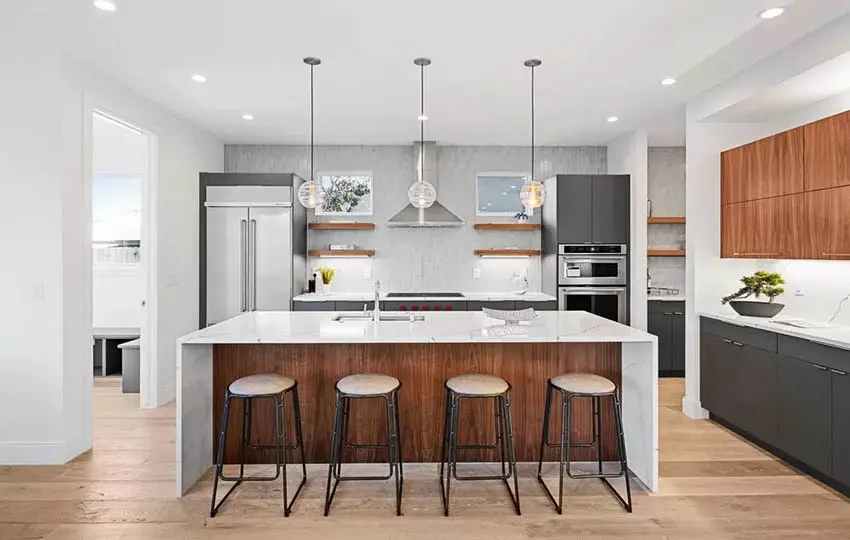 It's also a good idea to consider the materials that your countertops and cabinets are made of. Understanding what a material looks like and how it behaves is often the key to deciding whether or not it will work for you.
Countertop Materials
There exists a broad spectrum of countertop products including options such as wood, stone, laminate, tile, steel, concrete, and more.
When it comes to natural stone, you can choose plenty of different quality options such as marble, granite, soapstone, and quartz countertops to name a few.
Natural stone is often a product that's harder to maintain, but it comes in a variety of colors to choose from. You can even rely on natural stone to offer veining that will give it a one-of-a-kind experience.
One of the most versatile options when it comes to color and style is concrete. Concrete is a nice choice because you can manipulate its appearance.
You can even use it to mimic the appearance of other choices such as stone. In addition, concrete is compatible with additives such as glass, so you can experiment to create something unique.
Tile is another versatile choice that looks good with a few different cabinet types. It's best paired with wood or painted cabinets that offer a pop of color.
Tile is widely available at local stores or online shops and customers can often get the exact color they want with free shipping and returns. However, tile is often not the first choice for kitchen cooking surfaces due to styling trends.
Stainless steel countertops are long-lasting and, since they offer a sleek, clean look, they're often best incorporated into modern design. While they pair well with most types of wood cabinets, they often look best – much like tile – with a pop of color from vibrant, painted cabinets.
Cabinet Materials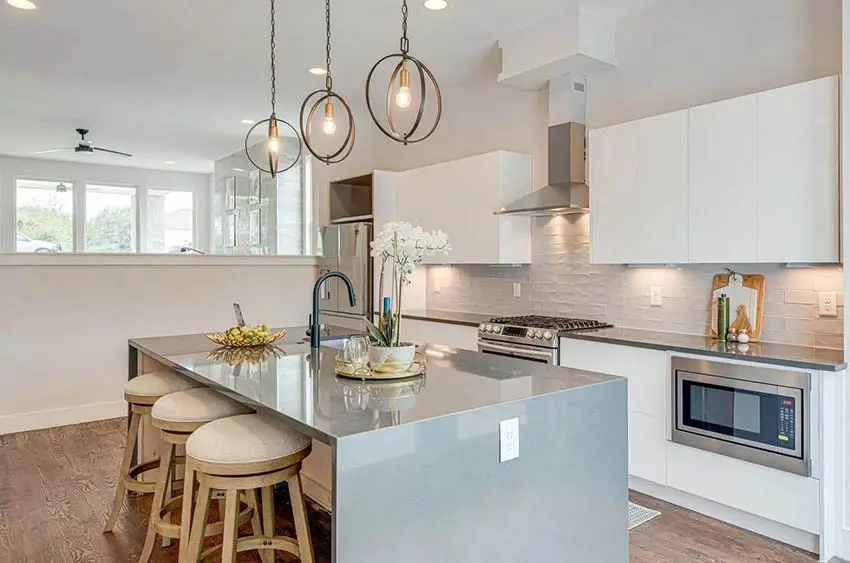 While there is a wide selection of cabinet material choices, the most common choice is wood, wood veneer, or laminate.
When it comes to wood, you have plenty of options. Different types of wood offer different colors, shades, and even different grain patterns. For example, ash, oak, birch, pine, hickory and cherry wood cabinets are just a few popular choices when it comes to real wood materials.
Even if you plan to paint over the natural or stock appearance of your cabinet, you'll want to pay close attention to the material. Some surface options don't hold paint as well as the last and you can end up with an end result that leaves your paint job looking lackluster even if the paint job itself is done expertly.
When it comes to real wood, you probably won't want to opt for any products with a lot of knots in it to paint. The knots in the wood won't absorb the paint well and you'll end up with an uneven-looking paint job no matter how hard you try to avoid it. Alternatively, you can purchase cabinets from brands that come pre-painted.
Spice Up the Kitchen Design with Accessories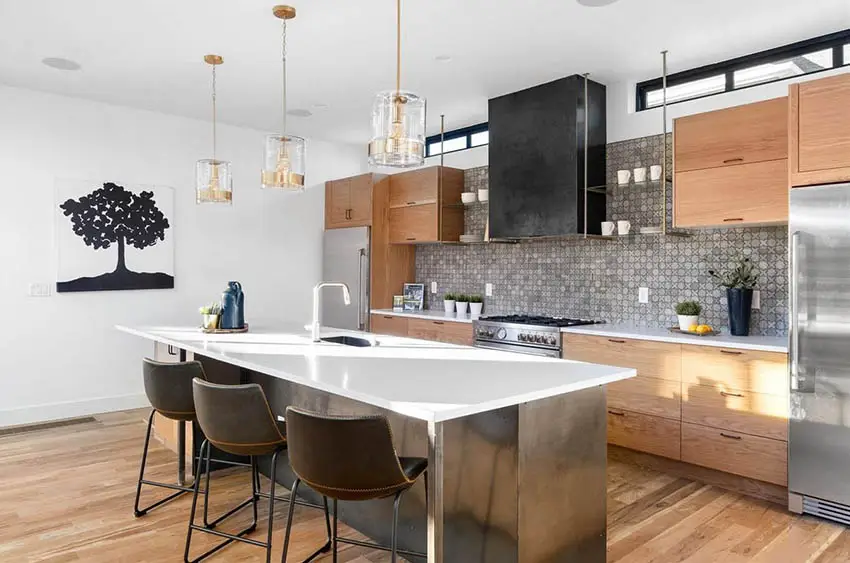 Once you choose your matching cabinets and countertops, one of the best ways to tie the whole kitchen together is to choose the right accessories. This includes items such as cabinet knobs and pulls, as well as hinges on your cabinet.
You can also add dimension to the look of your kitchen by using accent pieces. For example, a backsplash can go a long way if you choose one that matches your decor.
If you keep the tips we've looked at here in mind, you should have a better idea how to match kitchen countertops with cabinets and be able to tie your design together with without any trouble at all. For more details about how to create an visualize your plan take a look at our article about kitchen cabinet design software.