How to decorate a kitchen island including some tips and ideas to accessorize and several ways to improve the overall look of your kitchen design.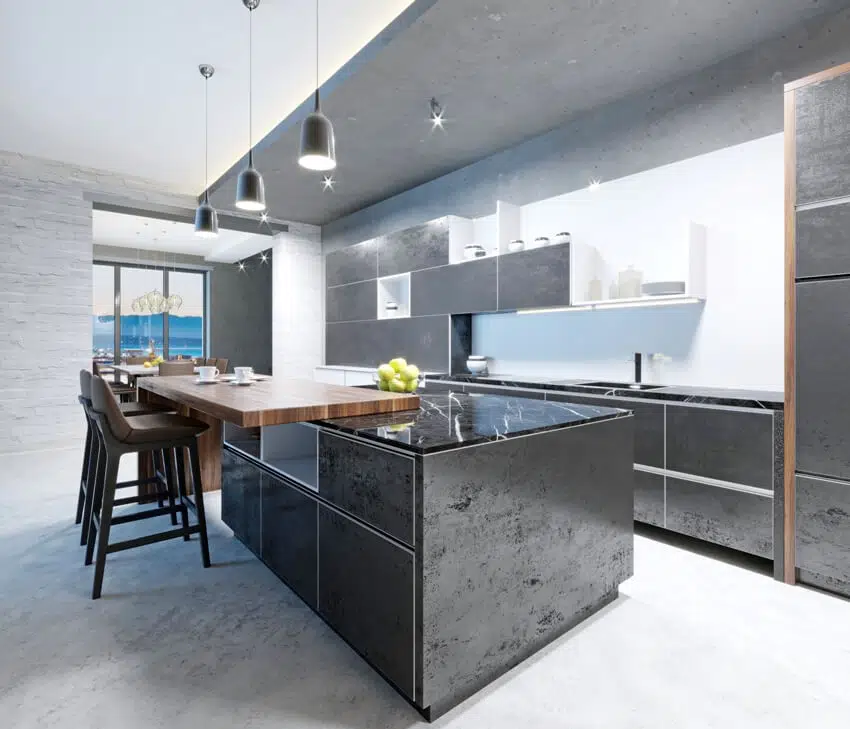 Having an impressive kitchen island can improve the entire look of your kitchen. Through the design process of your kitchen, the decorating part is the fun part where you can accessorize your island kitchen and give it the finishing touches it needs.
Kitchen islands are valuable food prep stations that can serve as a dining space and provide a home for appliances that don't fit on the countertop. But by no means does that mean that they can't be aesthetically pleasing while also serving these other functions.
We've rounded up 10 of our favorite ideas for kitchen island décor no matter your style. You're sure to find inspiration.
Basics For Decorating Your Kitchen Island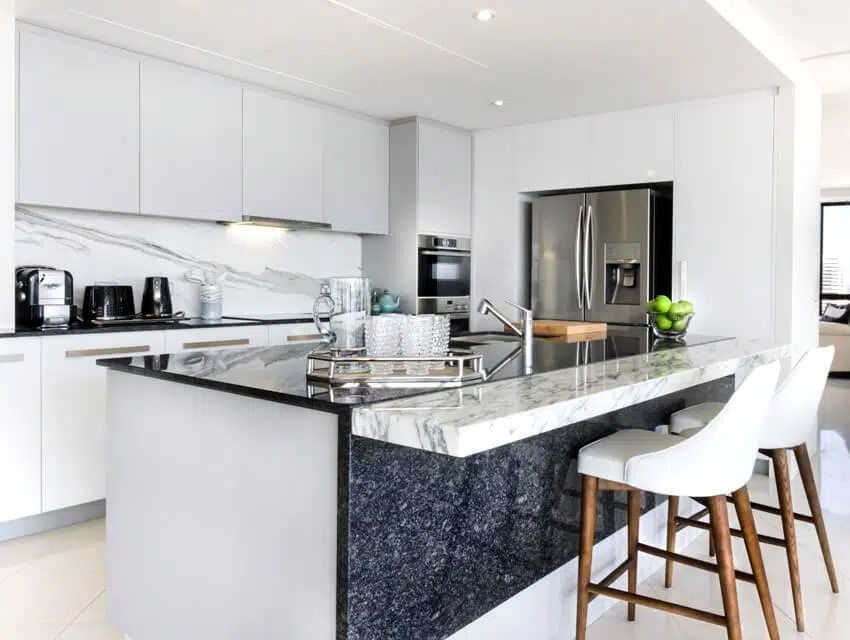 Height. Layer your height, have a single dominating height, and make sure you have enough negative space (unobstructed view) between your décor and kitchen island lighting.
Scale. A rule of thumb is that you need a minimum of 42 to 48 inches of open space around your kitchen, given that you have about 4 feet x 2 feet sized kitchen island. Make sure to have a relative scale between the size of your décor and your kitchen island.
So, for instance, if you've got a spacious peninsula, large-sized décor is recommended. Read more about kitchen island size guidelines here.
Texture. Like your height and color, layering is a great way to enrich the visual experience but make sure to have
Color. Take a cue from your existing kitchen color scheme when choosing your colors. If you have recurring use of brass or gold as accents, it's an effective way to use it as your base color for your décor ensemble.
If you go with pastels, soft or monochromatic hues are best, and avoid vibrant colors. Remember to use contrast and cohesiveness.
5 Ways To Decorate A Kitchen Island
See how to decorate and style your kitchen island below.
Stencil Print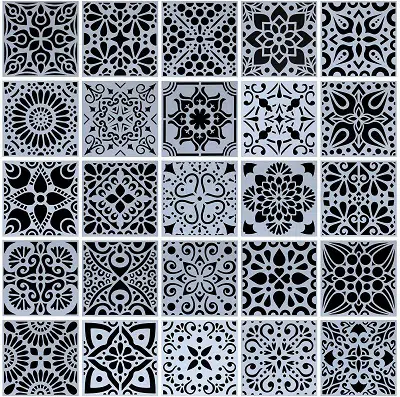 See this painting drawing stencils mandala template at Amazon [sponsored link]
Adding black stenciling on your kitchen island front is a great way to add some visual interest to a plain white kitchen.
You can use either hand print it yourself or have a professional stencil artist add the visual effect. There are affordable stencil pattern templates you can purchase to achieve a uniform look.
Alternatively, you can choose to have peel and stick wall decals or wallpaper that are removable on the front or side of your kitchen island. Wall stickers with patterns are also available if you want to add both texture and pattern to your kitchen island.
Wainscoting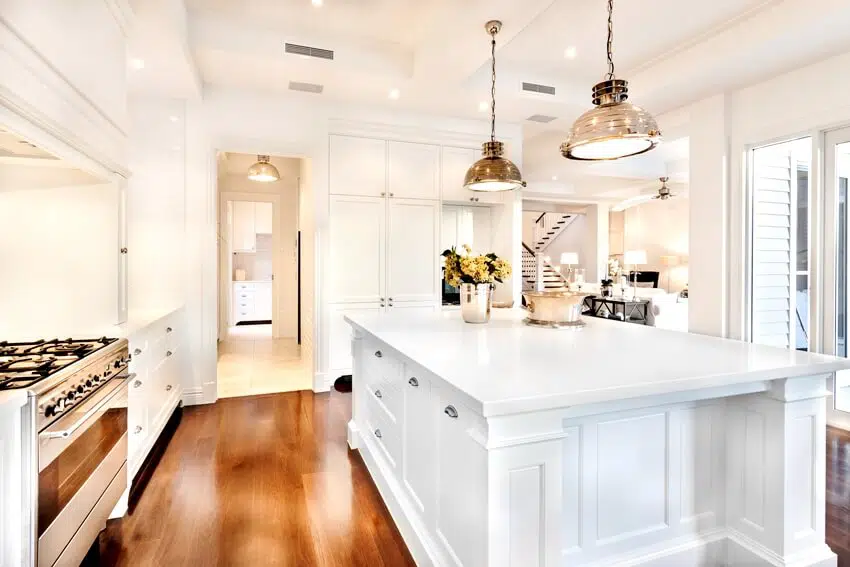 If you're looking for a more architectural transformation, opt for wainscoting around your island. A modern trend now is adding flutings or vertical indentations around the surface. These add a contemporary look while adding dimension and texture to your kitchen space.
Bookshelf and Hampers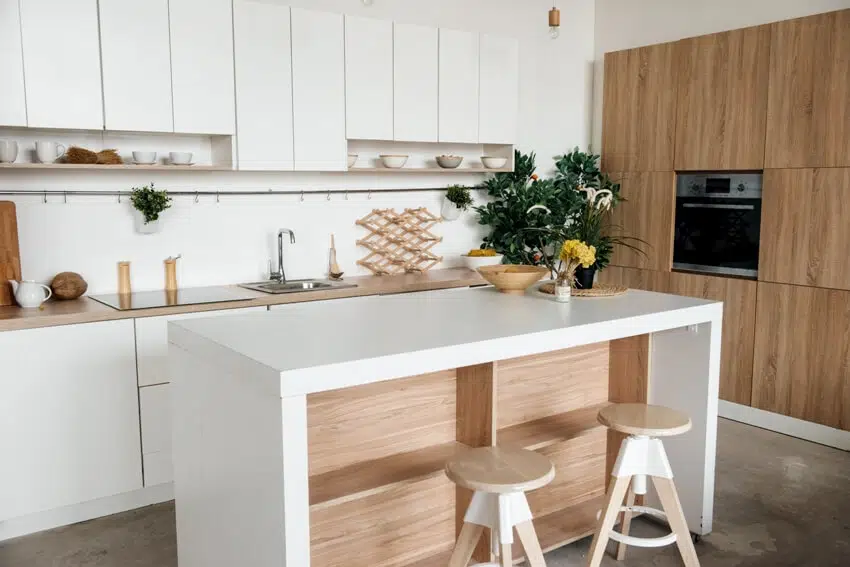 You've probably seen this look many times on Pinterest, and it's a great idea for homes that utilizes the kitchen island as a craft area.
You can add bookshelves on the upper half of your island either or both your front or sides. Leave the lower half for placing wicker hampers where you can place towels or any essential products that need easy access for storage.
Waterfall Countertop Resin Finish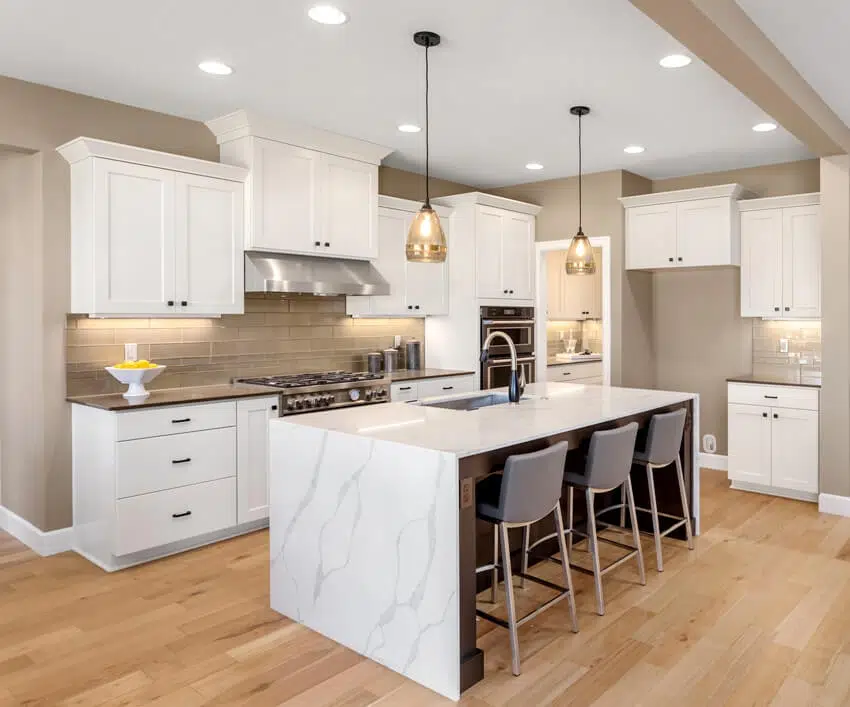 Resin finish for countertops is gaining popularity because this rediscovered art of epoxy finish adds visual interest without sacrificing space in your kitchen. If you've got a small to the medium-sized kitchen, the waterfall countertop resin finish is your perfect solution.
Epoxy resin is very durable, easy to clean, and resistant to moisture, heat, and chemicals. With a waterfall countertop resin, you can have a stunning play of colors waving or whirling through the counter surface, much like clouds or water pools flowing from the countertop down to sides.
Statement Lighting
Like any other room, lighting can make or break the overall look of your kitchen island and the whole look of your interior. Make sure to find luminaires that coincide with your existing design aesthetic. When choosing the number of lighting fixtures, consider the shape and size of your kitchen island.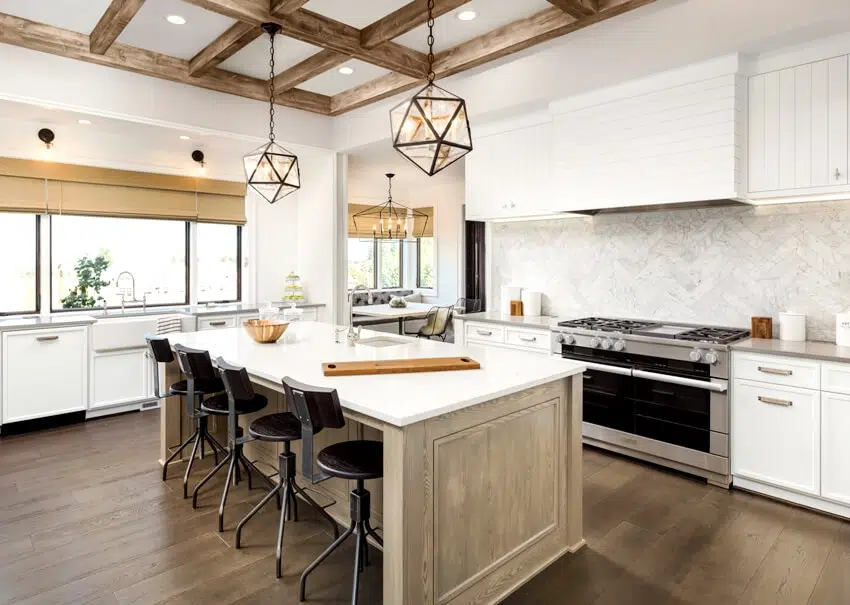 • When lighting a short island (6′ to 7′ wide), use two pendants at least 30″ apart and equidistant from the island's center point. The pendant's widest point should be about 30″ from the center of the island.
• A general rule of thumb is to measure the width of your island and divide it by 12 to determine the maximum width at which light fixtures should be hung. That is, you should leave at least 6″ between the edge of the counter on either side and the widest outside part of the pendant.
Go for the Curated Décor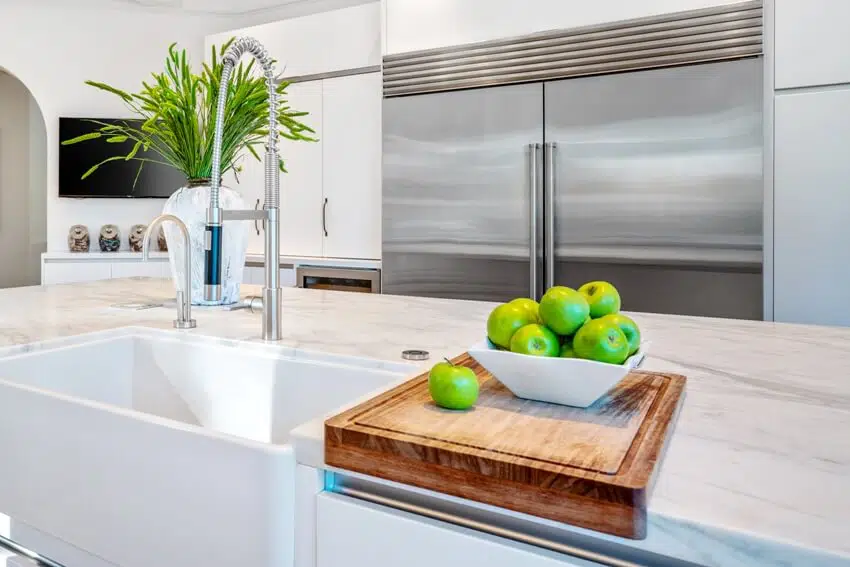 Probably the simplest and inexpensive way to give your kitchen island a quick makeover is to have an ensemble of decorative trinkets and botanicals on your counter. We've gathered great ideas for this kitchen island décor for inspiration.
Ideas for Your Kitchen Island Surface
Here are several ideas on how to make your kitchen island surface more attractive.
Harvest Motif and Cinnamon Bundle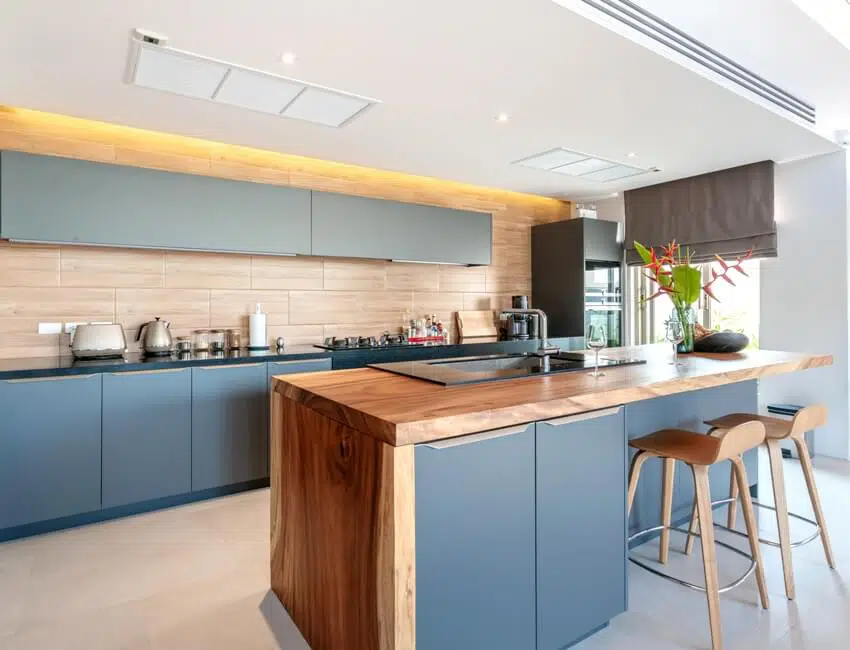 Base: Black Wood Panel Board (14″ x 12″)
Spring is here and which means it's the perfect season to bring in the fresh blooms in and on your kitchen island. On a clear vase, arrange your flowers and ferns. Choose a glass vase in a botanical or urn shape.
For your base or accent colors of greens and whites, use Variegata greater periwinkle, dusty miller, or asparagus fern. At the same time, your primary colors are auburn, amber, or yellow flowers such as chrysanthemum, strawflowers, and marigolds.
Don't forget to add your secondary color of blues and violets such as hellebore, pig squeak, and Virginia bluebells.
Grounding your harvest motif is a black wood paneled rectangular or round board. Place your harvest motif on the wood board on the left and have your cinnamon stick bundle (2-3 bundles) on the other side.
You can choose to have a gold dish to hold your cinnamon sticks. You can either add plain or scented white candles amidst the ensemble.
Cookbook Display with Quartz Crystal

Base: wood cutting board with feet
Make your décor functional by stacking up a collection of 3-4 cookbooks or lifestyle books on your center island. Pair it with a large quartz crystal that's at least 2 inches above your stacked books.
Place them on a wood cutting board with feet, preferably with gray and white textures. Finish off with 2-3 succulents on white vases spread over your arrangement.
Citrus Fruits and Candles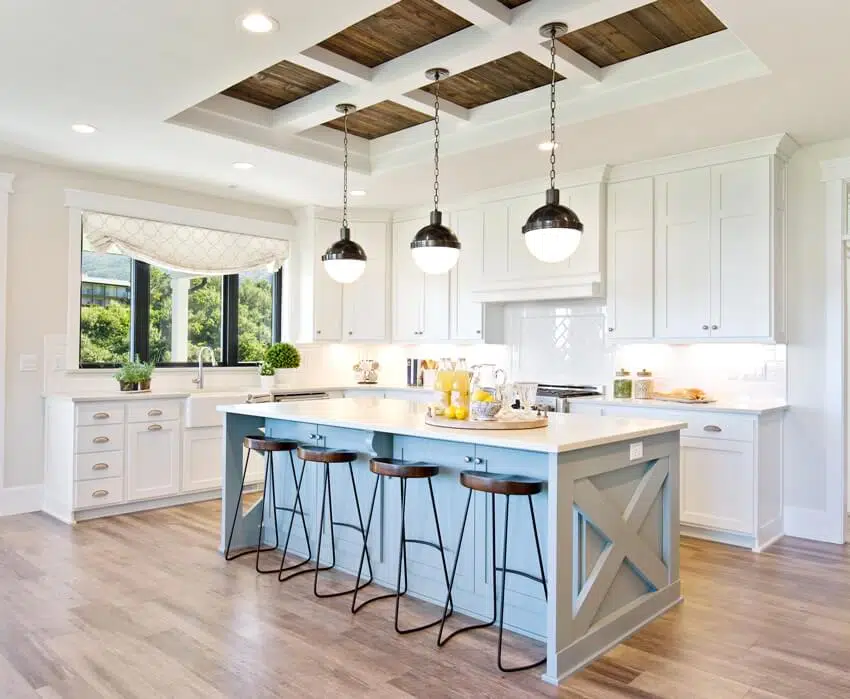 Base: black round cutting board
With the vibrant color and zesty scent, no wonder the citrus fruit bowls are popular options for kitchen island centerpieces and remain a classic home décor for any time of the year. You can either choose lemon or orange or combine the two fruit.
Have these citrusy décors on a glass platter, basket, bowl, or three-layered tray, then add pine cones to add texture to the look. To add dimension, choose to add a square or round candle. There are electric candles that you can light up safely throughout the day or night.
Succulents on a Bread Tray (Vintage or Distressed Wood)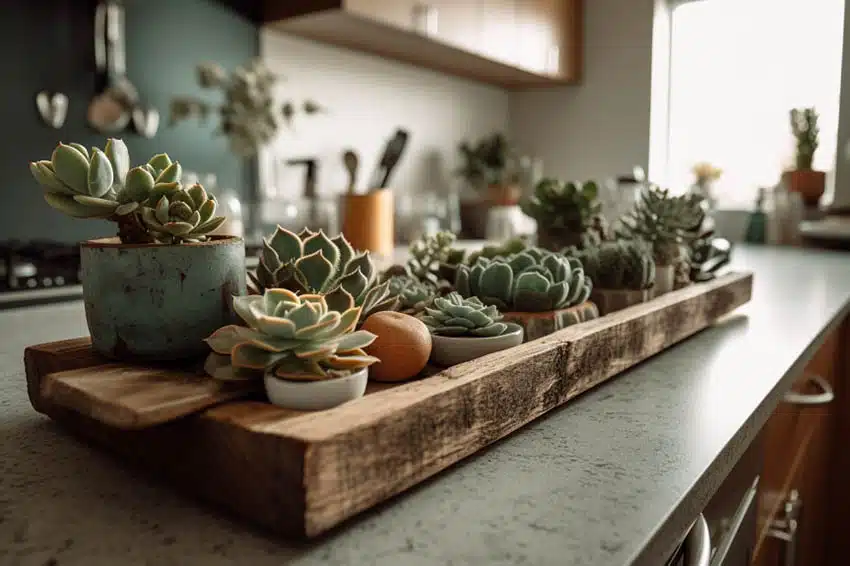 Base: Table Cloth, Table Napkin of Countertop Surface

If you've got a large rectangular kitchen island, going long is the best way to offset the blank space. Depending on how high your bread tray is, place garden foam mats or blocks and trim them down if it goes too high above your tray. Choose to add moss to hide away your foam.
Stacked Book Décor with Family Quotes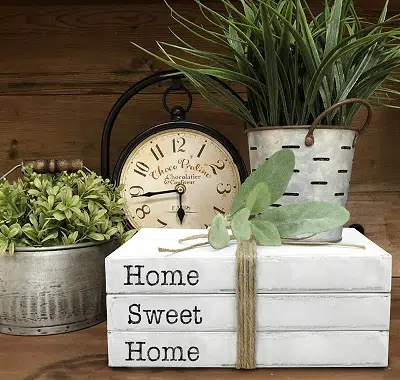 See this Tenxvi designs decorative white books at Amazon [sponsored link]
Base: round pouf tatami mat
The stacked book décor is a classic idea from your farmhouse aesthetic, and you can easily add this cozy look to your kitchen island. Add three books stacked together and bundle them together using abaca strings.
There are decorative hardcover books with words on their spines that spell out a quote to create a cohesive theme or convey a message you love. Top it off with geometric décor made of brass or any type of metal. Use your round pouf tatami mat to anchor your items.
Decorative Vase and Serving Tray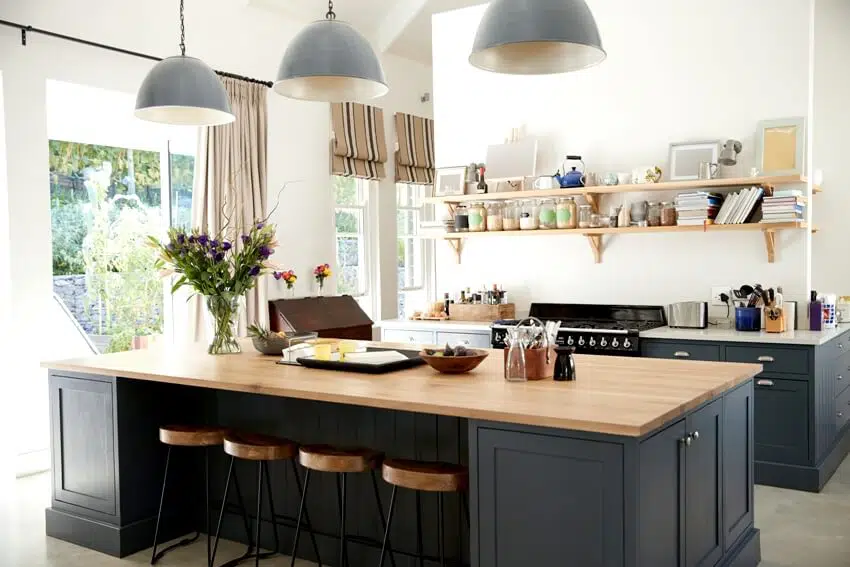 Base: Rectangular Marble Tray
For an excellent and minimalistic décor, choose a series of clear glass hydroponic vases with growing plants. Then add a Himalayan rock sea salt lamp bowl to illuminate your arrangement.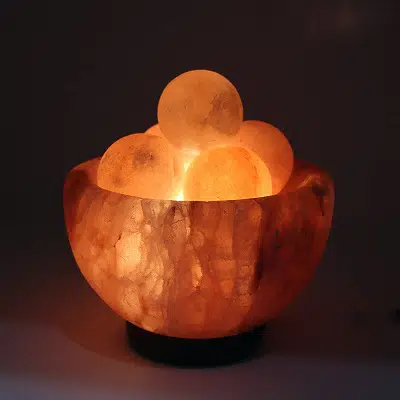 See this UMAID natural Himalayan rock sea salt lamp bowl at Amazon [sponsored link]
Mount your items on a white rectangular marble tray to anchor them down, and at the same time, so it can be easier to move your décor away when you need more space from your kitchen island.
Tips:
Sometimes one item is enough. Don't overcrowd your kitchen island with décor. Sometimes one decorative piece is enough to make a statement.
Display with the Seasons. When you're running out of inspiration, you can always fall into the seasonal air. This makes it easier to streamline your colors and textures as well, while you can swap it for a new look when the season changes.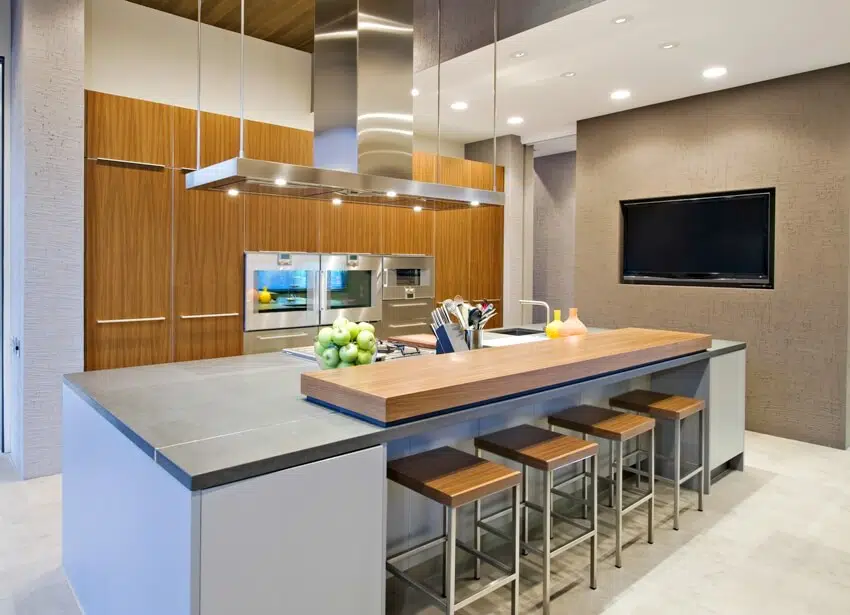 Fruit and Flower Display. You can't go wrong with a tray of fruits and flowers. Not only are they visually appealing they are easy food grabs for the family. Add nuts and herbal plants to your tray to add texture.
Choose Classic Pieces. Invest in quality-made products like apothecary jars, dried branches, candles, pans, mats, and ceramics are classic items that you can mix and match with other decorations.
For more related ideas, check out our guide to the most popular types of kitchen islands including pros & cons and design styles.