In this curtains to cover walls guide we share the best decor alternatives to hide your walls and ideas for choosing the right curtains for your interior design.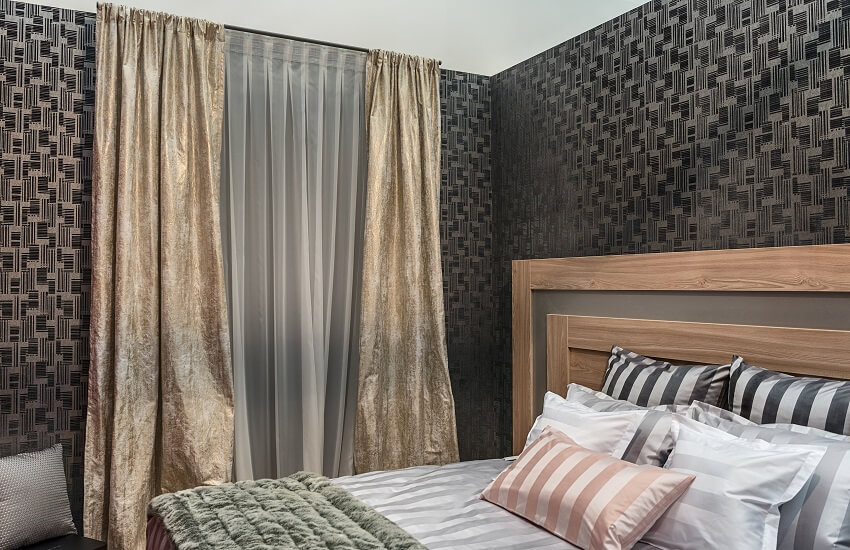 Curtains are the quickest way to provide privacy, conceal flaws, shelves, or anything you want to keep hidden without complicated and costly installations.
When placed on an entire wall, curtains effectively provide a certain ambiance or character while defining or adding focus to a certain design element.
How To Cover Entire Wall With Curtains?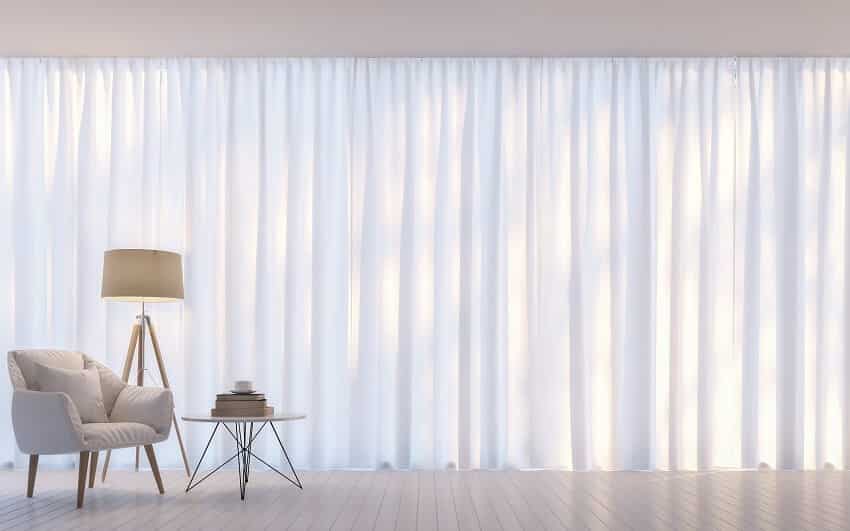 To cover an entire wall with curtains you may need to think outside the box. Since most curtain rods come in common window sizes, with 170 inches being the longest and unlikely to be readily available, you may need to DIY your curtain rods.
An electrical conduit is an excellent material for that extra-long curtain rod to accommodate a longer curtain coverage.
Here's some of the materials needed to DIY a wall length curtain rod.
Materials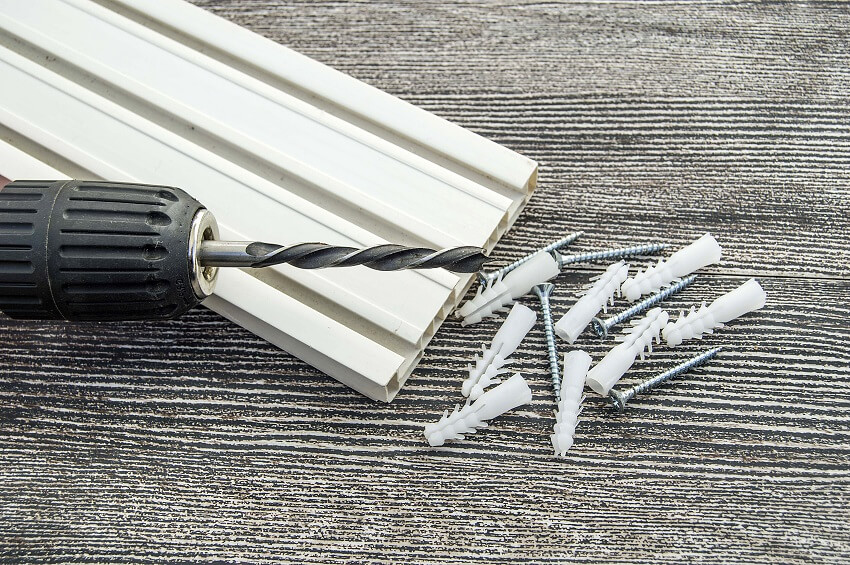 EMT (Electrical Metallic Tubing) – These are straight metal tubing usually made from aluminum or galvanized steel with a trade size of 10 feet.
When choosing the diameter, check the grommet or pocket size of your curtain and make sure to provide around half-inch allowance.
You'll likely use 1", 1 ¼", 1 ½" or 2". The number of EMT rods to purchase will depend on the length of your wall.
Tip: Add 2 to 3 inches allowance on each side of your total length.
Coupler/Couplings – When you have a rod longer than 10 feet, you'll need a coupler to join the two rods. Choose a coupler diameter size corresponding to your EMT tube diameter as sizes are of trade standard.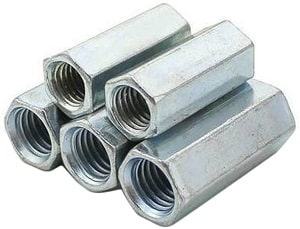 See this rod coupling hex nut connector zinc plated at Amazon [sponsored link]
Tip: Don't worry about the screws showing up as it (The coupler will sit in the center support rod, with the screws pointed towards the wall and won't really be visible. You won't need to worry about the curtains gliding over it.)
Brackets – You'll need one for each end and one for the center or as a rule of thumb have a bracket for each 50 inches or 4 feet interval.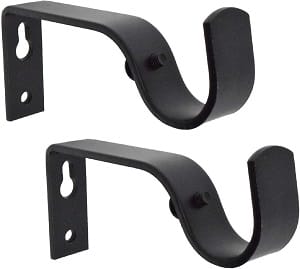 See this gb home collection curtain rod brackets at Amazon [sponsored link]
Tip: If you have a larger conduit and can't find a bracket that seems to fit, you can always use pliers to open up your bracket a bit to allow your rod to slide through. Make sure to do adjustments before painting.
Finials – Choose your finials depending on the style you are going for and make sure it fits your rod's diameter size.
Step 1. Determine the Wall Coverage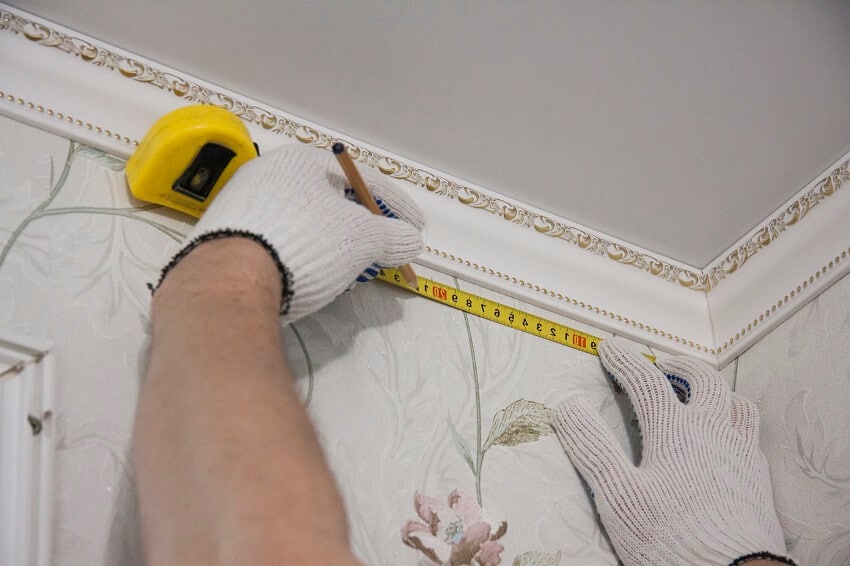 Using a tape measure, determine the length and width of the wall space you want to cover. For a full-coverage measure the wall from the floor to the ceiling.
You can add a few inches, depending on your desired curtain drop (distance from your hem to floor).
The width of the curtains should be measured between the first and last pleats. The drapery returns folds back to the wall between the side edge and the first pleat of the drape.
To determine the minimum length curtain rod you need to purchase, add 5 inches for overlap in the center of the drapes when they are closed.
Step 2. Bracket Placement
Make a mark on the ceiling for the curtain rod brackets. Drill 1/16-inch pilot holes into the ceiling at the marked locations. If you're using drywall anchors, make sure to insert them into the pilot holes first.
You don't need anchors if you drilled into the ceiling joists. Then, screw the brackets to the ceiling using the screws included in the curtain rod assembly kit.
Step 4. Determine Number of Pleats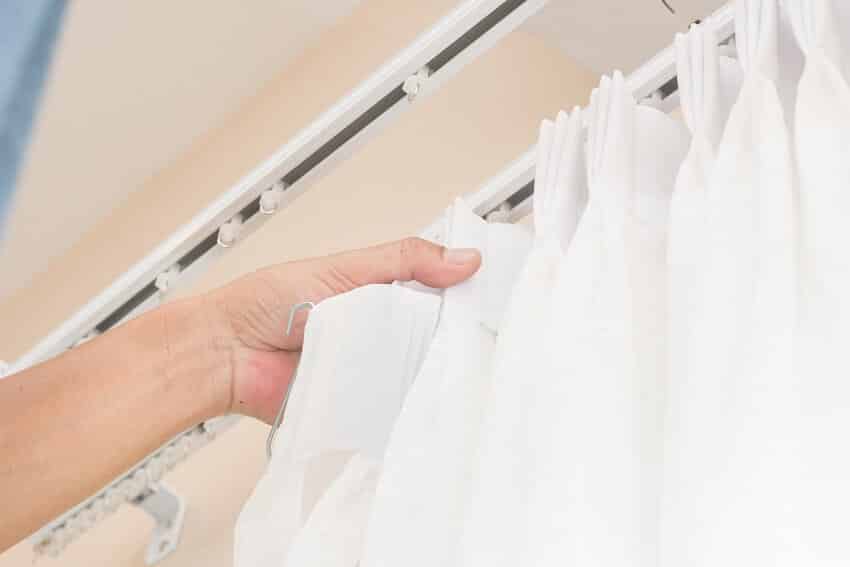 Count the number of pleats on each side of the drapes. Take four away from each side of the drape. See our drapes vs curtains design guide to get more ideas.
Step 5. Rod Placement
Separate the traverse rod. Using the number of pleats you determined in Step 4, remove any slides from the rod that you do not need to use, then, return the rod to its original position..
Step 6. Install Curtain Rod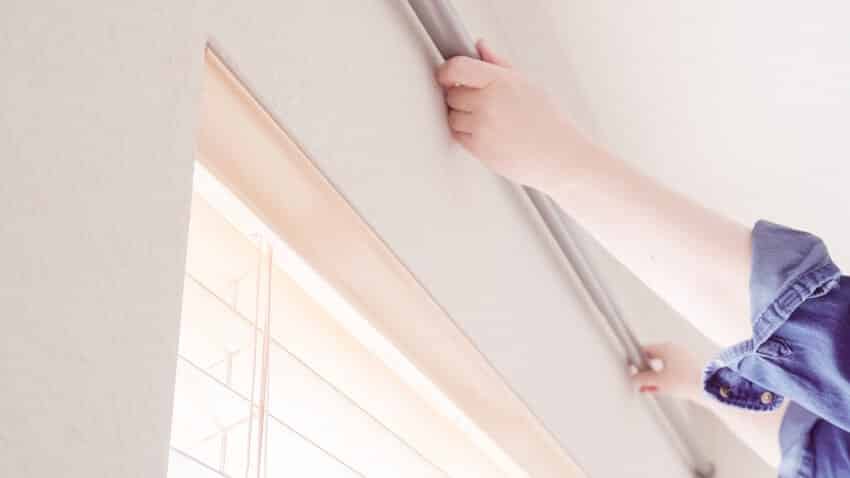 Place the curtain rod in the bracket. Using a screwdriver, tighten the screws that hold the rod in place. Thumbscrews are used to secure some rods, while clips or locking cams are used on others.
Step 7. Check the Traverse Rod
To ensure that the traverse rod is operating smoothly, open and close it. Pull the excess cording to the right or left side of the rod, depending on your preference. Thread the cording through the tension pulley.
Step 8. Secure Pulley Bracket
Mark the location of the tension pulley on the wall, windowsill, or floor. Drill pilot holes for the pulley bracket and secure it with assembly kit screws.
Should Curtains Cover The Whole Wall?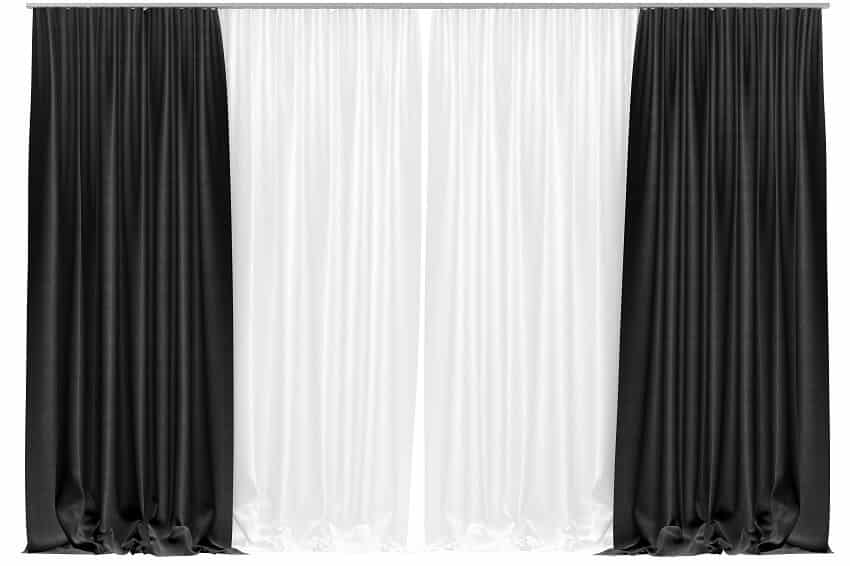 A whole stretch of a curtain on a wall has a more visual impact than only having it on sections. It is best to have as much coverage on your wall, creating a uniform and seamless look.
Remember to choose a certain color that matches your room's function, as color can affect a space's atmosphere and visual scale.
For instance, dark-colored curtains add depth and work well with medium to large bedrooms or media rooms.
On the other hand, lighter hues allow light to pass through and create a lighter atmosphere in a room, making it great for living rooms.
Full-length curtains that stretch from the floor to ceiling also create an illusion of space and grandeur, especially with continuous vertical header folds. Visit our types of curtains article to see more options.

Tip: Choose vertically striped curtains functioning as a removable wallpaper.

How Do I Choose Curtains For My Wall?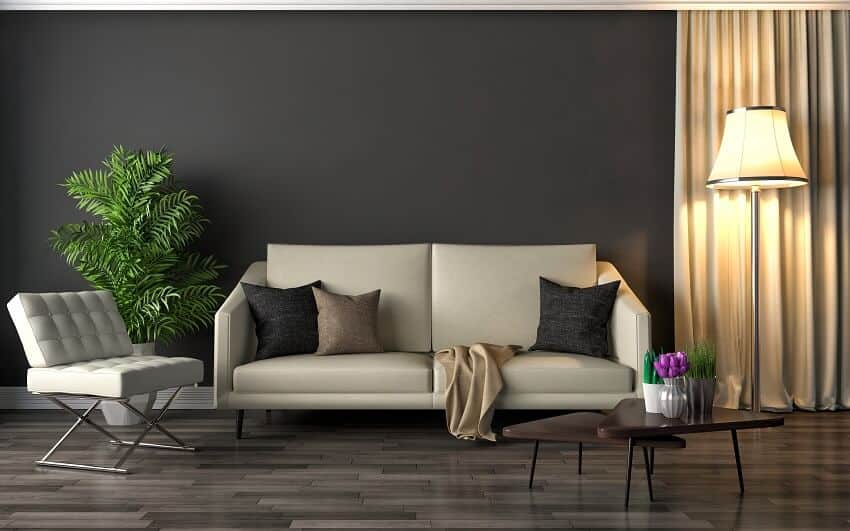 The first thing to consider when choosing the right curtain design for your wall is the purpose. Would you like to create a backdrop, increase privacy, create a focal point, or all of the above?
Another consideration is the existing design or color you have in your interior. The fabric and color will influence how much natural that will pass through your curtains for covering windows.
Heavy opaque curtains can diffuse unwanted glare and heat but can also block out the natural ventilation coming through your home.
Curtains can also make a space look heavy and overbearing, especially for rooms with limited space and window openings.
It would help if you also considered the effect of your artificial lighting on the color of your curtain, as it can reflect or diffuse light in your interior space.
Colors and Patterns
To have a cohesive look, take a cue on your existing color scheme. Hold your fabric swatches against your pillows, sofas, and walls, and pick several colors for you to have options. Read more of our guide on how to choose curtain color.
Think for a while before making a final decision. This also applies to your patterns. If you've got an existing pattern on a décor, look for similar elements.
Curtain Size
Even if the curtains are drawn most of the time, they should always be at least twice the width of the window.
It is also critical that they be sufficiently long. They can puddle on the floor for a rich and elegant look, or they can skim the floor for a more streamlined and cleaner look.
Short curtains should be brushed against the window sill. When purchasing store-bought panels (rather than having them custom made), it is preferable to purchase them long enough than have them hemmed.
Fabric Options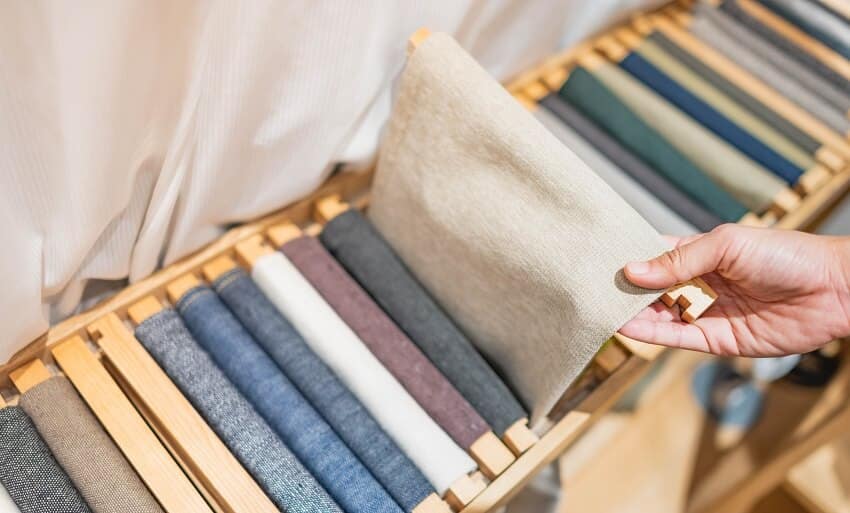 Each fabric has its pros and cons, but the most popular options are cotton, velvet, and linens. Cotton is versatile and easy to clean, whereas velvet is luxurious and private but can be heavy in some areas.
Sheers are light and graceful but lack privacy, whereas wool is heavy but strong enough to hold embellishments like tassels and fringes.
Finials
Although it may appear to be a minor detail, the finials (decorative end screws) at the ends of your curtain rod can add the perfect finishing touch to your window dressing.
If you want to change the style without replacing all of the hardware, you can often buy upgraded finials. Remember that a great room is all about the details, and adding finials will round out the look.
Other factors to consider:
• Off the shelf or custom made
• Washer machine friendly or dry clean only
• In-home or online consultations
Alternatives For Hiding Walls
Stretched Fabric
When you need to cover just a section of your wall, a stretched-out fabric wall décor is a better alternative to your curtains.
If you live in a rented space, you can attach your fabric wall décor using Velcro tape, which you can easily remove once you decide to take down the fabric.
Other methods of attaching your fabric include drapery rods, coat hangers, and curtain poles. There are a lot of digitally printed fabrics in the market, so there's no sort of designs you can choose from.
Wall Decals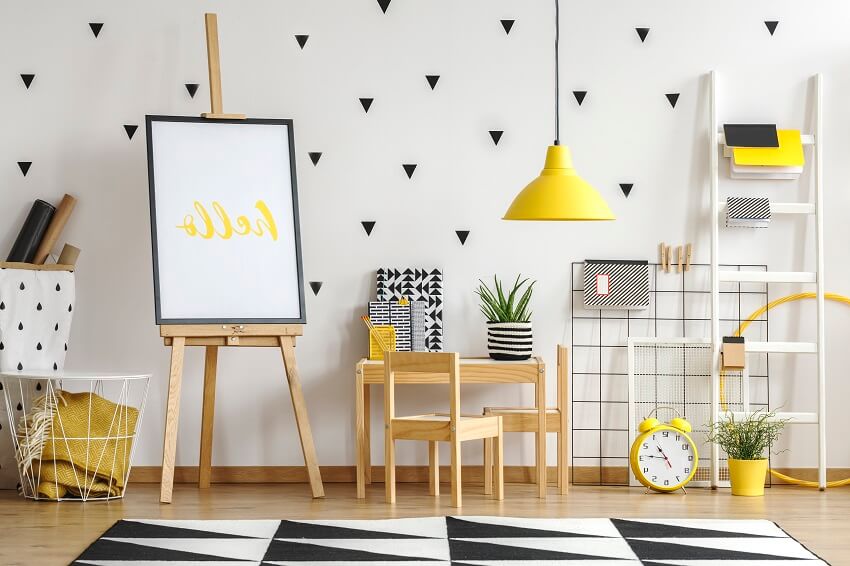 It's easy to see why wall decals are becoming increasingly popular. Not only are they reasonably priced, but they are also extremely simple to install and can completely transform a stark-looking wall.
Wall decals are essentially large stickers, but unlike traditional stickers, they are extremely easy to remove from walls, making them an excellent choice for renters.
Folding Dividers or Screens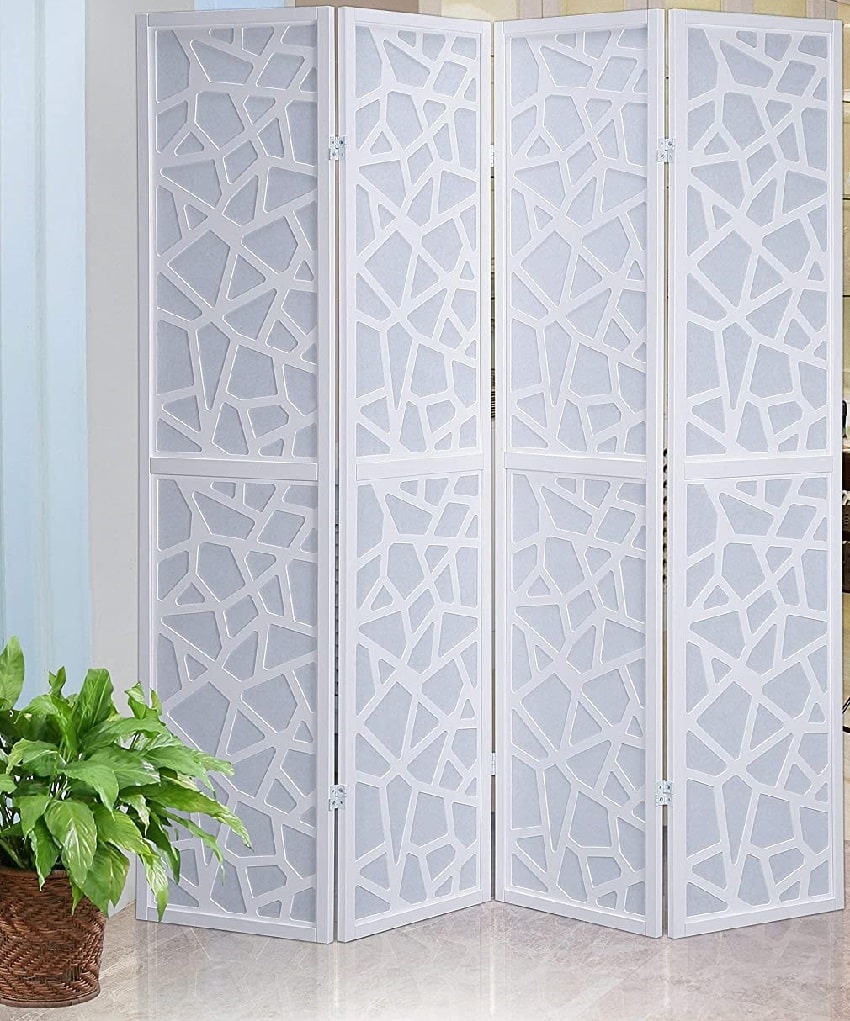 See this Roundhill furniture giyano 4 panel wood frame screen at Amazon [sponsored link]
Folding screens are portable and versatile pieces of furniture that can be used as a movable partition, headboards, and even against a wall as decor.
Use a transparent design with a lamp behind to create an illuminating romantic feel or a bold, striking screen against a neutral wall to add striking accent colors.
Wallpaper
It takes more time and effort to install than your curtain wall but will ultimately cover your surface effectively. You can either choose temporary or permanent wallpaper.
Wall Painting or Framed Photos
Hanging a large framed artwork or a gallery of photos is the most common way to hide away your walls. You can easily remove them to access your wall once you decide to do renovations or repaint your walls.
For another related article, check out our accent wall ideas guide.