Here we share our how to choose curtain color guide including what to consider, room styles, matching tips for couches, and important questions you should answer first.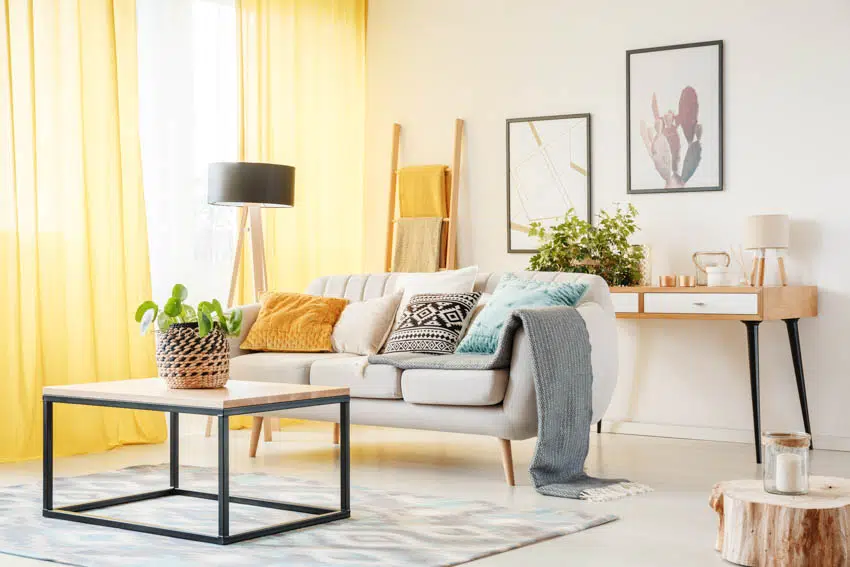 Window treatments are one of the important choices in any room. If there is only one window in an expansive space, the decision is more straightforward.
For rooms with large or several windows, the curtain color can make a big difference in the room's décor. Curtain colors may blend into some rooms backgrounds or become a highlight for the interior design. Overall, curtain color and placement have a lot to do with the design you envision.
Choosing a curtain color also depends on the type of room. A kitchen breakfast nook may look perfect with a particular curtain color that otherwise would not fit well in a master bedroom.
The same goes for a living room versus a bathroom. This guide provides ways to trim down your curtain color search and find the best curtain color for your home décor.
What To Consider When Choosing Curtain Colors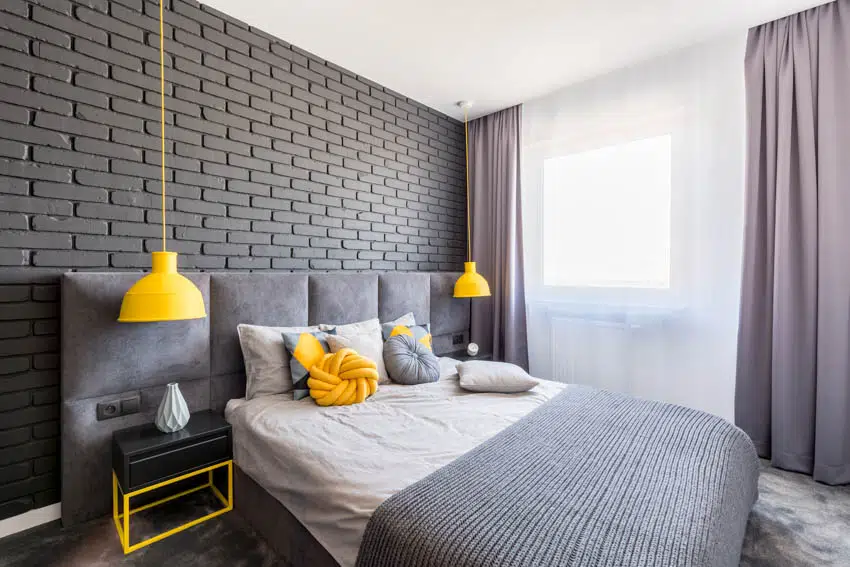 If you're beginning with an empty room and deciding what kind of color scheme works best, the curtain color choice is a bit easier. With a planned room design including furniture, wall paint, and decor, you have a better idea of what color curtains work the best.
If you're changing existing curtains, the choices are a bit challenging. Still, the new curtains don't have to be the same color as the ones being replaced. Either way, matching or accenting colors in the room helps when choosing curtain colors.
Curtains can pull a room together when they match or are close to an accent color. The accent color could be an area rug, the room trim, crown molding color, or the wall color.
It's not advisable to choose a color from smaller, more temporary items such as lamps, pillows, wall art, or knick-knacks that may be replaced from time to time. Curtain color can also tie into the furniture in a room.
Instead of struggling with trying to match curtains with the color of the furniture, choose colors that complement or contrast the predominant color.
Room Style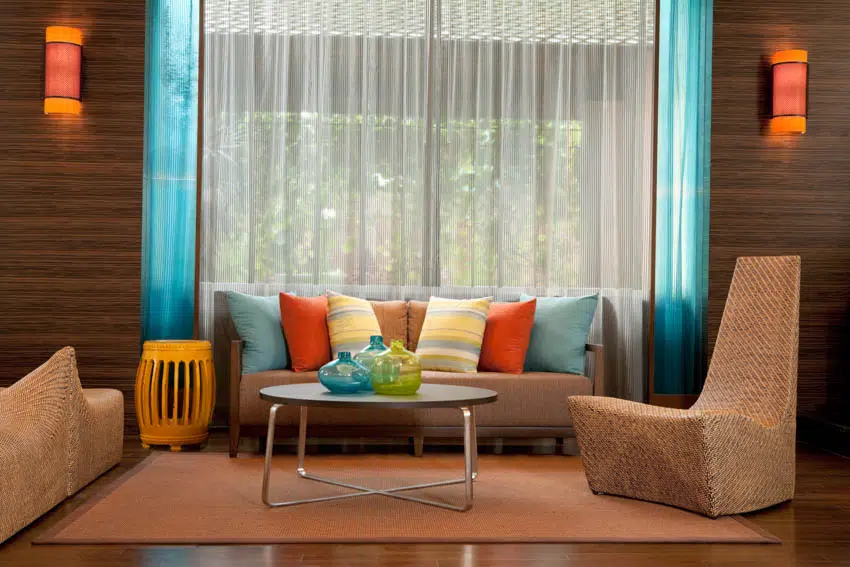 The style of a room will help you how to choose a curtain color for it.
A formal or classically styled room looks good with darker-colored curtain panels on the sides of a sheer panel. Medium brown curtain panels with a sheer white panel create a wonderful tone for blue furniture.
Minimal or modern styled rooms typically have a less deep color scheme. If the wall color is a light grey, curtains that are two shades darker create a seamless look with furniture colors such as orange, black, pale yellow, subtle pink, or slate blue. Grey leaves an open palette for choosing curtain colors and decor.
A country cottage or relaxed room lends itself to pastels. Beige, light blue, or sandy-colored walls give way to curtains that are complementary colors to another color in the room.
For example, sandy walls and seafoam green furniture creates a soothing match for pastel orange, ombre, or daffodil curtains. Curtain colors can be complementary or a matching color in a shade or two lighter or darker.
But if the room is decorated with bold colors or patterns, the curtain color should be more understated to avoid clashing with the rest of the decor. For a room with muted, solid colors, complementing curtains with a pattern work beautifully. Read more about our guide on colors that help you sleep here.
Color Matching To Pick Curtain Colors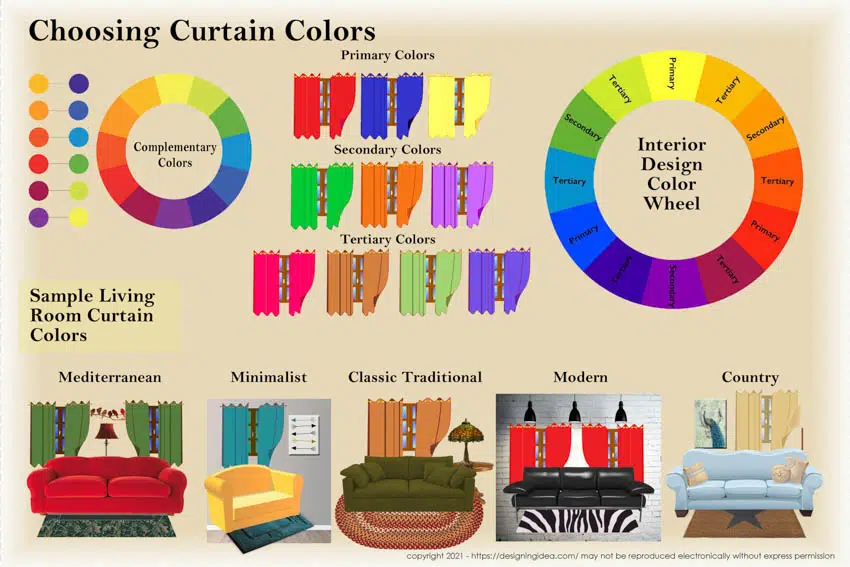 Matching a room element to choose curtain colors commonly involves matching the wall color. If you love your wall color, matching the curtain color is less intrusive than using a complementing color.
The effect of the monochromatic wall and curtain color is serene and opens the room up for additional colors of furniture, wall art, lamps, and other embellishments. At times, homeowners may think this is too matched or boring, but it creates an elegant look to any room.
You can create the same effect by matching the curtain color to the carpeting or flooring. If both are a soft or neutral color, the walls should be a complementing color instead of matching all three and then creating a dilemma with too much of the one color. Read more about our guide on choosing curtains on beige walls here.
Should Curtains Be Lighter Or Darker Than Couch?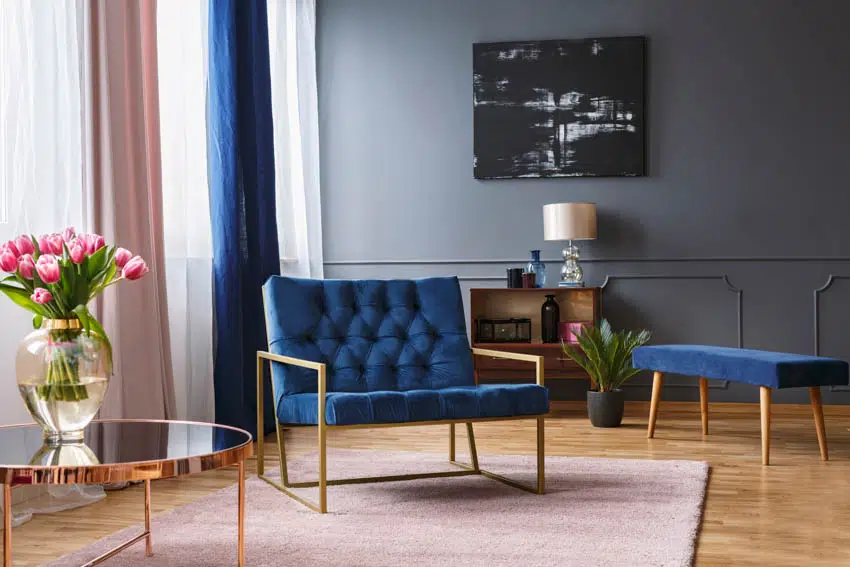 Your furniture takes up the most floor space in a room next to the carpeting. When choosing a curtain color that's lighter or darker than the couch, consider the size and placement of the windows.
If the room has tall windows that almost reach from below the ceiling to just above the floor, there will be a lot of curtain fabric that drapes from the windows. In this case, the curtain color should be lighter so it does not take over the room and detract from the couch.
If the windows are closer to normal sizes such as four feet tall by six feet wide, the curtain color can be darker than the couch to accent the room's color scheme. Read more about our guide on blackout curtains vs shades here.
What Color Curtains Is Best?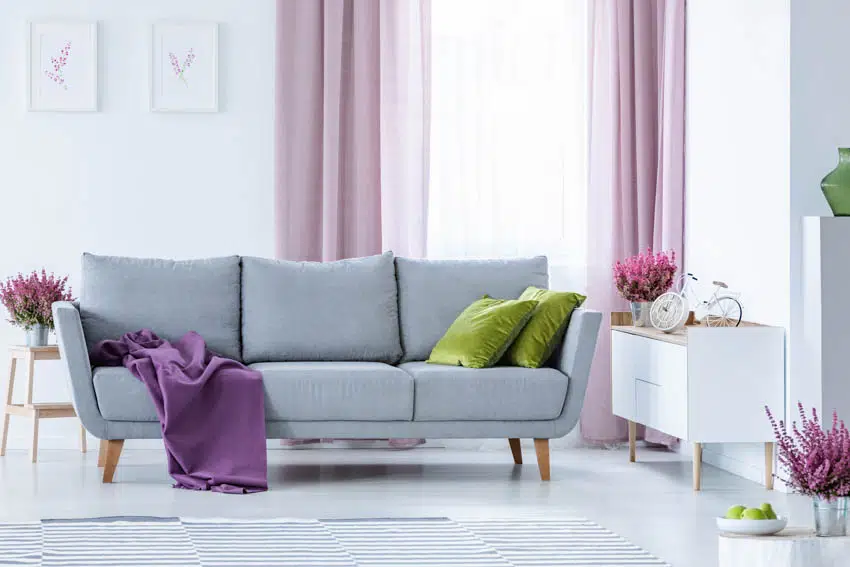 When deciding which color curtain is best for a room, ask yourself these questions:
What style do I want for the room? Choose the style such as modern, classic, country, and base the curtain colors on the type of room; kitchen, living room, bathroom, or bedroom.
Does the room need more light or is it too bright? Factors like curtain color should be used to either lighten or darken the room's design. You can experiment with layering curtain fabrics and using them with sheers if you need additional light filtering, want to change the mood, or add privacy.

Do you want the curtains to be in the background or to stand out in the room? It helps to decide if the windows are a large part of the room to go with lighter-colored curtains so they are in the background and darker or more vivid-colored curtains to create a design statement.
Do you want the room to have all the same colored objects or contrasting? A monochrome room with one other neutral color palette, such as cobalt blues with white accents, is soothing for a bathroom. Contrasts create a more lively room decoration.
Will you be changing the room's color scheme often? If you prefer to change the furniture, large area rugs, decor, or walls to another color scheme, choose curtain colors that are neutrals and pastels. You can add color to the furnishings with your pillows, throws or other home decor items.

Choosing curtain color is a decision based on room design, styles, and budget. By going through all the options and choices presented in this guide, you'll know ahead of time what curtain color works the best, saving you time and money.
Make use of a color wheel when searching for curtain color. The color wheel includes primary colors; red, green, and blue, and secondary colors are orange, green, and purple. When primary colors are combined with secondary colors, the results are tertiary colors.
Complementary colors, although it may not seem, create color harmony. Opposites attract works with complementary colors.
At its simplest form, determining complementary color works by choosing two colors on opposite sides of the color wheel. The contrast creates a bright and stand-out design. Keep in mind it's better to use a simple color wheel with the basic 12 colors.
Looking at the color wheel below, the complementary colors for curtains and furniture colors would be red and green, blue and orange, or yellow and purple. While these color combinations may feel awkward when they are paired with neutral-colored walls or carpeting the results work well together.
If a living room has a lot of wall space painted beige and has beige carpeting, with dark blue furniture, curtains with shades of orange such as marigold, honey or bronze will create a well-balanced room.
Starting From Scratch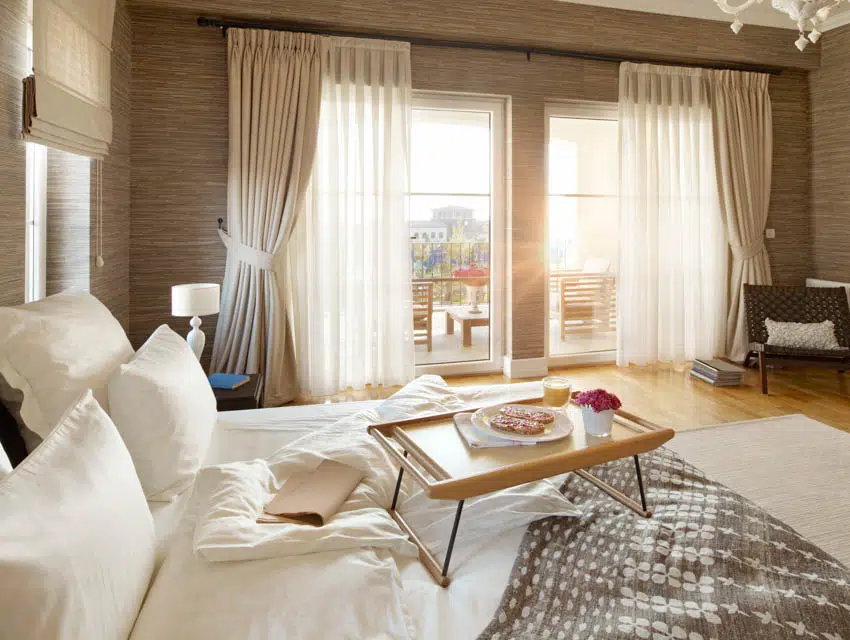 Obviously, you have more options across the board when you start from scratch. This is the perfect time to take a chance on home decor items like curtains that you absolutely love.
No matter what color, texture, or pattern you select, you'll have a better chance of incorporating curtains into any room if they're one of the first home decor items you select.
And don't forget accessories like your curtain rod and pullbacks which should generally match the other finishes in the room.
Just remember that whatever home decor furniture or accent pieces you start with will naturally limit your decorating options for the rest of the room. See more related content at our article about choosing curtain panels on this page.