Here we share our guide for choosing curtains for beige walls including curtain color ideas for light beige walls and matching with dark & brown furniture.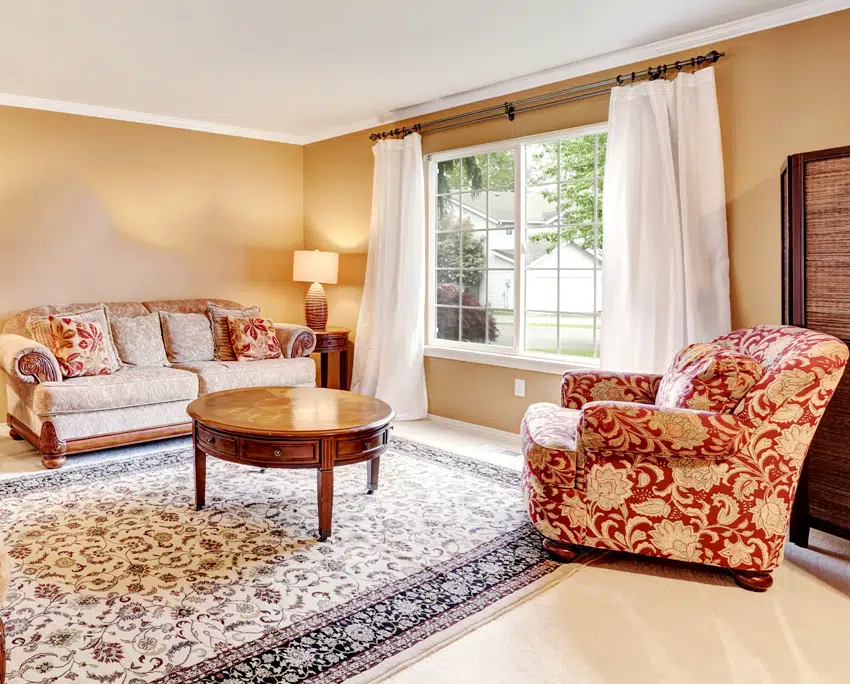 The choice of beige is a calming and popular color for interior walls. It's almost universal tone blends with most interior design styles, such as rustic, contemporary, classic, country, minimalist, and even ultra-modern.
It also helps smaller rooms look and feel larger and more spacious. Beige walls provide a neutral backdrop for any room, allowing the homeowner to create a theme based on an array of colors.
The amount of windows also affects how the room feels and how much natural light enters during the day. Walls painted beige are a way to add light to a home's interior, creating the ability to choose from many colors and designs for interior elements.
When it comes time to decide on window coverings, choosing curtains for beige walls depends on your style and what colors go well with beige.
This informative guide explains what colors go well with beige walls, light beige walls, and rooms with darker furniture to help you decide what color curtains to purchase for your home.
What Color Curtains Go With Beige Walls?
Curtains can present decorating challenges based on how many windows are in a room and how much wall space the windows occupy. Bay windows or tall, multiple windows on a wall may mean whatever color curtains you install can make or break the room.
Beige is a neutral color that has either warm or cool undertones. Shades of beige with yellow, brown, and red tones are warm and beige with shades of grey, lavender, or blue is cool. Here are some of the best color curtains that go with beige walls.
Beige Curtains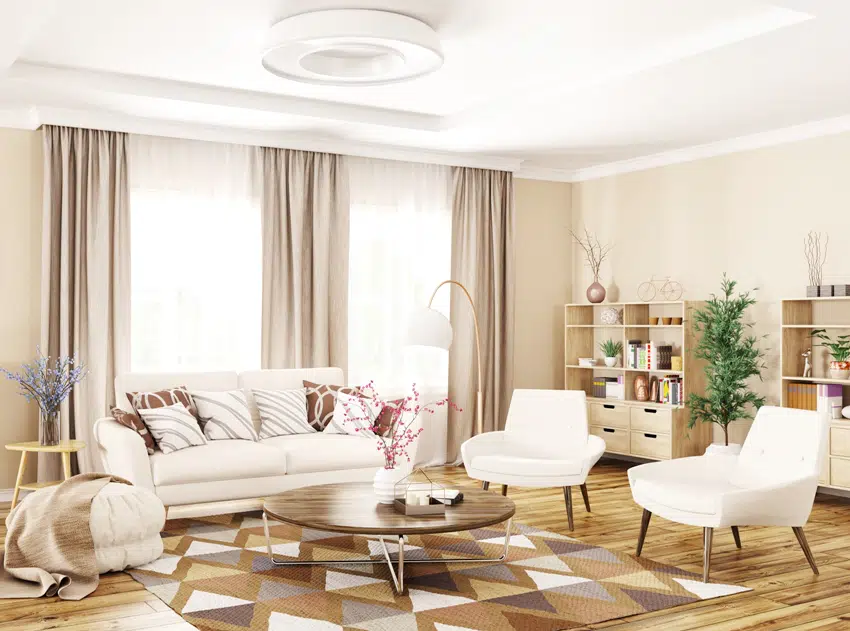 Beige curtains create a subdued and minimalist look in any room. When pairing beige curtains with beige walls, be sure to choose a beige in the same color family as the wall but in a different shade.
Using the same color beige will be monotonous and flat. This makes the room dull. Go with a darker or lighter shade to create a soft contrast or, you can choose curtains in an 'almost beige' that works with the wall color. A warm ivory color curtain or light mocha can create a dreamy look.
White Curtains
White is a crisp, clean color, and white curtains give beige a bit of contrast to highlight the window lines. White curtains are always welcome and create a soft and relaxing look when hung against beige walls.
Nautical Blue Curtains
If the beige wall paint is a cool beige, a darker nautical blue color is excellent for curtains. Nautical blue curtains can be used to tie in other elements in the room with darker colors or match additional design elements and furniture.
Sage Green Curtains
Sage green is an earthy color that works well with a warm beige. It brings out the browns in the beige and creates a base color foundation for other earthy colors in the room, such as blues and whites. Read more about earth tone living room designs here.
Maroon Curtains
When the beige walls in a room lend their hue to a pink or red tone, maroon-colored curtains complement the warm beige tone. The rusty red of maroon curtains highlights the beige tying the walls and curtains together.
Dark Grey and Black Curtains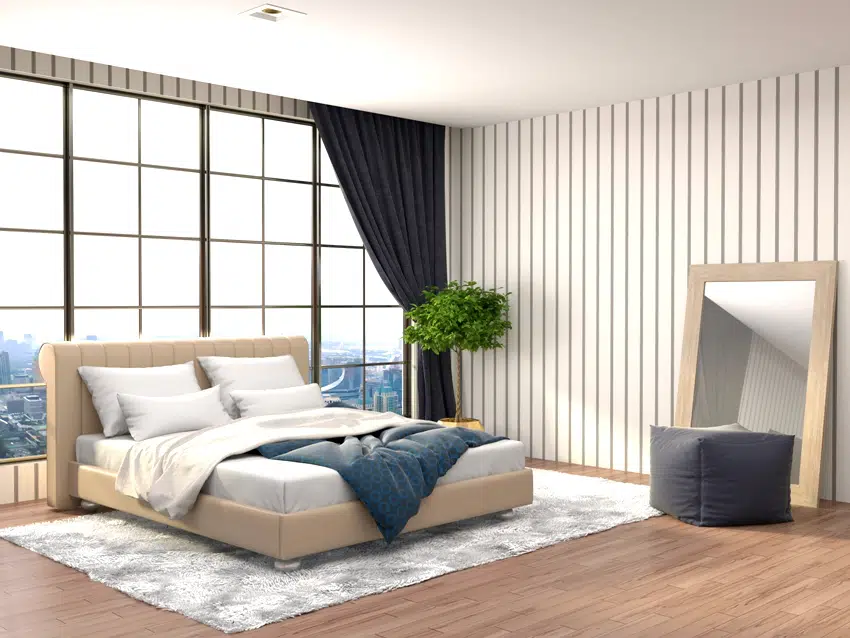 If your beige walls have a hint of grey, dark grey and black curtains will add a rich contrast to the room. The beige is not lost or made to be stark; instead, the darker colors allow the curtains to dictate the room design and tie in with furniture and room décor. This combination is superb for contemporary designs.
Curtains For Light Beige Walls
Beige Curtains
Light beige walls are toned down with darker beige curtains while still creating a soft and pleasant look. Choose just enough of a difference to create a minimal contrast.
White Curtains
White curtains against a light beige wall make for a neutral backdrop for any décor in a room. From a beachy country feel to a modern contrast of blacks and dark colors, the white curtains keep the windows from being obtrusive in the room.
Light Blue Curtains
When beige walls are a lighter hue, light blue curtains create a bond and set the stage for the room's design and theme. Light blue curtains against light beige walls work well in a room with country décor, a floral theme, or a room with a parlor look.
Yellow Curtains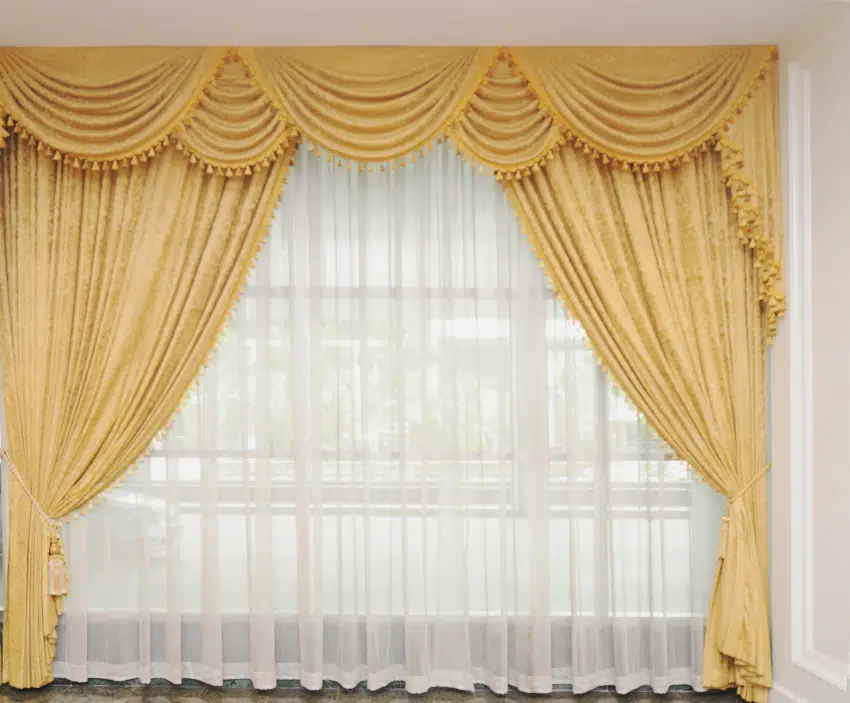 Yellow makes a cheerful color curtain against a beige wall. It looks fresh and clean for a kitchen or bathroom and is an excellent choice for sunrooms. Be sure the light beige has a warm tone with a hint of orange instead of a beige with reds or browns.
Pink Curtains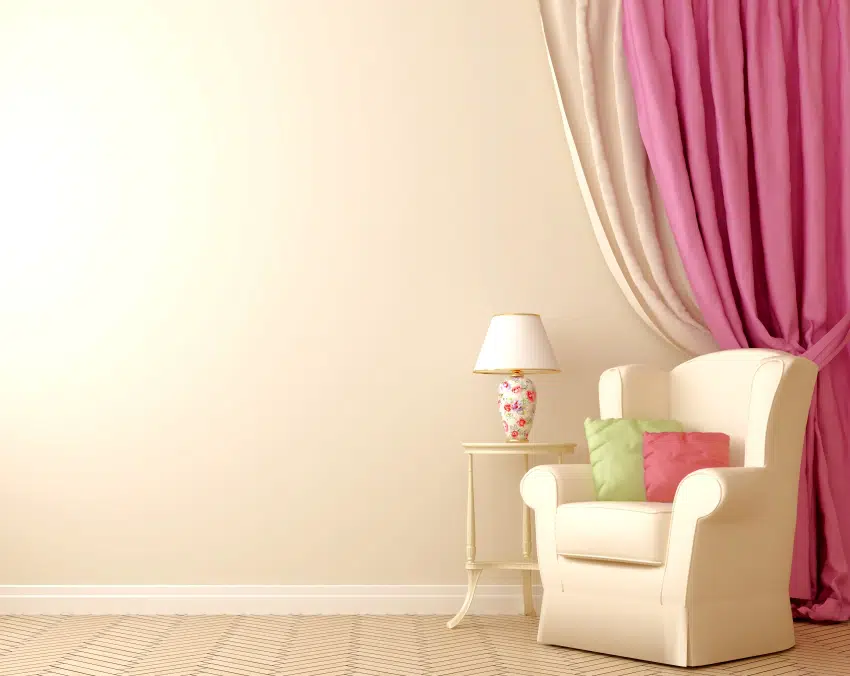 Light beige walls compliment pink curtains with hues of rose, rouge, coral, or peach. Dining rooms with floral highlights and light maple furniture look charming with this combination.
Light Grey Curtains
If your light beige walls are a cool beige with a hint of grey, light grey curtains create an understated color to keep the walls as the background. This color match is an excellent combination for rooms with numerous pieces of artwork hung on the walls, allowing the art to be the focal point.
What Color Curtains Go With Beige Walls And Dark Furniture?
When a room with beige walls is furnished with dark pieces of furniture, the color of curtains should be in the same or similar color family as the furniture and decor.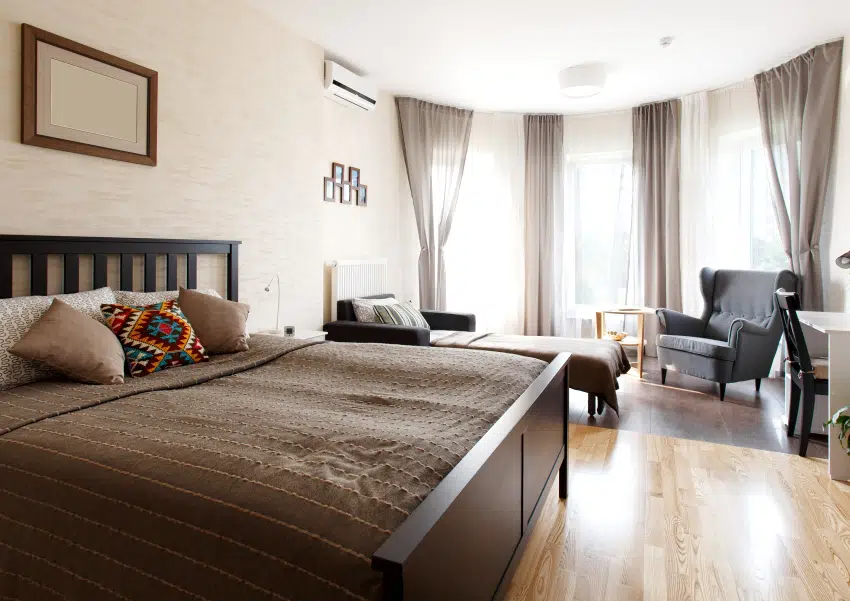 Choose a color from room furnishings or decor and use that color in a medium to dark shade for the curtains. The curtains will complement the room and not create a disconnect from the walls and interior.
What Color Curtains Go With Beige Walls And Brown Furniture?
Brown furniture creates a warm color scheme to accent beige walls. The curtains should be a warm color that brings out the furniture's design and still works with the beige wall color. Read more about what colors go good with brown here.
If the walls are a cool beige and you're creating an opposite effect, choose a cool color for the curtains, such as grey, blue, or lavender, being sure to connect with a color within the room.
For more related ideas about choosing curtains for beige walls, visit our colors that go with beige design guide page.