Guide to cherry hardwood flooring including popular types such as American, Brazilian & African, finishes, hardness rating and color matching.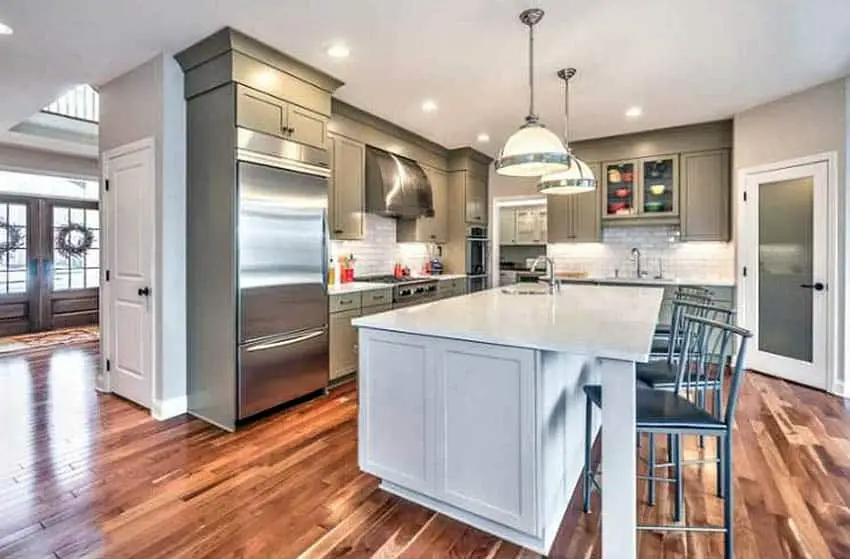 Cherry hardwood flooring is a naturally beautiful wood with a smooth grain. With multiple types of cherry woods, ways it can be finished, and colors it can be stained, there is sure to be the right fit for your home.
The three most popular types of cherry wood used for interior design projects are Brazilian, American and African. Each type has a unique look, graining, hardness and cost. Below we'll share the pros and cons of each type to help you find the one that's right for you.
This article is part of our larger types of hardwood flooring gallery which can be referenced for more ideas.
Brazilian Cherry Hardwood Flooring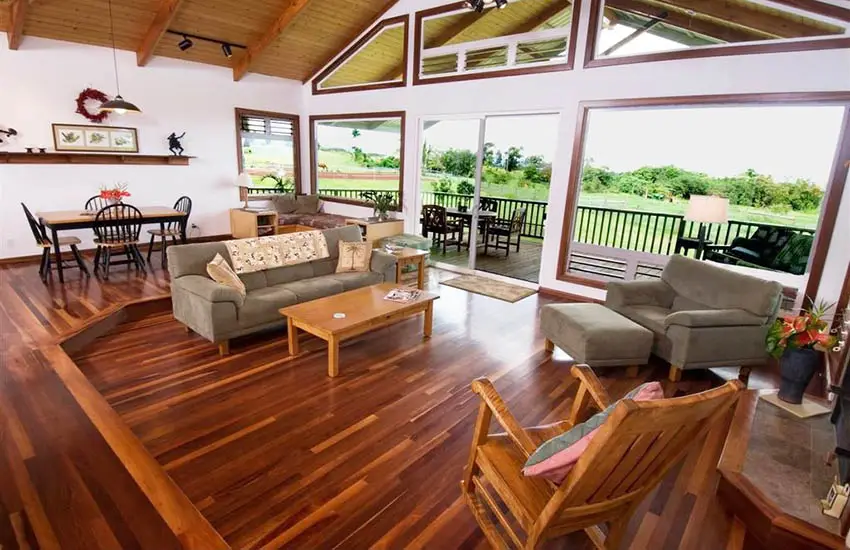 Brazilian Cherry Hardwood flooring is not quite what it seems, it actually is not a real cherry tree, it is also commonly known as Jatoba, Locust or Courbaril, it creates peas, not cherries.
They use the term cherry to play off the idea that the wood had a deep cherry red coloring. Brazilian Cherry is from Brazil though, so not a complete fake.
Brazilian cherry was most popular in the 2000-2005 time period and since then hasn't been overused. This is the perfect reason to use Brazilian cherry, though, if it is not as high in demand, the prices will be lower as well as adding a unique look to your home.
Brazilian cherry hardwood flooring prices range from typically about $6 to $8 per square foot of material, this does not include installation or any extras.
Brazilian Cherry wood is a difficult wood to install so considering hiring a professional may save you in the long run. Price with installation are about $8 to $10 per square foot. Making sure to follow all the manufacturer recommendations will be a good way to not spend any unneeded money in the long run.
Remember these prices are just and estimate, prices will vary based on location, company, installer, quality, etc. Be sure to get quotes or estimates from multiple places to make sure you get the right price.
On top of the base cost of the Brazilian Cherry wood itself and installing it there are also other things that will drive up the costs for a project like this.
Trimboards, subflooring, and even accounting for salvage will all be additional costs. We recommend getting 10% extra flooring material to account for the cuts that will need to be made that will render some pieces useless.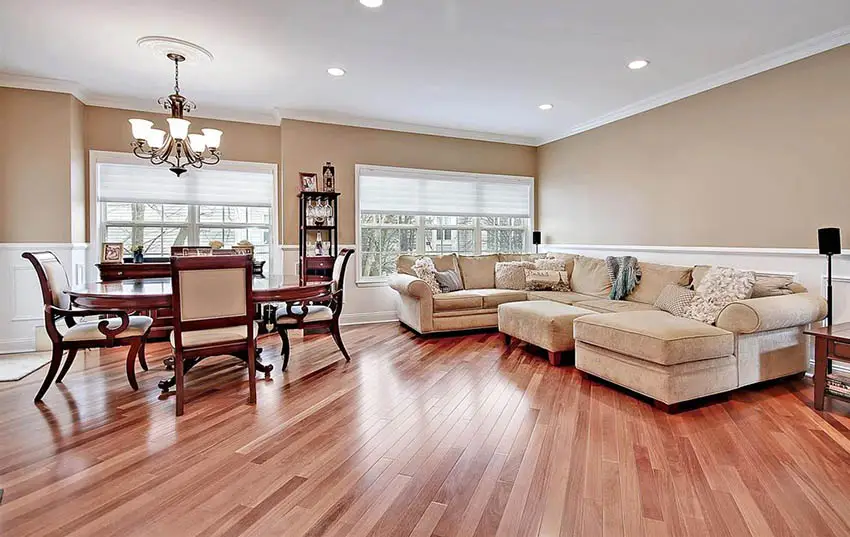 Brazilian cherry engineered hardwood flooring is also available for an easy do it yourself project. Engineered hardwood flooring will give the same look as the solid wood flooring, but the installation is much easier, and the flooring has different qualities.
Engineered wood is a man made wood that can be manufactured using different sorts of veneers and wood boards to make a composite material.
American Cherry Hardwood Flooring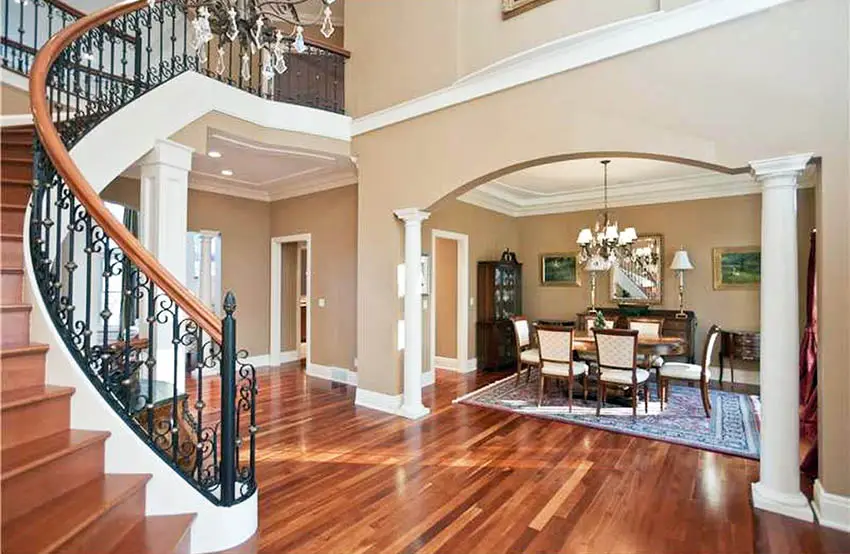 American cherry hardwood is unfortunately not a highly ranked on the janka scale as Brazilian Cherry, but it makes up for that in its amazing grain and color.
American cherry is often left in its warm, natural color which gives it variation between each board. The color will also deepen with age to deeper, redder and browner colors. Due to the great grain larger boards are often used to show it off.
American Cherry hardwood flooring prices range from $4 to $7 per square foot, without installation and extras. This is a little lower than the Brazilian Cherry due to the wood being softer, therefore less durable.
Adding in about $2 to $3 for installation will bring it to about $6 to $9 per square foot. Again, to keep in mind that any subflooring, trim, as well as any oddly shaped rooms or patterns in the flooring will raise the price from there.
African Cherry Hardwood Flooring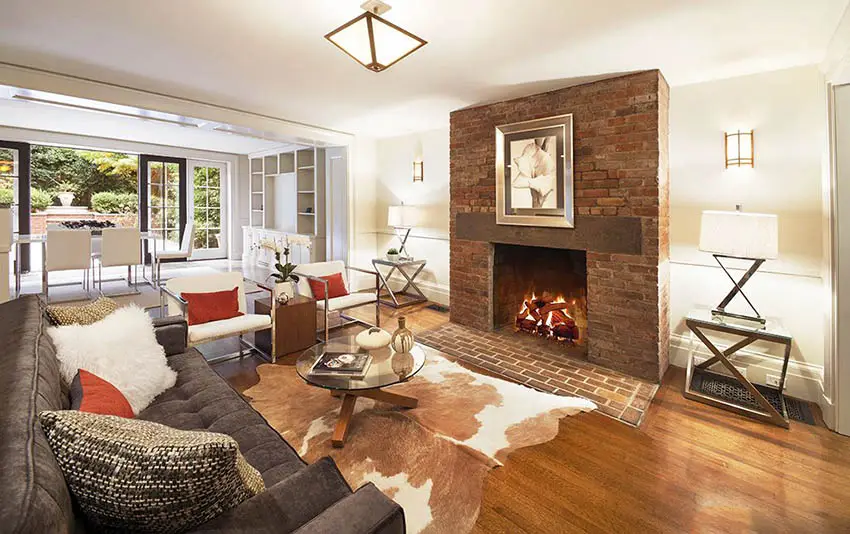 African Cherry hardwood flooring ranges in color from light to reddish brown to darker maroon colors depending on the region its from.
This wood is also known as Aganokew, Baku, and Makore. The wood is a 1110 on the Janka scale which means it is quite a bit softer than Brazilian Cherry, but comparable to American Cherry.
African Cherry typically has a fine, straight wood grain. Some logs have a mottled figure created by interlocking grains.
African Cherry hardwood flooring prices are comparable to American Cherry ranging from $4 to $7 per square foot, without installation and extras. This is due to the two woods having similar qualities.
Adding in about $2 to $3 for installation will bring it to about $6 to $9 per square foot. As previously mentioned, remember that any subflooring, trim, as well as any oddly shaped rooms or patterns in the flooring will raise the price from there.
Cherry Hardwood Finishes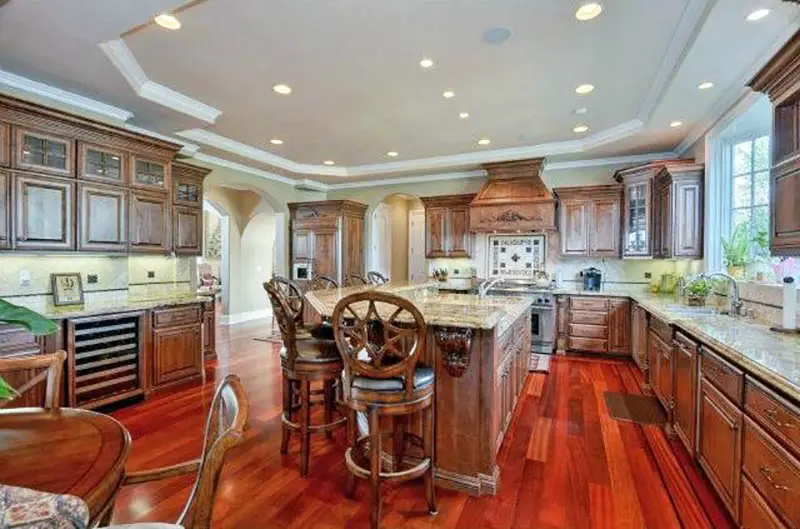 Finishing flooring is something that will need to be done periodically and there are many different sections that can be made on how to do that.
Prefinished Cherry Hardwood Flooring is also known as factory finished, this sort of finish is applied pre delivery allowing for less steps needing to be done after installation.
As the name suggests the finish is applied in the factor and these are typically more expensive due to the added work the manufacturers need to do.
Unfinished cherry hardwood flooring is pretty simply that the flooring will not receive a finish. These are available in a variety of widths and textures. Hand scraped cherry hardwood floor has become a popular choice for anyone looking for a unique look.
The flooring is scraped to look old and distressed, sort of how people do with their jeans, for style. Wide plank cherry hardwood flooring follows the pattern of acting how it sounds. This method is using wider planks to shrink down installation time and gives the illusion of a larger room.
Wide plank flooring will also have more knots, streaks and other natural characteristic due to the wood being longer and less split up.
Cherry Hardwood Flooring Hardness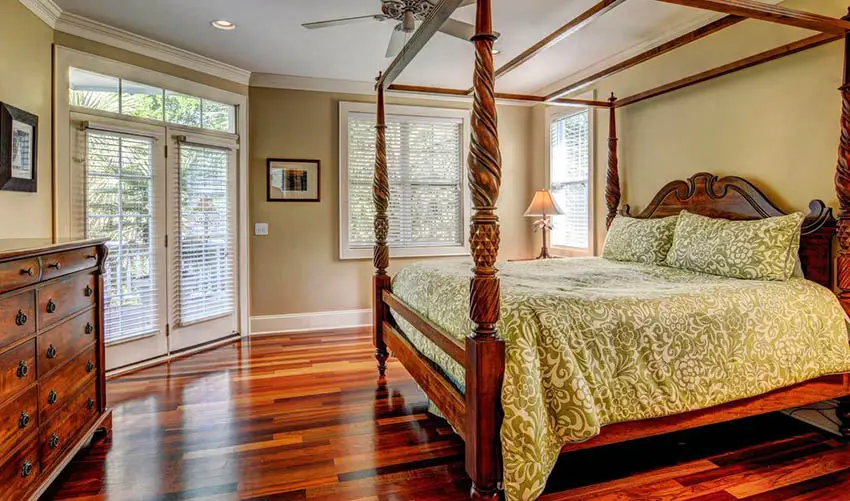 Janka rating measures the force needed to embed an 11.28mm diameter steel ball halfway into a sample of wood. This will measure the hardness of the wood and help determine which woods are suitable for which applications.
Wood grain directions can make a difference in the testing so they will test perpendicular to the grain for side hardness. They can also test end hardness, radial hardness, and tangential hardness.
Balsa wood is the softest wood coming in at 70 lbf and the hardest being Australian Buloke at 5060 lbf. These are measured in pounds-force. On the Janka Hardness scale American cherry hardwood rates a 950. This number is relatively low due to cherry being a softer wood.
African Cherry is a little higher with a 1110. At a massive, over double African Cherry at 2820 is Brazilian cherry. These different ratings measure the difference of quality in the wood and will have a big impact on where the material is used as well as how much it will cost.
Cherry Laminate Flooring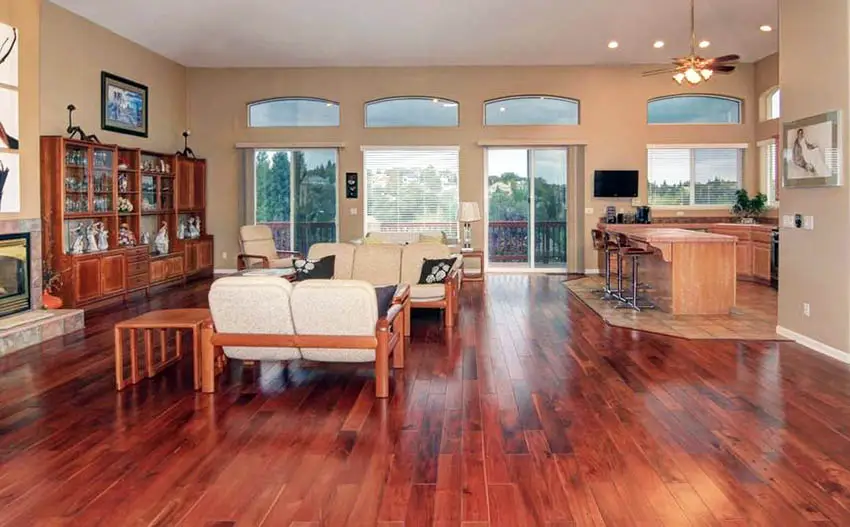 Laminate flooring is made by fusing multiple layers of material by a process called "lamination". Though there are multiple layers of different materials there often is no wood present.
Instead they are typically made from resins and fiberboard particles. The top layer will be the "wear layer" which is the same general idea of waxing floors. It is a clear layer to help protect from the bumps and bruises. This is a clear layer, so the next layer can be seen.
This next layer will be the cherry part. Basically, an image of the sort of wood (or stone, or basically anything you could imagine) is printed and embedded into the resin. Following this later will be a fiberboard core, back later (moisture protection) and then the entire thing will be installed over an underlayment.
Cherry laminate will be resistant to staining, molding and is extremely durable, this will make it good for high traffic areas when some solid cherry wood would not hold up. If you wish to use this in a place that you are afraid water damage may occur, laminate can be made water resistant, unlike solid cherry hardwood,
Stained Cherry Floors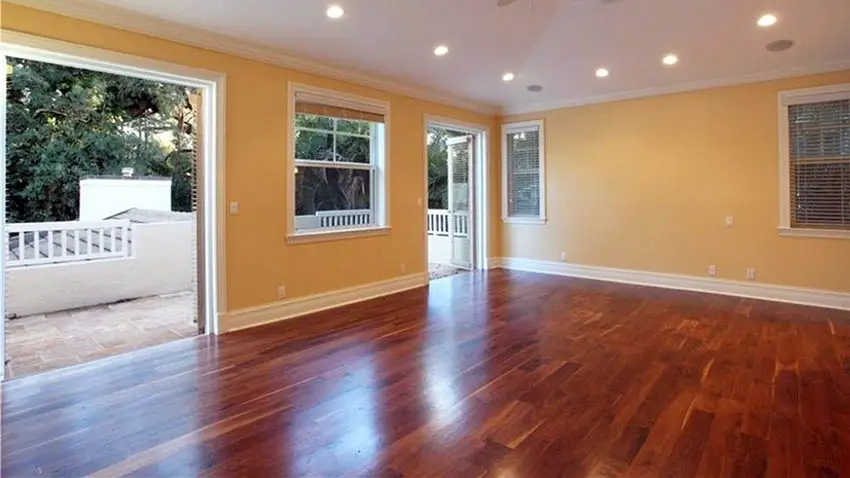 If after a long search for the qualities you want in a wood and you are still not 100% satisfied with the color is where staining comes in. Typically, after installation and sanding of the hardwood floors you can test some of the stains you like.
Testing on your own floor is an important step because although samples are great, each piece of wood is different. Some of the biggest trends right now are grays, and white washing. Gray will be a more expensive color stain though, as you will need to blend multiple colors and make sure to use a water based product to avoid yellowing.
Dark stains will add an air of drama and style to a space, if that is a look you are going to testing out a few dark stains will help narrow down on the one.
Some options for dark stains could be Ebony or Jacobean, both deep espresso like colors, or even mix the two. If that is not dark enough there is a Duraseal color called "True Black" that will be extremely striking. If looking to go in a darker but redder we can look at Royal Mahogany stain.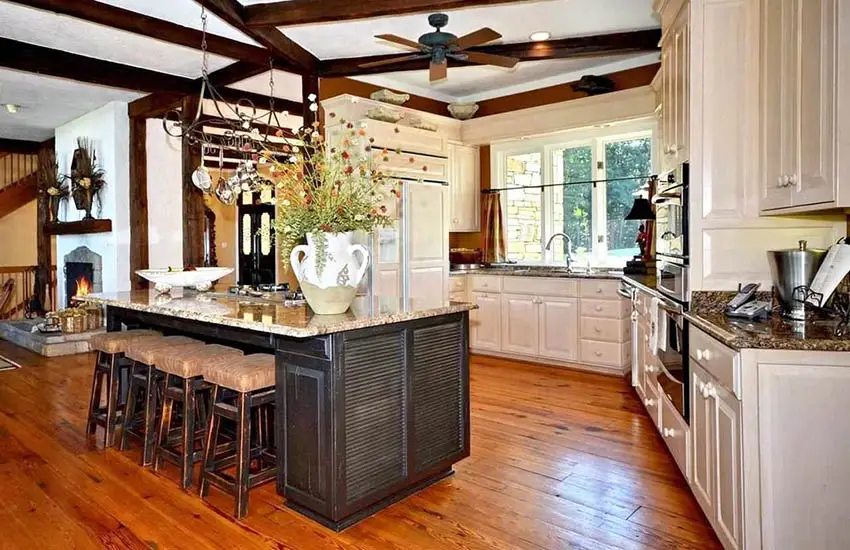 Lighter stains are available and very beautiful as well. With more modern and lighter qualities, you can go completely natural, with no stain at all. Throwing some Golden Oak or Fruitwood stain over the natural will turn the flooring just a hair darker with light golden hues that give the flooring more depth.
Staining cherry wood in particular can be a little tricky. Cherry wood has a sort of reputation for blotching up when stained. This can be avoided if you follow all instructions when staining, and often blotching is intentional. When cherry wood is first finished it often looks uneven or mottled, but they even out with time.
Paint Colors that Go with Cherry Wood Floors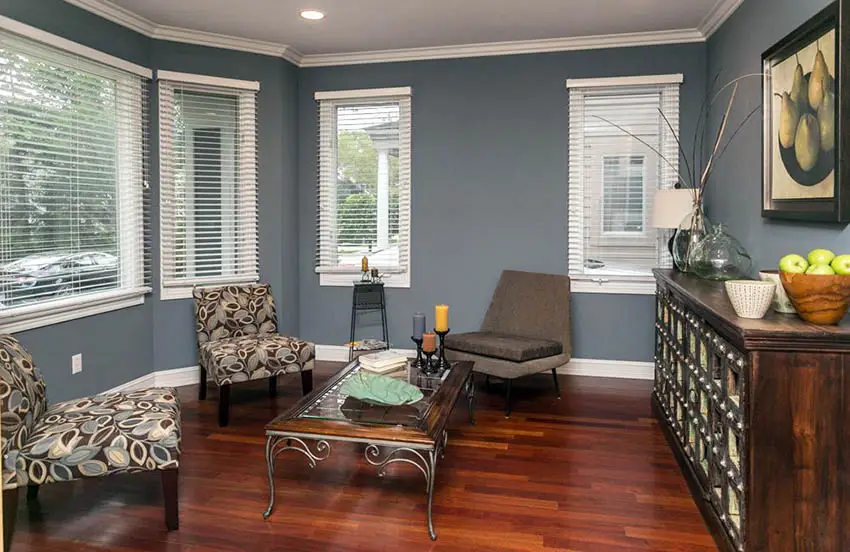 The wonderful thing about being able to restain and refinish wood is that there are a wide variety of colors to choose from, which leads to coordination with most colors.
Natural Brazilian Cherry wood has a beautiful reddish brown color too it. Pairing that with warmer colors and a white trimboard will bring out the natural colors of the flooring.
Pulling a striking Sherwin Williams Determined orange will add warmth and excitement while a softer Sherwin Williams Tres Naturale will bring a more natural state to the space.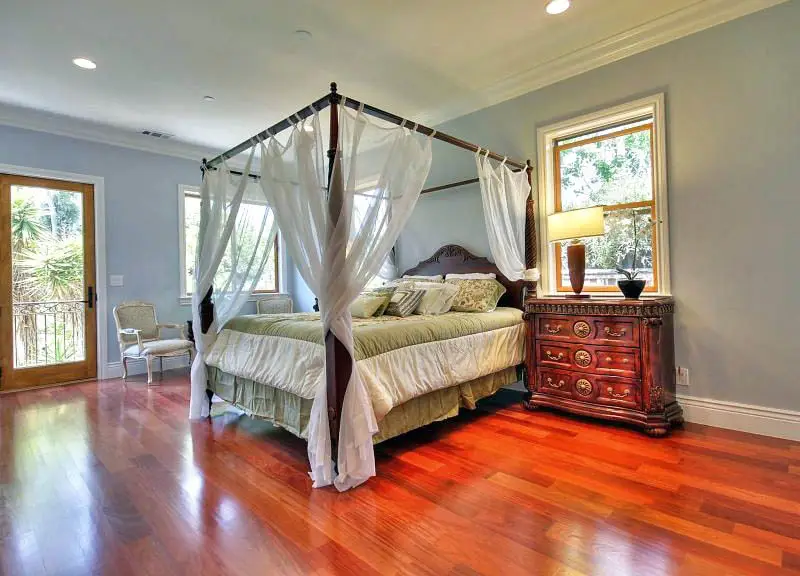 Chosen to be trendy and go with gray staining or white washing? This allows the opportunity to introduce cooler colors to the room since it will not contrast with the reddish hue that the natural wood gives off.
Trying out a Sherwin Williams Aleutin for a gray-blue look with be a complete 360 from the usual cherry wood you see.
Other gray options such as Sherwin Williams Gray Clouds will allow the room to remain timeless while adding colors to the furniture and accessories to the room. This will be a color that will let the accents be any color imaginable from the cool side to warm side of the color wheel.
What Color Cabinets go with Cherry Floors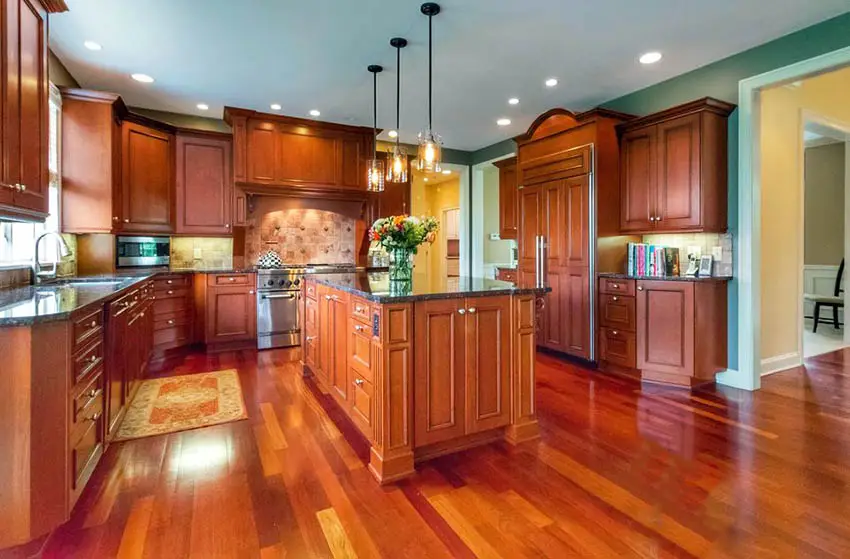 Keeping in mind the reddish brown tones in cherry flooring the first thought for color matching is to use another shade of cherry wood. And that is a great thought to have! To add a more delicate touch you can pair regular cherry wood flooring with a lighter shade cherry for the kitchen cabinets.
Creating a cherry cabinetry display will pair perfectly with the cherry flooring while giving a warm and luxurious feel to the entire kitchen. Visit our page about cherry wood kitchens for more cabinet ideas.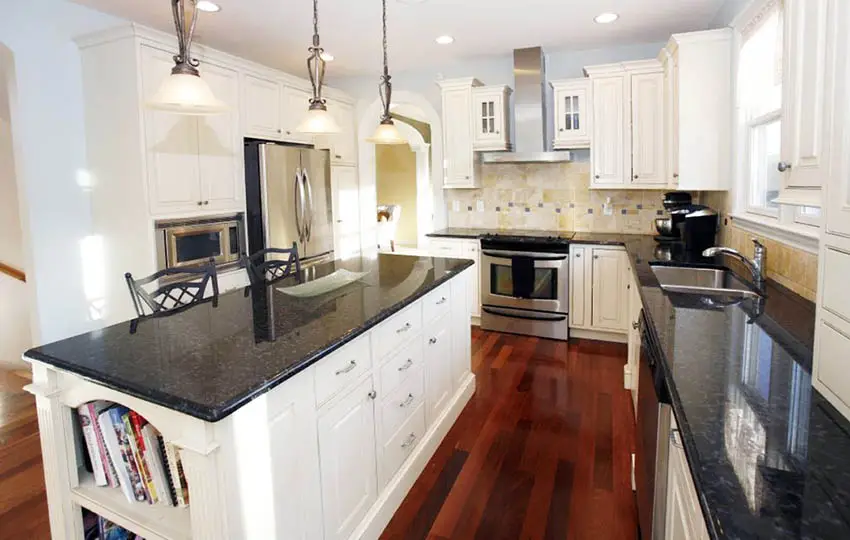 If you are looking to modern the place up and add some stark contrast to the kitchen another route to go could be white cabinetry. This will allow you to focus on more details such as the handles, and the style of the cabinets.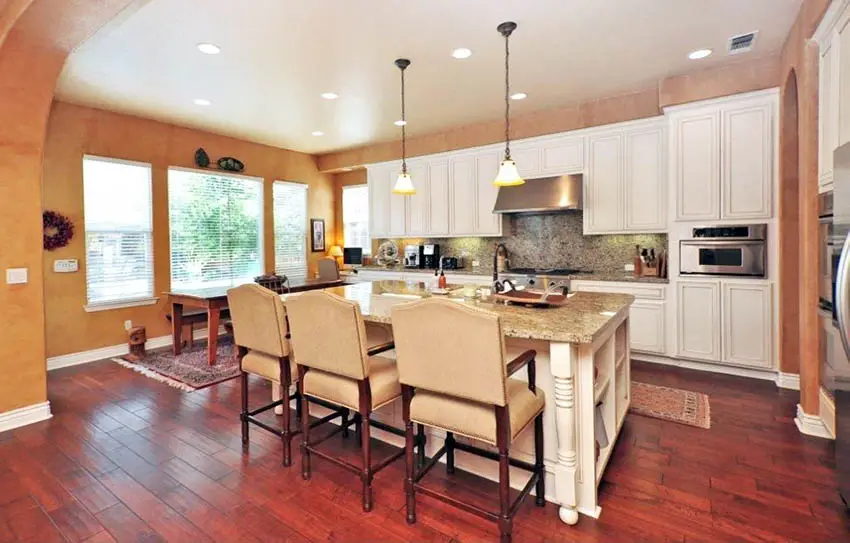 If white is screaming too loud there are also options to take them to a creamier or browner color to still include contrast without overwhelming amounts.
If you have chosen gray or black staining or a whitewashed finish you could incorporate different variations of grays, blacks or whites to contrast or match the flooring that's laid out.
Keep in mind here they color of the appliances and other kitchen pieces to avoid too much of the same color or and overabundance of contrasting colors. Adding bright unnatural colors to cabinetry can also add a vibrant focal point to the kitchen while the flooring sits at a nice gray.
Visit this page for more ideas on how to match wall color with wood flooring.