Here we share our tips for matching bathroom paint colors with beige tile including popular shades & complementary colors.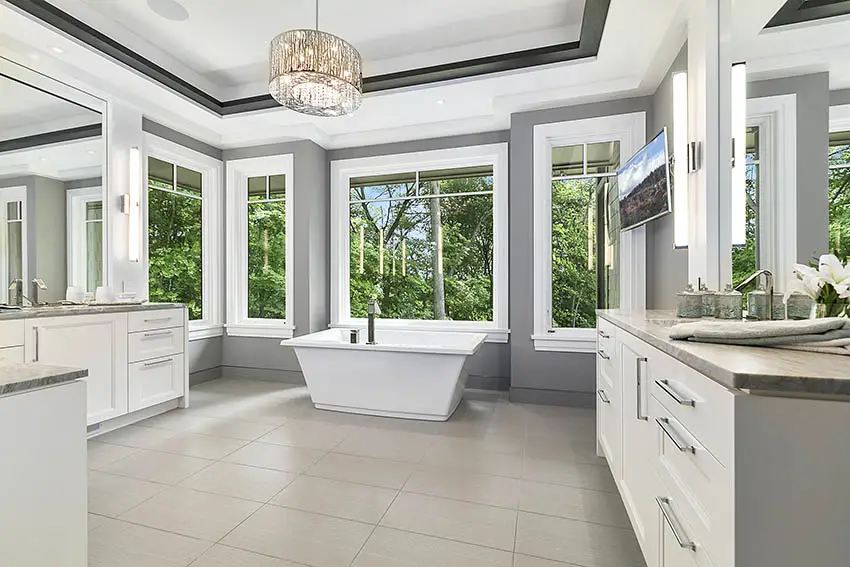 Bathrooms are one of the most frequently redecorated and renovated rooms. They also must convey cleanliness, and all the materials used have to withstand changes in moisture and temperature.
Permanent fixtures like toilets, sinks, and tubs are generally surrounded by tile. That tile only gets updated during major renovations, and so a common decor challenge in bathrooms is to match existing tile with a new color scheme.
Beige tile can present a particular challenge, especially if combined with dated fixtures or shabby looking bathroom hardware. Beige isn't hailed as an exciting or beautiful color. It's strength, however, lies in its versatility.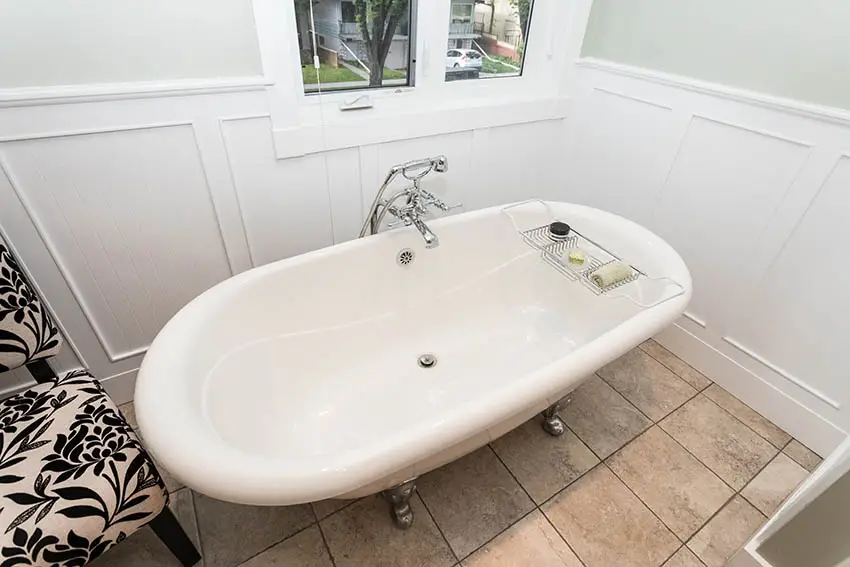 Pale sage green paint and beige tiles are an uncommon but highly pleasing color combination for a bathroom.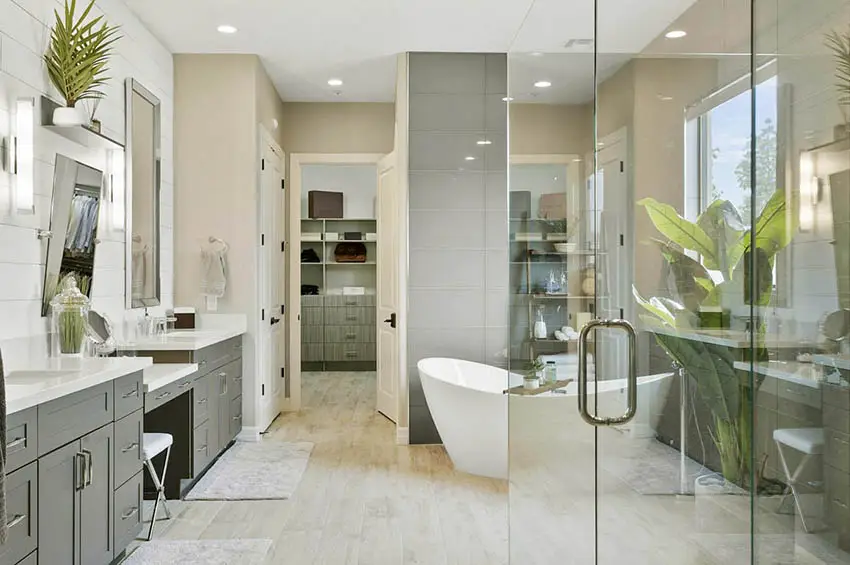 Another popular choice for bathroom paint colors with beige tile is to overlay a pattern in beige paint over a gray, white, or cream colored wall.
Blue, gray, and beige work together, reminiscent of water, stones, and sand on a river or beach. These different paint colors can also be used next to each other with satisfying results.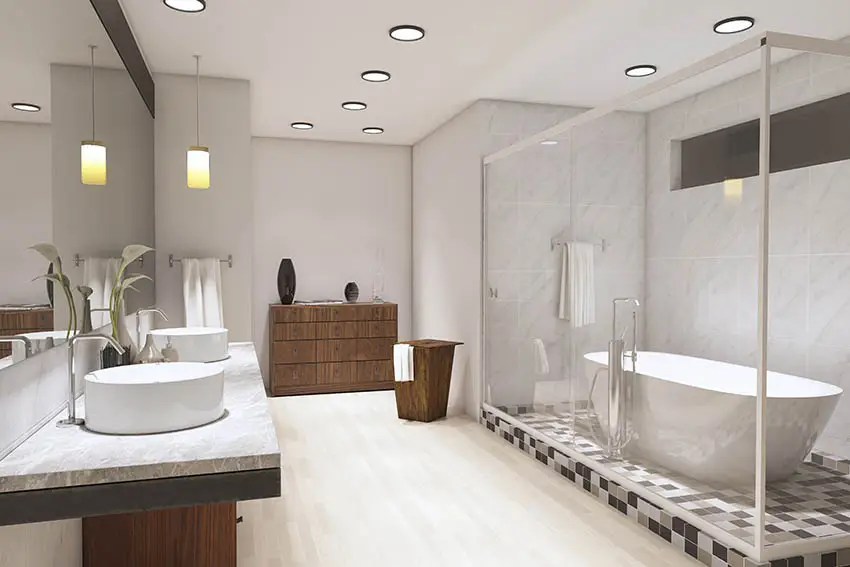 Greige color which combines grey with beige could provide a slight change of contrast to your bathroom with beige floor tiles.One can also add some colorful finishes such as mosaic tile in the shower or around the sink to add extra depth and create visual interest.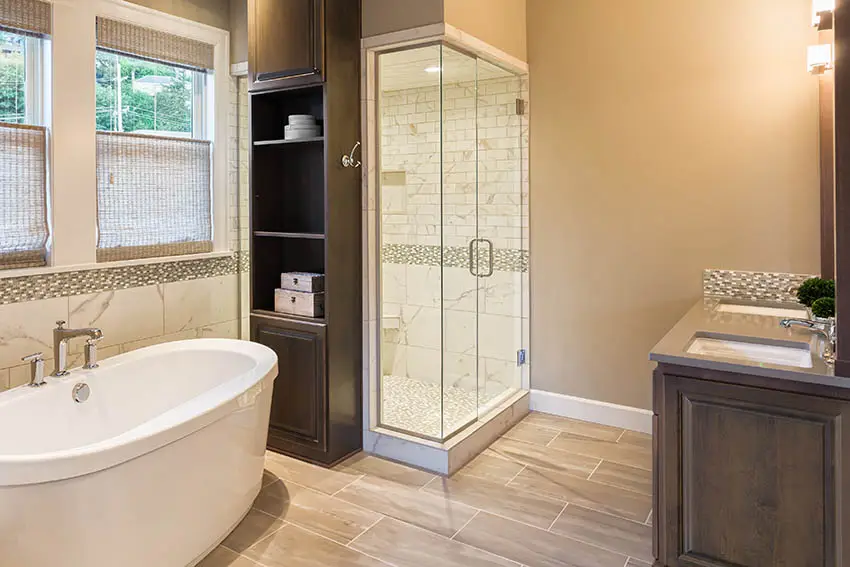 Perhaps the best place to look for a color to pair with beige tile is at a make-up counter. Lipstick, blush, bronzer, and even eyeshadows that go well with beige skin will also look great with beige tiles.
It might seem unorthodox, but consider bringing a picture of your bathroom — or even a spare tile — to your department store. Ask the associate to show you what they would recommend for someone with that skin tone.
Take note of the colors, and then you can seek them out at a local paint store. Your guests are sure to appreciate the synchronicity of a bathroom with a foundation-and-lipstick color scheme, even if they don't recognize why.
You can also use one of the many paint color apps to help narrow down your choices, match or find harmonious hues to existing colors or find new ideas.
What Color Goes Best with Beige Tile?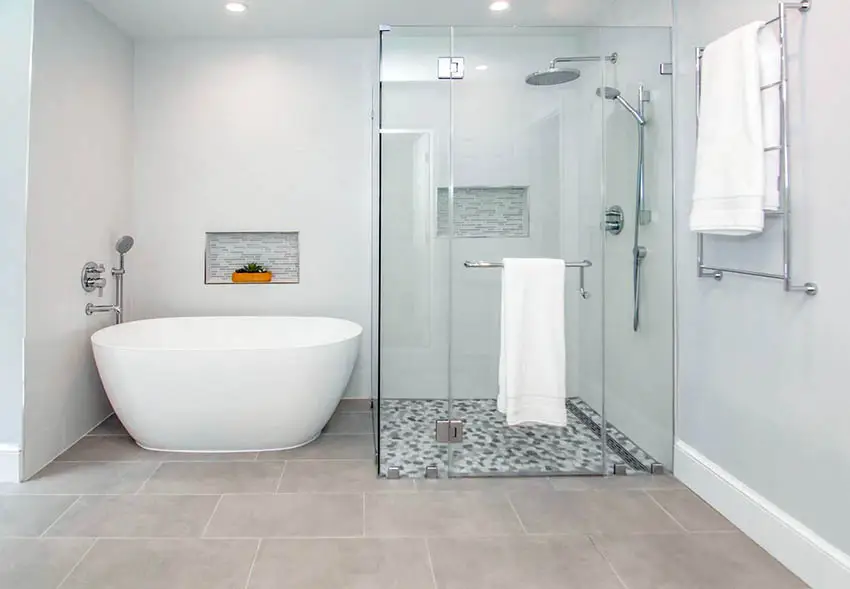 Beige tiles can be thought of in three categories: warm beiges, cool beiges, and true neutral beiges. Warm beiges have red-orange undertones. Cool beiges have grey-blue undertones.
Neutral beiges have no undertone and will go very well with any color. Beige tiles with warm undertones should be paired with warm colors. Cool colors are more appropriate for beige tiles with cool undertones.
A neutral color scheme is the best fit for a room that gets insufficient natural light. Neutral colors like white and gray go well with beige tiles and will not darken the room.
White and grey have both warm and cool variants, so no matter the color temperature of your tile, you'll be able to find something that matches.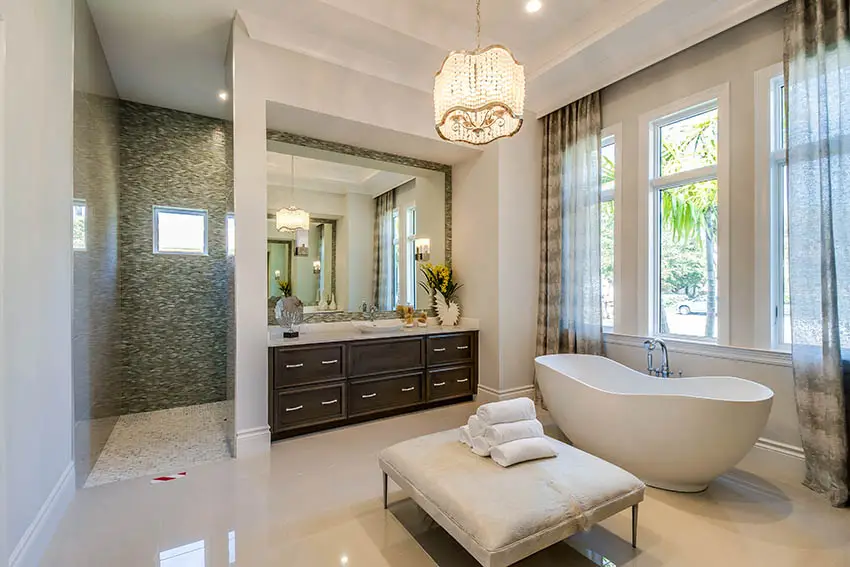 A cool beige tile goes well with everything from icy blues to crisp whites and, for the daring decorator, indigo or violet.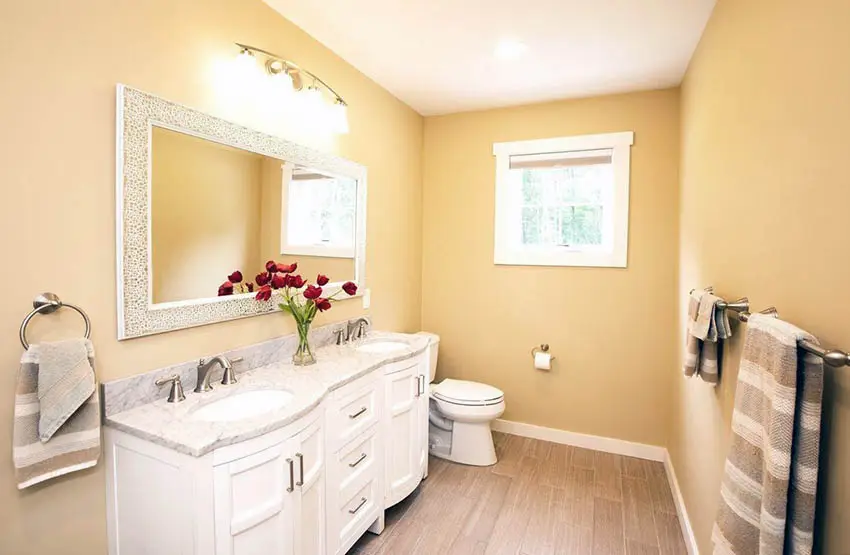 Warm beige tile will look spectacular with any desert neutral — rusty reds, cactus greens, anything with 'burnt' in the color name.
Beige tile in a gray and white color scheme brings a minimalist, Scandanavian feel that will help the space feel light, breezy, and airy.
What Wall Color Goes with Beige Tile?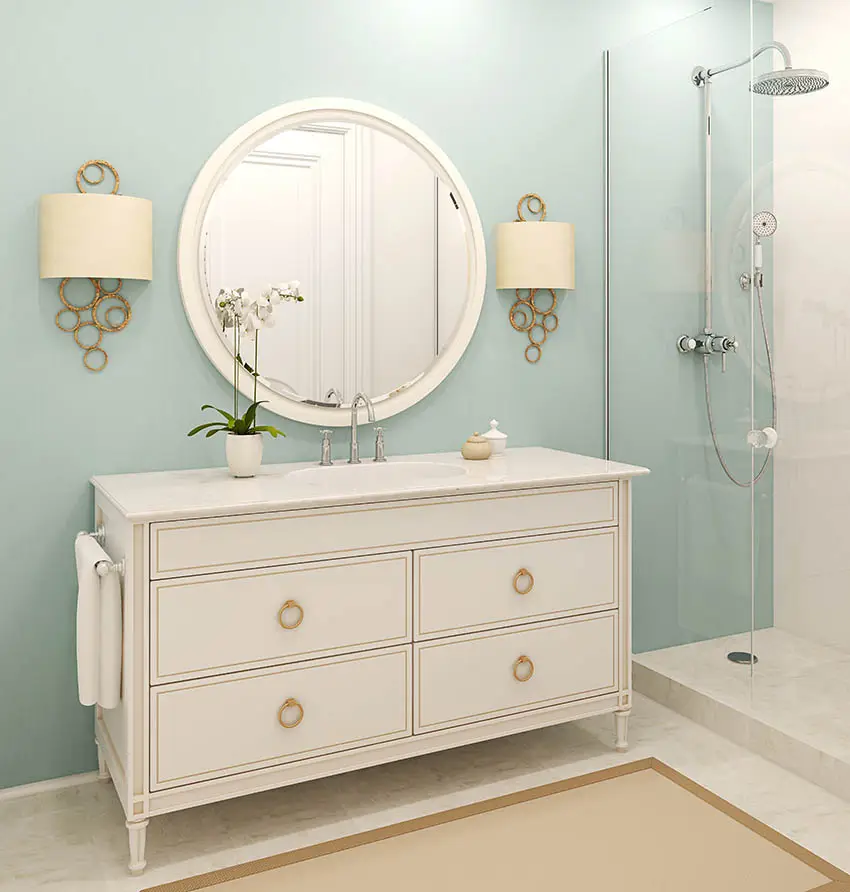 Beige is a neutral color. Almost any other color, particularly colors widely found in nature, will look very good with beige. The reason beige tile sometimes looks out of place or unincorporated in decor isn't a color mismatch, but rather a discrepancy in saturation and/or hue.
Beige tends to be on the lighter end of both saturation and hue scales. Any color of similar saturation and hue will give a comfortable, satisfying effect.
Many paint counter associates can advise you on how to adjust your preferred paint color to match existing beige tile.
As mentioned gray is currently one of the most popular ways to pair a bathroom with beige tiles.

A solid choice is using a paint color such as Benjamin Moore's Smoke Embers to create a beautiful design. Benjamin Moore's Glass Slipper is another popular choice for those who want a spa-like ambiance.
Paint Colors for Small Bathrooms with Beige Tile
If the goal is to make the bathroom feel bigger, the best choice is to try to match the color, saturation, hue, and finish of the beige tile. This will create the sense of a large, unbroken, and receding background, which makes a small bathroom feel larger.
If there is a significant area of wall available to take paint, a deep, rich color can be an effective decorative choice. It won't make the bathroom feel larger — instead, it will emphasize the drama and intimacy of the room.
Read more about paint colors for small bathrooms with no windows here.
What is a Complementary Color to Beige?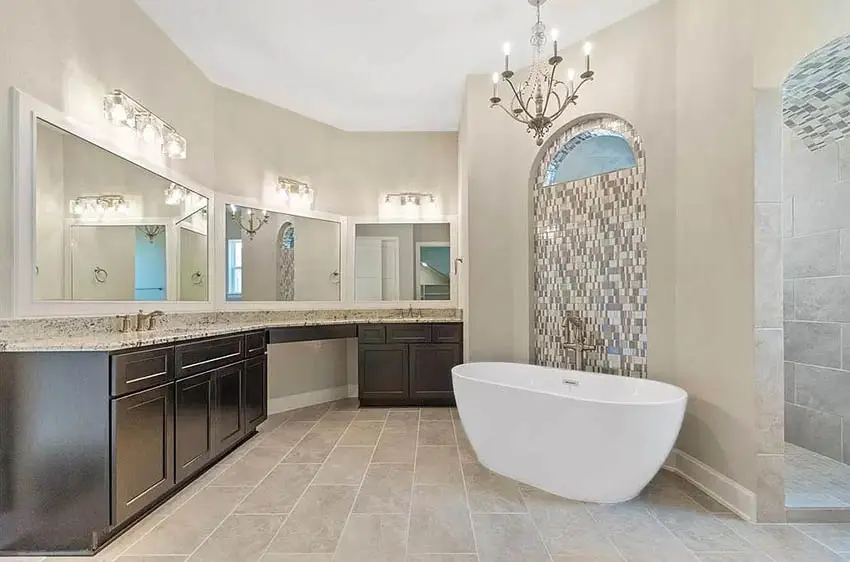 A common misconception about color theory is that complementary colors are those which simply look nice together. In fact, complementary has a specific definition. They could properly be called 'opposite colors'.
On a traditional color wheel, complementary colors are situated exactly opposite each other. Blue-yellow, green-magenta, and red-cyan are the best known complementary pairs.
Pure beige is a neutral color. Neutral colors do not have a place on the color wheel, thus they do not have complementary colors in the traditional color theory model. However, they will look best when paired with a color that occurs in nature.
So what's you favorite bathroom paint colors with beige tile? Let us know if the comments section below. For more bathroom paint selection ideas visit this page.