Below we share the best paint for bathrooms including the type to use, popular color choices and more.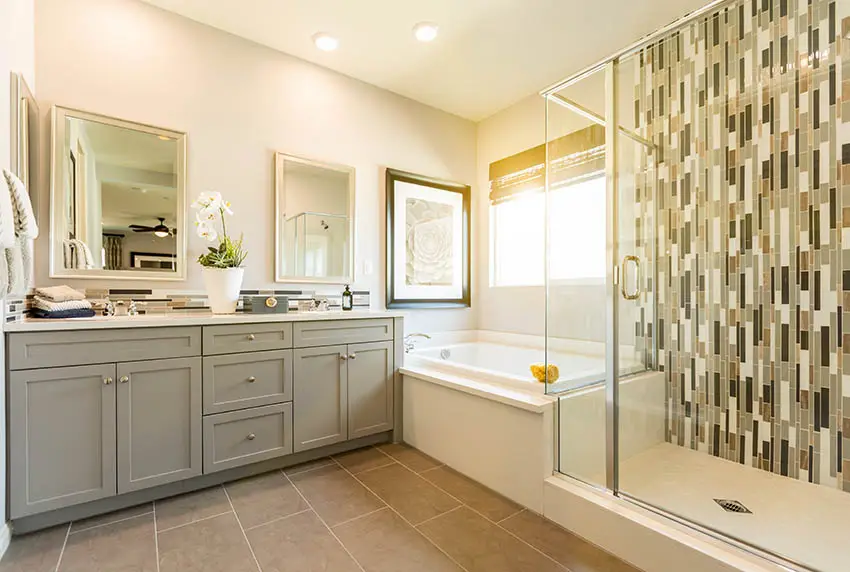 Bathrooms will be one of the most visited rooms in the house. This space will be where most people start and end their days, and most guests will need to use this room. When selling or buying a home the most looked at and judged rooms are the bathroom and the kitchen, and these get remodeled the most.
These spaces are also the most common for needing cleaning and repairs due to the amount of use and the items used there, especially water. Water can often cause issues in spaces, which is why things will need to be taken into consideration with the colors and finishes that you choose to use in bathrooms.
What Type of Paint Should I Use for my Bathroom?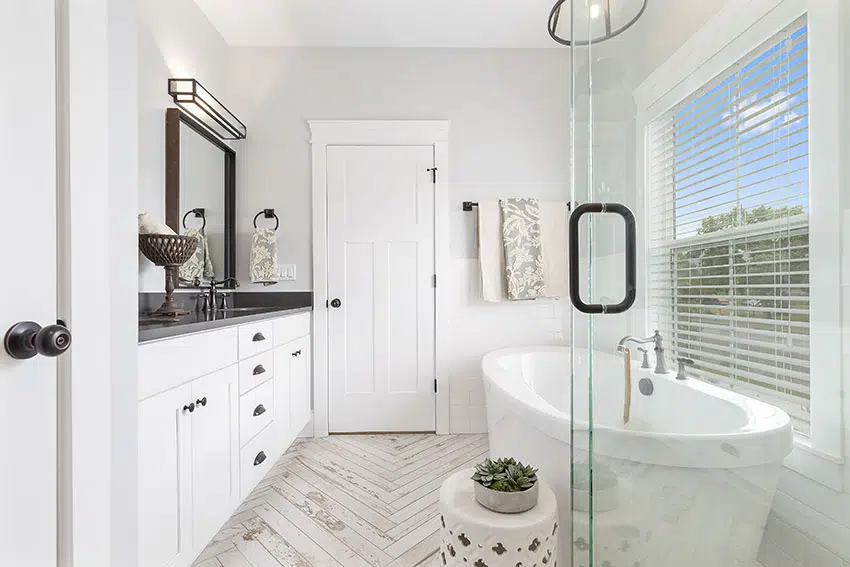 As mentioned previously bathrooms are susceptible to high use and can easily show dirt. With this in mind it's a good idea to choose a paint that can combat the constant grime of a bathroom.
When painting a bathroom the best finish you can choose is the semi gloss finish. This finish will be quite a bit more durable than its eggshell and satin competitors.
Semi gloss finish will also be the easiest of the three to clean, which when used in a bathroom design will be much appreciated in the long run.
This being said, the downside to a semi gloss finish will be that it is a pretty shiny finish, and the bathroom lights will reflect that a bit more than other rooms typically will.
The semi gloss finish will also show any imperfections on the walls, like bumps and bruises that you had not smoothed out previous to painting.
In bathrooms it is also important to think about mildew protections, Behr paint has a lot of types that are tested including: Marquee, Premium Plus Ultra, and Premium Enamel.
Another factor to keep in mind with each added benefit that the paint will give you is that the price will reflect that.
While I can say that a certain product is the best, it may not be the best for you. Weigh out the pros and cons, when you will redo the project again, how long will you use the space, how much do you have to spend, how important is each benefit. These will help find the perfect paint selection for your specific project.
Small Bathroom Paint Colors
Now that the paint finish is figured out it is time to pick the color. Sometimes bathrooms are small. Who are we kidding, commonly bathrooms are small.
While nowadays everyone is building bathrooms that could fit a swimming pool, any older home will most likely have the bare minimum space and 7 people will need to be in there at once. It is just physics! And of course expanding the bathroom is not an option due to structure or costs.
Next best bet, pick the right bathroom paint color. While it will not actually increase the square footage of the space, it will give the illusion of a less cramped space. Who knows, maybe it will help start your day off on the right track.
Colors that can be kept in mind for this space are creams, icy or soft blues and greens, white grays and aquas. These come in play because you want light and bright colors to be reflective, causing the light to bounce off it to give the larger, more spacious feel to the space.
Often it seems silly to have a window in the bathroom, since you wouldn't want someone peeking in. But it is actually a great way to brighten up the space. Instead of using heavy blackout window treatments to block out unwanted visitors, try out a frosted window. This will block any accidental or purposeful peeping toms as well as let natural light in to expand the idea of the space.
Best Overall Paint Pick is an Icy Blue
All in all, the best color choice for small bathrooms will be Sherwin Williams SW 6772 Cay, an icy blue prepared to take your space from warm and cramped to cool and open!
Best Paint Color for Small Bathroom with No Windows
Now, not only are we challenged with a tiny bathroom, but also it contains no natural light whatsoever. This is where the light and bright colors will play an even bigger part. As used in a small bathroom with windows creams, icy or soft blues and greens, white, grays and aquas will be the best to be used in the space.
Painting the ceiling in the selected color will also become a big deal, adding an extra reflective surface to light to bounce off of and making the ceiling seem a little higher. Leaving a white ceiling will cause the eye to abruptly stop, therefore making it seem smaller.
Another way to make the bathroom seem taller is adding vertical stripes to the walls. This will cause the eye to go around the room, adding to the illusion.
This being said, too much contrast in the striped will be a no-no, make sure to stick within the tones already selected as well as the light colors already mentioned. I recommend just a shade lighter or darker than the original color.
Light Green The same goes with horizontal stripes; these will create the illusion that the bathroom is wider.
For bathrooms without windows we will select the recommended color to use to be Sherwin Williams SW 6737 Kiwi.
This light green color will be reflective and create an open feel for an inviting bathroom.
Light Yellow
Another popular choice for painting a bathroom with no windows is Sherwin Williams Friendly Yellow. However, you can try experimenting with other soft or pale yellow tones to find one that works for your design.

Other things to consider when wanting to create the illusion of a larger bathroom are the other finishes. Make sure the tiles used in the shower, flooring, backsplash, etc directly coordinate with the wall colors selected.
If this is not done it will rip the eyes away and you will have lost all the hard planning you have done with the wall colors.
All other materials such as the doors, moldings, and fixtures should also match or coordinate with the wall colors.
Often choosing colors in the same family or following Sherwin Williams coordinating colors charts will make this task easy.
Don't worry though, accent colors and some form of creativity and individuality is acceptable. Adding rugs and accent décor will not hinder any of the mind tricks you are planning, go wild.
To help visualize your ideas there are many bathroom remodel software programs that can be used to try out different paint colors, finishes and decor.