Here we share open concept living room design ideas including layouts with kitchens & dining rooms and ways to arrange your furniture.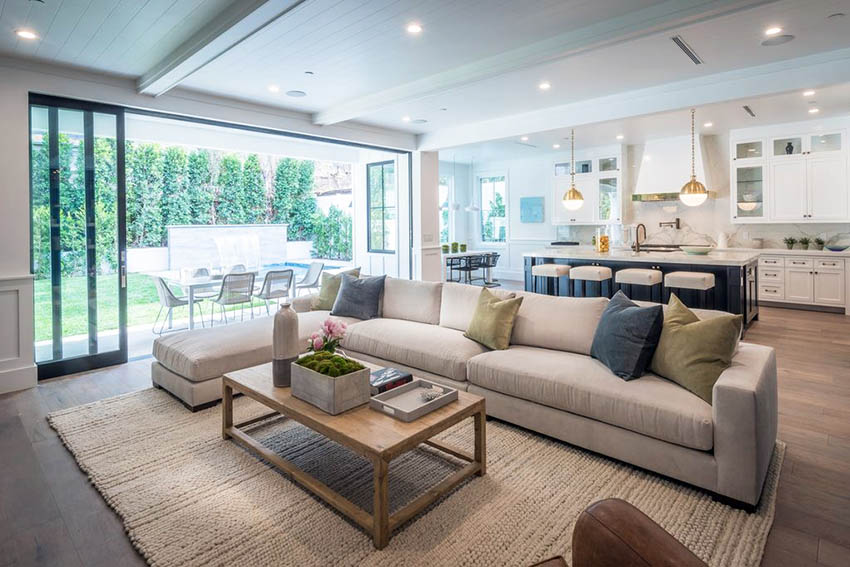 Open concept homes are becoming increasingly popular, with homeowners hoping to maximize their living space. For those looking to adopt this design in their home, it may seem like an overwhelming project to take on. We're going to break this down and give you some ideas on how to organize your open concept living room to create the space you've been dreaming of.
What Are Open Concept Living Room Layouts?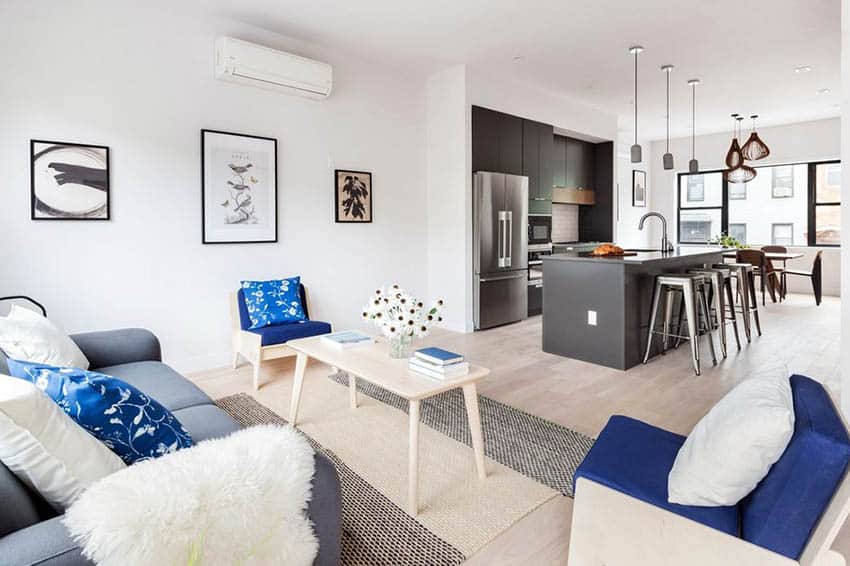 "Open concept" refers to a residential layout in which space that would otherwise be broken up into two rooms are joined in one room. This is done by removing the partition walls that would divide the spaces, opening up the area into one large space.
In the case of an open concept living room, some combination of the kitchen, living room, and dining room are joined. This may involve joining the kitchen and living room or the dining room and living room. It is also possible to join all three, resulting in an entirely open floor plan.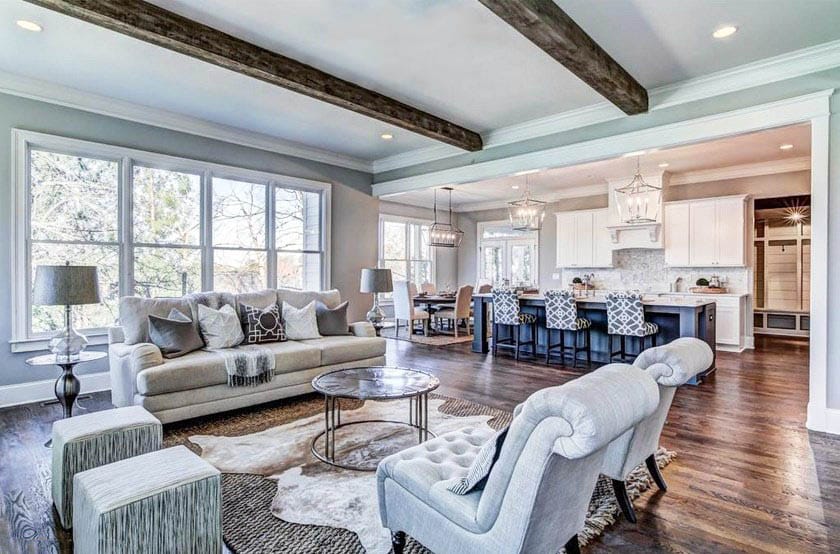 An open concept design can be incorporated into almost any home layout. Home size does not dictate whether an open concept can be utilized, as it works well in large and small homes. Small homes may benefit from an open concept as it will increase the amount of space in the home, making it feel larger. Larger homes can also benefit from an open concept, as it allows homeowners to play with the wealth of space available.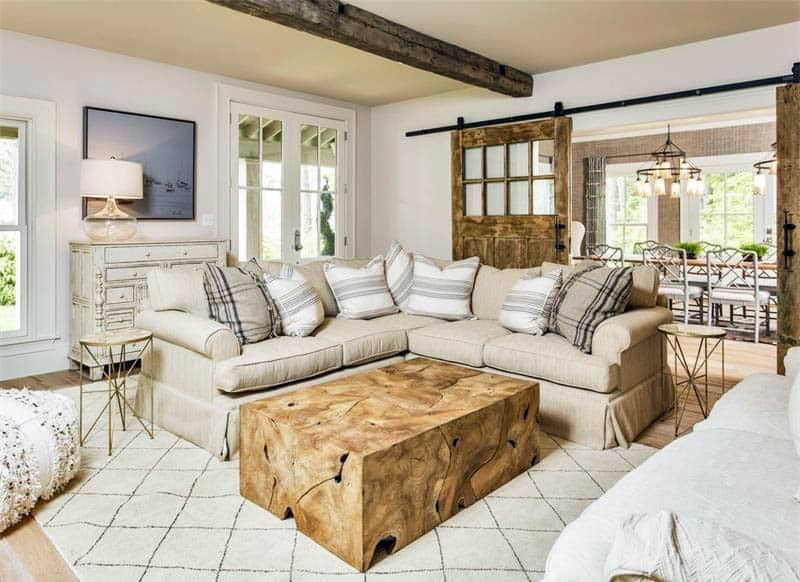 This living room layout accomplishes a more open concept design by using sliding barn doors to add separation to the dining room if needed. The large French doors also help the space feel more open and provide plenty of natural light.
Open concept designs are also best for families who want to keep an eye on small children while cooking or preparing food in the kitchen. In addition, they're great for entertaining friends and family in order to promote socializing and togetherness.
Popular Types of Open Concept Living Room Layouts
An open concept living room will involve a joining of the living room with the dining room, kitchen, or both. The way that these rooms are joined is dependent on which of the three rooms are being combined.
Open Concept Living Room and Dining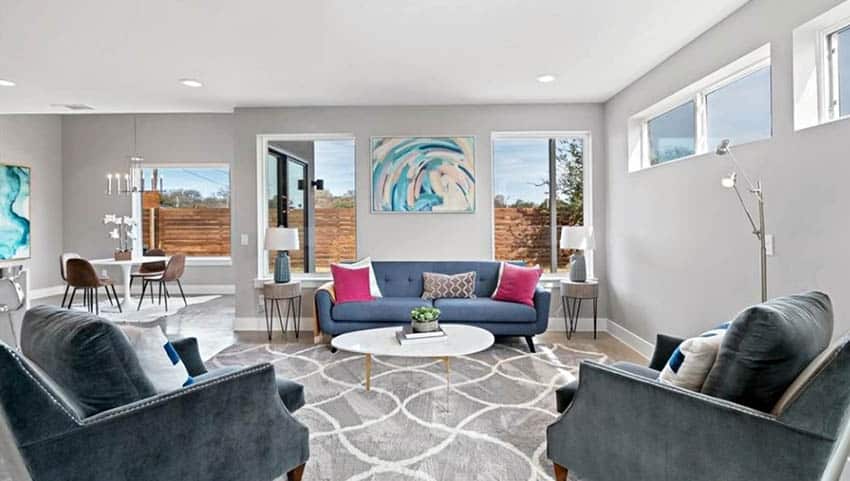 In the case of an open concept dining room and living room, a visual diving line will be used in the place of a traditional doorway. This may come by painting each space a different color, giving the feeling that the shared space is actually two separate areas.
This division can also come with a small set of stairs or a step, wherein one space is lower than the other. This layout is useful for those who frequently host gatherings where the dining room is used. An open concept allows guests to socialize from the living room while other guests finish their meals.
Open Concept Living Room and Kitchen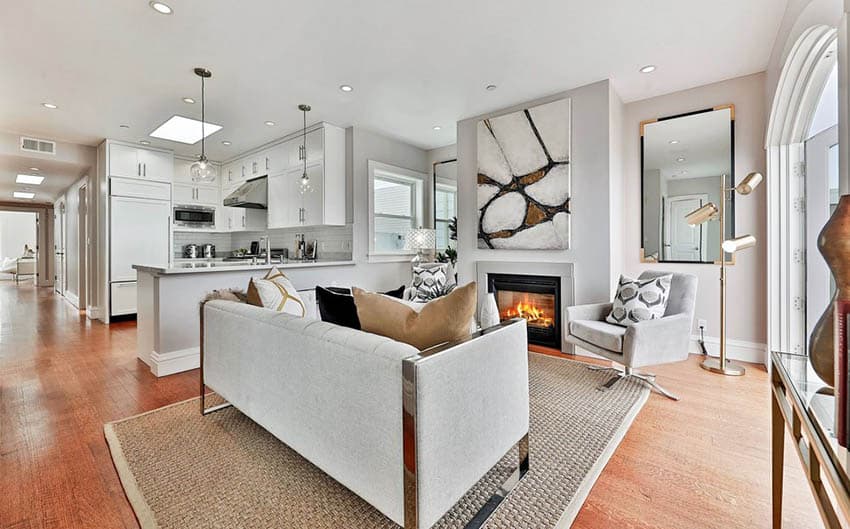 An open concept that combines the living room and kitchen may utilize some of the same elements used in the previous type of open concept. One other way that kitchens and living rooms may be separated is by strategic placement of the kitchen counter.
If the open concept kitchen design has an island or peninsula, this may be positioned so it creates a visual divider between the living room and kitchen. This type of open concept is perfect for those who spend a lot of time in the kitchen. For hardcore chefs that prefer socializing rather than using the dining room, this layout allows for open kitchen access while mingling with those in the living room.
Open Concept Living Room, Kitchen & Dining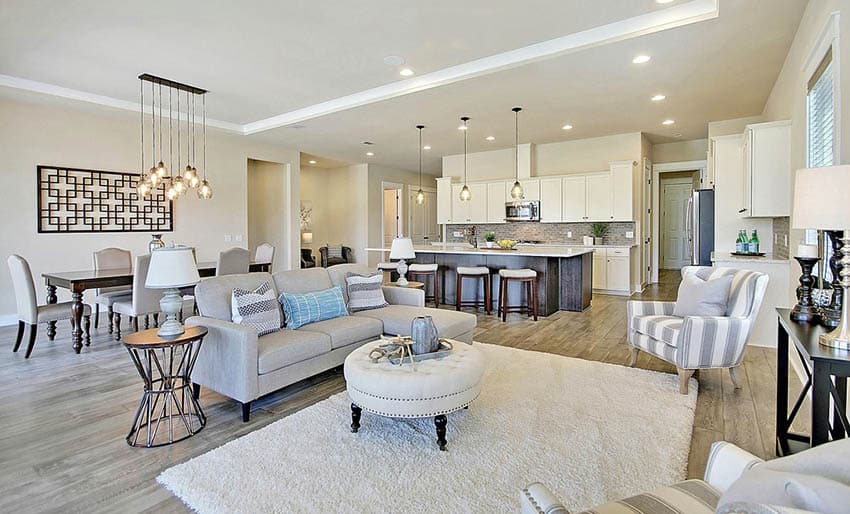 The final layout combines the kitchen, dining room, and living room into one large space. An open floor plan kitchen is good for homeowners who need to maximize their space for large gatherings. In a situation where the kitchen, dining room, and living room are connected there are ways to keep these spaces separate. A vaulted ceiling may be designed in the central space, to create the illusion that each space is a separate room.
How Do You Organize an Open Concept Living Room?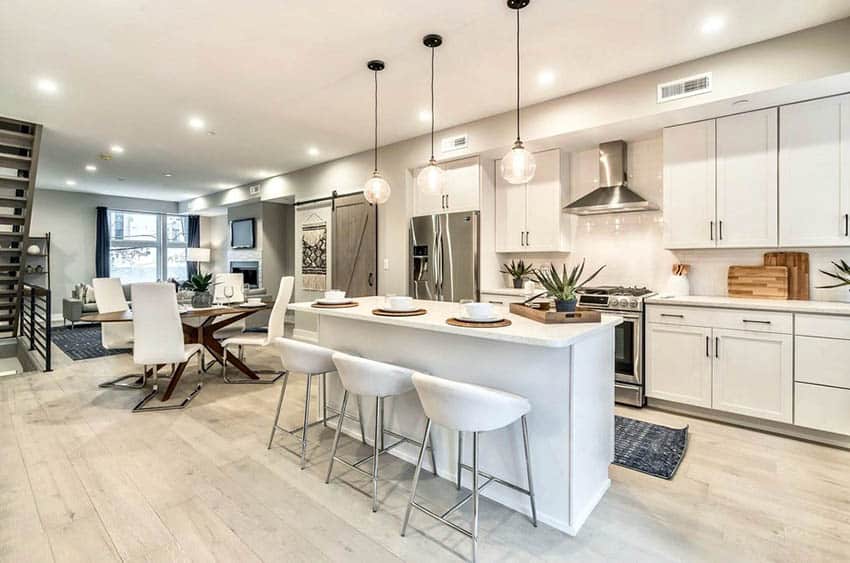 If you are looking to incorporate an open concept design into your home, it's important to properly organize the space. An expansive room can feel a bit too open and sparsely decorated if the furniture is not organized correctly. Consider organizing your large furniture symmetrically, go give the room a sense of balance.
You will also want to arrange your furniture away from the walls, as this will prevent the space from feeling too big. If the furniture is arranged against the walls, it will feel as though the items are far away from each other, creating a sense of distance that is not pleasing.
When choosing furniture, go for pieces that have multiple functions. This can cut down on the number of pieces that need to be used in one room. In addition, it's also a good idea to choose pieces that can be accessed from most or all sides, such as a well-placed kitchen island. Arranging the furniture in the middle of the room leaves empty areas along walls that function as walkways across the room. Easily accessible furniture prevents people from having to walk around to get to where they want to sit or eat.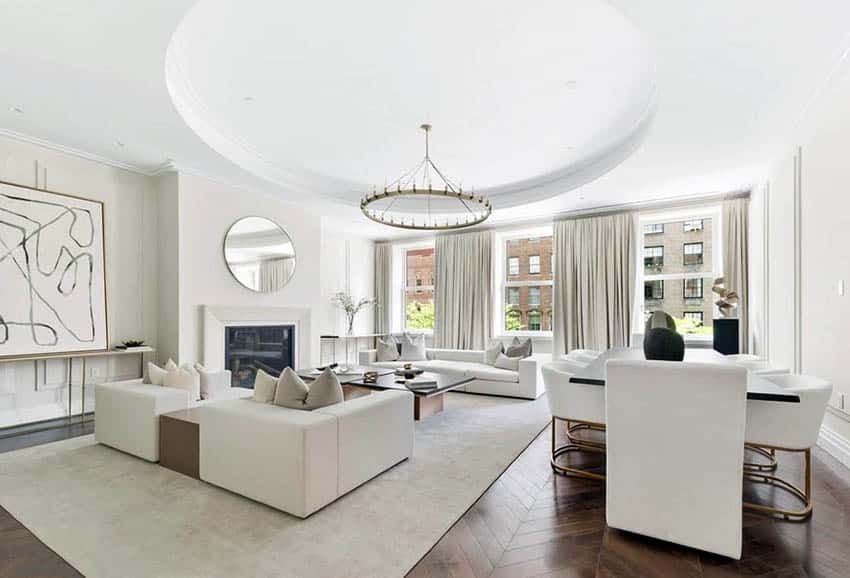 When it comes to choosing your furniture, there are a few avenues that you can take. Pieces with strong angles can look sharp in the right room, giving the space a modern feeling. If you choose some angled pieces, try to offset those by choosing some softer pieces as well. One way to do this is by choosing tables or counters that have sharp angles, and pairing them with stools or other seats that are soft and rounded. This combination can help keep an open concept looking smart and modern, while also ensuring that the space is comfortable and warm.
You'll also want to arrange your furniture so that natural light is preserved as much as possible. Open concepts allow high amounts of natural light into the home as there are fewer walls. Natural light helps give rooms a sense of openness, which helps make the space feel comfortable. This natural light can also play well against an accent wall painted a different color.
With so many design schemes to choose from, homeowners are always on the lookout for ways to maximize the space and utility of their homes. If space and natural light are qualities that are important, an open concept design may be the right choice. This type of design is a great way to give your home an all-new feel without taking on whole-home renovations and it's a good way to bring everyone together.