Here we share ideas for the best paint color for small bathrooms with no windows.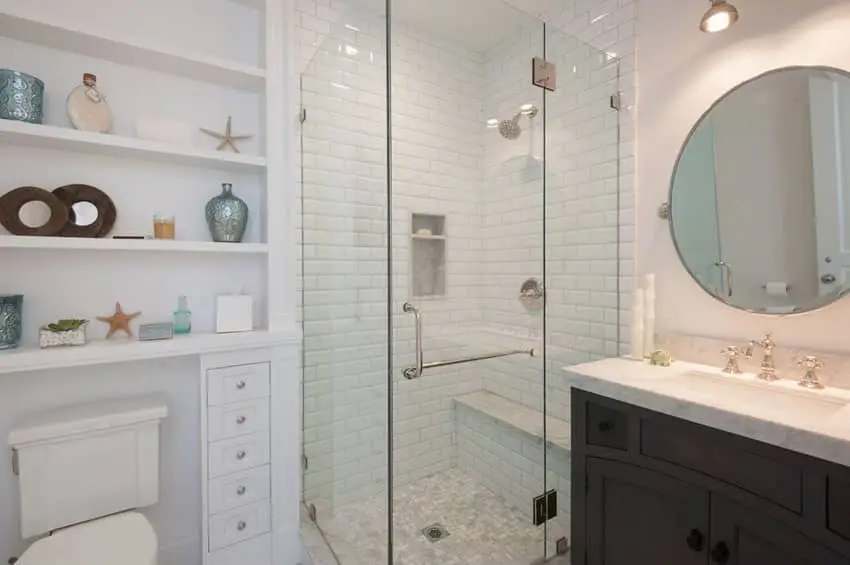 Having a small bathroom can be frustrating at times. This can be especially true when there aren't any windows to bring any light into the room. Luckily, there are steps you can take to elevate your small bathroom to the next level.
If you choose your bathroom paint colors correctly, you can maximize your space by making it look bigger than it actually is.
What to Avoid: Dark Colors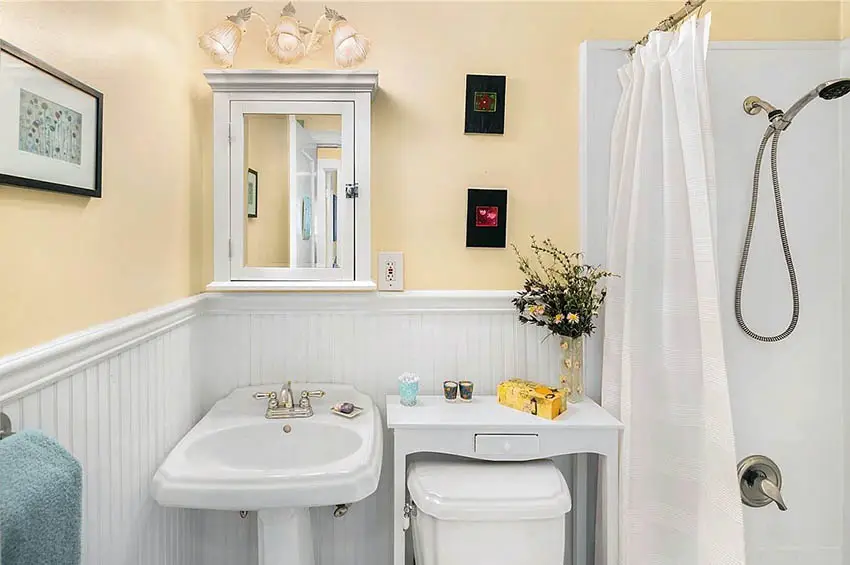 First and foremost, let's take a look at what you should avoid in paint colors. In particular, darker shades of paint are going to make your bathroom look smaller. This is especially true in rooms where there is no way to let in natural light.
When picking out paint swatches, it's generally a good idea to steer toward lighter tones. Black, navy blues, and deep reds are the types of colors you'll want to avoid.
White, Off-Whites, and Grays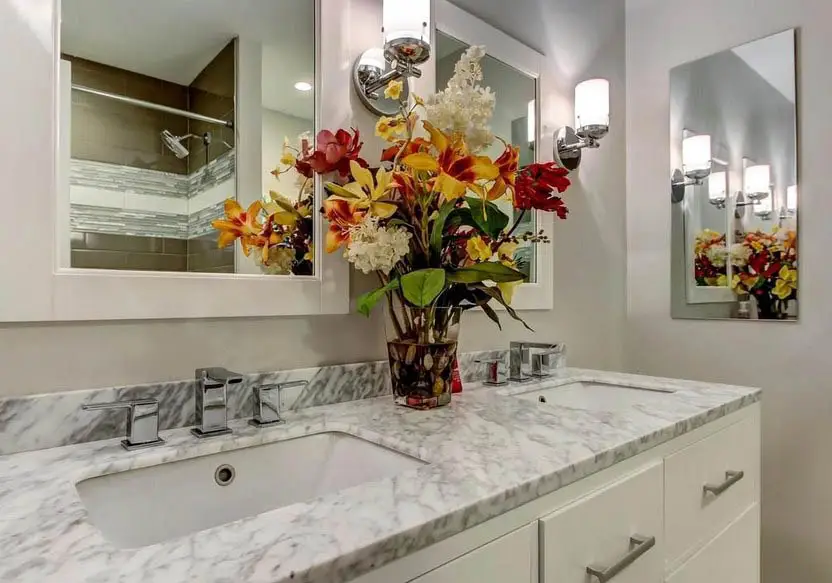 White is the most popular go-to when it comes to small bathroom designs. However, it isn't the favorite choice for everyone. Some find pure white walls and decor to be rather sterile.
If this sounds like your taste, you might be interested in trying off-white colors such as cream or beige. These colors are a great way to bring light in when there isn't much.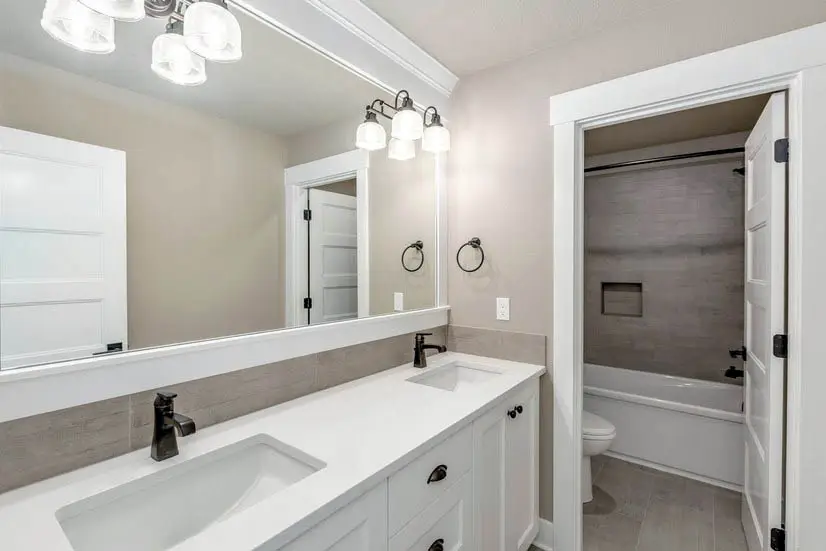 Gray tones can be a good choice too but, again, you'll want to be careful to steer towards the lighter end of the spectrum. Options such as pearl gray or greige work very well in small bathrooms with no windows.
Bright Colors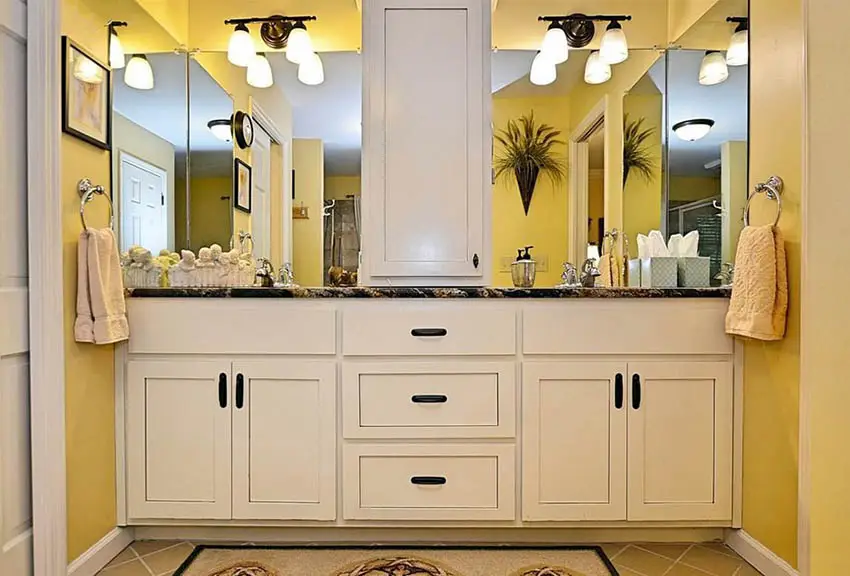 Bright colors are a great way to bring some unique personality and light into a small bathroom. Some bright colors you might want to try include:
Yellow
Aqua
Ice Blue
Soft Green
Pink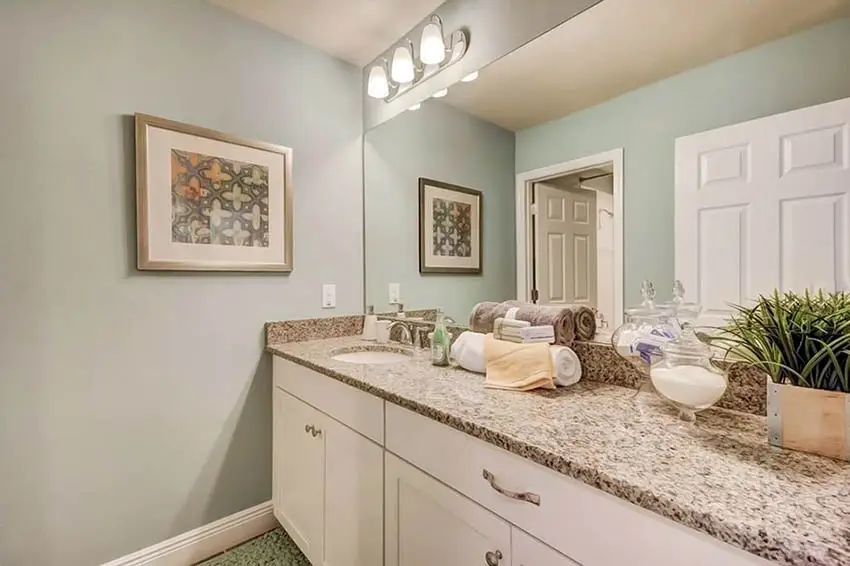 For a less intense look with the same effect, you can turn to pastel colors such as soft greens or pale yellows.
Play with Designs
It's easy to get stuck into thinking about painting walls as solid, unbroken colors. Yet, it can create a dynamic and expanding appearance to a bathroom to use patterns in your painting.
Horizontal lines are an excellent way to make your walls seem longer and thus make your bathroom seem bigger. Alternatively, designs like arches can make your ceiling look taller.
Mirrors can be used to help reflect light and create the illusion of a bigger space. Especially if your bathroom has low ceilings a larger mirror can be used effectively to enlarge the room.
Don't Limit Yourself to One Color
Another mistake that many make when painting a bathroom is to limit themselves to one color. When done correctly, though, it can really make bathroom pop. Of course, you'll want to choose these colors carefully.
One of the best examples of this is to use an accent wall. Painting 3 of 4 walls white with the final wall being a brighter color is an effective way to open a room. Even small touches such as using white accents in a pastel painted room can be beneficial to the space.
Another great design idea for bathrooms with no windows is to pair a paint color with white wainscoting or shiplap to achieve a bright and airy look. White wainscoting can be matched with accents in flooring, vanity countertops, bathtubs and vanities to help keep the design cohesive.
Best Paint Color Picks For Small Bathrooms With No Windows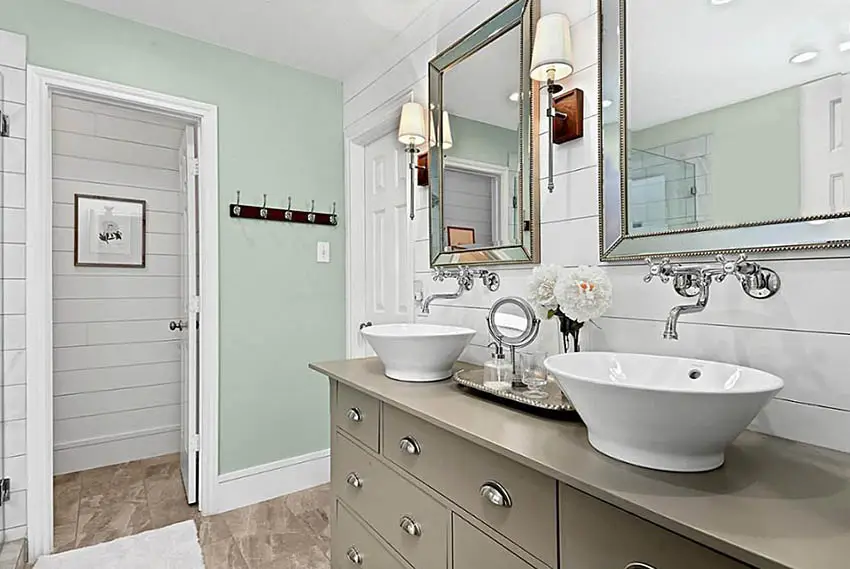 Now that we already have some helpful ideas about how to choose the best paint colors for small bathrooms with no windows, it is now time to choose the best paint brands, specific colors, and their codes.
Below are some of our recommendations that you might want to try:
White Best Paint Pick for this Color: Sherwin-Williams Alabaster (SW 7008)
White is generally the best option when it comes to improving the look and feel of a cramped space, including small bathrooms.
Indeed, we highly recommend choosing this paint color and brand if you wish to improve the overall appearance and sense of openness in your small bathroom with no windows.
This paint created by Sherwin Williams has a relaxing and delicate white hue with pleasant undertones that will surely provide a touch of calmness and spaciousness in small bathrooms.
This classic white paint excellently bounces the light that is emitted by the light fixtures within the small bathroom, giving the impression of a brighter and bigger bathroom space.
This capability is very much suitable for these small bathrooms with no windows. Plus, this paint adds a sense of luxury and versatility, which means it can enhance and complement any bathroom decor.
Beige Best Paint Pick for this Color: Sherwin-Williams Ancient Marble (SW 6162)
Small bathrooms with no windows should not feel and seem cramped. Hence, one way to make the tight space more comforting and relaxing is by painting it with beige using the Sherwin-Williams Ancient Marble SW 6162.
This beige paint features pale green undertones that aid in increasing the depth and texture of your small bathroom, eliminating the feeling of crampedness.
The Ancient Marble, based on our experience, is also ideal for achieving a naturalistic vibe in your small bathroom without making the walls seem excessively vivid.
Moreover, this beige paint is quite versatile – whatever the design of your bathroom fixtures, accessories, and other elements are, this beige paint by Sherwin-Williams will be quite suitable.
Gray

Best Paint Pick for this Color: Benjamin Moore Gray Owl (OC-52)
Gray is among the most favorite neutral paint colors for bathrooms and for a good reason. Gray paint, especially this pick that is specially formulated by Benjamin Moore, works nicely in small windowless bathrooms. If you are using multiple light sources in your small bathroom, the cooler and more relaxing the Gray Owl will look.
If you wish to enhance the beauty of this gray paint, we suggest pairing it with other complementary colors such as pale green, white, and black. The subtle undertones in this gray paint, when paired with these colors, will effectively create a peaceful atmosphere in your small bathroom with no windows.
Light Blue Best Paint Pick for this Color: Magnolia Vibrant Horizon (B0C7CD)
Making a small windowless bathroom seem cheerier and more calming should be one of the main goals of interior designers and homeowners.
Well, we believe that this goal may be achieved by using a cool light blue like the Magnolia Vibrant Horizon. This light blue paint is vibrant enough to make a small bathroom feel more open.
Truly, using this paint pick will make your small bathroom flaunt a spa-like ambiance that will capture the interest of your guests. Plus, this light blue paint has abundant light-reflecting details that help in increasing the illumination within the small bathroom.
Green Best Paint Pick for this Color: Benjamin Moore Healing Aloe (1562)
Green is one of the most beautiful yet not-so-popular paint color options for small bathrooms. Interestingly, green paint, particularly the healing aloe shade, is an incredible paint pick that helps in adding a serene and peaceful vibe to your small windowless bathroom.
This green paint from Benjamin Moore has a muted soft pale tone that helps in producing a peaceful and soothing bathroom atmosphere, allowing you to enjoy taking a bath even in a small bathroom. If you normally use plush white towels or woodsy accents in your small bathroom, the healing aloe would be the perfect pick.
Teal Best Paint Pick for this Color: Behr The Real Teal (P470-7)
Although teal is considered a bold color that might affect the bathroom ambiance, things totally get different when talking about Behr's The Real Teal.
Yes, this paint pick uses slightly rich tones that greatly add texture and complexity to the small bathroom space, but it gives you a feeling that you are near the sea or ocean, which allows you to relax and unwind even if you are in a small bathroom with no windows.
To further enhance the vibrancy and light-reflecting properties of this paint, you can pair it with other vibrant paint colors to create a more invigorating atmosphere.
Light Violet Best Paint Pick for this Color: Sherwin-Williams Veiled Violet (SW 6268)
If you want to make your small bathroom look more luxurious and classier, keep in mind that you can use unique paint colors such as violet.
The Veiled Violet by Sherwin-Williams would be an amazing pick if you want to make your small bathroom more eye-catching. The regal effect that this paint pick provides is outstanding, making your small bathroom look expensive.
Since the Veiled Violet is more on the neutral side, you can use this paint color no matter what your bathroom ceiling color, designs, or accessories are.
The color of this violet paint is muted, henceforth making it a versatile option that will suit any small bathroom decor. It will not make the bathroom look darker since this violet paint is light-colored.
Light Brown Best Paint Pick for this Color: Farrow & Ball Hardwick White (No.5)
The Farrow & Ball Hardwick White is actually a very light brown paint that is very ideal for bouncing the light of your existing light fixtures inside your small windowless bathroom. This paint has cool undertones that help in providing your bathroom with a peaceful ambiance.
We have seen that the brightness this light brown paint provides is exceptionally suitable for adding an illusion of spaciousness within your small bathroom.
Plus, most of the Farrow & Ball paints, including the Hardwick White, are quite long-lasting and moisture-resistant, which makes them ideal for bathroom applications.
What Color Looks Best In A Small Bathroom With No Natural Light?
As previously mentioned, white is generally the best option for small bathrooms with no windows. The white paint itself is enough for generating sufficient illumination within small bathrooms that lack natural light.
So if you are going to pair it with the correct light fixture selection, white paint will surely bounce the lighting and increase the brightness.
How To Make A Small Bathroom Look Bigger Without A Window
Here are some effective ways to make your small bathroom look bigger even without the presence of windows:
Always use light colors. Paint colors such as white, beige, or any light color can increase the openness of your small bathroom.
Install either multiple mirrors or a large mirror. By doing this, you can create an illusion of added space within your small bathroom.
Maximize your vertical space by placing tall cabinets or shelves in your small bathroom.
Always go for a minimalist design to avoid having a cluttered look in your bathroom.
Install multiple light fixtures to fully brighten the bathroom space.
What Color To Paint A Very Small Bathroom
Light colors such as white, light blue, light gray, or light green are always the best choices if you want to paint a very small bathroom. These colors can help create an illusion of a bigger bathroom space and make the ambiance feel more calming and cozier.
Neutral colors such as beige, muted green, or brown can also help in adding depth and warmth to very small bathrooms, but they might not be helpful enough in reflecting the light of your light fixtures.
However, if you want to make the process uncomplicated, you can go for a monochromatic color scheme in your very small bathroom to achieve design continuity. By applying this technique, very small bathrooms will feel and seem a lot larger than it is.
What Color Makes A Small Bathroom Look Expensive?
There are several colors you can use to make your small bathroom look a lot more expensive:
Light Gray. This color normally symbolizes elegance and minimalism, which greatly assists in making small bathrooms look a lot more sophisticated and expensive. Light gray offers a balanced design that combines gracefully with other luxurious and natural bathroom materials such as stone and marble.
Navy Blue. This shade of blue offers a very stylish color that greatly adds a great deal of drama and depth to your small bathroom. We have seen that this color effectively complements other expensive colors such as gold, silver, and pure white.
Metallic Colors. Gold, silver, and bronze are among the metallic colors that can significantly make your small bathroom look more elegant and expensive. Plus, these colors are highly reflective, which means they can help in bouncing the light your bathroom light fixtures emit.
Conclusion
If you have a small bathroom, it can be frustrating as something you can't necessarily physically upgrade. But, with creative touches like paint colors and designs, you can give the illusion that there's more space in your bathroom.
Before doing any work make sure to check out our list of bathroom remodel software that can help you visualize different paint colors for your rooms layout.