Here are our bathroom wainscoting ideas, including beadboard, raised panel, shiplap, and tile designs for your home.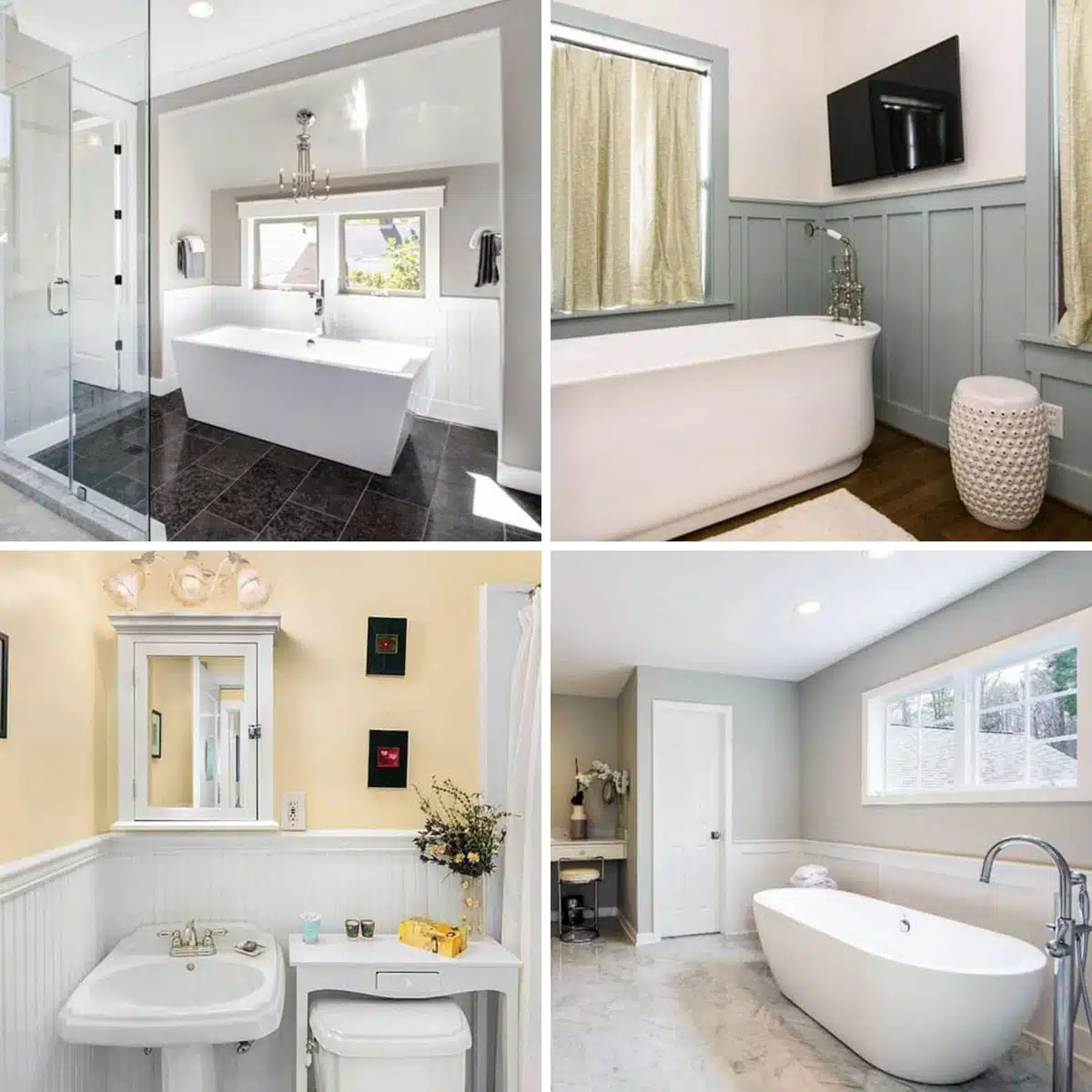 Wainscoting has long been used in interiors for both its function and its aesthetics. Albeit a more traditional design style, it has survived through the years and can still be seen in houses today.
It's most characterized by its decorative panel look that covers the lower part of the wall from the floor up. It can brighten up a room and provide a timeless traditional interior design style.
Types of Bathroom Wall Wainscoting Designs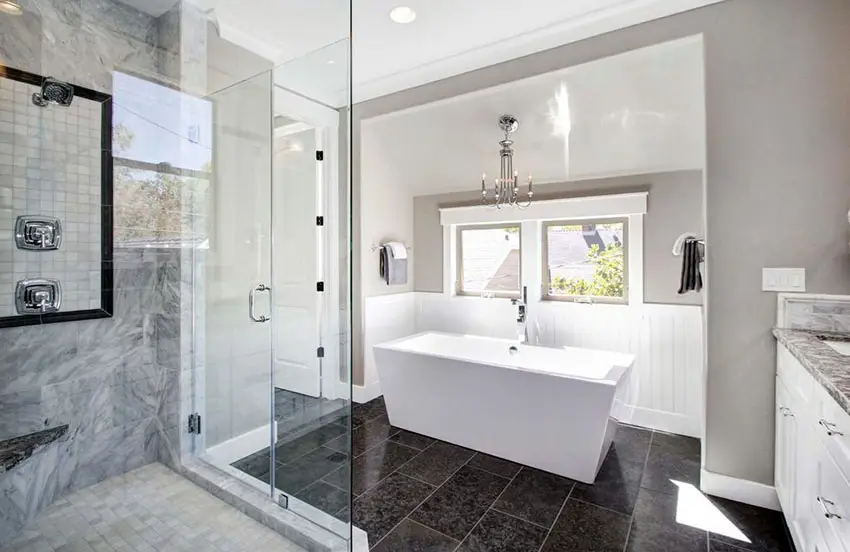 Here are the most common types of bathroom wainscoting design ideas:
Shiplap or Beadboard – one of the most common types characterized by its tongue and groove design. (See our gallery of shiplap bathroom ideas here)
Raised panel – this represents the more classic/traditional style, combining flat panels and moldings.
Board & Batten – this style has a simpler aesthetic and is often found in country-style homes. This type is installed directly onto the existing wall and doesn't require flat boards or panels.
Barn door – also common in country-style homes. It comprises T&G backing boards framed with wood on all four sides with the signature "X" in the middle.
Carved panels – primarily found in old homes, these wainscoting designs are more intricate as they are usually hand-carved. A remodeling project for the experienced DIY homeowner or custom wood contractor.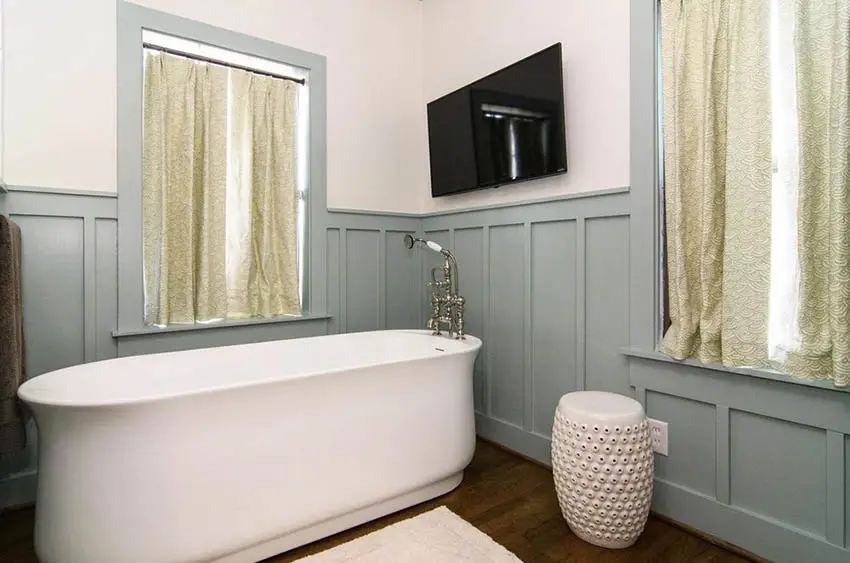 This wall feature is generally made from wood. However, it can also be found in plastic and fiberboard. In the bathroom, it's not unusual to find it made from tile, stone, or acrylic materials with a high tolerance for moist environments.
While the wood in the bathroom looks attractive and provides a traditional style, some requirements are needed to keep it looking great. Since the bathroom is a high-moisture environment, treating your wall paneling is a good idea to protect its beauty better.
Adding a shellac or latex-based primer is advisable to enhance paint adhesion and seal the grain. Once you've applied primer, you can paint the wood with latex or polyurethane paint.
Wainscoting Height in the Bathroom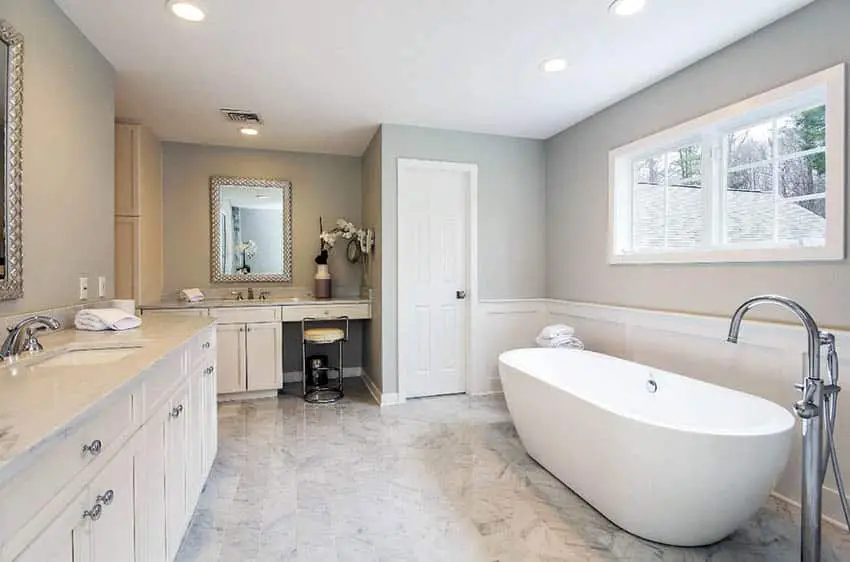 Traditionally, wainscoting matches the height of chair backrests as the middle molding (also known as the "chair rail") was meant to help protect the walls or wallpaper from damage when a chair is pushed back on the wall.
For bathrooms, the wall cladding height usually depends on the application area. It is most commonly used behind the water closet, on the vanity, or on the walls surrounding the bathtub. It is typically between 32 inches and 42 inches in height.
Wainscoting Bathroom Pictures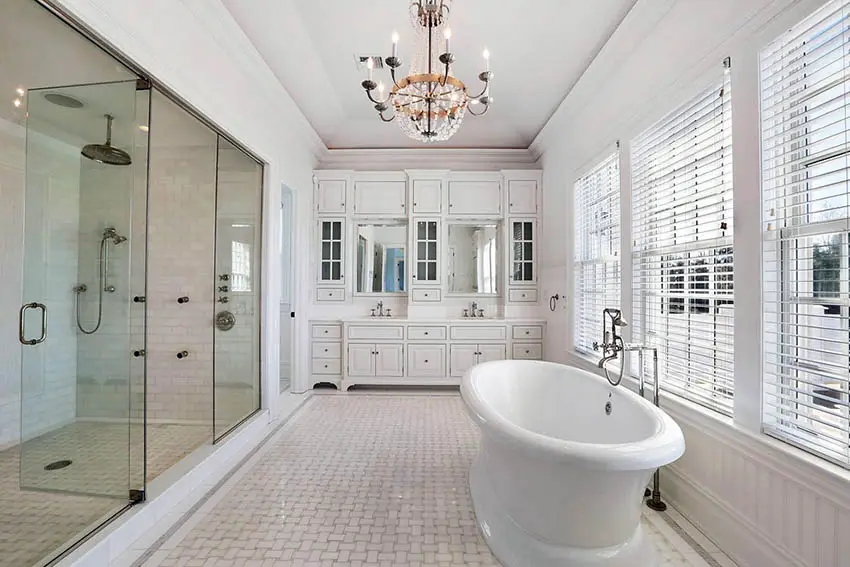 Large windows line the walls of this bathroom, leaving only a tiny space under the windows for the beadboard cladding.
Matching the white-framed doors and windows, these panels & baseboards match the existing aesthetic of the space.
Full Wall Wainscoting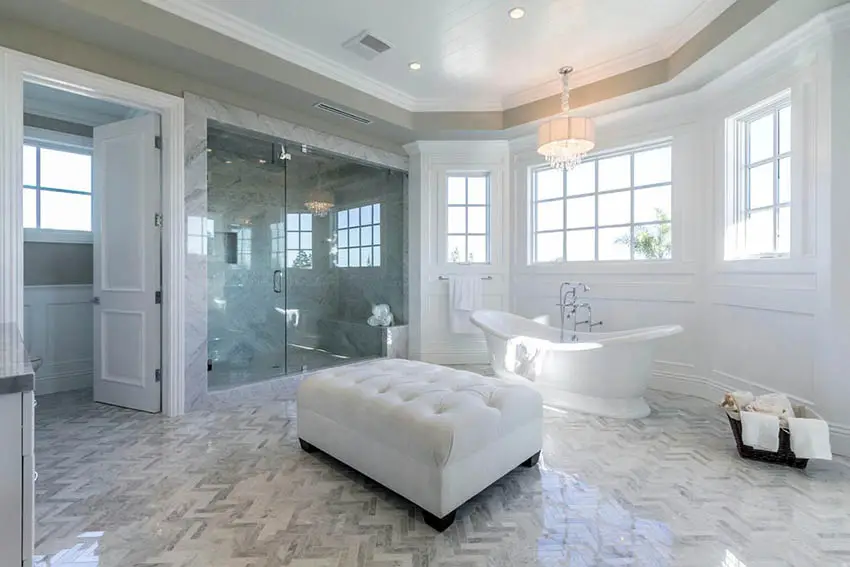 Unlike most ideas that use a half wall, this design uses a full wall raised panel. The quality of the wood paneling to the ceiling and attention to detail promotes feelings of inspiration and luxury.
To match the classic glam look this large bathroom is going for, the bay window with freestanding tub uses white raised panels on the walls to achieve its classic and elegant look.
Beadboard Panels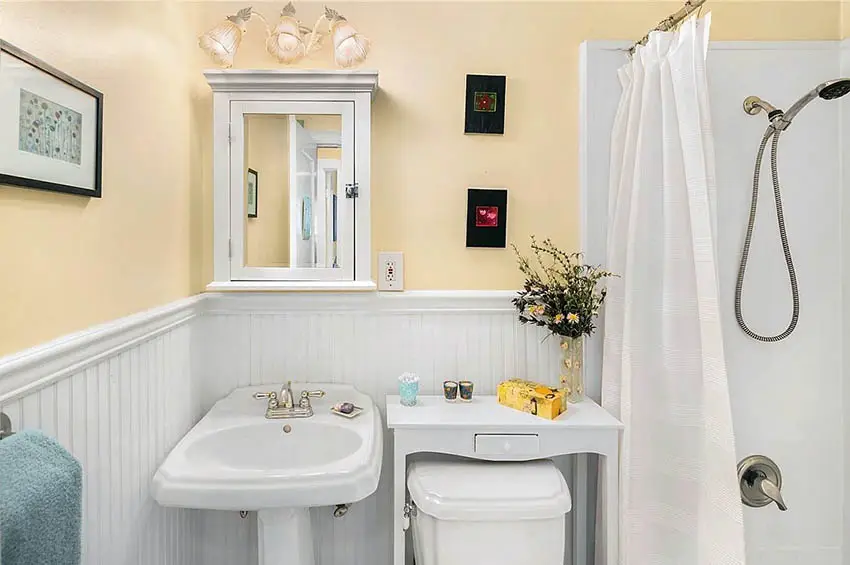 Beadboard panels easily bring out a very country / rustic vibe in any space. For this small bathroom, a vertical beadboard was used.
Instead of the usual 3 to 4-inch wood panels, narrower wood boards were used for a finer texture and to fit the smaller wall space better.
Combined with the yellow painted wall and the classic look of the toilet fixtures, this quaint bathroom definitely brings a homely country vibe.
Narrow Wood Wainscoting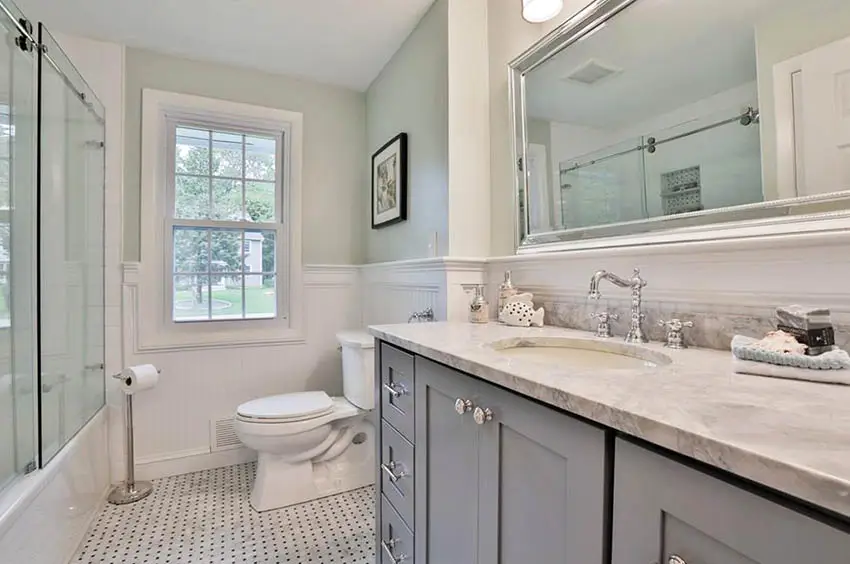 Like the previous bathroom design, this is also quite small, so narrower strips of wood are used for the beadboard panels. Note that the wall panels were only installed in areas where it is not expected to be soaked with water.
Board and Batten Wainscoting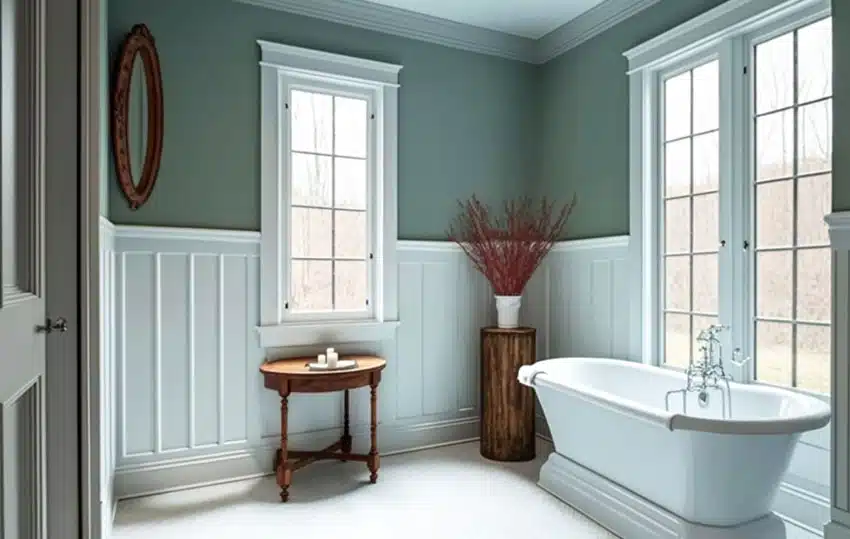 A board and batten design can offer visual interest and is perfect for a traditionally styled or modern farmhouse design.
Board and batten itself feature wood boards positioned vertically with little strips of wood or battens that create a raised pattern.
White Beadboard with White Trim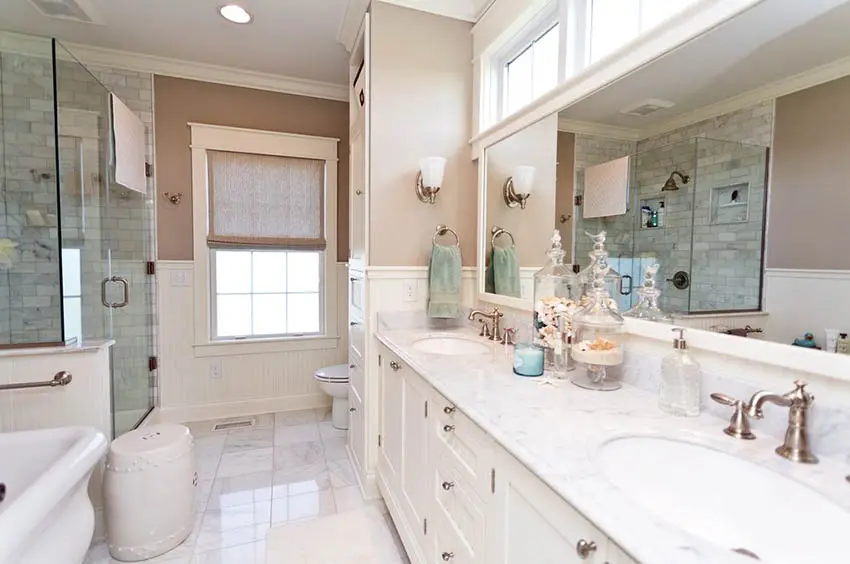 Beadboard was also used in this bathroom, where it was installed on the walls of the toilet area and the walls surrounding the bathtub.
The cladding was installed for half the height of the wall, which is a little higher than usual, but has the advantage of making the light switches and outlets on the wall blend in.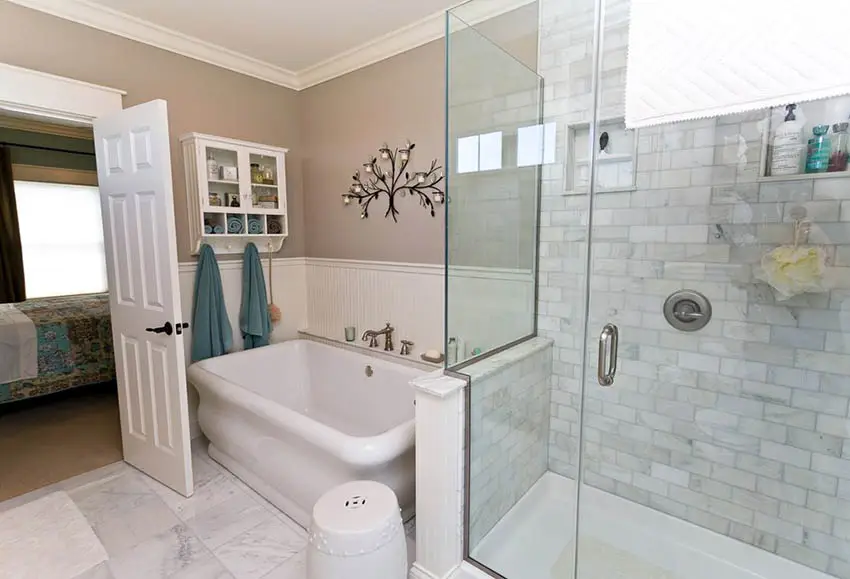 Since the freestanding tub is almost directly against the wall where the paneling is installed, it is important to remember that it would be best to use materials such as PVC or tiles to avoid possible moisture and water damage.
Raised Panel Wainscoting
This bathroom definitely goes for a very unified theme with its cabinetry and wainscoting. An extra mile has been taken to successfully give both the walls and the built-in furniture pieces a uniform look, resulting in a very luxurious and elegant look.
This bathroom uses raised panels with an antiqued paint finish and gold "stains" on the frame moldings to further emphasize its details. The recessed mirror frames offer a custom look that's chic and exciting.
The raised panels applied on the wall along the tub seamlessly blend with the overhead shelf storage, as well as with the built-in vanity and cabinets.
Bathroom Shiplap Wainscoting
Shiplap is characterized by long planks with a small space between each board, similar to what you see on the exterior of many traditional-style homes.
Interior shiplap can be considered wainscoting when its panels are mounted at chair-level height or up to around 32″ above the flooring.
Horizontal Shiplap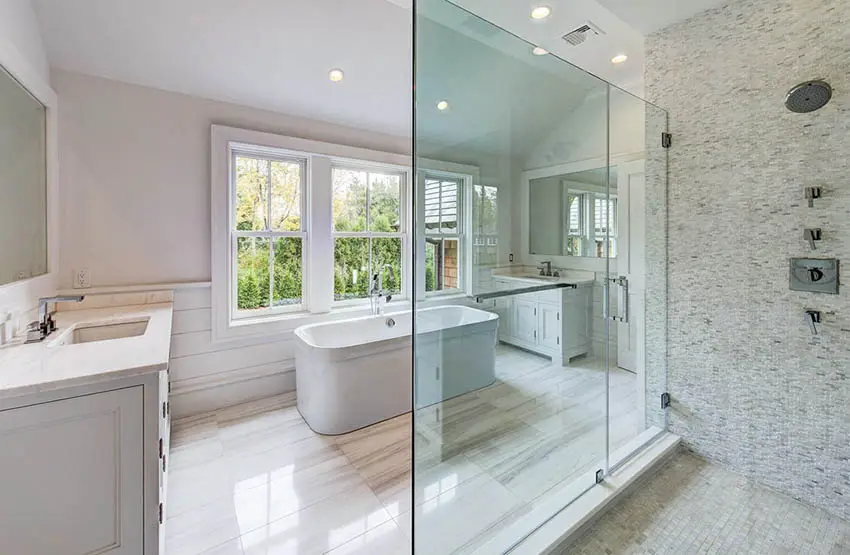 Horizontal shiplap was installed along the wall where the freestanding tub sits further to emphasize the width and size of the bathroom. Wider wooden boards were used in this installation.
Vertical Shiplap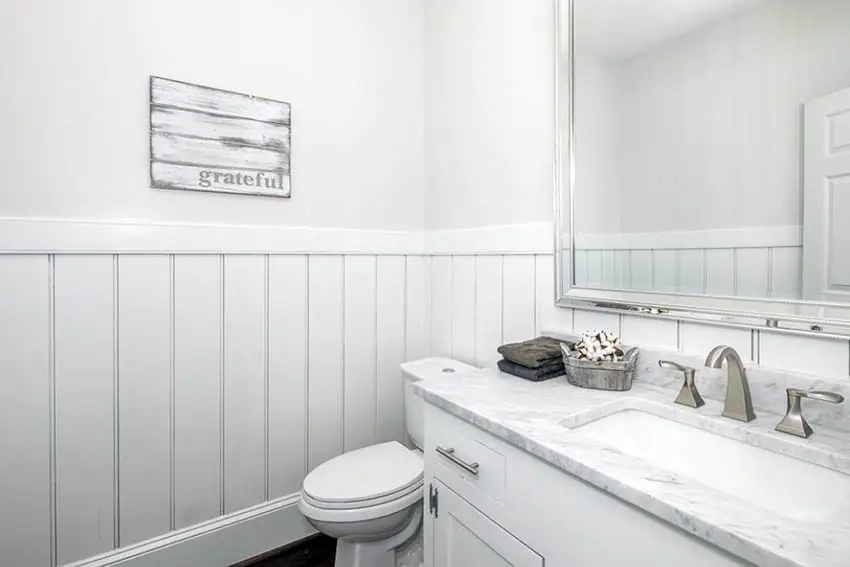 Unlike the other examples of vertical shiplap, this bathroom uses wide wood beaded panels instead of smaller panels, giving it a cleaner & simpler look.
Vertical wood planks make a contemporary wainscoting in this bathroom. Naturally, resilient to touch, wood makes a durable wall covering in this application. – Bathroom Ideas That Work, Scott Gibson
The advantage of wider boards is that they would be easier and faster to install and a bit easier to maintain as they will have fewer grooves, edges, and corners to maintain.
Shiplap and Brick Wall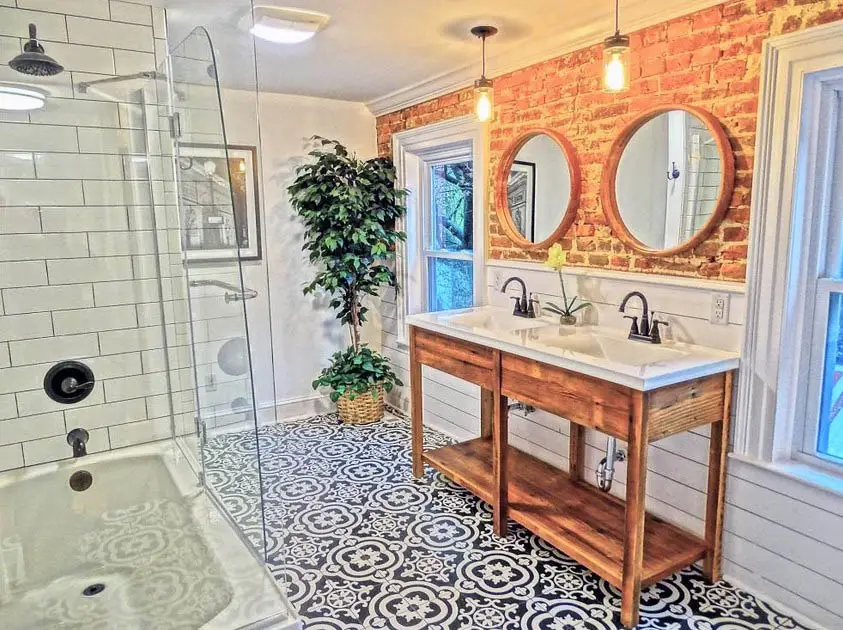 This cozy bathroom uses a variety of finishes to create an appealing interior design. White shiplap shares one wall with a rustic original brick wall for the upper half.
Wainscoting for Small Bathrooms
For smaller bathrooms, this feature is commonly applied behind the water closet or behind the vanity/sink. Because the bathroom is always exposed to moisture and humidity, it is important to choose the right materials appropriate for bathroom applications.
Ensure they have been installed and finished correctly to avoid molds, warping, and other moisture-related damage. Avoid using materials that easily warp when exposed to water or moisture, such as MDF or particle boards.
Preferred materials would be weather-treated wood, marine plywood, PVC, and tiles. Always remember that the installation and finishing of your panels are just as important as their material and will also be a factor in the longevity of your wall cladding.
Wainscoting for Small Space
Adding narrow plank wall paneling in this small bathroom gives it a more rustic, romantic vibe. The vertical beadboards add more texture, depth, and contrast against the gray-painted walls.
A towel rack has been added to the wood panels within reach of the bath & shower combo, next to the toilet and sink for convenience.
The wall molding used to top the vertical boards has a more pronounced profile, allowing you to place small items on it, such as small bottles, accessories, toiletries, and the like, while remaining very subtle.
Wood Wainscoting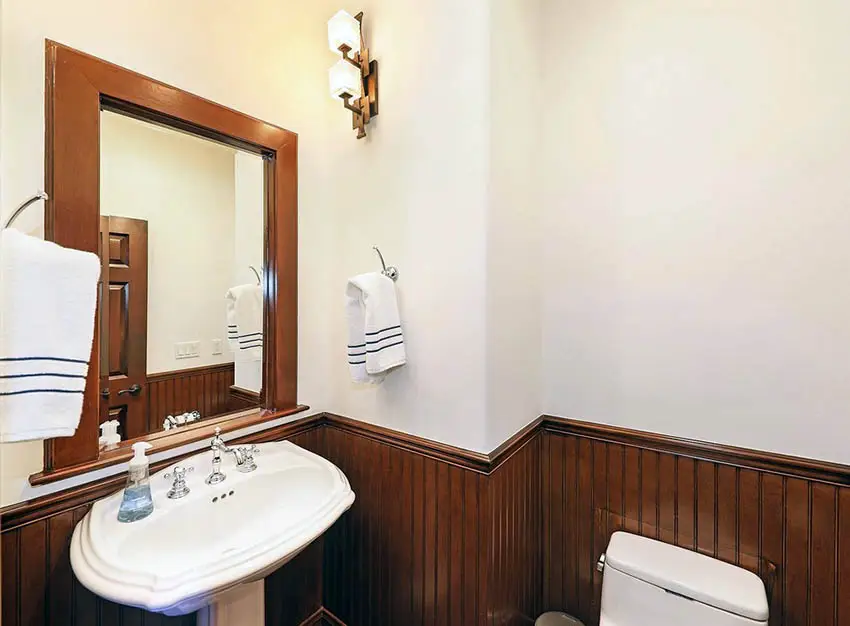 The previous examples have mostly been white-painted paneling, but any other finish can still work for bathroom installations, such as this walnut-stained beadboard.
The narrow vertical boards are topped with a slimmer molding profile to look balanced with the beadboard panels.
Tall Panel Wainscoting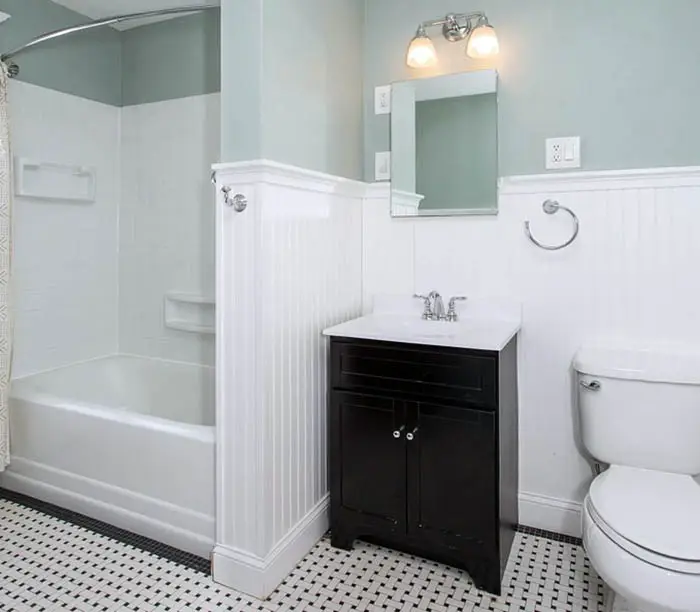 Using high, vertical beadboard on this small bathroom helps make this small space look higher than it really is.
One Wall Wainscoting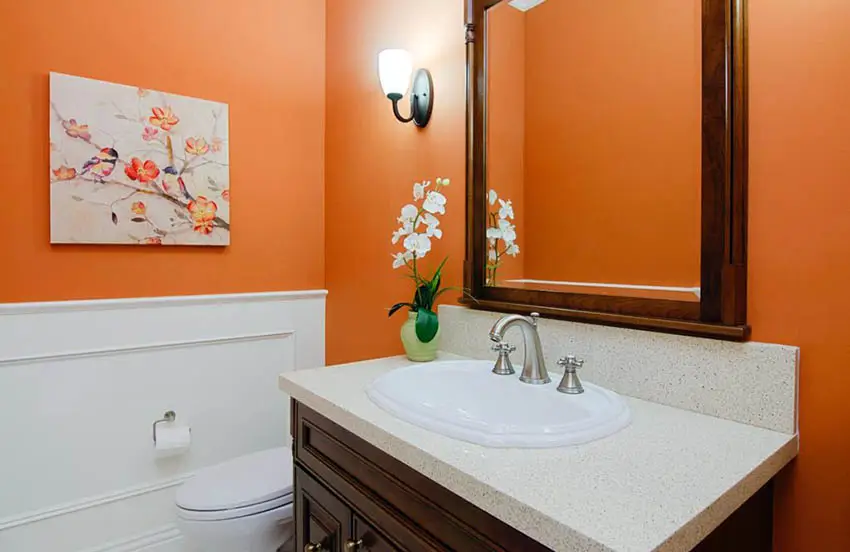 You don't have to do all your walls with wainscoting. Sometimes, you can use one wall to serve as your accent wall, such as the wall beside the water closet.
The mid-height paneling helps tone down the bold orange wall paint and helps create a focal point in this small space. See more bathroom paint ideas here.
Matching Paint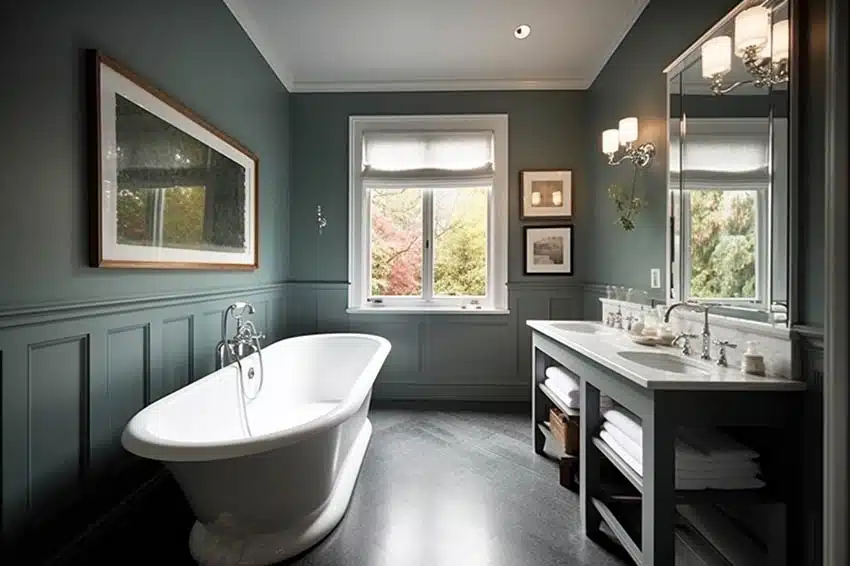 Using the same paint color for the paneling as the walls can give you a variation in texture without looking too disruptive to the design. Use this clean look if you want the room to flow without adding extra emphasis to the wall panels.
If you decide to go a different shade on the color wheel, it's recommended to go a few shades darker or lighter than the wall color.
Tile Wainscoting
Ceramic and porcelain tiles come in many colors, finishes, and textures. Tiles can mimic the look of natural materials (such as wood and stone), are low-cost, low-maintenance, and extremely durable.
In areas such as a bathroom, which is constantly exposed to moisture and water, using tiles is a very practical choice. It is continuing to gain popularity among homeowners because of its worry-free durability.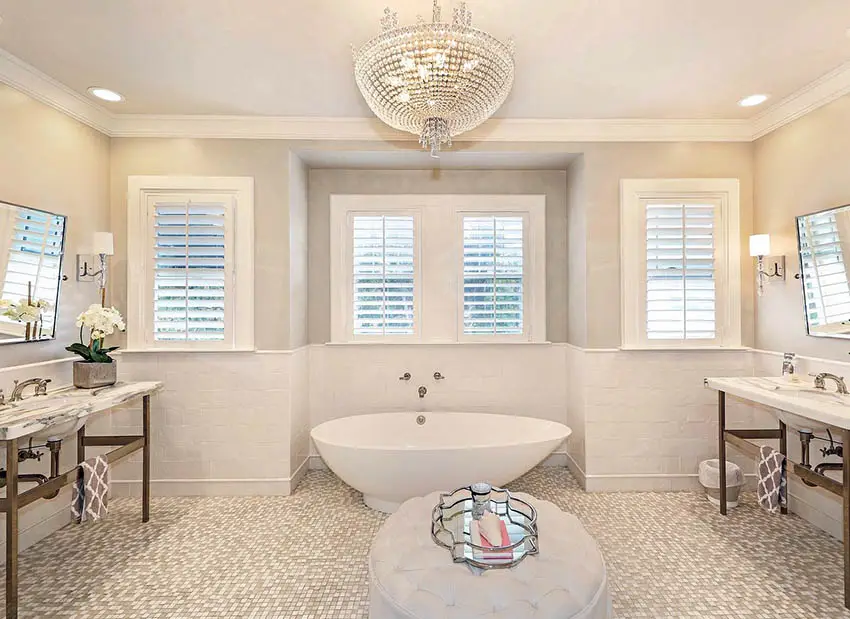 Another practical, durable, and easy-to-maintain alternative to wood and PVC would be to use tiles.
This example shows white textured ceramic tiles installed as a half-wall cladding. This is combined with a thin PVC molding to close the top edges, making it look cleaner and adding more depth.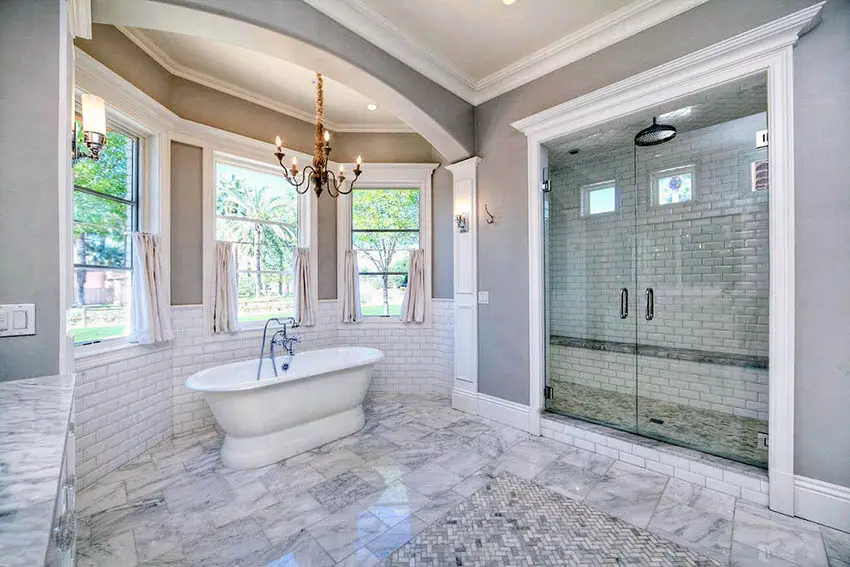 You can also use subway tiles as your material. The subway tiles add texture and personality to any surface, are affordable, and are currently on trend.
The beveled ceramic tiles give any wall surface more depth and texture and give it the same country rustic vibe wood paneling does.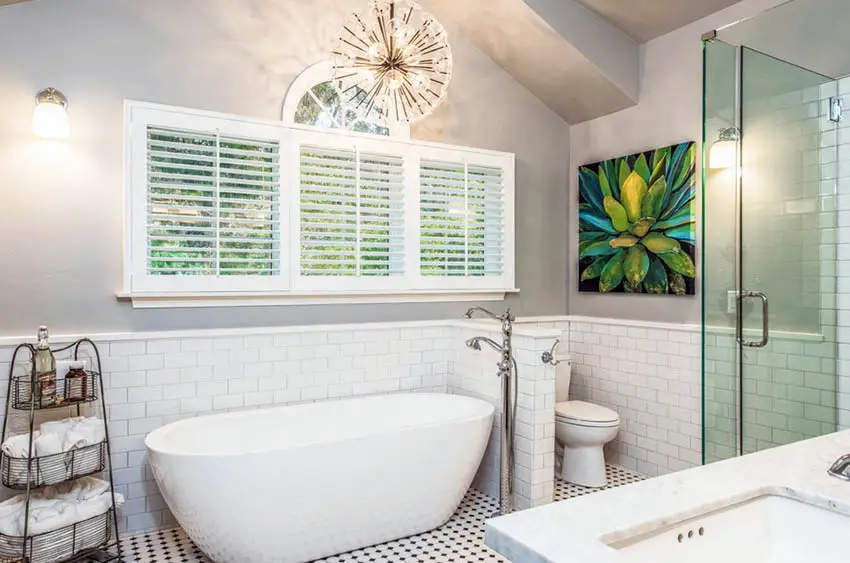 Featuring a white subway tile with a wainscoting design, this master bathroom features a freestanding tub, plantation shutters, and gray wall paint.
For a more contemporary, practical, easy-to-maintain look, why not use large wood finish ceramic tiles as your wainscoting?
You can also use ceramic moldings to top the edges off or PVC molding in a similar color to give it a cleaner finish. Wood look tile looks very attractive as bathroom flooring and is easy to clean and maintain.