Discover different bathroom rug materials including cotton, polyester, microfiber, nylon, wool, rubber, chenille, memory foam, and which is best to use.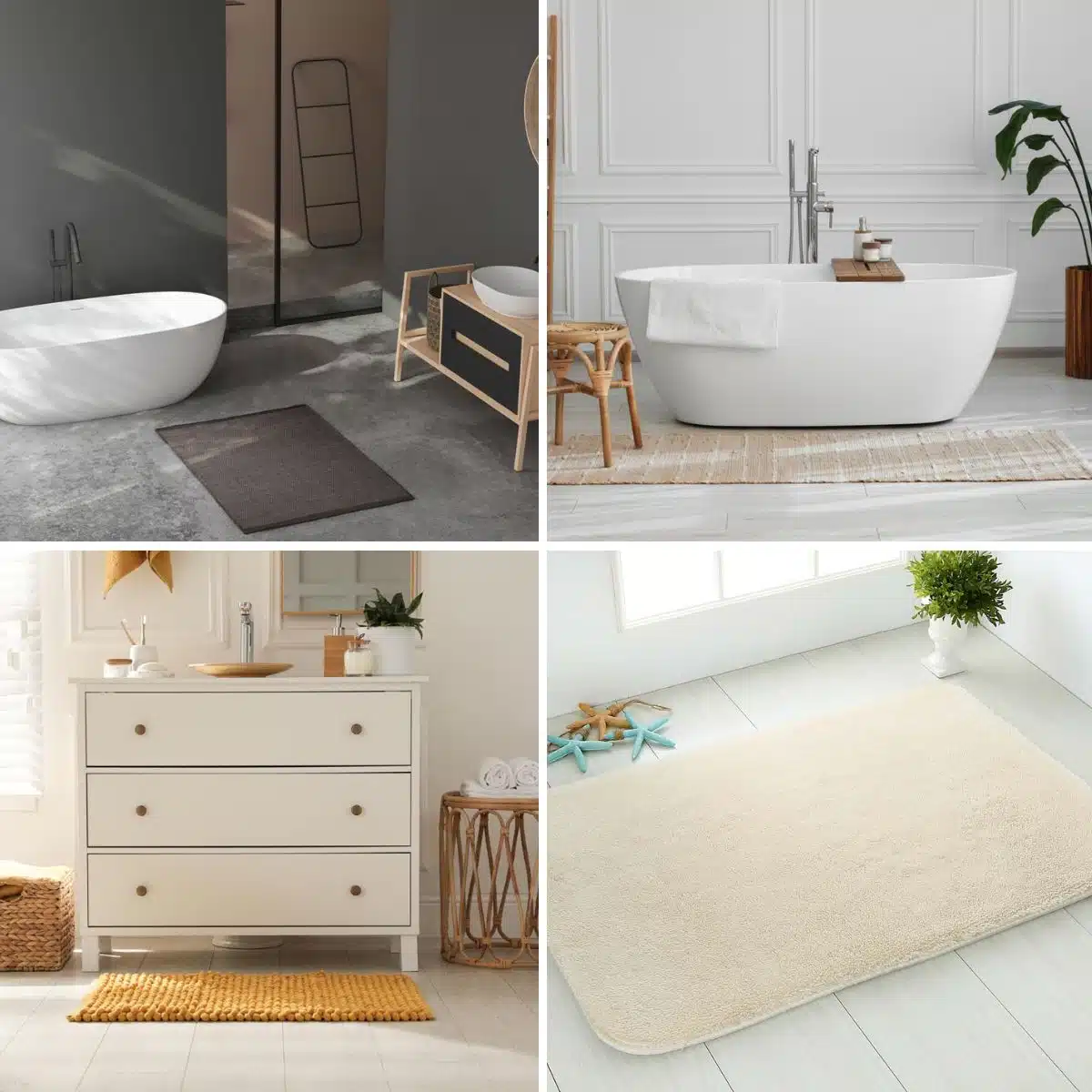 Bathroom rugs are so much more than just decorative pieces; they boost both the look and performance of any bathroom space. These features can act as a barrier against excess humidity and potential falls, not to mention sprucing up the area with some stylish comfort.
It's not easy finding the ideal bathroom rug – one that looks great and works well. The trick? You may look for water-spongy rug materials; these will soak up whatever you slosh around in there and keep your floor dry as a bone.
It's super important to make yourself familiar with the different types of bathroom rug material. By getting to know these materials, you can pick out a rug that fits your needs and goes hand in hand with your bathroom decor. Making an informed choice is never a bad idea here; don't let yourself get caught unaware.
Types Of Rugs For The Bathroom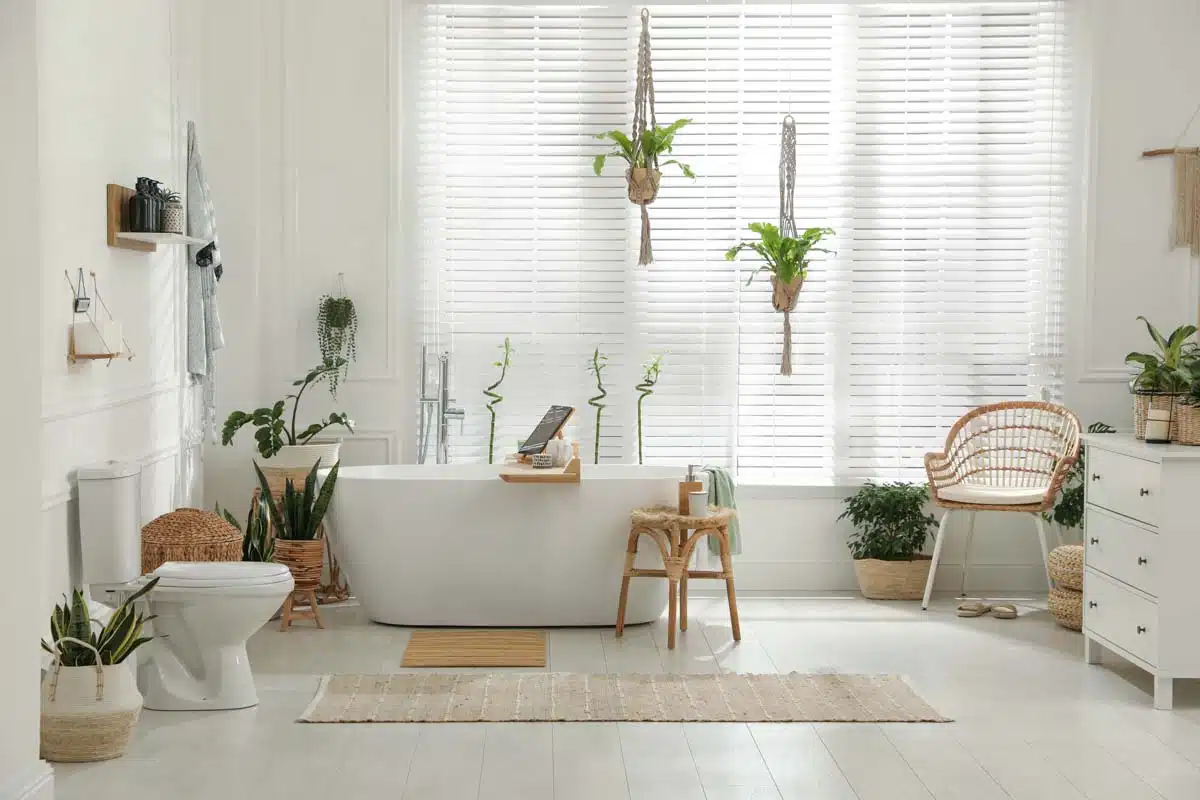 Picking the perfect bathroom rug needs a lot of careful thought. There are so many different materials with their unique positives and benefits – they not only make your bathroom look great but also add an extra layer of protection for you to walk around without slipping.
Diving into the unique characteristics of these different types of rugs for bathrooms and what they can offer you – we're here to help make sure your choice fits your style and needs. Check out this breakdown so you can pinpoint exactly what's best for you.
Cotton Rugs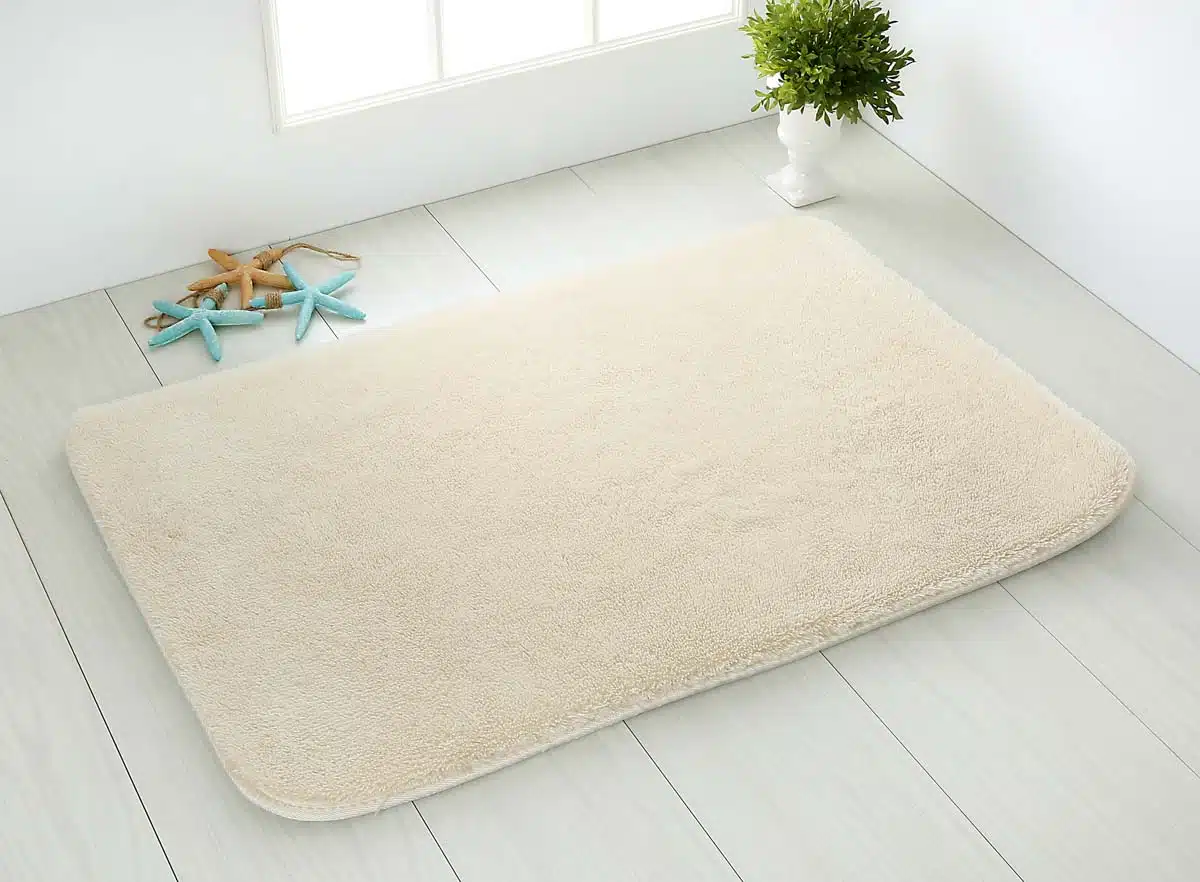 Known for being highly durable, remarkably absorbent, and giving off a pleasant softness to the touch, cotton bath rugs are undoubtedly an excellent choice. Cotton bath mats or area rugs, work hard to keep floors dry as their fast-drying quality significantly reduces any chance of water damage or mold developing over time.
If you want a strong performer for years and don't mind splurging, then nothing beats a 100% cotton rug. It's extremely low-maintenance; all you have to do is chuck it in the washer machine and just like that, it'll be back on deck.
Plus, don't forget about those luxurious Egyptian cotton rugs. They'll give you a place with exceptional comfort and coziness. Call it a splurge if you may – but those gorgeous rugs will make all the difference.
Polyester Rugs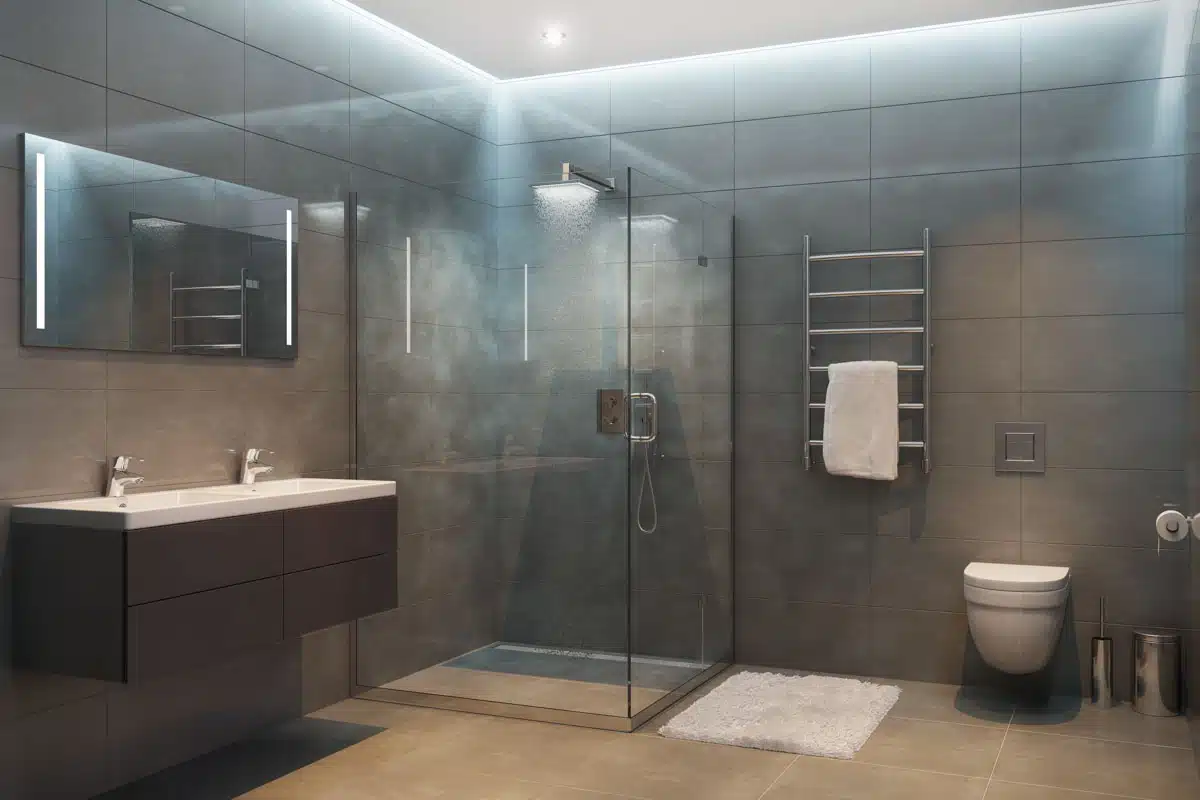 If you're looking for a rug that won't be ruined by wetness and is quick to dry, polyester rugs might be right up your alley. Even though cotton's absorbency can be beneficial in some cases, its inability to take on water makes it less likely to grow mold – so if preventing mildew is what you're after, this fabric proves advantageous.
Polyester rugs, praised for their toughness and water-repellent nature, make them the go-to pick for bathrooms in hectic homes. Not only are they a breeze to pop in the washer but also they guarantee beauty that won't fade.
Microfiber Rugs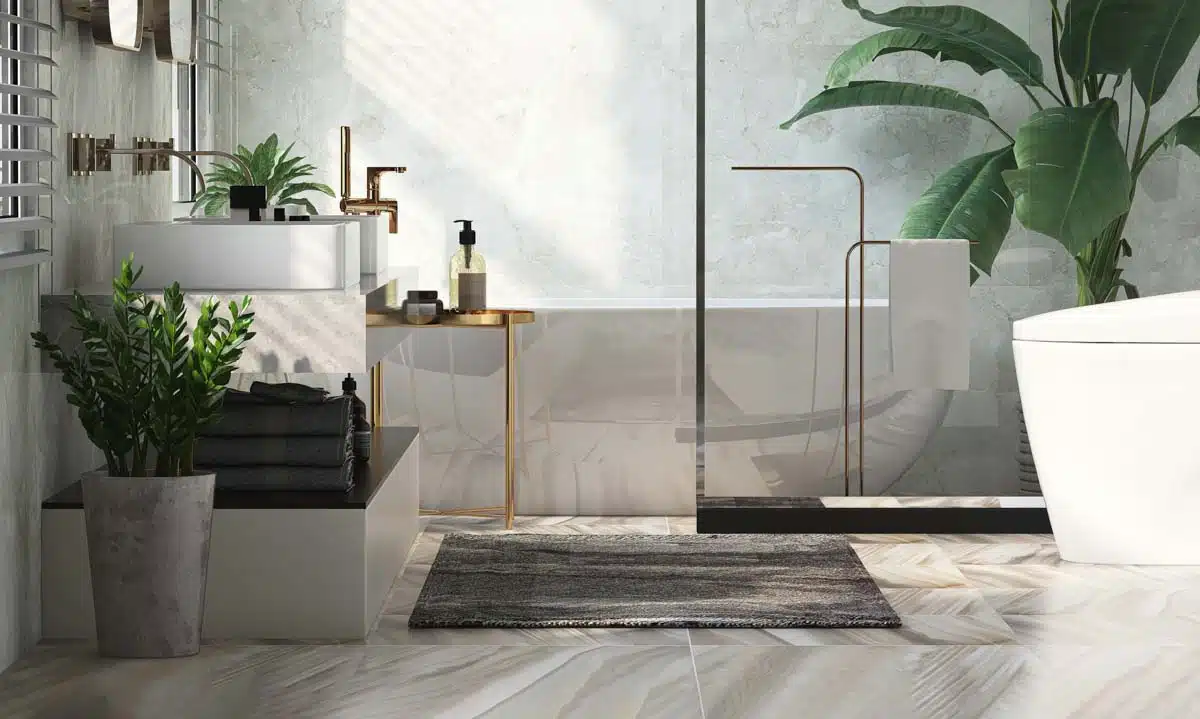 Microfiber is quickly becoming the synthetic go-to for fabrics and bathroom rugs, and it's not hard to understand why: they work great for mopping up moisture off any floor. You've got rapid drying plus less risk of slipping – a real blessing when it comes to safety in your lavatory.
Moreover, microfiber rugs feel like clouds beneath your feet. It would be truly convenient that whenever your pillows get grimy, you can just chuck them in the washing machine, right? Though if allergies or sensitive skin are an issue for you, select a hypoallergenic version so as not to cause any trouble.
Nylon Rugs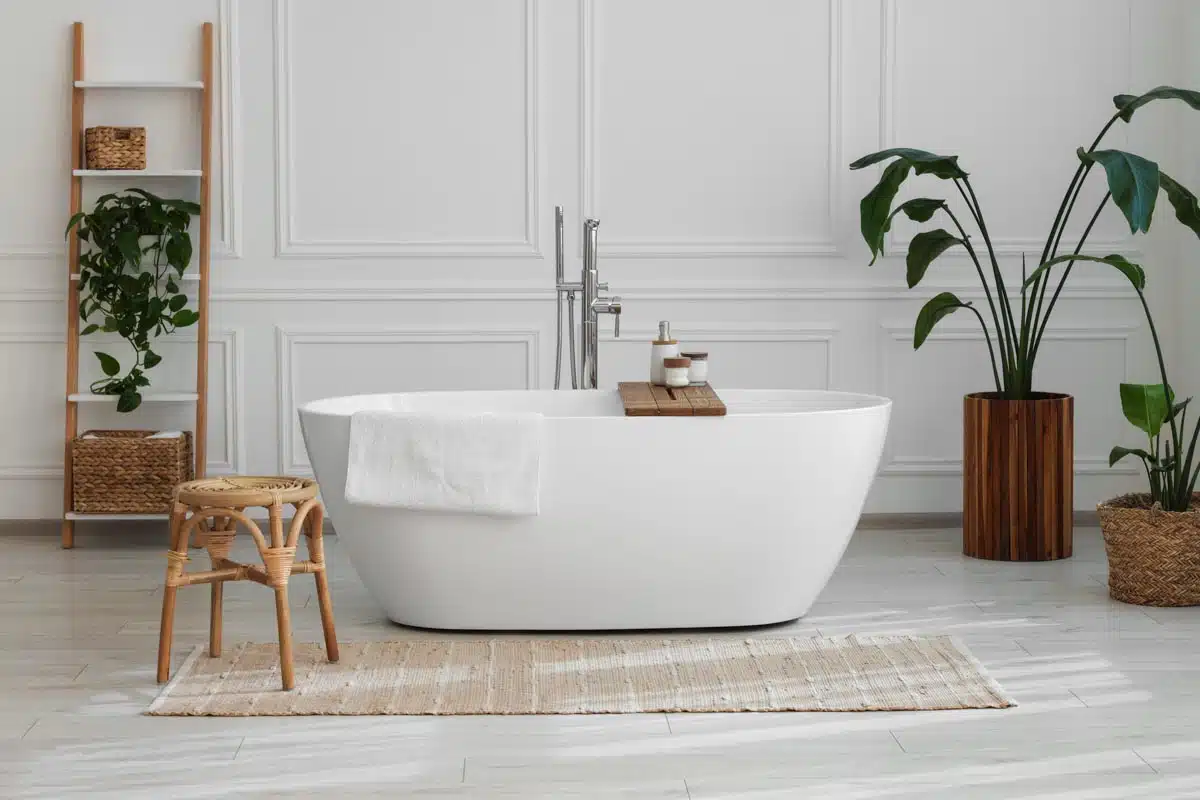 Nylon rugs offer a vibrant rainbow of colors, textures, and patterns for bathrooms that'll get people gawking – even if they're not luxuriously cozy like cotton carpet, they still give you a soft welcome mat to pad across.
If your rugs get a lot of foot traffic, nylon's fabrics are perfect, since they hold up sturdy. Even though cotton might be better at absorbing spills – you can bet that when it comes to drying time, nothing beats the speed of nylon! You'll quickly have your floors exceedingly dry in a snap.
Wool Rugs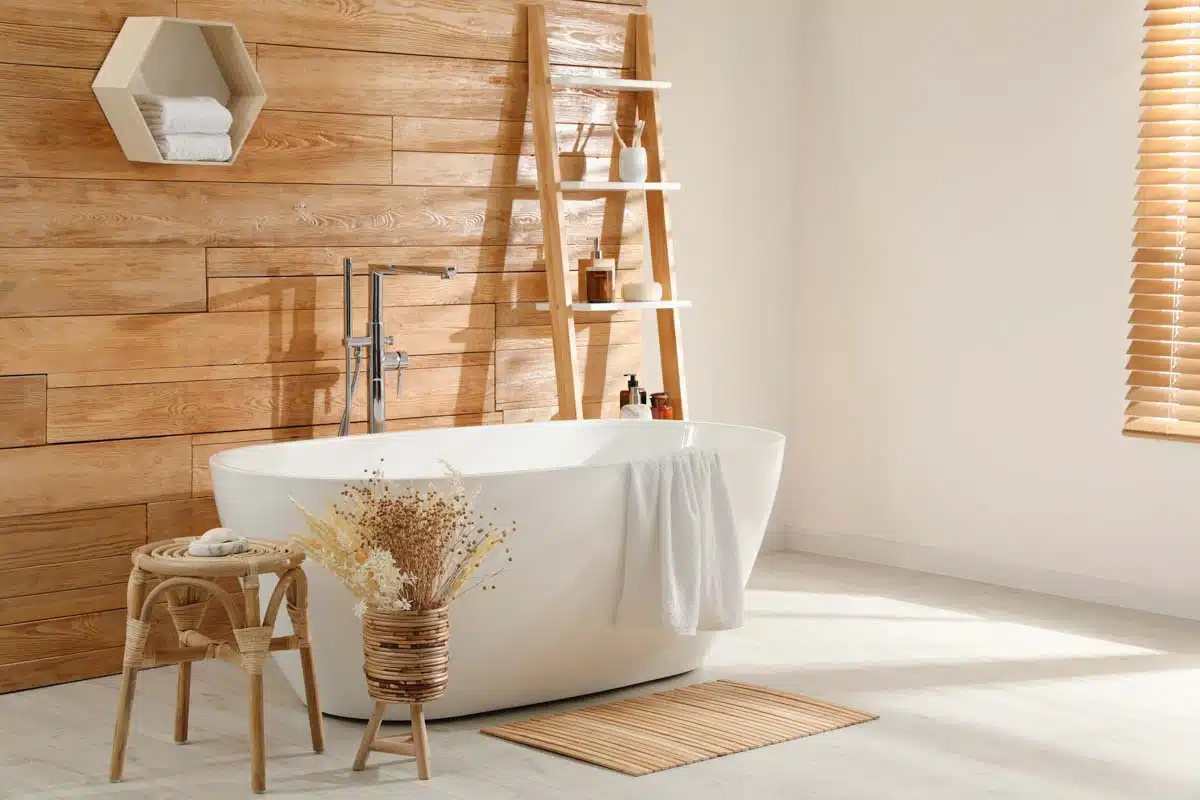 The classic wool rug is uniquely crafted from the soft and luxurious fiber of sheep. It has skyrocketed in popularity for its abundant qualities, proving itself to be an asset to any bathroom well-suited with its convenience and comfortability. From their naturally insulating material properties, these sophisticated rugs drive a range of advantages for your bathroom that you can't deny.
Wool's natural ability to soak up water means it can come in handy for keeping your bathroom floors nice and dry – all but eliminating the risk of unwitting slips and falls. Not only is wool absorbent, but its effectiveness at keeping a room dry is second-to-none.
In addition, wool's resistance to moisture gives it an edge in bathrooms since it prevents the growth of pesky mold and mildew. It holds up well too; its durability lets it handle plenty of frequent use and foot traffic without wearing out, so you'll get long-term bang for your buck from this hardworking fabric.
Wool's insulating powers not only keep the rug cozy in winter but also chill during sweltering summer months. It is hypoallergenic as well; no more dust mites and sneezes for sensitive folks.
Rubber Rugs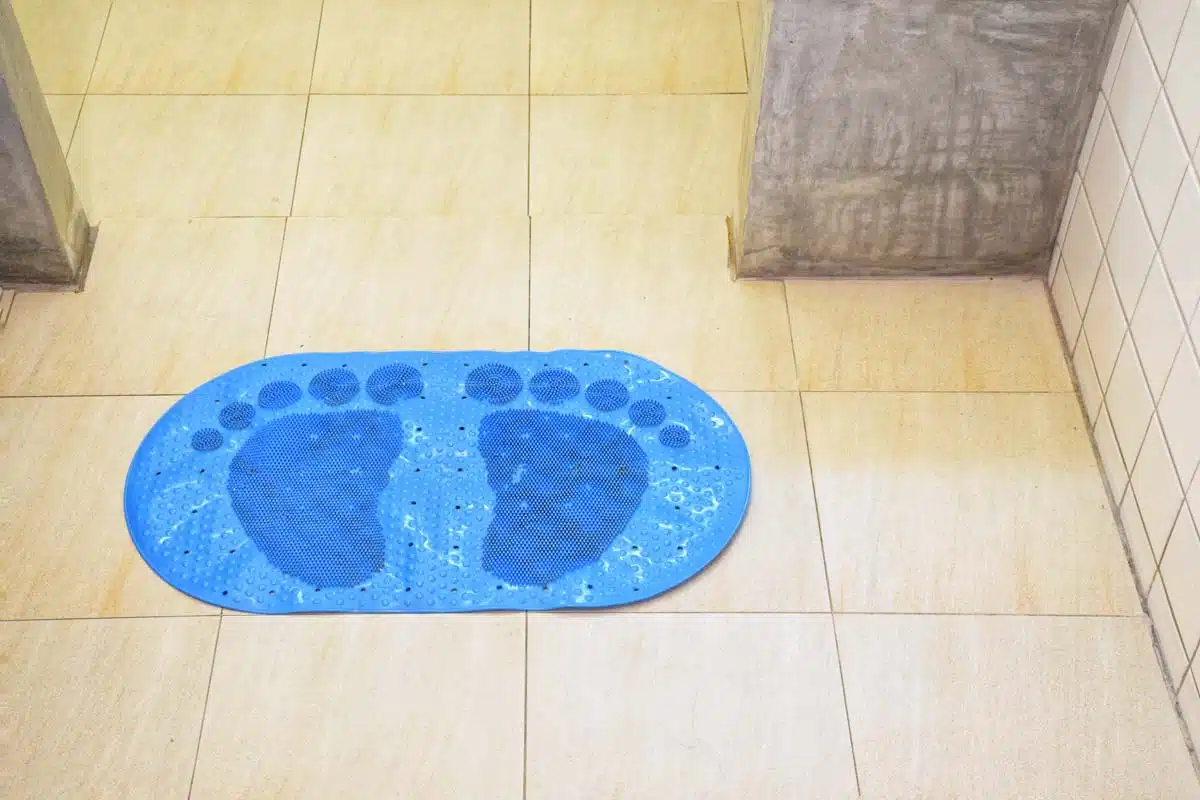 Rubber shower rugs come up top if you're looking for a no-fuss, anti-skid option. Not only do they dry quickly, but cleaning them is a cinch. Also, compared to fabric rugs—which absorb water like sponges—you won't have to put in as much effort when it comes to care and maintenance.
A quick rinse after every shower keeps your rubber bath rugs in tip-top shape, ensuring they'll last longer than the textile ones. With a variety of colors available, these rugs will seamlessly fit into any bathroom decor and their exceptional durability makes them an invaluable investment.
Chenille Rugs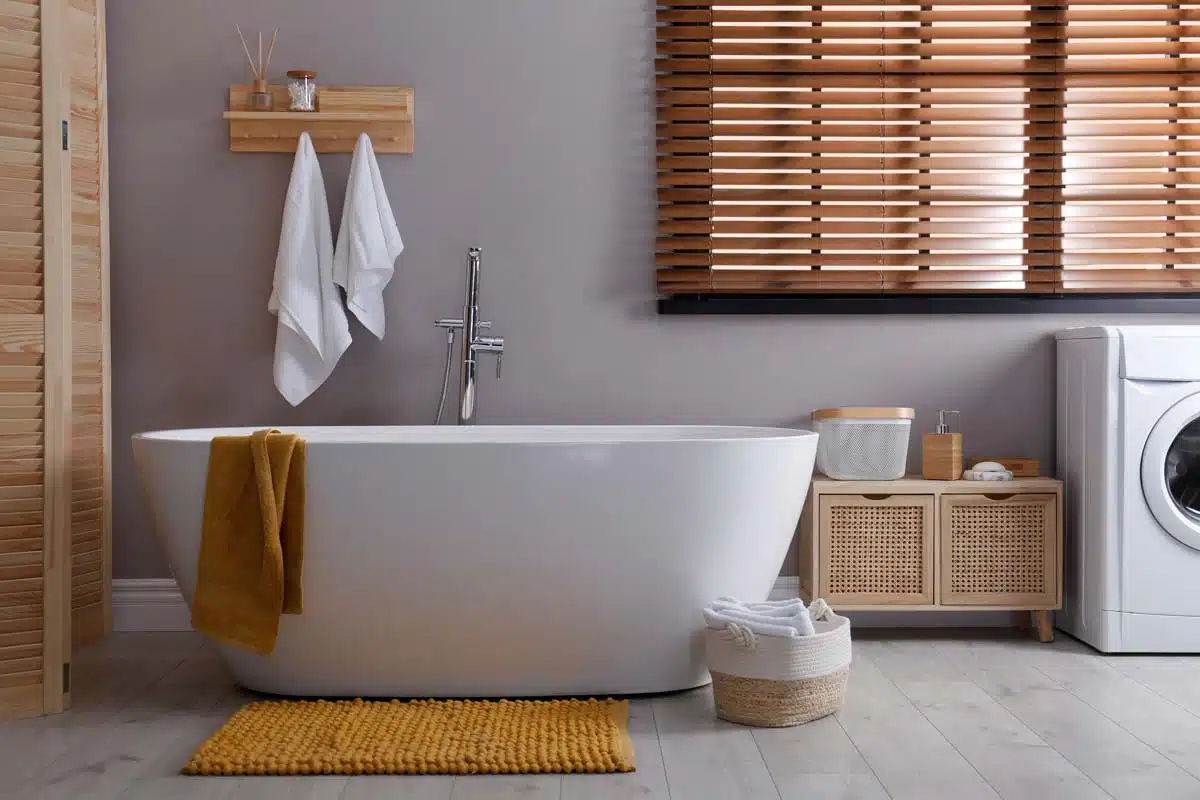 Chenille rugs make any environment extra cozy, offering a lush and plush feeling for your feet – perfect when that chilly bathroom air starts kicking in. With astonishing absorption power, these rugs take in even the tiniest droplets of water like a sponge. So after bathing or showering, you can get back to business quicker than ever before.
With a lavish blend of cotton, silk, and wool, chenille rugs withstand the test of time with ease – even through loads upon loads of washings. These chic little gems exude luxury making them ideal for sprucing up those damp areas near showers or tubs.
Bamboo Rugs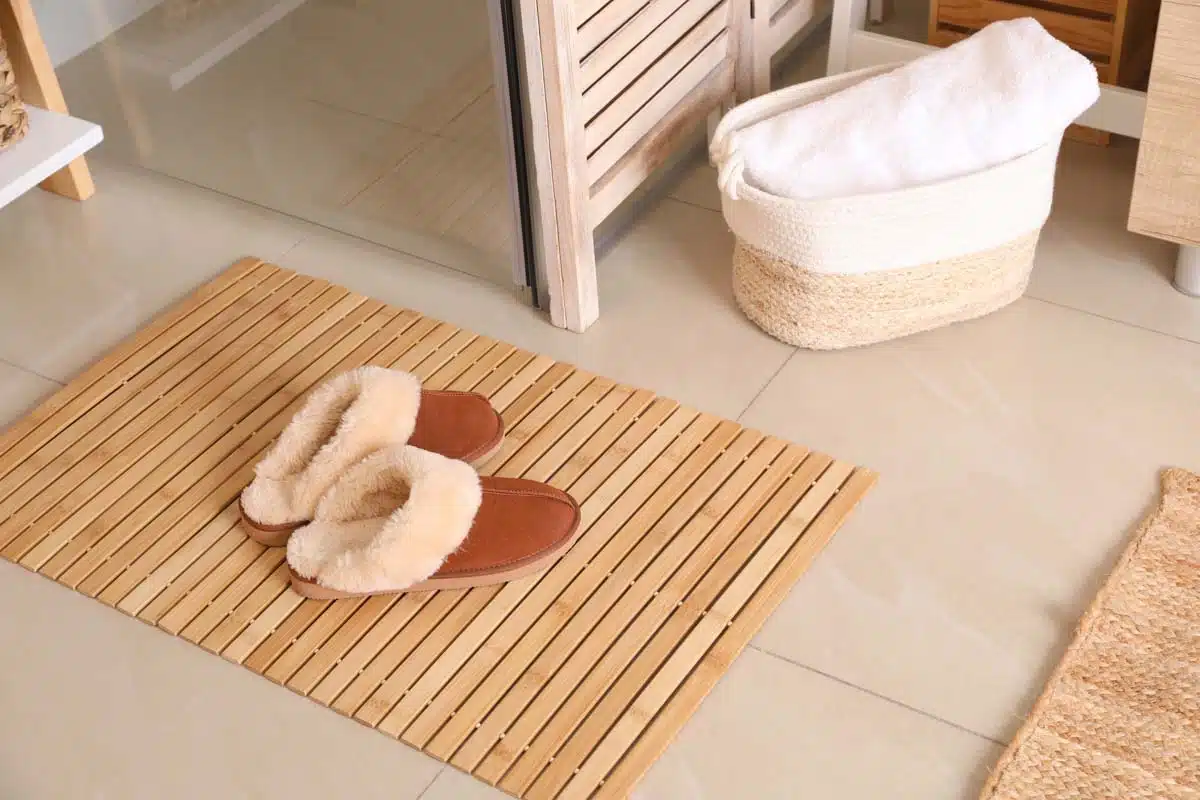 These days, you don't have to be stuck with boring bath rugs. Even though they're not as common, bamboo rugs are taking off for bathroom floors. The wood construction means these rugs won't absorb water as their traditional counterparts would; no more worrying about yucky mildew or nasty smells from your rug.
Bamboo rugs come with a no-slip surface, so you never have to worry about safety when using them. They also boast a sleek and minimalist look, making bamboo rugs the perfect complement for any modern bathroom decor. Furthermore, they fit right in with today's chic design trends – quite the eye-catching addition.
Memory Foam Rugs
See this memory foam rug at Home Depot [sponsored link]
If you wish to spoil yourself with the feeling of pure luxury, well, memory foam rugs will provide you with just that. With a divine contouring shape and slip-flaring properties, these rugs give you an otherworldly experience. Not only are they unbelievably soft to sink your toes into, but they also provide superior comfort – guaranteed to have your body fit snug against its every shape.
Memory foam itself was invented in 1966 by an offshoot of NASA and it was first turned into commercial products in the Seventies. – Business Improvement Tips, Owen Jones
When it comes to luxuriating, no option is quite as comforting as memory foam. And if you're determined to recreate your spa-like oasis in your bathroom.
Just keep in mind that due to its synthetic fibers, this plush material requires a gentler touch when cleaning time rolls around or you may risk losing some of its sumptuousness. Otherwise, memory foam offers an opulent feel unmatched by any other product out there for those seeking a little extra pampering.
Can Any Rug Be Used In The Bathroom?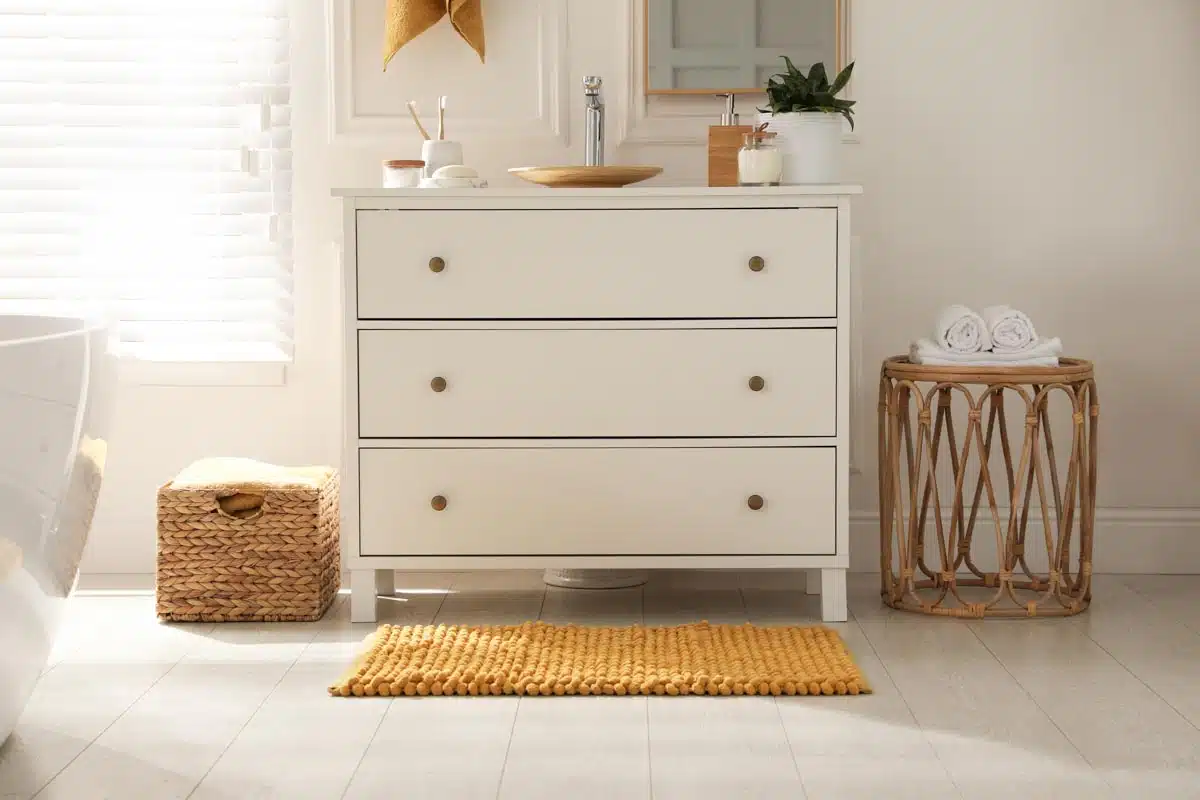 When it comes to selecting rugs for the bathroom, you have to pick the best choice. Cotton, microfiber, and chenille – these materials are great options as they manage to suck up all that wetness in no time. Humidity in the bath sure does bring a fear of molding rugs, but worry not. With this rug, you won't be needing to stress anymore – perfect for damp spaces.
A machine-washable option of rug would be ideal — no matter what, it's going to make cleanups a breeze. If you're keeping it more traditional and going with regular rugs as opposed to specifically bathroom types, go with something natural. You won't regret your choice of these natural fiber rugs that are soft.
Having a well-ventilated bathroom is essential to ward off the moisture that could potentially ruin your rug. To be on the safe side, it's wise to put an underlay beneath your rug so you don't end up taking any nasty trips or spills.
Taking all this into account, bath rugs crafted with water-sucking materials and equipped with anti-skid bottoms are the ideal choice for bathrooms where a little bit of extra texture could make a big difference when it comes to potentially slipping.
What Materials Are Moisture Resistant For The Bathroom?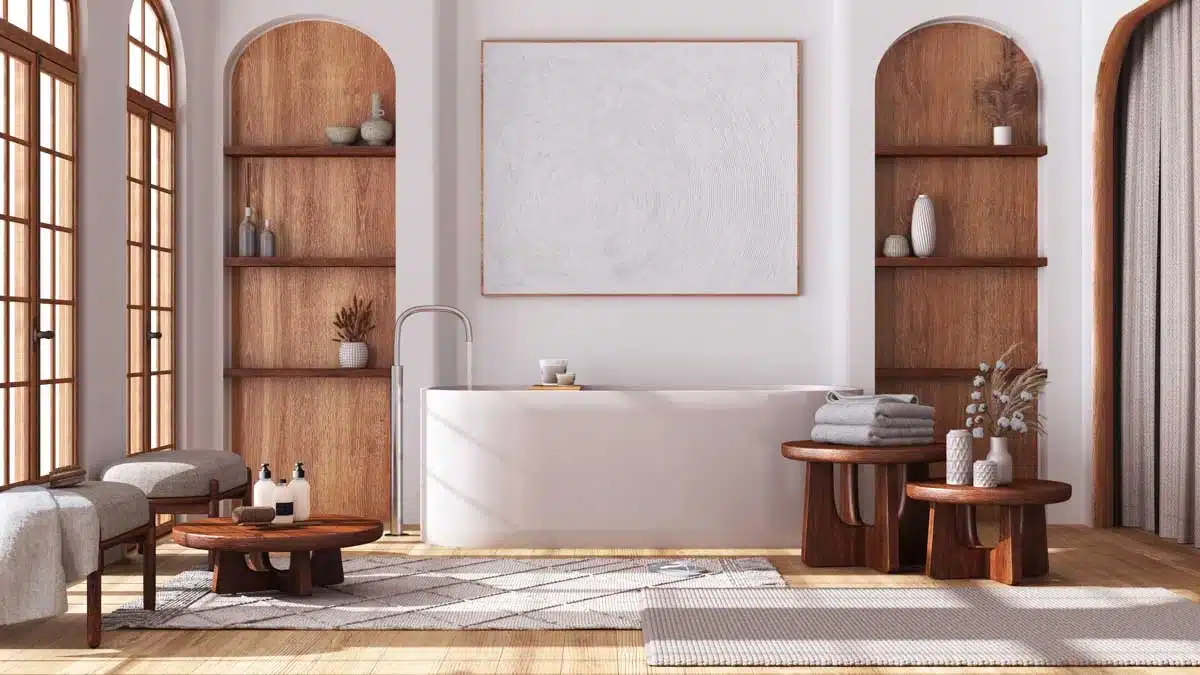 Here are the rug materials that are moisture-resistant for the bathroom and best for placing under the tub or faucet area:
• Polyester: Polyester rugs are resilient and beautiful. Non-absorbent polyester rugs make splashing around or cleaning up messes in the bathroom a breeze! These water-resistant wonders help ward off mold formation without jeopardizing their long-term vibrancy and practical qualities. They also remain resistant to stains for easy maintenance.
• Microfiber: Microfiber rugs are superb in moisture resistance. Even your bathroom flooring can benefit from its quick-drying powers and super grip, promoting a safer environment for those with sensitive skin. If you have skin allergies, you have to go for the hypoallergenic microfiber variant.
• Rubber: Rubber bath rugs are the perfect companion for a post-bath clean-up – so easy to rinse off, and they won't slurp up one single drop of water. They are perfect for keeping bathrooms spotless and squeaky clean and preventing slipping accidents.
What Material Is Best For The Bathroom?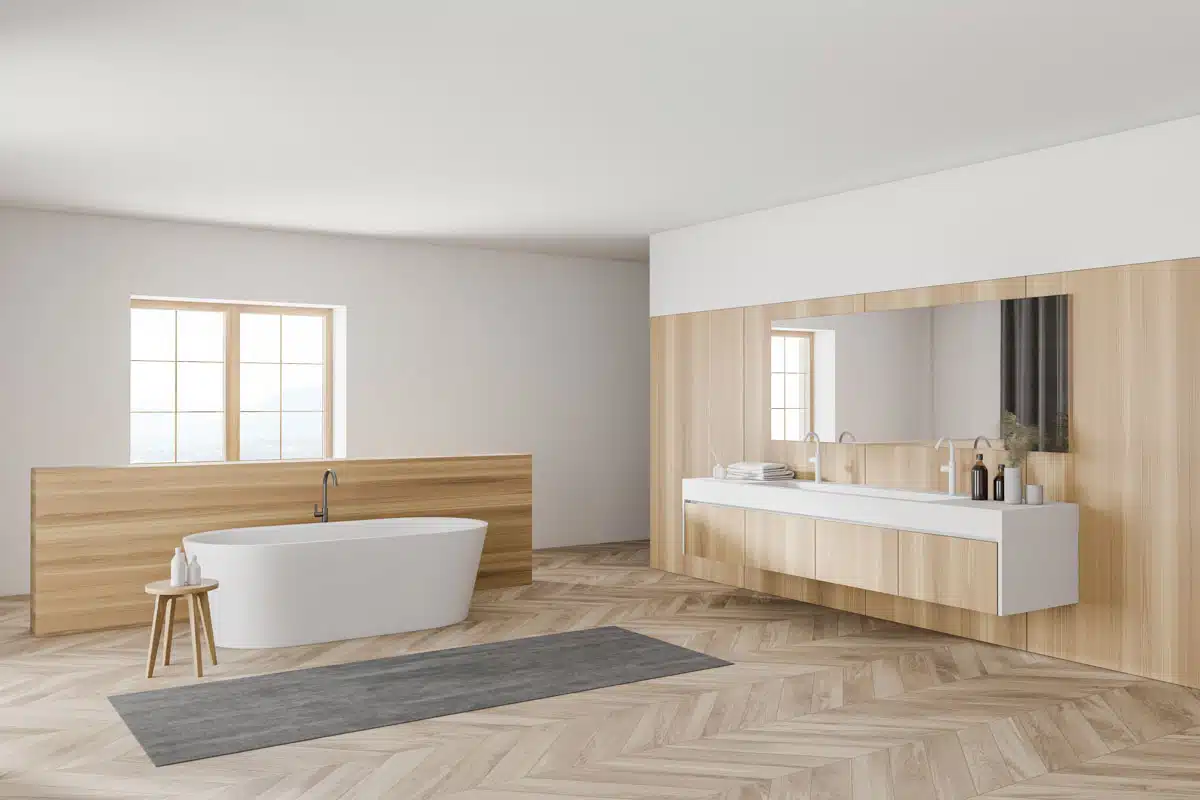 Cotton is an absolute no-brainer as the best rug material for bathrooms – with its amazing water absorbency and natural fibers, it rapidly soaks up all that extra moisture. That means you don't have to worry about slipping or falling because of a wet floor in the bathroom.
Moreover, cotton's super-fast drying capabilities keep mold at bay – so you know your bathroom will be pleasant and clean. Aside from that, it has such a luxurious feel beneath your feet that every trip to the restroom becomes a truly exquisite experience.
Cotton rugs come with the bonus of being easily maintained by throwing them in the washing machine, making them highly practical for any bathroom.
If you have laminate or hardwood in the bathroom it requires a little more diligence to ensure the floors don't become damaged due to wet floor mats and residual moisture.
In this case, doubling up with an extra absorbent cotton mat on top and a bamboo mat on the bottom can help prevent the water from seeping down. However, they still should be hung up when they become saturated to avoid damaging the flooring.
What Is The Difference Between A Bathroom Rug And A Bathroom Mat?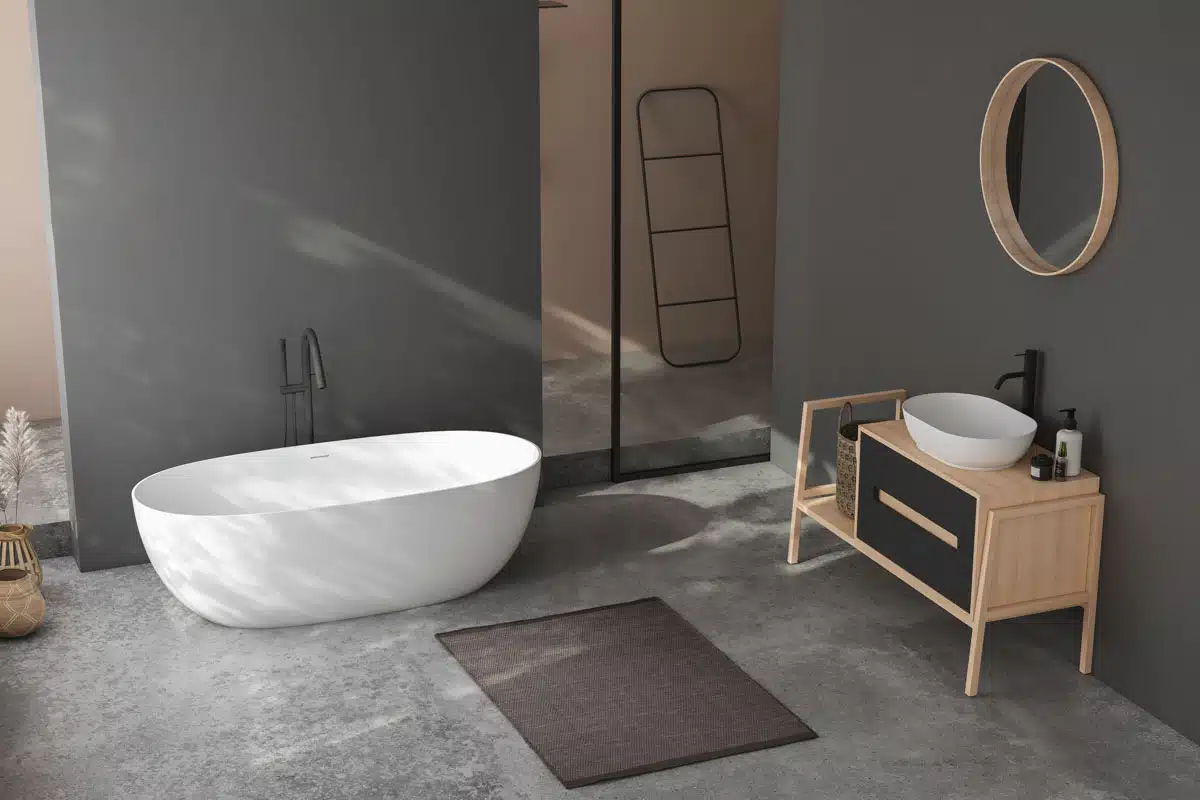 While they both serve an aesthetic purpose, rugs are usually used to absorb moisture while floor mats provide additional traction.
Bathroom rugs are designed with prevention in mind; non-slip surfaces and extra absorbency to make sure you don't slip on up out there. Perfectly placed in front of your bathtub or shower, this safety feature makes all the difference. They really know how to prioritize comfort and peace of mind around here.
On the flip side, a bathroom mat can be an attractive touch to bring your bathroom together. Although it's obviously great for soaking up water, its main objective is usually to tie in decorative elements such as shower curtains or towels—giving the room a bit of personality and eye-catching elements.
See more related content in our article about the different types of rug weaves on this page.