See the benefits of shower ceiling tile including different designs, materials needed for installation, tiling tips & sizes, and tile shower ceiling ideas.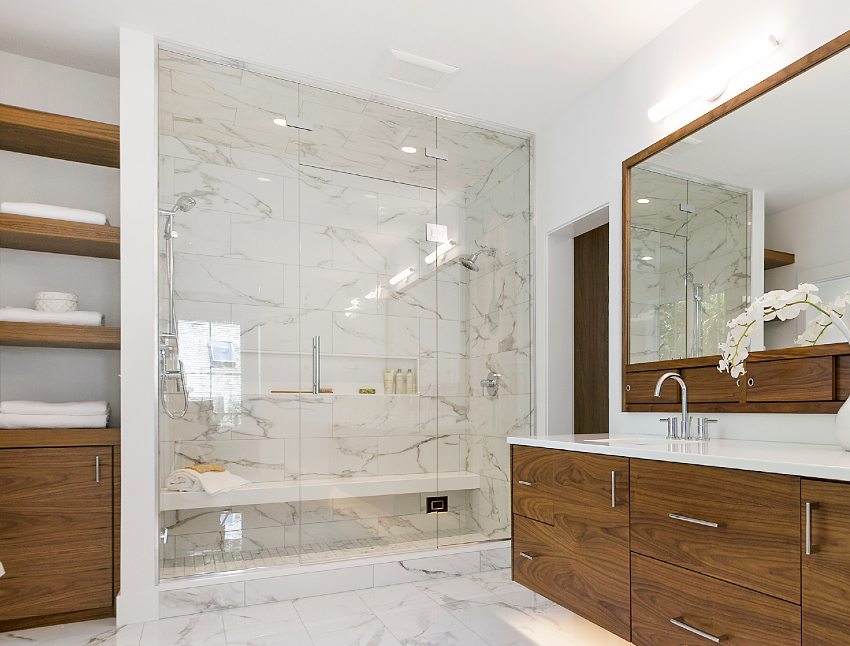 Using tiles for your shower walls and flooring is not a new thing. But do you know you can also use tiles for your ceiling?
Yes, it's something that you can do and no, it's actually not a new thing. In fact, many homeowners prefer this because drywall and paint can have molds and discoloration over time with enough moisture exposure.
You may not want to create an all-tiled shower or bathroom (And yes, there are some instances that this is not recommended by experts) but you can choose to tile your ceiling for a cleaner and more spacious feel.
Best Tile For Shower Ceiling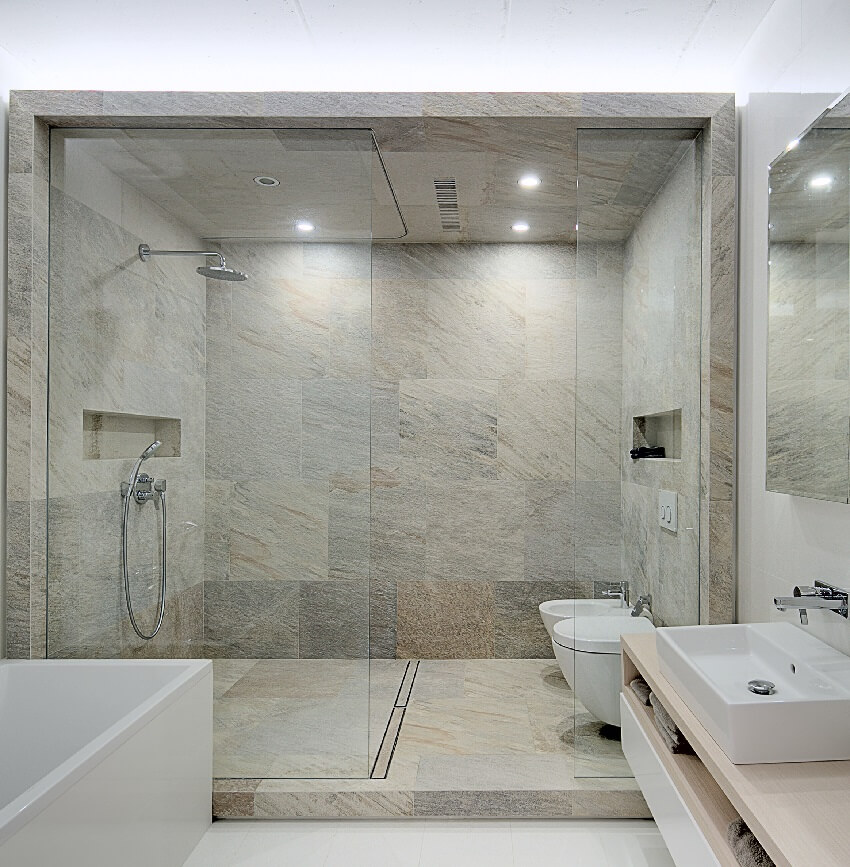 Tiles are flexible and durable materials that can work excellently for the ceiling in your shower. And if you are exploring your options, you need to take into account the different types of tiles you can consider for your ceiling.
Here are some of the best tiles, you can check out for your shower ceiling:
• Porcelain – Considered denser compared to other materials for tiles and while this can still fall under the category of ceramics, it needs to have its own bullet because of its popularity with homeowners. And this popularity is supported by its waterproof feature and elegant aesthetics.
• Ceramic – While this is a good consideration for flooring with its non-slip feature, you won't benefit from it when you install this tile in your shower's ceiling. You can be guaranteed though that you will have many options to choose from in terms of designs and colors.
• Quarry – This is a type of ceramic tile that's constructed from clay, shale and other materials. It's generally unglazed and constructed similarly to bricks.
• Natural Stone Tile – The materials used for stone tiles for the ceiling are most often granite, marble, travertine, limestone, quartzite and slate.

• Glass Tile – While you don't often see glass tiles installed on the ceiling due to the challenges they present, they can offer character and visual interest on the ceiling. More often than covering the entire shower ceiling they are used as an accent design.
These are ideal to be installed in an outdoor shower (which most do not have a ceiling anyway.) This kind of tile is popular because it's freeze-resistant and has excellent water absorption. It may not be as dense compared to porcelain tiles though.
These are only several of the top tile materials you can consider for your shower ceiling and you can explore other options. The best tile for your shower ceiling highly relies on your preference and needs.
However, the most popular tiles for the ceiling by a large margin are porcelain or ceramic tiles for ease of installation, cost and maintenance.

It just needs to match what you have going for your shower, from style to ambiance since all tiles are waterproof in the first place.
Should You Tile The Shower Ceiling?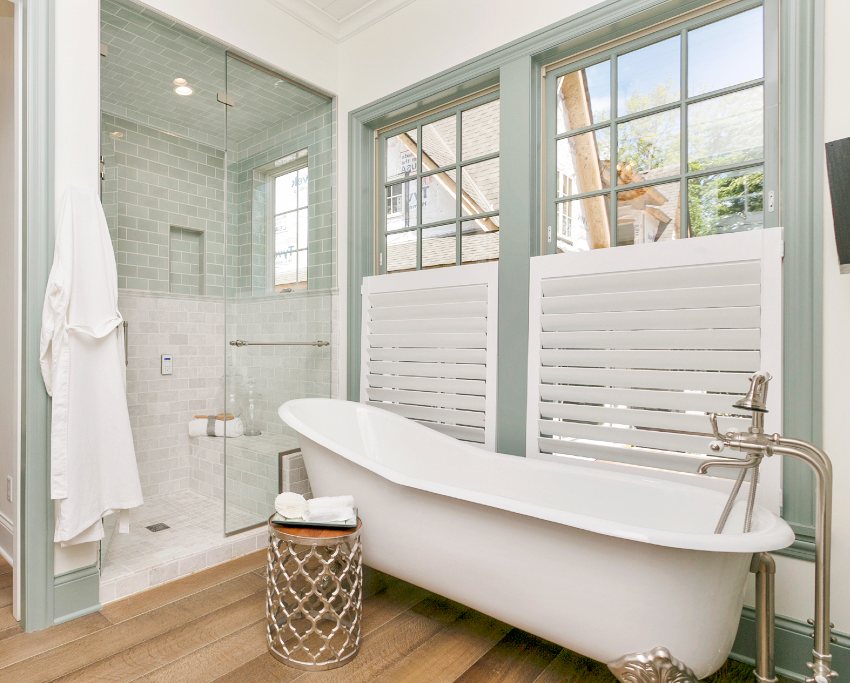 Choosing to tile your shower ceiling is all up to you and the ambiance and style you want your bathroom and shower to showcase. And if this is a consideration you're taking into account, exploring the reasons to do so is worth checking out.
Here are the benefits you can expect with a tiled shower ceiling and can be incredible reasons why you should consider it.
Highly durable – Tiles are highly durable compared to other materials like paint and wallpaper. Wear and tear is never an issue with tiles, much more if they are installed in the ceiling and free from any foot traffic and pressure. And the tiles can last for a long time if installed properly.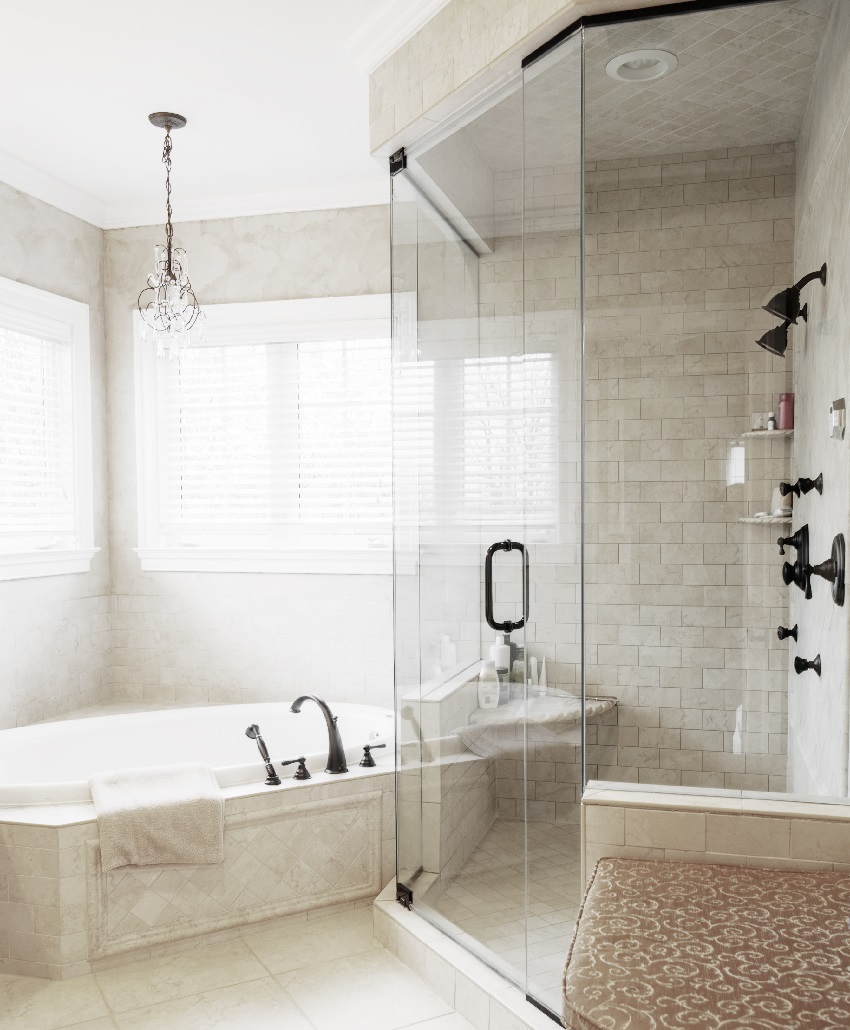 Moisture-resistant – Tiles are most usually moisture-resistant, which is a necessary characteristic if you're installing them in your shower, an area constantly exposed to moisture. And while the ceiling may be above your shower but it's not safe from splashes and moisture from rising steam.
With its moisture resistance, tiles won't become moldy like drywalls and peel and corrode like paint. The former can be dangerous to your health and the latter will make your shower look awful.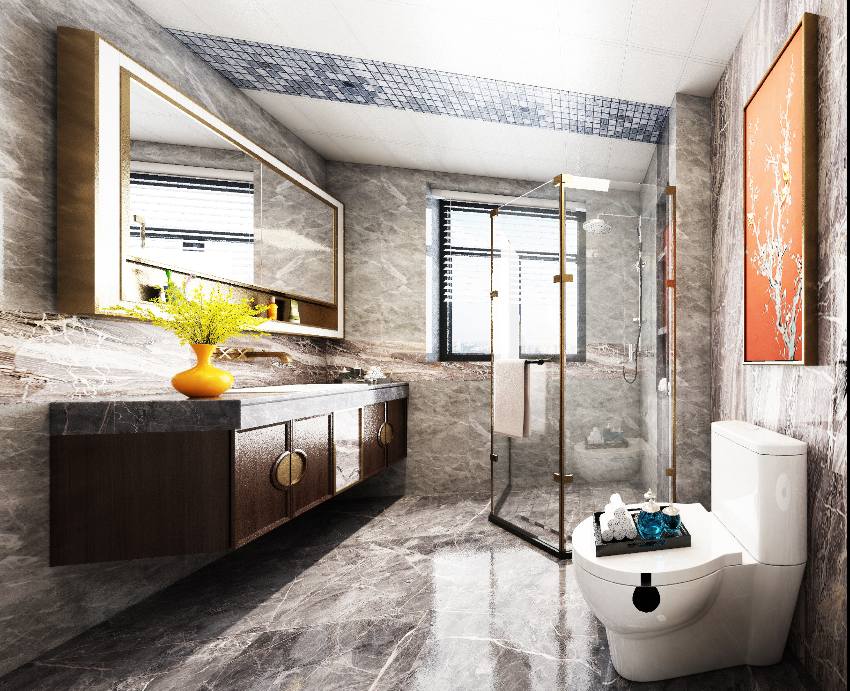 A Variety of Designs – With tiles, you have multiple designs to choose from so you have control over the style you want to integrate into your shower. You can go for a subtle and simplistic tiled ceiling or you can choose a stylish and unique ceiling that stands out.
Yes, both are possible and even more since you can only be limited by your creativity and imagination. Find more about the popular types of bathroom tiles here.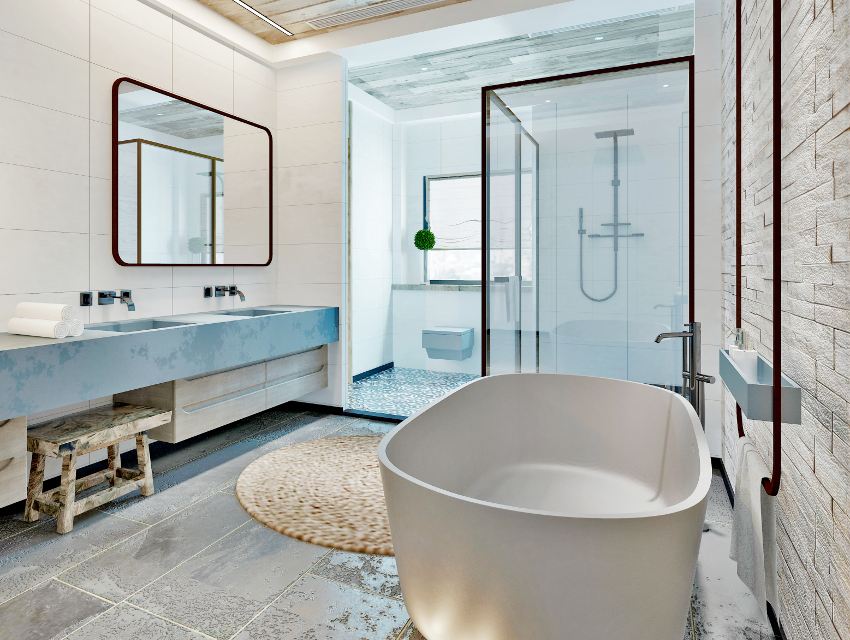 Modern Aesthetics – Since tiles are usually clean-looking, they can easily be associated with modern and contemporary styles. If you want your shower to look more luxurious, you can extend your wall tiles to your ceiling, which is what most luxurious bathrooms today look like.
Easy-to-clean – Tiles are very easy to clean and you won't need any special tools just to clean them. You only need a broom and a mop to reach the ceiling when you clean it. And since the tiles are upside down, dust and dirt won't be trapped so they are easier to wipe off clean.
In general, smaller tiles with have more grout lines to keep clean.tiles that have a rectified or straight edge can be installed closer together which in turn can cut down on cleaning times.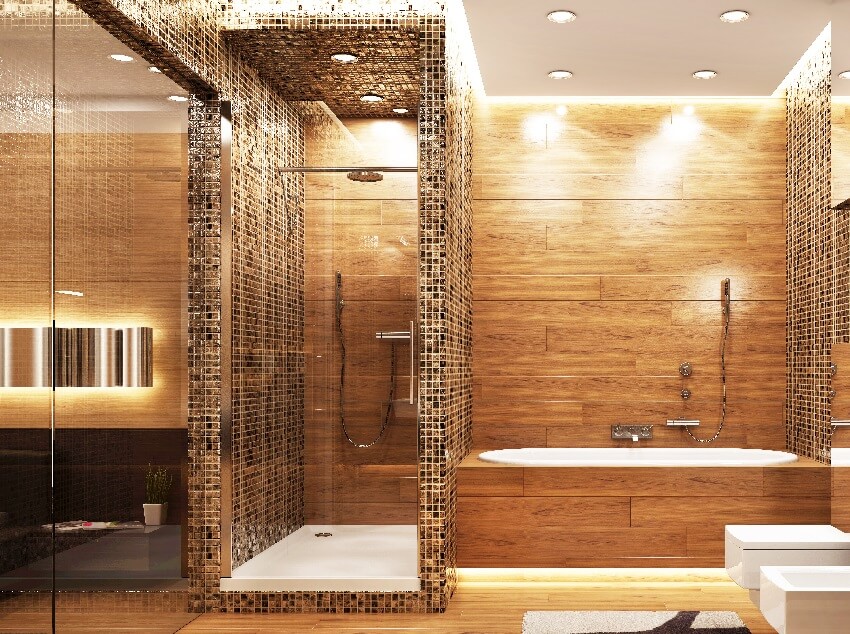 Cost-effective with fewer repairs – Tiles are known to be cost-effective, which means that choosing them for your ceiling is an investment. Extending your tiles from your wall to your ceiling will cost you more but won't need meticulous maintenance and many repairs.
Ceiling tiles are durable and since they are in the ceiling, they won't have too much contact with other damaging factors. To be fair though, there are also pitfalls you will encounter choosing a shower ceiling tile.
It is an expensive option if you're going to look at the initial cost of the tiles and their installation. Another pitfall is the long installation time you have to spend so make sure you make yourself available for 2 to 3 days for this project.
If you choose to hire someone to do it, have enough budget to accommodate these number of days. And finally, installation can be difficult since you will need to be looking up, climb a ladder, and install the tiles one at a time. This won't be a problem though if you hire experts to do it for you.
Tiling A Shower Ceiling Tips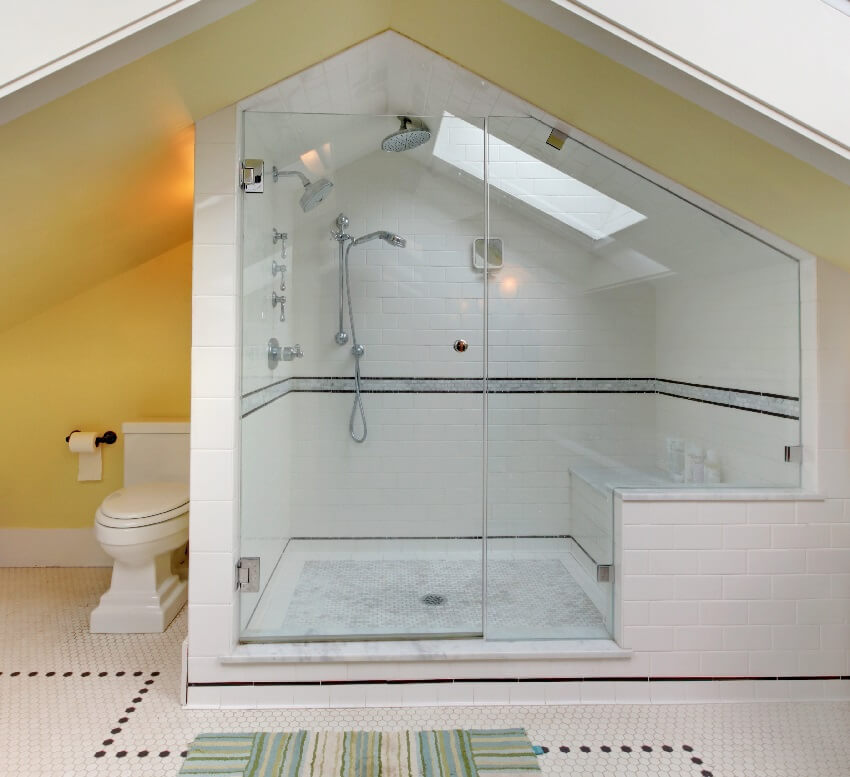 In tiling a shower ceiling, you need to take into account the tools, materials, and knowledge you have in completing this project.
To help you along the way, here are some tips you can follow:
• You can add moisture protection through waterproof underlayment (Yes, even if the tiles are already waterproof).
• Depending on the effect you want to create, choose the right tiles respectively. And yes, you can help the shower to look more spacious, homier, or quirkier, depending on the tiles you install.
• Turn your ceiling into an accent wall and you can accomplish this by using a unique style or pattern that can stand out. You can use your shower ceiling as additional stunning aesthetics.
• Be meticulous in the proportion of the tiles you use (If you plan to run the tiles from the flooring all the way to the ceiling). See floor to ceiling tile bathroom ideas here.
Materials For Installing Tile Ceiling In Shower
There are two options to choose from in building your tile ceiling in the shower, you can either DIY the entire project or hire someone to do it for you. Of course, both have their own merits since going for DIY will save you from paying for labor while hiring a pro to do the project for you will help you save time and effort.
In choosing to DIY the task, you will need to have the right tools and materials to work on. This is besides the fact that you actually need to know how to do it but one step at a time. In preparation for doing this project, these are the materials you will need for the tile ceiling in your shower: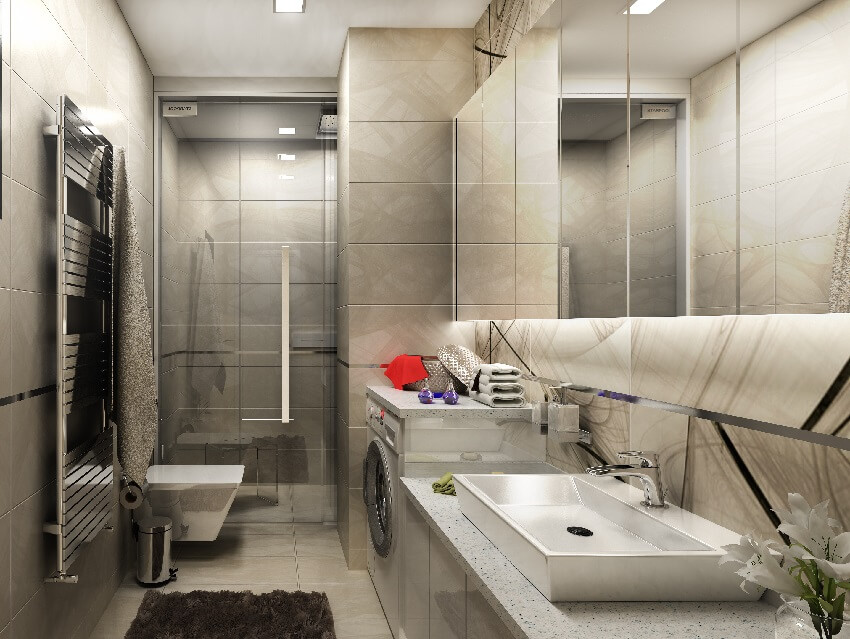 • Preferred and chosen tiles
• Grout
• Thin-set mortar
• Tile cutter
• Silicone caulk
• Caulk gun
• Gloves
• Safety goggles
• Sponge
• Ladder
• Ruler
• Measuring tape
• Painter's tape
• T-braces
• Small plastic spaces
• Mixing bucket
• Mixing paddle
• Trowel
• Chalk or pencil
• Heavy drop cloth/cardboard
The list may look a lot but you need to be prepared if you want to accomplish this task and install the ceiling tiles appropriately. Of course, if you choose to hire an expert instead, you won't have to worry about this.
Compare the cost you will spend on hiring a pro and the cost of buying the tools you will need (and do not have) to complete the project.
What Size Tile Is Best For Shower Ceiling?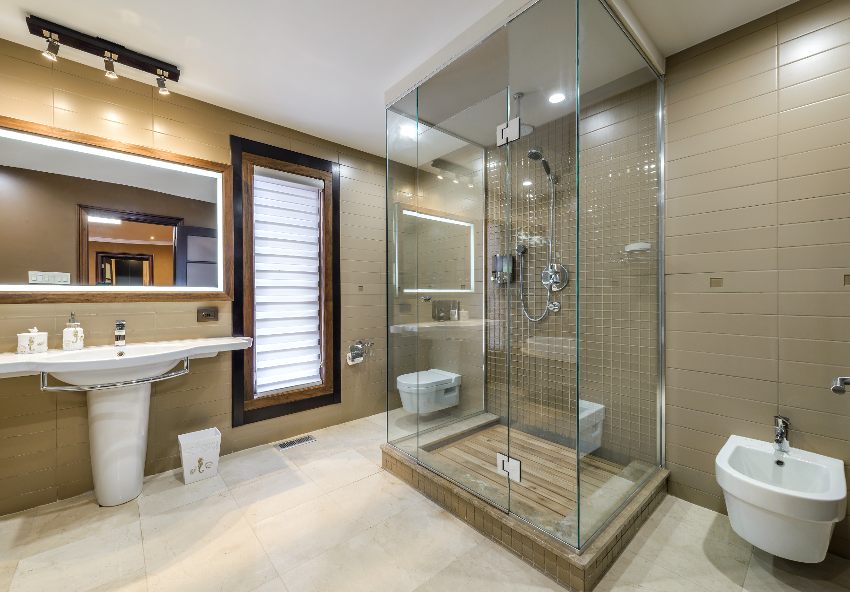 Most ceiling tile sizes are based around two standard dimensions:
• 23.62 x 23.62 inches (595 x 595 mm)
• 23.62 x 47.24 inches (595 x 1195 mm)
Of course, there are tiles that measure smaller and larger than these standard sizes, and choosing them is an option you can take. In figuring out the size of the tile to use for your shower ceiling though, the best move is to consider what you want to achieve with it. Here are some guides to consider:
• Large-format tiles – Make the area looks bigger than it really is
• Small tiles – Provides enough room for creative freedom for unique and intricate designs and different tile patterns
Other tiles you can check out:
• Busy patterns – May be distracting to look at
• Subway tiles – Widen or lengthen the area where you will install them
• Light-colored tiles – Make the ceiling more spacious
We asked interior designer Brooke Carson what size tile works best for a shower ceiling and here's her response:
When it comes to choosing shower tile size for a shower ceiling I find that larger tiles are less maintenance than smaller tiles, which have many more grout lines to care for.

Just be careful with tile selection, as choosing the wrong style can look dated. Tiling an enclosed shower is usually preferable to tiling the ceiling of an open shower area.

For installation make sure you attach the tiles to a waterproof substrate. You'll want to avoid the typical cement boards and opt for a XPS board (Wedi board for example) which is a foam board that has a layer of cement-resin, and is made for moisture ridden environments.
Can You Tile Over Drywall Above Shower?
Yes, you can tile over drywall above the shower but if you want to be more thorough and meticulous, one thing you can do is to use a waterproof underlayment. This element will add protection against moisture.
Simply cut and fit them to the ceiling that will be tiled and screw them into the studs. Use silicone caulk to seal the joints and make sure they are completely dry before you start tiling the ceiling.
Tile Shower Ceiling Ideas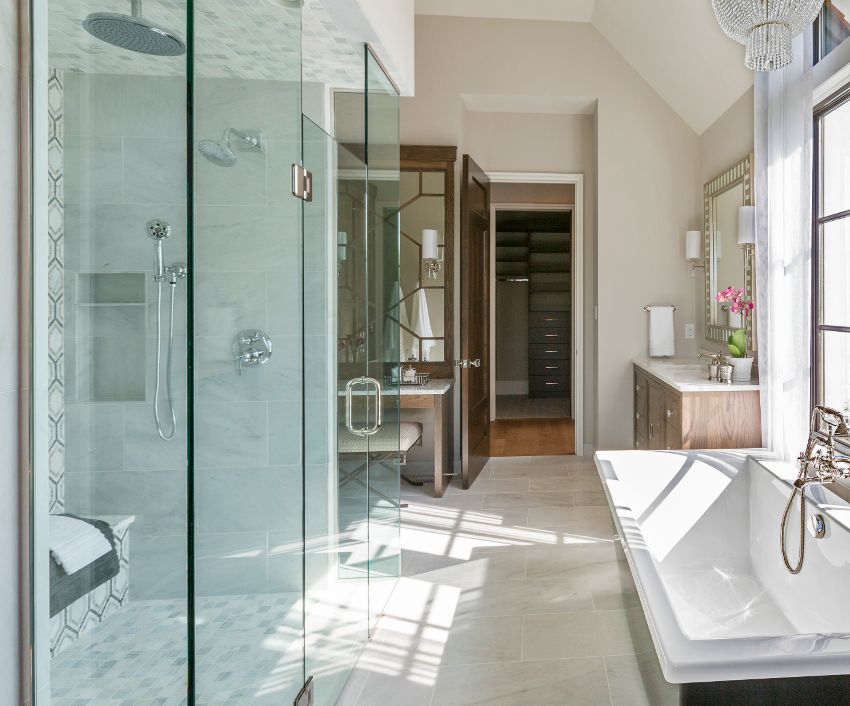 There are different types of tile shapes, colors, sizes, and patterns of styles you can choose from. The limit is your creativity and imagination.
If you want some help though, here are ideas worth considering:
• Monochromatic shower – Use one color of tiles for your shower's flooring, walls, and ceiling but use different shades of the same color to create more texture.
• Match your tiles – You can use the colors of the tiles to pair them and match them together to have more cohesive aesthetics that stands out. Using the same bathroom tile walls can look harmonious and you can use decor pieces to add additional color elements.

• Combine different shapes of tiles – The good thing about tiles is that more than just their sizes, colors, and patterns, they also come in different shapes. You can use different geometrical shaped tiles for your ceiling to create an impactful impression.
• Mix checkerboard colors – If you want something that's been proven to work, black and white work wonderfully together and you can use these colors to make your shower ceiling pop.