Here we share our honey oak bathroom cabinets guide including the best colors, useful tips, how to make honey oak cabinets look modern, and matching with granite colors.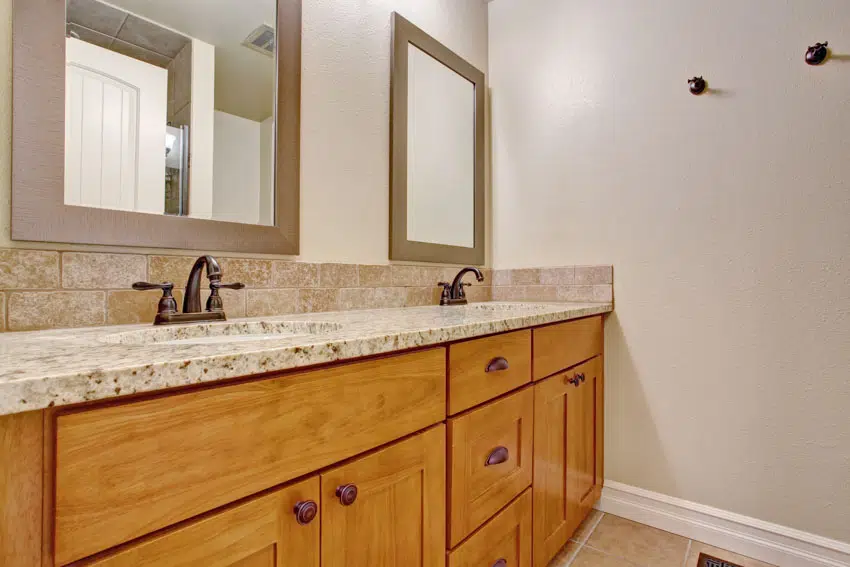 Are you thinking about sprucing up your honey oak bathroom cabinets? Believe it or not honey oak has been making a comeback the last few years. And with a few creative paint and decor tips you can be on your way to transforming your space into a place you want to spend time in.
Why Use Oak Cabinets In The Bathroom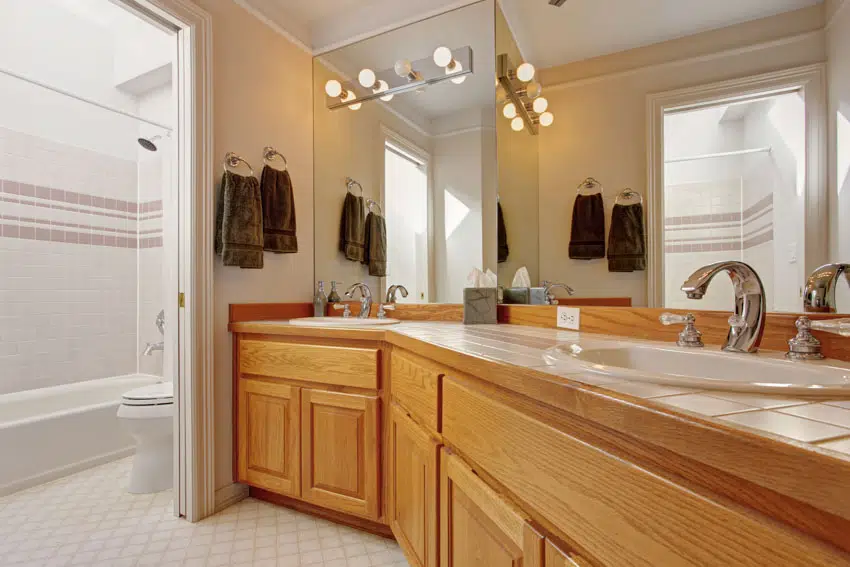 Oak is a popular option for bathroom cabinets primarily because it's one of the hardest and most durable wood species today. Water-resistant, a cabinet made from oak can be installed in areas usually exposed to moisture like bathrooms. And its high tannin content allows the wood to be protected against rotting and fungal and insect infestations.
Honey oak bathroom cabinets have a natural orange-yellow mix color that turns into amber over time, giving them the iconic "honey" color. This color is usually regarded as outdated considering they are the choice of homeowners in the 80s and 90s. But like all trends, they return with vengeance and with a whole new package.
On the plus side, oak wood is one of the best material choices for bathroom cabinets because it is among the hardest wood species. All species of oak are hard, strong, heavy, and dense, which makes them very durable.
Due to its high tannin content, oak is very resistant to insect and fungal infestations and rotting, which is a very common problem for wood exposed in high moisture areas like bathrooms.
Oak wood has good water-resistant properties making it a perfect choice for bathroom cabinets and vanities. The natural yellow-orange color of honey oak is more suitable for bathroom designs with a lighter color palette.
Design Tips For Bathrooms With Honey Oak Cabinets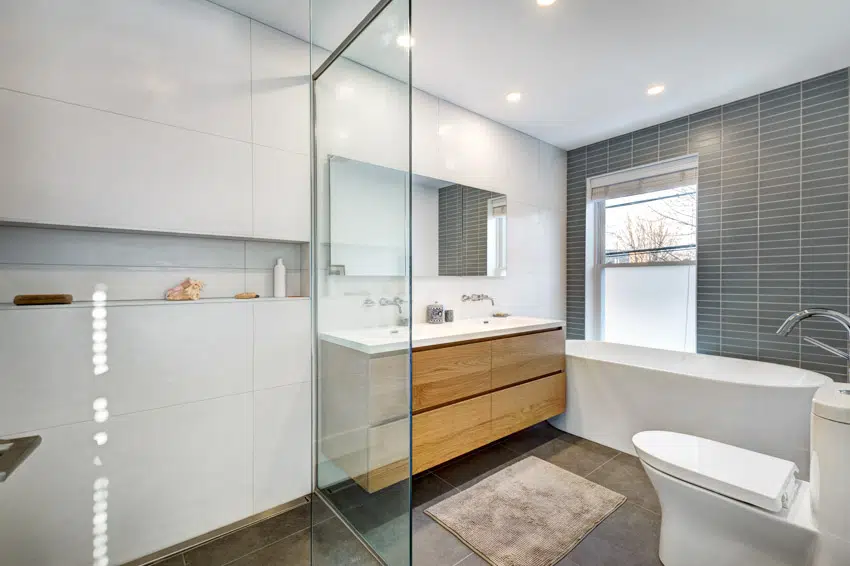 When using honey oak cabinets for your bathroom, here are some design-changing tips you can do to transform the area.
1. Choose a bold color for your walls or something with loud, textured, and oversized patterns to balance the old-style oak cabinets. Light-colored walls also work, including gray and white.
2. Create a spa-like ambiance with folded layered bath towels, rolled washcloths in a basket or shelf, and a light fixture installed above the mirror.
3. Use a non-slip, absorbent, and machine-washable big bath mat with unique patterns that can stand out for function and aesthetic accent.
4. Update your faucet and choose one that's very styled or with a unique shape and metal in contrast with the traditional-looking oak wood cabinets.
5. Add large potted plants in the bathroom to include fresh elements in the area and add an upscale and luxurious vibe (Options: a big plant beside a tub, vase with flowers on the vanity, hanging plant mounted on the wall, and floor plant in a basket).
6. Choose bold, colorful, and interesting-looking shower curtains as an excellent distraction from the outdated honey oak cabinets.
7. Hang a unique and powerful wall art as a focal piece of your bathroom to get the direct attention away from the cabinets but towards this masterpiece.
How Do You Make Honey Oak Cabinets Look Modern?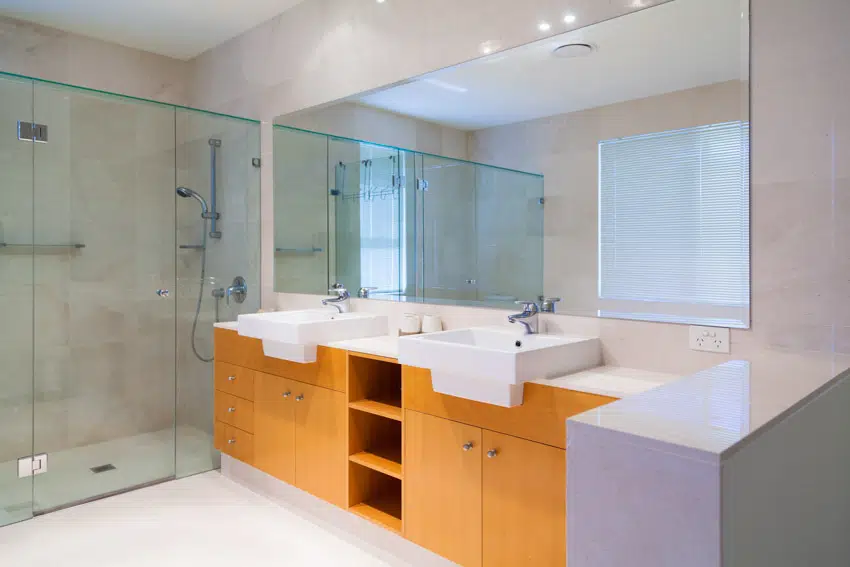 Honey oak cabinets are iconic pieces that became popular in the 80s and 90s. If you are thinking about modernizing these cabinets instead of sprucing up your bathroom, there are little things you can do to make this possible.
Here are some elements to modernize your honey oak cabinets:
• Install frosted glass as cabinet doors
• Choose metal cabinet knobs and pulls (Apply this change and use the same metal in the other parts of your bathroom too like the towel bar and the toilet roll holder)
• Restain the wood of the cabinets (You can choose a darker stain if you want)
• Have the hardware crafter in a different and unique shape
Bathroom Colors With Honey Oak Cabinets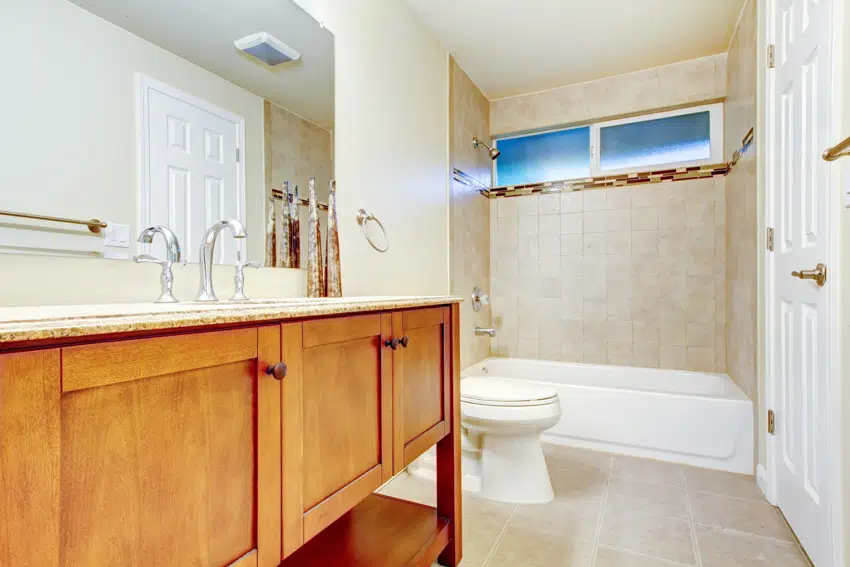 Honey oak cabinets can be a bit choosy in terms of colors they can work and match with. If you install these cabinets in your bathroom, you would also need to consider the colors of the wall, flooring, and ceiling.
But before anything else though, decide if your honey oak cabinets will be the accent in the room or an element you need to blend together with the room.
If you choose to have these cabinets as the accent in the room then they need to appear to be popping and eye-catchy. If you choose to blend them with your bathroom, downplaying and camouflaging the colors of the cabinets is the best thing to do.
Honey oak cabinets boast this mix of yellow and orange colors with strong types of wood grain patterns. To accent these cabinets, you can use complementary colors of yellow and orange like navy blue and leafy green. You can even use black and purple to let the cabinets pop out.
In order to blend the honey oak cabinets to the color of your bathroom, you will need to use a color palette that can help camouflage it.
Some of the colors you can match with the honey hue of your cabinets:
• Cream
• Tan
• Beige (Consider with pink and blue undertones)
• Gray
• White
What Color Granite Goes With Honey Oak Cabinets In Bathrooms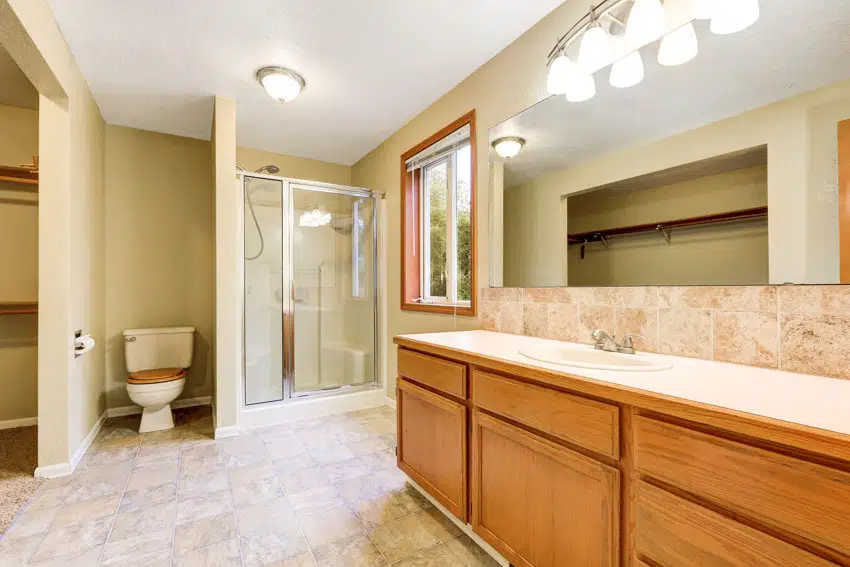 An igneous rock, granite has this iconic natural design complete with striations, veins, and even grains. It may be paired with the honey oak cabinets in your bathrooms and there are several colors you can consider too, especially if you want to install granite countertops. But can all these colors match your honey oak cabinets?
Granite comes in around 3,000 cuts, styles, markings, and colors, and choosing a particular one can be overwhelming. Whatever you choose, you can either lighten or darken the color using a stone color enhancer and baby oil.
If you are considering color options though, here are some that will look good with your honey oak bathroom cabinets:
• White: Offers the ambiance of a traditional museum, which can add elegance and a stylish twist to your bathroom.
• Light Cream/Off-white: Provides a warm golden undertone to the room, offering a more contemporary look.
• Warm Beige: Showcases a similar hue with your honey oak cabinets, offering a monochromatic look together. This granite color can come in pink or brown tinges.
• Gray: Most common and popular granite color, it offers a modern look when paired with honey oak cabinets for your bathroom.
Granite and honey oak cabinets can be a perfect pair together, given that you choose the ideal color for granite. Honey oak can be difficult to work with and granite is one of the best materials you can match it with.
For more ideas visit our page about what color flooring goes with honey oak cabinets.
Are Honey Oak Cabinets Coming Back In Style?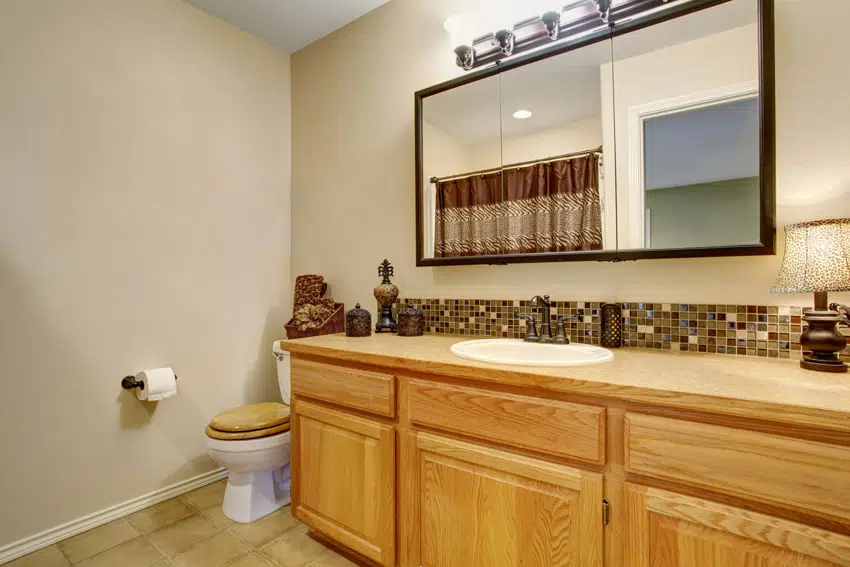 Honey oak cabinets are considered rustic and old-style, especially with their popularity in the 80s and 90s. While trends come and go, the downside of its popularity in the past is that these oak cabinets have become stuck as retro and old-style.
Is it possible that they will be part of the modern's trend? It's hard to say but what's sure though is that you can modernize your honey oak cabinets and match them with modern elements despite being an item of iconic old-school furniture.
See more related content in our article about paint colors that go with honey oak cabinets on this page.