Here's our leather couch pros and cons including the advantages and disadvantages, durability, how long they last and whether it's worth for your home.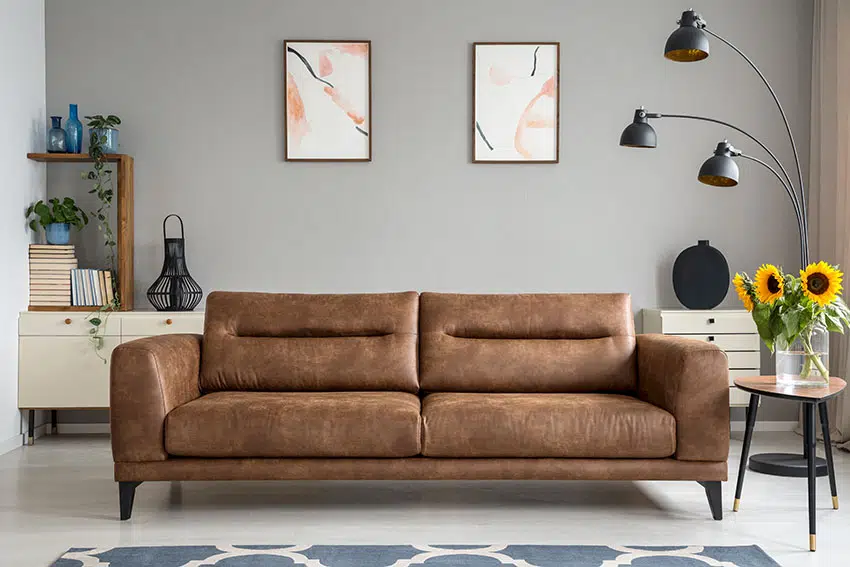 Most furniture in a home holds two purposes; to look beautiful and feel comfortable. A leather couch is one piece that offers pros and cons, comfort and style, and is a timeless piece for your home.
Leather is one of the most popular coverings for furniture and offers countless grains, textures, colors, and finishes. Genuine leather is natural and gets its style from the individual characteristics of the hides used in tanning.
Leather couches made with genuine leather will bear the natural markings showing its historical origin. The hide may show growth marks, scratches, hair pore patterns and scars. These natural markings don't detract from the leather.
Instead, they provide the distinct qualities that give a leather couch its own unique and stylish look. A quality leather couch with a sturdy frame and soft cushioning can be very comfortable and add a chic, modish look to your home.
A couch is typically the first piece of furniture bought when you move into a house. Friends and family will spend a lot of time on and around it. Many professional offices or businesses also have a couch in their lobby or waiting room that sees a lot of use. A leather couch is always a smart choice for the best durability and looks.
Read through this informative guide to learn about the pros and cons of leather couches, if they're a good fit for your home décor, how long they last, and whether a leather couch is right for your home.
Advantages Of Leather Furniture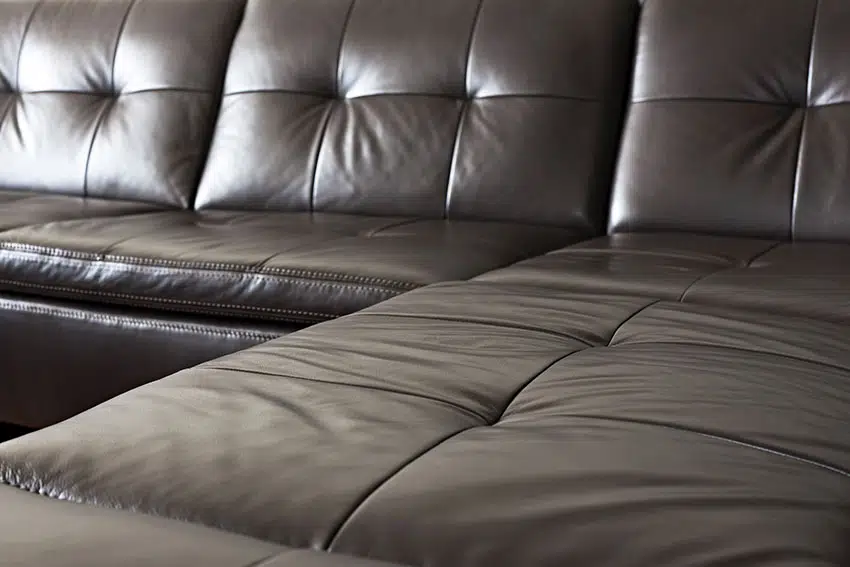 Leather is still highly desired by many homeowners and professionals, even with the vast array of fabrics and synthetic materials available for furniture.
Modern tanning processes are advanced from the original methods creating leather fabric that is resistant to cracking, peeling and sagging. It remains the top choice for furniture material.
Leather Does Not Fade: When fabric-covered furniture age, they often fade and lose its shape. This creates a worn look. However, with its unique qualities, leather gets softer with age and becomes suppler.
When the leather is dyed, the color is absorbed into the hide and will not fade. Even scratches and wear don't show. Aged leather looks even more luxurious.
Leather Breathes: Unlike many synthetic, faux leather materials, leather breathes. It distributes warmth or cold quickly and easily, making it very enjoyable to sit or lay down. Leather also absorbs moisture and then releases it to keep you from feeling sticky or chilly.
Leather is Timeless: Furniture covered with leather material is commonly sold in neutral colors native to the hide. Neutral colors will typically match changes you make in your décor, such as going from lightly colored walls to darker, richer colors. Read more about living room colors schemes with brown leather furniture here.
Leather furniture usually will not have to be replaced. Pillow accents and lap blankets can be used to tie in new colors.
Leather is Healthy: Leather does not hold dust and allergens and does not have fibers where tiny mites or bugs can hide. It doesn't hold odors or absorb most spills, making it easy to keep clean. Leather is hypoallergenic repelling pet dander and hair.
Leather is Easy to Clean: Leather furniture makes cleaning up spills easy. There's no need for a bulky upholstery cleaner. Spills can be cleaned by using a damp rag to sop up the liquid. Messier and stickier stains can be cleaned up by adding some mild soap to the rag and then wiping with a dry rag when clean.
Disadvantages Of Leather Furniture
Leather is More Expensive: Leather is costly, but many customers feel it's worth the price. Lower quality genuine leather may easily scratch or scuff, but high-quality leather fabric for couches is more durable and resistant to damage.
Scratches are Easier to See: Light scratches may blend in with the natural patina of the aged leather, but larger, deeper scratches can be easier to see. These more visible scratches can be hidden with color-matched leather polish or conditioner.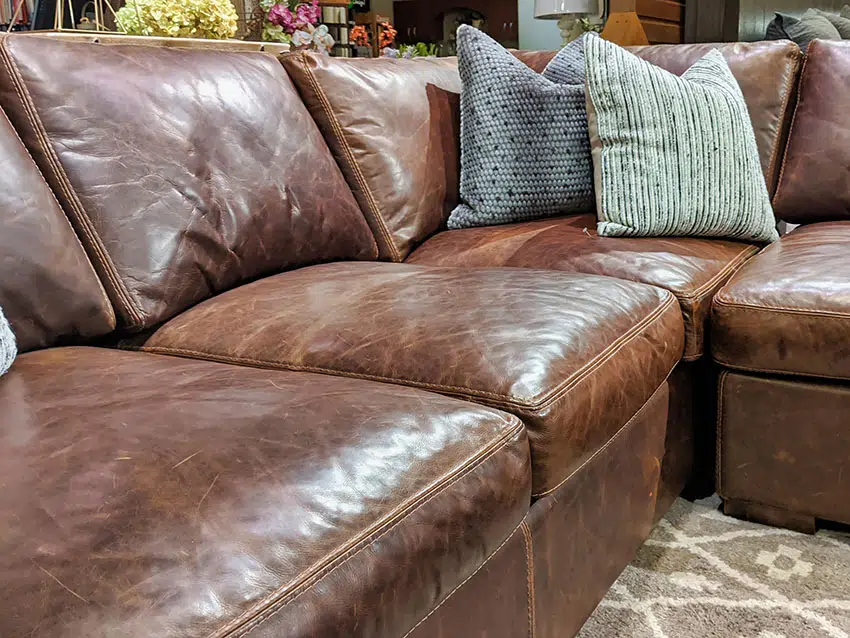 Can Be Cold, Hot or Sticky: Although leather breathes and provides a way to absorb moisture, the first contact with your bare skin can be shocking if the couch is in a cold room or near a fireplace giving off high heat.
Once you've been sitting on leather furniture, bare skin will become comfortable. However, sitting on leather for a long time can absorb body heat and cause you to feel hot.
Some Retailers May Try to Sell Fake Leather: As unethical as it may be, some retailers may try to sell fake leather furniture. The most obvious way to know you're buying genuine leather is to check the label.
Look for words stating the furniture is made from genuine leather, not synthetic or polyester. Touch the leather to see if it's soft and flexible.
Fake leather will feel more like plastic or vinyl and be cold, but real leather will have a slight grainy feel and be warm to the touch. Smell the leather for the distinct oaky smell of real leather and look for pores on the surface.
Are Leather Sofas Durable?
A high-quality leather couch, built well and covered with genuine leather, is very durable. Leather is thick and not subject to fraying like synthetic or natural fabrics.
Although children and pets can be hard on a leather couch, leather is easy to keep clean and flexible. If you want a durable couch for your home or office that will last for years, a leather couch is a great option.
One consideration about leather couches is the damage a pet can do. If a dog chews the couch's arms or cushions or a cat uses the side of the couch for a scratching platform, the couch will have to be recovered.
Recovering a leather couch is much more expensive than a fabric couch. It's a two-sided coin when it comes to pets and leather couches. Pet hair and dander are kept at bay by leather couches, but the damage a pet can do may be costly.
Sharp objects may cause a rip or tear in leather couches that can be repaired with a leather repair kit. These kits include everything you need to patch the tear and provide color additives to help match the color of the couch.
In addition, leather is a heavy material that may make it heavier to move around than a classic fabric sofa.
Leather Grades for Couches
Here's a chart showing the top leather grades, quality , and durability.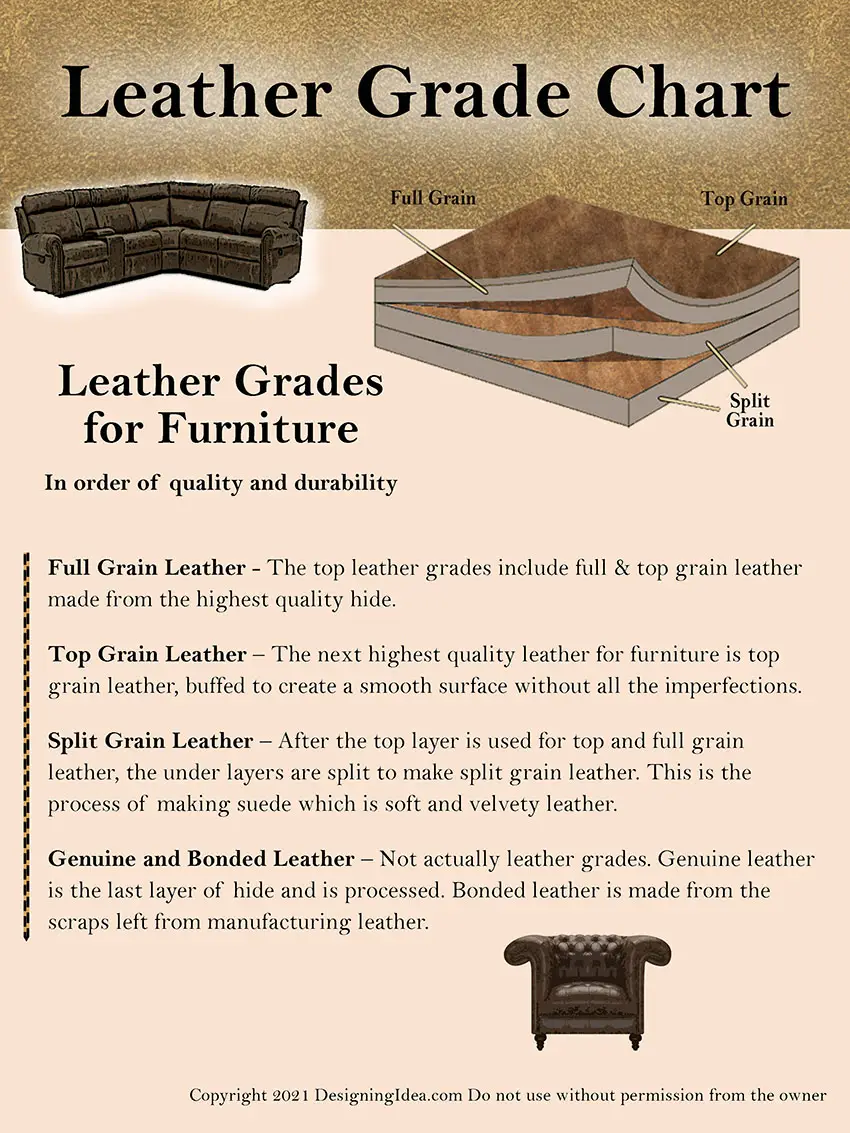 How Long Should Leather Couches Last?
Leather couches last up to four times longer than couches covered with synthetic fabrics or faux leather materials. Leather is durable and will resist tears, scratches and holes, and seams remain intact due to the strength of quality leather.
High-end, thick leather couches can last for approximately 15 to 20 years, while the lifespan of a fabric couch is closer to 5 years. For more comparisons, read about the differences of leather vs fabric sofas on this page.
How long a leather couch will last also depends on the quality of the leather. A higher-quality, top-grain leather can last more than 25 years. Cheaper leather couches or those made with low budget materials like pleather, or faux leather, may last only a few years.
To help your leather couch last its longest, perform regular maintenance, including:
• A once a week dusting with a damp cloth. For the best results, use a microfiber cloth dampened with a bit of distilled water.
• Once or twice a year, do a deep cleaning with leather cleaner.
• Use a leather conditioner after cleaning your leather couch. Do this more often if the air in your home or office is dry.
Are Leather Material Couches Comfortable?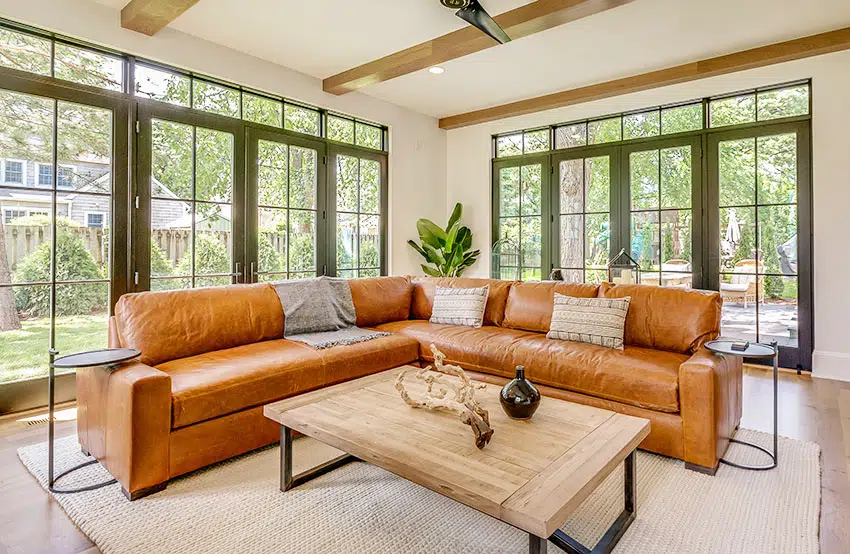 While some people don't like the feel of leather, leather offers a soft feel, especially after it's broken in. Leather couches will soften over time and how long this takes depends on the type of leather. Softer suede takes less time than full-grain leather to soften, which may take anywhere from 6 to 12 weeks.
You can use a small amount of saddle soap rubbed into the surface weekly to speed up the time it takes to break in a leather couch. Leather sofas that are broken in are soft and even buttery to the touch.
The overall stability, structure and volume of foam affect the coziness of a leather couch, and with properly made cushions, backing and armrests, a leather couch can be very comfortable.
Does Leather Furniture Get Hot?
Leather is breathable and absorbs moisture, but a leather sofa can become hot for bare skin during the warm months of summer. The leather will absorb body heat and the warmth in a room, making you feel hot and sweaty.
To avoid the discomfort of heated leather, keep the sofa out of the direct sun, use a lap blanket for sitting on or wear clothing that does not leave your skin exposed to the leather.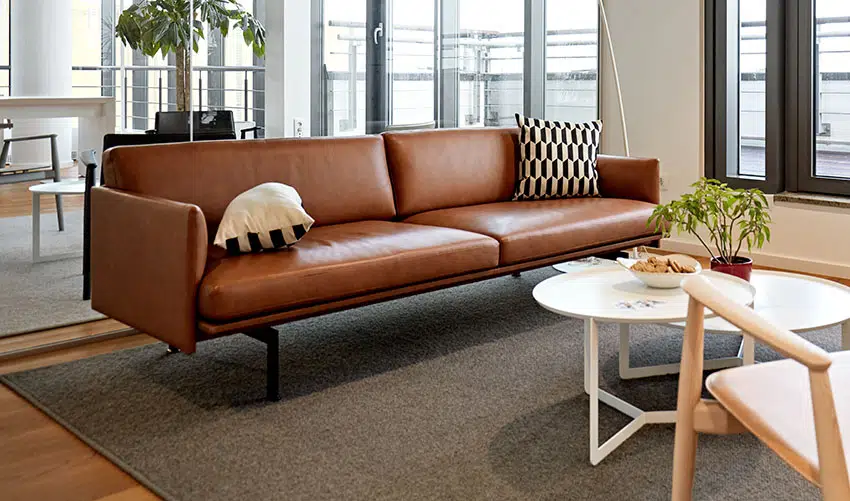 Is A Leather Sofa Worth It?
Leather couches do present a higher retail cost; however, they will last longer and hold up to frequent use. Couches covered with fabrics or faux leather materials will not last as long, making the higher cost of a leather couch worthwhile.
A high-quality leather couch is a good investment and provides a much better lifetime value than a fabric or faux leather couch.
See more related content in our article about the types of leather for furniture on this page.