Below share our ideas for living room color schemes with brown leather furniture.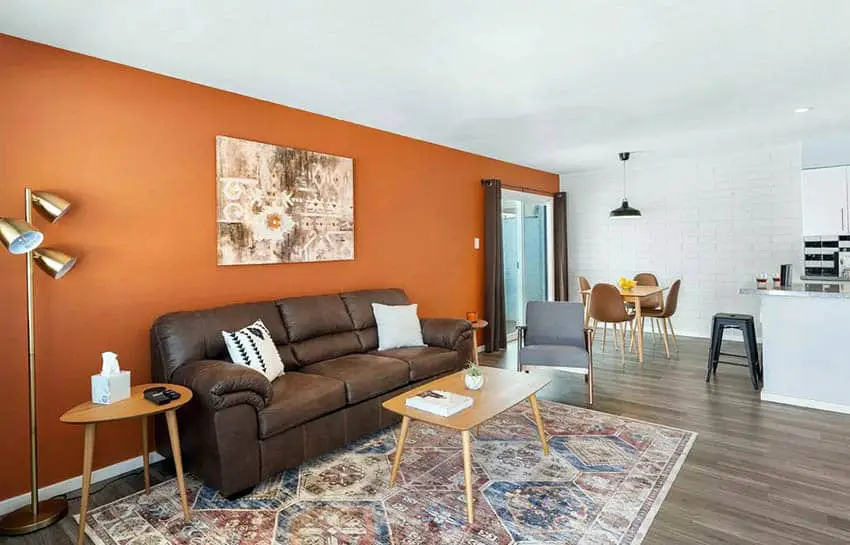 Your brown leather furniture is your signature piece. It is worn in all the right places, finally has that beautiful patina that leather gets, and is comfortable and cozy. But you aren't sure what to do with it, it is dark and heavy and can make a room feel too traditional or masculine for your personal taste. The colors that you use with that furniture will dictate how the space feels to you and your guests.
The best colors to match with brown leather furniture will largely depend on your own personal taste. However, the most popular color matches are:
Brown & Gold
White & Navy
Gray & Teal
Orange with Brown & White
Brown combined with Red & Black
Brown with Black & Off-White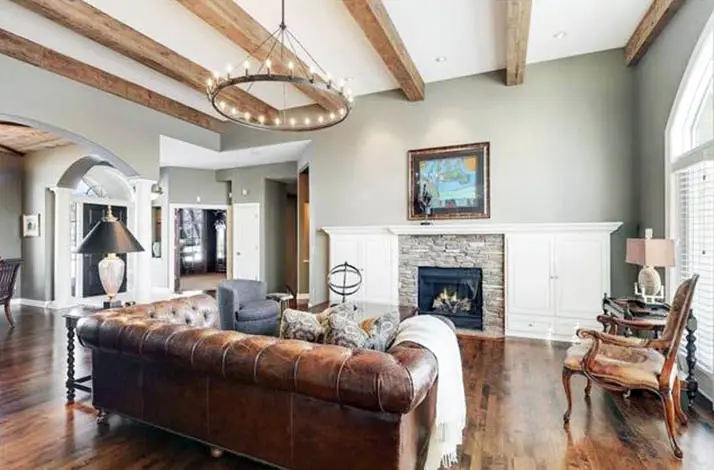 For combining an accent color with brown leather furniture you'll most often want to use a cool accent background to balance the warmth of brown. For this accent wall colors of muted blue, light grey, or green are well suited.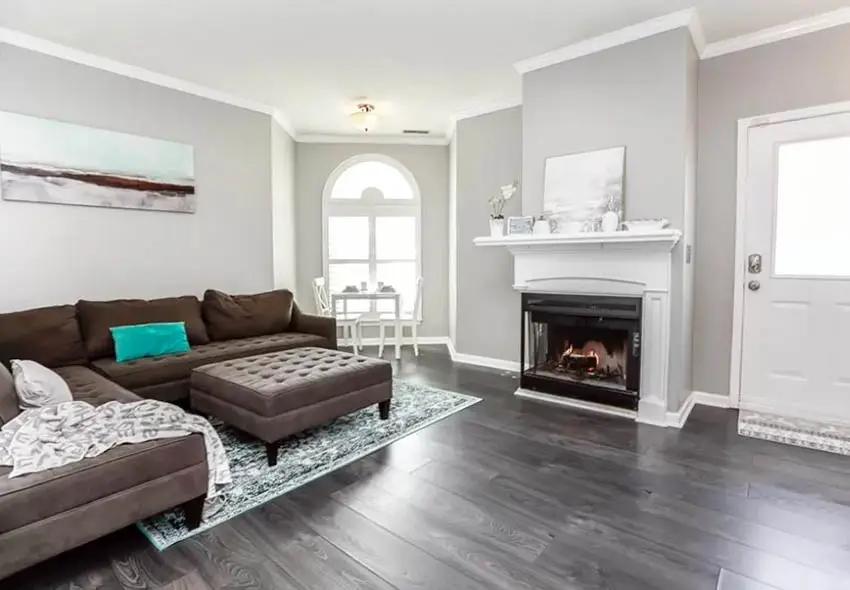 For the more adventurous accent colors like orange, mustard yellow or red can give the interior design some personality.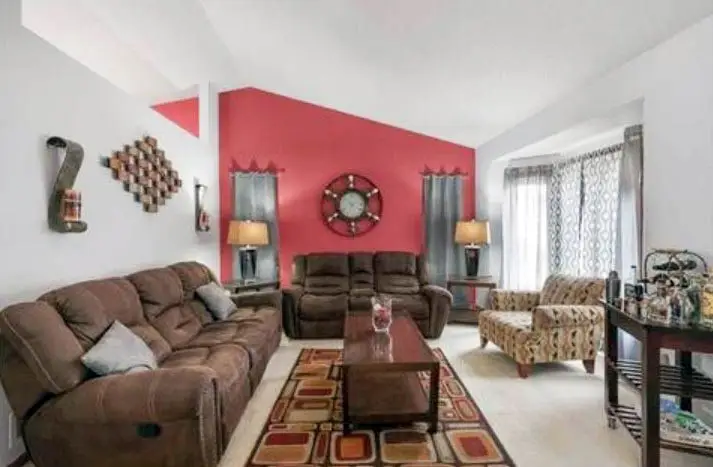 Below we'll cover ideas in even more depth.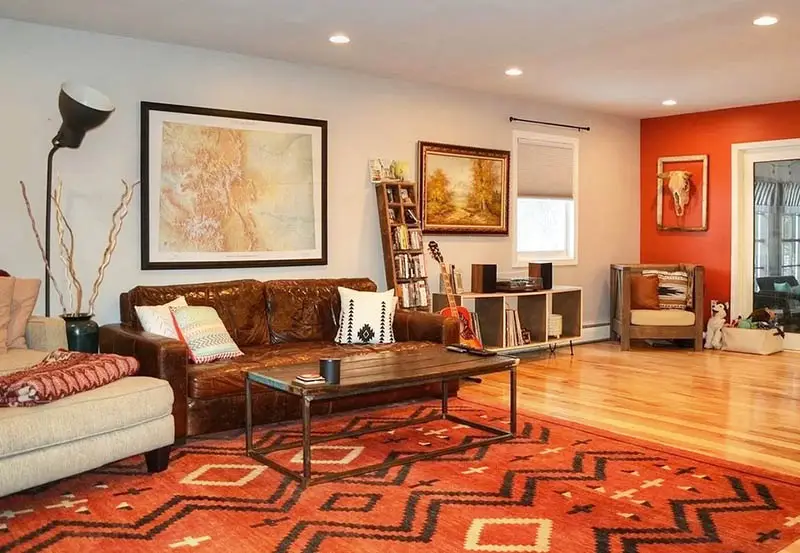 Brighten up your space with citrus! Tones of cheery lemon yellow and tangerine orange bring a lot of bright, airy, cheerful fun. Keep your walls bright white here, lay down a neutral rug in a natural material such as jute or hemp, and accent with your citrus tones.
An oversized ottoman in a lemony yellow textile, topped with a wooden tray to hold your mugs of morning coffee, a wood-framed side chair upholstered with tangerine and lemon fabric, a vase of bright yellow flowers in the spring and orange mums in the autumn all add that pop of brightness that will keep your leather furniture from weighing down the room. Read more about matching the color orange here.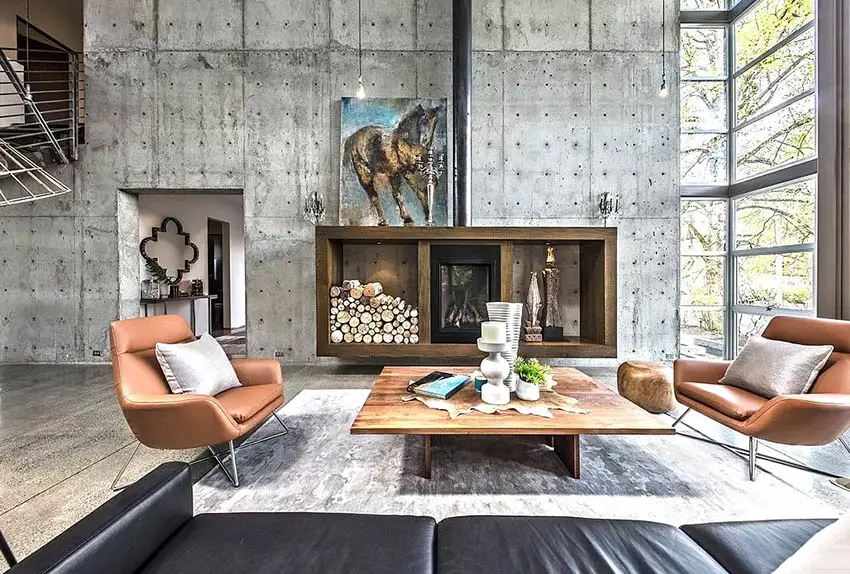 Keep it balanced by adding dashes of rich brown throughout your space, wood accent coffee table, a stack of leather-covered books, framed artwork on the walls, and a large, leather basket to hold your extra blankets.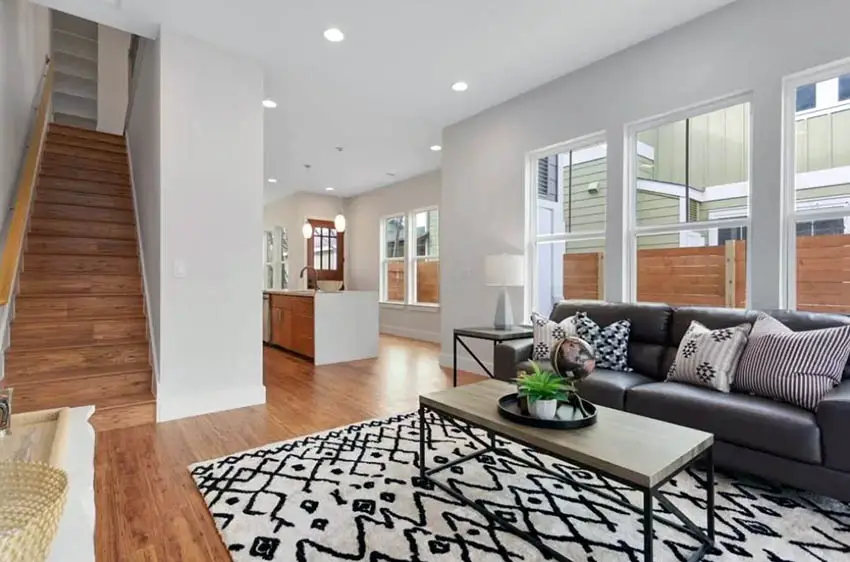 Paint your walls a soft, neutral grey with undertones of beige rather than purple. Some people call this color greige and it is gaining popularity, making it an easy color to find at the paint store! Another idea is Peacock blue. It is a darker color but it won't drag down your space when you pair it with gold and a soft, neutral grey. Use your antique Persian rug in this space, it is likely to have the peacock blue tones that you want and will add small, muted pops of color that will add interest without being jarring.
Dramatic peacock blue and gold draperies or wallpaper covering the wall on a built-in bookcase (keep your shelves the same color as your wall) create a focal point that will set the sophisticated tone of your space. To keep it from getting stuffy, keep your accessories light and edit them carefully.
Mat your framed artwork in a tone that is similar to your walls and use dark wood or even leather frames. Add more gold with a brushed gold framed terrarium and fill it with air plants to bring in soft greens. A peacock blue ceramic planter with a snake plant adds texture and interest and helps clean the air! These colors are made for dark leather furniture, creating a balanced, elegant, yet casual feel that will please the eye for years.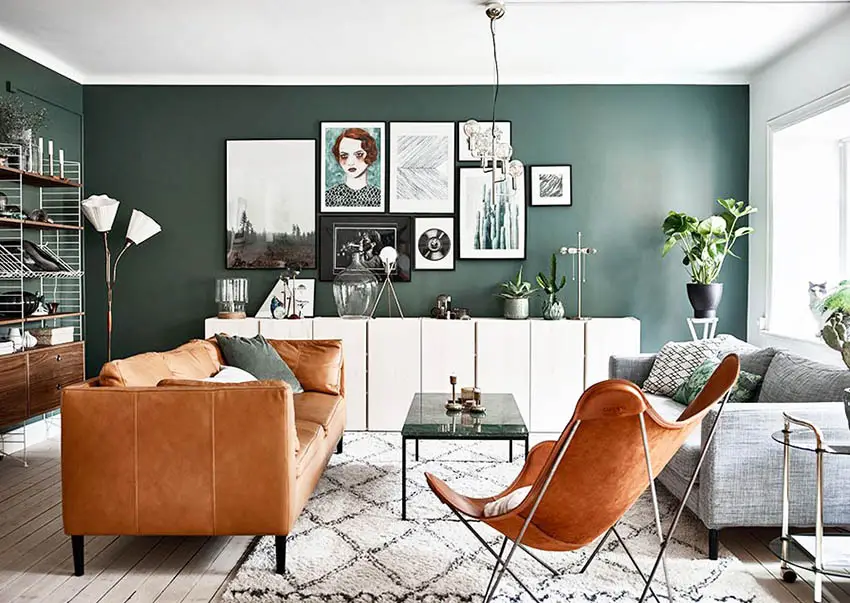 For a timeless and elegant couch color combination try out pairing a light brown sofa with a rich color green wall paint. Bring in natural wood elements and white decor pieces to help keep the interior space bright and inviting. Why not look to the color experts? For a more organic themed living room design try using the Pantone color Greenery. Greenery is a gorgeous yellow-green that reads more like a neutral than an accent color. It evokes a sense of connection with nature and promotes a calm feeling wherever it is use.
Pair it with a rich, leather sofa and you will have a space that you never want to leave. For more adventurous color seekers, use a pop of bright and bold viridian green for your accents with Greenery being the color that fades into the background and ties everything together. If traditional is your look, Greenery plays nicely with tones of caramel and moss.
If eclectic is what you are after, paint your walls with Greenery, throw a faux animal hide rug on the floor, and use deep eggplant purple for your accents. Think throw pillows that echo your sofas and walls, soft greens and browns, pop a couple of pillows with eggplant purple accents or that are fully covered in eggplant purple fabric. Grab some gorgeous ceramic pots and plant some Tradescantia, these plants showcase gorgeous green leaves with purple undersides.
Add a small pot of Purple Shamrock plant, with bright purple leaves and soft pink flowers, and you have your eggplant accents done naturally! Either brushed gold or steel works well with this look, so use whatever metal your desire here, but keep it consistent, choose one and stick with it to create cohesion and unity.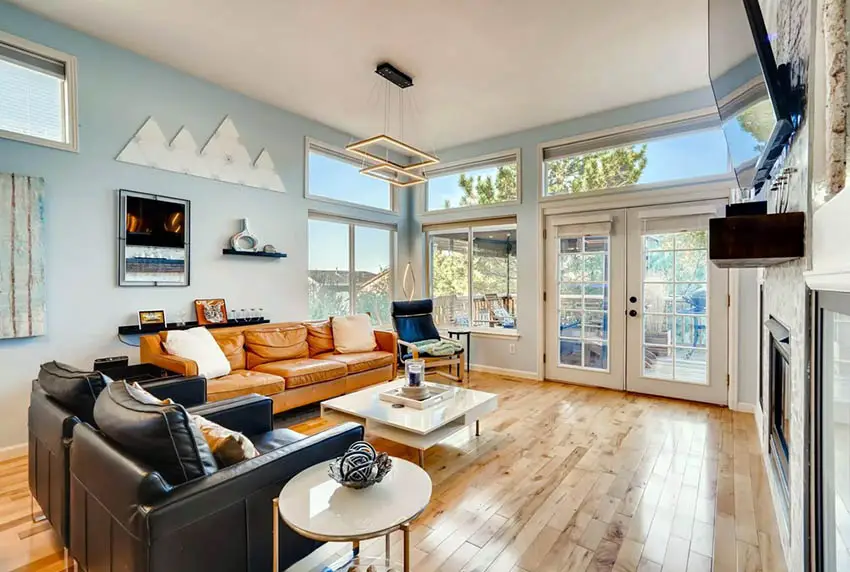 Leather furnishings, especially if they are overstuffed, are often thought of as stuffy and stiff but it doesn't have to be that way. Leather is comfortable, beautiful, and timeless, it can go from modern to traditional, worldly and eclectic, and anywhere in between. Unexpected tones like orange and yellow pair well with the undertones in leather. Living room paint colors with light shades of blues and greens bring out the calming, relaxing vibe in leather. With a little bit of careful planning, you can use your leather furnishings as the base for great design.
For more related info check out colors that go with brown on this page.