Here we share our gallery of wood kitchen ceiling design ideas including wood planks, shiplap, tonque & groove and bead board.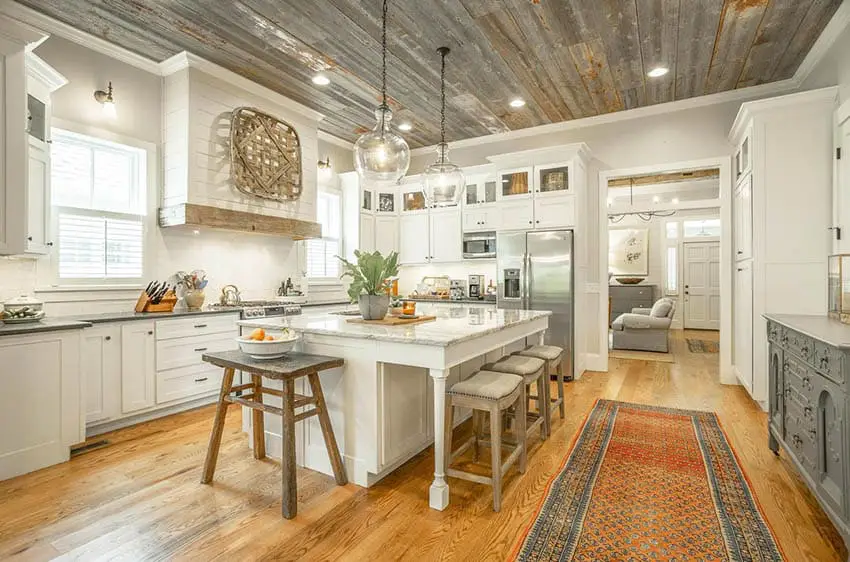 Want to spice up the look of your kitchen? How about adding wood to your kitchen ceiling to give it a fresh new look. Using wood on your ceiling adds more texture and depth, giving any space a warmer, more rustic appeal. Depending on the look you want to achieve, there are many different styles and varieties of wood you can use on the ceiling.
Wood used on ceiling application are similar to the styles and varieties used for wall panelings, such as:
Wood planks – these are usually solid wood planks in a variety of thickness and width according to your preference. It has straight edges and is usually butt-jointed and reinforced by screws or finishing nails.
Shiplap – traditionally used for siding/cladding, shiplap ceiling boards have a rabbet groove at the top and bottom, allowing you to overlap the boards. The rabbet results in a small groove in between boards, and is also the defining feature of shiplap boards
Tongue & groove – these boards usually have smaller grooves because the pieces "snap together" like puzzle pieces. Tongue and groove ceilings often use pine, other more exclusive choices are cherry and cypress wood.
Beadboard – this type of board is also usually joined with tongue and groove connection, but is identified from other boards through its "ridge" or bead-like indentation. Beadboard ceilings are often used to give a kitchen a traditional or cottage style.
Wood ceiling selections offer a large variety of wood species for solid wood, and also comes in synthetic alternatives such as laminates, vinyl, PVC or fiber cement. You need to consider different factors before you decide on the type of board and material you will have to use for your ceiling. Here are some important factors you need to consider:
Ceiling load capacity – if the existing ceiling is made from gypsum board and metal furring framing, make sure it will be able to hold the weight of the material you are applying. The same goes for other ceiling materials, you need to make sure it has enough frames/supports to hold your boards together
Moisture – try to steer away from wood composite materials/mdf substrate materials when applying to areas with considerably high moisture to avoid warping. Check for any leaks, especially if there's a bathroom above it
Look and Feel – find a material that matches the look you are going for!
Ceiling planks that are made from solid wood or fiber cement can usually be painted. But also consider if they have pre-finished/painted options, as this might save you labor cost. However, laminated materials and PVC are usually installed as it is. Check the manufacturer instructions of your material of choice before you decide to paint to make sure you are using the right type of paint.
The cost of wood ceiling varies depending on the material used. Typically, a solid wood ceiling could cost around $1.50 per square foot for the materials, and another $2-$3.5 per square foot for professional installation. Price would vary depending on the chosen material.
Below are some kitchen wood ceilings for your inspiration: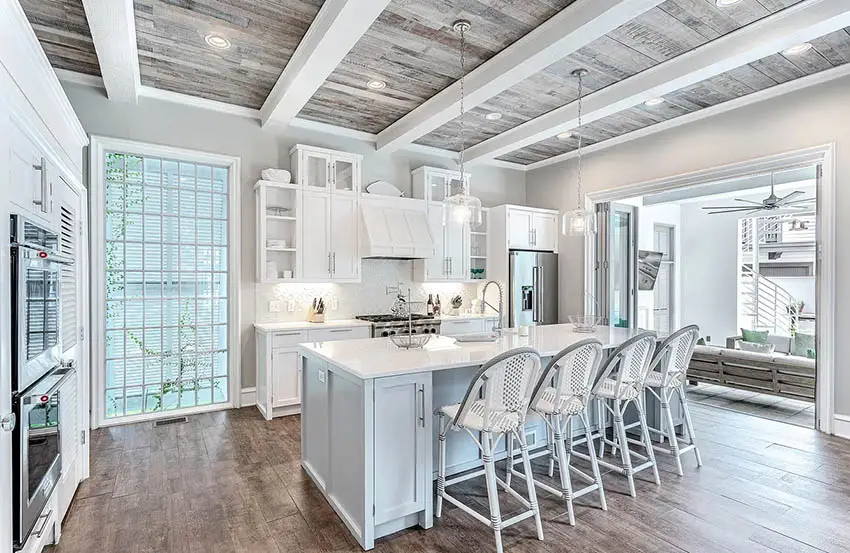 This contemporary kitchen design uses bleached & gray-stained solid wood for its ceiling. It uses tongue and groove joints for a cleaner look that matches the overall aesthetic of the space.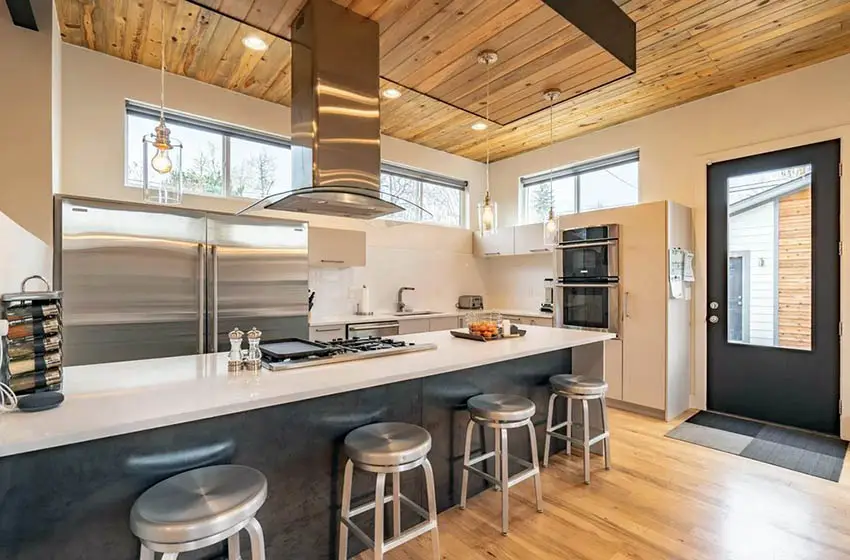 Warm oak shiplap ceiling boards balances out the very cool-toned modern aesthetic of the kitchen. The planks follows the direction of the wood flooring so that the patterns don't clash.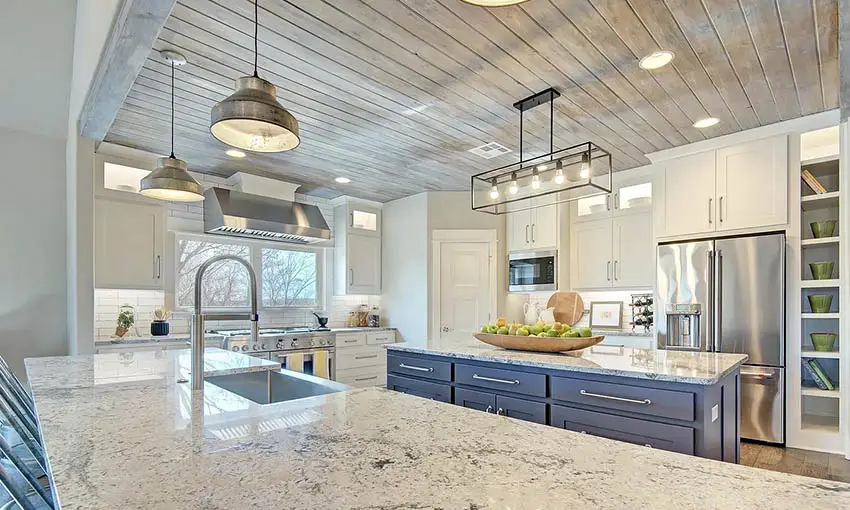 Adding a white wash to the wooden shiplap ceiling boards adds a rustic, nautical vibe to the ceiling. Because the wood used is also light-colored, the washed-out ceiling boards softens the overall feel of this kitchen.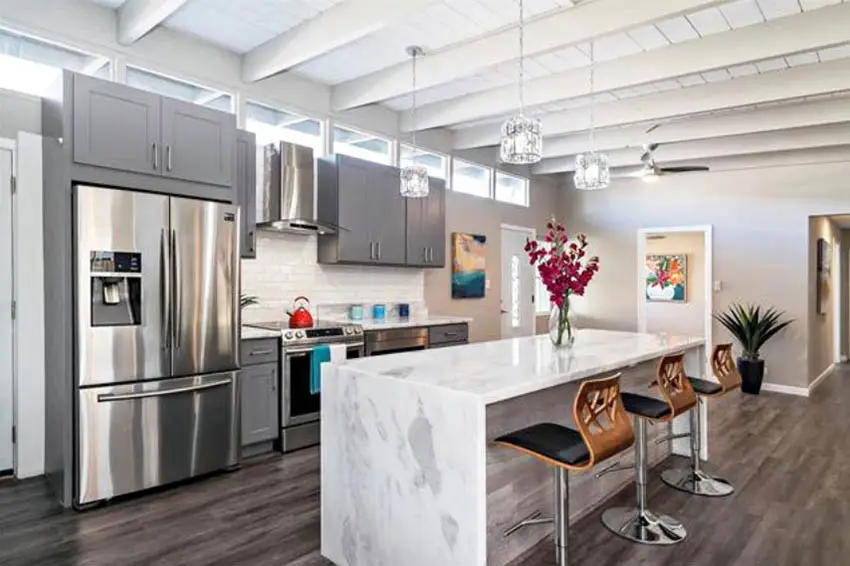 The tounge and groove wooden ceiling boards were painted white to match the finish of the wooden beams and supports. The boards also matches the direction of the wooden flooring, so even if they are of 2 different colors/finishes, they don't clash.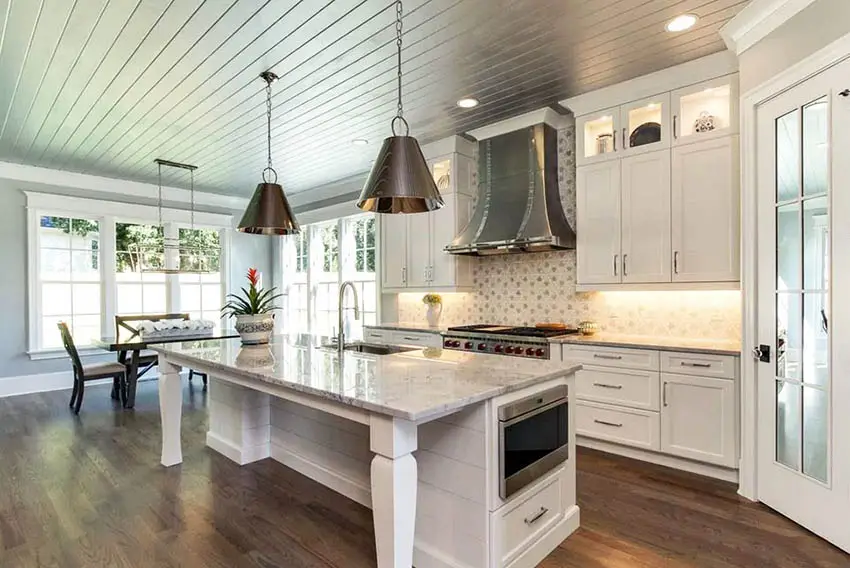 The use of smaller width grooved planks give more texture to the ceiling. It's a nice pair to the otherwise plain white kitchen cabinets, but still matches its classic aesthetic.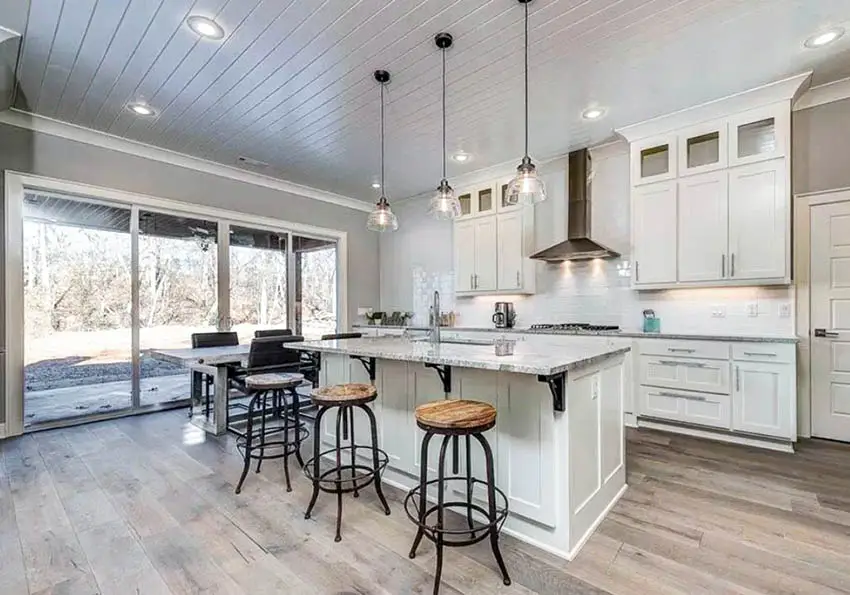 This kitchen ceiling also uses a narrow tongue and groove planks with small v-grooves to add more depth and texture. The glossy finish is a nice contrast to the washed-out matte wood flooring.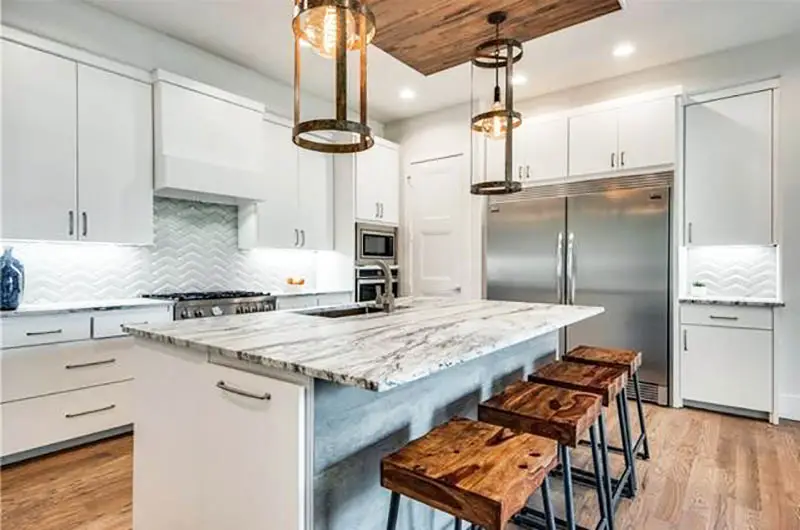 If you're not ready to apply wood to your whole kitchen ceiling, you can also choose to apply it on small areas, such as this small drop ceiling above the kitchen island. The walnut planks adds a bold contrast, making the kitchen island area the focal point of the space.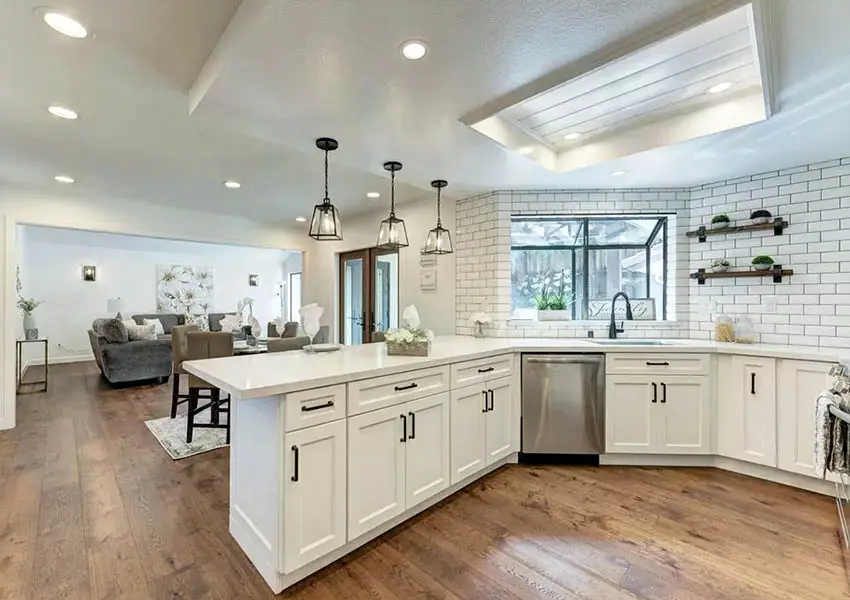 If you don't have a drop ceiling, this is another smart way to add wood to small areas of your kitchen ceiling. The white beadboard planks were applied at a small square tray ceiling area at the center of the kitchen and was framed with wood cornice for accent.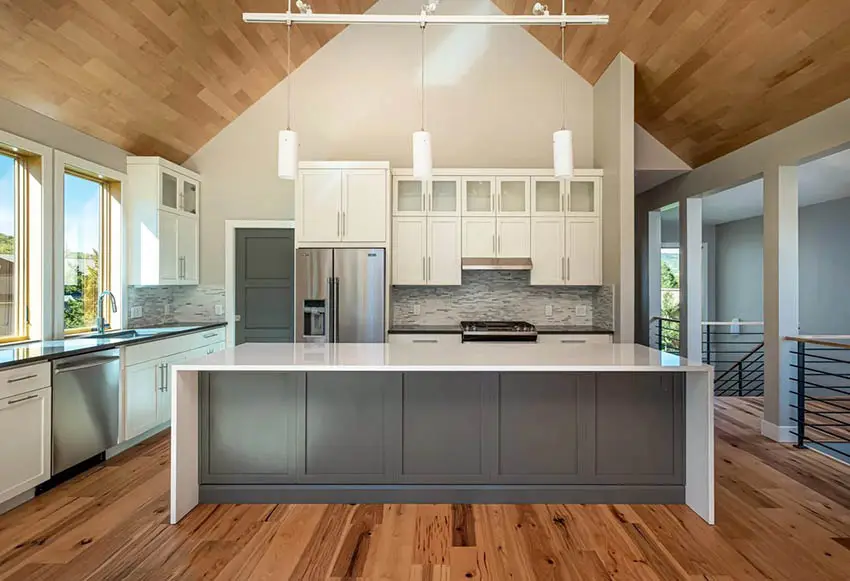 For a smoother, cleaner aesthetic. vinyl tiles are the best choice as it barely has any visible grooves. It's also easier to clean and moisture-resistant. The maple finish vinyl tiles used on this gable vaulted ceiling adds a soft warmth to the modern gray and white kitchen.
This white and black kitchen features a classic box beam ceiling design with shiplap composite wood ceiling planks that adds a soft contrast to the white coffers.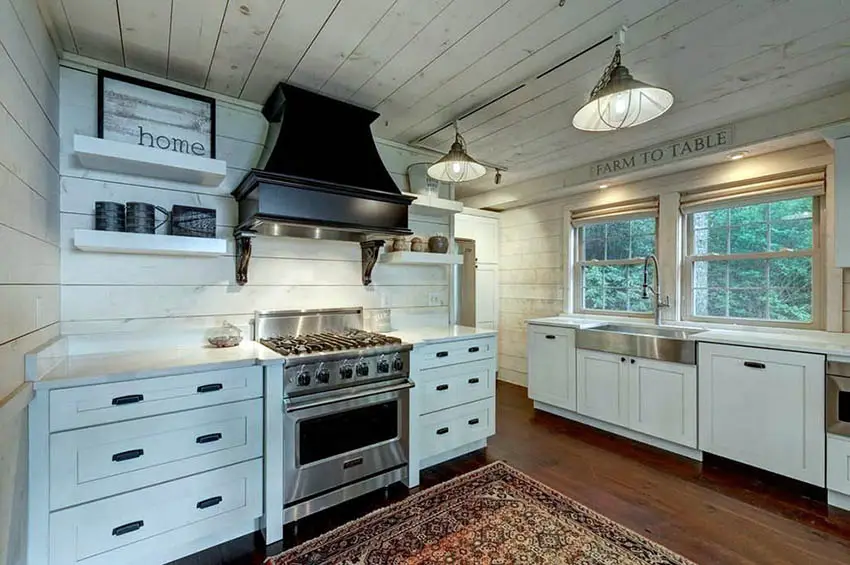 Going for a rustic feel, tongue and groove solid wood planks in weathered white finish was used not only on the ceiling, but also on all of the walls of this small kitchen.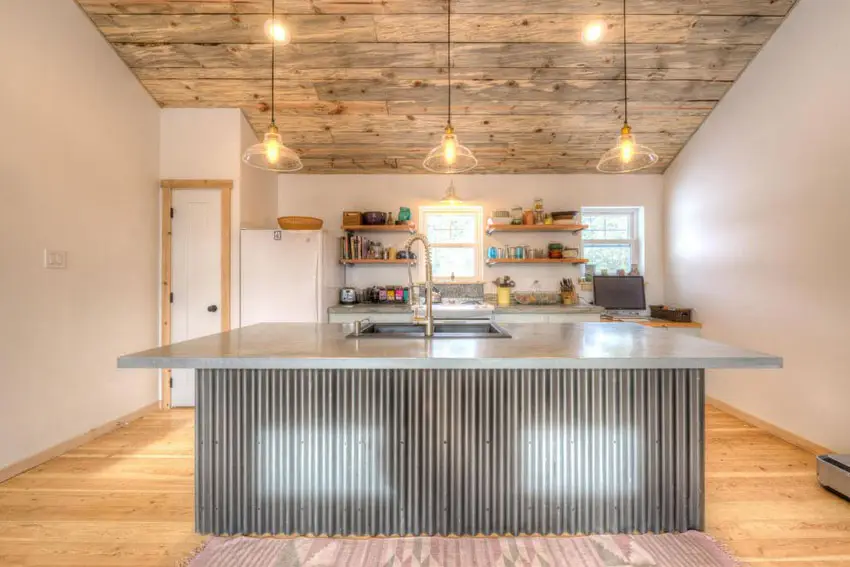 Unfinished natural wooden planks used on this industrial style kitchen adds to its raw & rustic feel. The washed-out/gray tones perfect matches the birch flooring and the GI metal kitchen island.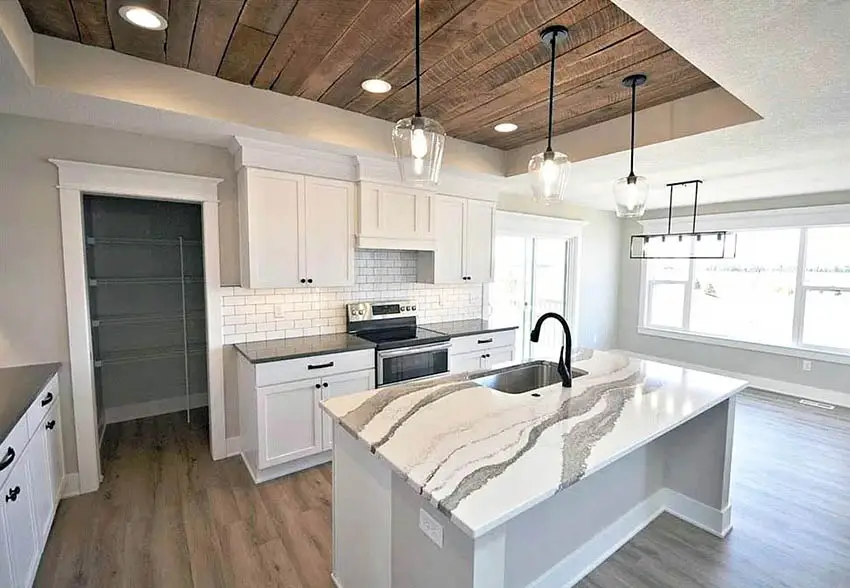 These raw walnut planks were left un-sanded and unfinished, then were applied (butt-jointed) to the recessed ceiling as an accent. The dark tone of the wood gives a nice, warm contrast that complements the mid-century modern aesthetic of the kitchen.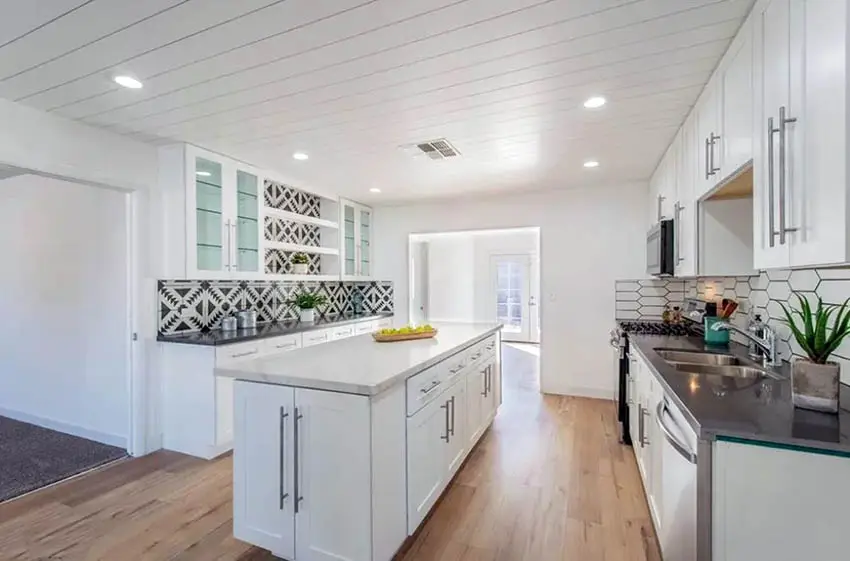 For a clean, understated look, white tongue and groove with v-groove was used for the ceiling of this kitchen. Even though the plank direction of the wood flooring and the ceiling are opposite, the plain white color helps blend it with the other white surfaces so they don't really clash against each other.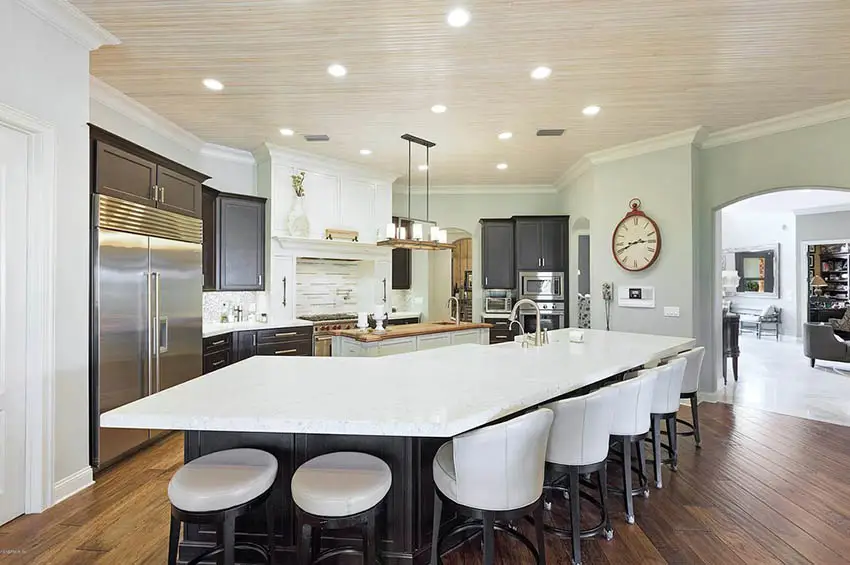 Bleached maple beadboard used on the ceiling gives this classic style kitchen a brighter, more refreshing appeal. You can also find beadboard kitchen cabinets or a island with beadboard paneling to further utilize the design.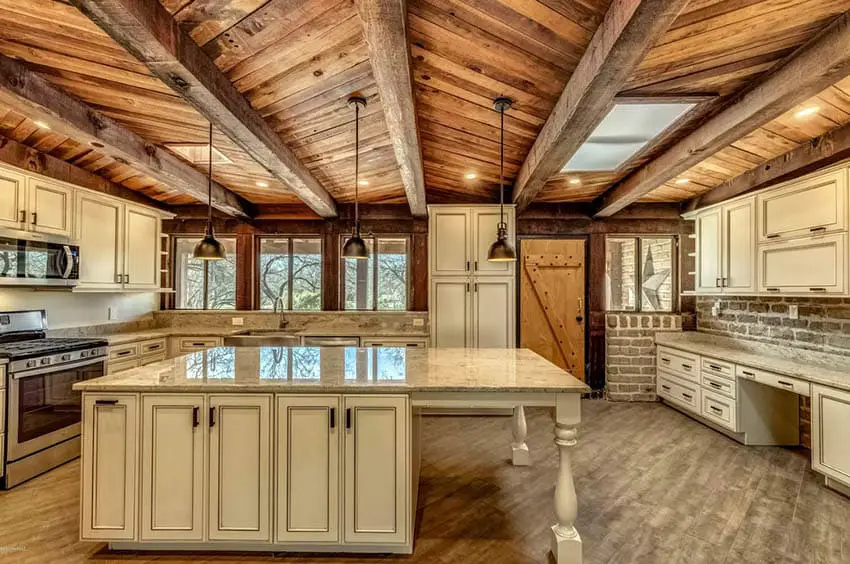 To match the loghouse aesthetic of this rustic kitchen, the ceiling uses raw, unfinished solid wood planks in chevron pattern. The natural texture and knots of the wood adds a bold texture and pattern to the ceiling.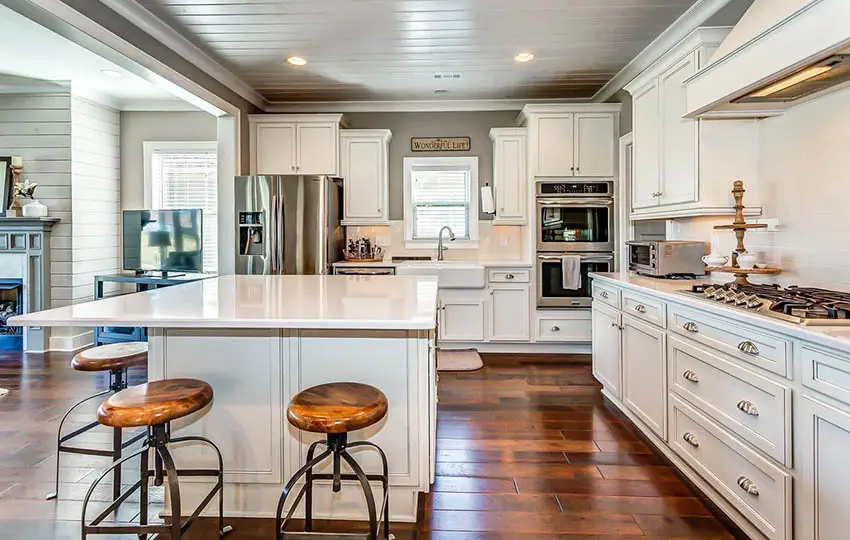 Lightweight shiplap PVC was used for this tounge and groove ceiling paneling. It has a nice glossy warm gray color that matches with the warm gray wall paint used in the whole kitchen. For more types of ceiling designs check out our gallery page.