Discover the best pebble backsplash kitchen designs, including the different types to consider, installation tips, advantages, disadvantages, and cleaning process.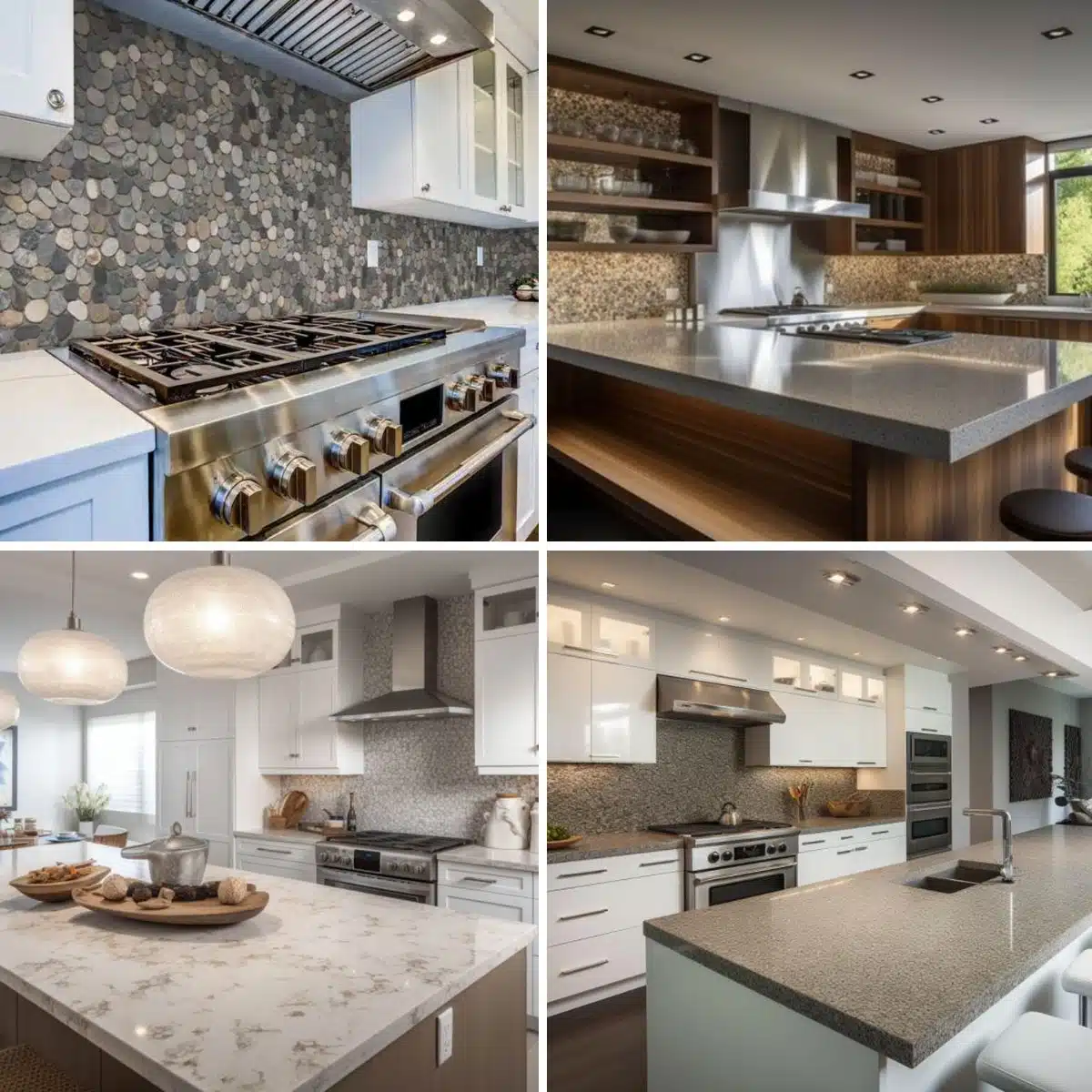 Bring the beauty and durability of natural stone into your kitchen space with a pebble backsplash kitchen. A pebble surface can add charm and character to a rustic or coastal-inspired home, but with so many variations and design options to choose from, the natural stone can work with any style in mind.
This versatility and ease of installation make pebble backsplash a popular DIY spruce up by any kitchen size. From the intricate pebble tile designs to the easy-to-install peel-and-stick backsplash, there's a pebble backsplash kitchen design you'll love.
Types of Pebble Backsplash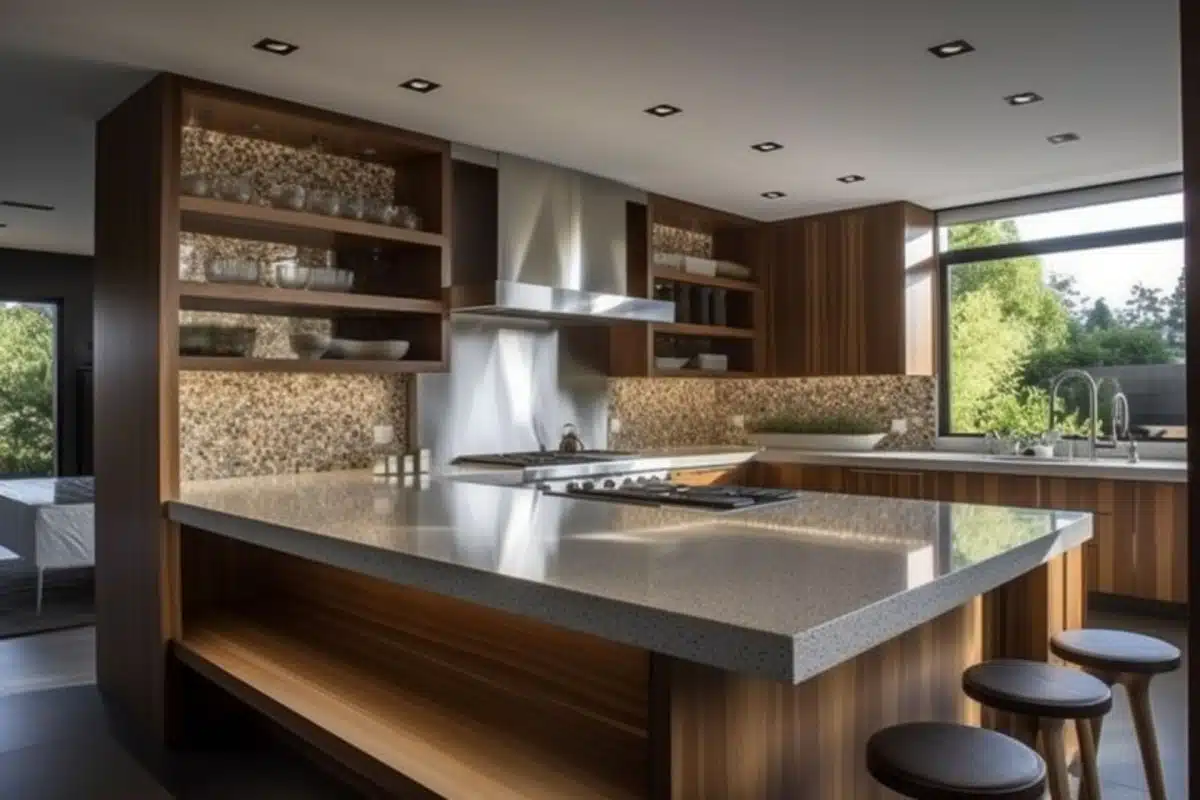 To be considered a pebble stone, the Udden-Wentworth scale of sedimentology lists pebbles as having a particle size of 4 to 64 mm or 0.16 to 2.52 inches. Pebbles are smaller than cobbles and larger than granules. The stones used as a decorative backsplash mainly add a textured layer to a plain kitchen wall, while it also adds organic colors from nature.
Here we share the different tile and panel backsplash types with different design styles, patterns, and finishes.

Pebble Tile Backsplash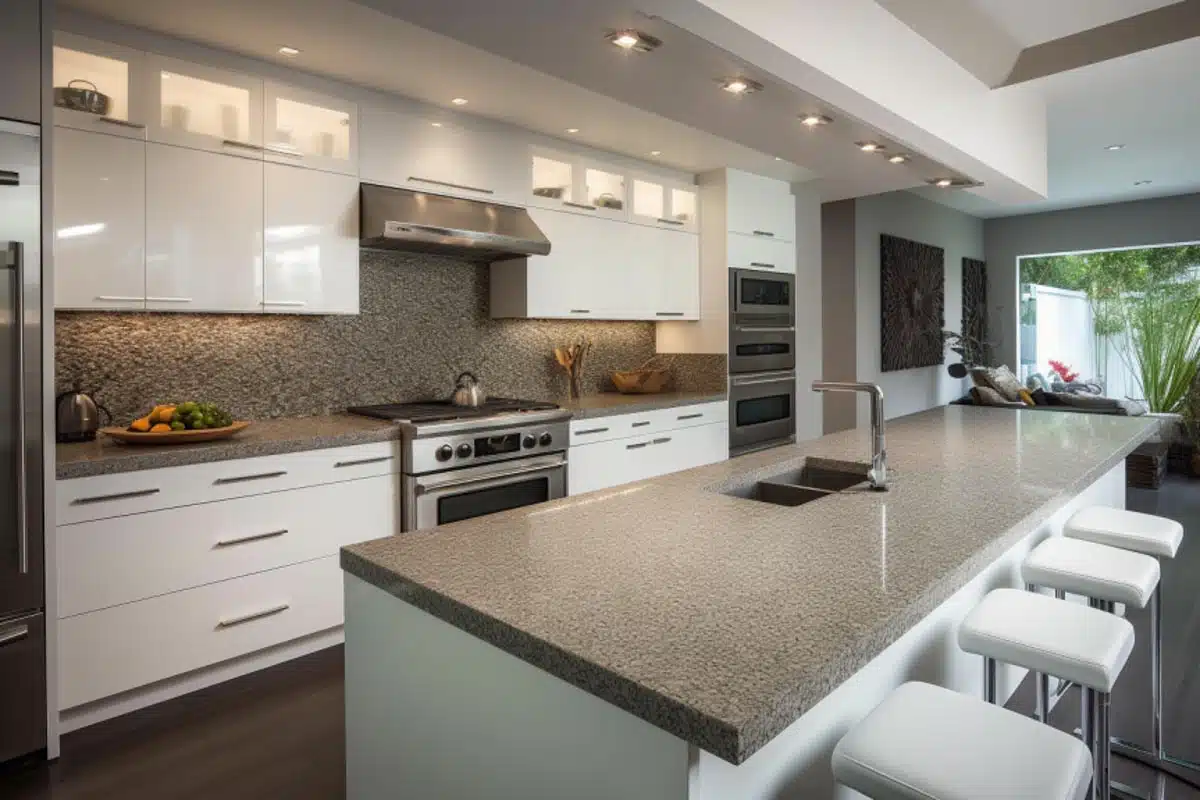 Pebble stone tiles are made from natural stones mainly sourced from river rocks arranged and adhered to a mesh backing for faster installation. Due to weathering and the continuous flow of running water, the rocks are smoothened, giving them their soft organic look.
Stone tile products come in a wide range of designs. Manufacturers generally select pebbles to be arranged on mesh backing according to size, color, general shape, and degree of smoothness.
The mesh backing is cut to size to the manufacturer's specifications. The rocks are then laid according to a specified pattern or layout, and a strong adhesive is used to bond the material with the mesh. There are tile products with non-toxic and environmentally tested bonding agents available in the market.
The cured pebble and mesh bond can come with different finishes, such as polished or sealed variations. Waterproof versions of a pebble tile types of kitchen backsplash can be installed in an indoor or outdoor setting.
A significant advantage of sheet tile backsplash is the mesh backing is flexible and can bend and cut to follow any wall contour or shape.
Installation Tips:
Obvious seams between the pebble tile backsplash. Although these tiles come with interlocking edges, seams in between tiles can become apparent, and these gaps can leave an unsightly kitchen backdrop. These gaps can cause grease and food particles to accumulate when you cook.

A simple method is to fill in these gaps with individual pebbles removed from the mesh backing. Be sure to leave enough space between the seams to fit the individual pieces.
Sanded grout and other longer-curing grouts are best for pebble tiles. Be wary of using fast-setting grouts as they can dry quickly before washing out excess grout from the top of the tiles. Sanded grout usually cures for 24 to 72 hours, so be sure to check the manufacturer's specifications before application.
Popular Layouts:
Hexagon Pebble Tile. A variation of the standard tile backsplash that is encased or laid out in a hexagon pattern.
Wave or Curve Pebble Tile. Demonstrates movement, which can be an eye-catching backsplash feature; wave or curve-pattern tile is perfect for a bohemian or eclectic kitchen.
Windmill. When opting for a backsplash area to be a focal point in a kitchen, a windmill pattern or fan-like pattern is an excellent choice between the counters and cabinets. It creates a decorative and dynamic effect and can offset a contemporary kitchen's straight forms and lines.
Pebble Mosaic Backsplash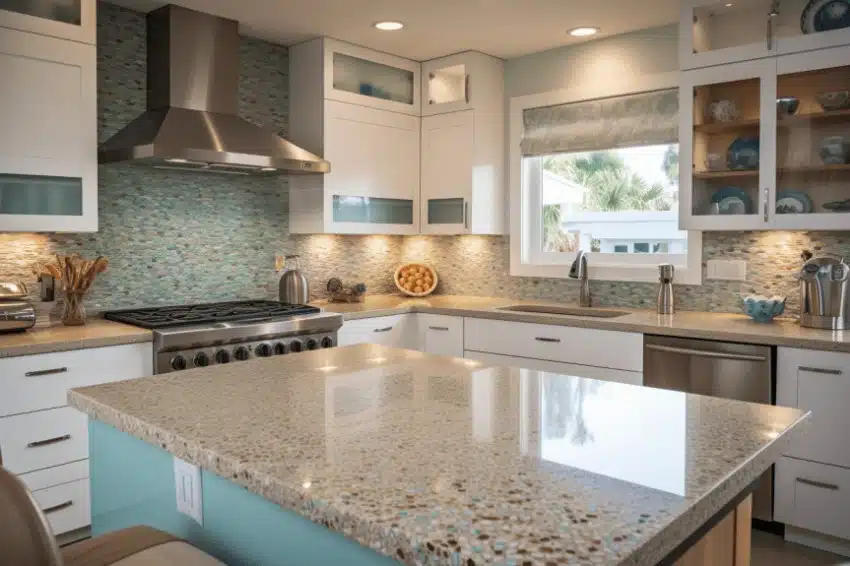 Intricate yet cohesive, mosaic tile kitchen backsplash can create an exciting and personalized backdrop. This detailed backsplash composes of small pieces of material, creating an artistic pattern.
Like your typical mosaic tiles, a stone mosaic will have smaller pieces that create the whole image or pattern, generally ½" x ½" to 2″ x 2″ in size. Due to their small size, they can be used as murals or edgings on a kitchen backsplash, and design possibilities are limitless.
Pebble Stone Backsplash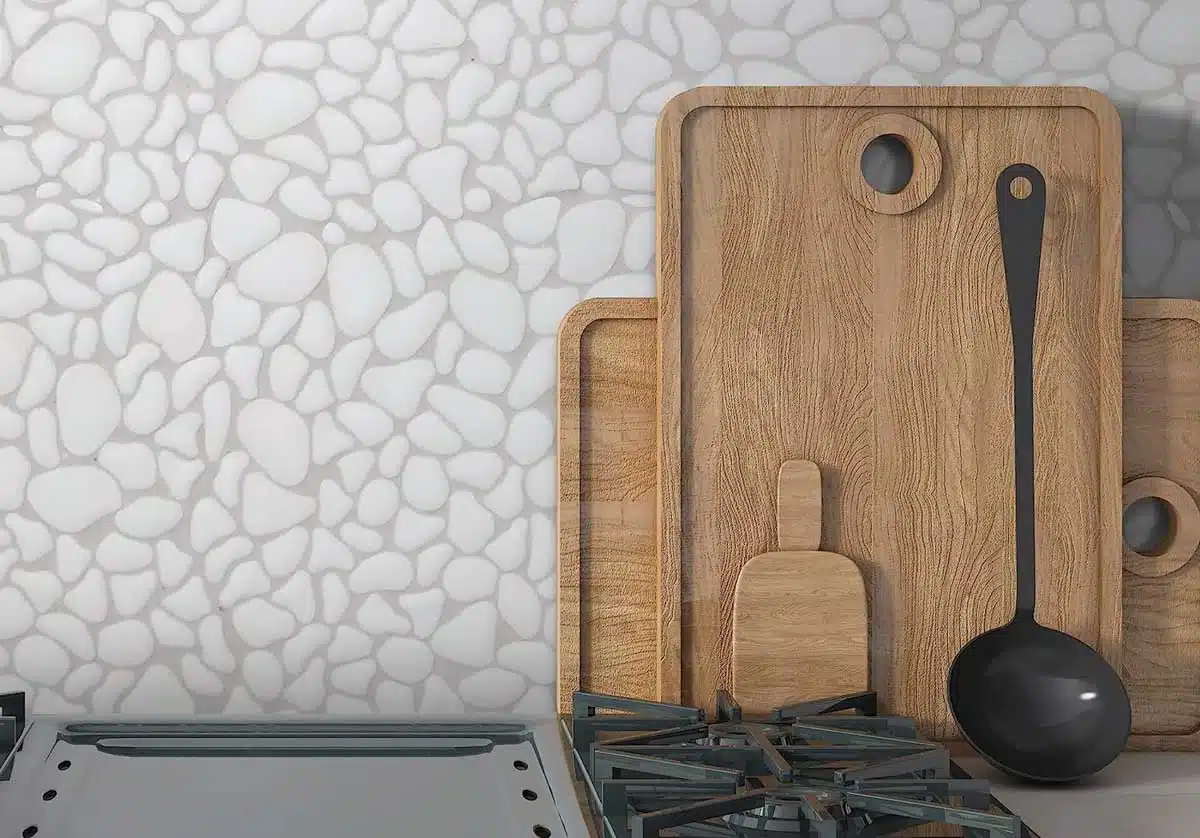 See this white stone with gray grout sheet at Amazon [sponsored link]
Pebble stone backsplash gives the freedom to create an organic dimension compared to the tile variation. While it is a more intricate installation, the opportunity to truly personalize a kitchen remodel project makes it a worthwhile design choice.
The stacked stone generally requires medium-sized stones laid on its longest side, allowing a more textured surface due to the protruding smoothed edges.
Match the grout with the countertop or wall color to tie the two elements together, or opt for a clean white hue. Random, herringbone, and brick are other popular design options that create the textured backdrop.
Sliced Pebble Stone Backsplash. A modern version of the stone backsplash where the surface of the wall is left with a flat surface instead of the usual protruding stones.
The sliced stone backsplash has a cleaner and modern look which comes in a wide range of design options, but the most popular is combining white, beige, and gray stones.
Other types of stones include:
River Pebbles. A stone sourced from the river will have smooth and rounded stones, and colors will depend on where it is sourced but will generally have a range of white, brown, gray, red, and black colors.
Beach Pebbles. The term beach pebbles can refer to artificially tumbled stones or stones sourced from the ocean shores, also called shingle beach. There is a wide range of colors from dark gray to cream, and textures available to match your interior design.
Mexican Stone. With generally having a black color, Mexican stones are the perfect choice for modern kitchen backsplash and create a dramatic contrast to light-colored walls and countertops.
Lava Pebbles. Sourced from volcanic rocks, lava products often have red, gray, or black coloring. A Lava backsplash can create an exotic and unique kitchen backdrop but will need an excellent sealant to prevent the rocks from deteriorating, especially when used as a backsplash behind a range or cooking stove.
Pebble Glass Backsplash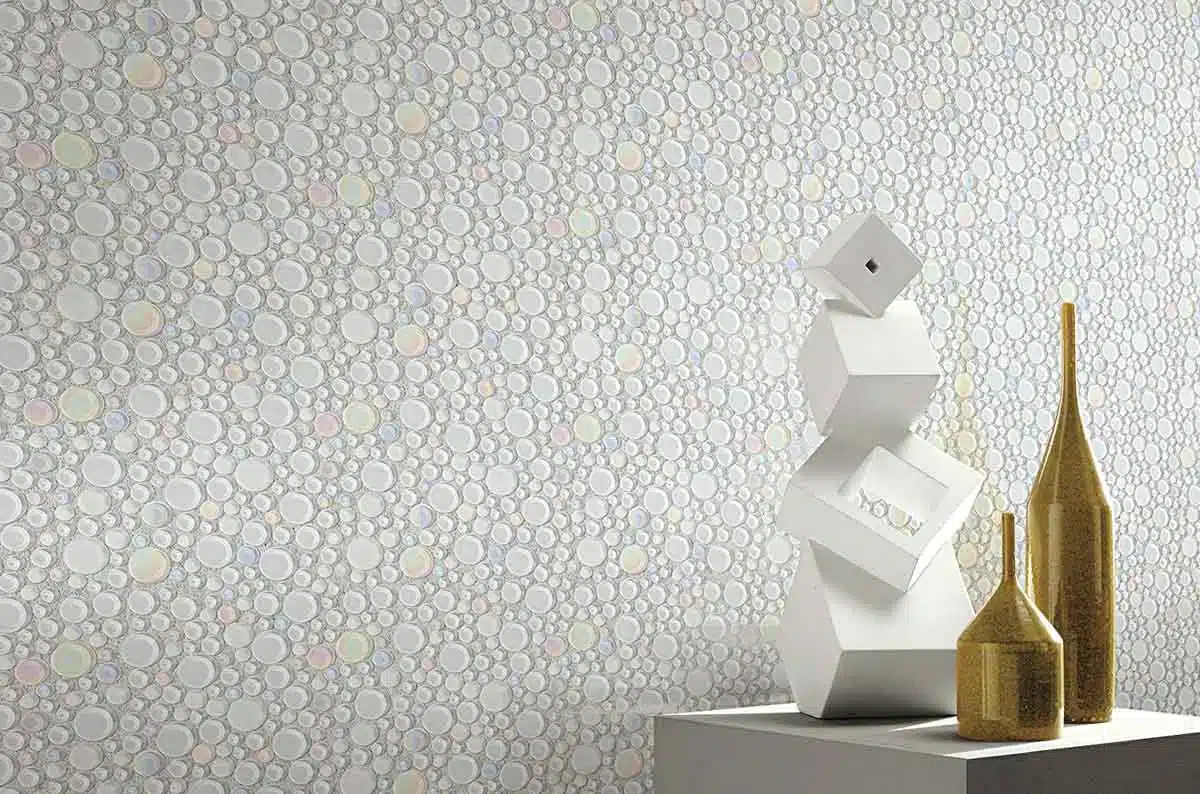 See this glass pebble backsplash at Amazon [sponsored link]
A luxurious wall tile with the ease of wiping down grease and grime makes the glass surfaces a desirable option for a contemporary kitchen. Glass pebbles can be man-made or sourced from nature, such as sea glass.
Artificial glass is usually made from crushed recycled glass which is melted and fused under high temperatures. To achieve the desired shape and size, crushed glass can be placed in metal molds which are kiln and heated. The crushed pieces then fuse together and follow the mold shape.
Another type of glass product is made from beach glass which is made from glass taken from broken glass from the seashore and is smoothened using a drum tumbler, vibratory tumbler, or any similar tumbling device. This process removes the sharp edges and creates the smooth round characteristic of natural stones.
Natural glass is usually made from sea glass, where instead of using a tumbling device, the natural weathering process smoothens the glass pieces.
Due to the salt content, most sea glass will have a frosted appearance. This is ideal for coastal or nautical style kitchens and can be paired with other natural decor items and accessories like shells and wood accents.

Pebble Porcelain Backsplash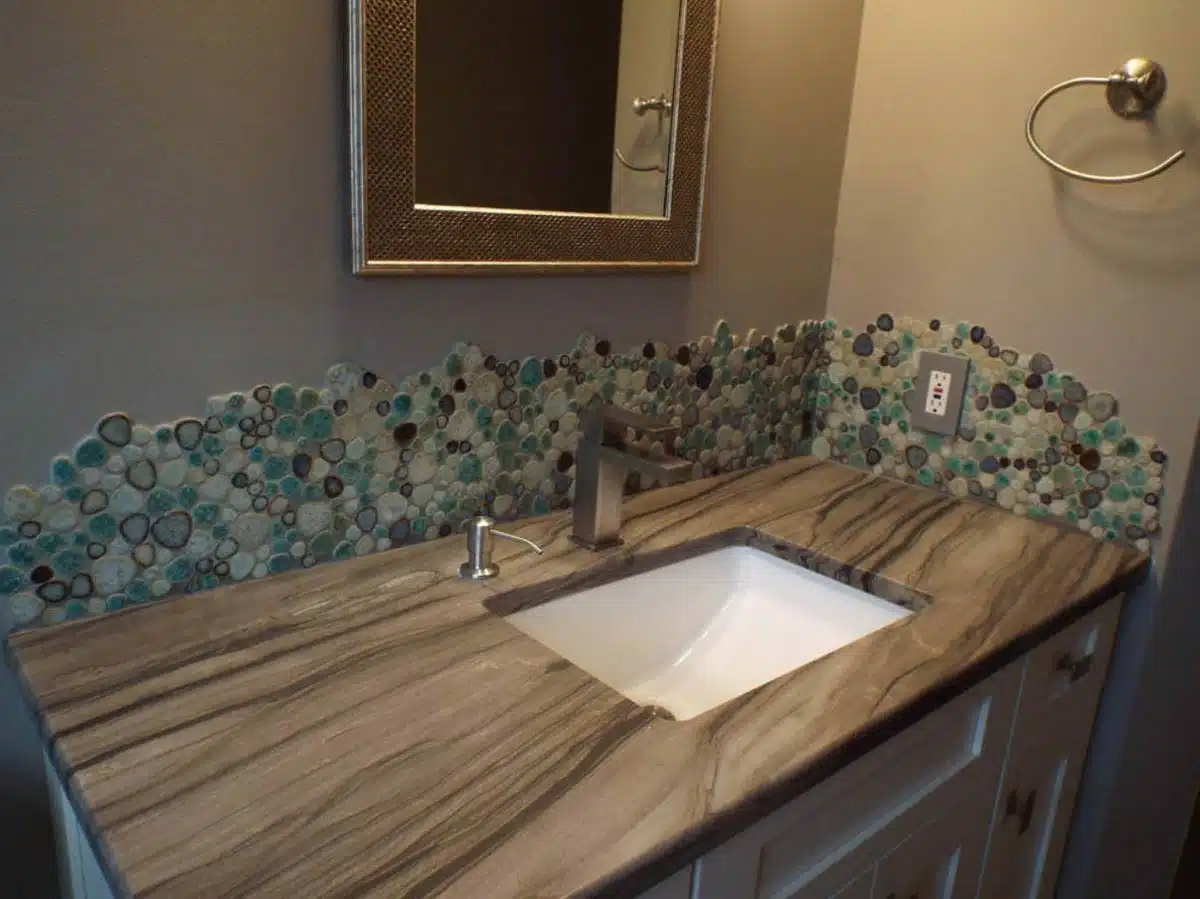 See this porcelain tile product at Amazon [sponsored link]
When aiming for consistent color and size, a porcelain backsplash using a pebble design is a great option with many benefits that works both indoors and outdoor kitchens. Since it is less porous than your natural stone, it is easier to clean, can resist stains, and won't chip or scratch easily.
With a wide range of designs, porcelain tiles can easily match a particular kitchen design. The tiles can also be sealed with a wide range of finishes, and there are porcelain tiles that mimic the look of natural stone. Choose porcelain tiles that are made from natural content and that are free from allergens and VOCs.
Installation of wall tile can be tricky and may require the help of experienced contractors. When you get a quote from a contractor, make sure you receive a total breakdown of the price of materials for the project and an estimated time of completion to ensure your installation stays on budget and meets your needs.
Pebble Metal Backsplash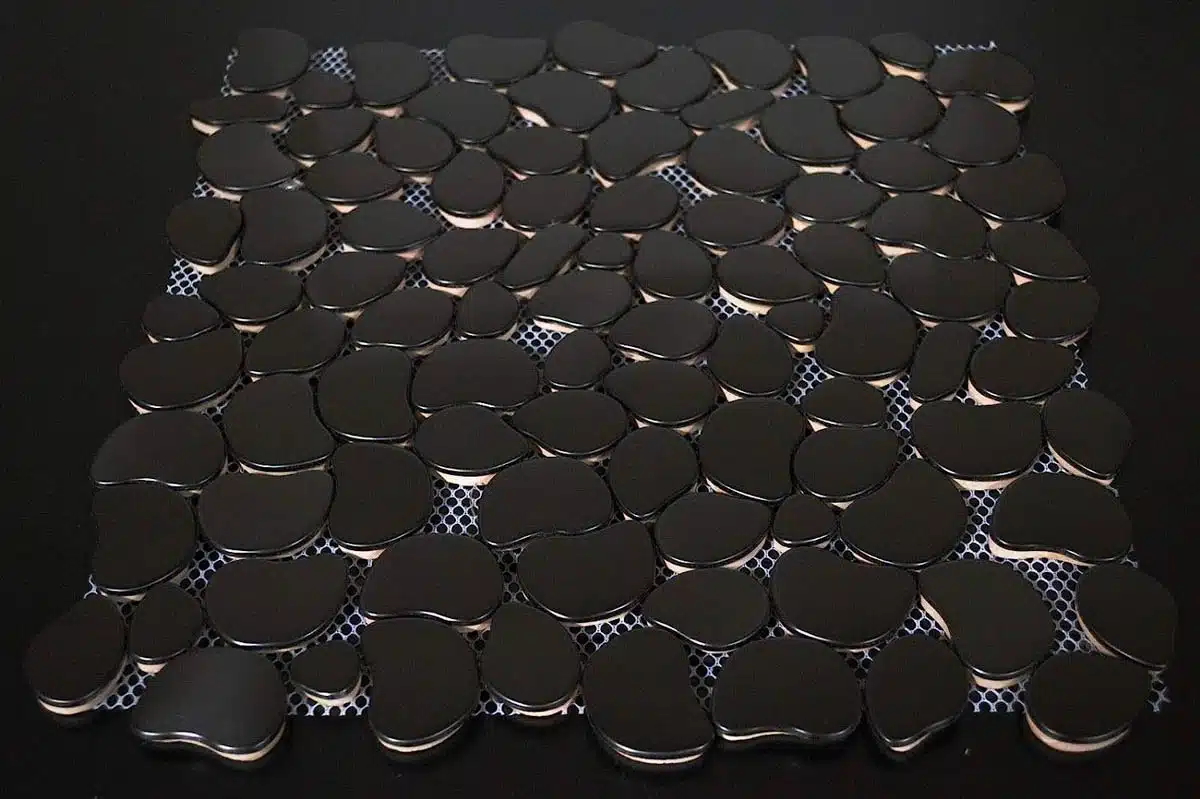 See this metal tile set at Amazon [sponsored link]
Another popular non-organic pebble backsplash is metal. Stainless steel is a good choice for a kitchen backsplash since it doesn't rust and is water-resistant. A metal surface can also withstand extreme temperatures making it ideal for backsplash behind a stove area or cooking range.
Pebble Peel and Stick Backsplash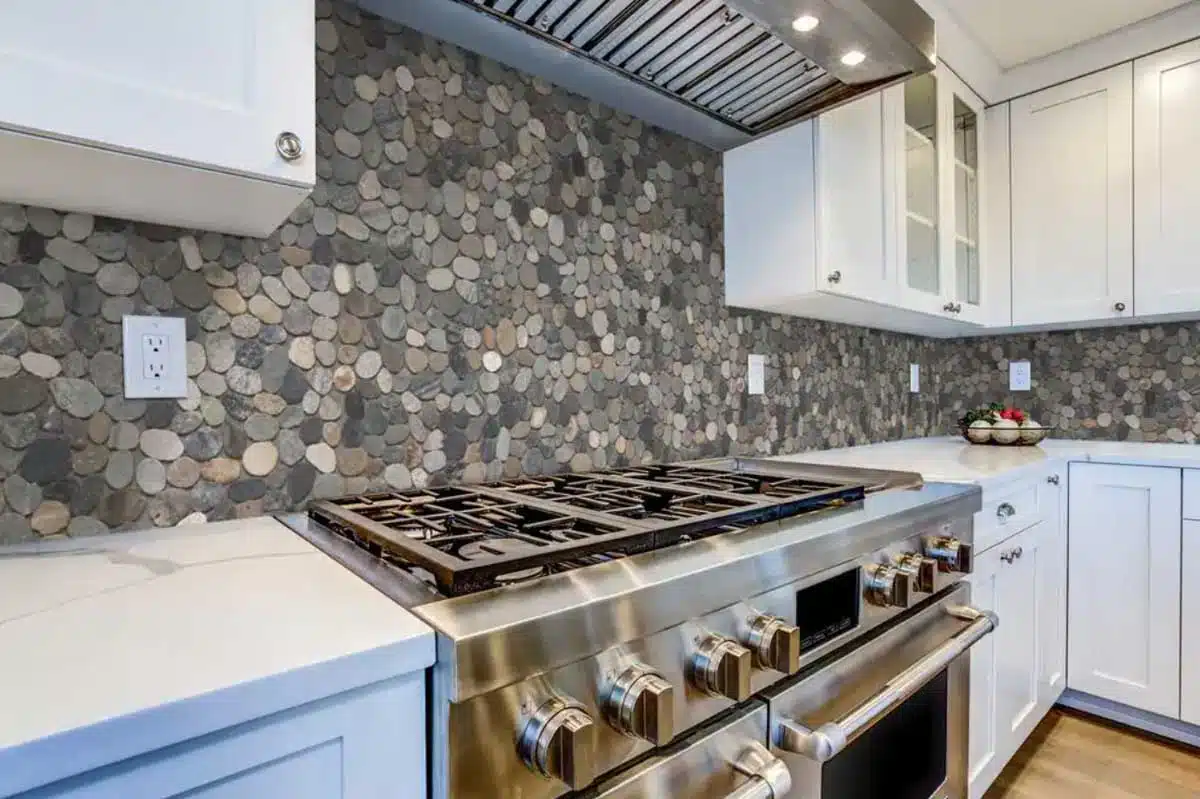 See this peel and stick backsplash at Home Depot [sponsored link]
When looking for a kitchen backsplash that's easy to install, the peel and stick backsplash with a pebble design is the perfect option that anyone can install. As the term implies, it comes with an adhesive backing which is covered with a protective film or paper that is easily peeled off when it's time to install the tile.
While most peel-and-stick tiles are made from vinyl or polyester, it does not guarantee a waterproof backsplash, so be sure to choose a peel-and-stick backsplash that's labeled waterproof before installing it on the kitchen wall. There are 3D versions of peel and stick which have a textured surface due to the stones.
Peel and stick tiles are practical options for temporary residences or if there's a quick need for an update that doesn't need a permanent installation. Peel and stick manufacturers offer a wide range of products that can last from 5 to 25 years, depending on the quality and manner of installation.
Mixed Materials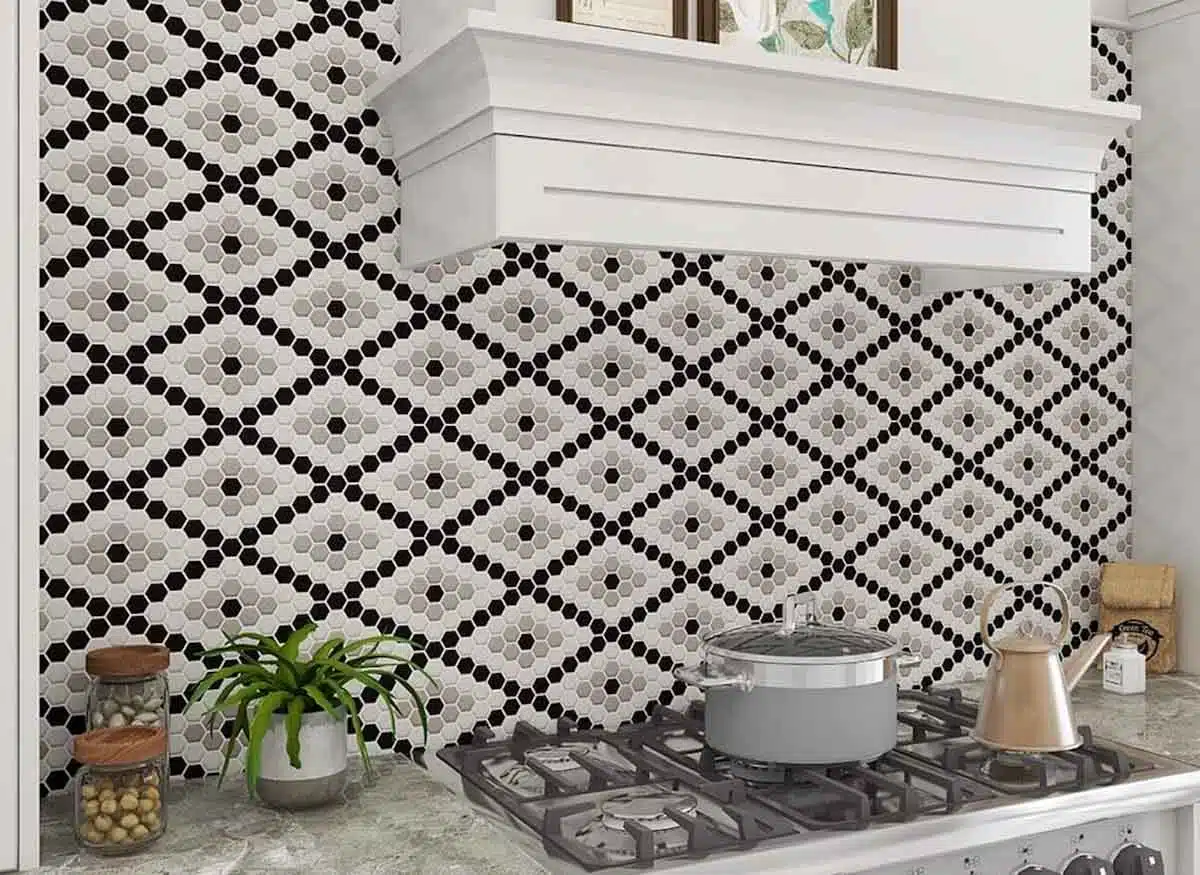 See this mixed material mosaic tile at Amazon [sponsored link]
Common materials to incorporate in a natural pebble backsplash are metal or glass. Metal is a favorite inset material that adds a layer of texture to a kitchen backsplash, adding a reflective surface to the matte texture.
Mixing metal or glass creates a luxurious quality that suits industrial or modern kitchen designs. When opting for a nonporous option, the copper and porcelain combination is a popular choice.
Pebble Style Backsplash Pros and Cons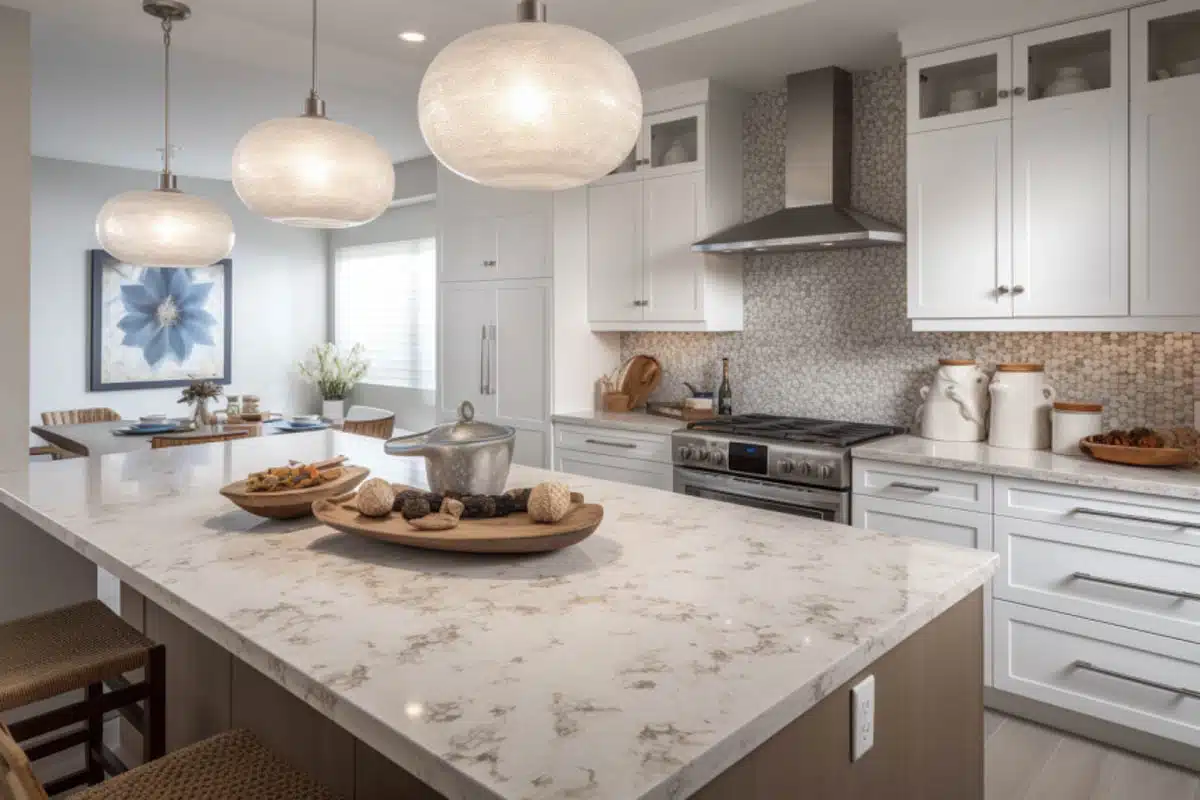 Advantages:
Earthy and Natural Quality: The charm of stone materials is it adds a unique and natural look to the kitchen, giving it an organic and earthy feel. It can complement many styles, from modern to rustic kitchens.
Withstand Heavy Use and Easy to Maintain: Stone backsplash is highly durable and can withstand heavy use, making it a great choice for a high-traffic area such as a kitchen. It is also easy to clean and maintain, with minimal effort required to keep it looking like new.
Can Withstand Heat: These stones are also heat resistant, which makes them a good choice for a backsplash behind a stove or oven. They can withstand high temperatures without being damaged or discolored.
Eco-friendly: A natural version of a stone backsplash is often made from materials such as river rocks or stones, which makes it an eco-friendly choice. It is also a sustainable material requiring minimal production processing and energy consumption.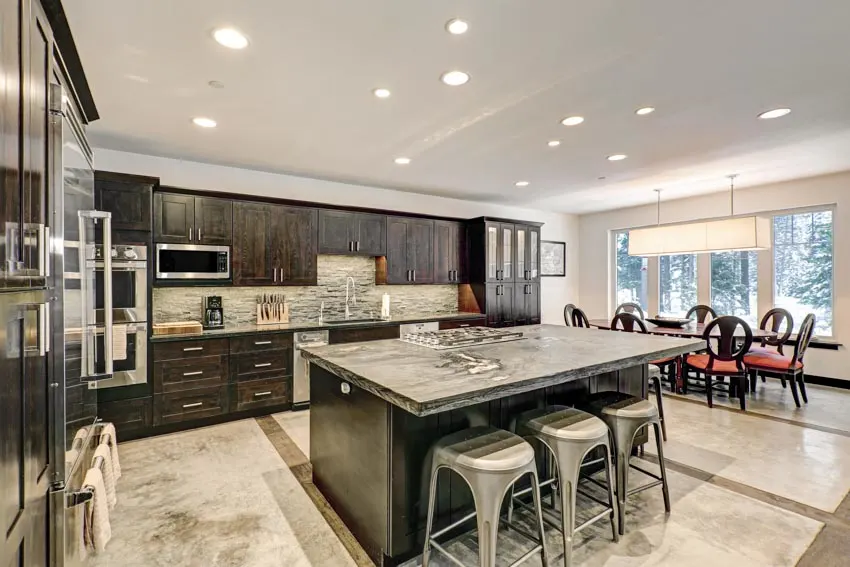 Disadvantages:
Uneven Surface: While pebble backsplash adds texture to a kitchen space, a stone surface with protruding stones can be harder to clean compared to a flat finish.
The joints of pebble tile are usually wider and deeper than normal stone tile, but what makes grouting this tile difficult is its rounded surface. – Working With Tile, Tom Meehan and Lane Meehan
Grout Maintenance: Because of the irregular shape of pebble tiles, there may be more grout lines than with other types of tiles. This can require more maintenance to keep the grout clean and free from stains or mold, but the stones themselves are relatively easy to clean with ordinary soap and warm water.
It can be challenging to Install: The intricate details and personalized design of a stone tile can take time to install due to the smaller pieces.
Installation Challenges: Installing tiles can be more challenging than other types of tiles due to their irregular shape and size. Ensuring a level and secure installation may require more time and effort.
How To Clean Pebble Surfaces On a Backsplash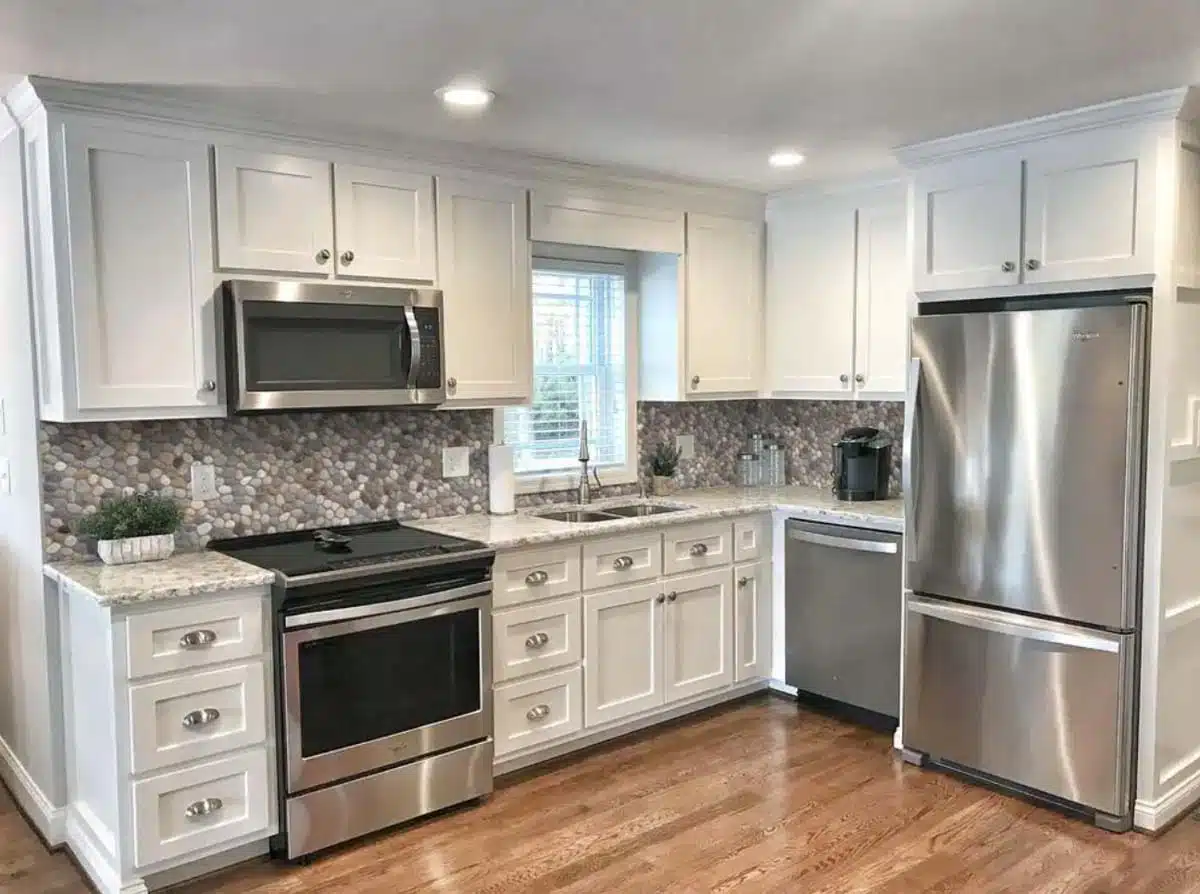 See this backsplash with raised stones design at Home Depot [sponsored link]
One of the most significant concerns of owners is the grime, soap scum, and debris build up between the crevices of the stones. However, the stone's size and rounded edges make it easier to clean and maintain. Regularly running through warm water with soap or brushing the surface can easily prevent build-up.
A more pressing concern is the type of cleaners and the need for a proper sealant. Potent cleaning agents can strip off sealers and damage the stone's natural coloring. It is recommended to choose a cleaner used explicitly in cleaning stone. For natural stone specifically, it helps to know what type of stone is used.
Steps for cleaning pebble backsplash:
• Dust or brush off the pebble backsplash to remove any loose dirt using a brush or dry cloth.
• Use a suitable cleaning agent for the type of your backsplash and mix it with warm water. (Be careful to avoid dripping the solution on the counters, floors, and appliances.)

• Dip the brush into the solution and start running it over the stone. For flat pebble stones, use a circular motion to remove excess dirt. Focus on stained areas when brushings.
• Use clean running water through the soaped surface.
• Stubborn stains that are still visible can be soaked with 1 part white vinegar and 1 part water. Leave the solution for a few minutes, then rinse off.
• Wash off the entire backsplash with running water and dry the surface with a non-abrasive cloth.
Have you used stone mosaic tile or sheets in your kitchen, shower floor, or bathroom? Please share any information or experience you have, or let us know if there are unanswered questions we missed in the comments. See more related content like this in our article about the best coastal kitchen backsplash ideas.