Here we share our Tuscan kitchen colors guide including the general palette, how to create it, ideal shades for walls, matching paint hues, cabinets, and appliances.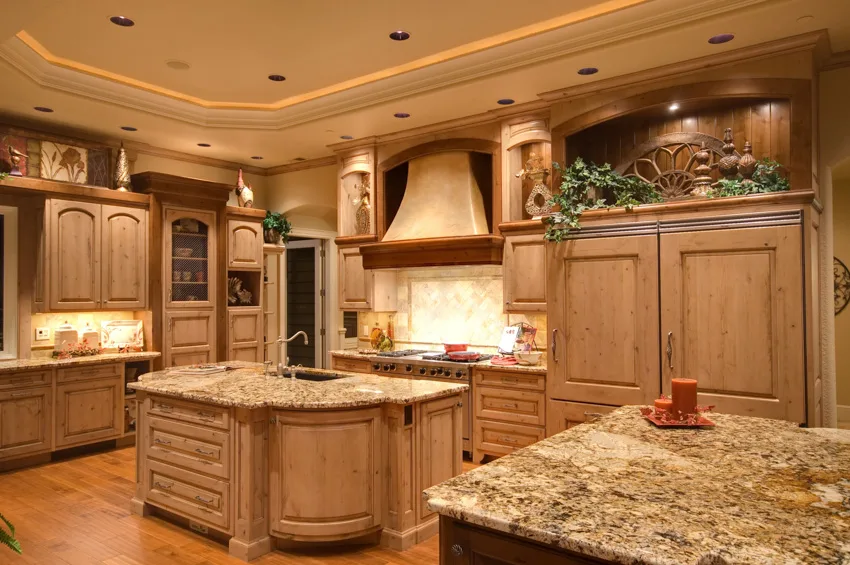 Tuscany, Italy is a region that is visually stunning — bestowed with breathtaking beaches, sprawling vineyards, abundant farmlands, and a rich art history. With such inspiration, a design style that is best known for its love of nature and affinity for the land is born.
The Tuscan style puts emphasis on earthy elements. Reflected in its warm, inviting aesthetic are robust colors, natural finishes, and rustic elements which perfectly recreate a relaxed and laidback space.
Below, we give you our very own guide on choosing the right Tuscan Kitchen Colors to help you recreate this highly coveted quintessential design style at home. Read on to know more about cabinet colors, appliance colors, and recommendations for paint brands.
General Color Palette Of Tuscan Kitchens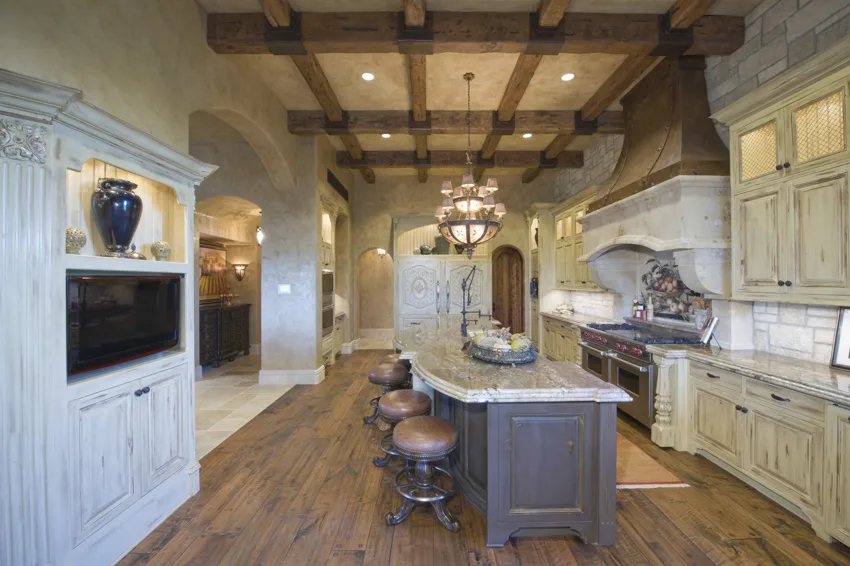 The color palette of Tuscan kitchens is composed of rich and earthy colors. They reflect the colors of nature that are found in Italy's rich landscapes and breathtaking seascapes.
These are warm golden yellows that reflect a brilliantly sunny day, refreshing blues that mimic the colors of the sea and sky, deep reds and purples that echo the vibrant landscape of lavender fields, the luscious grape vineyards, earthy browns and greens which remind of rich foliage and landscapes.
These shades are often muted so that they look like they have naturally faded over time. Tuscan-style spaces incorporate warm tones like shades of browns with reddish undertones, often accentuated with cool hues such as blues, purples, and greens.
Combined together, these colors create a rustic palette that reflects a naturally cozy and relaxing space, with a strong old-world charm.
How To Create A Tuscan Kitchen Palette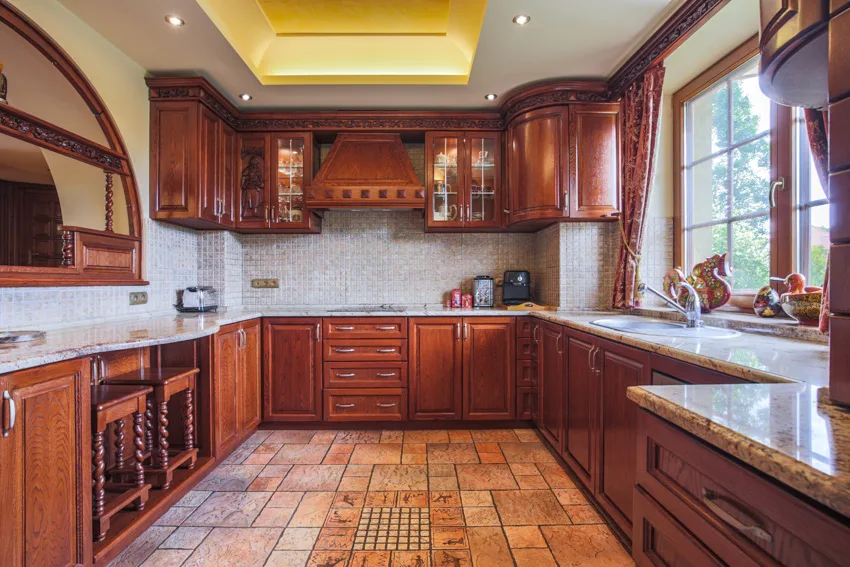 A Tuscan Style color scheme includes more warm colors than cool colors. Typically, the colors should not exceed five to create a visually balanced look.
When creating a Tuscan style palette, choose two main colors, both warm, as the most dominant element in your kitchen.
Then, choose a third color for your accent — this can either be a warm or cool hue.
Then the last two colors will also serve as smaller accents which you can spread all throughout your interior to balance the look of the space. A good example is as follows:
• Two main colors – Medium dark brown (cabinets), beige (walls)
• Accent color – Sage green (for the accessories)
• Complementary/ Contrasting Accents – Terracotta and Copper
Tuscan Colors For Kitchen Walls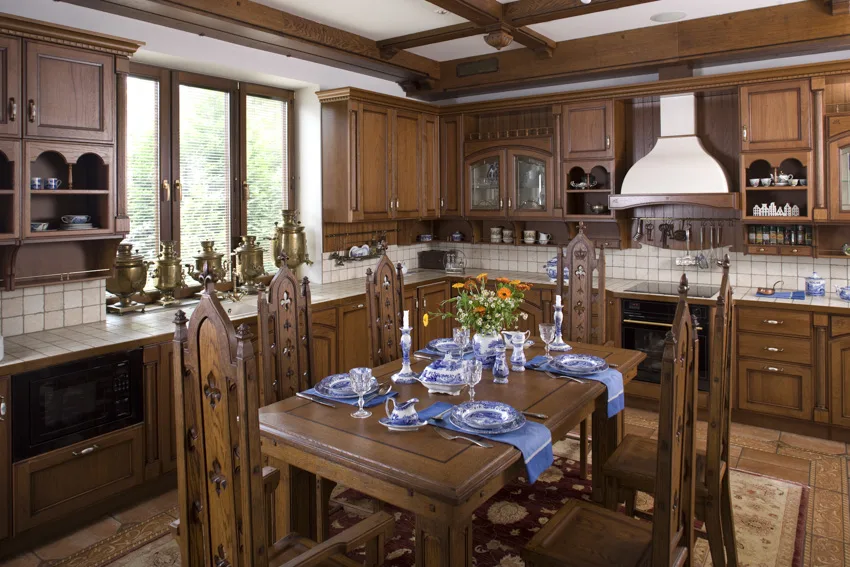 Here are some of the best wall colors you can try for Tuscan inspired kitchens:
Terracotta and Burnt Oranges: Terracotta Literally means "baked earth" in Italian, this hue is inspired by the rich clay color of pottery and tiles which are a common trademark of Italian and Tuscan design.
A combination of dark orange with a brown undertone, this color brings in a warm and exciting ambiance to a space.
Bold Yellows: The color yellow is another popular color used in Tuscan kitchen palettes. Known for bringing in a cherry vibe to a space, this color comes in different variations which range from deep bold golds to muted ochres.
Brighter and more intense hues like marigold and sunflower yellow are ideal choices as an accent, while buttery shades like sunset gold and ochre are perfect wall colors that can make a room appear drenched in sunlight.
Rusty Reds – Rich, rusty and deep tones of red are also a key element in Tuscan kitchen design.
These colors add depth and warmth to the space and are often used as accent colors. The best shades of red for Tuscan kitchens are poppy red, burgundy, and red wine.
Olive Green: When it comes to Italian kitchens the best shade of green to use is deep olive green. Known as a calming and refreshing color, green can be used as an accent color for Tuscan decor.
It is best paired with terra cotta and also contrasts really well with shades of red. Another dark shade of green that can be used for Tuscan kitchens is sage.
Aqua Blue: Shades of blue which are reminiscent of deep waters and the light blue sky are also another popular feature in Tuscan kitchens.
From refreshing shades of aqua to deep turquoise, these shades can help balance out a warm color palette that is dominated by golds and terra cotta.
It can be applied onto walls for an overall calming vibe but it can also be used to add a splash of color to a space.
Beige: When it comes to neutral colors, beige is the best shade to use for Tuscan kitchens. This subtle hue which combines white with a slightly warm tinge of yellow can be used as a wall color.
Beige is versatile and offers design flexibility as it can be used to tie two strong color choices, tone down a bright palette, or create contrast with warm earth colors.
Alternatively, beige can also be a background color for introducing bright accent colors like reds, yellows, and oranges. Other neutrals like tan and soft adobe can also be used for the same interior kitchen style.
Deep Purples: Purples, reminiscent of luscious grapes and their vines, can be used as accent colors for Tuscan-style kitchens. Rendering a regal vibe to a space, purples can be used to complement yellow golds and ochres.
Natural Browns: Shades of brown are also an integral part of Tuscan kitchen color palettes. reflected not only in the use of paints but also through natural textures like stone and stucco, shades of brown bring in a strong organic feel and natural coziness to the space.
This color is also typically used for kitchen cabinets — wherein solid wood cabinets are often treated with a natural stain to enhance its warmth.
Tuscan Kitchen Paint Colors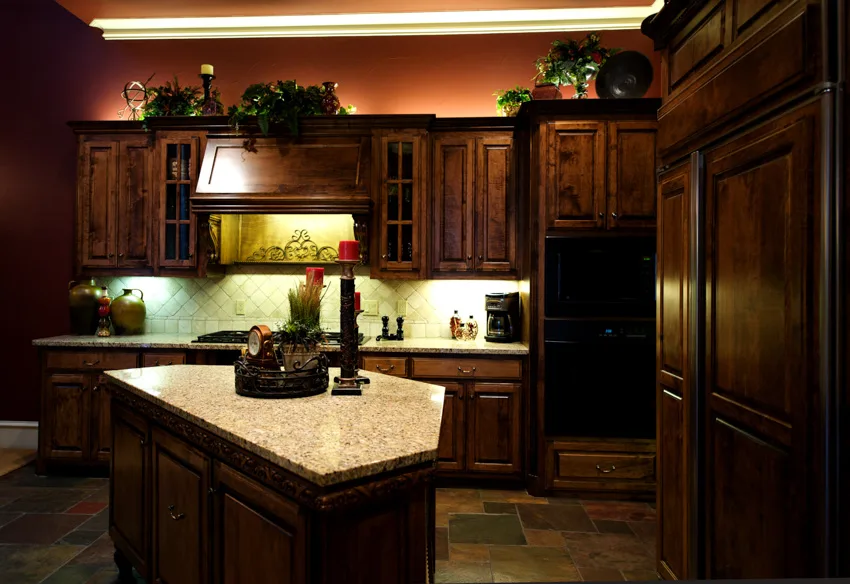 Here are some of our recommended paint colors from Trusted US paint brands which you can use to create a Tuscan-style kitchen

Benjamin Moore Rust (2175-30): Benjamin Moore "Rust" is a muted orange paint that works great as a background for Tuscan-style kitchens. It can be used as an accent wall and works wonders in making a space feel warm and inviting.
Benjamin Moore Pumpkin Blush (2156-20): With its cheery yellow-orange hue, Benjamin Moore's Pumpkin Blush paint can surely liven up any Tuscan-style kitchen. This color pairs well with warm-toned wood cabinets and trims.

Benjamin Moore Parisian Red (CSP-1170): Parisian Red is a muted paint that has a resemblance to warm bricks. This shade of red isn't too strong and overwhelming and works well as an accent for Tuscan style décor. Another paint brand that has the same vibe is Sherwin Williams Brick Paver SW 7599. Benjamin Moore Toasted Chestnut (2174-10): Terra cotta will always be a trademark color of Tuscan style kitchens and Benjamin Moore's Toasted Chestnut allows you to recreate this warm clay color in your walls and kitchen cabinets. You can also try out Sherwin Williams Spicy Hue SW 6342.

Sherwin Williams Basque Green (SW 6426): Inspired by the luscious green foliage and landscapes of Tuscany, Sherwin Williams Basque Green boasts of a muted green hue that sits just between fatigue and olive green. This paint pairs well with rich red accents and décor.

Sherwin Williams Curry (SW 6671): A stunning mustard yellow paint that can bring in a cheerful vibe to your Tuscan kitchen all year round. This shade is also perfect for an eating nook and front door — if you want to reflect the Tuscan theme all throughout your house. Olympic Paints French Violet (OL637.4): Like dainty lavender bushes, the cool hue of Olympic Paints French Violet can bring in a charming touch to a Tuscan kitchen.
Perfect for toning down warm color palettes, this rich yet muted violet shade perfectly pairs with dark wood cabinetry, natural stone finishes, and yellow accents.

Valspar Brazilian Brown (V132-6): If you want something neutral, Valspar's Brazilian Brown is one of the best shades of dark brown you can try for our Tuscan kitchen.
The ideal shade to recreate the weathered, rustic feel of Tuscan design, this color can be used to paint wood beams and other trims/ Alternatively, it works as an excellent finishing for kitchen cabinets and accent walls.

Behr Serene Sky (540C-2): You often see warm colors dominate a Tuscan kitchen, but this doesn't mean that cool colors won't work as a part of its nature-inspired palette.
Reminiscent of the clear blue skies of the Tuscan countryside, Behr's Serene Sky has a cool light blue shade that can bring in a super refreshing feel to a space.
This beautiful sky blue hue contrasts well next to warm textures and colors. You can also try this color as a ceiling paint.

Benjamin Moore Interlude (AF-135): Another cool neutral which makes it to our list is Benjamin Moore Interlude. This beautiful sand color is very versatile since it can be used to pair with a lot of accent wall colors.
It works well in anchoring and tying the overall scheme of a Tuscan-style kitchen and also offers timelessness and staying power.
Tuscan Kitchen Cabinet Colors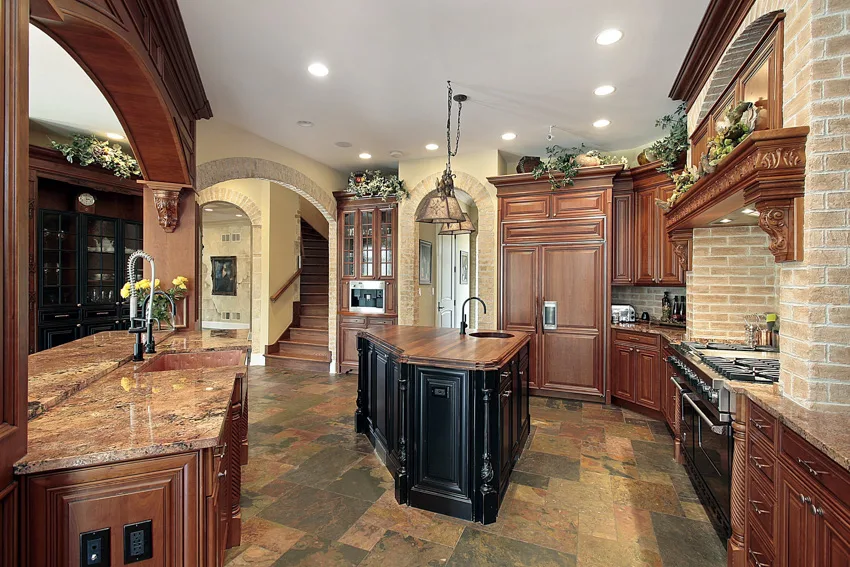 Ornate hoods, raised panels, decorative cornices and shelves are some features that are tantamount to the rich and rustic Tuscan cabinet style.
But when it comes to colors, here are some of the best hues you can try out for your Tuscan kitchen cabinets:
Warm Shades of Brown: The most common color of kitchen cabinets in Tuscan style kitchens is medium to dark shades of brown.
Predominantly made of quality solid woods like Cherry and Maple, they are typically finished in rich and warm-toned brown wood stains which help evoke a strong natural feel. Tuscan-style kitchen cabinetry also has a strong rustic appeal and a weathered look to it.
Distressed White: Another key feature of Tuscan-style kitchens is their strong rustic, timeworn appeal. To achieve a weathered look, kitchen cabinets are also often painted in distressed white finish.
Distressing is a type of faux finishing used to make furniture appear old and aged using techniques like scratching, sanding, or "ragging".
First cabinets are painted with a base color of white paint, then it is sanded using 80 grit sandpaper until a worn-out texture is achieved. When the wood under is a bit exposed, it is treated with a final coat of antiquing glaze or polyurethane.
Distressed white kitchen cabinets are very versatile and can complement all of the colors in a Tuscan kitchen palette. Since it is neutral, it is much easier to pair it with decor and accessories.
Overall, distressed white Tuscan kitchen cabinets exude timelessness and an elegant antique aesthetic.
Deep Reds and Greens: Even though rich woods are the top choices for Tuscan-style cabinets, another option you can try is to paint them with deep reds and greens. These colors evoke warmth and are perfect if you want a splash of color in your cabinets.
Design Tip: When it comes to cabinet hardware, pair your Tuscan-style kitchen cabinets with ornate iron, copper, brass, and bronze handles. For the splashboard, rustic Italian tiles are the best choice as they complement the rich tones of wood cabinets very well.
Tuscan Color Kitchen Appliances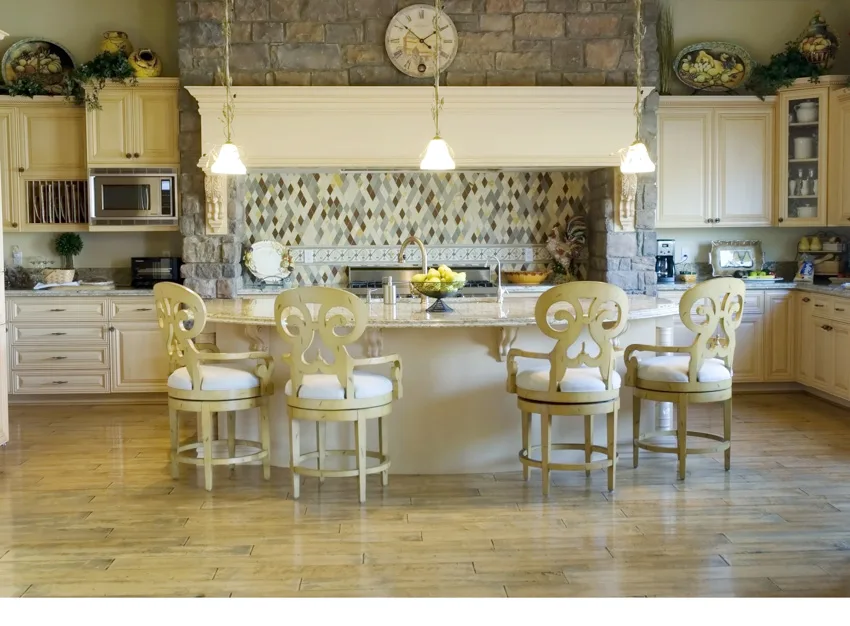 When it comes to kitchen appliances, the top choice of color and finish for Tuscan style kitchen is stainless steel. The polished finish of stainless steel kitchen appliances contrasts well with the warm palette of Tuscan-style kitchens.
Its sleek look also offers variation in texture when juxtaposed to rustic style cabinets and rough stonework.
Aside from stainless steel, another option that you can try is "Tuscan stainless steel,". A new appliance finish from Samsung, this color is a bit bronze and has an earthy hint of brown.
Warmer than regular stainless steel, this earth-toned metallic shade complements the warmth of Tuscan colors like warm neutrals, oranges, reds, and yellows.
Compared to other appliance finishes, Tuscan stainless is the most fingerprint resistant and easiest to maintain.
See more related content in our article about what color cabinets go with black stainless appliances on this page.