Get ideas for Italian kitchen cabinets sharing the different design styles, materials, finishes, cost, hardware, brands, and manufacturers.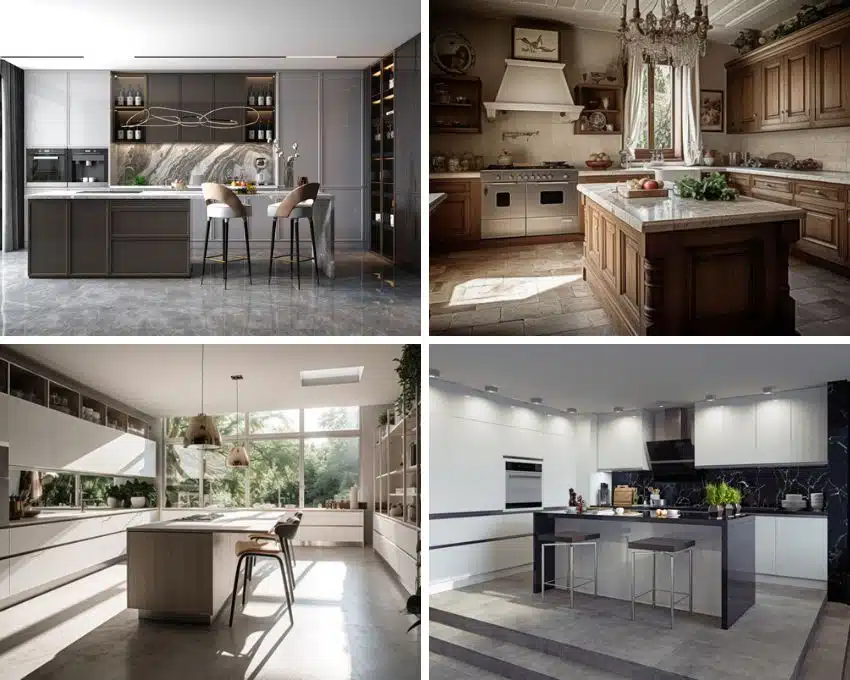 The indisputable elegance and innovative approach of modern Italian kitchen cabinets, coupled with the exceptional craftsmanship and value for ergonomic design make it one of the leading high-end storage systems today.
Aside from the distinctive sleek modern Italian kitchen cabinets, the European storage system spans from traditional, rustic to today's contemporary modern.
Italian Kitchen Cabinet Design Styles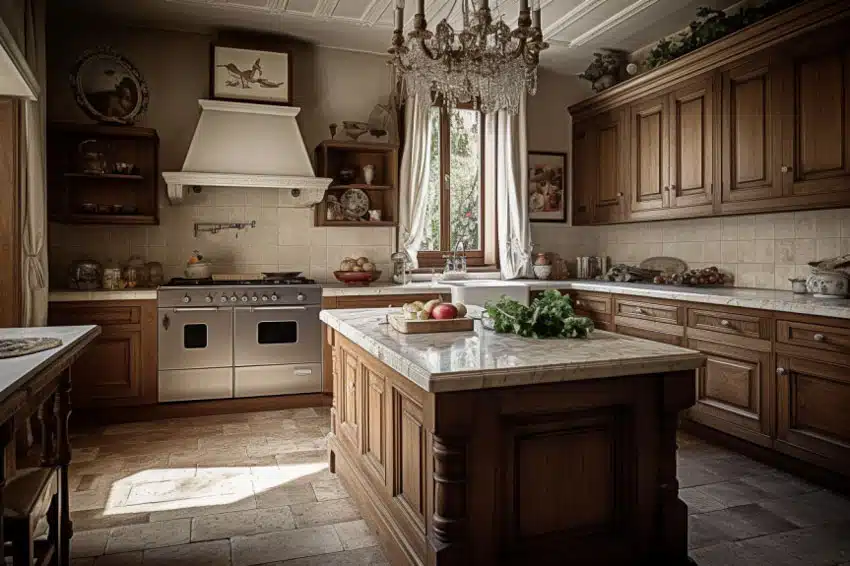 Traditional: The timeless appeal of the classic Italian kitchen cabinets is owed to its display of richly ornate look, exceptional Florentine craftsmanship, and elegance. While inspired by 16th and 17th-century Baroque art, the splendor of Italian kitchen cabinets is within a balanced use of lines and volume creating a soft and warm sophistication.
The symmetrical design is inspired by the Palladian aesthetics that keep the echoed ornate design more constrained and subtle. Common details of the hand-carved kitchen cabinets are arched details, curved edges, and moldings made generally of solid wood.
Expect warm details such as copper and brass as hardware features. Carved embellishments usually include fleur-de-lis, acanthus leaves, rosettes, scrolls, and decorative garlands.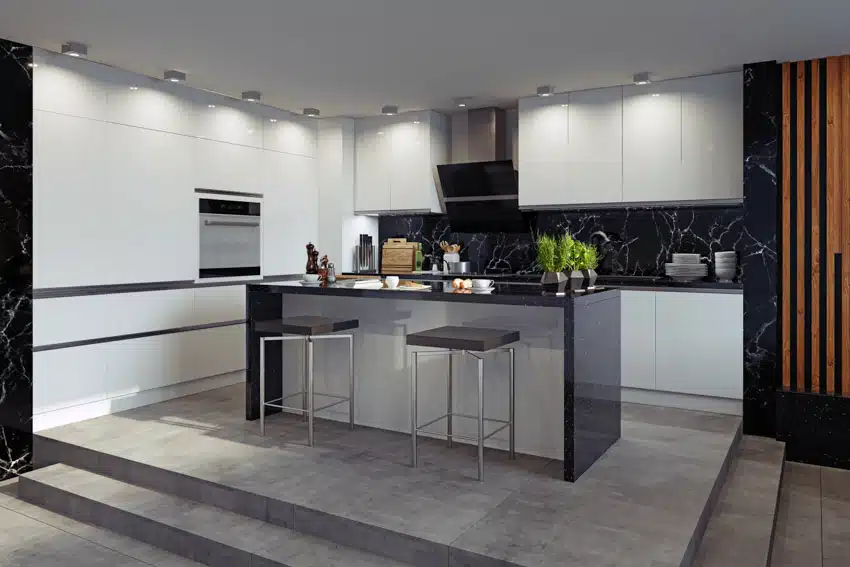 Contemporary: The current and evolving Italian kitchen style is mainly influenced by today's technology and a touch of postmodernism. Contemporary kitchen cabinets typically fall into the high-end market and customizable options are often available from top Italian storage systems.
Although has overlapping features, contemporary Italian design should not be confused with modern kitchens. Contemporary Italian kitchen cabinets are flexible with the use of materials often combining wood, synthetic materials, and metals. Linear and simple lines constitute the kitchen cabinets' design with an emphasis on either horizontal or vertical directionality.
Other Features:
• Tall sleek cabinets
• Soft closing doors
• Handleless C-channel cabinet pulls
• Built-in kitchen appliances
• Concealed appliances
• Solid natural wood
• Advanced engineered laminates and polymers
Other manufacturers integrate sustainable features and eco-friendly options.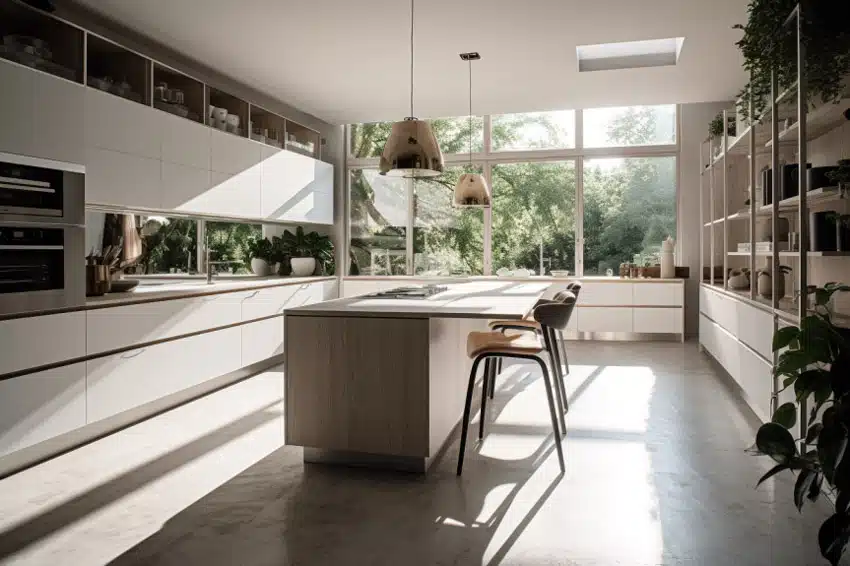 Modern: Constituted from modern open plan kitchens, modern Italian kitchen cabinets embrace simple and minimalistic forms with a focus on functionality.
Like any Italian kitchen cabinet, modern storage systems explore the use of high-quality materials combining synthetic materials, wood, metal, and glass. Neutral tones and bold colors are usually used with modern Italian kitchen cabinets.
Other Features:
• Soft-close hinges and draw runners
• Handleless or integrated handles
• Pull-out shelves
• Integrated lighting
• Concealed hinges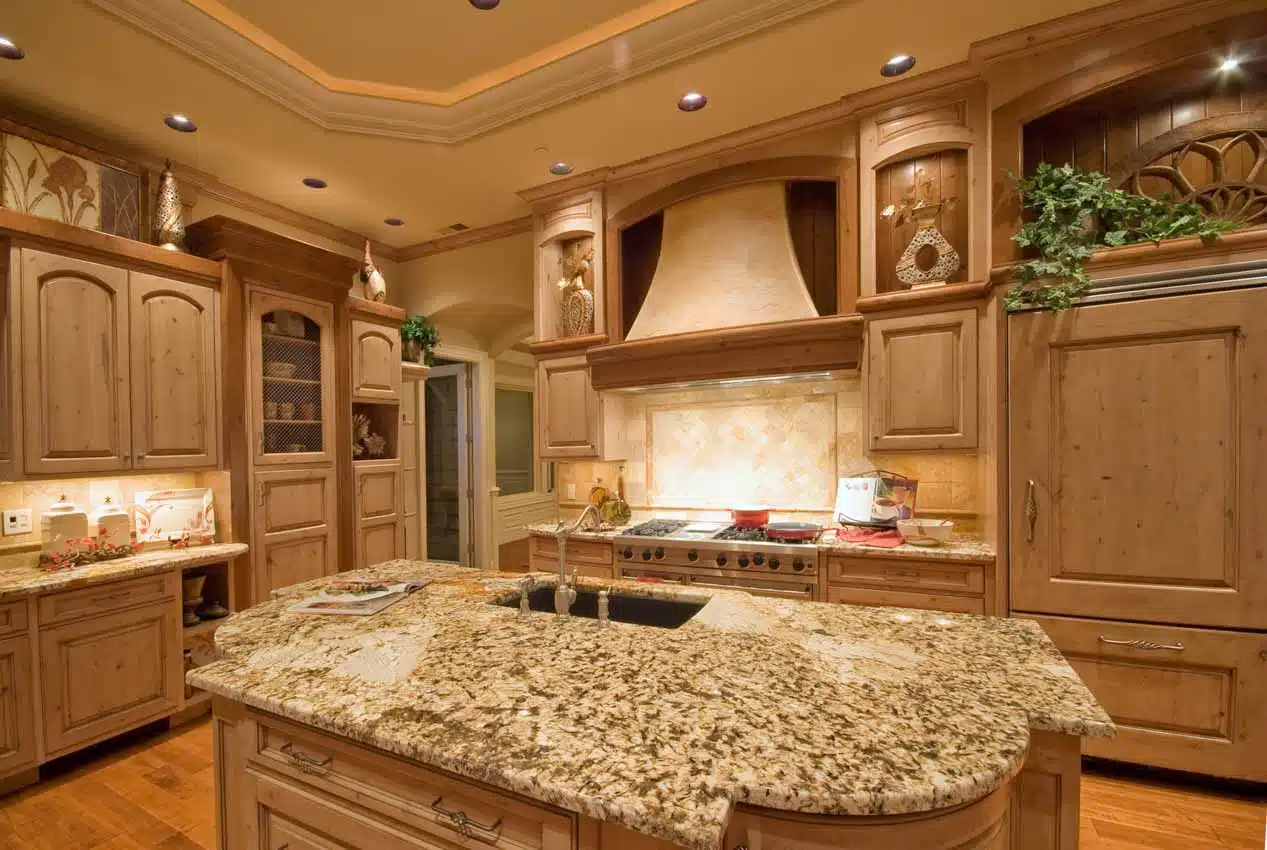 Rustic: Like the Tuscan and other traditional subcategories of Italian kitchen cabinets, the kitchen storage system is made to evoke warm elegance. Rustic Italian kitchens are inspired by the rural regions of Italy, showcasing the natural texture of wood and bricks. Rustic kitchen cabinets usually have warm and neutral tones and are often made out of oak, cedar, and cherry wood.
• Combination of closed and open shelving with glass center panels.
• Old brass and copper for hardware
Cabinet Materials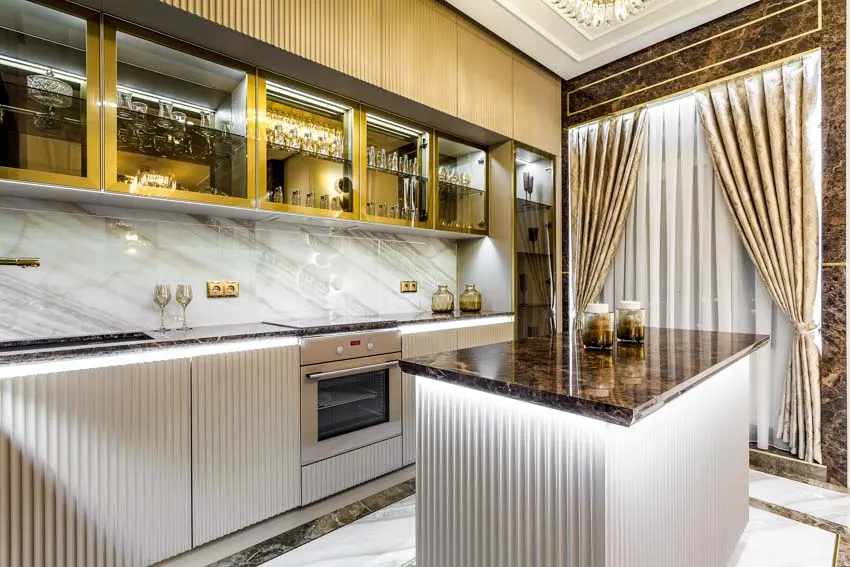 Laminate: With their excellent durability, lower price, and wide range of design options, laminated Italian types are a top alternative to solid wood kitchen cabinets.
Italian-made laminates are associated with superb quality, and most laminates are devoid of harmful ingredients in their products such as phenols or formaldehyde. There are also laminates made in Italy that provide lifetime warranties to their customers.
Laminate is an engineered material that consists of layers of materials infused with phenolic and melamine resins that are held, pressed, and glued together to create a thick panel resembling that of your typical plywood.
At first glance, laminated kitchen cabinets would look like they were made with melamine or lacquered material. One way to verify a laminated kitchen cabinet is by checking the thickness of the sheet. The typical thickness of laminates ranges from 0.6 to 1.2mm. The laminated cabinets can come matte, glossy, embossed, or mimic wood grain.
Laminated kitchen cabinets have an impervious surface; thus, water is unable to penetrate through the material, prolonging the service life of the cabinets and ensuring a hygienic storage cabinet.
Easy maintenance is another reason laminate cabinets are popular, as the surface can be easily wiped away with the dirt. Laminates are also known for using the most innovative technologies and the highest-quality raw materials. Rigorous quality control systems also make these laminated brands stand out in the market for storage systems.
Electron beam curing, ultrasonic welding, thermofoil or RTF doors, and digitally printed patterns and colors on laminates are a few of the newest technologies used in the manufacturing of Italian cabinets. A disadvantage of laminated materials, though, is that they are not resistant to heat.
Wood: Composite kitchen cabinets combine organic materials with stainless steel, and laminates are popular for contemporary cabinets. When achieving balance, using natural wood as the main material for kitchen cabinets offsets the industrial look of kitchen appliances.
Aside from complementing metal surfaces, wood also provides a more welcoming and familiar vibe in kitchen spaces. For durable cabinets, quartersawn oak, maple, walnut, elm, cherry, and hickory are popular solid wood materials for kitchen cabinets.
The European storage system uses high-quality wood materials to ensure the high standard of quality kitchen cabinets is known for. Other advantages of natural wood kitchen cabinets are that they are antistatic and relatively easy to repair.
The disadvantage of wood cabinets is that they are subject to shrinking and expansion. Other transformations include weathering or changing color due to sunlight and humidity. Italian kitchen cabinets are mostly finished with protective layers that ensure the longevity of the material.
Stainless steel: A standard in commercial kitchens, stainless steel cabinets' superb durability and hygienic properties also make them an attractive residential kitchen cabinet material. Italian stainless-steel cabinets are one of the most popular high-end designs, often paired with glass facings.
Glass doors: Clear, semi-transparent, or clear, these cabinets with glass doors evoke a luxurious aesthetic. It also provides a break in composition while providing an opportunity to explore the lighting design. Glass doors for cabinets can come with a clear, semi-transparent, or frosted look and are often made from very durable glass materials such as tempered glass.
Cabinet Finishes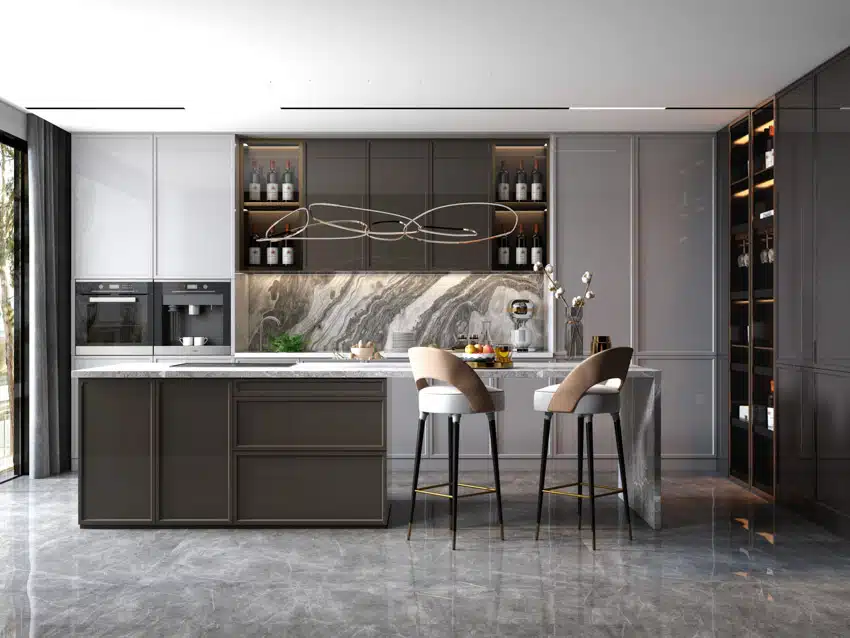 Lacquered: The lacquered cabinet finish is a practical finish, with the most popular Italian cabinets in high-gloss lacquer. Compared to paint, lacquer is applied using spraying instead of the typical roller or brush application.
Lacquer finishes protect wood surfaces and, when applied properly, greatly increases the perceived value of wood furnishings. – Furniture Design, James Christopher Postell and Jim Postell
A lacquered finish produces an extra layer of clear and durable coating and can adapt to changes in the material. Wood These cabinets are known to contract or expand, and lacquer's ability to stretch and adapt to the material makes it an excellent substitute for the usual paint.
Variations of lacquered finishes include high-gloss lacquer, semi-gloss lacquer, and matte. The texture of lacquer can also come either smooth, which is easier to clean, or embossed, which can conceal scratches.
Gloss Finish: The opulent look of a gloss finish makes it a popular option for modern European kitchen cabinets, which can take more than one layer of application and can be achieved with enamel and lacquer finishes.
Cabinetry Cost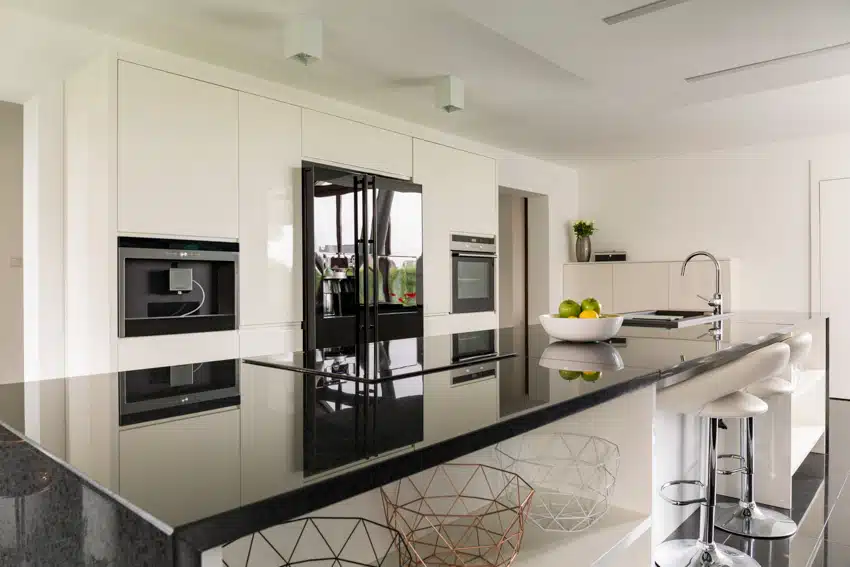 When cost is not an option, Italian kitchen cabinets are a worthwhile investment. Though first there are many factors to be considered that affect the price such as the material, finish, size of the kitchen, complexity of the design, and location.
On average, the cost of custom high-end Italian kitchen cabinets ranges from $860 to $2500 per linear foot excluding transportation costs. Most companies though provide free installation as complex designs such as built-in appliances and smart controls require professional installation to ensure warranties.
The cost of Italian kitchen cabinets can also be significantly affected by the finish used. Melamine-coated MDF panels are the cheapest while stainless steel and Corian finishes are the most expensive.
What Hardware To Use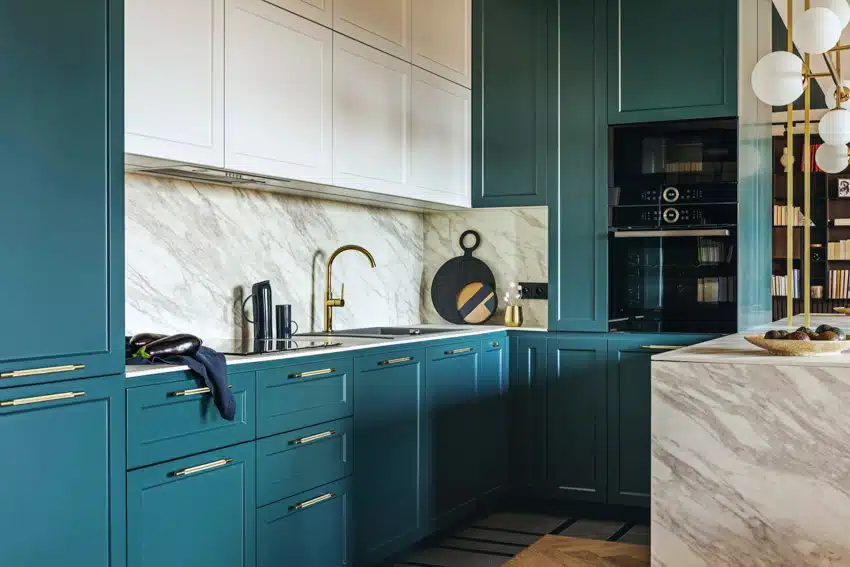 Drawer slides: For a smooth slide of drawers, high-quality drawer slides are usually used in Italian kitchen cabinets. The hardware achieves a soft close which also protects the edges of the drawers and cabinet faces in contact reducing wear and tear.
Concealed hinges: Aside from handleless drawers and cabinets, the sleek and clean facings of the European cabinet system are also achieved by using concealed hinges. These are adjustable hinges that also have a soft-close feature.
Magnetic push latch: The push latch is usually installed behind the door maintaining the smooth and handleless look of these European style kitchen cabinets. It generally has two parts namely the latch mechanism and the strike plate.
The latch mechanism is usually located on the inside of the cabinet or door and is designed to keep the door closed. The strike plate is installed on the door frame or cabinet and serves as the surface that the latch mechanism engages with to keep the door closed.
Italian Cabinet Brands And Manufacturers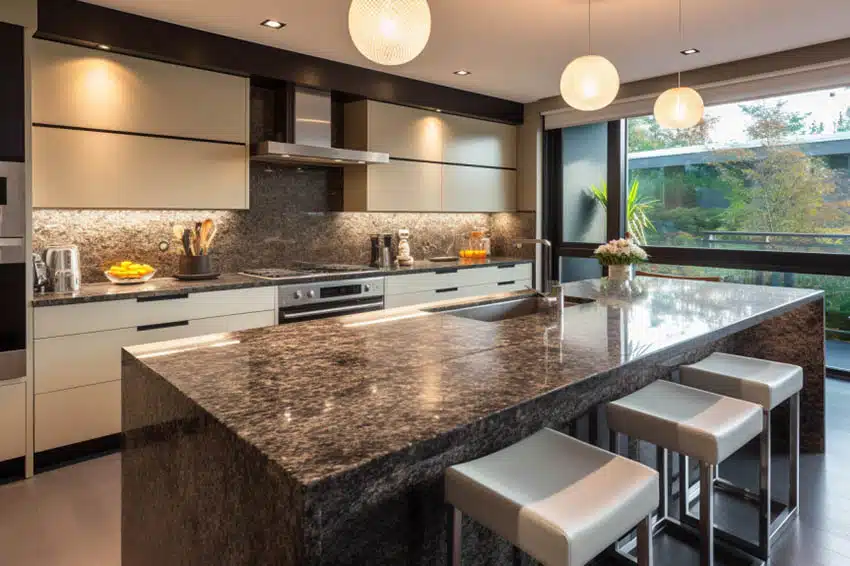 Oppolia: A recent Silver and Gold winner of Muse Design Awards 2023, Oppolia is the largest cabinetry manufacturer in Asia that creates top Italian kitchen cabinets and other range of home products.
The high-end furniture line is designed by Italian designers and uses German equipment to ensure precise manufacturing. The China-based company offers full customization for its European style cabinets and has already distributed over 10,000 projects worldwide.
Arclinea: Known for its top-of-the-line Italian contemporary kitchen cabinets, Arclinea specializes in the design and production of high-end contemporary kitchens.
The company was founded in 1925 by Silvio Fortuna as a wood workshop and has since become a leader in the luxury kitchen market, known for its innovative designs, high-quality materials, and attention to detail. In 2020, Arclinea celebrated its 60 years in the industry and released an exclusive catalog of the Arclinea Collection.
Valcucine: With more than 40 years of experience in the industry, Valcucine has established itself as one of the leading cabinet brands and has pushed into sustainable and innovative designs.
Their Global Goals exhibition showcases new products and materials that satisfy LEED credits. The company has been operating since 1980 and was established by Giuseppe and Paolo Carbone.
Snaidero: The company was founded in 1946 by Rino Snaidero in Italy and has produced innovative designs and used high-quality materials. Snaidero's kitchens are designed to be both functional and aesthetically pleasing, with an emphasis on modern design, clean lines, and customization.
The company offers a range of products, including cabinets, countertops, appliances, and accessories, all designed to meet the specific needs and preferences of each client.
Pedini: Established in Lucrezia, Pesaro, the artisan company in the furnishing kitchen industry has remained one of the most sought-after brands when it comes to European kitchen cabinets.
While remaining committed to providing 100% Italian-made products, Pedini has risen into the modern and international scene and taken on prestigious designers from all over the world for meaningful collaborations. Moreover, Pedini also stepped into sustainable innovations and continues to grow its presence in 60 countries.
Poliform: Well-known for its minimalistic Mediterranean style kitchen furnishings, the company Poliform has established itself as one of the most recognized names in high-end cabinets.
The company was founded by Alberto and Aldo Spenilli in 1970 and remains a family business. One of Poliform's core principles is innovation, using the latest materials and technologies to create unique and functional spaces with sustainability in mind.
The Italian kitchen cabinets of Poliform are well known for having clean lines and being modern, with a priority on customization to fit clients' preferences. Not only does the company provide high-end kitchen furnishings, but it also caters to a wide range of products, including beds, chairs, tables, and sofas.
Aran Cucine, Inc: The company Aran Cucine is now a solid and well-known reality. Attention to design, constant research on the quality of materials, study, comparison, always accepting the challenge, reliability, and functionality are all included in each project, and this makes each product an innovative result that combines the tradition of Made in Italy with technology.
Poggenpohl: The German brand was established in 1892 by Friedemir Poggenpohl and continues to be the leading brand in contemporary kitchens. The trendsetting furnishings have earned the company numerous awards and accolades for their innovative and sustainable designs.
Poggenpohl's kitchens are created to cater to both function and aesthetics, with an emphasis on modern design, clean lines, and customization. The company offers not only cabinets but also countertops, appliances, and accessories.
Boffi S.P.A. Boffi S.P.A. is an Italian luxury furniture design company that was founded in 1934 by Piero Boffi. It started as a small workshop and produced custom furniture and cabinets. Since then, it has grown to become a major player in the luxury furniture scene.
In 1934, every night after working as a craftsman at the Caproni factory, Piero Boffi switched on the light to experiment, dabble, and create new ideas, which in the years to come would revolutionize the concepts of cooking and living.
Many insights, such as offering brand extensions, have ensured a cohesive look for kitchens that have become iconic Boffi adds bathrooms, followed by systems, all the way to integrating new companies.
See more related content in our article about the different types of kitchen cabinet materials on this page.