Here we share our kitchen chandelier ideas including where to place it, the ideal light fixture size & height over a table, and the best chandelier designs for kitchens.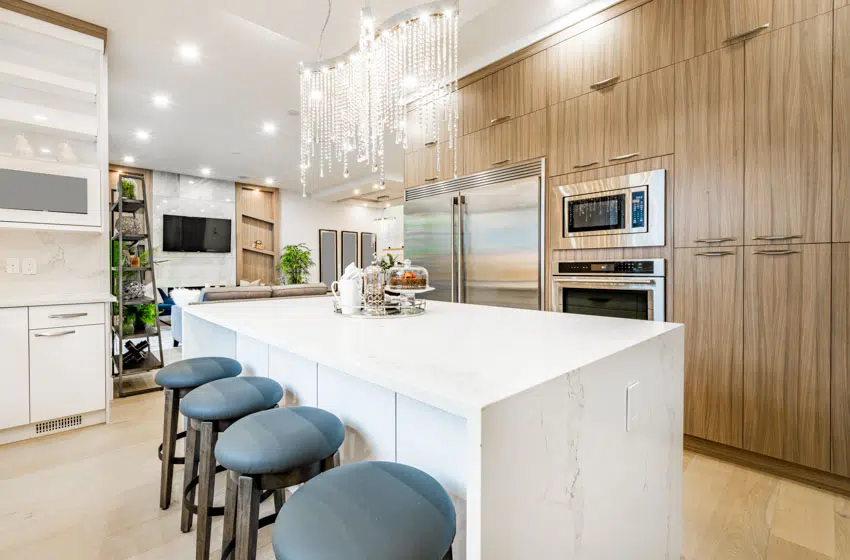 Every part of the kitchen serves a different purpose. One of the few ways you can have fun and be creative is by how you light it. By putting a chandelier in your kitchen, you can create a strong visual focal point and give the room balance and symmetry.
Kitchen chandeliers are the most popular decorative lighting since the first century. A chandelier can make a space look more elegant with its adequate lighting. It can be a good light, color, and warmth source.
If you plan to install a kitchen chandelier, you should know about the things you must consider before you get one. This article will guide you through various essential points before installing a chandelier in your kitchen.
Where To Place A Kitchen Chandelier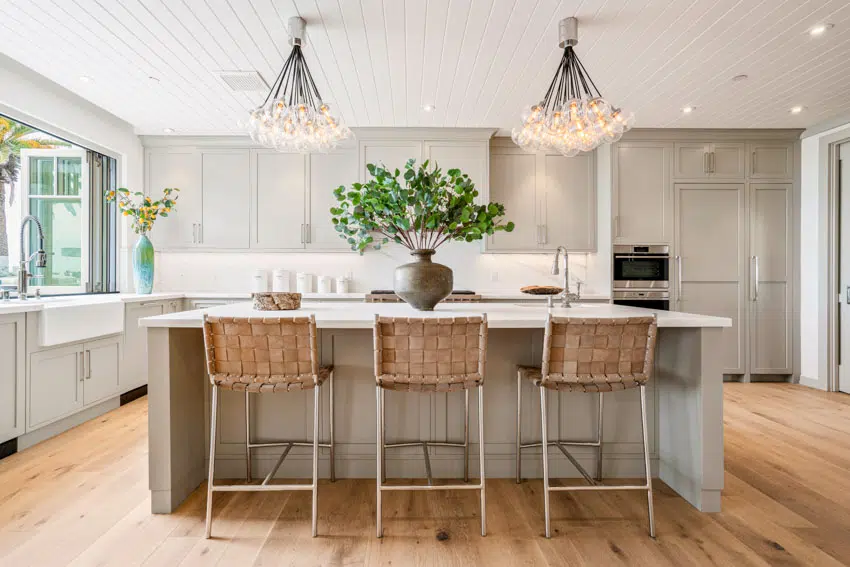 When choosing where to install a chandelier in your kitchen, think about whether you will use it for task lighting, decorative accents, or (as is often the case) a combination of both.
The kitchen island and dining table are typical locations to hang a chandelier in the room. However, you could discover other spaces where a chandelier might fit just nicely, depending on your room's design and requirements.
A mini-chandelier hung over a sink adds a sweet touch of flair and illuminates the space for food preparation and kitchen cleanup. If you don't have a dining table or an island you would want to highlight, a chandelier positioned in the middle of the kitchen always makes a significant statement. It may serve as your foundation layer of ambient lighting.
Chandeliers, which direct the light toward work areas and pathways, will illuminate a kitchen with high ceilings more effectively than recessed types of lighting fixtures or ceiling lights.
Kitchen Island Chandelier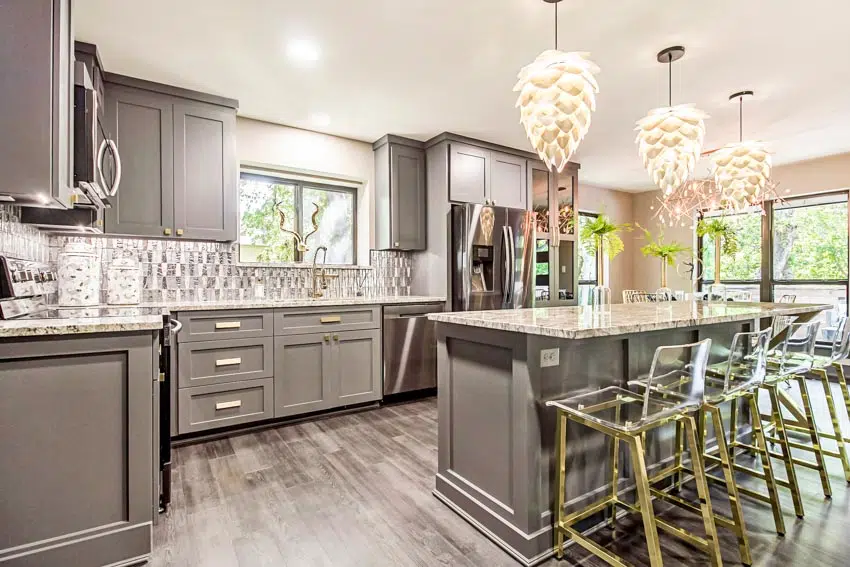 A kitchen island has to serve several purposes simultaneously. It serves as the house's focal point and is used for dining, cooking, working, and socializing at different times. When searching for a kitchen island chandelier, keep your demands in mind. Is it the only source of illumination?
If so, it must be able to sustain several lights under a heavy load. Any lighting you hang over your kitchen island must be centered, no matter what. If not, the space will seem out of proportion. And you don't want folks to think about that when they view your kitchen chandelier!
For similar reasons, you must leave a foot of space between the edge of the chandelier and the sides of the island before hanging it. One reason is that the room would seem out of balance if you didn't.
For example, if it protrudes too much, people could bump their heads on it. Depending on how high your ceilings are, your lighting fixture should generally dangle between 30 and 34 inches over the surface of your kitchen island.
You may install the chandelier roughly three inches higher every foot if your ceiling is taller than eight feet. Therefore, if your ceiling is nine feet tall, you may hang your chandelier at 33 to 37 inches.
Kitchen Table Chandelier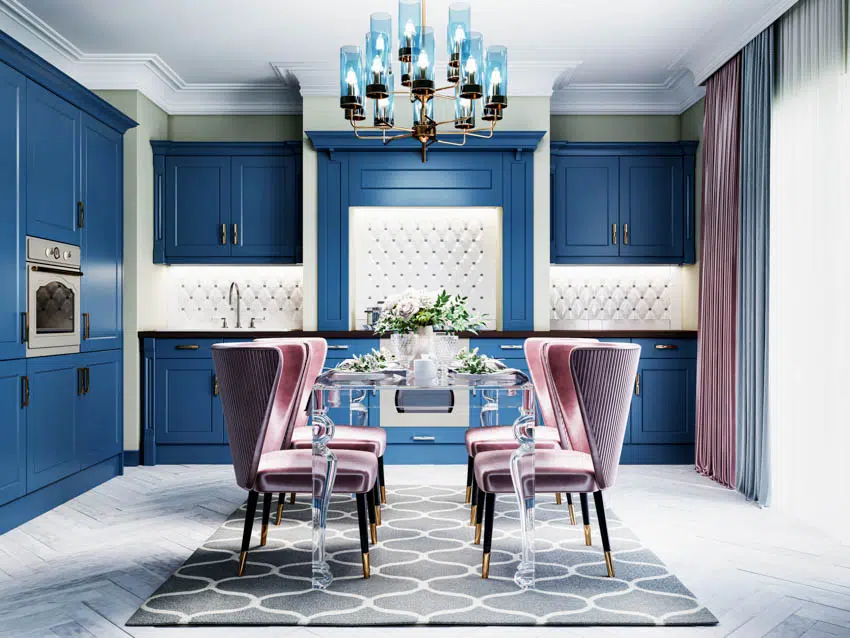 You can pick a chandelier that goes well with your lovely kitchen table setting and may expand with your house. Make sure contemporary types of chandeliers are used in the dining area that compliments you and your current floor plan by paying attention to their size, location, and design.
Before looking for chandeliers, you must be aware of the size of your kitchen table. Determine the length of your kitchen table and convert the amount to inches to help you decide on the size of your chandelier. The fixture should be around 1/2 to 2/3 the table's width.
Find a light fixture that not only gives warmth (you don't have to depend on your candlesticks) but also fits the spirit of your dining area. Think about your kitchen table's configuration and the quantity of light your chandelier will need to provide.
Is it the primary source of illumination in the area? Or do you have additional light layers at your disposal? In that situation, your chandelier serves as a beautiful accent and another illumination source.
The distance between your table and the bottom of your chandelier should be between 30 and 36 inches. The appropriate width for a rectangular table is 6″ less than all its edges. This measurement makes space for the vases and flowers you carefully planned for your set.
The desired effect you wish to produce will diminish if the fixture is positioned too high. You may manage the entire atmosphere of the area by using a light switch, toggle, or light dimmers to create a full-on atmosphere for visitors or a subtle glow for a romantic meal for two.
Kitchen Nook Chandelier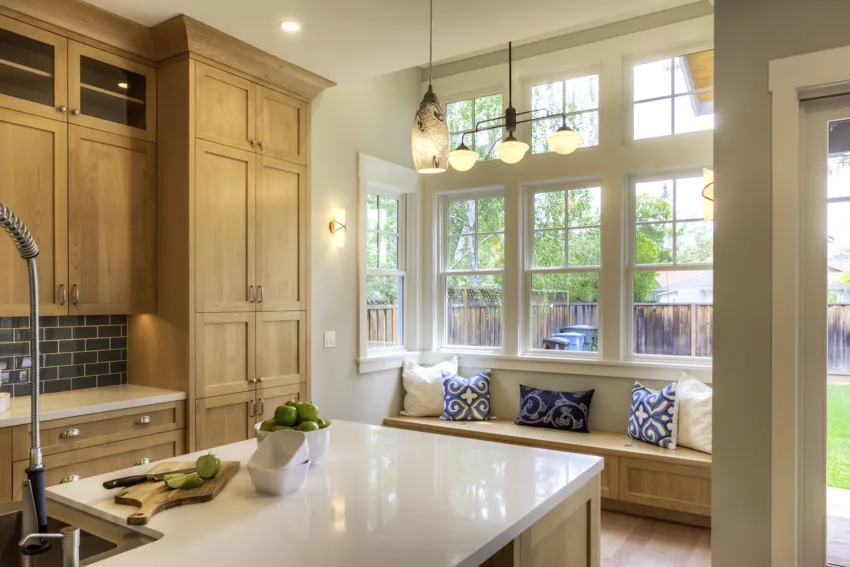 There are few design options or areas to incorporate flair in a kitchen nook. It takes little to make this tiny, separate dining space in or near the kitchen a pleasant spot to dine or read the newspaper. The few pieces of furniture and décor included must thus be powerful.
You must be highly deliberate when selecting a table, chairs, and light fixture since all the texture, color, and style are in a small number of design pieces. Additionally, remember that whatever you choose for this nook space must complement the kitchen it adjoins in terms of style.
Various alternatives offer a modern, more laid-back attitude, while several offer a formal look to a nook space. Depending on how big an area you're attempting to light and what you need light for in the kitchen nook, you will need to determine the number of bulbs and overall wattage you'll require.
You should choose a light fixture with a clear shade rather than a thick cover if your kitchen nook has large windows that let in a lot of light or a beautiful outside view. Light can shine through the fixture while allowing you to see through it to the outside.
The kitchen nook's chandelier serves as ambient lighting. You don't need brilliant direct illumination or lighting up the whole kitchen for jobs like cutting food or cleaning dishes. It is a decorative item that is useful in the mornings when it is dark or in the evenings when kids are completing their schoolwork at the table.
What Size Chandelier For Kitchen Island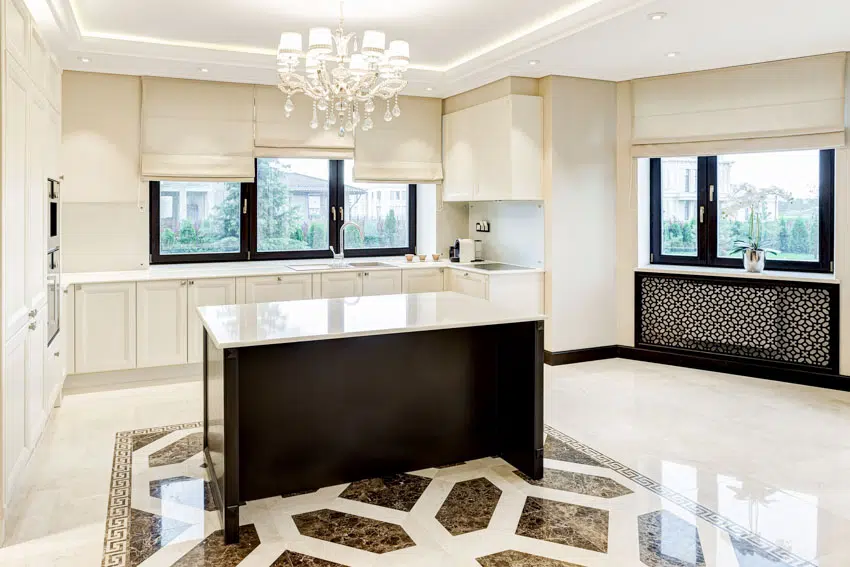 There are two typical chandelier lighting arrangements for kitchen island designs: a line of many chandeliers suspended over the island or a single linear chandelier or island chandelier positioned in the middle of the island.
Choosing between a single, enormous chandelier and many smaller ones will mostly depend on personal taste. The chandelier should hang 30-36 inches below the countertop in all scenarios.
To illuminate certain activities, aim to place the light at eye level. Consider how the lighting position impacts your vision. Don't be afraid to hang the chandelier a bit higher if the fixture is too visually busy or obstructs the view into the next space or to sitting across the island. Also helpful are chandeliers with transparent shades and open designs.
How High To Hang Chandelier Over Kitchen Island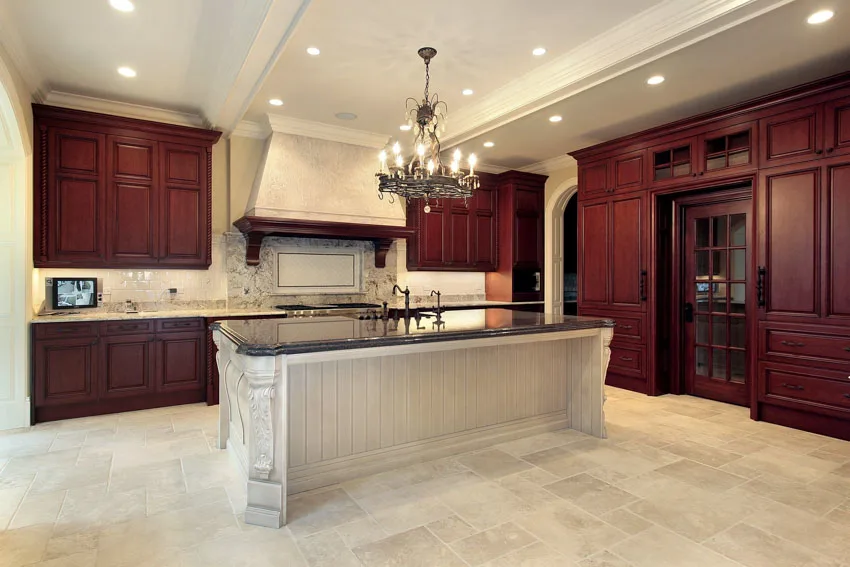 The size of your island will determine the actual size of the chandelier. The chandelier shouldn't extend over the island's boundaries to prevent mishaps and a lopsided architectural look.
Choose a chandelier about 12 inches narrower than the island's width, keeping in mind that a decent rule of thumb is to leave 6 inches between the edge of the island and the edge of the chandelier.
Similar guidelines apply to long linear or island chandeliers: choose one that is at least 12 inches shorter than the length of your island. Place many fixtures to make a 6-inch gap at each end between the chandelier's border and the island.
What Size Chandelier For Kitchen Table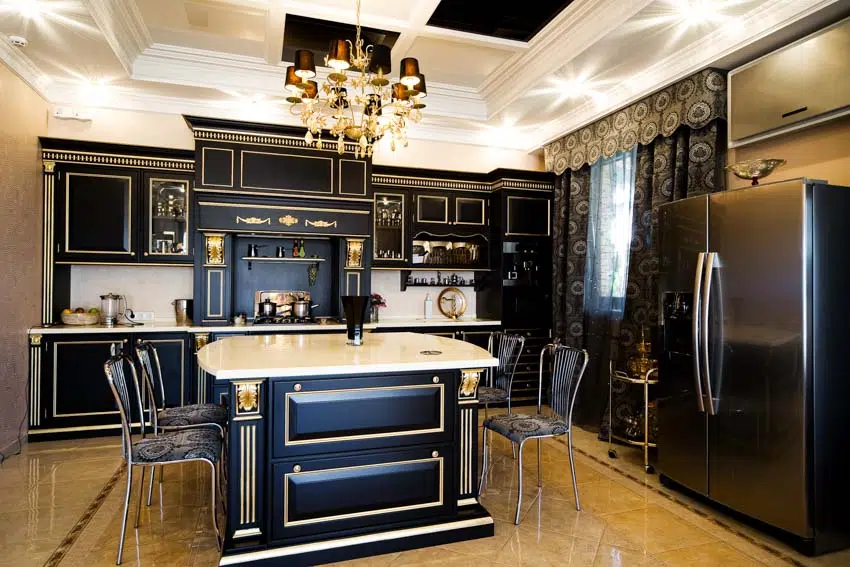 The rules for choosing a kitchen table chandelier are identical to those for choosing a chandelier for a kitchen island. Choose a fixture 12 inches narrower and longer than your kitchen table. Select a chandelier that complements or contrasts your kitchen table, treating them as one design element.
For instance, you might use an orb chandelier to mirror the form of a circular table or a square chandelier to provide aesthetic appeal. Long kitchen tables look gorgeous with rectangular chandeliers, but they also look lovely with a cluster of mini-chandeliers or pendants.
When hanging you should remember to leave six inches between the edge of the table and any chandelier edge.
How High To Hang Chandelier Over Kitchen Table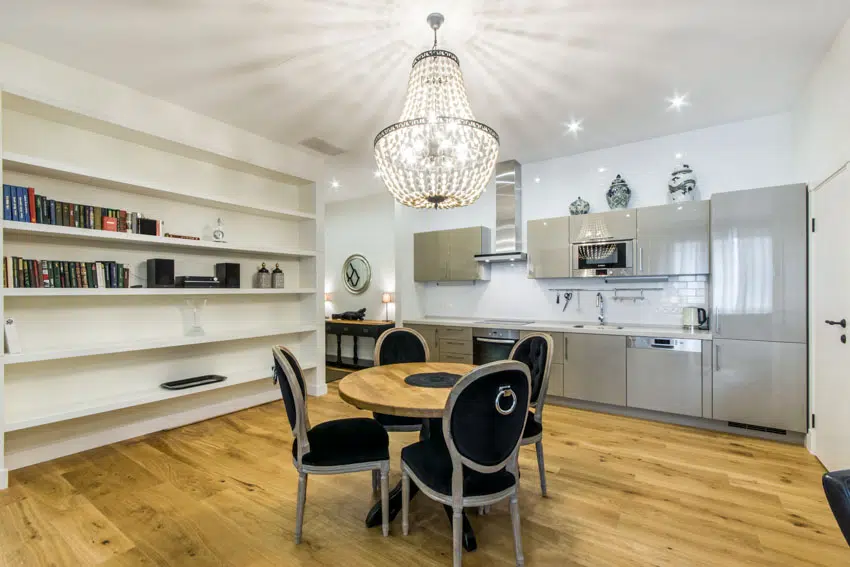 Decide on the total length of the area. To do this, suspend a balloon from your ceiling using a thread, take a step back, and evaluate the height from several perspectives in addition to the visual effect. Install the chandelier about 30-36 inches above the top of the table.
However, the size and style of your kitchen table may provide you with more design alternatives than in other kitchen spaces. It comes down to personal opinion since there are many kinds and types of lighting fixtures in a dining area.
Kitchen Chandelier Ideas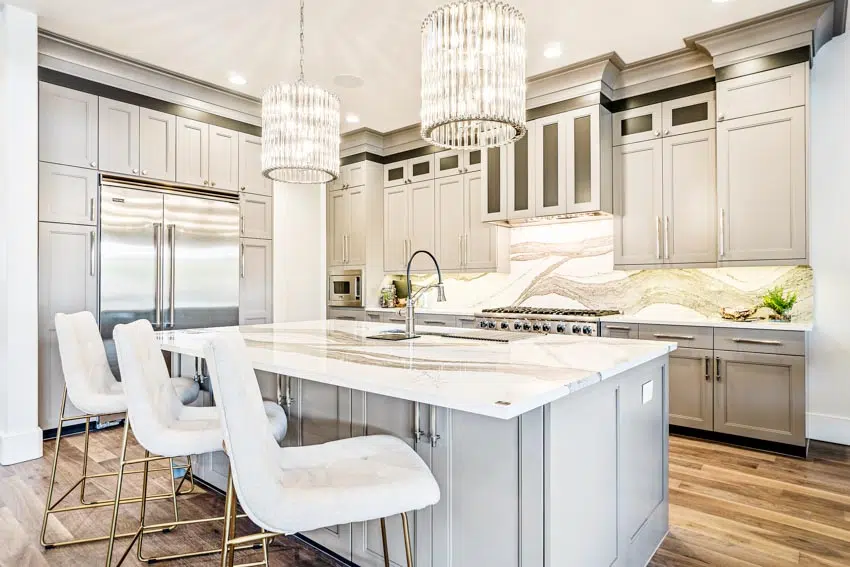 Below is a comprehensive list of popular kitchen chandelier ideas.
Oval Chandelier
See this oval chandelier at Home Depot [sponsored link]
Choose an oval chandelier to hang over your kitchen island or dining room table if you want something unique. An oval chandelier is longer than the basic chandelier and gives the space a distinctive form and appeal. In most cases, the oblong design enables additional light bulbs to be equally spaced apart for optimal illumination.
You have many options for where to place your oval-shaped chandelier. Long, thin dining room tables and rectangular kitchen islands suit it well. Oval chandeliers can also create the ideal lighting fixture for those with certain long kitchen islands or pool tables.
Drum Chandelier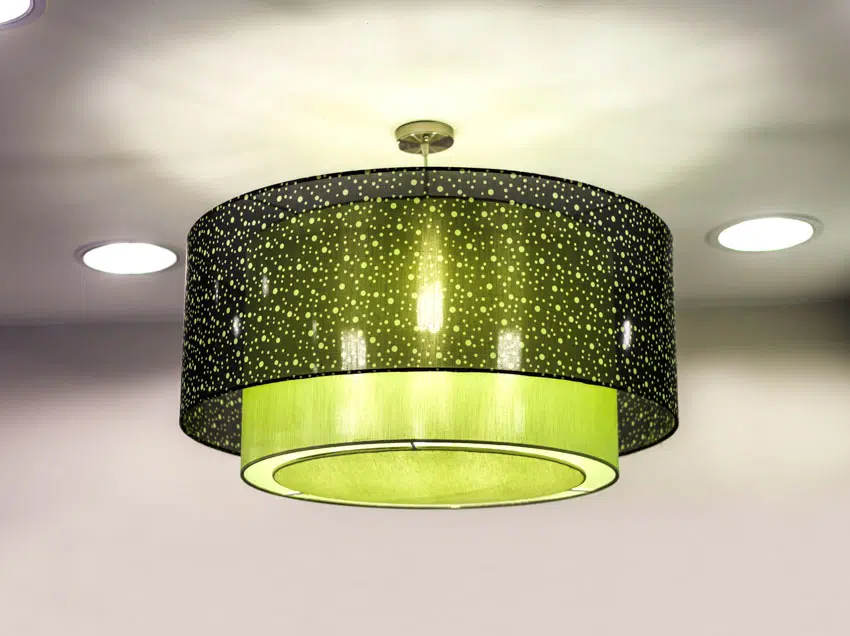 The drum chandelier includes a large drum shade that covers many lights. Whether positioned over a kitchen table or an island, they provide a casual elegance ideal for transitional houses. Drum shade chandeliers are a popular home lighting choice for their understated refinement.
Softening the light with a shade provides uniform, elegant lighting for a space. You'll discover magnificent traditional designs and innovative variants on the drum shade chandelier motif for informal and rustic decors.
Globe Chandelier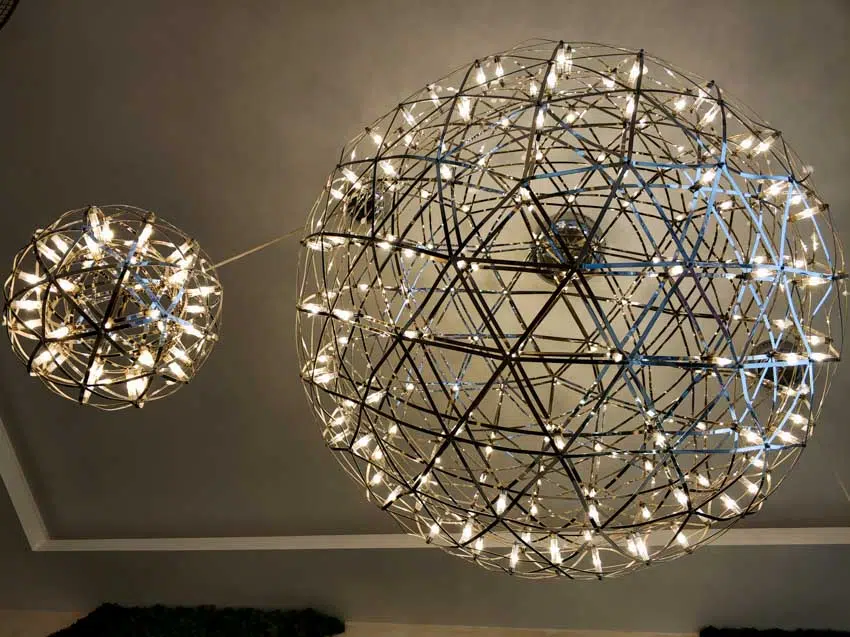 Round and curved things provide a tranquilizing aura. The same is true for lighting fixtures like gorgeous globe chandeliers that include one or more spheres. You can easily match a globe chandelier to the current décor in your space thanks to the variety of styles and options available for these lights, which vary from very basic to dramatic.
The bulb can spread nicely around the area, reaching all corners and regions as you want, thanks to the design of each light. The most common globe and circle chandeliers have several hand-blown glass globes, incandescent lighting, and eye-catching globe finishes ranging from smoky to opaque frosted glass.
Layer Chandelier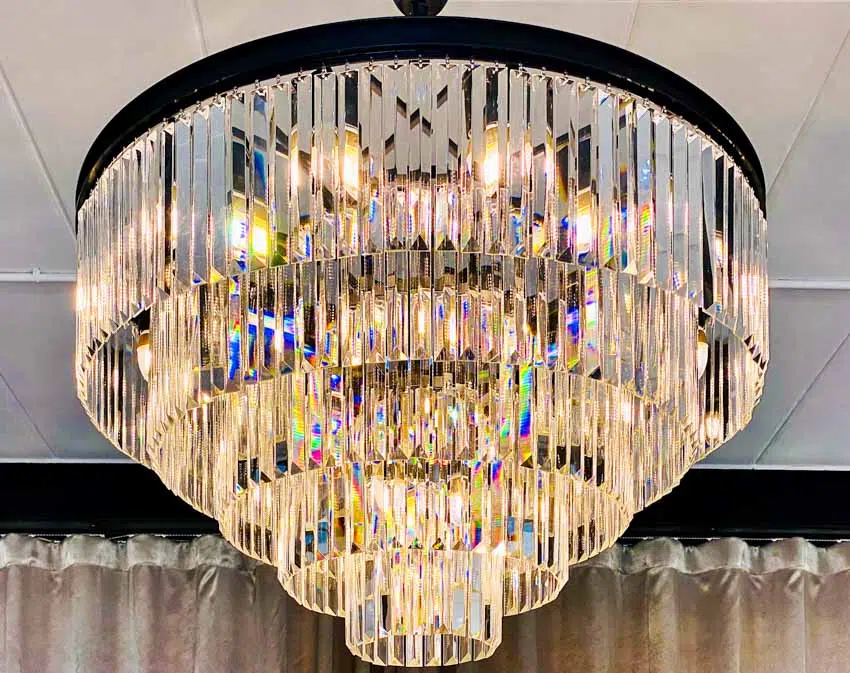 Layered glass chandeliers add contemporary style to a kitchen space. Layered chandeliers are a beautiful complement to modern interiors with their metal and glass construction. Layer chandeliers are a great way to add a little bit of sparkle to your kitchen.
They give off an incredible amount of light—making them ideal for illuminating small spaces like kitchens or bathrooms that don't have much natural light.
Layer chandeliers are multiple layers of crystals that can be hung from the ceiling or set on a pedestal. Some even have built-in dimmer switches, so you can adjust the brightness of each layer as needed!
Basket Chandelier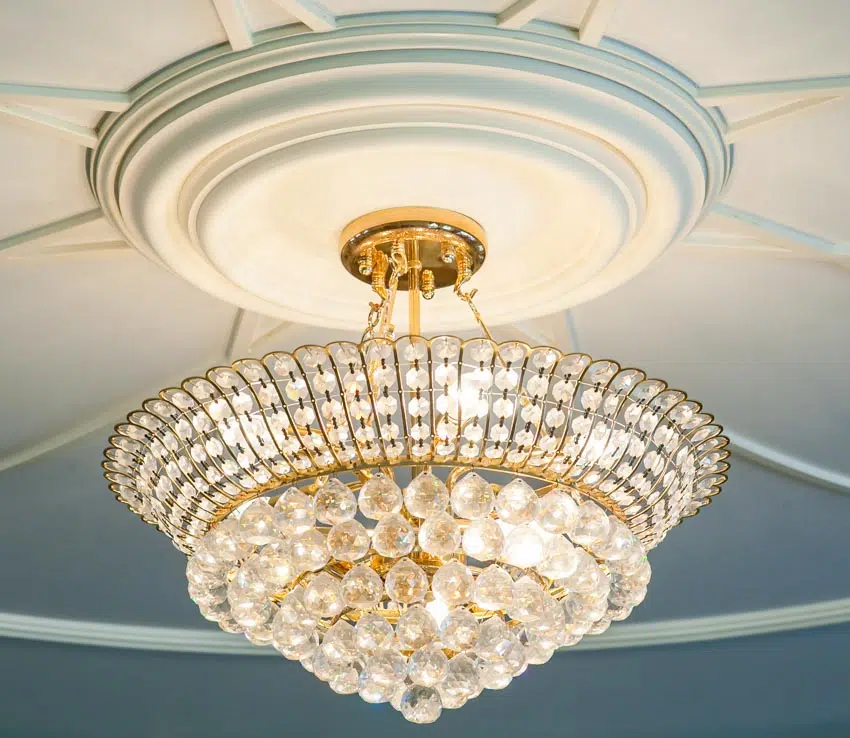 The traditional country nature-style basket chandelier is an excellent decoration for your kitchen. With dimmable switches and lights, basket chandeliers have modernized shapes and vintage-inspired embellishments.
This style replicates the dome shape of chandeliers but remains simple and new. This chandelier works in contemporary farmhouses and transitional rooms.
Linear Chandelier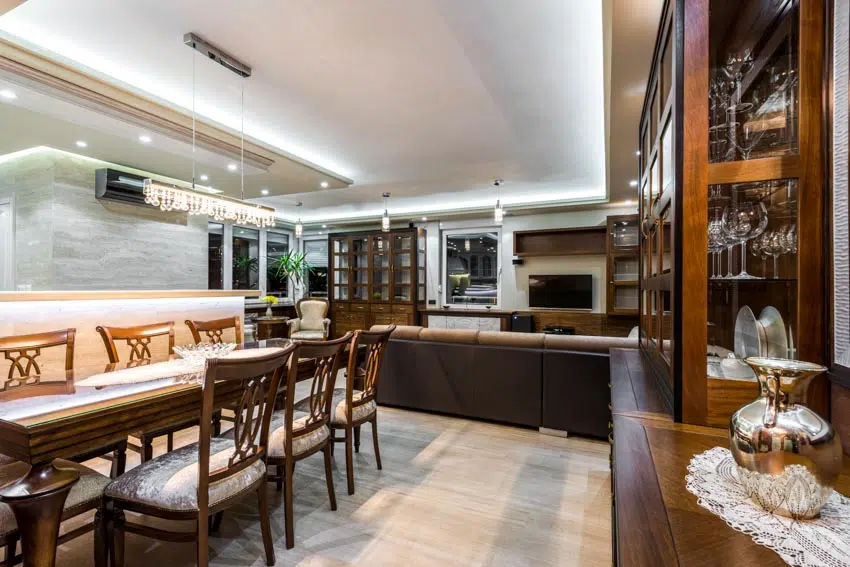 Maintain your kitchen's neat, minimalist appearance with a more straightforward form of a linear chandelier. Choose designs that are as practical as they are beautiful, and use the lighting style to match your aesthetic preferences. You may use linear glass styles to provide an opulent touch with its ability to reflect and play with light.
Iron Ring Chandelier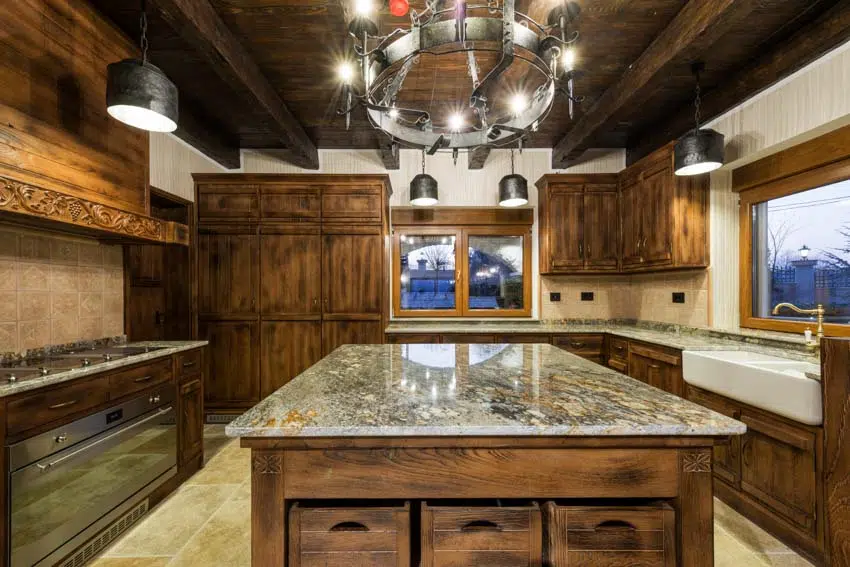 The iron ring chandelier design has a big iron ring with iron rods reaching upward in a pyramidal configuration. This clean, beautiful style gives an updated twist on an industrial, farmhouse, and rustic chic design. It also features a simple, minimalist shape. The chandelier's simple lines give it movement.
Dome Chandelier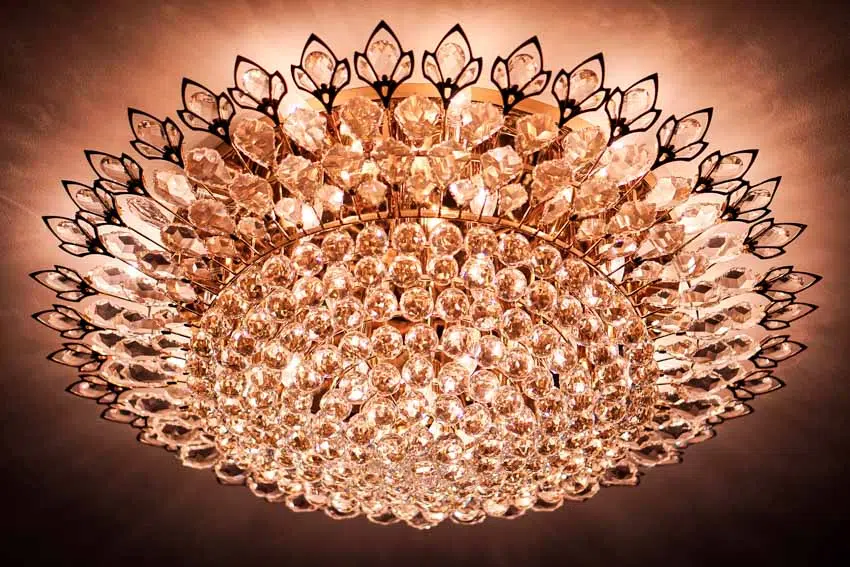 A dome chandelier's form and contour lend refinement to your kitchen design. This chandelier form has a dome that covers the lamp. The dome may be futuristic or traditional with ornaments and craftsmanship.
A dome chandelier directs light down to the table or floor, making it suitable for a dining area or countertop seating. Clear or pebbled glass domes on contemporary lamps let you view the bulb.
Traditional Style Chandelier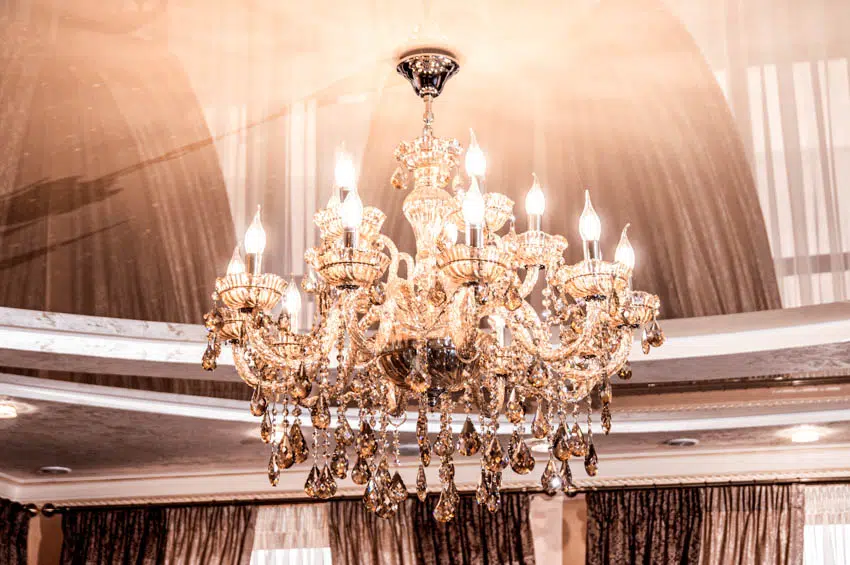 Traditional chandeliers don't always have to seem outdated. Consider adding a dash of glitter with crystal chandeliers or subdued elegance with draped beaded fixtures to give your kitchen a timeless, classic feel using traditional chandeliers.
The traditional style chandelier offers a versatile design that you can use in any size kitchen. Typically made from metal or glass, it allows easy installation onto any ceiling. They can be complimented by other light fixtures such as recessed cans, under cabinet lights and wall sconces.

Kitchen Chandelier Designs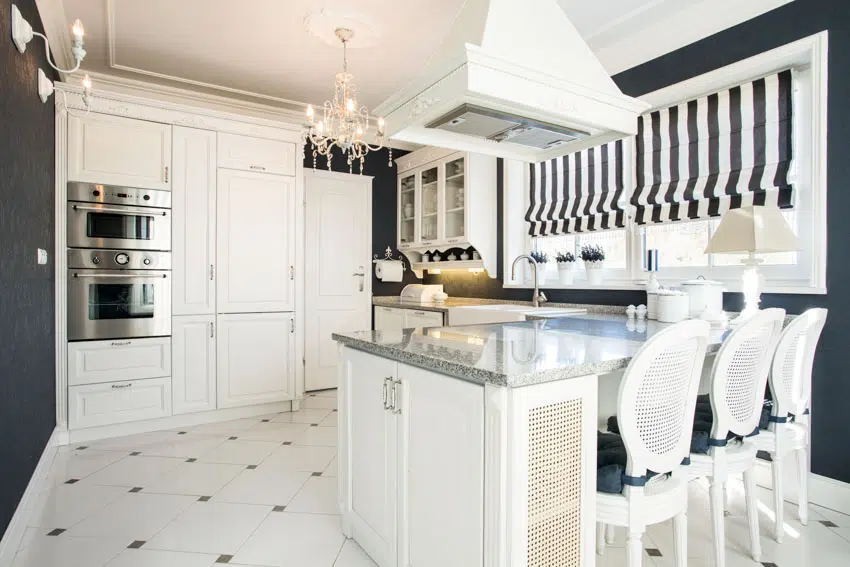 Various designs and forms of chandeliers are available, giving you infinite possibilities for installation in your kitchen. Here is a selection of chandelier ideas to brighten up your kitchen.
Farmhouse Kitchen Chandelier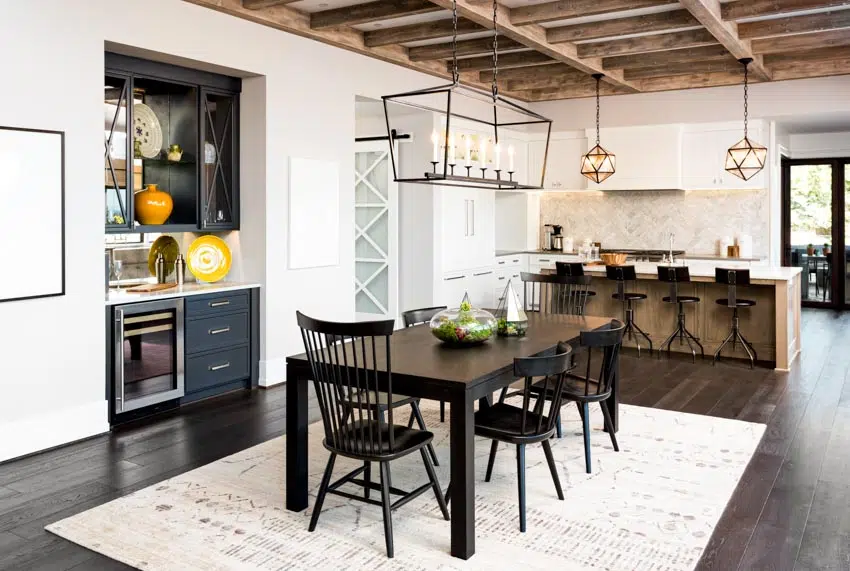 Although the natural wood hue is preferable in genuine farmhouse kitchen chandeliers, specific changes might still work to maintain a rustic appearance. Industrial light fixtures made of wrought iron, black metal, or bronze finish are also widely available for farmhouse kitchen design.
Contemporary farmhouse design is inclusive and imaginative since it combines modern, vintage, rustic, and distinctive aspects. These institutional, slightly industrial light fixtures look amazing as accent lighting over a kitchen island or sink.
If your area previously just had basic track lighting, consider adding a large chandelier as a focal point to give it a contemporary farmhouse feel. Do as much, and as boldly, as you can.
Modern Kitchen Chandelier
Minimalist kitchen chandelier designs are the stars of clean, modern kitchens. At the same time, exquisite black fixtures or flashy golds, brasses, and coppers may still find a place in current, cutting-edge aesthetics, modern fixtures in crisp polished nickel or chrome tones.
Clean, unadorned interiors and a color scheme that tends to trend toward neutrals or naturals are characteristics of this style. Along with polished metal, several natural materials, including wood, leather, teak, and linen, are also popular.
Contemporary Kitchen Chandeliers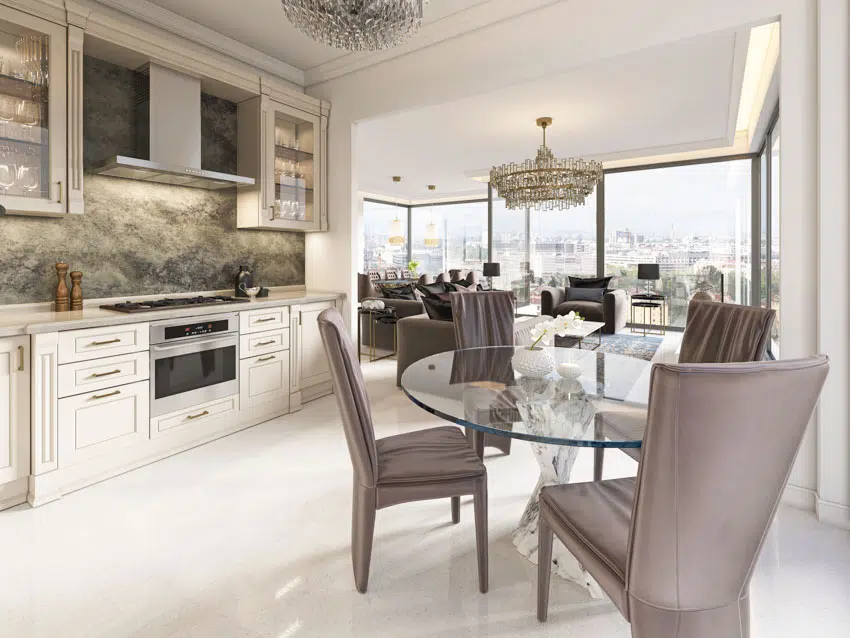 Contemporary kitchen chandeliers are available in various styles and finishes that can elevate any room. One of the essential components of contemporary design has always been lighting, with show-stopping modern chandeliers typically taking center stage.
The outstanding contemporary style incorporates elements from many inspirations and materials, such as glass, wood, iron, and gold leaf, and the idea of an open, spacious design.
You can also choose contemporary chandeliers to go well with edgy and refined modern design aesthetics. You may instantly update lighting design by swapping an outdated chandelier with a brand-new contemporary light.
French Country Kitchen Chandelier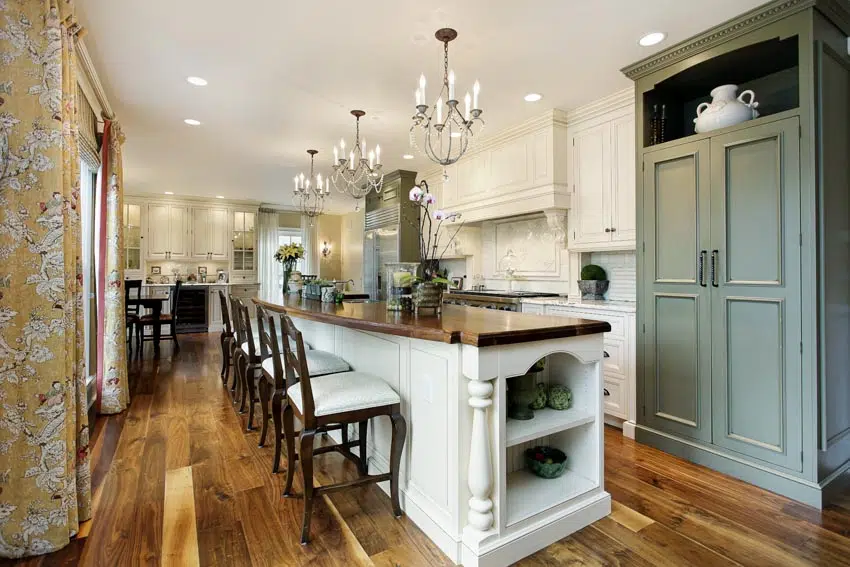 The French country style is well renowned for its old appeal. When picking a French country chandelier, you must consider several aesthetic components, such as weathered whitewash iron, delicate crystal charms, and wooden cage frames.
You will notice representations of the most famous French country décor hues: cream-colored white, gray, and brown. Because you don't want to overly emphasize the ceiling, select a chandelier in a neutral shade.
Those chandeliers will do the trick! You can incorporate a pair of white French chandeliers in a French country kitchen to illuminate a white quartz-topped center island and a rustic tiered dessert tray.
Rustic Kitchen Chandelier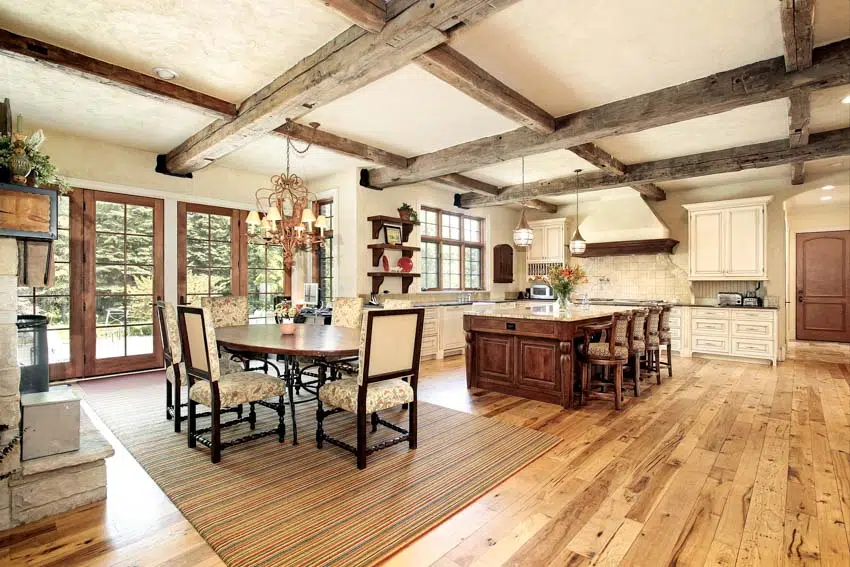 In appealing contemporary and vintage-inspired country-chic areas, rustic kitchen lighting styles provide a variety of chandelier designs that have a significant visual effect. Look for rustic kitchen chandeliers with dark or distressed finishes made of natural materials like wood, rattan, and rope.
The coziness of rustic chandeliers instantly transforms the kitchen's appearance. Rustic designs use organic and vintage components and have a rural feel. Rustic chandeliers exhibit warmth and individuality via a combination of realism and simplicity.
Traditional Kitchen Chandeliers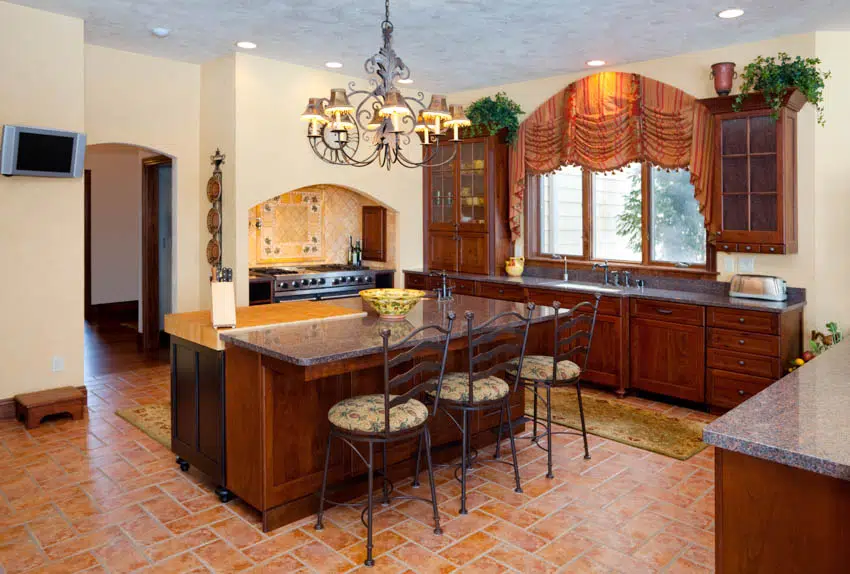 Traditional chandeliers are often brass, gold, and other classic materials. Traditional lighting fixtures are a fantastic choice for anybody looking to make their kitchen seem homey.
These fixtures are pretty adaptable and may blend in with any design. However, avoid constantly going for too-matching-matchy traditional items. Traditional lighting is lovely, and using it will give your area new energy.
Gold Kitchen Chandelier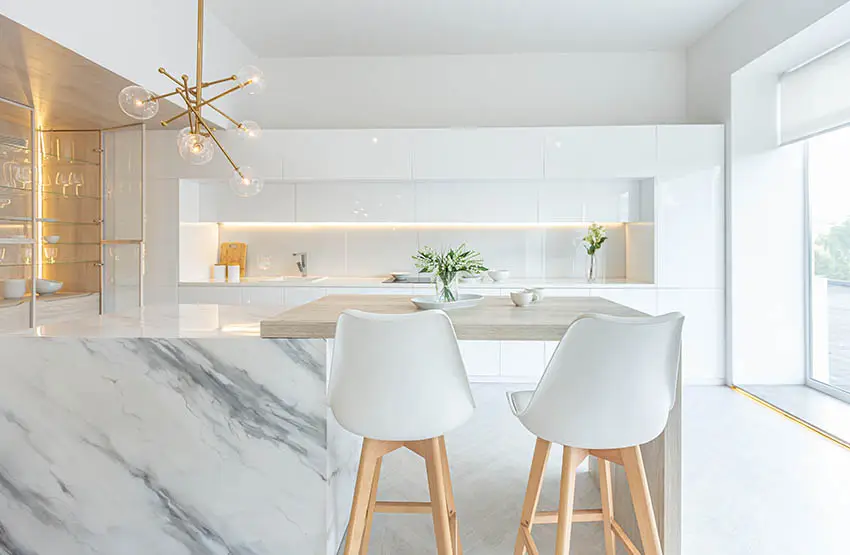 Nothing shines as brightly as a gold tone when you're trying for gold (chandeliers, that is). Gold accents have the power to transform ordinary kitchens into extraordinary ones. Gold is a mainstay of practically all interior design trends and is anything from conventional.
Chandeliers with gold finishes are a timeless style that gives any space an opulent appearance. Use a gold-finished chandelier to provide a fun contrast or to bring a flash of color to an area that is boldly colored or monochrome.
The deep color and weathered gold appearance are ideal for modern and contemporary settings. The hue of the vibrant gold metal finish is softer and more subdued, which elevates any room and harmonizes gracefully with classic, transitional, and modern interior design.
Black Kitchen Chandelier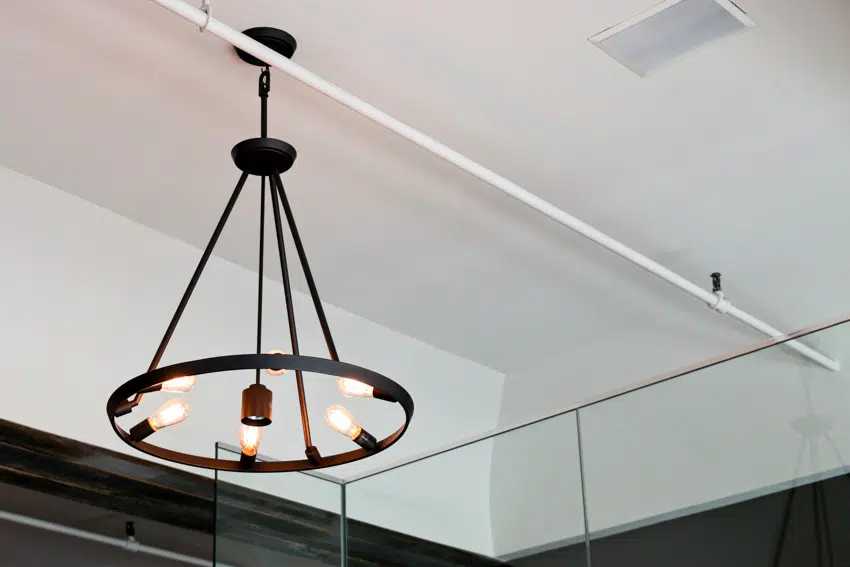 When appropriately utilized, the bright crystal chandelier appears gorgeous. But even more spectacular, distinctive and stunning is the black chandelier! Black chandeliers are rare, and most of us like to either choose their white, transparent relatives or even multicolored equivalents.
However, a black chandelier can define a space, anchor it, and add a touch of refinement without a significant effort. Additionally, it effortlessly blends in with many fashions. Black and white kitchen interiors are probably the easiest to work with the black chandelier.
It adds a sophisticated, contemporary touch to a room already black and white without seeming out of place. Black is the best option for homeowners who want a more "Victorian" design style. The black multi-arm, flexible, modern chandeliers are a popular option for the dining area and the kitchen.
Small Kitchen Chandeliers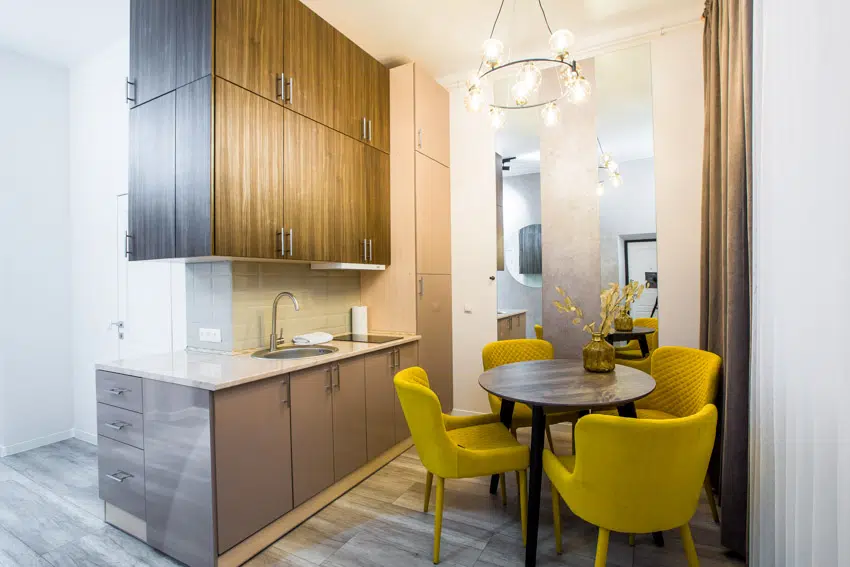 Nothing makes a tiny room seem crammed more than furniture and overly large fixtures. Even if you may be in love with a gorgeous chandelier, it may not appear right if it is too big for the space. Size may significantly impact how an area looks in interior design.
For tiny kitchens, small, compact chandelier designs are the best choice. These little patterns may be made in any style while retaining their high degrees of beauty and glitz. These designs are additionally suited for small bathrooms and corridors.
Does The Chandelier Have To Be Centered Over The Table?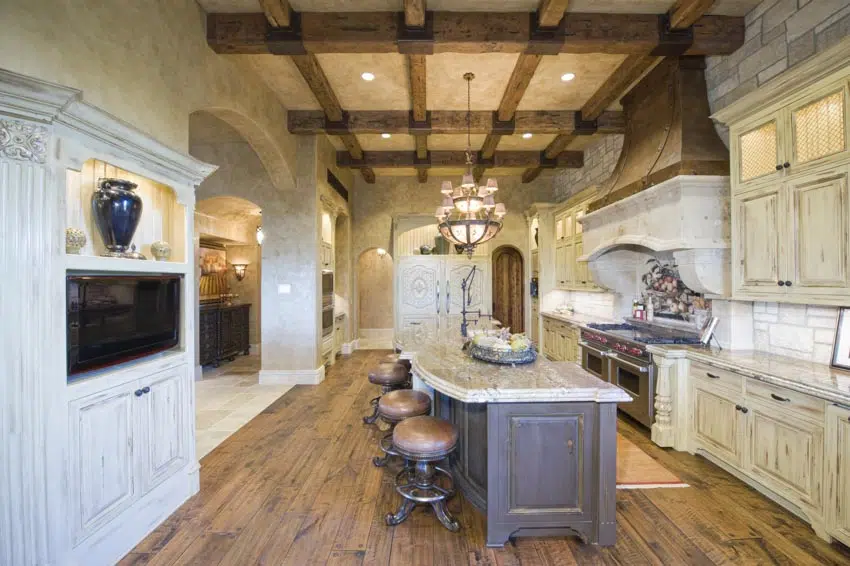 A chandelier is the most apparent option for any kitchen table; designs vary from traditional and beautiful to rustic and futuristic. Your kitchen and dining table size should be compatible with these fittings. Instead of being centered, a chandelier or other low-hanging lighting should be above the dining table.
For instance, it's OK if your table isn't precisely in the middle or there is another piece of furniture. You can establish a focal point by the light fixture concentrated on specific furniture elements, such as your dining table. Therefore, before installing your light, consider where you want your table to go.
A chandelier often hangs over the center of the table as illumination above dining. When the lighting and table are out of balance, and the lighting is off-center, the space will feel unpleasant. Two chandeliers also span the width of a long, thin dining table to establish balance.
Can You Put A Round Chandelier Over A Rectangle Table?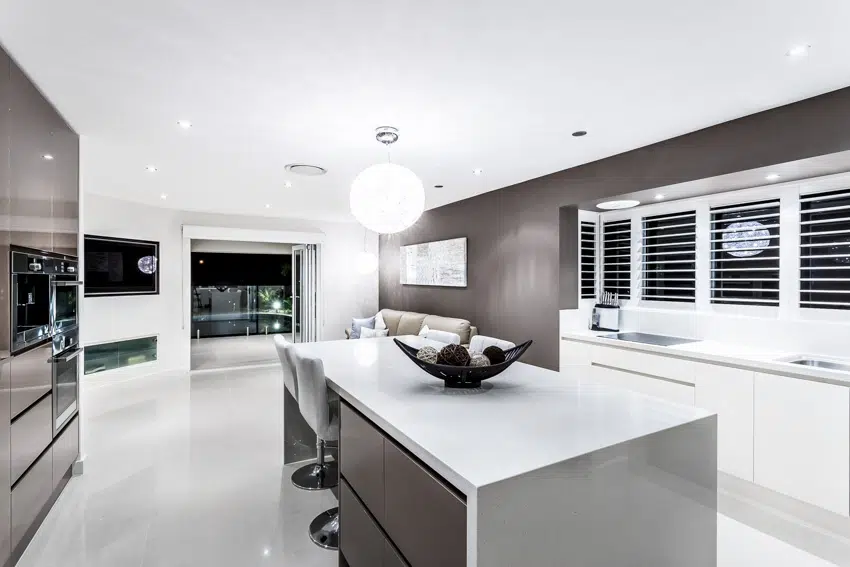 Yes, you can put a round chandelier over a rectangle table, precisely two round chandeliers. Additionally, you may place a recessed downlight on either side of a rectangular table and center a spherical lamp over it. A fantastic monorail system with little pendants would look lovely on a rectangular table.
The chandelier should be around one-third the width of the table. Consequently, a chandelier with a 20-inch diameter is ideal for a 5-foot circular dinner table (60 inches). If you want to play safely, you can use basic rectangular chandeliers for rectangle tables.
What Kind Of Chandelier Do I Need For A Rectangle Table?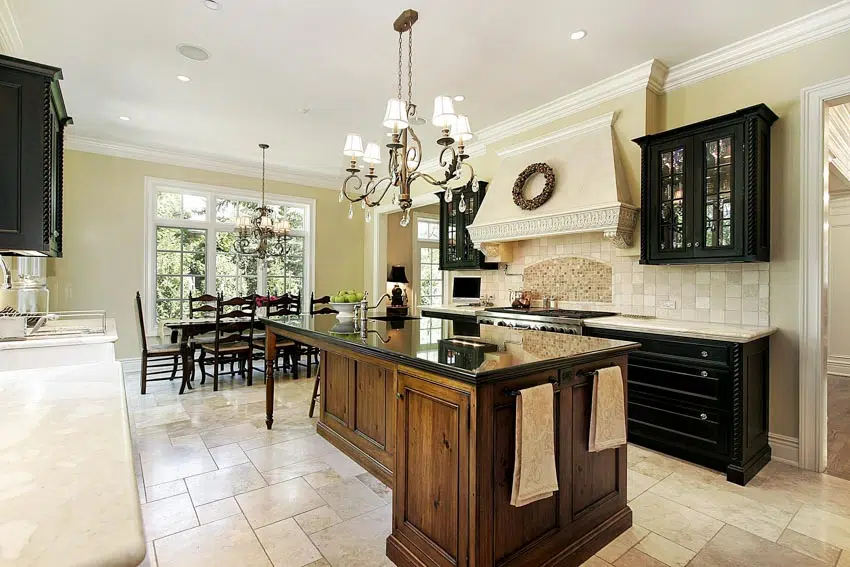 Rectangular tables may accommodate a somewhat broader chandelier. The important thing is that it's the right size and shape for your space and has enough light to illuminate it. A few different kinds of chandeliers are great for rectangular tables.
Long, rectangular tables are a better match for rectangular kitchen room chandeliers. A sophisticated and creative method to add texture to a space is to hang two or three little chandeliers for your dining room over your rectangle table instead of a single linear chandelier.
Still, you want to employ contrasting forms in your fixture. On the other hand, when placed above a long dining table, enormous dining room chandeliers usually create a magnificent impression and may add a classic elegance to a room.
There are so many options for lighting on the market that it may sometimes be overwhelming. The possibilities are endless if your kitchen has the high ceilings and grand entrance required or can only accommodate a more stylish pendant light. The decision ultimately comes down to your preference.
See more related content in our article about the types of ceiling lights on this page.