Explore the different types of kitchen wall sconces including their designs, materials, sizes, height placement, and ideas on where to use a kitchen wall sconce.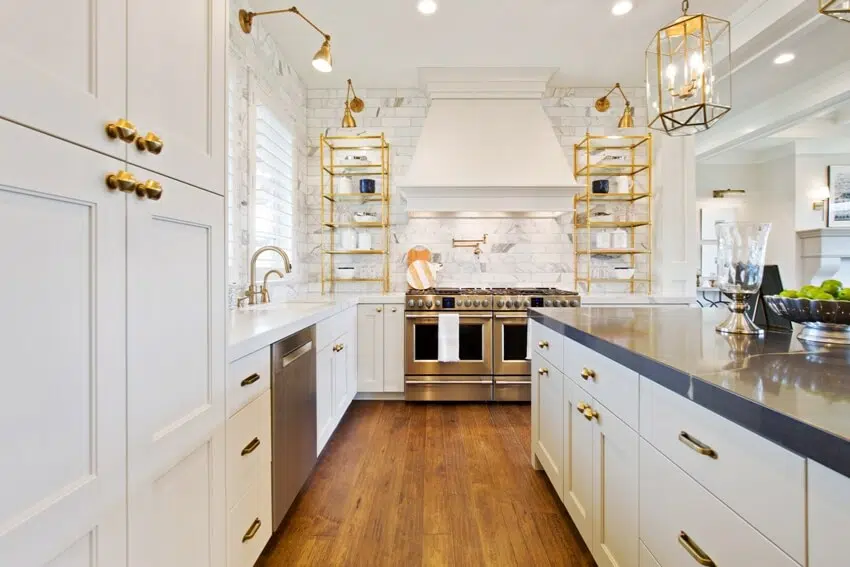 Lighting is one of the most important elements to achieving an efficient kitchen as it ensures safety, creates mood, and highlights the room's architectural features. If you're looking for a versatile lighting system, kitchen wall sconces are the perfect source of illumination that can function as a task, ambient, accent, or decorative lighting.
More than just prepping and cooking food, kitchens have evolved to be entertainment hubs, and having attractive and efficient lighting makes a whole difference to your kitchen space.
What Is A Kitchen Wall Sconce?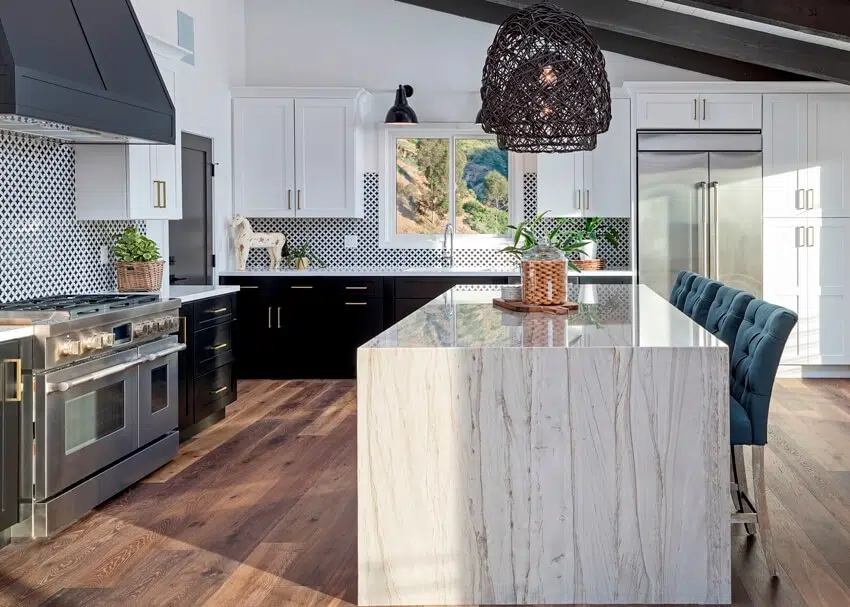 A kitchen wall sconce is a wall-mounted type of light fixture that can cast light up and/or down a wall. The luminaire can range from a decorative to a functional lighting system together with other lighting elements in a kitchen.
Wall sconces, in general, are affixed with an arm extending from a plate flushed on a wall or having the whole lighting fixture directly mounted on a wall. Most kitchen wall sconces are used as decorative pieces that can be made from a variety of materials where wood, aluminum, copper, cold-rolled steel, stainless steel, and brass are the most common.
Installing a kitchen wall sconce can save space as you don't have to occupy the floor or countertop. This makes it a perfect lighting option for small kitchens. There are also versatile wall kitchen sconces that can adjust the direction of light through an adjustable arm or have dimmable or automatic controls that can further customize your usage.
Types Of Kitchen Wall Sconce Lighting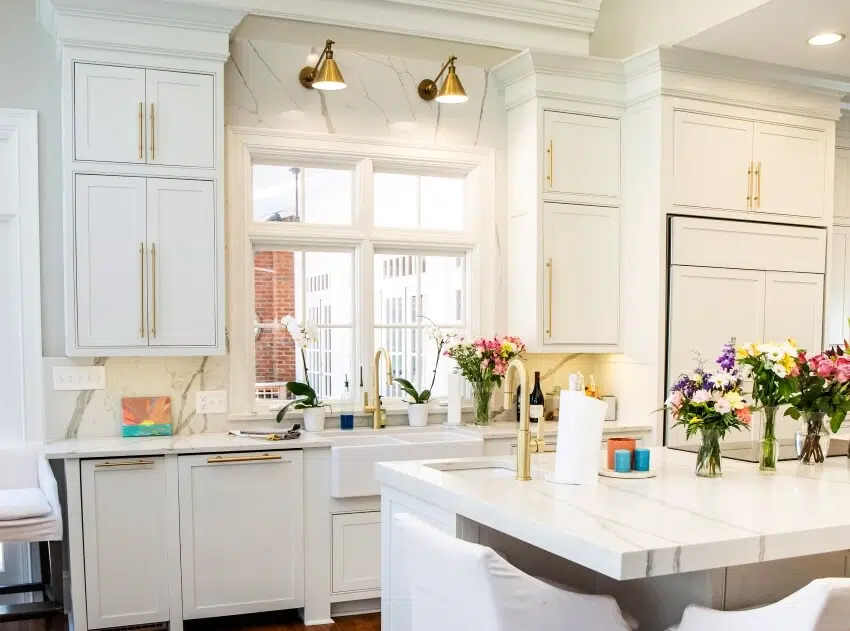 There are a wide variety of sconce lights available depending on the design style you want. Here are a few of the more popular options.
Farmhouse Kitchen Wall Sconces
From a warm surprise to your minimalist or modern home to pulling together an eclectic ensemble, a kitchen wall sconce is a versatile element to consider.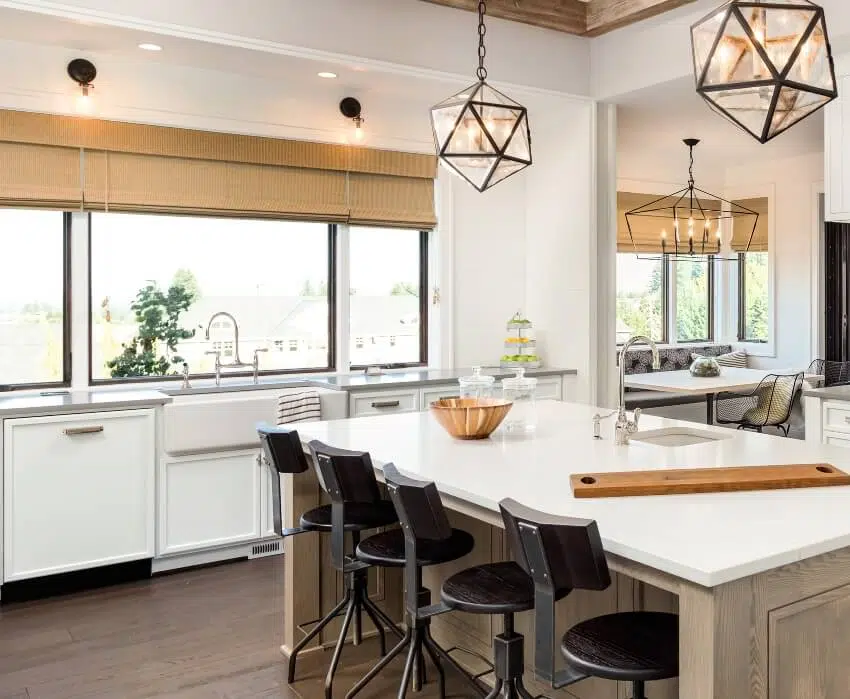 For a farmhouse kitchen with rustic charm, try weathered iron chandeliers. Looping scrolls with bare bulbs or brushed metal sconces with antique bulbs can provide that vintage feel to a farmhouse or industrial-themed kitchen.
A trending lighting charm is a copper or galvanized iron birdcage with pendant lights. This can be hung in between your kitchen window or placed in series over your counter.
Farmhouse kitchen wall sconces bring cozy air to a kitchen. If you have a small blank wall, you can fill the void by adding a shelf and cookbooks on top highlighted by a kitchen wall sconce.
A large bell-shaped lighting fixture hung by galvanized chain and secured on reclaimed wood can be an attractive wall décor in your kitchen. Use bubbled glass to distribute the light if you don't plan to highlight any architectural feature.
While suspended bar lamps are all the craze in today's interior, you'll also find wall sconce lights with bar lamps. Paint them black, white, or gray for that modern industrial look.
Traditional Sconces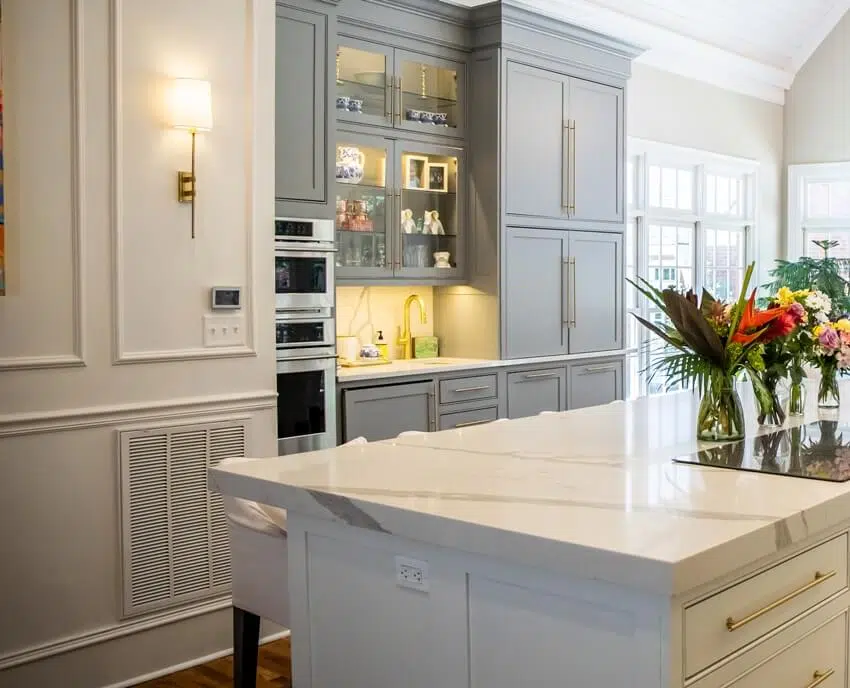 A European wall sconce light is the perfect eye-catching element for your classic kitchen space, though you can still pull off the traditional aesthetic with a modern theme as a sculptural piece.
A Moroccan kitchen wall sconce with intricate geometry on a pierced brass fixture will look amazing on any kitchen wall. You may also opt for a more timeless traditional sconce, such as a French-inspired pillar holder with an LED-lit candle.
Jeweled wall sconces can elevate the look of your kitchen space, adding texture and dimension, especially with matte finishes. If you're looking for a more earthy tone to match stone or metal finishes in your kitchen, a wooden scroll sconce lamp and burlap shades are perfect sconce materials to soften the look of your overall look.
The timeless lamp lighting sconce remains a popular choice that's safe to add to kitchen lighting as they work well for both traditional and contemporary themed interiors.
Traditional lighting typically falls under the warm spectrum. You can layer your kitchen lighting system by adding warm white from 2,700 to 3,000 K to complement your other lighting elements.
Modern Kitchen Wall Sconces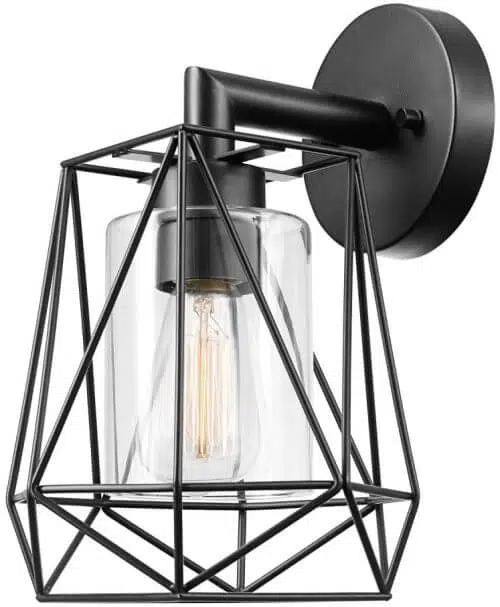 See this modern geometric design wall sconce at Amazon [Sponsored link]

Geometric wall sconces that lean towards the art deco styles are popular options for your modern kitchen. These attractive pieces can either have three-dimensional forms such as wired or caged angled profiles or a radiating sputnik design.
Hexagon-shaped LED wall lights are popular designs that effortlessly provide modern flair. Other modern profiles include tube, round cuboid, oval, and box types.
Repetitive shapes are another modern profile you can match with your other kitchen elements, such as overlapping squares or rectangles. This creates an abstract feature element.
Sleek and simple Halfmoon luminaires are common selections for modern homes, and they provide a clean but attractive lighting décor for your contemporary kitchen.
Since the rise in popularity of Scandi interiors, simple light-hued wooden luminaires are incorporated to complement the minimalist theme. The Nordic kitchen wall sconce is perfect for small kitchens as you'll find simple profiles with almost flushed wall fixture designs.
Where To Use A Kitchen Wall Sconce?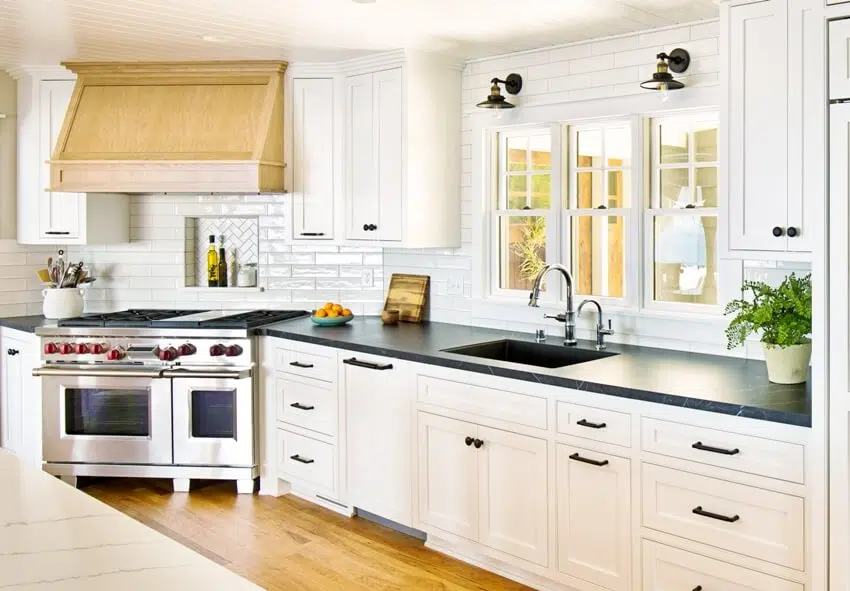 Aside from the wide range of designs, it's not hard to incorporate a kitchen wall sconce. Whether you're renovating or building a new kitchen, you'll find that perfect spot to place your lighting fixture. Choosing the design and placement of your wall sconce will depend on its intended function.
Wall sconce over the kitchen sink. Installing wall sconces over your kitchen sink and leaving only your recessed lights creates a clean and seamless look on your ceiling. You can mount your wall sconces in threes or as a pair just above a window. For windowless sinks, as a guide, maintain a 30 to 40 inches space between your countertop and fixture and avoid pendants at eye level.
Wall sconce over a counter. Similar to your wall sconce over a kitchen sink, use a 30 to 40 inches gap between your counter and luminaire to prevent eye strain. Moreover, placing lights above creates a more natural feel to your kitchen space, especially if your wall sconces are intended for task lighting.
For kitchen counters used as a versatile space for doing tasks, you can find extendable or arm swing wall sconces in which you can bend or adjust the height of your luminaire according to your needs. See our backlit countertops design guide for more ideas.
When placing in a series, a rule of thumb is to space 30″ to 32″ between each luminaire and have a minimum of 6″ in between the wall or edge counter. Use the widest width to be your spacing distance for larger wall sconce luminaires, especially for wide shades such as an industrial pendant light.
Wall sconce above a wall-mounted shelf or picture. To add emphasis to your shelf area, add a downlight wall sconce. Elongated wall sconces are also perfect for highlighting a painting or picture. Wall decals in kitchens are still popular, and you can add personality with a pair of wall sconces to highlight the wall text or have a single fixture just above.
Wall sconces beside wine racks. You can highlight your wine collection using wall washer sconces. These lighting fixtures are designed to direct light across the room, illuminating larger sections. You can also use up and down lighting tubes to highlight a horizontal rack or a geometric wall sconce as an added feature to your wine collection.
Wall scone to light a corner. Corners can be left shadowy or dark in a kitchen, with a corner wall sconce light. Adding this fixture enhances the look while providing added light. Read more about decorating a kitchen corner window here.

Corner wall sconces are designed with right-angled backs that will perfectly flush on your walls. From trapezoid to inverted Halfmoon designs, there are many attractive designs to choose from.
Wall Sconce Materials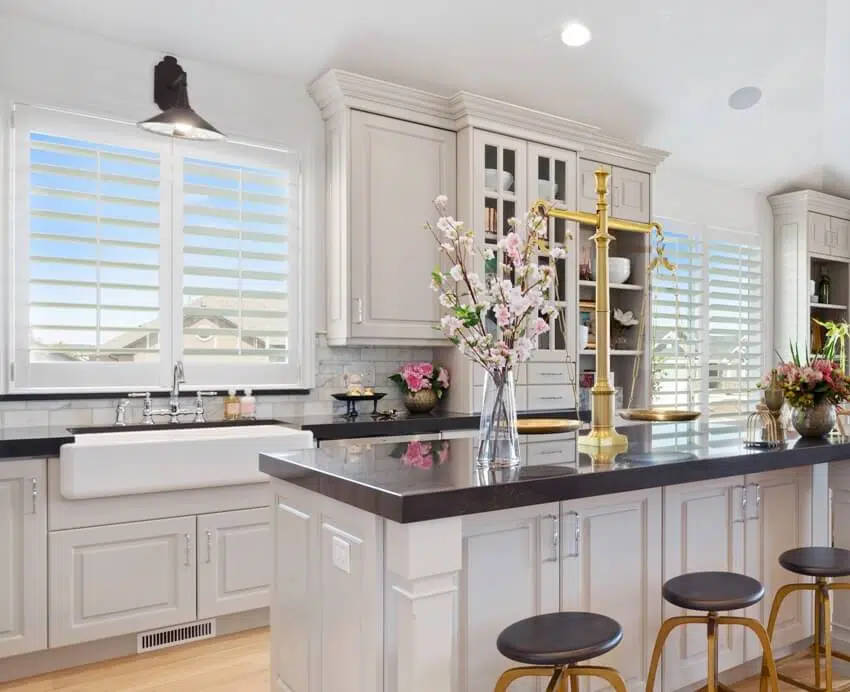 Aluminum. Lightweight but durable, aluminum wall sconces are extensively used in the lighting fixture industry. In addition, its workability makes it possible to create intricate forms where the ductile material is easy to machine and works well with any stamped product. Remember that aluminum comes in different grades.
The most durable aluminum grade is virgin aluminum, and the most affordable wall sconces are made from the typical cast aluminum lighting fixture. Another advantage of wall sconces made from aluminum is that they cost around 1/3 of brass and copper.
Aluminum wall sconces are resistant to rust, making them an excellent material for a space with high humidity. Aluminum lighting fixtures will typically come with a paint or powder coat, so you'll find a wide range of colors to choose from.
One of the significant drawbacks of aluminum fixtures is that the paint coat can fade under exposure to sunlight over time.
Brass. The earthy and warm quality of brass makes it a popular option for kitchen wall sconces. You'll find kitchen wall sconces in brass frames and other materials such as glass or wood, so you have a wide range of design options. The attractive material has a certain vintage quality to it, especially when combined with warm lighting.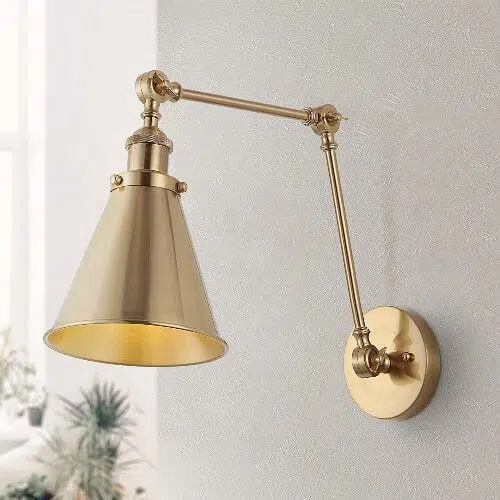 See this gold brass wall sconce at Amazon [Sponsored link]
Brass is malleable and ductile thanks to the copper alloy, and its strength comes from the zinc alloying agent. Being corrosive-resistant makes it a durable wall sconce for outdoor and indoor kitchens. In addition, brass is reactive to a lot of chemicals but will depend on the alloy content. Brass can either come as antique brass or polished brass.
Copper. If you're looking for a timeless lighting fixture, choose copper wall sconces. Copper is a durable material stronger than aluminum and can hold twice its weight.
The metal does not corrode easily, even when exposed to seawater, and will last longer than iron or galvanized steel. They are typically sprayed with a sealer to further protect a copper wall sconce from rusting.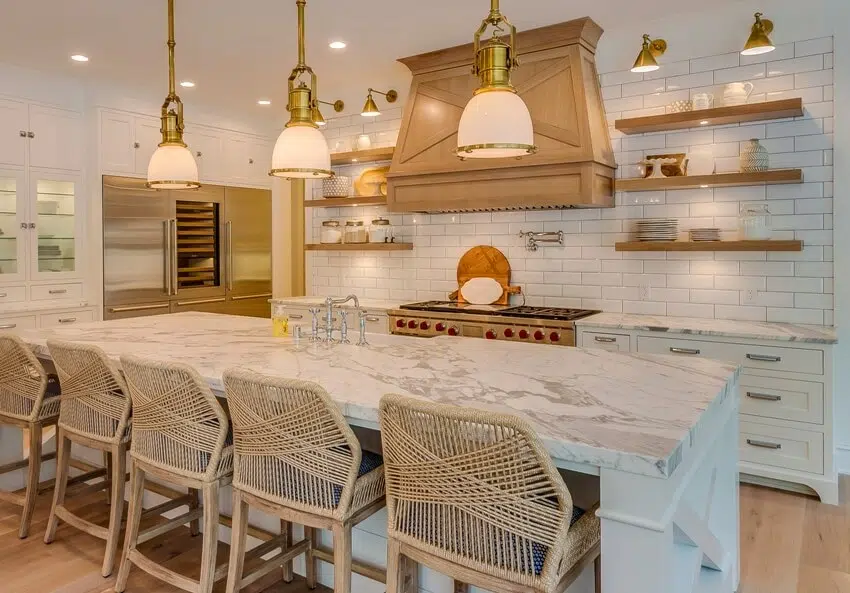 You know you have a copper lighting fixture with its reddish metallic coloring that's unique among other metal materials. Copper is considered a sustainable material since you can recycle the material where a significant portion can still be used, unlike alloy metals such as brass or iron.
Cold Rolled Steel. Most appliances are now made from cold-rolled steel due to its higher tensile and yield strengths than your steel material. Basically, cold-rolled steel is hot-rolled steel that has undergone additional processing to increase its strength and other dimensional qualities.
You'll find a good range of colors of cold-rolled steel since it easily receives a wide range of surface finishes. Cold-rolled steel wall sconces are generally more expensive due to durability and because it is harder to mold.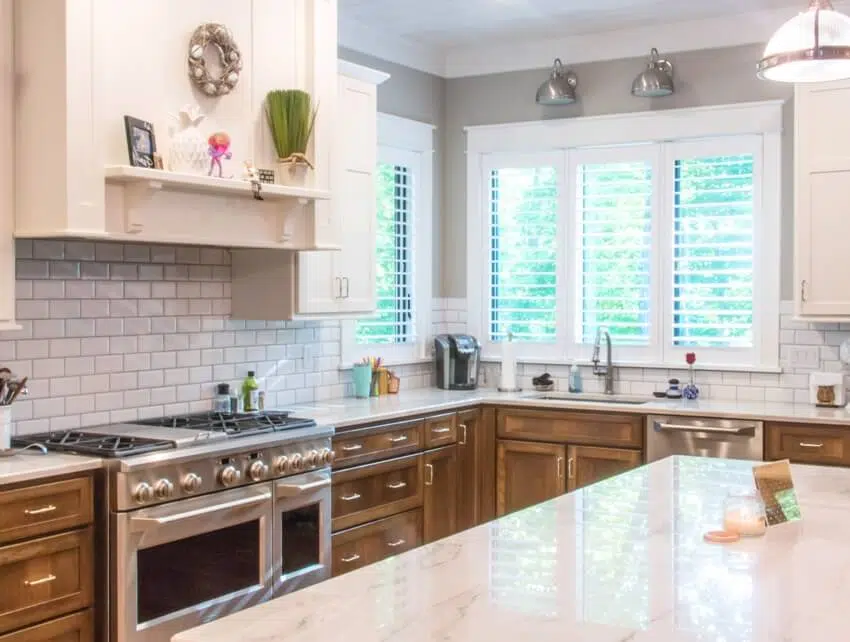 Stainless Steel. With its excellent corrosion resistance and modern look, stainless steel is fitting material for kitchen wall sconces. Moreover, the silver luster makes it a favored modern material, and it requires little maintenance as you can easily clean your lighting fixture by wiping off the dust.
Stainless steel is one of the most common materials used for hardware and kitchen fixtures, so you can easily match your stainless-steel kitchen wall sconce with your metal elements.
Acrylic. The acrylic material is the perfect option if you want a frosted but luxurious appeal to your kitchen wall sconces. Though acrylic has a reputation for being a cheap material, it is important to remember that acrylic has a wide range of grades and thus varying qualities.
A luxurious-looking acrylic kitchen wall sconce can have the look of a porcelain-like finish with a more affordable price tag. Since acrylic is lightweight and does not break easily, it's a worthy rival of glass materials. Like glass, acrylic is a very good diffuser of light. Acrylic can also be molded into any shape or design.
Best Wall Sconce Size For Kitchen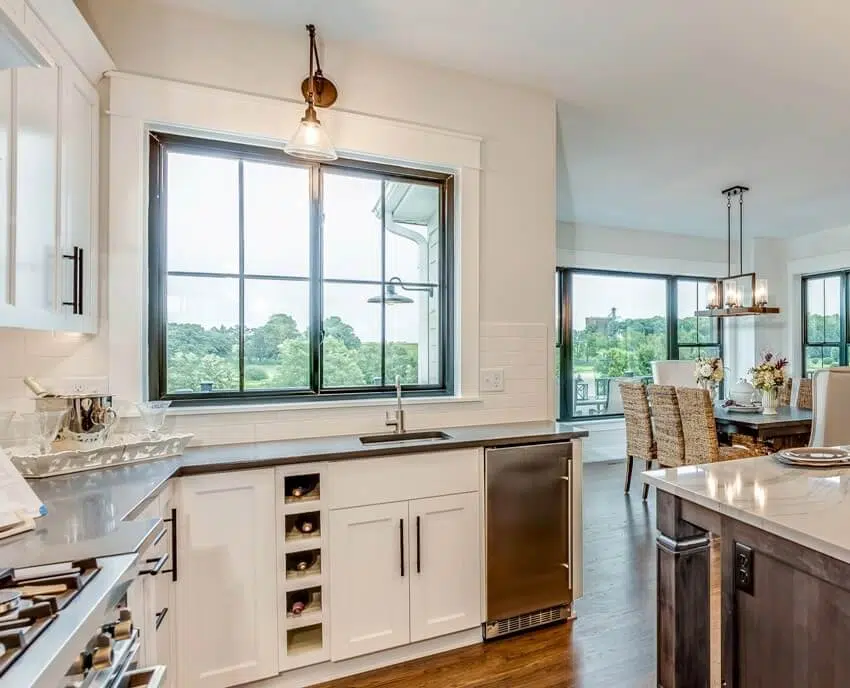 While there are no specific rules on wall sconce sizing, it is best to remember how cohesive a wall scone looks together with the rest of your kitchen elements, so scale is important. Though you should always consider your personal taste, safety must also take precedence when choosing the size of your kitchen wall sconce.
A good rule to remember is that smaller spaces need small sconces. Small sconces around 9 inches look good on small square footage areas and lower ceilings that are under 7.5 feet. Small sconces range from 4 inches to 20 inches in size, making them perfect for highlighting architectural or décor pieces in your kitchen.
While bigger lighting fixtures are now a trend, you'll find these large fixtures work in medium to large-sized kitchens. Larger sconces will look better on an entryway. See more low ceiling kitchen lighting ideas on this page.

Best Height For A Kitchen Wall Sconce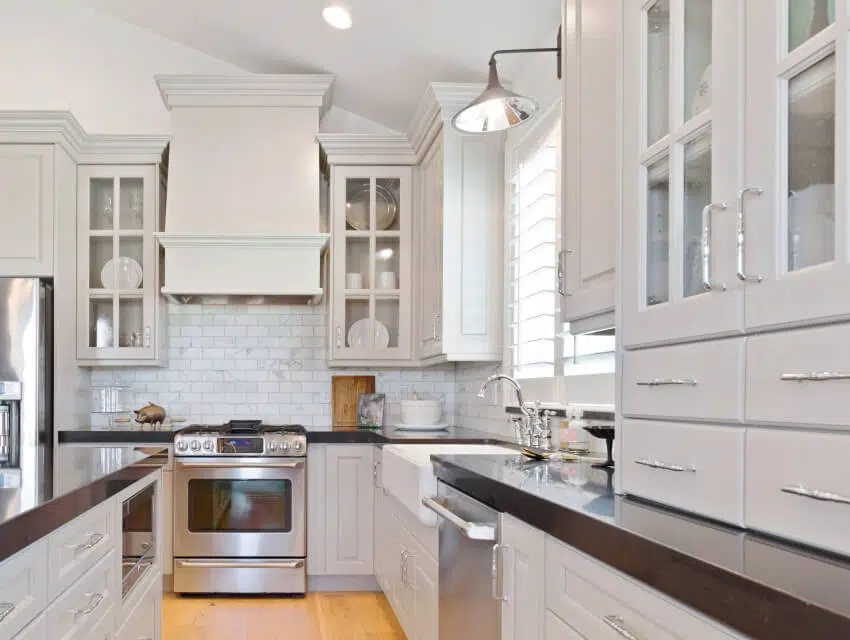 The best height for a kitchen wall sconce is around 66 to 72 inches above the floor and 30 to 40 inches above a kitchen counter or sink.
As a guide in positioning your kitchen wall sconce on your wall, set the sconces three-quarters of the way up the wall; thus, measure the height of the ceiling and multiply it by 3/4. This will help you decide where to put your sconces.
See more related content in our article about the different kitchen under cabinet lighting.