Here we share our alternatives to white kitchen cabinets guide including the different colors, designs, their pros and cons, and if white kitchens are out of style.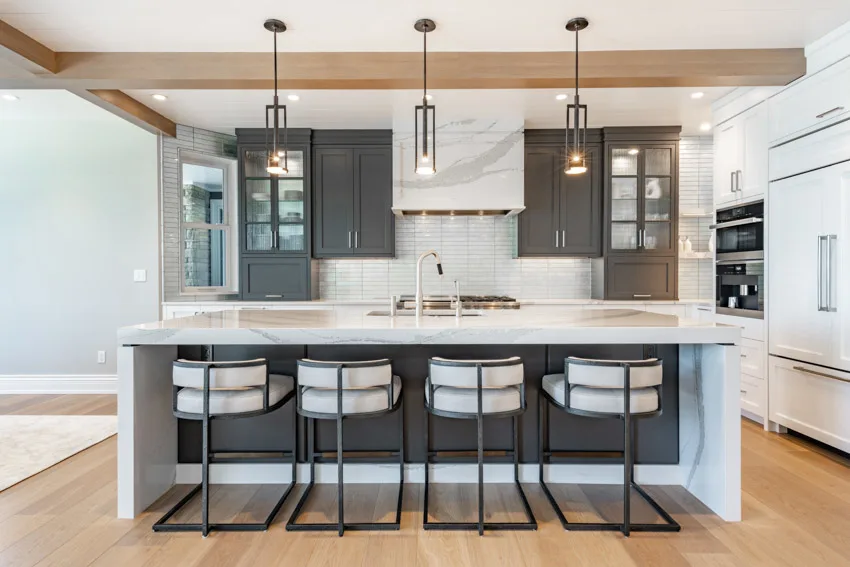 One of the elements that have been practically ubiquitous in kitchen design for the longest time running is white. Kitchen cabinets, in particular. The appeal of white kitchen cabinets isn't really all that hard to see or understand.
They're bright and they really open the space up. They're also contemporary so if you would like to keep things modern and updated, they can also turn out to be the best way to go. If you would like to keep things classic, white kitchen cabinets are the perfect way to go as well.
And it's true, white kitchen cabinets really are the end-all be-all when it comes to cabinet color and design. However, as with other things, too much of anything can turn out to be a bad thing.
The current trend we're seeing right now is that more and more homeowners are looking for alternative to white cabinets. Some are finding white kitchen cabinets to be a little too standard and common and have started wanting something a little more unique.
If you absolutely love the clean appeal of white cabinetry but want something more different and original, there are alternatives for you.
Cream Cabinets
If there's one thing that designers will insist on all day long, it would have to be that you can't really go wrong with cream kitchen cabinets.
This is the main reason why it's the first option to ever go up in the list when the discussion of getting alternatives to white kitchen cabinets comes up.
It can create an appearance filled with airiness and light. If you have a small kitchen, this is definitely a great alternative to white as it can really open the space up at the end of the day.
Creamy shades aren't sectioned off to the almost white department. They also have deeper colors such as custard, cappuccino, or caramel that you can play around with in case you want to go with a warmer and homier look.
They inject positivity into the space and they have a calming effect that your kitchen space will definitely be able to make use of these days.
What's so great about cream is that they have all of the benefits of white cabinets, such as the ability to be easily paired with almost any color out there but they also bring in added depth and warmth that a white color can't bring to the table.
It's perfect for when you want to take a different direction from white cabinets but aren't quite there yet in doing a total 180-degree turn. Think of it as baby steps when you're planning to leave the all-white kitchen design theme.
Antique White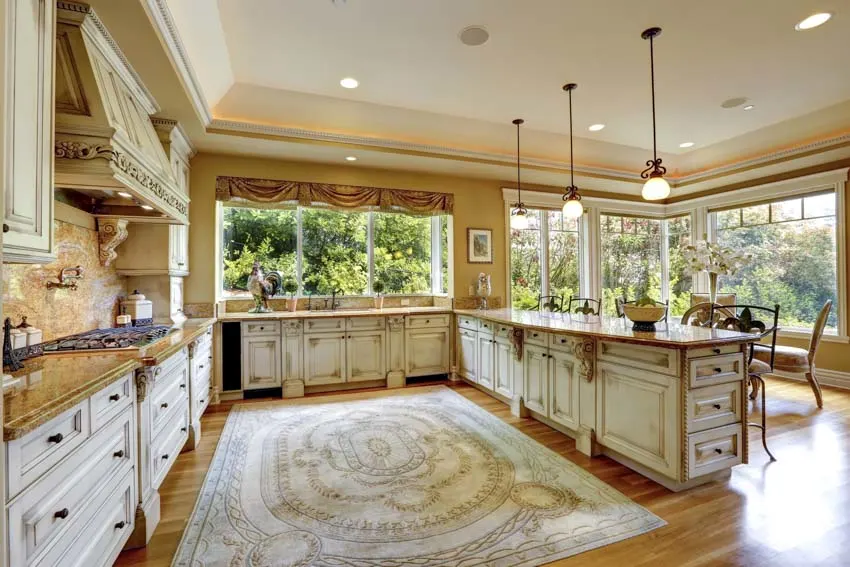 Antique white is still a bit on the same palette as with regular white kitchen cabinets, but not really. What they bring in is something dreamy, similar to that of when you're in an old movie.
It's a really great way for you to calm an otherwise busy area like the kitchen down. When you're tired of cabinets that feel outdated or a little old, you can use faux finishes like this to enhance it and to kind of bring it up to date.
This type of distressed look is perfect if you're trying to create a shabby chic look or design for your kitchen space.
Something that not a lot of people talk about though is that when you go for antique white kitchen cabinets, you need to be careful of the wall colors that you pair it up with.
Pairing it up with something completely neutral and bright such as stark white has the tendency to make antique white come off as looking yellow.
This is common in distressed colors and styles and this may be something that you'd want to veer away from as much as possible. Go with neutrals that have warmer tones instead such as creams, beiges, greiges, light colors, and the link.
On the flip side, antique white pairs very well with grays, light colors, or paints with warm undertones.
It can make your kitchen space look more stately and historical and if you happen to be into that type of old space charm, then it's definitely something that you can pull off for your kitchen.
Beige Cabinets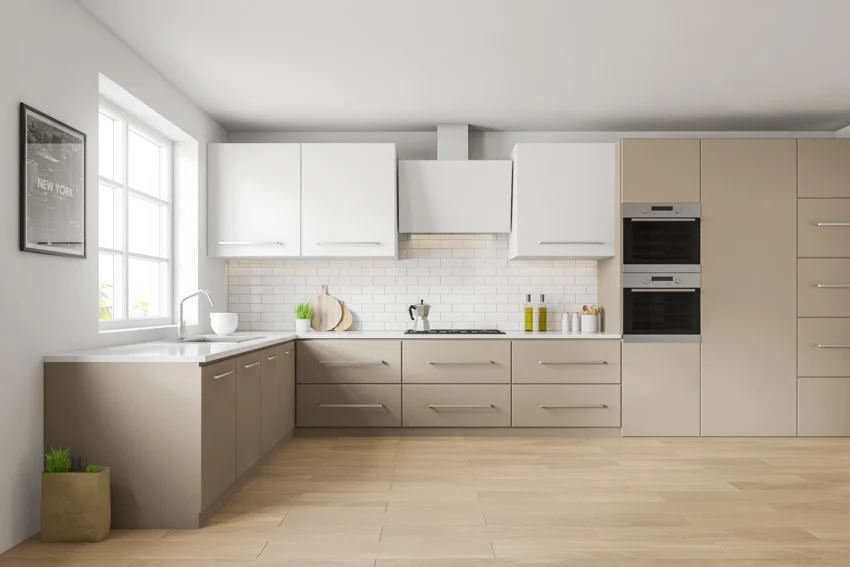 Beige-colored options, particularly those that resemble the color of a biscuit, are among the nice alternatives to white kitchen cabinets too. Beige kitchen cabinets are warm-colored but not drab at all.
As a matter of fact, they can play quite beautifully with other elements such as vases and food containers or whatever little things you might want to put up on your high shelves.
With some basic color matching and swatch comparisons, you can pair it with nice paint colors, in the event of a kitchen redo. It can really make things different with the slightest of tweaks for your kitchen.
High Gloss Off White Cabinets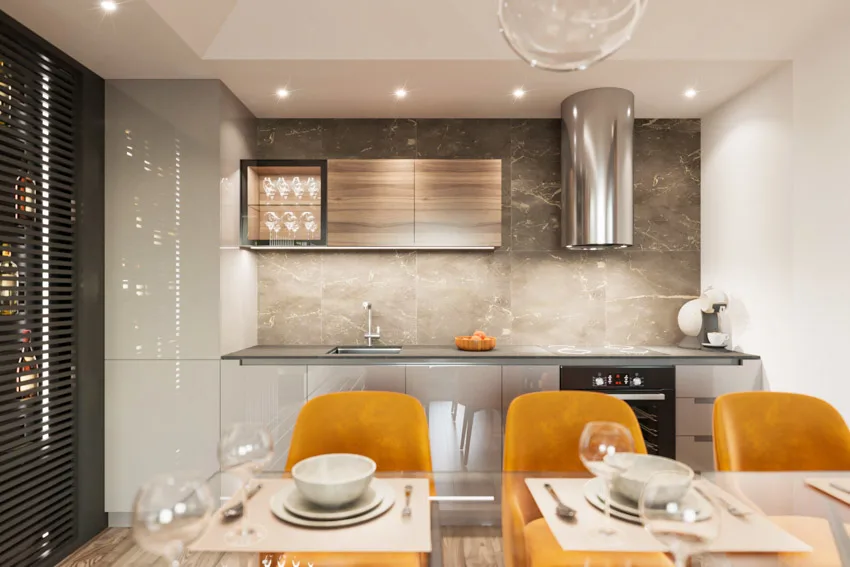 One thing that really makes high gloss kitchen cabinets in off white shades stand out is that they reflect light. This is because of their high gloss acrylic surface.
They can definitely make the kitchen space feel brighter and far more spacious than usual. If you happen to have some limited square footage in your kitchen area, getting high gloss off white cabinets will definitely turn out to work to your advantage.
More than that, the light reflection also helps absorb light out of if you pair it with darker types of kitchen backsplash or walls, for example.
It's visually appealing as it looks very dynamic and attractive. It's also quite easy to clean. This is also one of the biggest advantages of getting high gloss off white cabinets for the kitchen. The textural contrast that they offer up to the table can definitely make your kitchen look spacious but also quite sophisticated.
And of course, its surface is waterproof. They don't require special treatments or sealants in order for them to last longer. Just wipe the surface down and you're good to go.
Popular Non White Kitchen Ideas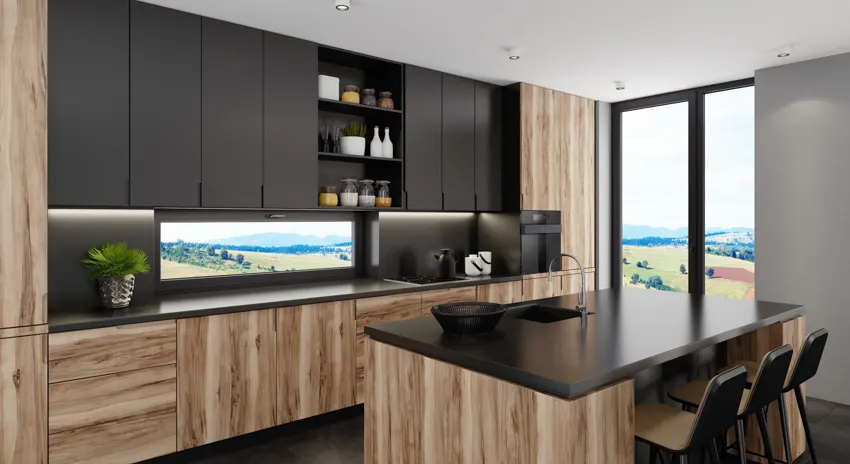 Although this may sound or seem a bit scary or challenging to get into as non-white kitchens seem to be a little ways off from the norm, they can actually bring in interesting insights and design options that you never would've thought about initially.
Kitchens don't necessarily have to play on the white palette all of the time. All that you need to understand is that you need to play on design cohesiveness.
If you're planning to go for a darker color, make sure that it's mixed up with a neutral or something lighter to make sure that it doesn't end up closing the space in. Always make it a point to strike some sort of balance in your kitchen space.
If you get that rule down, any color really is good to go. It all just depends on how you arrange them accordingly. Here are some options you can keep in mind in case you want to go for a completely different color instead of getting white kitchen cabinets.
Two Tone Cabinets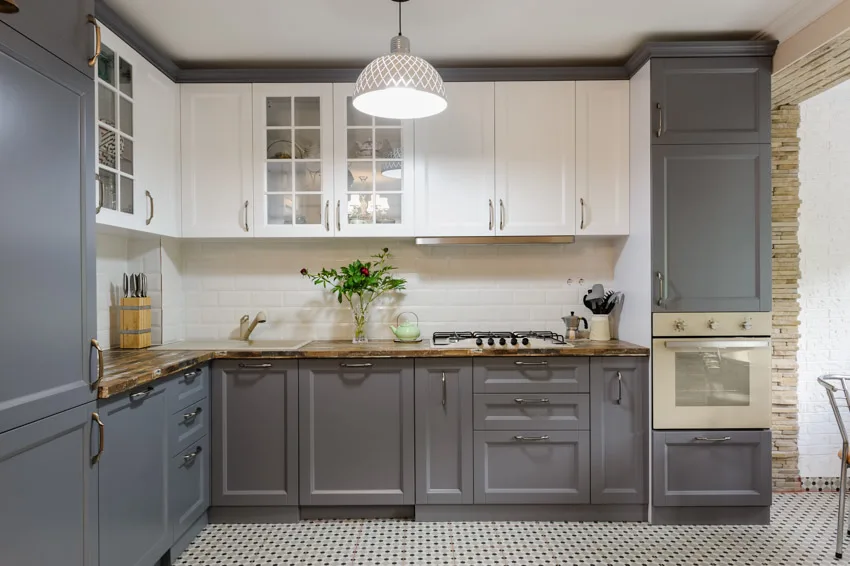 If you want to stick to having a white color in your cabinetry but you also want to switch it up a little, one way to kind of get the best of both worlds is for you to go with two tone cabinets.
You can pick out white for the upper or lower cabinet then go for a different shade for the other one. White can be paired up with literally anything so it's just a matter of deciding on what kind of look or feel you'd like to have for your kitchen design.
Some of the most popular pairings with white are blues, grays, and browns.
There's something warm and inviting about getting these alternatives to white kitchen cabinets. It adds a certain dimensionality to your space without really doing anything extra on the side.
More than that, it's a great way to incorporate another color in your kitchen design without making the space look too busy or overwhelming. You can either go with completely contrasting pairings or you can go with the subtle monochromatic look by opting for different shades in the same color wheel.
Two tone kitchen cabinets are chic and sophisticated to have especially if you'll be able to manage to pull them off the right way.
Compare actual color swatches next to the cabinets before ordering them in. Homeowners at times fall into the issue of getting an expectation versus reality pitfall so be as hands-on as you possibly can when you're deciding on your two tone colors for the cabinets and how they fit into your space.
Gray Cabinets
Gray is considered as a neutral color and is the next most popular color when looking for alternatives to white kitchen cabinets actually. The thing about gray is that it can come in a lot of shades.
You might have thought of gray as just one color initially but it can come in a lot of different shades. It can come in smoky gray coming from light to medium to dark tones, dark charcoal, a gray that's so light that it comes off as almost white but not quite, and so on.
The customization of the colors is endless. Gray kitchen cabinets have been known to pair extremely well with brass hardware. This makes the cabinetry stand out and look really attractive.
Wood Cabinets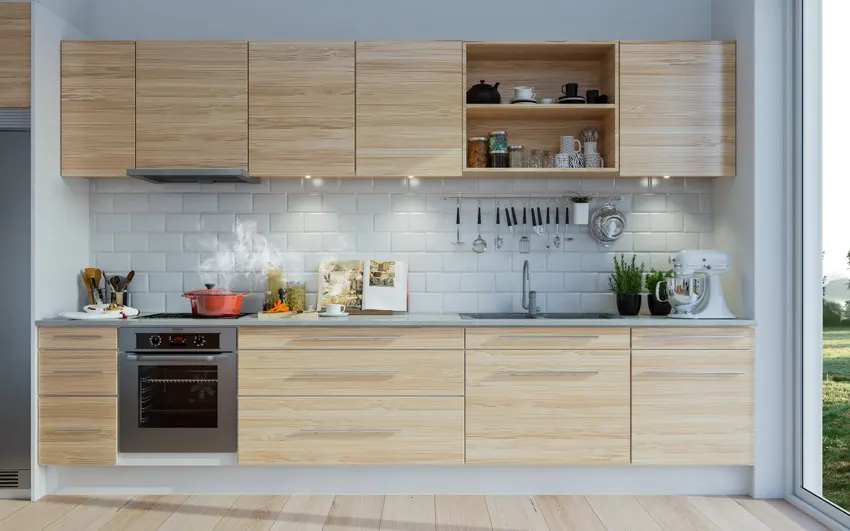 Wood cabinets are great to have, be it in the kitchen or somewhere else in the house. The only potential downside to this though is that it can be more expensive upfront, especially for those who prefer custom solid wood kitchen cabinets.
Be that as it may, they're far more durable and they won't need any type of replacements further down the road. They can last you for years and years. If you want to ensure that your cabinets will last you for a lifetime (and they can), you just need to make sure that they get proper care.
Wood kitchen cabinets offer great natural grain patterns that are naturally beautiful and very difficult to replicate synthetically.
If the goal is for you to bring in warmth and aesthetics in your kitchen space, wood cabinets should definitely come to mind straight away. This makes them really great options to consider in the event of you wanting to bow out of the traditional white kitchen cabinet aesthetics.
They've been around for quite some time now and they're considered somewhat traditional but they're not nearly as common or ubiquitous as white kitchen cabinets.
Stained Cabinets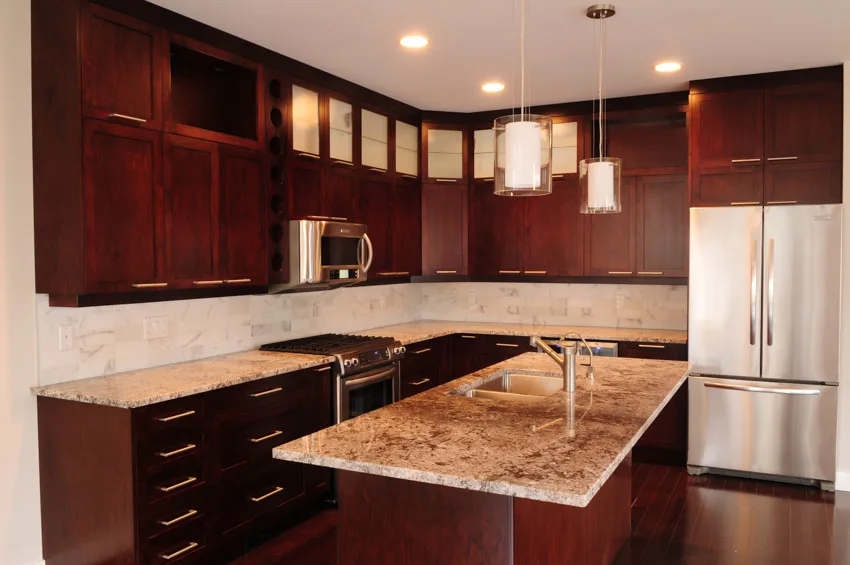 This is something that we all grew up with. Stained wood cabinets have been a staple in houses all over the country and this isn't a surprise why this can be at the top of your list of alternatives in case you don't want to go for the usual white kitchen cabinets.
Kitchens decked out in stained cabinets are both traditional yet also unique. They bring out an old-world type of charm without you ever having to break the bank.
This is definitely an alternative to keep in the books instead of those white kitchen cabinets you see all over. Read more about stained vs painted cabinets here.
Are White Kitchens Out Of Style?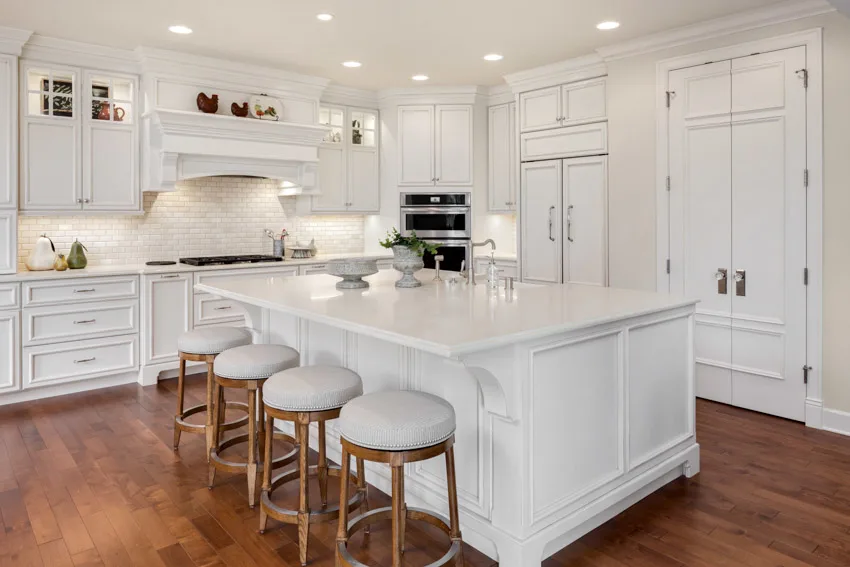 The truth of the matter is that white kitchens will never ever go out of style. They're institutions in the design world so if you still want to consider them, this isn't necessarily something that anyone can fault you on.
However, there is a rising trend in other designs that can make you just as happy. This is the reason why there's been a rise in new trends that offer up as alternatives to the traditional white kitchen we all know so well.
This may include modern colors such as black, elements such as terra cotta tiles, bright colored paints, and so much more. Given all of these new up-and-comers, it still holds true that white kitchens aren't leaving the scene any time soon.
They still continue to top the charts in terms of kitchen design, usability, and even when it comes to design cohesiveness. You really can't go wrong with white and this is a design rule that will hold true as the years go by.
See more related content in our article about beautiful white kitchens on this page.