Here is our gallery of two tone kitchen cabinets featuring a variety of design styles.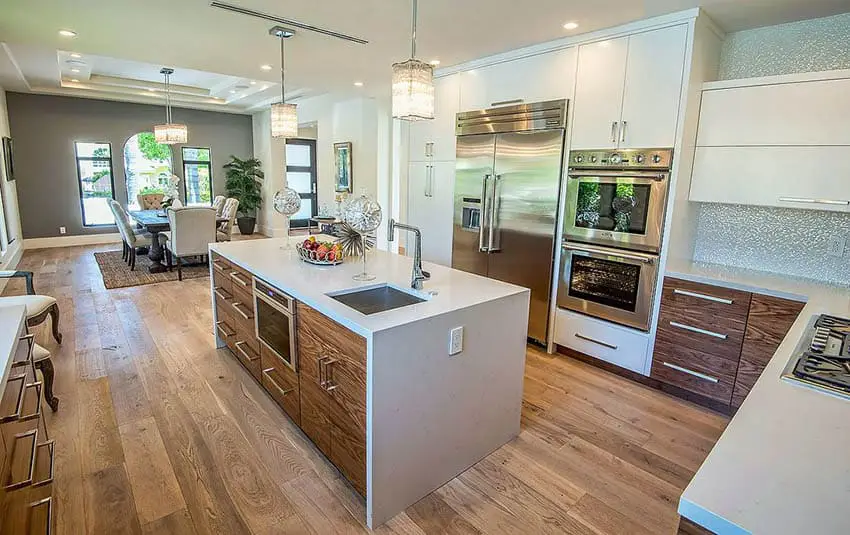 Two tone kitchen cabinets are a style that is growing in popularity and can increase visual interest in a space, and let you bring in your own unique personality to your design. Using two different color cabinets can be effectively used in many different kitchen designs from traditional to modern. This design trend often works well when one color cabinet is the primary color or focal point and the other is used as an accent color. However, for bolder kitchen designs one can opt for splitting two tone cabinets equally with great results.
During the process of designing and selecting finishes, one might encounter a dilemma of not being able to choose between finishes and colors. Do you go for a classic white kitchen? How about a gunmetal gray for a more contemporary look? Or use a wood laminate finish to give it a more homey appeal? Or better yet, why not combine two of your favorite finishes? For those who are always torn between choices, you might not have to stress yourself out in choosing when you can simply do both.
The idea of two tone kitchen cabinets is not new, but it does solve our typical design dilemma. Two tone kitchen cabinets often refer to kitchens which have two different finishes, usually between the base cabinet and the overheads. It's a simple design solution that makes the design more fun, dynamic and gives it a bit more contrast and balance. The advantage of going for a two tone is that your kitchen will surely never look monotonous or boring, and it is also able to effortlessly achieve balance and appeal.
Two Tone Kitchen Cabinet Ideas
There are so many cabinet and finish colors available in the market, and selecting from such a variety could be daunting. Here are some tips you can use when selecting your cabinet finishes:
Use a primary color and an accent color for your cabinets – An example of using an accent color as the second tone could be seen in having a primary kitchen cabinet color with the kitchen island in another. See more examples of contrasting kitchen islands here.
Determine floor/wall/ceiling finish of kitchen – refer to your base colors when selecting you cabinetry finish. It would be hand to put the laminate/veneer/wood samples right beside the final wall and floor color in order to visualize how they would look together. You can easily get laminate and veneer swatches from the market, so grab your options and place it beside the actual wall/floor/ceiling colors to see how they would look together.
Play with contrasts – light & dark, smooth & textured, plain & patterned, shiny & matte… There so many contrasting combos you can play around with!
Use white as a bridge between color combinations – A good rule of thumb in design for visual balance is the 60-30-10 rule. This means using 60 percent for the primary color, 30 percent as the secondary color and 10 percent for an accent color. Using white as the third choice can be an effective way to bring harmony & balance to the design.
Consider countertop color when selecting cabinet finishes – For more ideas about coordinating cabinets with countertops check out our kitchen cabinet styles page.

Consider zoning – if using a different finish for the base and overhead doesn't work for you, you can try to separate the finishes into zones. Example: place your plain color on the main wall cabinets, then use wood for the kitchen island.
Use a color wheel – Using a color wheel and choosing two complimentary, adjacent or analogous colors that work together well is a safe bet.
Consider darker cabinets on the bottom and lighter on the top – This can have the advantage of helping your kitchen space look larger with lighter color on top, and grounding the space with the dark color on the bottom.
In this post are some excellent examples of two tone kitchens you can take inspiration from: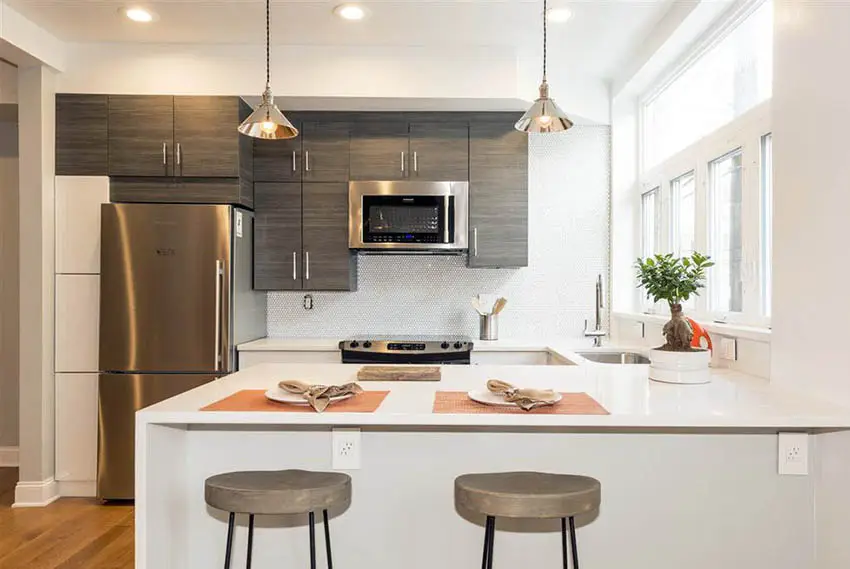 This small kitchen features a very contemporary look that combines a silver tone wood laminate on the over head cabinet and plain white laminates on the base. The very clean and simple lines of the cabinets matches the popular gray and white combination and gives your space a clean yet stylish appeal.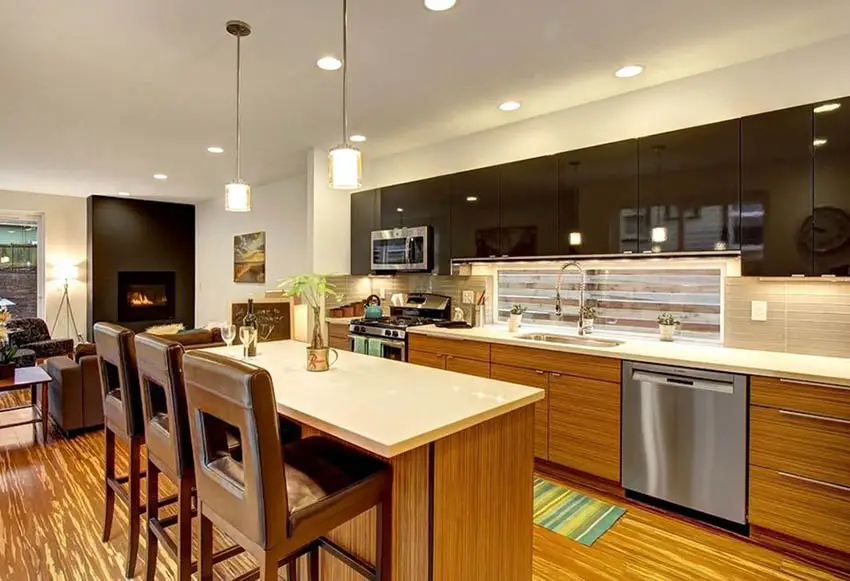 When combining finishes, you can choose to be a bit bolder and choose finishes that aren't as popular as others. This example demonstrates that a teak wood base cabinet actually looks good with high-gloss overhead cabinets. It takes it even further by selecting black for the overhead, creating a very bold contrast and unique look.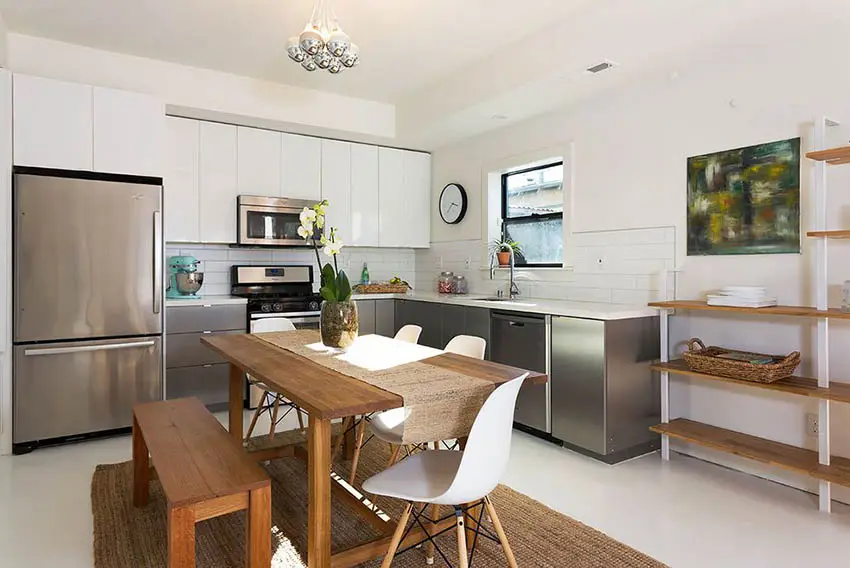 Don't limit yourself to wood or laminates, because stainless steel also offers excellent aesthetics. Commonly used on commercial kitchens, stainless steel is loved by professional chefs/cooks because it is durable and very easy to clean and maintain. This examples shows a steel base cabinet and a plain white overhead. Because the base are in stainless finish, it gives an illusion that the fridge is built-in even if it's freestanding. The look achieved is also very simple, elegant and fresh.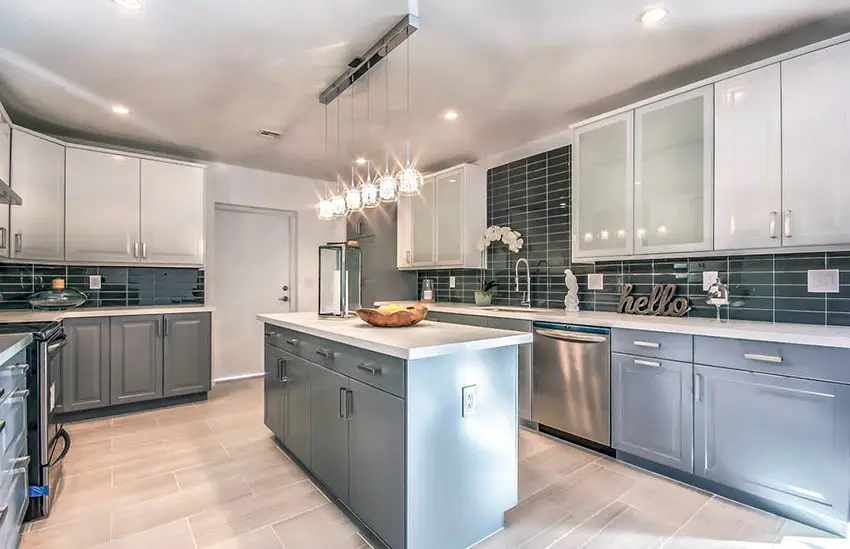 Give your kitchen a little upgrade by adding glass paneled overhead cabinets to go with your classic gray base cabinets. The subtle addition of glass already gives it a more contemporary look.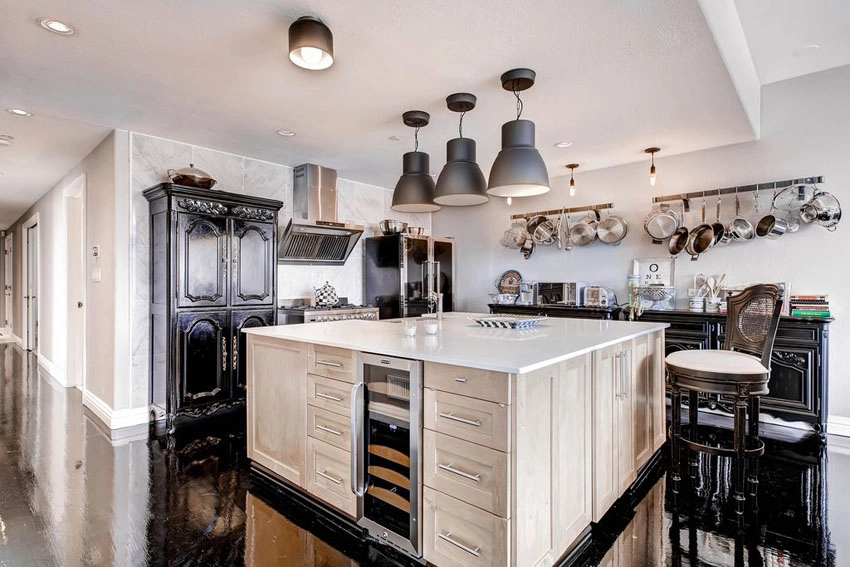 Bold contrasts always look amazing when done right. This example features classic style kitchen with a contemporary color scheme. The massive kitchen island is in cream while the wall cabinets are all black creating a bold look for the kitchen.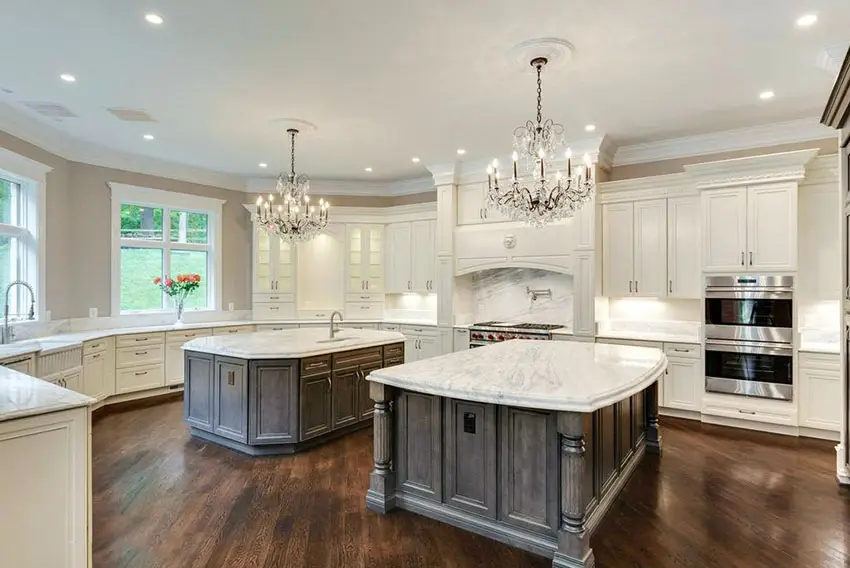 This romantic French style kitchen uses rustic finish kitchen islands in combination with the cream white wall cabinets to give it a soft rustic appeal.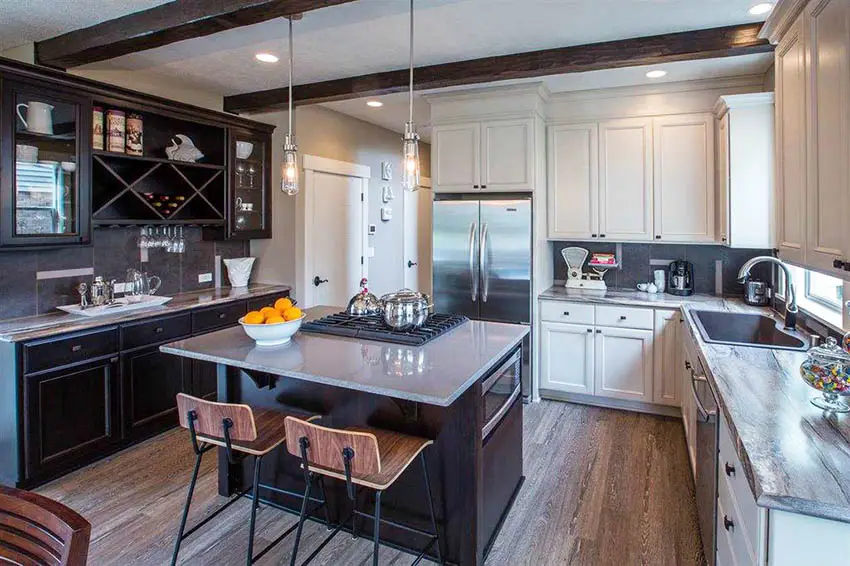 Mixing Country style kitchen cabinets with Industrial Style furniture pieces gives this kitchen a more casual/laid back feel. The kitchen seems to be visually divided into two, with one area in black and the other in white.
Mahogany kitchen cabinets lines the wall on the left side of the kitchen while the main kitchen is in white, emphasizing the difference in function of the two areas. The Mahogany bar stools also helps tie up the two finishes together.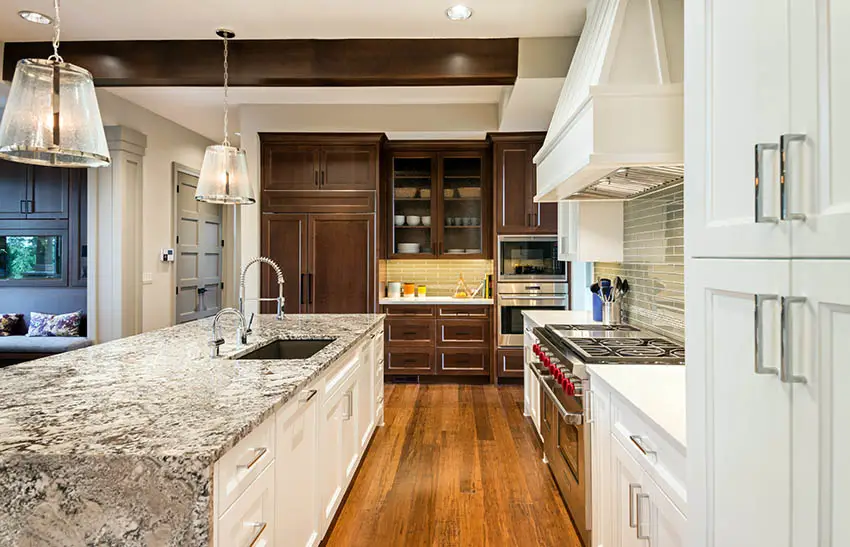 You can also observe that the Mahogany cabinets matches the color of the ceiling beams to make a cohesive color scheme. The main kitchen counters and the Mahogany counters also use the same materials for the backsplash and the countertop to emphasize that both are part of the kitchen.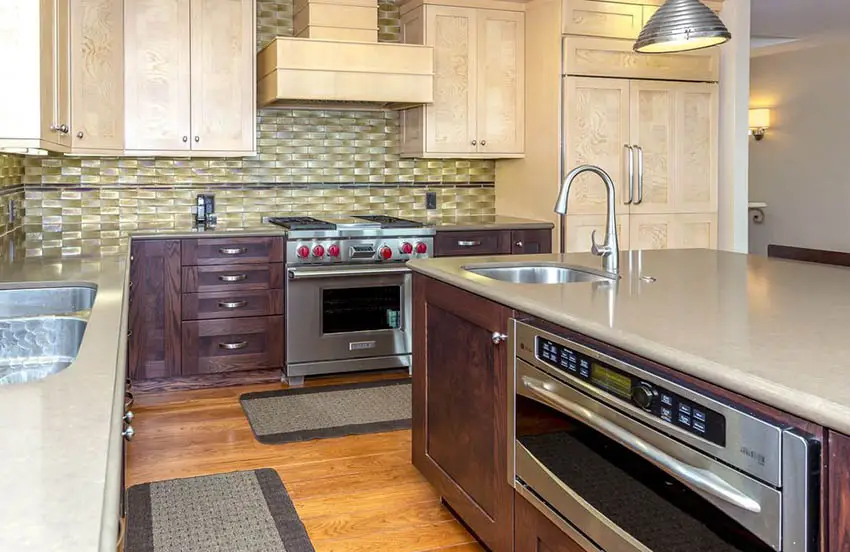 An unusual combination of Beechwood overhead cabinets and redwood base cabinets, this kitchen makes a very interesting look, especially with the gold 3D backsplash tiles.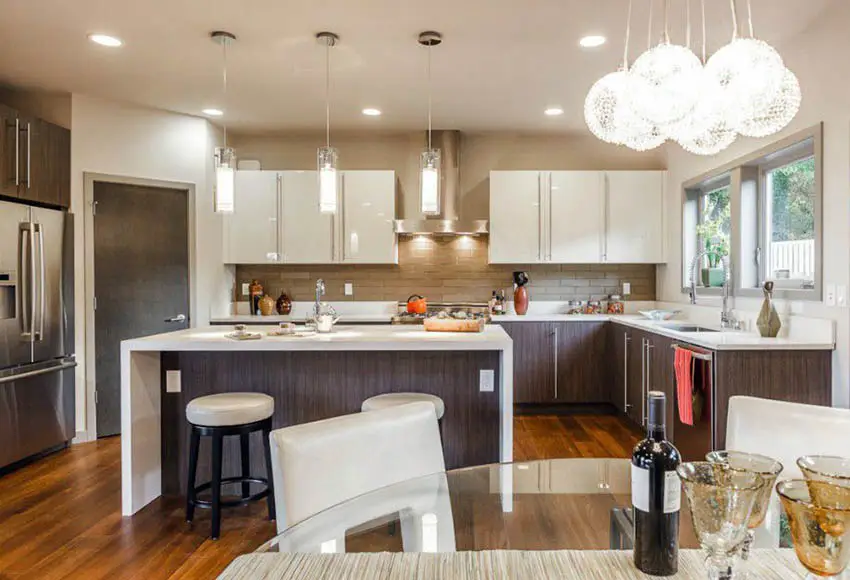 This contemporary kitchen features 2 textures and 2 colors to create a dynamic look. The base cabinets are in matte ashwood laminates while the overheads are in glossy white laminates. A white solid surface countertop ties the look all together.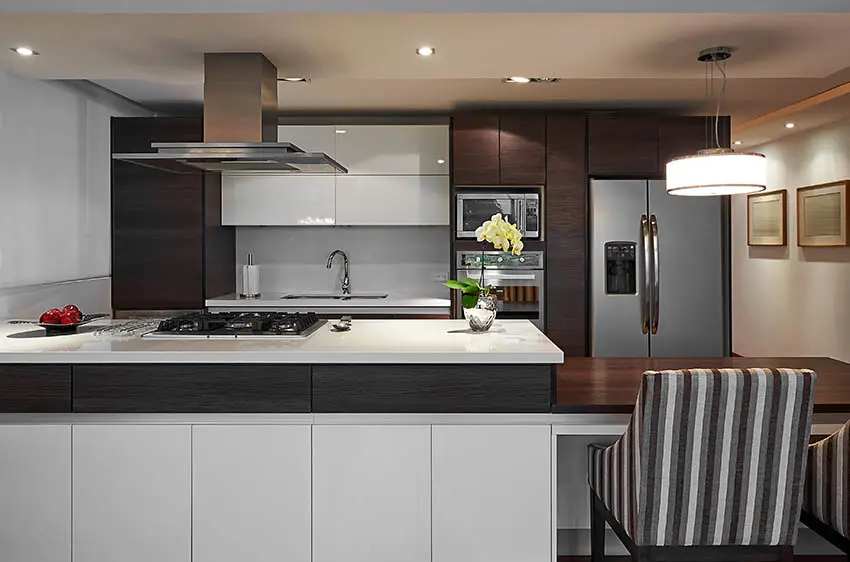 This contemporary kitchen features two tone cabinets dividing the space vertically. Floor to ceiling cabinets are finished in dark Mahogany with very fine grains makes it look modern when paired with the glossy white laminates.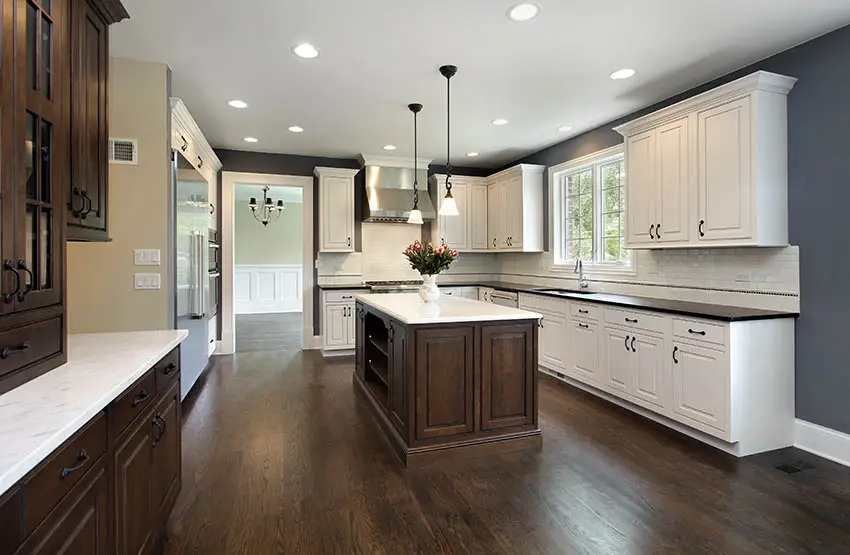 The contrast of dark walnut and white looks very appealing. This particular example has one side of the kitchen with white cabinets and black counters while the other side shows the opposite combo of dark walnut and white marble counters.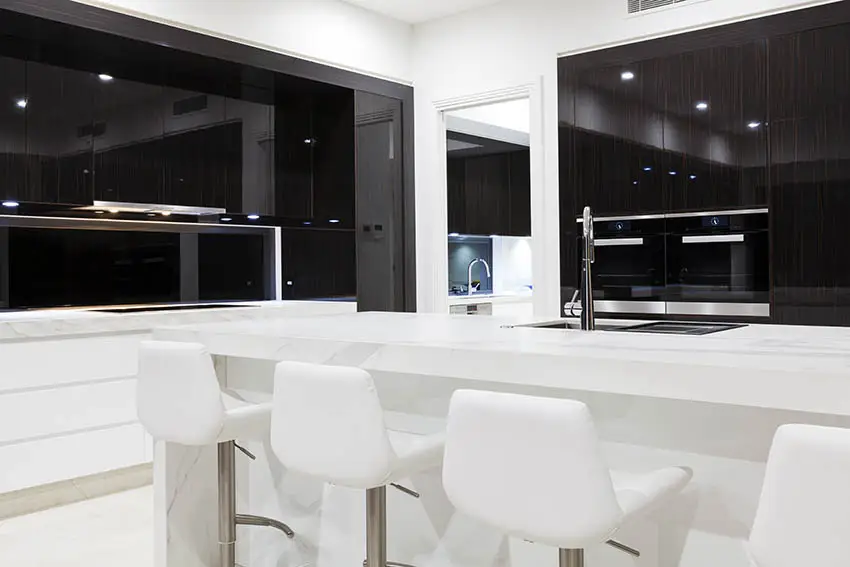 This modern minimalist kitchen combines black laminates & backpainted glass with white glossy laminates to create a bold contrast to the very simple kitchen design.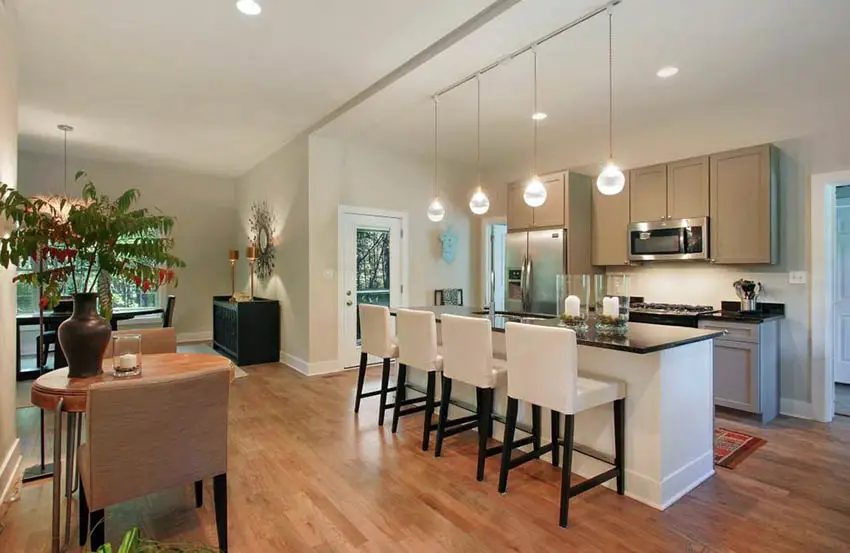 A simple combination of light gray and white could give your cabinets an instant refreshing update. The light color combinations used in this kitchen makes the space look casual and relaxed.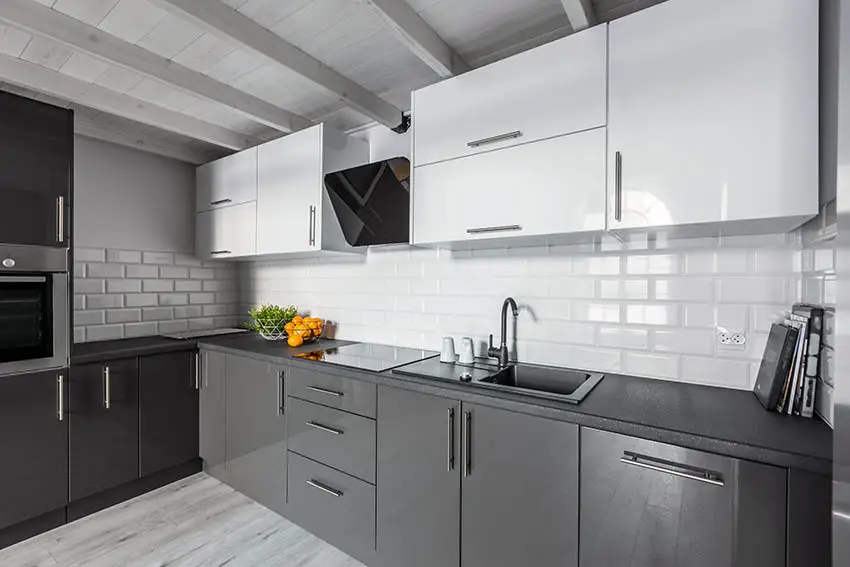 Achromatic color schemes look great with contemporary kitchens like this example. Aside from the black base & white overhead combination, the contrast between the the matte countertop and the glossy backsplash gives the design more depth.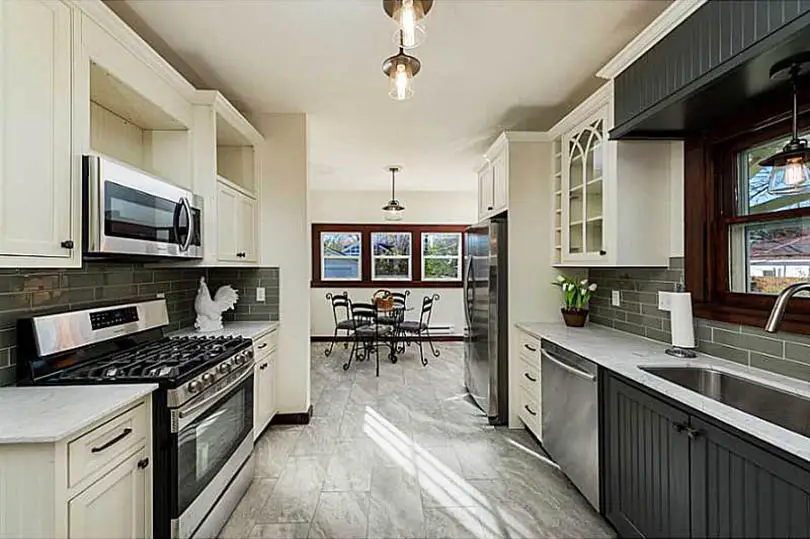 Classic gothic-inspired cabinetry were combined with paneled cabinets creating a variety of patterns & textures on the surfaces. The combination of cream white and charcoal gray gives the classic cabinetry a modern upgrade.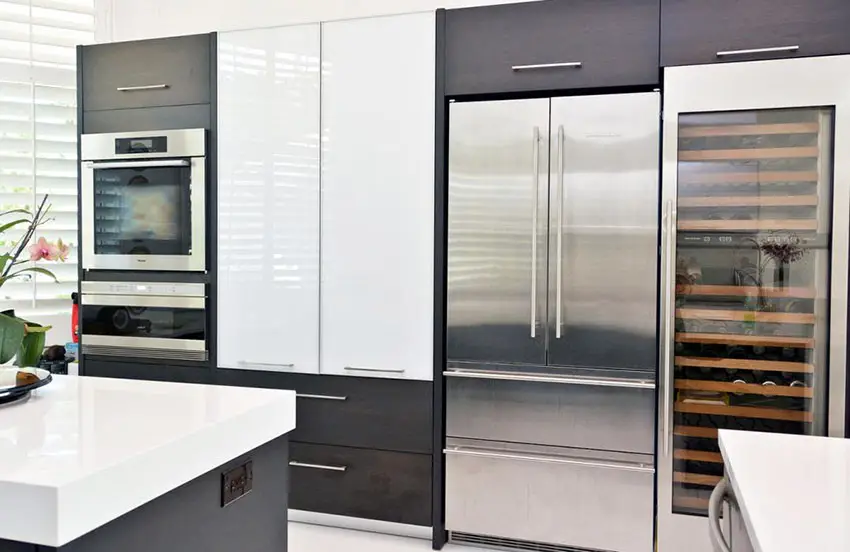 Another method of applying two tones on kitchen cabinets would be to use it as an accent. Similar to this example, the majority of the kitchen is in wengue finish, but one of the upper cabinets uses white glossy laminates instead, giving it more emphasis.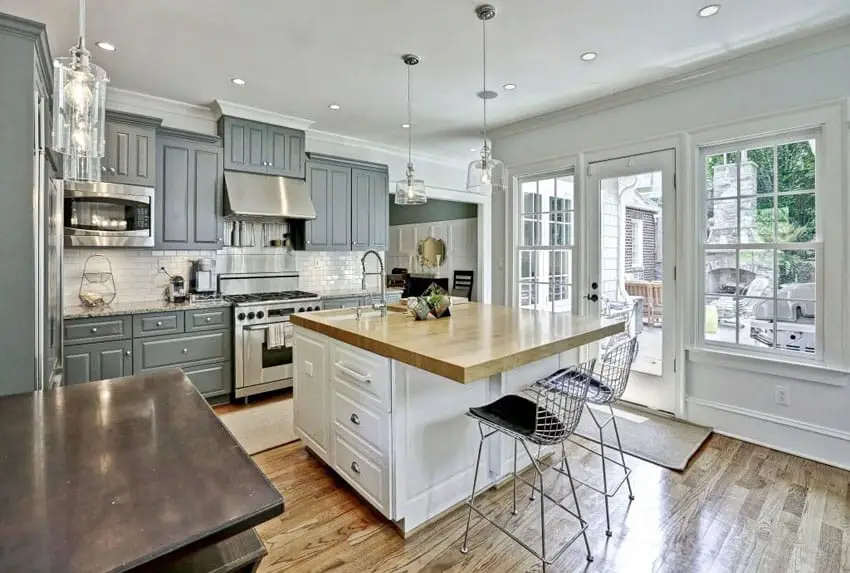 The refreshing color scheme of white and light gray gives this classic kitchen a very young and refreshing appeal. The white is applied on the massive kitchen island and uses a solid maple wood butcher's block to, making it stand out/serve as an accent piece to this kitchen. The use of stainless steel appliances and accent pieces adds a touch of modern look to the space.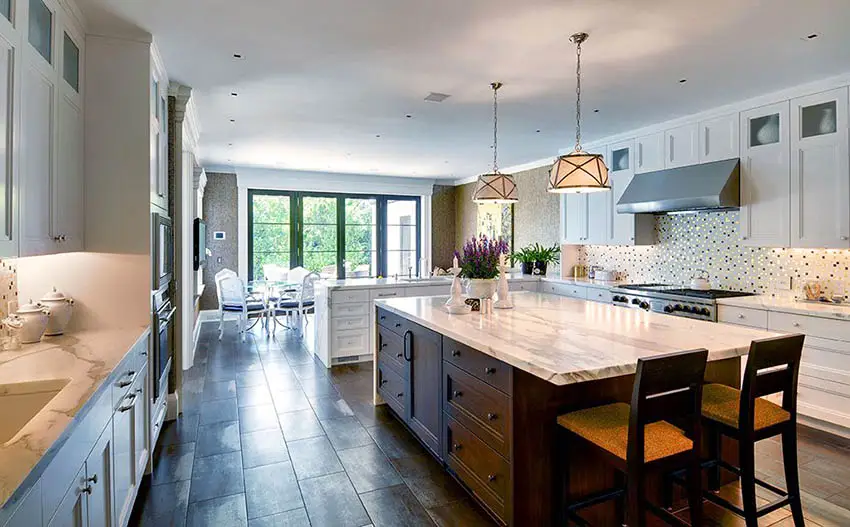 Similar to the previous kitchen, the second tone of the lighter kitchen finish is applied on the kitchen island, but in this example, it is applied on the opposite areas. However, instead of a special countertop finish, it uses the same for both the main counters and the kitchen island. The dark wengue kitchen island also matches the flooring and bar stool finish for a more coordinated look.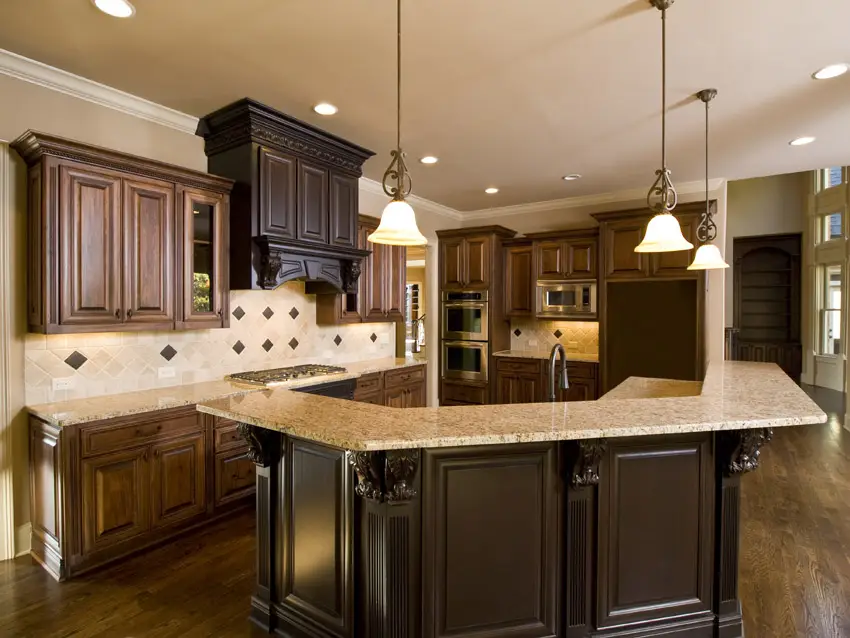 The previous examples showcased bold contrasting colors/finishes of two tone kitchens, but this example has a more subtle variation of finish, using golden walnut and wengue, creating a seemingly single tone kitchen finish.
Two Tone Kitchen Cabinet Doors
Here we share a variety of kitchen designs with emphasis on two tone cabinet doors. This can often be achieved by using a distressing process, installing dramatic hardware or painting the recessed portions to emphasize the three dimensional look of the cabinet.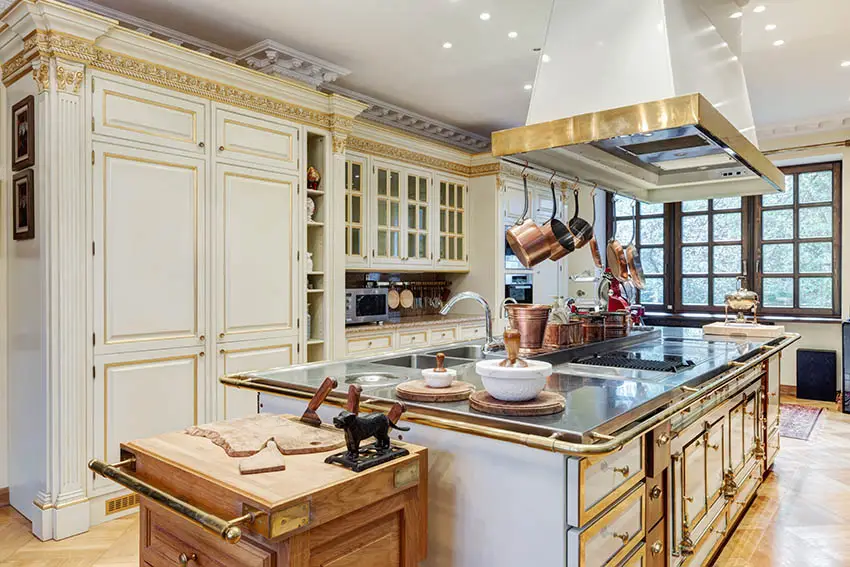 Aside from sectioning parts/areas of the kitchen with 2 different colors, another technique to create a two tone kitchen is by using it as an accent color. This Classic Corinthian inspired kitchen applies the second color on the trims & carving details. The gold paint against white gives it a really elegant & classic look, and it also further emphasizes the details put into the cabinetry.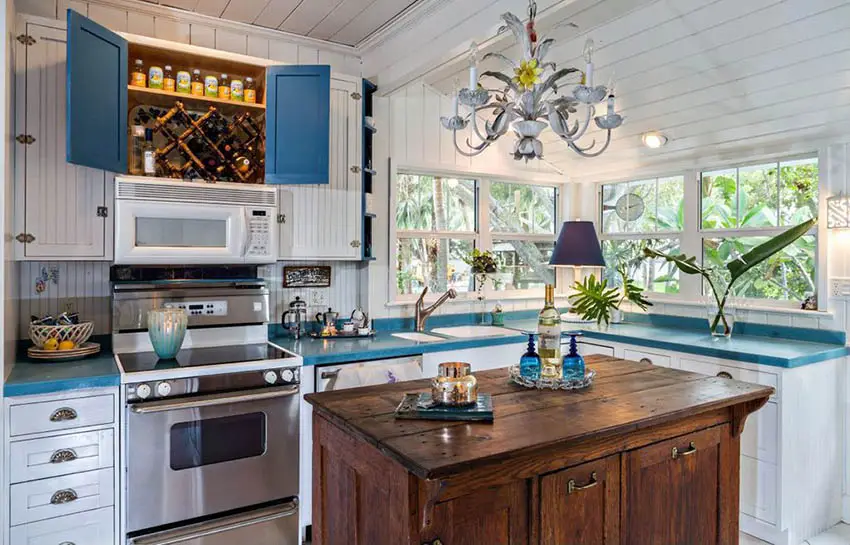 White kitchens will always be timeless, but they can also be a little boring if you keep it too flat. This white country style kitchen demonstrates how adding a very bold accent color (teal in this case) could result to a dramatic improvement to the design. It has instantly given it an energetic and youthful vibe.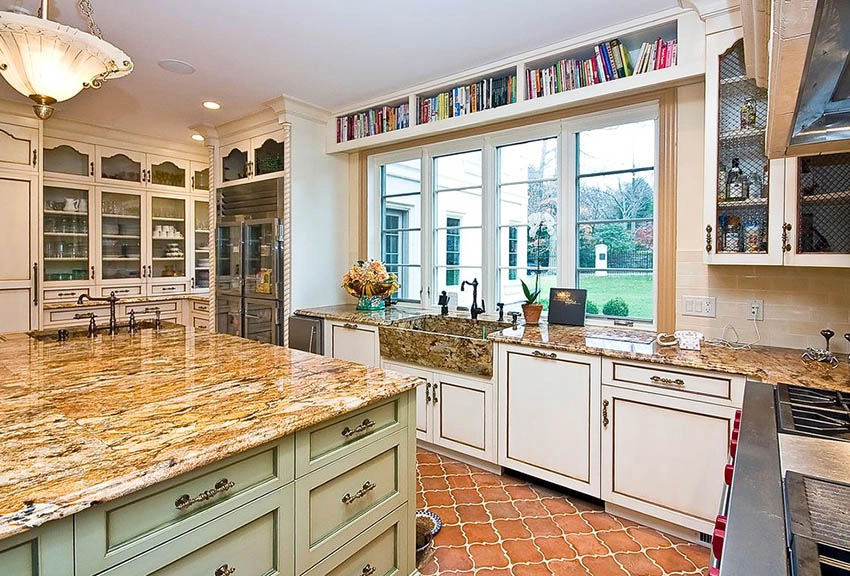 This Classic French style kitchen goes with a subtle variety of tones by combining antique and sage green. The soft hues help tone down the bold orange color of the terracotta flooring and the granite countertops, creating a pleasant ambiance that is very homey and relaxing.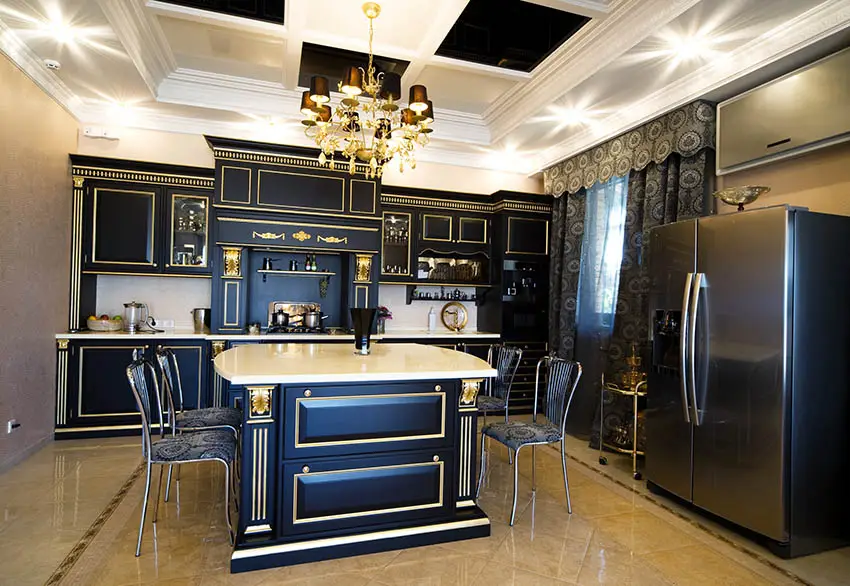 If you're feeling bold and adventurous, paint over your classic style kitchen cabinets with black and create faux gilding by painting its trims and carvings with gold. The result is a very strong and unique look that would easily become a conversation piece in your home.