Here's our guide to the types of kitchen cabinet materials including their pros and cons, durability, and some tips on which material is best to use in modern and outdoor kitchen cabinets.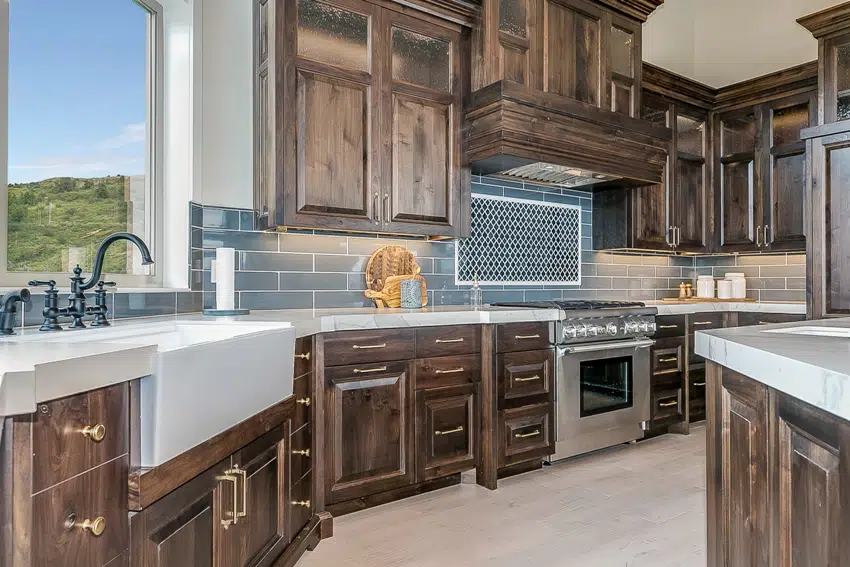 One way to upgrade your kitchen is through your cabinets. Aside from aesthetics, they provide storage for a neat look. That said, there's no doubt that they are among your kitchen essentials.
But the longevity, durability, and design of your kitchen cabinets ultimately rely on the type of materials you choose. If you're planning to build from scratch, reface, or paint your kitchen cabinets, this article is for you.
Read on as we delve into the pros and cons of different types of kitchen cabinet materials.
Pros And Cons Of Kitchen Cabinet Materials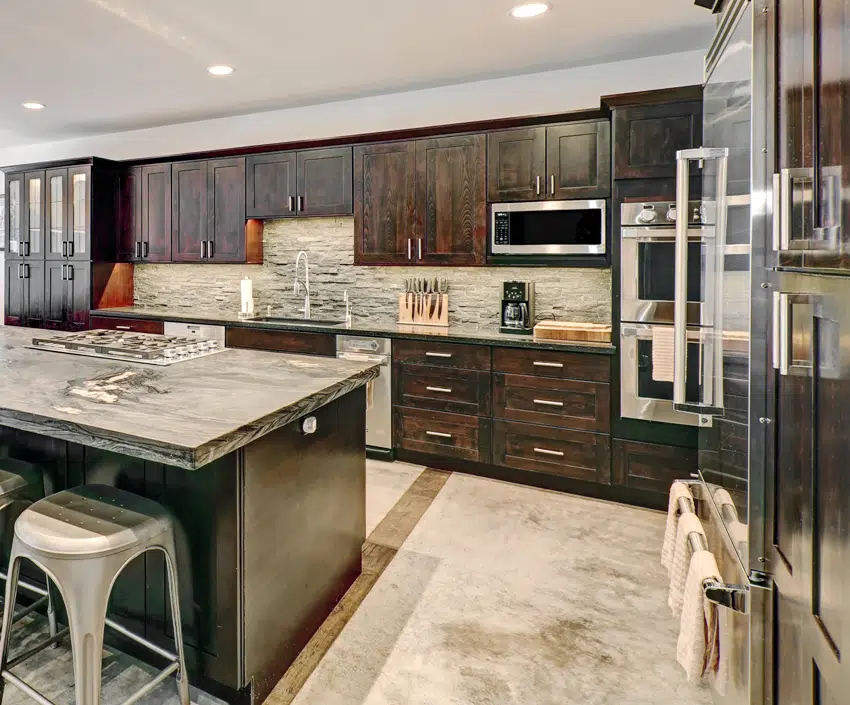 From natural to synthetic, kitchen cabinet materials are in abundance to cater to every design preference, quality, and budget. Here are the top materials that homeowners use.
Wood Cabinets

For many years, wood has been the number one choice for home furniture. Whether you use solid wood or softwood, people are drawn to them as they evoke warmth, timeless beauty, and they last for a long time.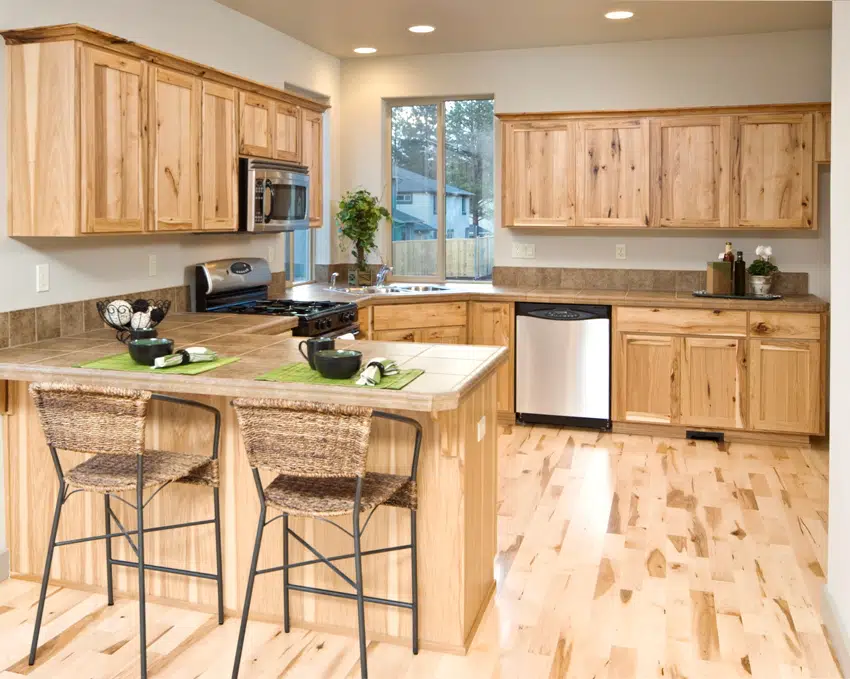 It is uniquely beautiful. Different grains, colors, and surface patterns of wood create unique designs. The innate characteristics of wood combined with beautiful crafting result in eye-catching kitchen cabinets. See our gallery of the best solid wood kitchens designs here.
It is durable. Some types of wood are innately hard-wearing, like hickory, red oak, and maple. These are resistant to scratch and dents. In addition, their longevity makes wood furniture a perfect keepsake for future generations. Find out more ideas on our antique white kitchen cabinets page.
It can be expensive. The limited supply of quality wood makes them expensive. Aside from the cost of materials, installing them can also be laborious and hefty. Opt for softwood for a more affordable option like fir, pine, and spruce.
It attracts termites. Termites and other bugs are common problems in homes fitted with wood. Get pressure-treated wood to deter unwanted insects.
It is moisture sensitive. Because of the wood's porous surface, it can break or warp when it gets damp. That said, it is crucial to add a layer of protection to your kitchen cabinets.
Wood Veneer Cabinets

Wood veneers are thin layers of wood used to cover particle boards, MDF, and plywood. Wood veneers are stylish yet sustainable.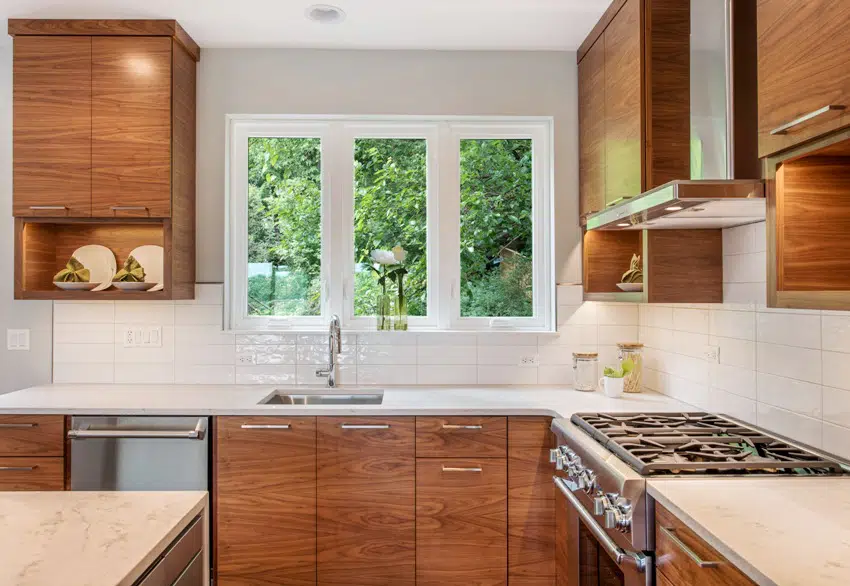 It is more affordable than hardwood. Wood veneers can be budget-friendly, as it uses only the skin of the wood. You may select from a variety of qualities at different price points. That said, premium and exotic wood veneers may also cost more than solid wood.
Wood veneer doesn't warp. Engineered wood serves as the base for wood veneers. That said, there is a lesser chance of warping.
It is hard to repair. Depending on the type you pick, some wood veneers are more prone to scratches and dents. When they break and peel, replacing them is your only option.
It is prone to water damage. Any porous material like wood and wood veneers does not deal with water well. Water exposure causes white spots and blushing on the surface. Be mindful of where you will install them.
Plywood Cabinets

Layers of composite wood veneer that are pressure treated turn into sheets of plywood. A superior construction material, professional builders use plywood on structures like walls, floors, and ceilings.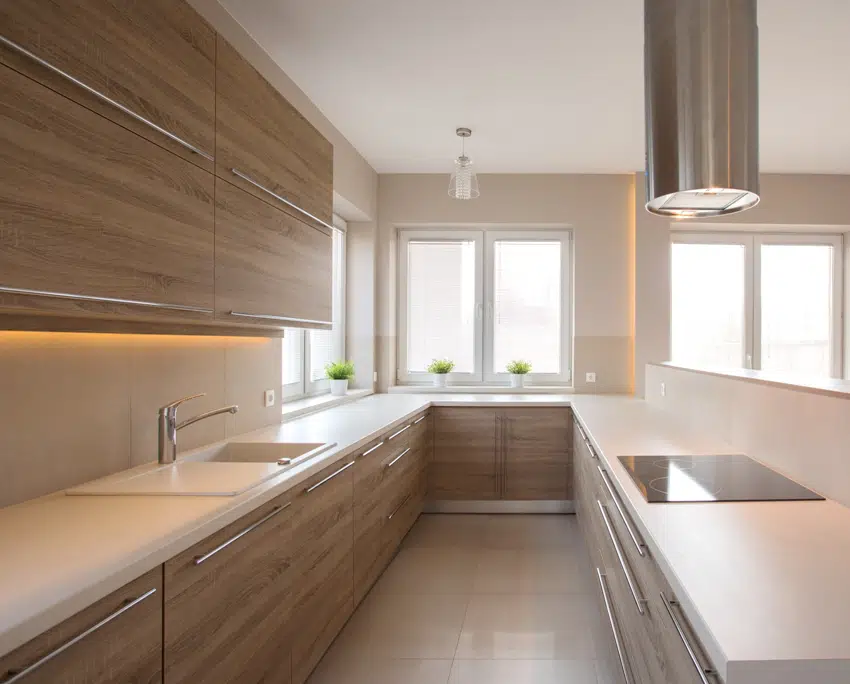 It is lightweight yet durable. Plywood cabinet panels are lightweight, with a thickness that ranges from only six to 22mm. Despite this, they can carry heavy loads by absorbing and distributing the weight evenly.
You can easily stain or paint the plywood. With proper surface preparation, plywood is very easy to customize to fit your design. You can use stain, paint, veneer, or even laminate to achieve the look that you want.
Plywood edges need to be covered. Unfortunately, the sides of plywood panels do not have a smooth finish. For a seamless design, you will need to install laminate or veneer.
It is sensitive to moisture. The binding agent between the layers of composite wood may come undone if water or moisture seeps in. It is best to select moisture and water-resistant grade plywood to avoid this from happening.
MDF Cabinets

Sometimes confused with particle boards, MDF or medium-density fiberboards are more resilient and do not chip easily. The combination of wood fibers, wax, and resin results in smooth and dense boards make them a great alternative to solid wood. Find out more about the pros and cons of MDF vs Wood kitchen cabinet doors here.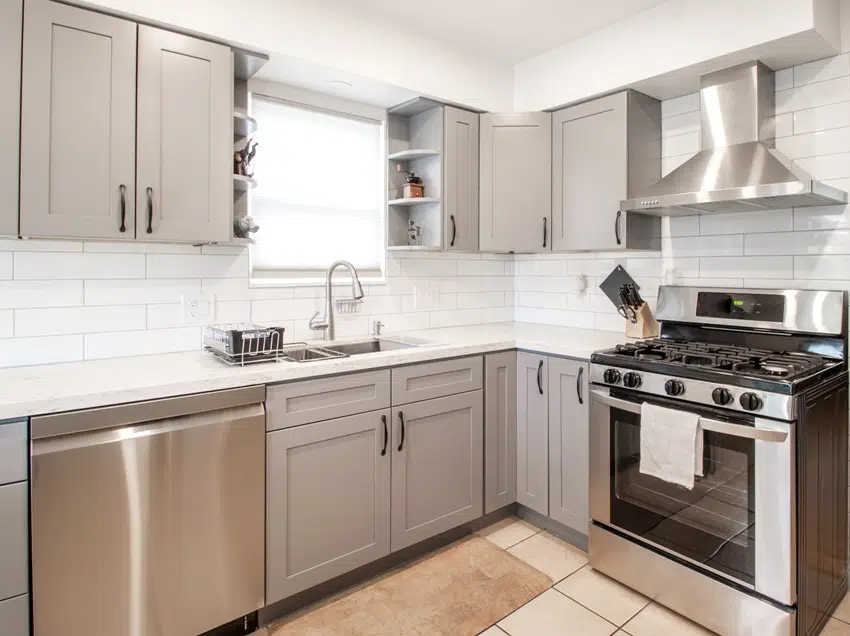 You can modify MDF to your liking. You can order your MDF kitchen cabinets in different shapes, cuts, patterns, and colors. If you prefer quick installation, opt for ready-to-assemble MDF kitchen cabinets in standard sizes.
It is cheaper than plywood. MDF kitchen cabinets are more affordable by 10 to 20 percent compared to plywood. For reference, expect to spend between $4,000 and $5,000 for plywood cabinets.
It has a low thermal resistance. Your MDF kitchen cabinets may sustain damage under exposure to extreme heat or rain. Do not use this material for any outdoor purposes.
It cannot be stained. Because of its density, stains cannot adhere to the surface. If you want to customize your MDF, you can consider painting it after priming or install veneers.
An even more durable choice than MDF are HDF kitchen cabinets. HDF or high density fiberboard is more resistant to water and durable compared to MDF.
PVC Cabinets

Polyvinyl chloride or PVC is a purely synthetic material present in residential and commercial properties. This material comprises layers of plastic to form a PVC board.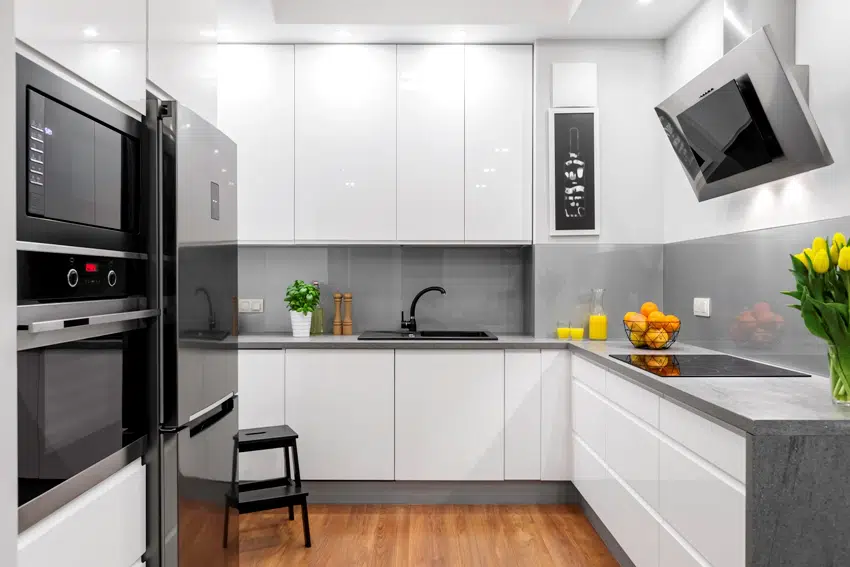 It is lightweight and easy to install. If you prioritize convenience, then PVC kitchen cabinets are something to consider. Ready-to-install PVC boards come in designs with no additional treatment or coat needed.
It is resistant to termite and other wood problems. Because plastic is the key component of PVC, you can rest easy from wood problems like rotting, termites, and warping.
It is prone to scratches and dents. Sharp objects, pets, and kids are among your challenges when maintaining your PVC kitchen cabinet. Unlike wood, you cannot remove scratches and dents on PVC by sanding.
It is highly combustible. Avoid using PVC materials in places that are near a stove or oven. Constant exposure to heat and fire may melt your kitchen cabinets.
Stainless Steel Cabinets

Residential and commercial kitchens favor stainless steel for its high durability. This material requires minimal maintenance, is hygienic to use, and is pliable. Below are the benefits and risks of using stainless steel cabinets.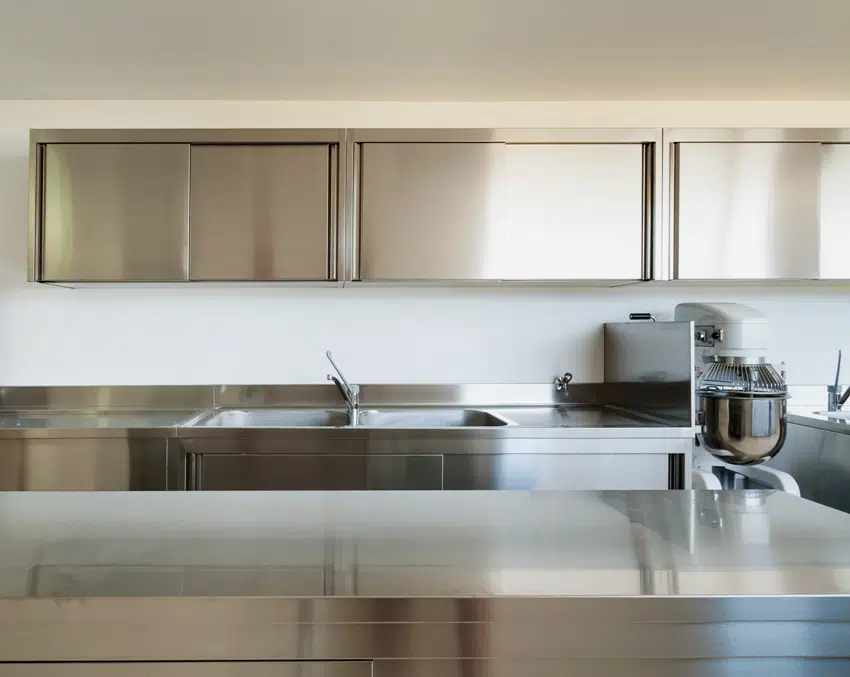 It is nonpermeable. Stainless steel has a sleek and non-porous surface, which doesn't allow oil, water, and any liquid substance to penetrate. In addition, this material is also fireproof and resistant to corrosion.
It is very hygienic. Dirt, bacteria, and other germs cannot stick on the surface. Regular wiping of your stainless steel surfaces can go a long way to keeping them hygienic.
It isn't flexible, design-wise. Too much stainless steel in the kitchen can give an unwelcoming vibe. Depending on your location, you can source several metallic colors aside from silver. But, you cannot reface or paint over it.
It needs constant cleaning. Since stainless steel cabinets have a glossy surface, fingerprints and dust are visible. Wipe your kitchen cabinets daily for a sparkling clean kitchen.
Which Kitchen Cabinet Material Is The Most Durable?
Hardwood and stainless steel are among the most durable kitchen cabinet materials.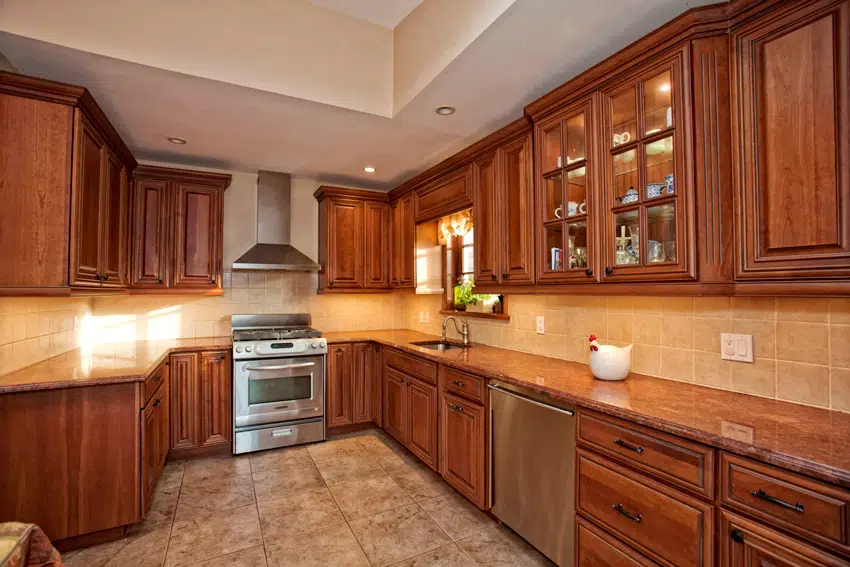 With proper care, your wood furniture can last you for centuries. If you live in a more humid area, opt for wood with a high tolerance to moisture. Some of the favorite hardwood used for kitchen cabinets are hickory, maple, red oak, and cherry.
But, if you are looking for commercial-grade kitchen cabinets, then stainless steel is your next option. Although less appealing than hardwood, professional kitchens use stainless steel kitchen cabinets because of their strength and hygienic properties.
To balance the cold vibe of stainless steel, match it with other kitchen furniture in bright colors or wood design using MDF, veneer, or PVC.
Which Materials Are Used For Modern Kitchen Cabinets?
The current trend in the kitchen involves a simple yet sleek design. Many homeowners use solid colors for their kitchen cabinets that create a crisp contrast against white walls, or vice versa.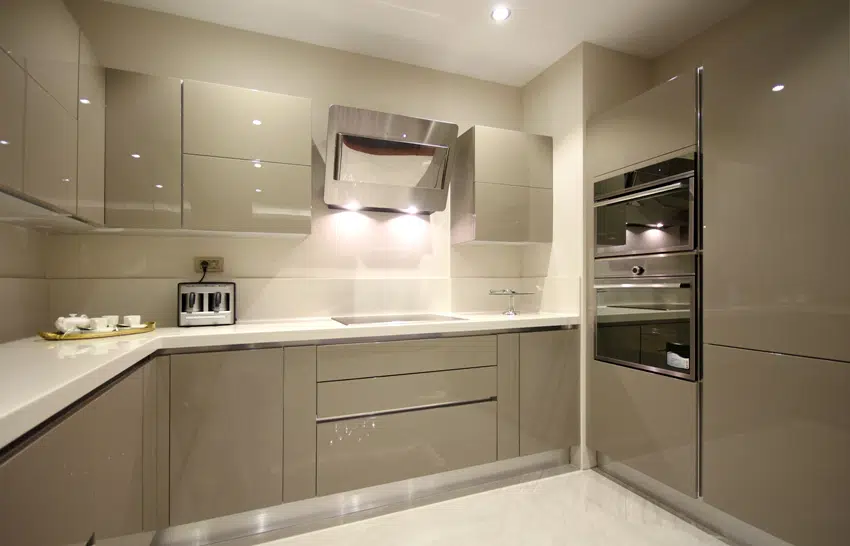 Synthetic materials like glass and metal, MDF, PVC, and colored veneers are the go-to modern materials for their versatility. Engineered wood is available in varying colors and imitations of wood, marble, and tiles.
Although not as durable as hardwood, they can fit any interior design and are easy on the budget. You can check more contemporary kitchen cabinets here.
Best Material For Kitchen Cabinets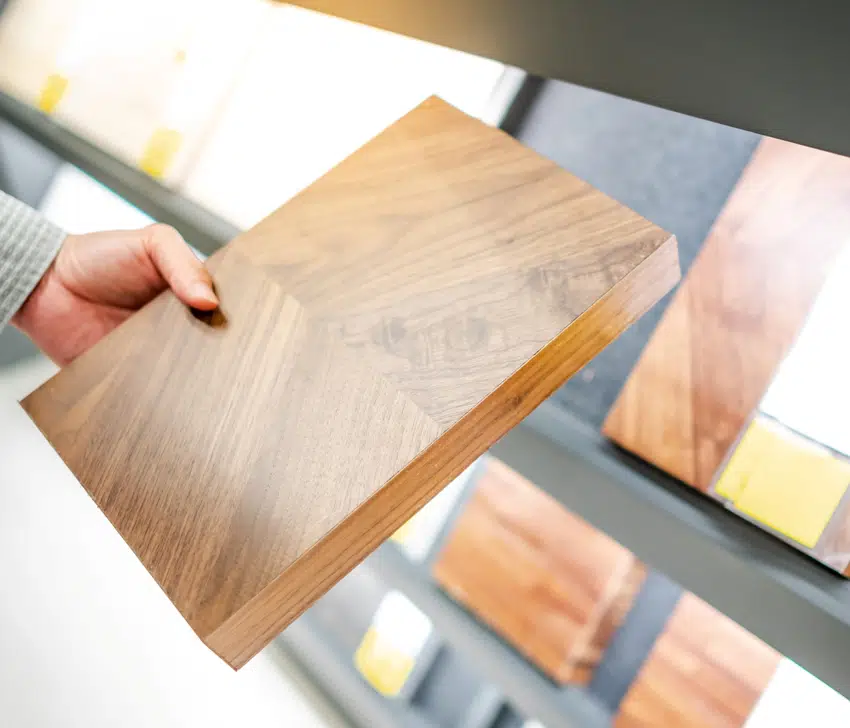 The best material for kitchen cabinets should balance form and function. Keep in mind your environment, interior design style, and budget when selecting the material.
While wood is the top kitchen material because of its strength and timeless beauty, synthetic materials are more affordable, widely available, and apt for modern designs.
Best Material For Outdoor Kitchen Cabinets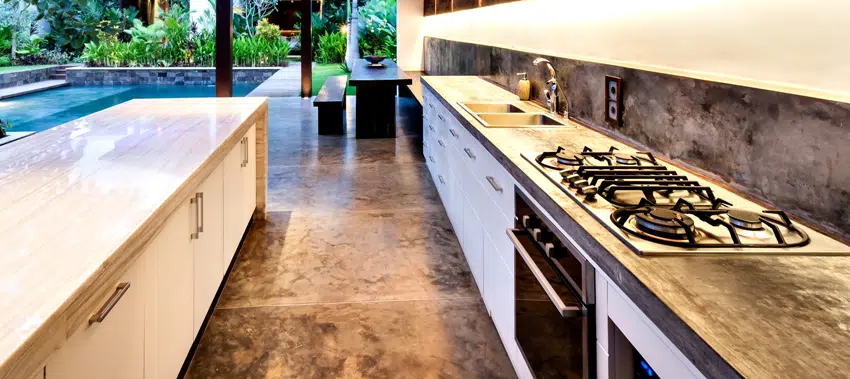 Installing a dirty kitchen in your spacious outdoor area is convenient and appreciated by many homeowners. But the changing weather, weather, pests, and other elements can be harsh to other kitchen materials like MDF.
It is vital to prioritize the construction quality and durability of your kitchen cabinets to withstand these. In terms of durability, you can always rely on stainless steel for your kitchen cabinets. This material is almost indestructible and can withstand heat, fire, rain, moisture, and gnawing insects.
You can also consider other materials for your outdoor needs like PVC, masonry, and hardwood, like teak.
Learn the ins and outs of fitting an outdoor kitchen from our outdoor kitchen must-haves design guide here.