In this ash kitchen cabinets design gallery you'll see if this wood type is a good choice, benefits, if they can be painted, how to stain, and the best ash wood cabinet cleaning tips.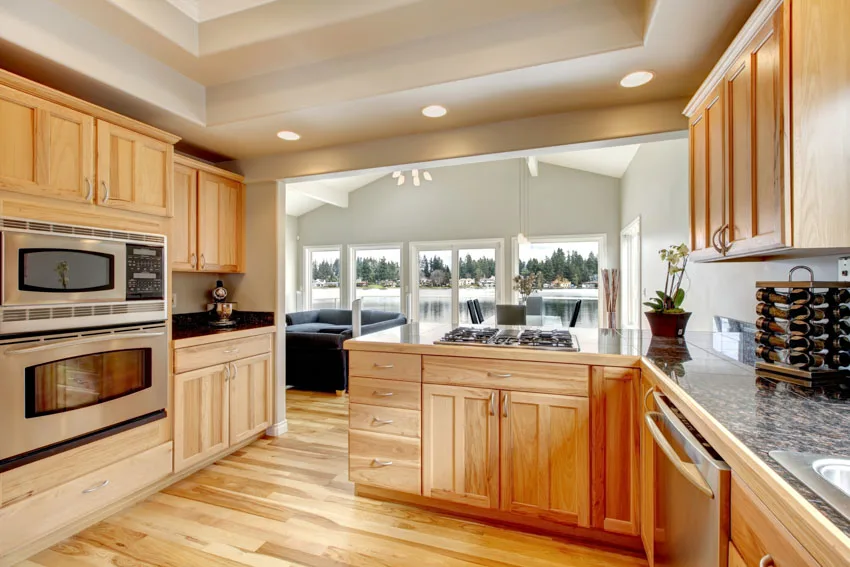 Ash kitchen cabinets continue to be a big hit in modern interiors as natural finishes become even more popular today. Even though they have been in use for many years, Ash kitchen cabinets remain resilient despite the rising popularity of laminated cabinets. This is owing to their aesthetic versatility and many other woodworking benefits.
Ash kitchen cabinetry is characterized by its light wash and soft yellowish color, and it's easy to mix and match with contemporary materials.
Is Ash a Good Material for Cabinets in the Kitchens?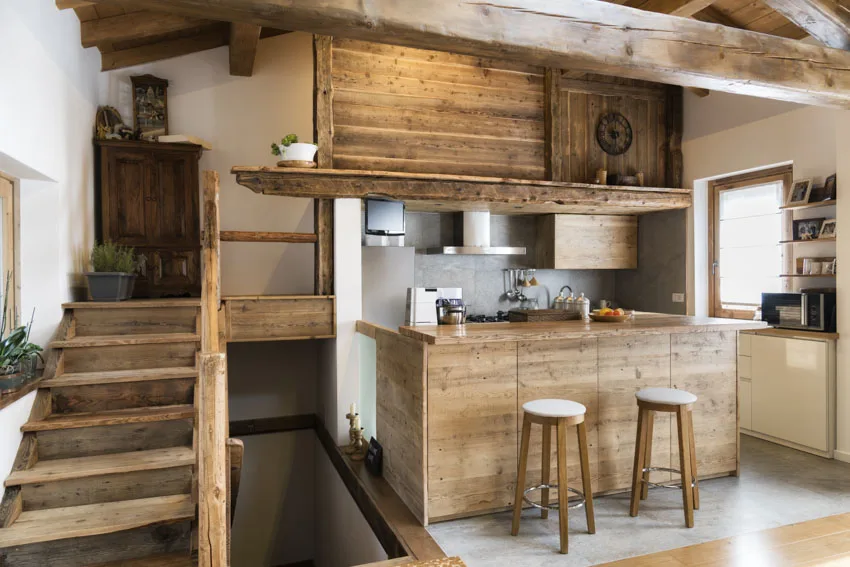 Yes, ash wood is great for kitchen cabinets as it is strong and has a higher hardness rating than most hardwood cabinets. Ash wood kitchen cabinets are favored in commercial kitchens since they won't easily dent and sag even when holding heavy items. Moreover, they're affordable, and the finish can effortlessly adapt to a wide range of styles.
Ash wood is highly durable and can also be crafted into unique intricate forms, making it among the types of kitchen cabinet materials that are easier to work with. Ash wood is made up of dense grains that give it the best quality among other wood materials.
Benefits of Ash Wood Cabinets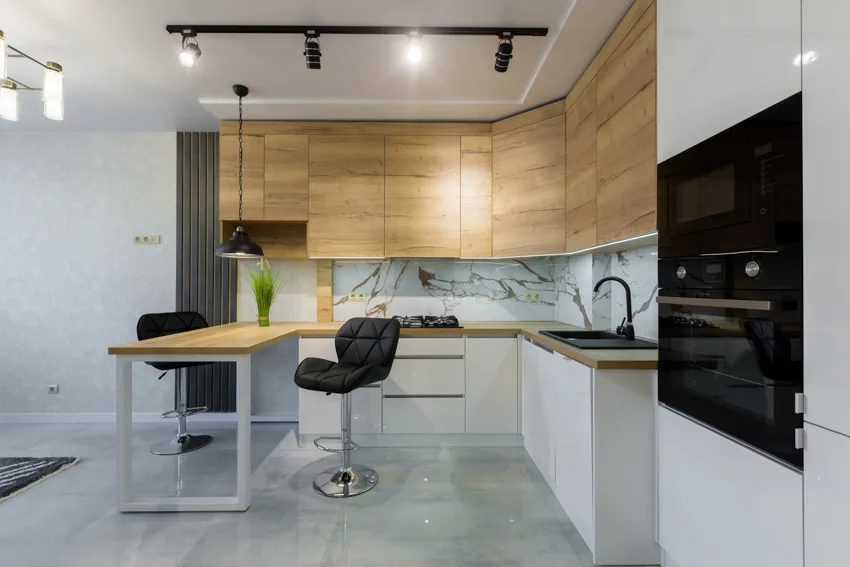 An Affordable Hardwood Material: The price is one thing that puts off homeowners who want to go for a hardwood material. Ash kitchen cabinets allow you to have the coveted beauty of wood with its affordable price much lower than most hardwood cabinets.
RTA (ready to assemble) ash wood kitchen cabinets range from $60 to $200 per linear foot, while custom solid wood kitchen cabinets made from the said material cost $500 to $1,200 per linear foot.
The most popular hardwood kitchen cabinets are maple and oak. Maple cabinets cost $5,000 to $30,000 while oak costs between $1,500 and $4,000.
Of course, costs will vary based on design, such as added glass fronts, handcrafted finishes, and trim patterns used.
Shock-Resistant: With a very dense thickness, you avoid denting and other impact damage caused by everyday use. The hardness of the ash kitchen cabinets' surface makes it popular in commercial kitchens. In addition, the high density allows everyday polish and cleaning without damage which means you maintain the smooth finish throughout its service life.
A Very Hard Material: The Janka hardness (scale in measuring the hardness of a wood specie) Ash wood has a Janka hardness of 1320, making it harder than the oak, which has a Janka scale of 1290, but softer than maple, which has a Janka scale of 1450.
As it is considered one of the hardest wood species, you can place heavy items inside your ash kitchen cabinet without worrying about buckling or cracking, provided that it is made with quality craftsmanship.
A Beautiful Wood Surface: Unlike most hardwood species, ash wood is not overbearing. The high-quality wood ash has a characteristic that's appealing because of its light color, even surface, and boasts among the finest types of wood grain patterns out there.
Versatile Aesthetic: Aside from being a desirable material for craftsmen due to its hard-wearing surface, ash kitchen cabinets have a light brown color with soft marble-like veining, which sits well with both contemporary and traditional styles.
The even graining of ash wood also makes it adaptable even to minimalist aesthetics. Apart from the training, you'll find a good number of ash wood-type colors such as blue Ash, green Ash, pumpkin ash, tamo ash, European Ash, Mountain ash, and narrow leaf ash.
Less Maintenance and Cleaning: Ash kitchen cabinets require less maintenance, especially if they are treated with adequate layers of sealant. With a hard surface, you can clean your ash wood kitchen often and even with medium to hard brushes.
Can Ash Cabinets Be Painted?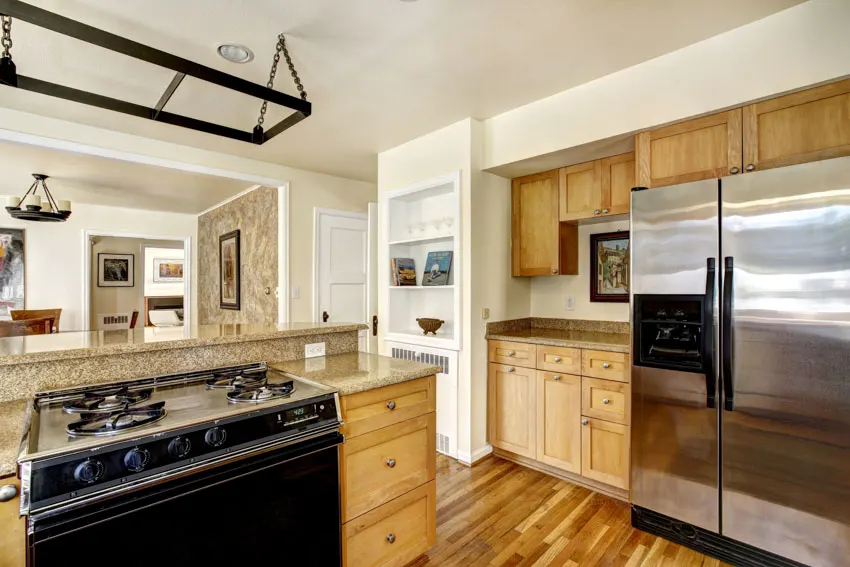 Yes, ash cabinets adhere well with paint when proper surface preparation has been made. Treatment is also needed to be applied, such as moisture-resistant or waterproof coating to ensure that water or moisture won't seep through the cabinet surface.
The best finish to apply when painting kitchen cabinets is the semi-gloss or gloss finish with the latex-based paint. The glossy finishes are recommended as it helps to reflect light and makes the surface even more durable.
There are wood paint and stains that can be used without losing the texture of your ash wood cabinet.
How Does Ash Wood Stain?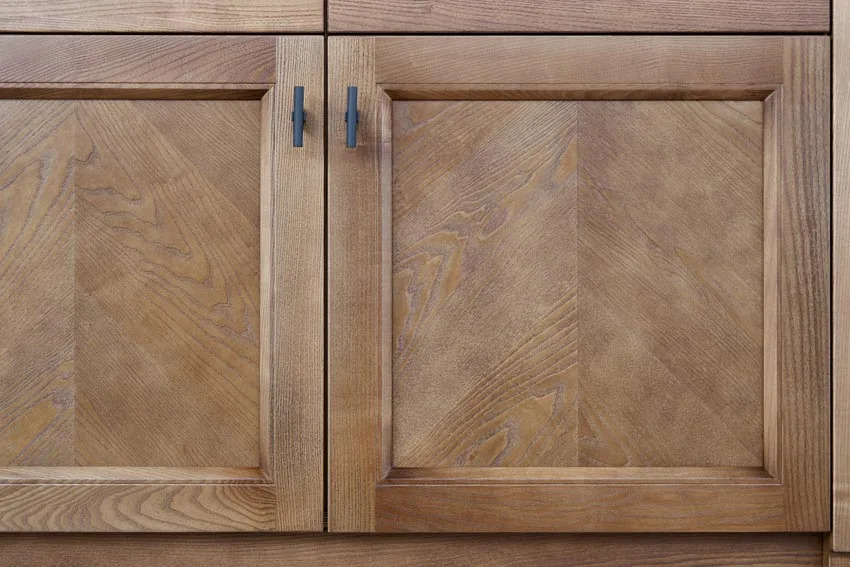 Ash wood surface stains well and will accept any stain color since the surface has large pores, which allows the liquid application to be absorbed easily.
For an even application, use oil stains to prevent a blotchy surface. Even when stained, an ash kitchen cabinet will look pristine with its uniform graining and texture.
The easiest woods to stain are Ash and maple cabinets. Thanks to its large open pores, it readily absorbs stains and allows pigments to penetrate the surface easily. This usually results in lovely stained ash wood finishes.
How Do You Clean Cabinets Made of Ash?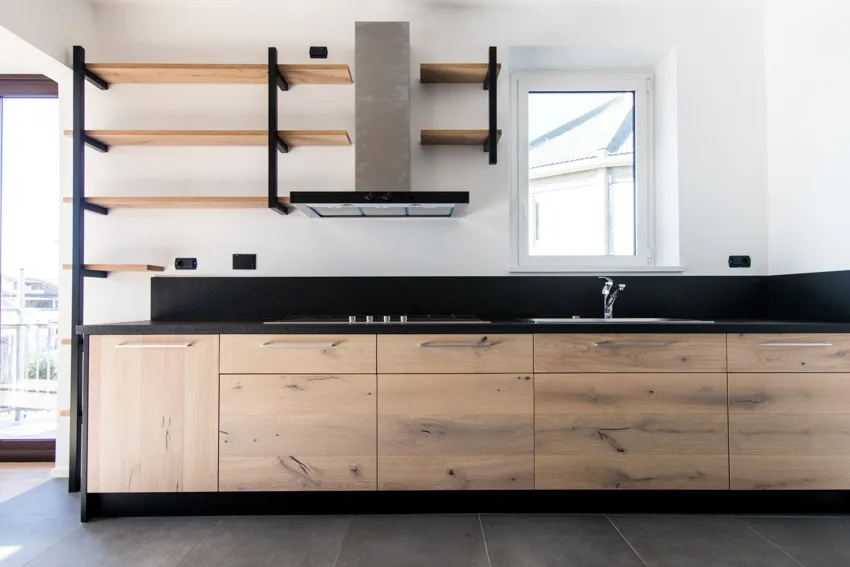 Regular Cleaning Process: When it comes to cleaning greasy cabinets, vinegar is the go-to natural cleaner. Fill a spray bottle halfway with vinegar and half with warm water. Mist on cabinets, then wipe clean with a soft cloth after a minute or two.
This is an optional step. To clean extremely grimy cabinets, add several drops of liquid dish washing detergent to the vinegar and water solution.
Removal of Stains: Make a vinegar and salt paste. Scrub the stained area lightly with a small brush dipped in the paste. Scrubbing too hard or with steel wool will scratch the wood. Rinse the paste with water and pat dry with a clean towel.
You can also scrub the stain with baking soda and a wet sponge. To avoid scratching the cabinet surface, use a soft toothbrush or a scrub brush with nylon bristles.
After cleaning, a mixture of vegetable oil and vinegar is recommended. Mix the equal parts of vegetable oil and vinegar and lightly coat cabinet surfaces. With a clean, soft cloth, rub it in. Buff the surface until it looks shiny.
Ash Vs Oak Cabinets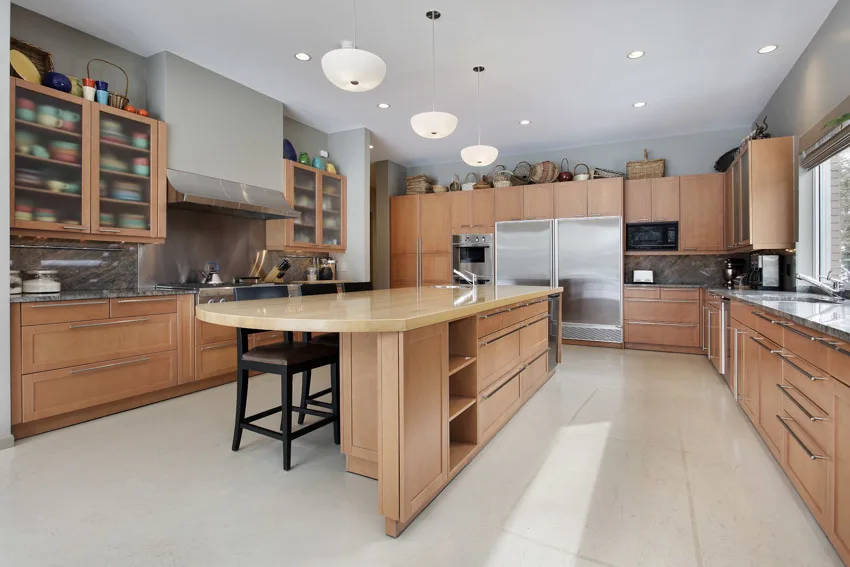 Ash exceeds oak in durability as it's much stronger and pliable. Ash wood is much lighter in the shade, making kitchen spaces look bright and ventilated.
The main difference between oak kitchen cabinets is immediately seen in the wood color, as Ash has a much lighter coloring than oak. Another distinguishing feature is that ash woods have radial grains; therefore, when looking at the wood from one side will show only one pattern.
Meanwhile, oak woods are distinguished by the radial pattern, especially when looking perpendicular to the grain. Moreover, ash kitchen cabinets are much sturdier and more durable than oak kitchen cabinets. Both Ash and oak wood belong to the hardwood species.
See more related content in our article about the paint colors with oak kitchen cabinets on this page.