Here we share how to update maple kitchen cabinets including wall paint ideas, putting up open shelving and modernizing maple cabinets to improve your kitchen's design.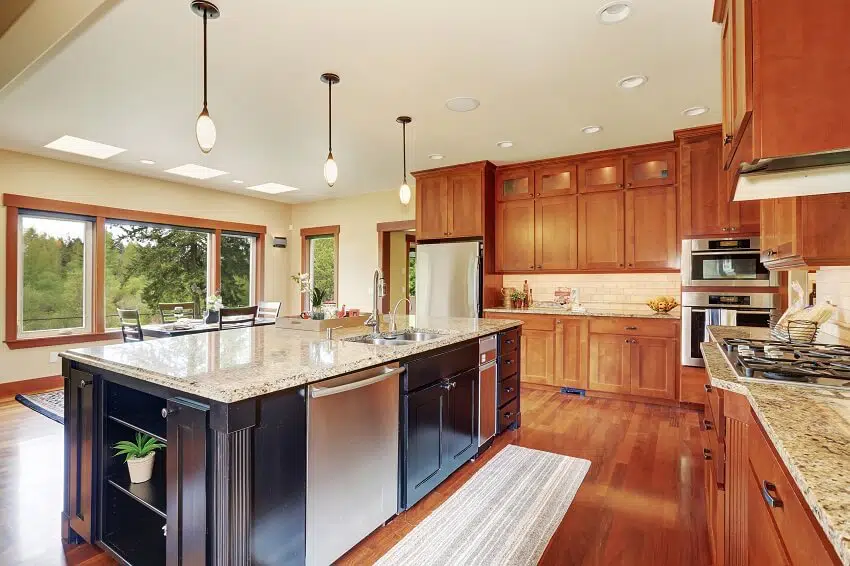 Maple kitchen cabinets are a staple for 90s styled homes and some homeowners find them a little outdated and unattractive. They take up a lot of space and they come in these loud orange stains that many people redesigning their kitchens are a little stumped with at times.
Thankfully, there are ways for you to modernize your kitchen without doing a full redo or upgrade and without spending too much money on it.
Read on below to see ways for you to give your kitchen that much-needed update without having to remove or remodel anything.
Paint The Walls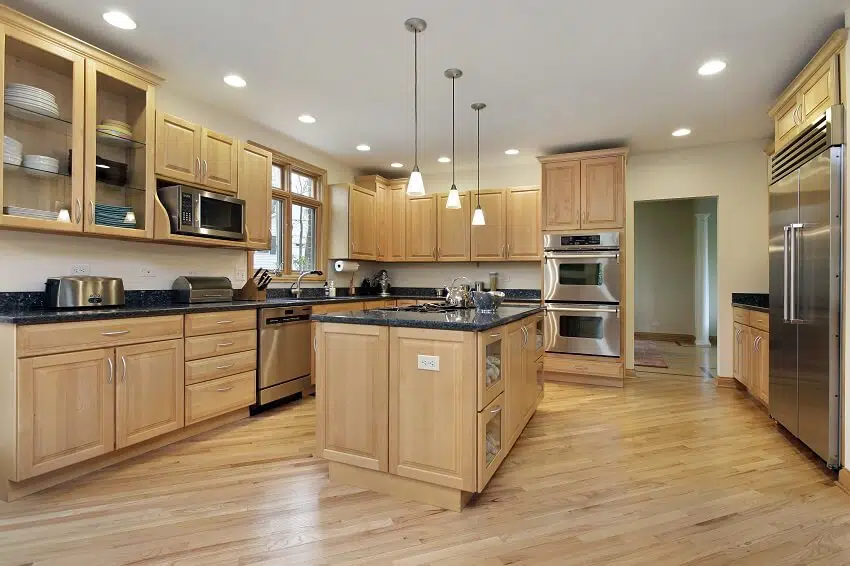 One of the first things you notice about a kitchen is how much natural light floods in and how it looks and feels overall. Kitchens need to feel bright and airy. It's one of the busiest areas in the home and it tends to get a lot of foot traffic.
Classic maple cabinets though can feel dark and stuffy and just downright overwhelming. One way for you to balance this out is to paint your kitchen walls with lighter neutral colors such as white or light gray. Check out our guide to the best kitchen paint colors with maple cabinets.
The much-favored white wall is visually pleasing against honey-colored maple kitchen cabinets as it balances the color temperature of the wood.- interior designer Ellen Siloy
Maple cabinets come with a dark red color that can actually take on hues of dark orange over time. Once you've lightened the walls, you'll notice that the cabinetry isn't as heavy as it used to be and won't be as obvious.
Pay attention to the undertones of the rest of your kitchen elements as well. Pair warm undertones with warmer neutrals and cool ones with cool neutrals as well.
Paint The Cabinets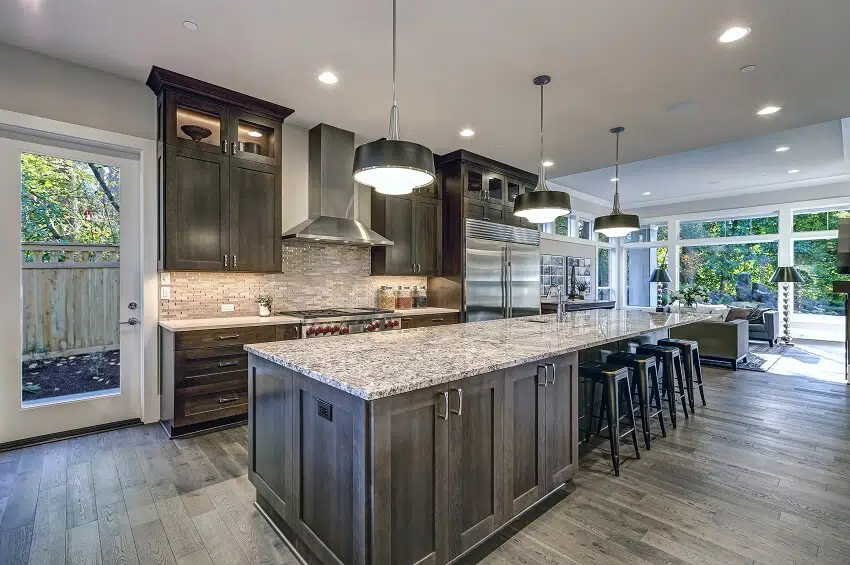 This is a rather inexpensive fix and one that brings results almost right away. White is a great choice if you want something that's fresh and bright. Try to go with a color that would give a nice contrast to the color of your countertops.
A good rule of thumb to take note of is that you ought to keep the upper parts of your kitchen light and then the lower parts of your kitchen darker or heavier. This will make your lower cabinets and countertops stand out, giving your kitchen the added effect of stark contrasts without weighing the whole look down.
Put Up Open Shelving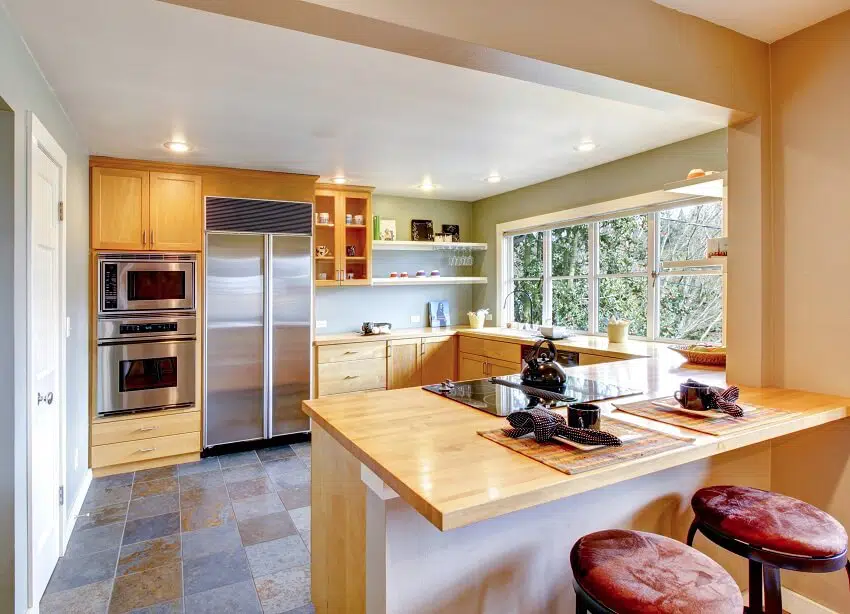 You don't necessarily have to take out the full cabinetry set that you have but you can take out a few that you feel you can live without and replace them with open shelves. This can help make your kitchen feel lighter. See our gallery of open shelving kitchen ideas here.
If taking cabinets out is too much work or too much of an undertaking to get into, you can simply replace your cabinet doors with glass ones. As an extra touch, you can put in some hardware such as a touch of brass or nickel just to give your cabinets that extra personality or character.
How Do You Modernize Maple Cabinets?
Builder-grade maple cabinets in the kitchen are the worst. Maple cabinets look and feel heavy. They're outdated and they can really weigh your whole kitchen look down.
If you want to know how to modernize them, they can be done. Here are a few simple ways for you to do it without stretching your budget too much.
Try removable wallpaper
If you're converting your maple cabinets by removing the cabinet doors or replacing them with glass doors, you can add in a pop of personality and color by adding some removable wallpaper on its backing from the inside of the cabinet.
Removable wallpaper is an easy DIY project and since wallpaper options come in so many designs and colors, you're bound to find one that will be perfect for your space's décor.
Install some crown molding
Crown molding can instantly add height, sophistication and just overall visual appeal to your maple cabinets. It's a great way to add a touch of elegance to your outdated maple cabinets.
You can hire out a trim carpenter to custom-build your molding for you but if you're handy and know how to use a miter saw, you may also do it yourself. You can either match the color of your molding with the color of your cabinets for a seamless look or pick a contrasting color to make it stand out.
Replace boring hardware
Old pulls and knobs can drag the look of your cabinets down. One of the cheapest and quickest ways to modernize your maple cabinets would be to replace them with trendier hardware. You might chip off some paint so just be prepared to patch it up if ever that happens.
Remove some cabinet doors
Sometimes, you don't have to tear down entire maple cabinets just because they look heavy. You might be able to fix it by just tearing down the doors. It will give it a more open and airier look and you'll also be able to display glassware pieces that are both functional and decorative while you're at it.
Install lighting under the cabinets
This is an easy upgrade that will instantly lift up the look of your maple cabinets. Not only is it practical because it helps you see better in areas that are otherwise overcast with shadows, it will also lend an ambient glow to the entire space. Check our kitchen under cabinet lighting design guide for additional ideas.
Change the countertop
Replacing just the countertop with something more modern may be a less expensive solution than replacing all of the maple cabinets in the kitchen. Read more about what color countertops go with maple cabinets here.
How Can I Update My Maple Cabinets Without Painting?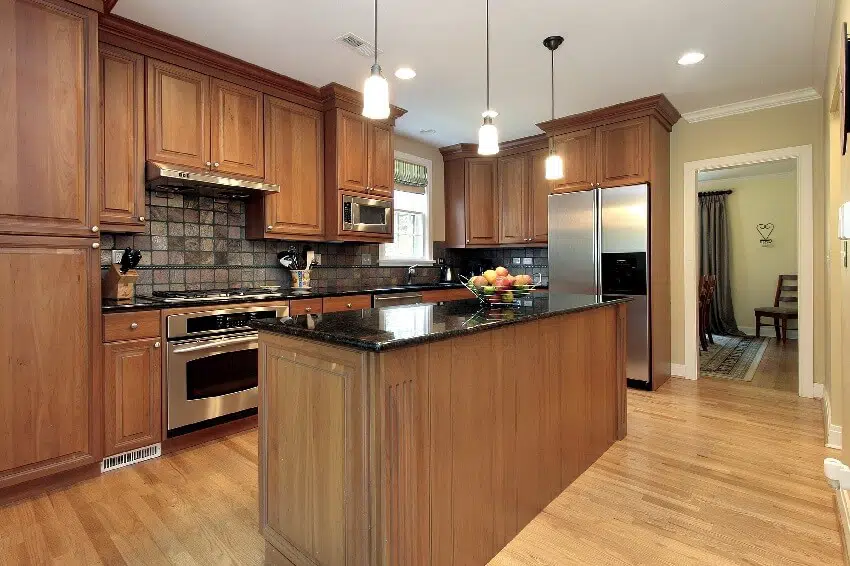 Updating your maple cabinets doesn't always mean that you have to get all crazy and messy with repainting it. There are a lot of simple and creative solutions for you to get it done. Here are a few that you should look into.
Install creative cabinet door knobs
The right hardware can update the look of your cabinets almost right away and they don't even take that much work at all. When in the market for these hardware replacements, it would be wise to take note of the size of the ones originally installed on your cabinets so that you don't have to drill any new holes to readjust the sizes. See popular types of kitchen knobs here.

Tack some colorful placemats and utensils on the cabinet doors
This is a bit unconventional but still worth mentioning as it's very easy to tack on placemats and aesthetic utensils for that chic kitchen design. They also don't have to be permanent as you can use mounting tapes or similar adhesives that won't damage the surfaces of your maple cabinet doors.
Add some trim to your cabinet doors
The extra sense of depth and dimension is an easy fix and it will instantly lend a classy vibe to an otherwise outdated-looking cabinet. You can get them nailed in or tack it on using some wood glue. Make sure you wipe off the glue excesses on the edges once your trims are installed.
Should Maple Cabinets Be Painted?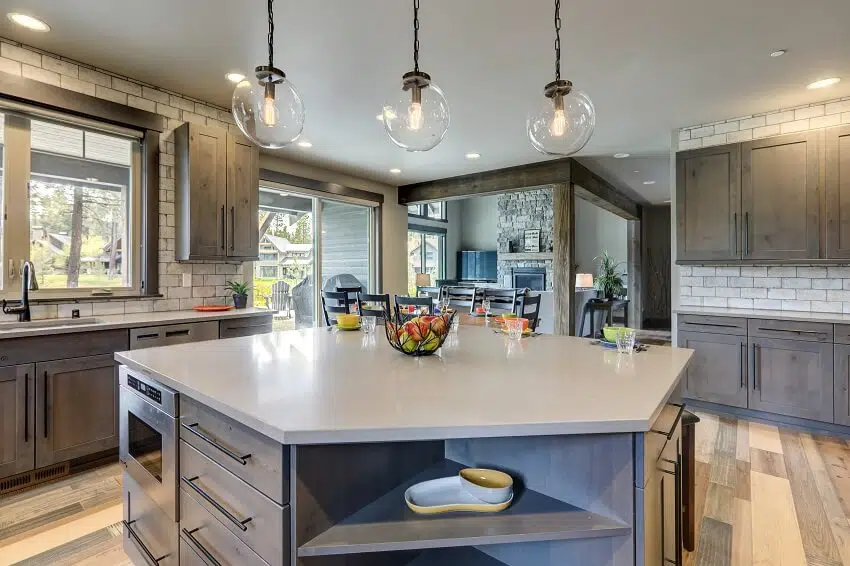 Absolutely. If you feel like the original stain or color doesn't work for your kitchen anymore, you can definitely get your maple cabinets painted.
Make sure that you get it sanded down first to get the original paint or stain out and apply a primer to make that fresh coat of paint look smooth and seamless.
Are Maple Cabinets Outdated?
Maple cabinets are known for their quality and durability and although the ones you have may look outdated right now, they're definitely not outdated in terms of durability and versatility.
With the right paint or finish, maple cabinets can still easily complement any kitchen look.
Can You Whitewash Maple Cabinets?
Technically, you can; but it won't be a smooth and complete coverage because maple is a close-grained hardwood. It might cover up some yellow tones on the wood surface but the shadings and wood grain might still show through so although it's possible, it doesn't always yield even and visually smooth results.
When working with maple would be in its best interest if you just stay away from whitewashing it altogether as whitewashing only works best for light-colored wood types that don't have a lot of dark grains showing through the wood surface.
For more related kitchen designs visit our guide to the types of kitchen cabinet materials.