Welcome to our gallery of the best types of kitchen flooring where we discuss popular options such as tile, wood, linoleum, vinyl and concrete.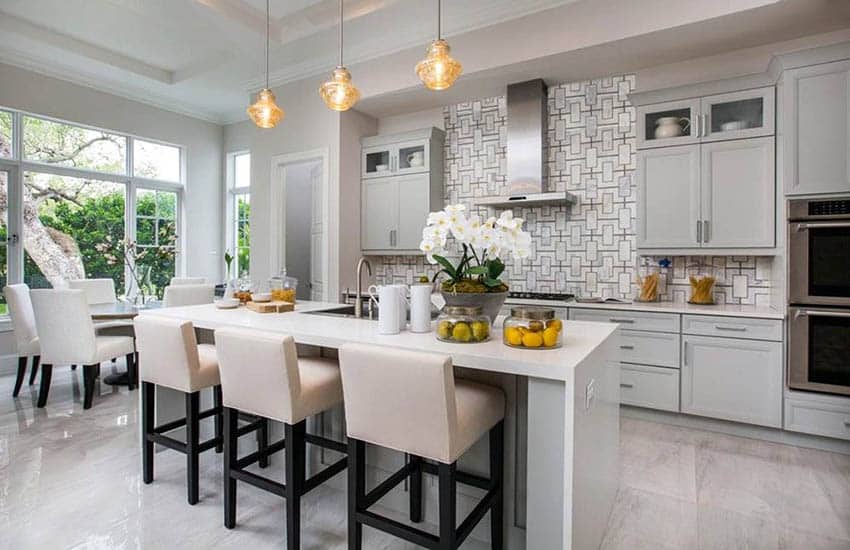 Kitchens are one of the most remodeled places in the home. Of all the home improvements one can make a modest kitchen remodel can return the most amount of money when you go on the sell the home. In fact, for many home buyers a remodeled kitchen will either make or break their buying decision. One of the ways you can refresh a kitchen without breaking the bank is through the type of kitchen flooring you install.
Kitchens are a popular space for gathering and eating. The kitchen will get a lot of foot traffic seeing as it is a room everyone in the family will visit at least once a day if not many times throughout the day. This means that the flooring chosen is extremely important not only visually and textually, but also from a sustainability and durability standpoint.
Kitchen Flooring Options
When it comes to kitchen flooring each setting will have its own needs and wants. Thinking about what sorts of people will be using the area as well as the amount of use the kitchen will receive are factors to consider. Kitchens may also contain a lot of moisture, and this is a key issue that needs to be addressed when selecting the flooring in any room, but especially a kitchen.
Note that there is not a "best flooring" each material will have pros and cons. Some of the different options as well as their pros and cons are as follows.
Tile Flooring
While you thought you were narrowing down the options when you chose to go with tile, there are still numerous choices of tiles to be selected from. As one of the more sought-after products for kitchen flooring, they made it so it can fit in with pretty much any design and style. Some of the option of tiles are below, but keep in mind if you are looking for something in particular, there are MANY MANY more!
Ceramic Tile
Ceramic tiles are one of the most commonly used when it comes to types of kitchen floors. Mentioned previously one of the key things we were looking for was durability, and this is where ceramic tiles really shine!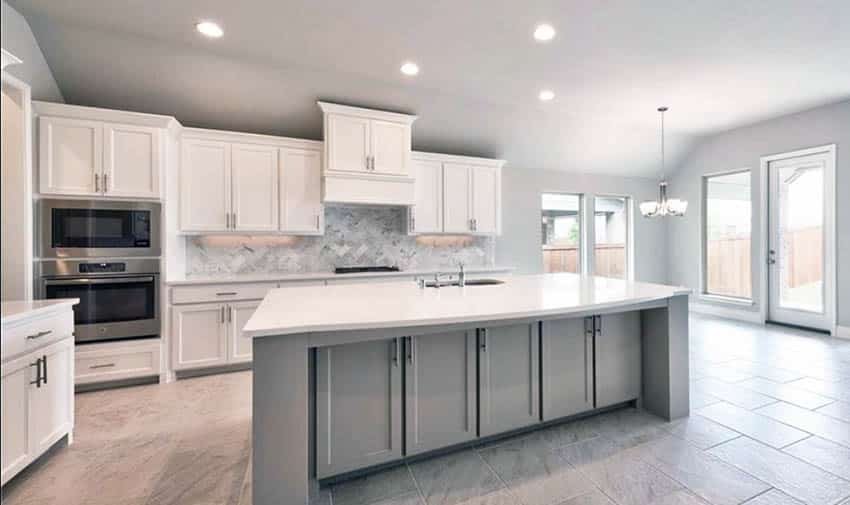 Ceramic tiles will not typically break even when plates, glass cups, pots, or other common kitchen items are dropped. Note that I did state that it typically will not break, there is always a chance that it will chip or break.
Ceramic is usually chosen for its good looks and if that is ruined by a large chip or crack, lucky us it will be any easy fix. With ceramic tiles you will only need to replace the broken tile, instead of redoing the entire floor.
Another thing previously mentioned was that there is often water and moisture in the kitchen. There is an option for glazing on the ceramic tiles which will offer a great deal of resistance to the moisture the tiles will experience in the kitchen setting.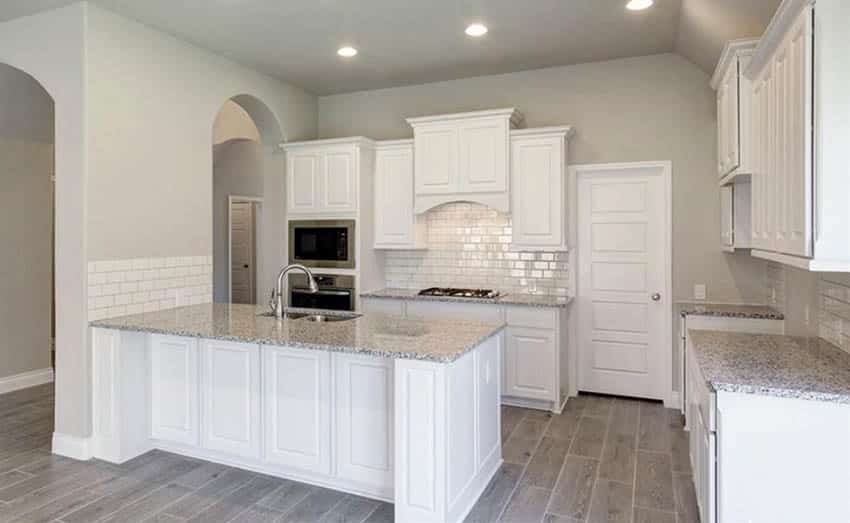 There are a massive assortment of ceramic tile styles available for kitchen flooring. You can find tiles that have a contemporary, traditional or rustic design to get the exact look you're after. There are even wood look ceramic tiles that can give you the style of hardwood flooring without all of the required maintenance issues associated with real wood.
While the list of pros are massive and extremely important in this particular use, there are a few cons when it comes to ceramic tiles. Ceramic tiles are hard and heavy. This is expected with the durability it had but will mean that they are not extremely comfortable to stand on for long periods of times. This can be combated with soft mats meant to put less stress on the body while standing on hard surfaces.
As for the weight, this is only really a problem if the kitchen is not on the lower story. In most cases this is not the case, so should not cause concern unless you have an upper story kitchen, and in that case you must make sure the structure can support that sort of weight.
Porcelain Tile Flooring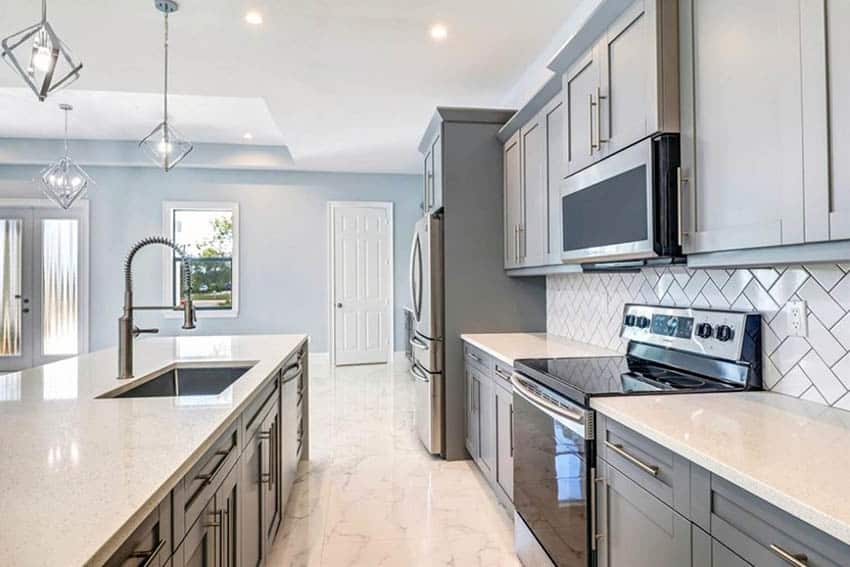 If you were blown away by the ceramic tiles, wait until I tell you about what we have got up next. Porcelain tile are like switching to that expensive speaker that you thought wouldn't make a difference, but really was the best thing you have ever bought.
Porcelain tiles take the durability factor and own it. These tiles are so durable that they are commonly used in commercial settings, meaning for your home there will be no worries. Not only is that a huge pro, but there is a Porcelain Tile Certification Agency that will make sure that all the porcelain tiles have a .5% absorption rate.
All of these attributes can make for an exceedingly long life of the product. Typically if you want a floor to last decades you will have to put a lot of maintenance into it over time, but porcelain really only needs some sweeping and light mopping on occasion.
Unfortunately every good thing has a downside. Similar to ceramic Porcelain will be extremely heavy. This again means that it is not recommended for upper story applications and is commonly not able to be done without professional installation. Porcelain will be more expensive than ceramic tiles, and due to the weight the installation will cost quite a bit as well.
Some tiles are Natural Stone which will make them extremely unique as well as typically environmentally friendly. Some of the more popular options are as follows:
Travertine
Travertine has recently become one of the more popular types of kitchen flooring. This is due to the natural elements that give a rustic and subtle vibe, not overwhelming the space and being earthy tones that are easy to pair. Travertine is a limestone material that will most typically come in beige, browns, tans, and other natural colors.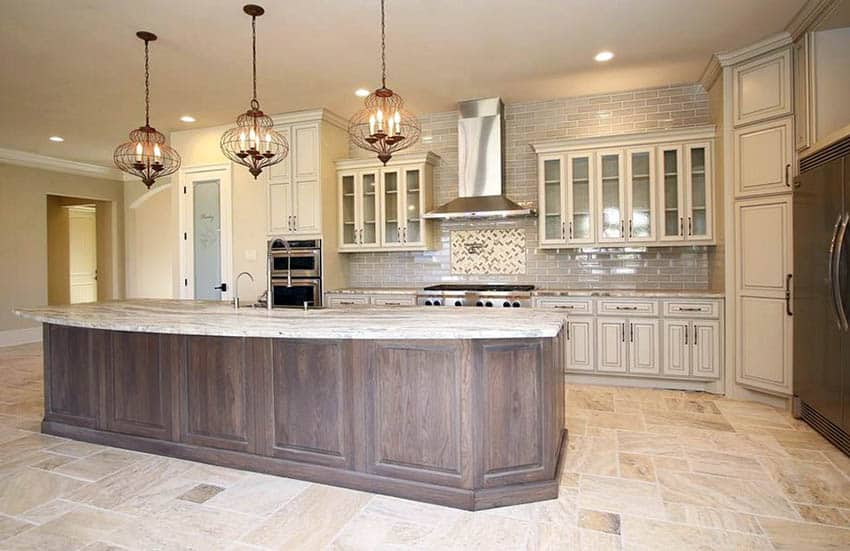 This material is considered high end due to the natural quality that makes each piece of tile unique in patterns and grains. As a high end material it is long lasting, potentially lifelong, if properly maintained. Unfortunately, the maintenance is not just a sweep and mop.
To properly take care of travertine flooring it will need to be sealed regularly to avoid any moisture getting into the flooring, especially in a setting like the kitchen where spills and drips are prevalent. Travertine will be used in its natural stone form which will mean it is completely recyclable and biodegradable, making it extremely eco friendly.
Granite
Granite flooring is a luxurious material that will give a grand look to a kitchen. The sophistication levels of this material are through the roof and there are so many options when involving granite.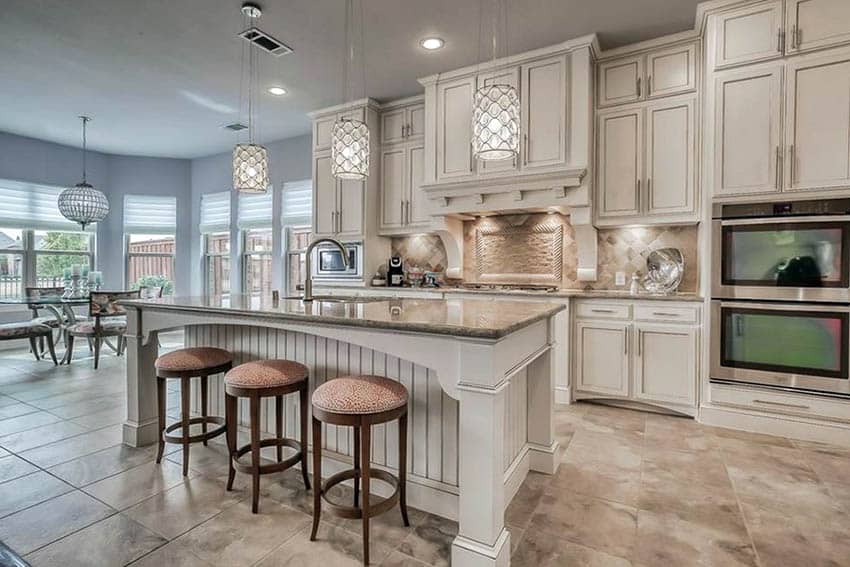 Granite typically had a natural pattern, but can vary in colors as well as can be brightened with polish. Now just because something is pretty does not mean it can perform, but in granite's case it is the best of both worlds. Granite will hold up to impact as well as is durable for the regular traffic of a heavily used kitchen. Not only is it beautiful and durable but it also is stain resistant.
All good things must come to an end though, the downsides to granite are they expensiveness of the flooring and the slipperiness, especially when polished. Things like rugs and applying less polish can help combat those troubles.
Marble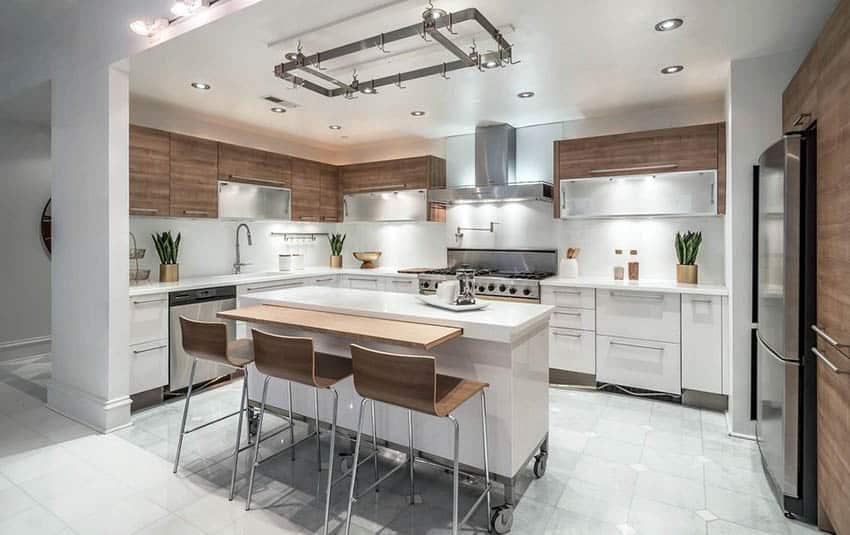 Marble and granite are like sisters, they share a lot of the same qualities. Marble flooring provides elegance and sophistication a homes, being a staple of luxury a while still being able to perform. Marble is waterproof, but like granite, can become extremely slippery. Marble, like granite, it available in numerous colors and will brighten with polish. Maintaining marble will be important, which includes resealing the flooring periodically.
Slate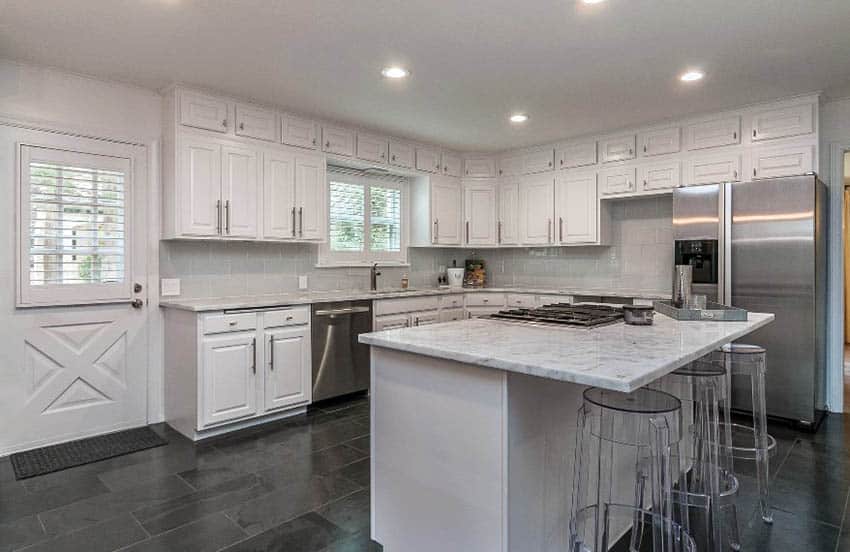 Slate is one of the types of kitchen flooring that's an extremely unique option because every single installation is vastly different. This and other things make it a high end material, similar to the previously mentioned Travertine flooring. This will greatly increase value when placing it in a home, unfortunately, this will make the price of the material high, but you can make it back when you sell the home!
The price really matches the quality of the product though; slate is resistant to staining and water damage, which is extremely important in a kitchen. Not only that but it also is highly durable and does not often chip, scratch or crack.
If slate is taken care of it is another material that could potentially last a lifetime. When considering any natural stone flooring in a home it is always good to think about the installation process, and in the cases of natural stone, it is one left to the professionals due to the weight and intricate placings. Again note that while tiles are very good choices for flooring, it may or may not be the right choice for you and your space.
Wood Flooring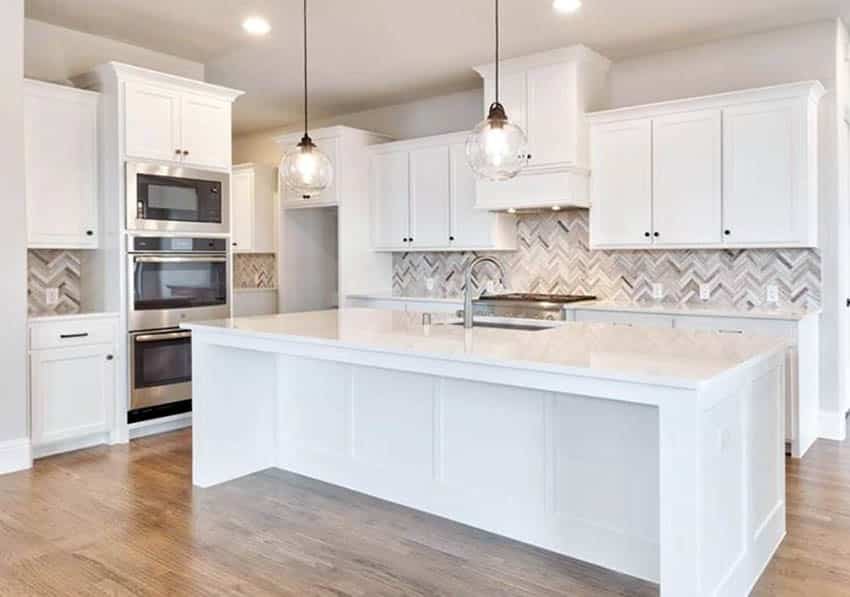 Wood flooring is another category of flooring that will bring a much different feeling to the space than the previously discussed tiles. Wood flooring offers a warmer atmosphere and includes numerous different choices for looks and styles.
Some of the options are below but know that in each category each has their own line of colors and patterns to select from. Wood flooring is sensitive to wet environments such as those found in the kitchen and may need immediate attention with any spills or messes. You can read more about the pros and cons of hardwood flooring in the kitchen here.
Hardwood Flooring
A classic, timeless addition to any room, hardwood will be an ever present feature in homes. There are a large variety of types of hardwood species (which will reflect in the color, knotting and textures of the wood) to choose from.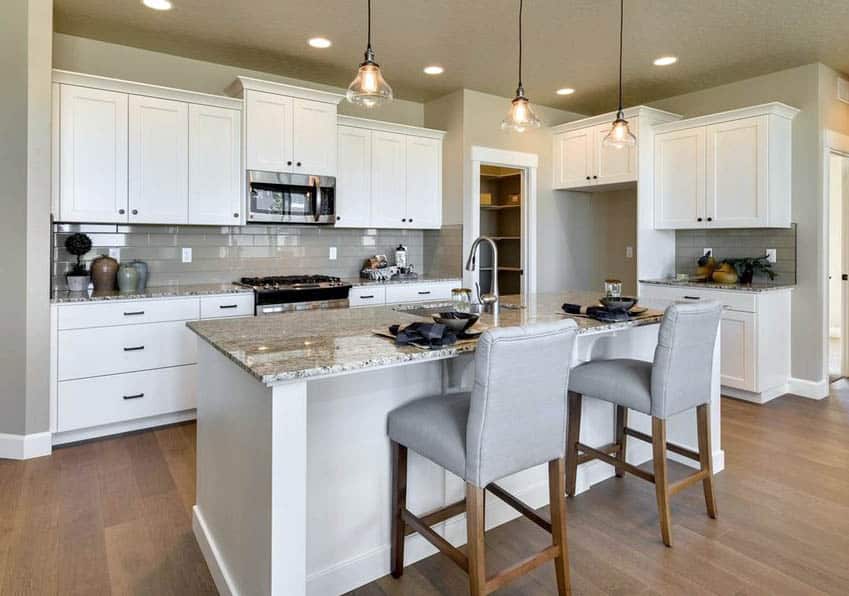 Hardwood is often used in an open plan where it will span throughout the entirety of the level to create a uniform look. Hardwood flooring is relatively hard, therefore standing for long periods may become uncomfortable, which is why rugs are commonly used to soften it up a bit. Hardwood is also long lasting (even lifelong) , if taken care of properly. This flooring does take some maintenance and can be sanded down and refinished.
Engineered Hardwood
Engineered Hardwood Flooring has many pros including its rising popularity. Durability is one of the key elements needed in a kitchen flooring and Engineered Hardwood Flooring will out the money where its mouth is. Not only will it be able to take the constant traffic but it will also be able to withstand the spills that will inevitably find you in some way, shape, or form.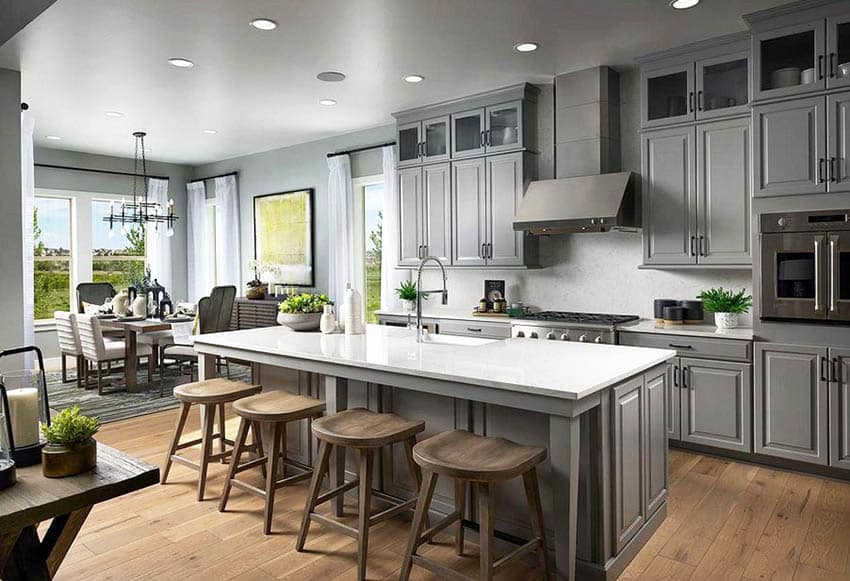 Typically hardwood floors are not used in kitchens due to the moisture and heat that causes hardwood to decrease drastically in longevity as well as potentially damage it. Now, with engineered hardwood, there is the opportunity to have an exceptional look while still maintaining a non warped flooring.
The cons, however, are ever present. Due to the great durability and resistances created in the product, it is on the higher end when it comes to pricing, but you get what you paid for. In some circumstances the flooring will become damage, and it is a touch process to replace a singular plank versus the entire flooring. Additionally, as a man made product it does contain resins and adhesives that are less than great for the environment.
Bamboo Flooring
Though bamboo is most typically place in the category of 'wood flooring' it is actually not even wood at all, it is a grass that is pressed and processed to get the flooring you see today, that highly resembles the look of hardwood flooring. The process of creating the bamboo flooring will give it a striped look, often showing 'knuckles' where the ends meet, this gives the character, often as with regular wood they have knots.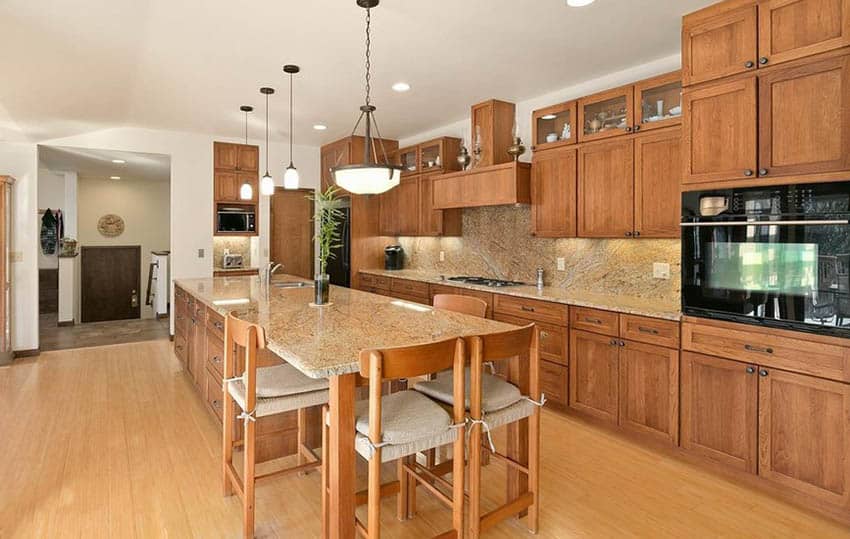 Bamboo naturally is light in color which means that the flooring will be light, but if you wish for the surface to be darkened it can be carbonized which will make the flooring softer and darker. Initially one will think that bamboo is a sustainable and eco friendly material, and while yes it is fast growing and rapidly renewing, it also can only be made overseas.
This will mean not only does that material need to be shipped across that world, but also the procedure that's may go on are not as regulated. To combat that fear, looking for companies that are certified by the Forestry Stewardship Council will ensure safe manufacturing methods.
Bamboo has a lot of good qualities, it is extremely durable, has a contemporary look, is easy to clean and can be refinished. Unfortunately with all the pros there are cons. Good bamboo flooring is high in cost, for this you will pay for the quality. If it is inexpensive make sure the manufacturer is reputable and that it meets all your needs, otherwise spending the extra dollars will be worth it in the long run. Another thing to note is that bamboo is susceptible to water and humidity damage, in a kitchen this is an important factor.
Again note that while wood planks are very good choices for flooring, it may or may not be the right choice for you and your kitchen space. There are still other options besides tile and wood.
Other Types of Kitchen Flooring
While trying to put everything into categories sometimes there are outliers that are still important to mention. If wood or tiles are not the look or feel for you there are massive amounts of other flooring you can choose from.
Sometimes picking outside the box will lead to a unique and inspiring floor finish that will soon become the next biggest thing. Some (but not nearly all) of the other types of flooring that are popular or commonly used are as follow.
Linoleum
Linoleum is a good choice of flooring when keeping the environment in mind. This material is made without and VOC's (Volatile Organic Compound), and it is made from renewable resources. Not only is this an eco friendly flooring, but it also had a good durability, withstanding a good amount of foot traffic.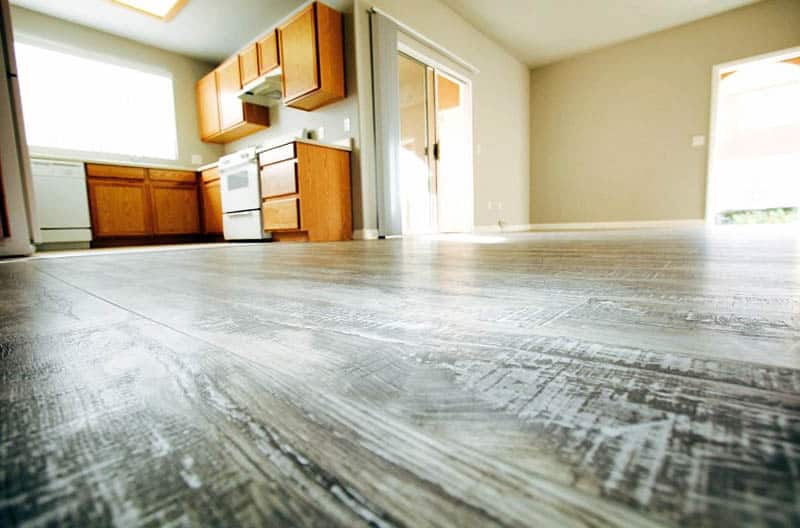 Due to linoleum's composition it allows to be made in a large variety of patterns and colors, making it easy to place in most settings, and the color is all the way through the product, not just the top layer.
In addition to its array of colors and patterns it van also come in different forms such as sheets, tiles or squares. This can make for some interesting and inspired designs without too much restriction. While this will be a moisture resistant material, it will have the ability to be stained and potentially scratched. This can be combated with protective coatings.
Linoleum can be a very inexpensive flooring option for the price conscious. You can see more ideas for kitchen floors on a budget here.
Vinyl Flooring
While vinyl flooring is category in itself, we will focus on luxury vinyl and resilient vinyl since those are the most common used. Vinyl is extremely cost effective, but that does mean that it does not add a grand value to the home (Once again you get what you pay for). For being as cost effective as it is it has almost limitless options!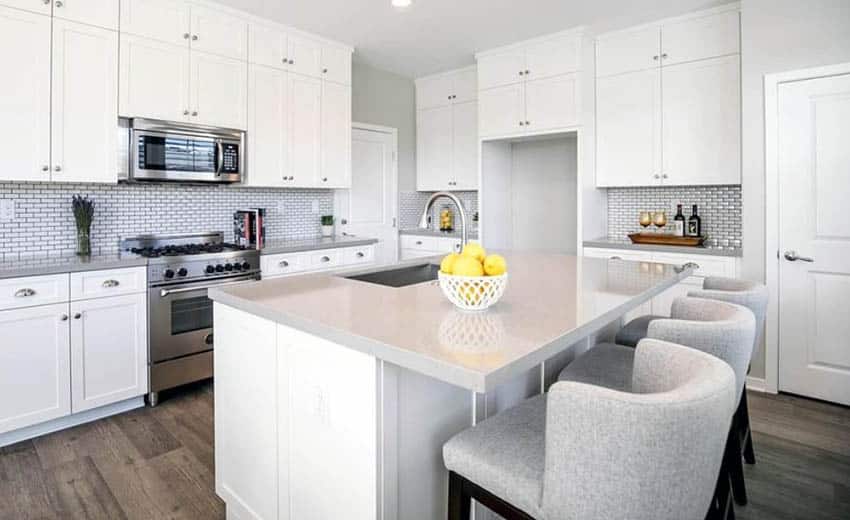 Colors, patterns, pictures, anything you can think of can probably be printed on vinyl, you can even get something that will look like stone or hardwood (and people typically do).
Vinyl is extremely water resistant, and in some cases water proof. In addition, vinyl is extremely durable, if maintained properly it could last up to 20 years, and to maintain it there is not too much effort required.
One of the biggest downside to vinyl flooring will be that it is not eco friendly, in fact it contains PVC and lets off volatile organic compounds, which if there is a fire, will release extremely toxic chemicals. Currently, manufacturers are working on finding a solution to this problem, and some (more expensive options) offer PVC free vinyl which a lot of commercial places will use.
Cork Flooring
When looking for a beautiful, unique flooring that is easy for cleaning, cork is a great choice. Cork is one of the most eco friendly and sustainable flooring out there. In contrast to most some of the tile flooring, cork is extremely soft to stand and walk on.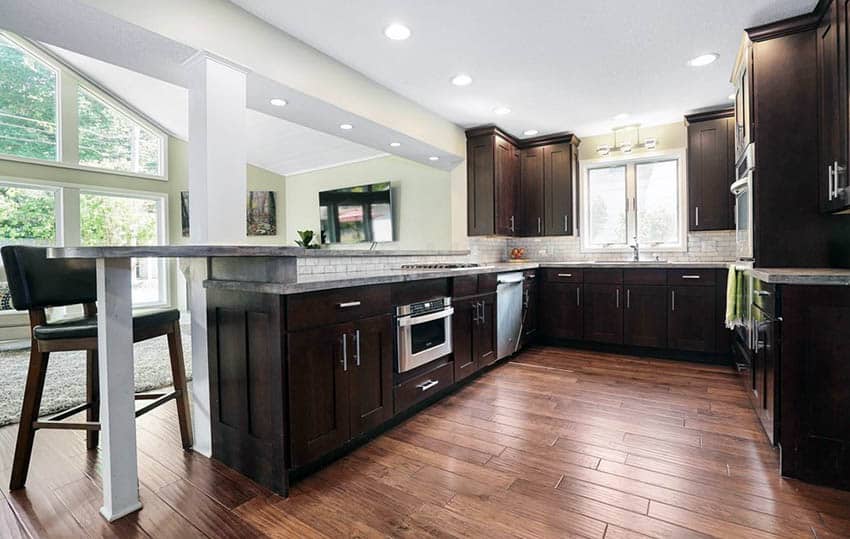 Other things that are important for kitchen flooring are moisture and slip resistance. Both of these factors are incorporated when it comes to cork flooring. Unfortunately due to the structure of cork it is a material that must be refinished about every four years. Since the flooring is soft to stand on it is also susceptible to indents or damaging when it comes to heavy furniture, appliances or other large items.
A careful consideration for cork floors are that they are best in an area without too much sunlight, which unfortunately is not typically the kitchen, this is because getting too much sun will cause the cork flooring to become discolored, typically unevenly.
Concrete Flooring
Cement and concrete are often confused. Cement is actually an ingredient of concrete which is why in this case we will have a concrete flooring. In some cases you will have a straight concrete floor, other times (more expensively I might add) you can try concrete tiles.
Concrete is a low maintenance, highly durable product. It used to be that concrete flooring was just a gray slab that was in the garage, but now there are techniques that can add color and design that can turn it into a unique flooring for a kitchen, or really any space imaginable. Concrete floors can also allow you to add the element of heated floors, yeah you read that right, heated floors.
Unfortunately though concrete flooring will be hard on people walking on it too much, if used in a kitchen it is recommended to get a cushioned mat for heavily stood in areas such as the sink to take some wear of the feet and legs. Cracks will happen with concrete flooring because it is a large stab of material and will need to expand and contract with the changes in environment.
Epoxy Flooring
Epoxy flooring is an affordable flooring, this will mean that it is not the most beautiful, but it will fit in almost any budget and has some winning characteristics. Luckily enough epoxy flooring is quite resistant to pretty much anything you can think of: bleach, gas, cleaners, oils, chemicals, germs, and bacteria. This is why this type of flooring is used in places like garages and hospitals.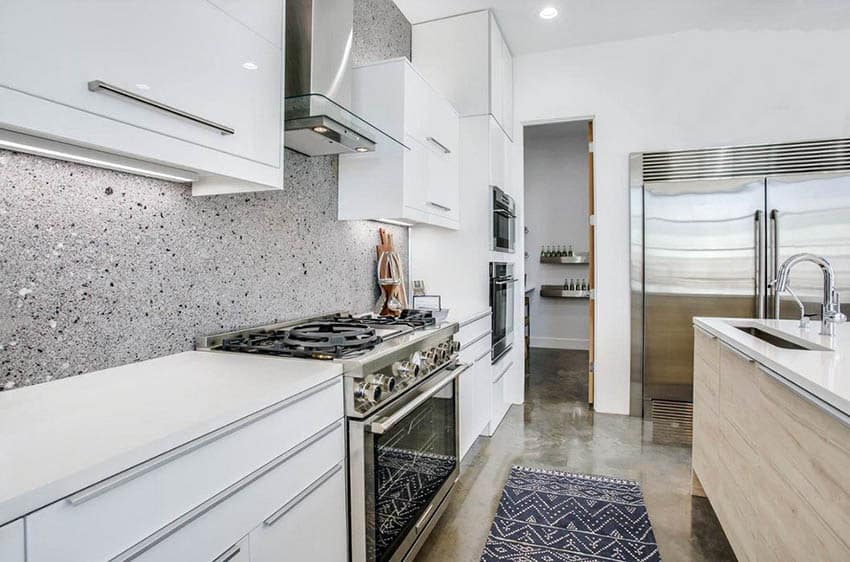 The Durability of epoxy is also astounding; concrete is the only material that will last longer than epoxy flooring, which goes underneath the epoxy anyways. Epoxy flooring will basically be like adding armor to a porcupine, making it pretty difficult to destroy. Epoxy will protect form any moisture and stains and will not require any grout for any moisture to protrude into.
Epoxy will last for decades if properly installed and cared for. Unfortunately epoxy flooring is typically a temporary solution; cracks, chipping and everyday use will make the flooring need another coat of the epoxy.
Also the process of applying the epoxy is not pleasant; the install will create strong fumes, require a lot of tedious preparation, must be done exactly right, and is even worse to remove if there are ever design changes. This will mean that you will need professional installation at the beginning and removal after it is time to make a change. This type of flooring will not make much of an impact to the resale value of the home!
Best Kitchen Flooring
The best kitchen flooring will be different for every project in every home. Based on the budgets, needs, times constraints, beliefs, and styles, one of the mentioned flooring will be the best for you! All the ones listed are high contenders and will be great for use in the kitchen area, but make sure to check the cons listed and any ways that you can work with those to make for the perfect flooring.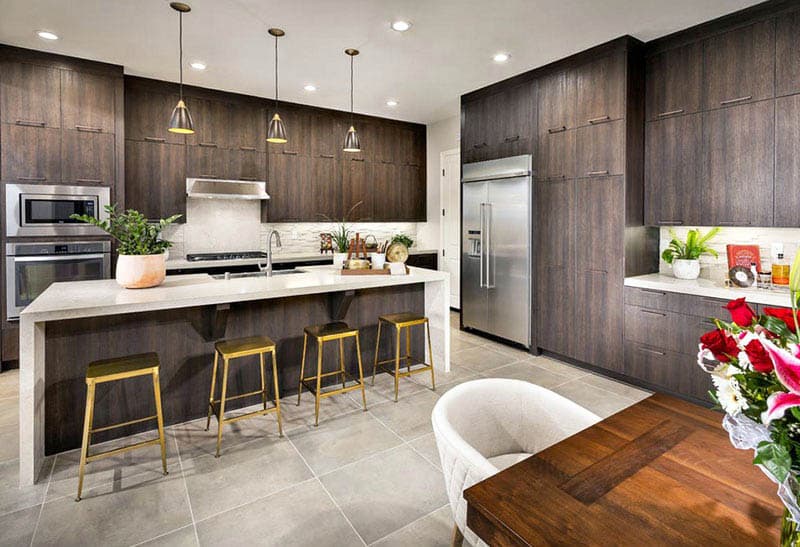 Also notice the other types of flooring in the home, if you have all wood flooring throughout the house, it may seem smart to stick with that and carry it through, or maybe you are looking for a change and to spice things up! Whatever your reasoning there will be flooring options.
Tile flooring is the most popular and one of the best flooring options for kitchens. Not to say it is the best, but it holds up extremely well in the kitchen setting while giving the grand, inviting look that most people are looking for in their kitchen.
Kitchens are often one of the most redone rooms, and they tend to have the most money spent on them, because it is the place you want to show off, the place where everyone gathers. This being said, though tile flooring is on the more expensive side of things, it really does pay off on the long run and is one of the best types of kitchen flooring overall.
Best Place to Buy Kitchen Flooring Online
Now that it has been decided (or at least narrowed down) the types of kitchen flooring you are looking for, the next step will be where to get it! When you google 'where to buy flooring' you will most likely come up with a million ads.
The best place to start will be large home improvement stores, preferably one that you have nearby your home. This will allow you to stop in and find color samples, or even pick up the supplies to save money on shipping.
Lowes, The Home Depot, Menards, etc.. Are all good places to begin. If you can not find what you are looking for there then other suggested web stores which tend to be a little more specialized would be Lumber Liquidators or Floor & Décor.
Obviously Lumber Liquidators will sell primarily wood products, and Floor & Décor will focus on flooring. Amazon or Wayfair are also online retailers that can offer plenty of competitive prices and sales.
For more ideas visit our other galleries of kitchen designs.