Here's our cutting board sizes guide including different rectangular and round cutting board and charcuterie board dimensions for large and small gatherings.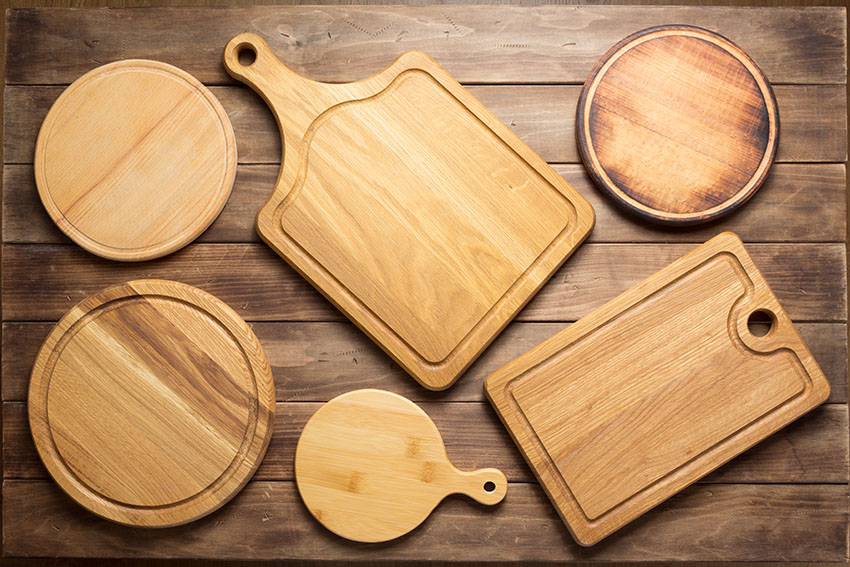 One of the essential kitchen utensils for a home cook is a chopping board. Cutting is an integral part of prep work, and having a flat and not slippery surface will make the job more manageable and safer for the home cook. What is the different size of cutting board? This article will address that question, and more, so read on!
Standard Cutting Board Size
Various chopping boards are available in the market that comes in many shapes and sizes. Deciding for one for your home or business should account for your needs and how much you will use it.
The standard chopping board size measures 12 by 18 inches or 30 by 46 centimeters and is rectangular. This size is typically used in household kitchens because of its versatility in cutting any food item, and it could even be used to cut multiple food items at once.
Storage is also pretty easy for this size; simply adding a hook on one end to store it hanging is an option.
Common Cutting Board Sizes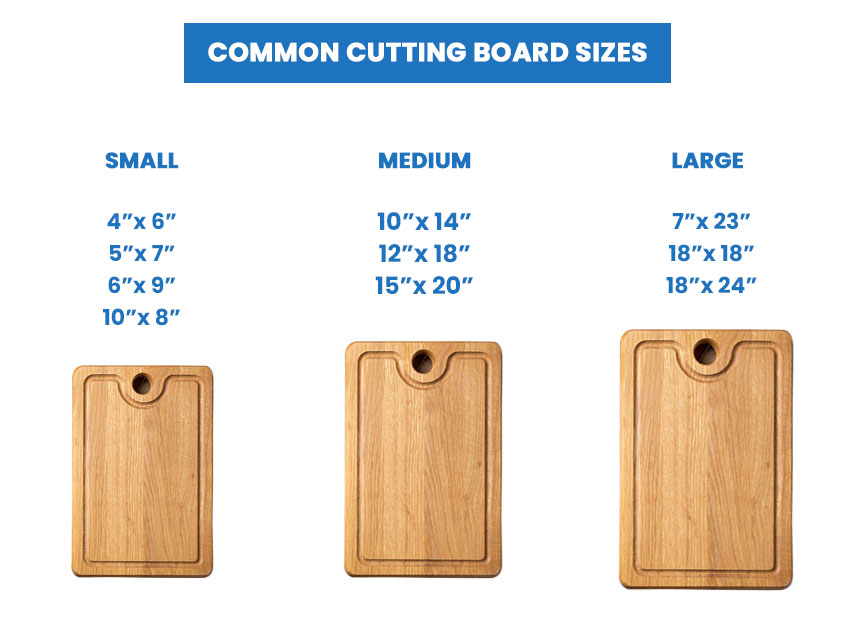 Small Cutting Board Size
Small cutting boards pose many benefits, from versatility to how little space it will need for storage. If you have a smaller kitchen, this is the chopping board for you.
If one has a smaller chopping board in the kitchen, they are usually utilized when slicing fruits for cocktails or even a light snack.
Whether made of plastic or wood, smaller cutting boards come in these sizes: 4 by 6 inches or 10 by 15 centimeters, 5 by 7 inches or 13 by 18 centimeters.
There are also bigger ones that will offer more versatility, the 6 by 9 inches or 15 by 23 centimeters and 10 by 8 inches or 25 by 20 centimeters.
Medium Cutting Board Size
Medium-sized cutting boards are some of the most common household cutting boards out there. This is due to their size, which is just enough for daily meal prep but also storing medium cutting boards is still reasonably easy.
If you cut many vegetables, a medium-sized wooden cutting board will work best, while medium-sized plastic ones are better for meats.
The sizes of medium-sized cutting boards come in 10 by 14 inches or 25 by 36 centimeters, 12 by 18 inches or 30 by 46 centimeters, and 15 by 20 inches or 38 by 51 centimeters.
Large Cutting Board Size
If you are the kind of person who likes to incorporate different fun shapes in furniture and utensils in your home, looking into larger cutting boards for your kitchen will give you more options for finding a unique one.
Larger cutting boards will also give you a chance to cut multiple food items at once, and they can also be a platter for your dips and other appetizers at your next dinner party.
Some of the larger ones are even used in commercial kitchens, so a larger one would be fantastic if you are on the lookout for the ideal size for your restaurant business.
Larger cutting boards come in sizes of 7 by 23 inches or 18 by 58 centimeters. There are also sizes available such as 18 inches or 46 centimeters on all sides and even larger ones like 18 by 24 inches or 46 by 61 centimeters.
Round Cutting Board Dimensions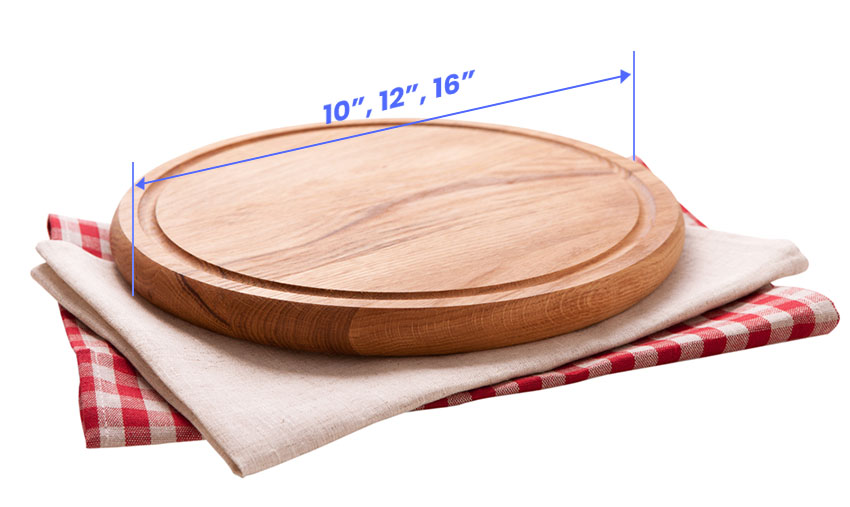 Round cutting boards are probably the more traditional shape of cutting boards. They are not only used for slicing food items but are also utilized as serving trays for all antipasto like cured meat, cheeses, pretzel sticks, and many others. They can easily be rotated when presented at the dining table.
The most usual round cutting boards sizes include 10 inches or 25-centimeter ones, 12 inches or 30 centimeters chopping boards, and the bigger 16 inches or 41 centimeters cutting boards.
Charcuterie Board Sizes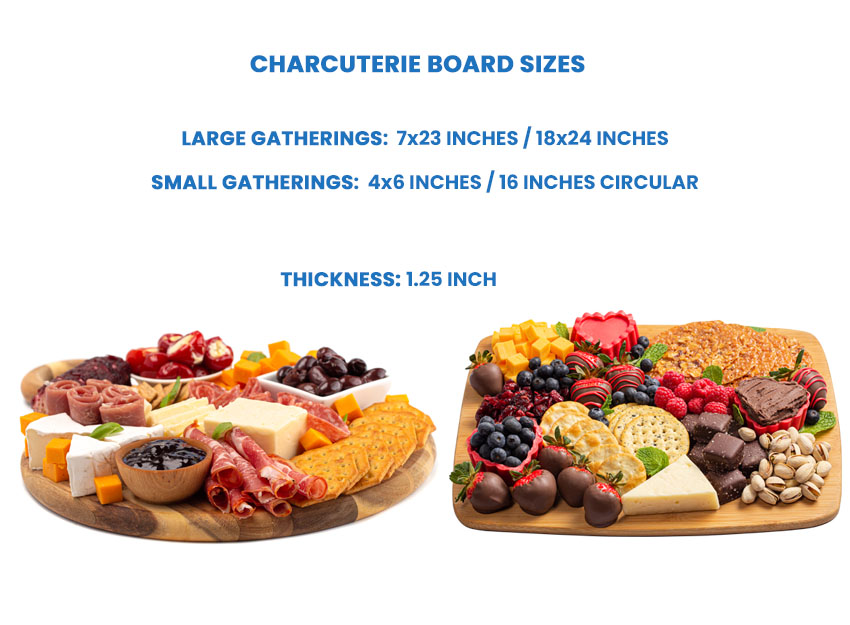 The charcuterie board you need will depend on many factors, including material and size. A good-looking charcuterie is one looking filled to the brim with delicious treats like exotic cheeses, cured meats, fruits, and vegetables like grapes, dried apricots, or olives. However, one of the most important is looking at how many people you plan to entertain in a given time.
For larger gatherings like birthdays, holiday celebrations, or dinner parties, there are the larger ones listed above, from 7 by 23 inches or 18 by 58 centimeters to 18 by 24 inches or 46 by 61 centimeters.
Supposed you are looking to entertain a smaller number of people, on the other hand. In that case, there are more undersized cutting boards from 4 by 6 inches or 10 by 15 centimeters to 16 inches or 41 centimeters circular ones.
How Thick Should a Cutting Board Be?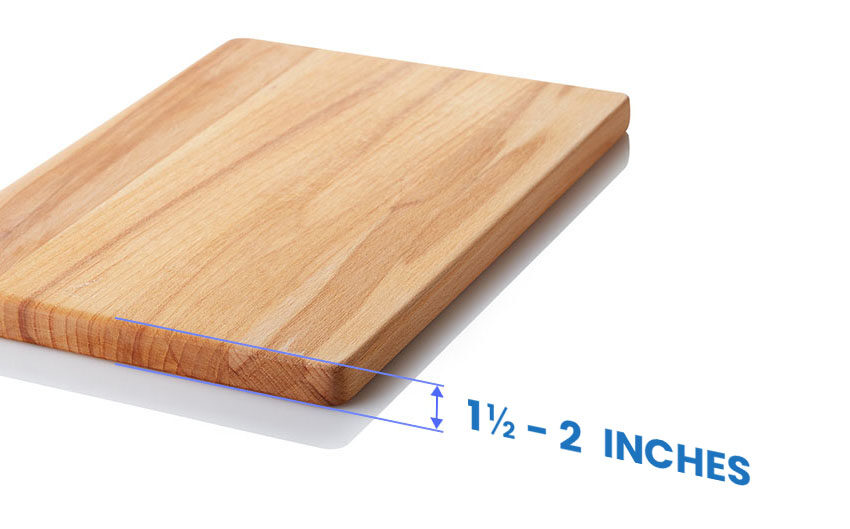 The thickness of your cutting board will depend on what material of cutting board you are looking to buy. If you want a lighter rubber board which are thinner, this kind will come in half an inch to an inch thick.
On the other hand, well-crafted wooden chopping boards are usually 1 and one-fourth to 2 inches thick. Professional chefs recommend not going for thickness below 2 inches or 5 centimeters for end-grain cutting boards.
Charcuterie Board Thickness
Serving or charcuterie boards are thinner than cutting boards. Although a well done and slightly used cutting board could pass as a thicker serving or charcuterie board, it won't work the other way around, especially if thicker chunks of meat and bones are involved.
While chopping boards are generally 1.25 inches or 3 centimeters thick, serving or charcuterie boards are less than an inch, and wider ones are an inch thick.
Best Cutting Board Size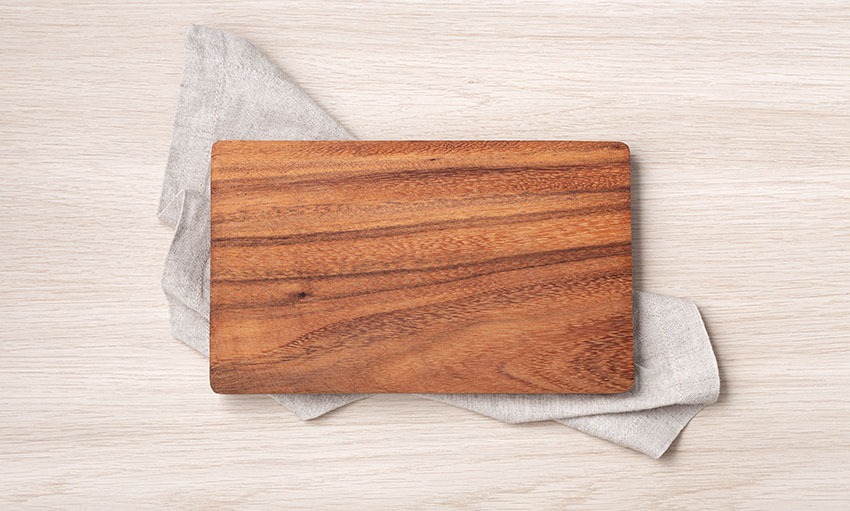 Other than how easy would your cutting board clean or how durable it is, an important thing to consider is the size. Thinking about the size can directly link to safety and even durability.
A thicker wooden cutting board is recommended to avoid knife warping, while it is also safer in general since thicker ones cannot slide off as easily. A simple trick is laying down your knife diagonally on your chosen cutting board.
Generally, it's suggested to have at least an inch of space on each side of the blade to deem it safe enough for you and your home.
Visit our guide on the different types of cutting boards for more related content.