Here we share our honey oak cabinets design guide including the best colors for matching with kitchen walls, backsplash, floors, granite and warm & cool paint suggestions.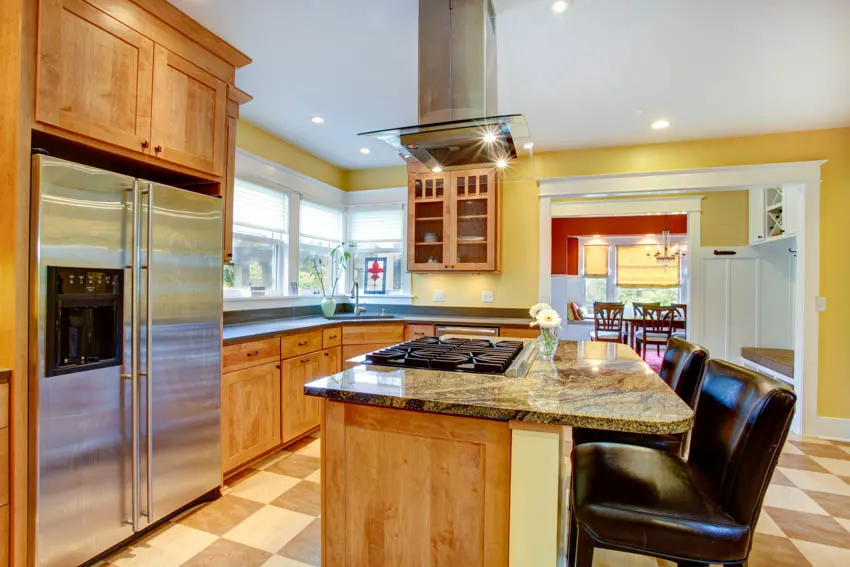 During the 1970s and the early '90s, oak wood kitchen cabinetry became the trademark of American-style kitchens. The distinct warmth brought by the golden hue of honey oak and its fine grain pattern made it one of the best cabinet materials available in the market.

Up to this day, it has continued to be a favorite in the kitchen design scene. Although some may find it a bit outdated, honey oak cabinets can be a good addition to your home, especially when mixed with the right color palette.

Below we give you our very own color matching guide for honey oak cabinets. Discover tips on how you can choose the right flooring, backsplash, and paint to go with it so you can pull off the best look for your home.
What Color Is Honey Oak?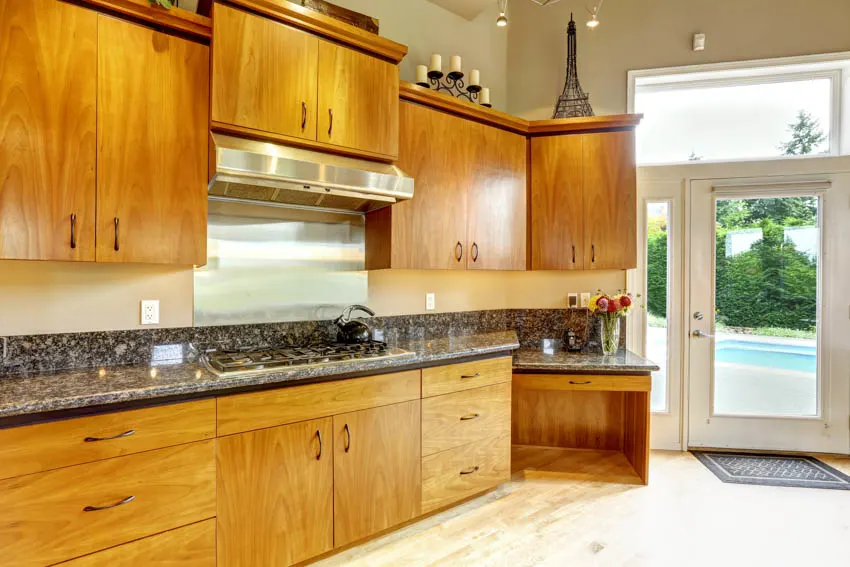 Honey oak is characterized by a yellow-toned orange hue and a strong wood grain patterns. Compared to red oak which is much darker and has a brownish-red color, honey oak has a golden yellow shade that is close to the natural wood color.
Choosing The Right Colors To Match Honey Oak Cabinets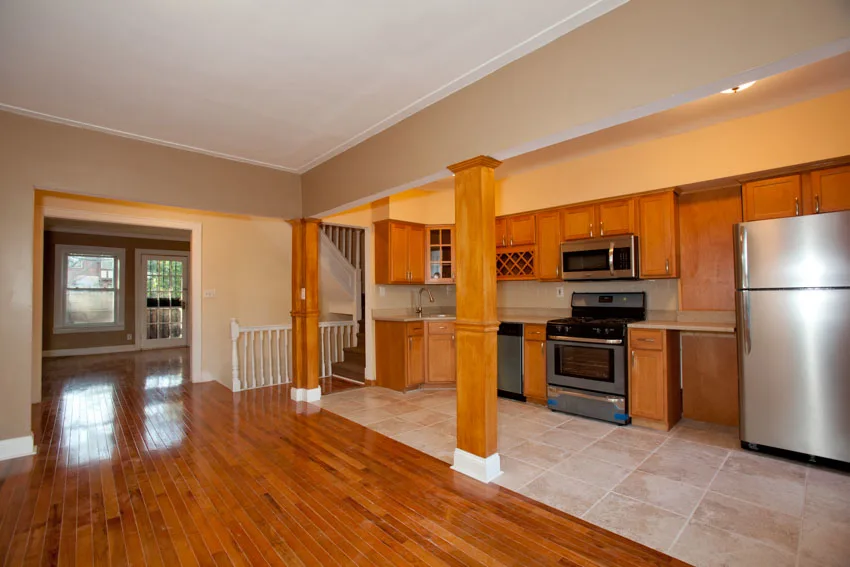 In creating a color scheme for interiors, the color wheel serves as a primary guide in mixing and matching different shades. In order to figure out which colors will work with different species of wood, knowing the basics of color theory would come in very handy.
In general, design elements in an interior can either be enhanced through blending or toned down through contrast. Before choosing colors, you first need to determine which visual attribute you want to stand out in the design.
As for honey oak cabinets, do you want to neutralize their color and camouflage it harmoniously in the space? Or do you want the opposite and enhance it as the focal point of your home?
Whether you choose to blend or contrast, it will require you to pay attention to the undertones in your wood to determine what countertop, paint, and flooring colors will work best with it. These two ways can be achieved through the color theory:
1. Blending: To achieve a harmonious color palette, combine colors that have a similar undertone. Honey oak, for example, has a dominant warm undertone to it and naturally warm hues like shades of red, yellow, and orange will help camouflage the yellowness and orange tone of the wood.
2. Contrast: A contrasting palette incorporates complementary colors. Complementary colors are those which are found opposite each other on the color wheel like red and green, blue and orange, yellow and violet.
Since honey oak has a yellow-orange color, cool colors like blue and violet can help tone down its warmth and soften its look. Combining complementary colors renders contrast in a space and gives it more depth and dimension.
Best Backsplash For Honey Oak Cabinets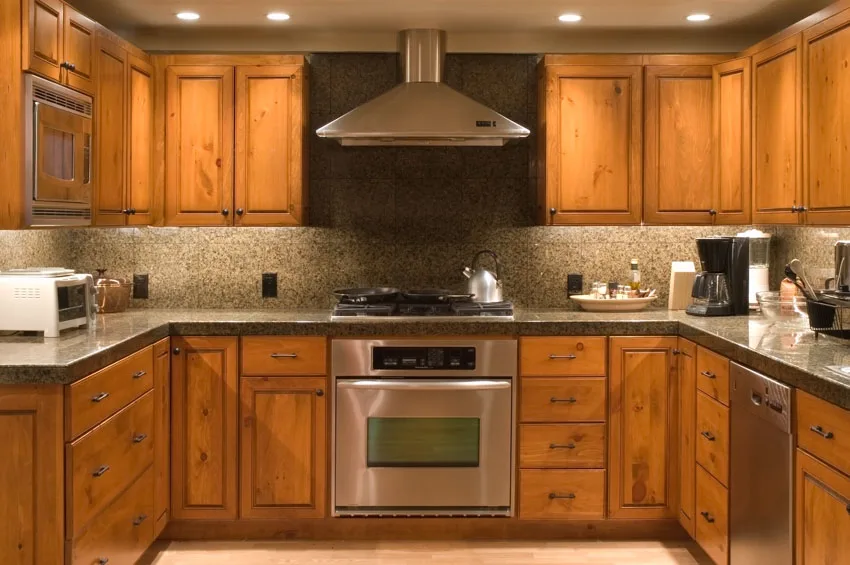 Neutrals will always be the safest bet in choosing a backsplash color to pair with this kind of oak cabinet. However, there are other color options that you can try if you want something bolder. Here are some of the best backsplash colors to pair with honey oak kitchen cabinets:
• Brown: Shades of brown is a good backsplash color especially if you are aiming for a monochromatic color scheme. By definition, a monochromatic scheme combines various shades of a single color into one space.
Choose brown that is one to two shades lighter or darker than these cabinets to bring out the warm undertones of honey oak wood. You can find several options of brown backsplashes in almost any material including tiles, natural stone, and glass.
• White: White is a very versatile backsplash color that can be paired with any type of wood cabinets, including honey oak. This is the most ideal option if you want a clean, crisp look for your kitchen.
Also, the best thing about pairing honey oak with a white backsplash is that you can easily introduce any color of accessories, appliances, and furniture in the space.
• Beige: If you find white too stark, you can opt for its creamy version, beige. Similar to honey oak, beige also has a warm undertone to it which produces a cohesive overall look. Compared to white. a beige backsplash can make your kitchen feel a bit more warm and welcoming.
• Gray: The subtle hue of gray is another perfect neutral that pairs beautifully as a backsplash with oak cabinets. A gray backsplash can help tie your overall color palette if the appliances used are stainless steel.

• Green: Because honey oak have a warm yellow-orange undertone to them, any cool hue like blue, green, or purple will contrast well with it. Together, wood and any green element look naturally organic. In addition, a green backsplash can help update the look of honey oak cabinets.

• Muted shades of purple: Purple is the complementary color of yellow — the dominant undertone in honey oak wood. If you want a bold contrast for your kitchen, try pairing these types of oak cabinets with backsplashes in shades of purple like lavender, lilac, plum, sangria, or wine. The overall result is not only rich, and luxurious, but also very dramatic.
Flooring That Goes Well With Honey Oak Cabinets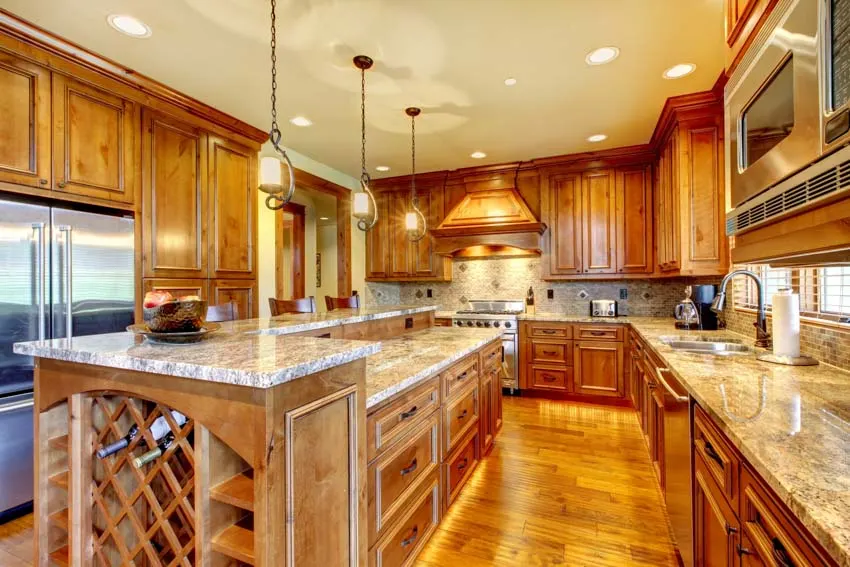 When it comes to pairing honey oak with flooring, you can also apply the same design principles that you use in choosing backsplashes and paint. Determine if you want to coordinate the color palette or create contrast throughout the space.
Tips For Choosing Flooring With Oak Cabinets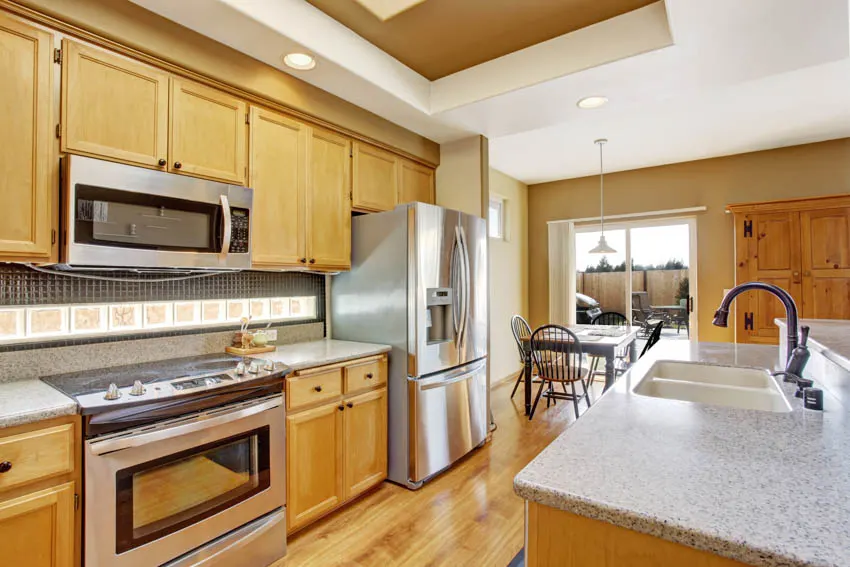 Here are some tips you can use to help you figure out the best flooring to go with your honey oak cabinets:
1. Laminate Flooring With Honey Oak Cabinets: Laminate flooring is one of the best materials to use in a kitchen setting because they are very durable and practical. They mimic the appearance of natural wood minus the impurities that come with solid wood species.
2. Coordinating Oak Floors: You can coordinate oak floors with wood laminates that have the same color and grain pattern, but to add a twist choose a style that adds variation.
One option is to go with hand-scraped laminate oak flooring. This type has a unique realistic texture that gives laminate flooring an authentic wood-like look and feel. The indentions and grains are more prominent to mimic natural wood floors.
Pairing honey oak with hand-scraped oak hardwood flooring results in a rustic, rugged appeal but with a bit of modern flair.
You can opt for slightly lighter or darker laminated to pair with honey oak cabinets, such as colonial oak laminate or wheat oak. Void dark colors like ebony, mahogany, or dark maple.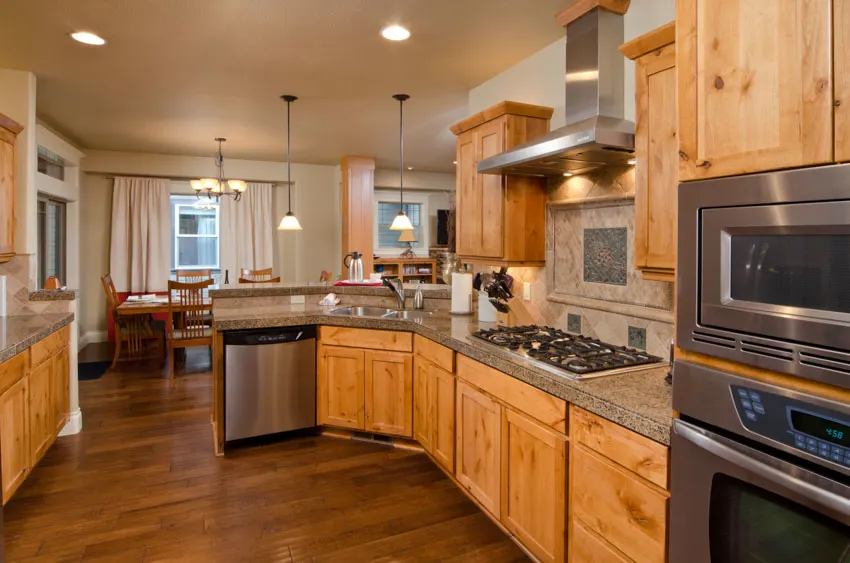 3. Medium to Dark Laminates: Medium to dark-colored laminates match honey oak cabinets perfectly. Medium to dark laminated like chestnut, pine, acacia, hickory, and Brazilian cherry will not overpower your oak cabinet's color and appearance and will not overwhelm a space.
Additionally, these wood colors are also easier to maintain and don't show marks easily compared to lighter or darker alternatives.
4. Hardwood Flooring With Oak Cabinets: If you want a luxurious traditional kitchen, you can try pairing honey oak with natural hardwood flooring. Opt for stained wood and make sure that it is treated so that it can withstand moisture and spills in the kitchen.
5. Contrasting Wood Colors: Aside from coordinating oak wood, you can also choose lighter colors to create a contrast. Contrast can be achieved by layering not only colors but also textures throughout the space.
Since oak cabinets already have a luxurious color, light contrasting floors will add balance to your kitchen. Some light colors of wood flooring which you can use for honey oak cabinets include light cherry, cypress, beech, light maple, and whitewash pine.
Aside from light wood, medium-dark wood also pairs beautifully with the golden tone of honey oak wood. Below are some of the best wood species that you can try to pair with oak cabinets:
• Red oak: Red oak is perfect for an oak-themed kitchen, This has a medium brown color with a reddish wash.
• Brazilian cherry: This type of cherry hardwood has a dark reddish-brown color that changes to a medium tone over time.
• Maple: Maple is a species of wood species that has a light, creamy color that contrasts beautifully with oak cabinets. Maple has two types, hard and soft maple and both have heartwoods that have a brown to reddish color.
Hard Maple is a light-toned wood that has creamy white sapwood tinged with pinkish or pale reddish-brown undertones. Soft Maple is also a light-toned wood that varies from creamy white to greyish white and is accentuated with dark-colored flecks.
• Birch: Birch is also a yellow-toned type of wood. This softer hardwood comes in various tones, from light to medium, but the most popular is yellow birch. If you'd like to create a contrast between your dark oak cabinets, you may want to get birch flooring.
6. Natural Stone Flooring with Honey Oak Cabinets: If wood on wood does not fit your taste, another material you can try as flooring for honey oak is natural stone.
This creates a whole new vibe in a room that is unique, vibrant, and modern. Although natural stone cannot offer the same warmth wood floors have, they bring texture and variety to a space that is dominated by honey oak cabinets.
Some natural stone flooring options you can use for honey oak are marble, slate, granite, travertine, and terracotta. Opt for those that have warm undertones so that they coordinate and blend well with the natural color of honey oak cabinets.
What Granite Color Goes With Honey Oak Cabinets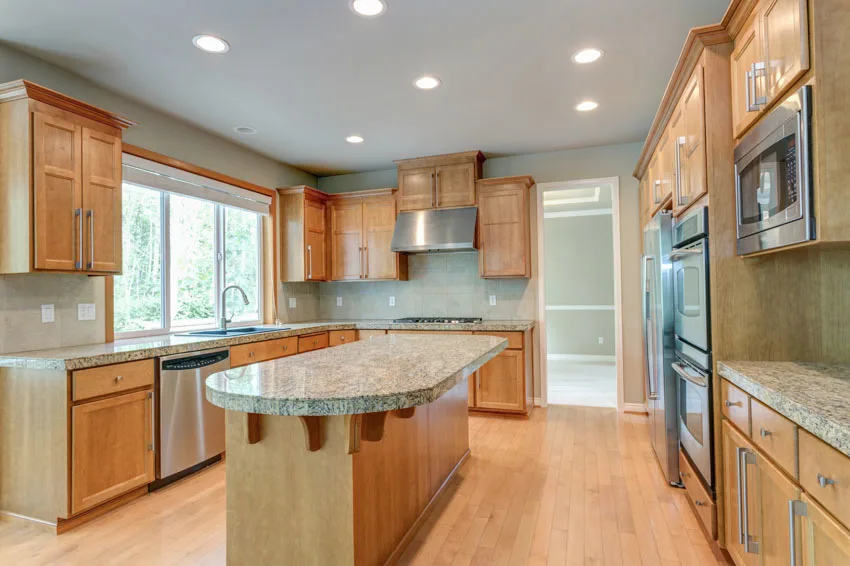 In choosing the best color of granite to match your honey oak cabinets, you can use the natural markings in the stone as a guide. Granite, by definition, is a form of hard igneous rock that is made up of quartz, feldspar, and mica.
Because of the minerals present in it, it often has multicolored striations, veins, flecks, and grains. These give granite and non-uniform color, which makes it match a wide variety of wood species and finishing materials.
Aside from the base color of the granite, you can use the features of the stone and its natural markings and undertones to match perfectly with honey oak.
When it comes to granite colors that go well with honey oak cabinets, neutrals make it to the top of the list. Cool neutrals like white, gray, and ivory granite compliment the warmth of honey oak cabinets.
Whereas, coffee brown and titanium granite help highlight the darker tones present in the wood. Warm tones like warm beige also perfectly match honey oak because they have the same color temperature.
Since warm-colored wood pairs best with warm-toned granite, cool-colored granite will clash with honey oak cabinets. As a result, matching honey oak with blue, pink, red, or purple is not recommended.
Below are examples of granite colors that go with honey oak cabinets:
• White Granite: In general, white is the most versatile color because it can easily match with other colors. White granite pairs beautifully with most wood species, including honey oak cabinets. It makes a very viable option because it helps balance out the warmth of golden tones present in oak wood.
Snowfall granite is an example of white granite that goes well with honey oak cabinets. This type of granite is characterized by its white base with gray undertones and splashes of caramel.
• Gray Granite: Gray is the most popular color of granite. When it comes to color trends, the color gray is considered the best new neutral because of its design flexibility.
Although it has a cool tone, gray goes well with both cool and warm colors — including honey oak. When paired together, it puts an updated twist on a classic and is well used for contemporary and transitional decor.
Gray granite and honey oak cabinets look best when paired with accent colors like navy blue, yellow, gold, rose, and purple.

• Ivory Granite: Ivory granite is a little bit darker than white granite. It is off-white or light cream in color and has a warmer undertone to it because of golden variations. In addition to gold undertones, some ivory granite has shades of pink and blue. The natural warmth of its hue pairs beautifully with honey oak cabinets.
• Warm Beige Granite: Warm beige granite almost has the same color as honey oak cabinets, which makes it one of the harder colors to pull off. Beige granite has different variations, some have an ivory base with a slight tinge of brown or pink.
Other beige granite had a light brown, camel or caramel color to it. The warm overtones in beige granite are one of the best colors to complement honey cabinets especially if you are aiming for a monochromatic look.

• Tan or Brown Granite: Earth tones like brown or tan, are also a perfect match for honey oak cabinets. Most brown granite slabs have black and dark brown flecks that are evenly distributed in the stone. These variations offer contrast with golden honey color. You can use this color pairing if you are aiming for a more traditional look for your home.
Some examples of brown granite that pair well with honey oak cabinets are Coffee Brown Granite. This granite features a chocolate brown base with fine flecks of black, warm gray, and coffee-colored minerals.
Another option is Giallo Fiorito Granite, a type of granite with a warm palette of cream, tan and earthy peach tones with a medium composite pattern. When paired with honey oak cabinets, it creates a consistent color palette throughout the space.
• Black Granite: Black is another neutral that can be paired with honey oak cabinets. Together they can bring depth, dimension, and a strong contrast to a space.
For a stark contrast, pair honey oak cabinets with Titanium Granite. Titanium granite is a unique black granite with a caramel gold sheen and gray swirls.
The warm accent colors in this dark-based exotic granite complement the golden tone of honey oak cabinets. Together they make a very unique and eye-catching pair.

If you want black granite but prefer a more subdued pattern. One option you can try is Black Pearl Granite. This type of granite has a black base with a semi-solid color tone with speckles of blacks, shades of gray, silvers, golds, browns, and sometimes green.

What Paint Color Goes With Honey Oak Cabinets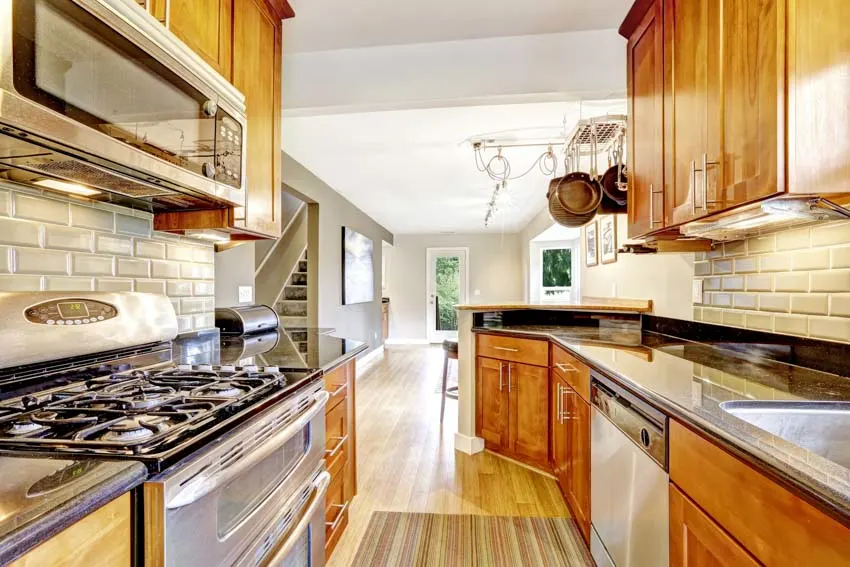 When choosing paint colors that go with honey oak cabinets, the same design principles involving color theory apply. As we have mentioned, before selecting the rest of your color palette, you need to decide first whether you want to blend your kitchen cabinets with the rest of your color palette, or if you want to accentuate them.
In turn, these cabinets can become a focal point of your kitchen space. Here are some of the best paint colors to coordinate with oak kitchen cabinets:
Warm Paint Colors To Blend Honey Oak Cabinets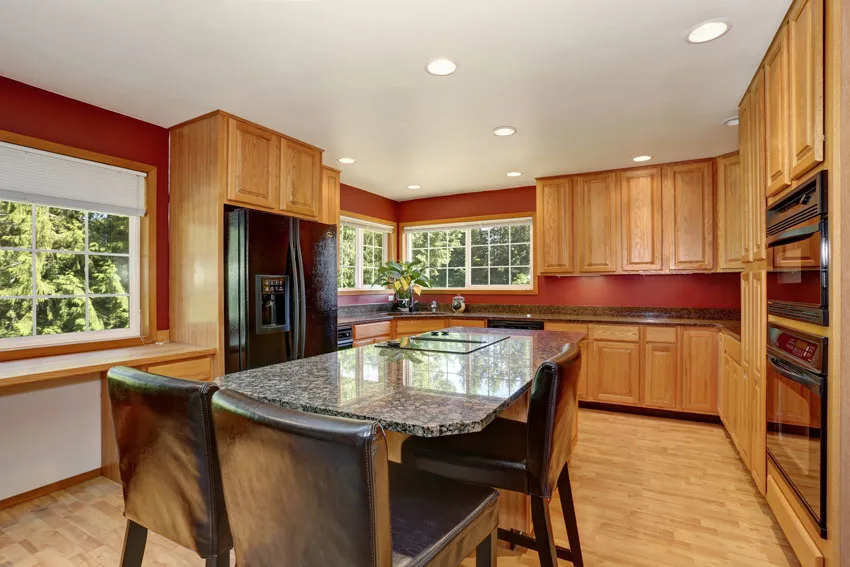 If you want to blend honey oak cabinets with the rest of the space, use warm colors and neutrals with warm undertones.
Some of the best paint colors to pair with honey oak cabinets are actually those that embrace the warm tones of this wood rather than fight it. These colors include beige, cream, brown, and greige.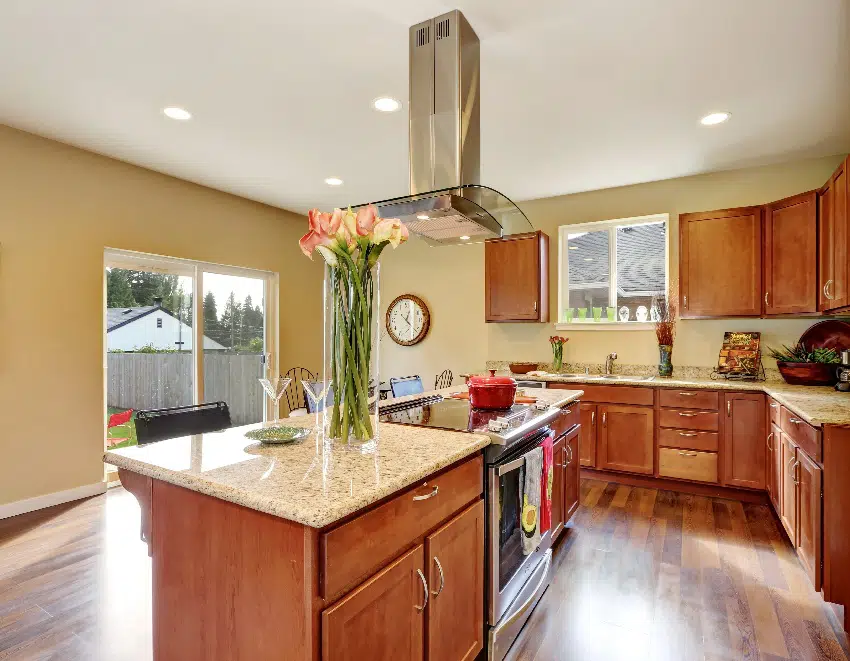 • Warm neutrals: Warm neutrals like beige and cream are some of the best paint colors to pair with honey oak cabinets because they can produce a brighter look for your kitchen.
Beige shares the same color temperature with honey oak kitchen cabinets and with it you can easily blend your cabinets with the rest of the room.
Cream, on the other hand, is a warm shade of white with "butterscotch" undertones. When paired with honey oak cabinets, cream-colored walls help create a room that is naturally warm and inviting.

Sherwin Williams Alabaster (SW7008)
• Alabaster: Alabaster is a very light off-white that has a hint of shading to it. It's almost similar to cream color but doesn't have strong yellow undertones that might clash with golden honey oak cabinets. Use this paint color for your walls if you want to lighten up your space.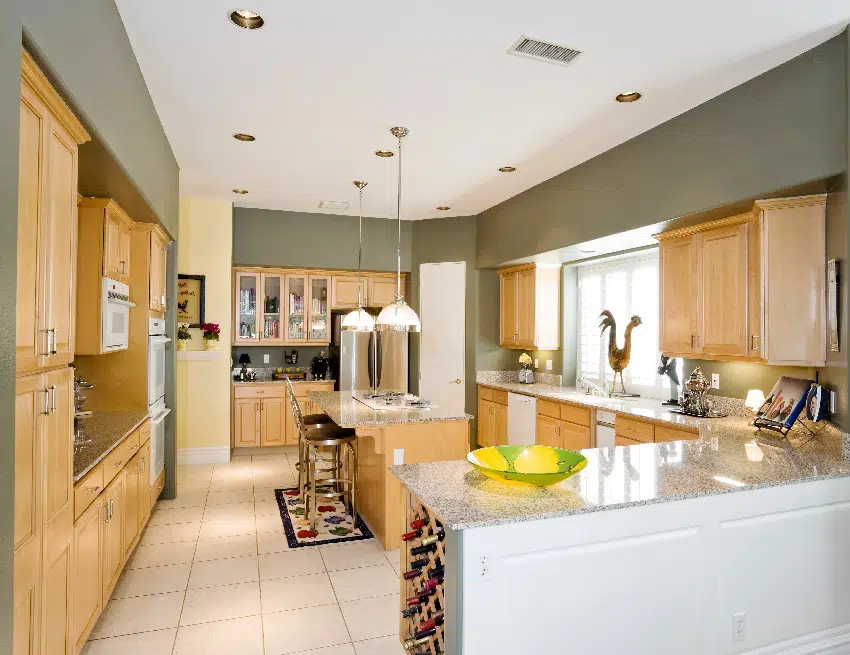 • Gray: Gray has a subtle color that will not blend in with yellow tones but also won't highlight your cabinets. Warm grays work better than cool grays because the latter results in an ashy look when placed alongside warm honey oak cabinets.
Greige: Greige is considered to be the new neutral. It combines a subtle gray base with a solid beige undertone. Because it has a combination of both warm and cool undertones, you can use greige paint colors if you want to create a well-balanced overall look for a space with honey oak cabinets.
Cool Paint Colors To Tone Down Honey Oak Cabinets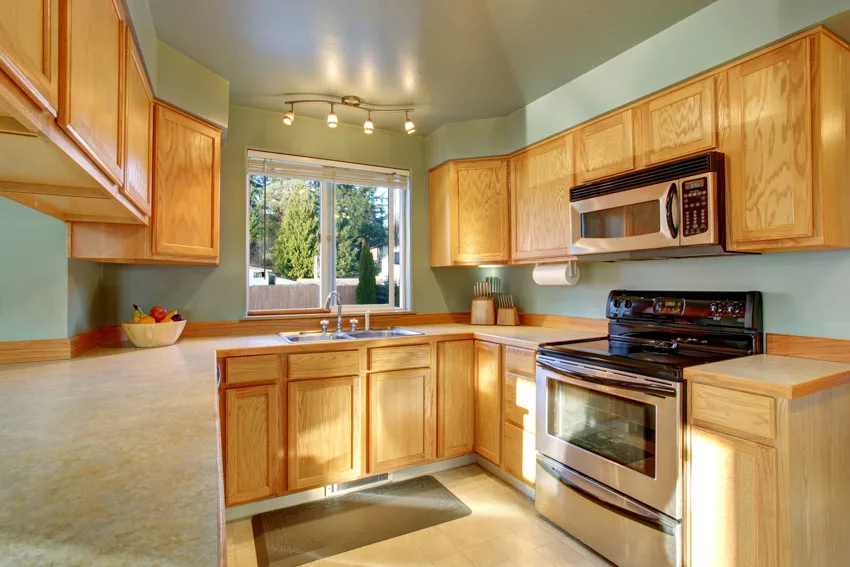 If you want to downplay the yellow-orange undertone of honey oak wood and tone it down a bit, then you need to look across to the other side of the color wheel and choose a complementary paint color. These include cool hues such as blue, green, or neutrals with slightly purple undertones. Benjamin Moore Chantilly Lace (OC 65)
• Cool neutrals: Shades of white and gray with cool undertones of green, purple and blue also help downplay the natural color of honey oak cabinets. These colors will let honey oak kitchen cabinets stand out while making the space appear lighter and airier.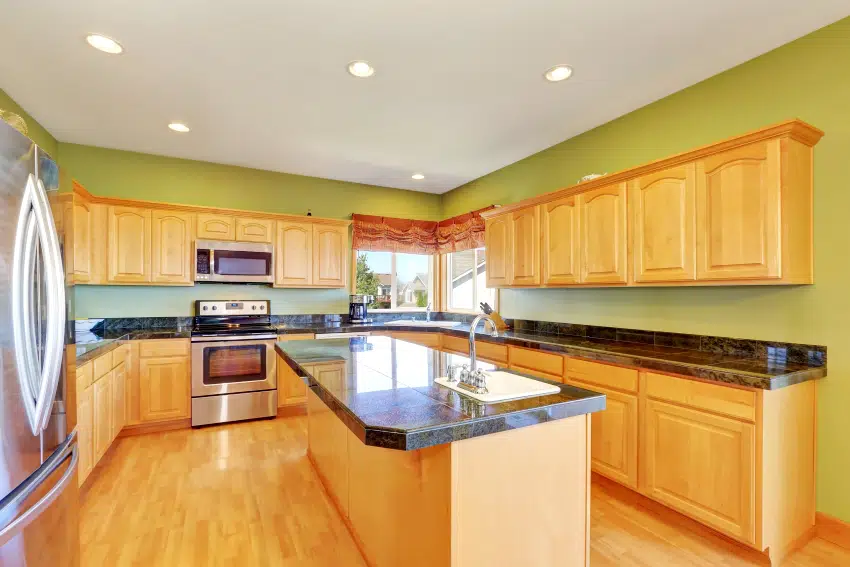 • Green: Green paint is one of the best shades you can use to tone down the warmth of yellow-toned woods like honey oak. In general, pairing green with any type of wood looks very natural and organic.
Both light and dark shades of green can be used as paint colors to match honey oak cabinets and each one renders a different visual effect.

Light shades of green like sage and mint green will produce a refreshing vibe, while dark shades of green such as olive will produce a more luxurious and dramatic feel. But if you want something in between, you can opt for muted green as they can give honey oak cabinets a more updated look.

Behr Serene Sky (540C-2)
• Blue: Shades of blue paint contrast well with honey oak cabinets without being too overwhelming. Regardless of the intensity –whether it may be a light powdery blue hue, a muted bluish-gray, or rich navy blue, this paint color can tone down honey oak cabinets and give them a more updated look.
See more related content in our article about the best kitchen paint colors with oak cabinets on this page.