Here's our gallery of outdoor bath ideas including the different materials, options with views, garden tubs, different outdoor tub designs, and important DIY tips.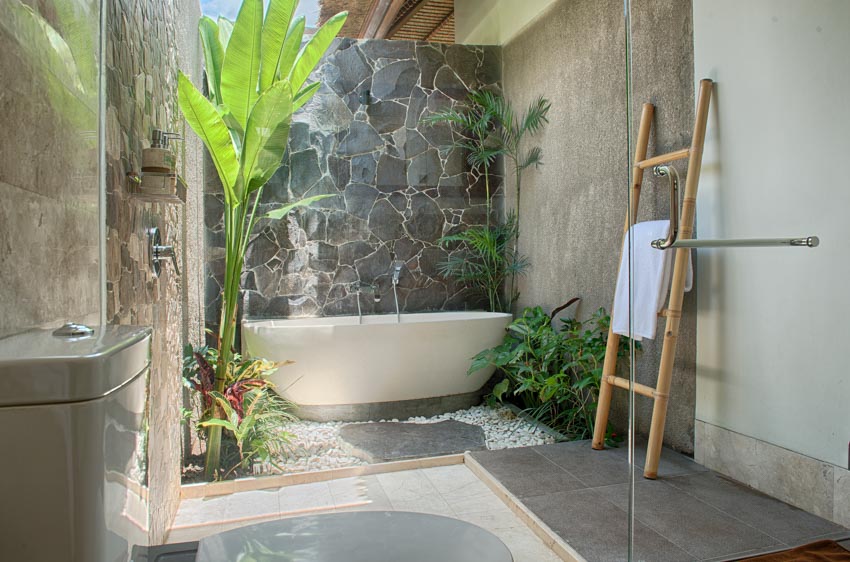 Outdoor baths are becoming a trend today as people want to feel more at ease and freer. And to accomplish this, some people start by installing an outdoor bath in their own backyards.
If you are planning to have one too, there are several ways you can do it. And you can go for an outdoor shower, an outdoor bathtub, or a bit of both.
The luxurious tropical outdoor bathroom featured above offers a bathtub in the backyard you can only normally see in international hotels and spas. The open space, along with the plants and white pebbles, makes you feel free but gives you enough privacy through the tall stone and concrete walls surrounding it.

Outdoor Bathtub With View
Taking a bath outdoors makes you feel closer to nature and having a view is an extra luxury you will definitely enjoy. Looking at wonderful sights while taking a warm soak in the tub is a dream come true.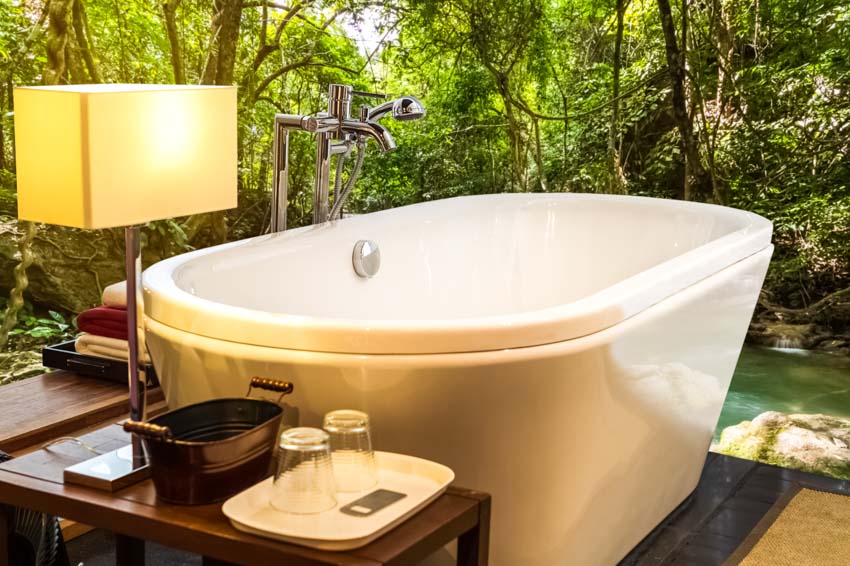 This outdoor bathtub features the comfort of an indoor bathroom, complete with a faucet, shower, shelves for bathroom supplies, and a lamp that sets a relaxing vibe. The view of natural water adds value to the entire experience.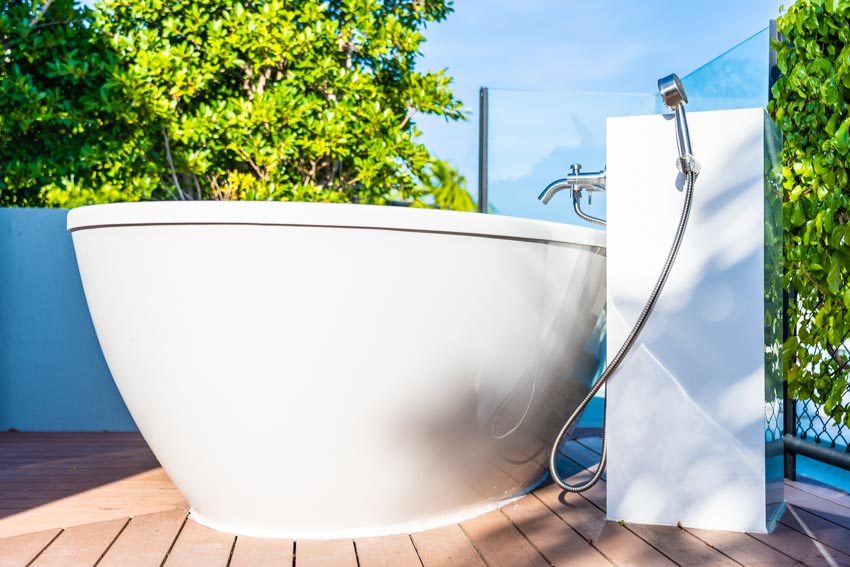 This luxurious standalone white bathtub features a faucet and a handheld shower on the side. The view of the trees and the sky adds to the natural vibe of this outdoor bath. Read about different types of shower heads here.

Garden Tub
The garden is one of the best locations to install your tub if you're considering an outdoor bath. Nature is a refreshing element you can enjoy and immerse in.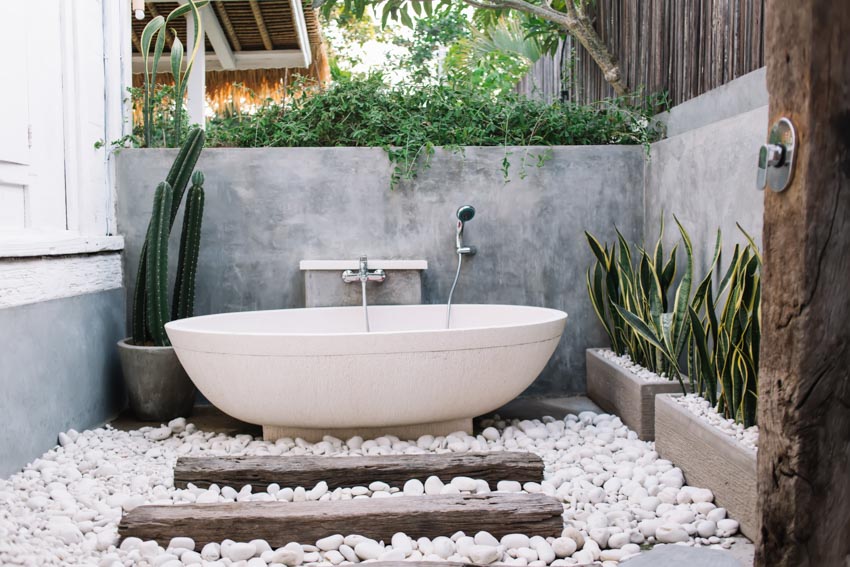 This outdoor bath features an oval white ceramic bathtub, complete with a handheld shower and faucet. The entire space is decorated with elements of nature, from white pebbles and wooden plank steps to green exotic plants.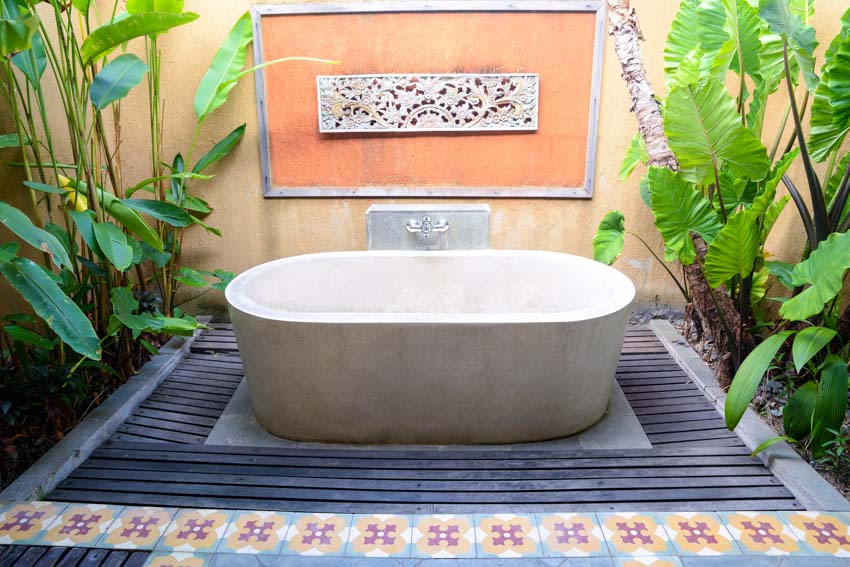 This bathtub is installed in the middle of the garden, delivering a tropical vibe in the process. The bath is simply with a tub and a faucet to fill the tub with water amidst a variety of plants.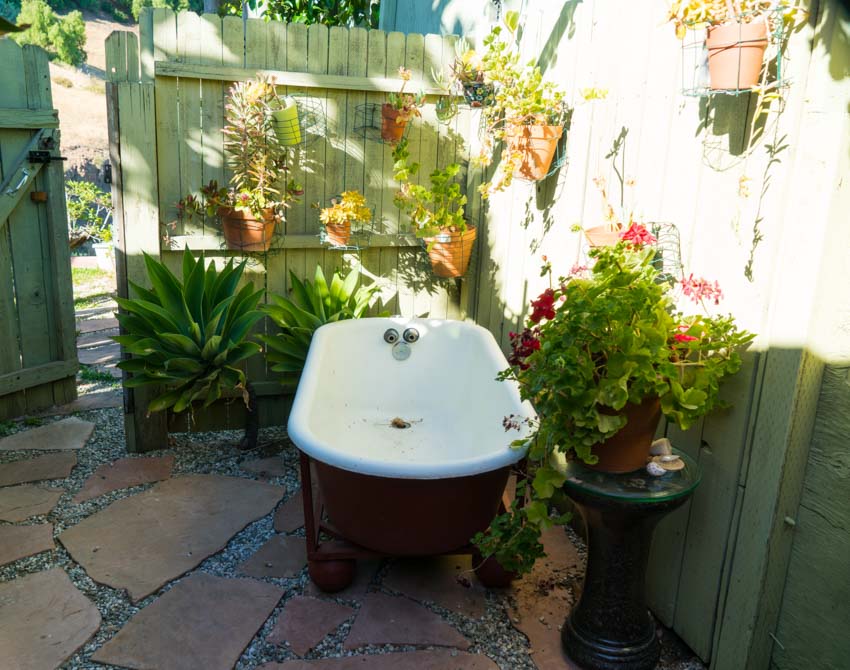 This simple tub is installed in the middle of a colorful bohemian garden. The bathtub is located inside the walls, giving more privacy. And the potted and hanging plants offer a refreshing feel.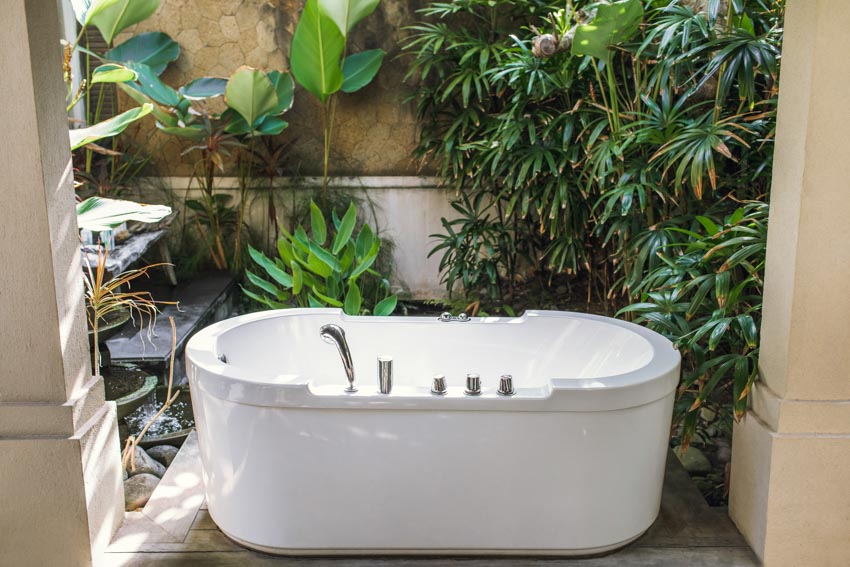 With nature as the background, this outdoor white tub features several notches that support spa-like relaxation. The vibe is entirely tropical, with greens surrounding the tub.
Indoor/Outdoor Bathroom
An indoor/outdoor bathroom has a flowing connection from inside the home to the outdoors. The idea is to extend the bathroom from the home to the backyard, deck, terrace, or the appropriate types of patios.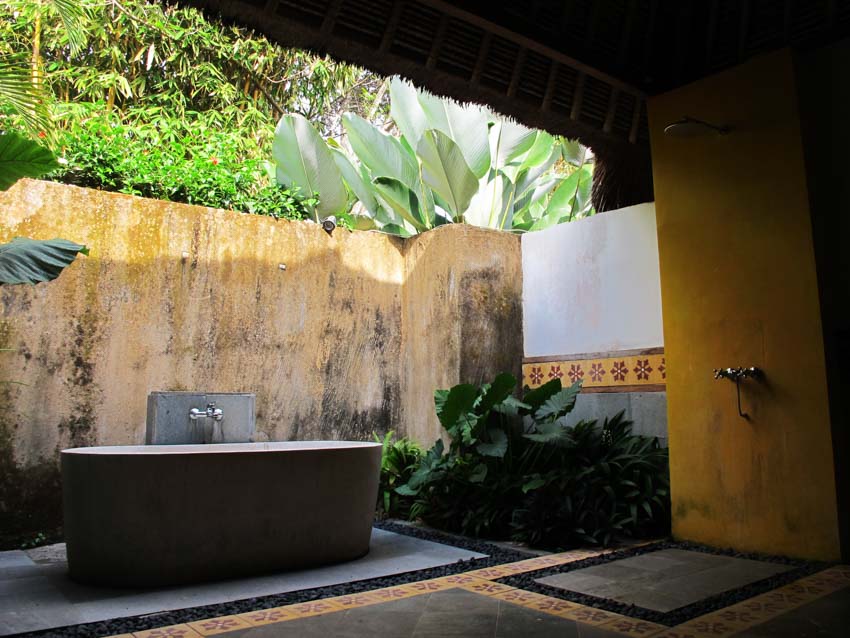 This rustic indoor/outdoor bathroom is complete with a bathtub and a faucet. The tub is installed outdoors while there is a faucet mounted on the wall indoors. The areas are separated where one is covered by the roof and the other is not.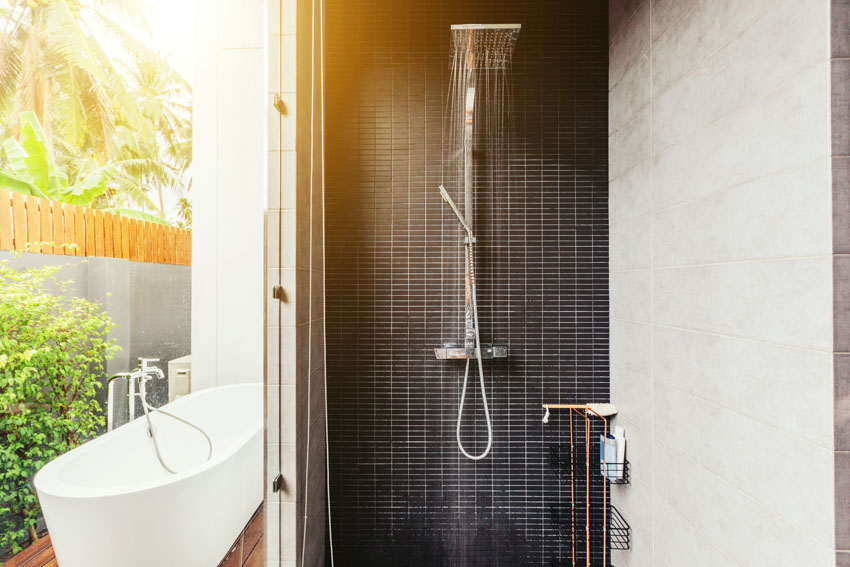 This luxurious indoor/outdoor bathroom has two areas, where the one indoors has a rainfall shower and the other is a bathtub with a faucet connected to the plumbing inside the home. A glass door separates both areas.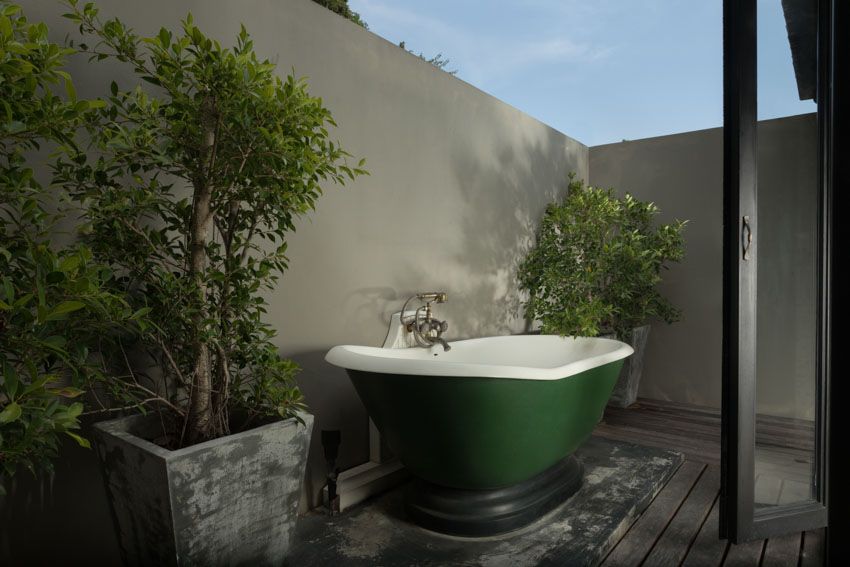 This unique and contemporary bathroom features a green bathtub just beside the home, with its faucet connected to the indoor plumbing. The potted trees on the sides of the tub give emphasis and border the tub.
Stone Outdoor Tub
The outdoor bathroom may somehow be a bit modern and bold but it can also be relaxing and freeing. And using stone types of bathtubs is not just good for its aesthetics but also for more practical reasons. Stone outdoor tubs don't need heaters because the sun naturally warms the water up in the tub.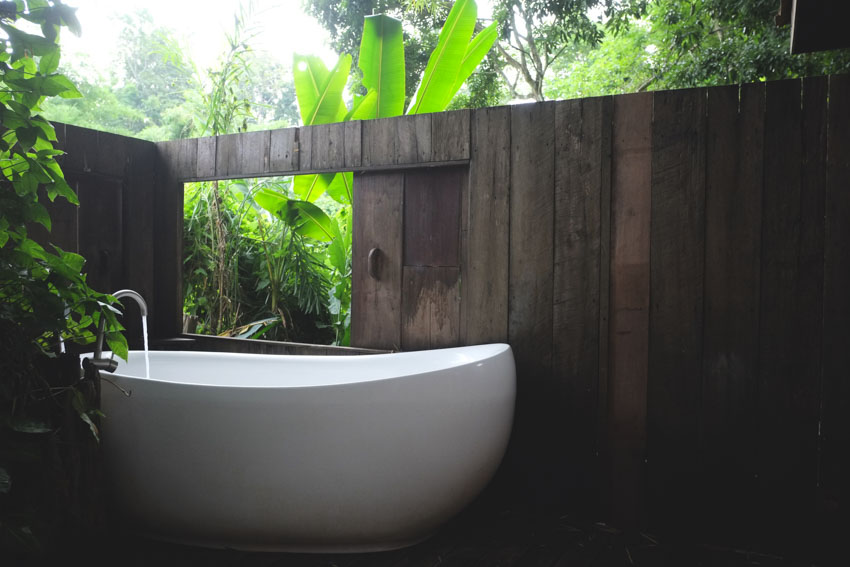 This white stone bathtub installed outdoors has a tropical jungle vibe to it, not just because of the trees and other plants that surround the tub but also because of the rustic wooden walls.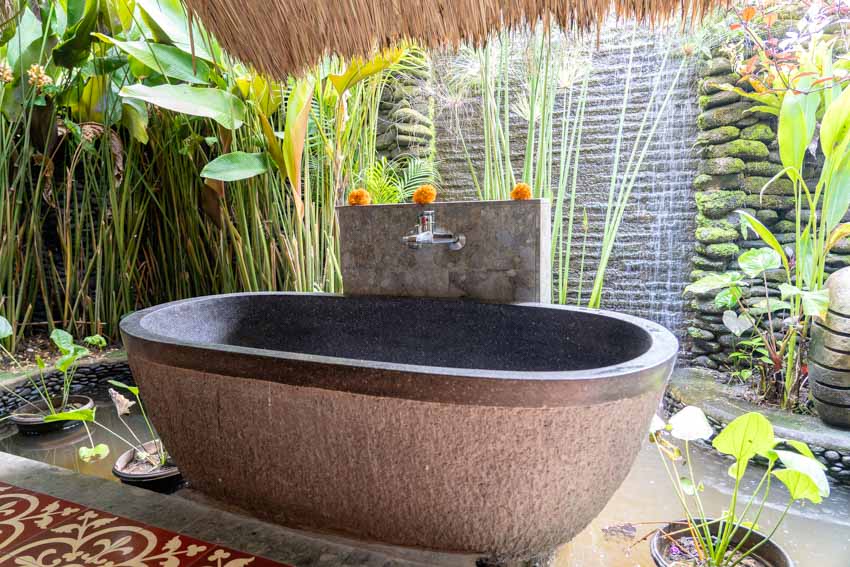 This stone bathtub installed outdoors offers a romantic vibe amidst the tropical-style yard. This standalone tub is supplied with water through the faucet mounted in a slab of stone beside it. The plants around the rub, as well as the little pond, add a refreshing and natural vibe to it.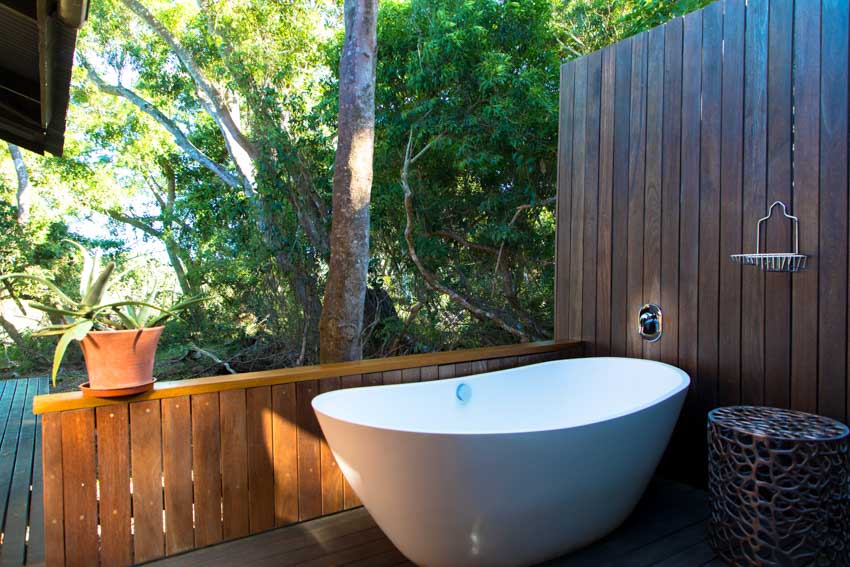 Installed within the walls of the home, this minimalist bathtub is installed on the porch with wooden planks serving as walls and borders of the bathroom area. It also offers a tropical vibe, complete with the view of trees and a stool chair made from stone.
Jacuzzi Whirlpool Bath Outdoor
A jacuzzi is a luxurious addition to a bathroom, which was formerly known as a hot tub. More than just heating the water, there are also notches that can be set for massaging. This is mostly installed in hotels and spas, delivering an incredible and luxurious bathing experience.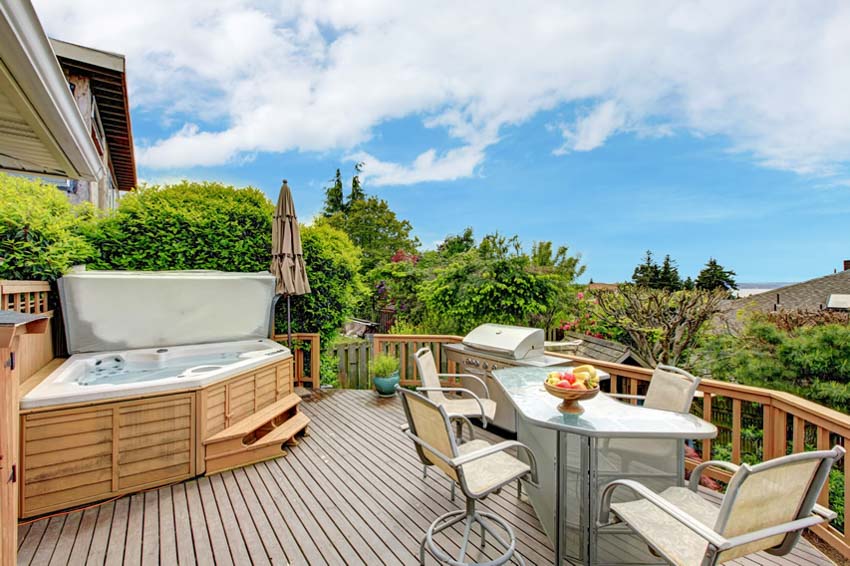 Installed on a wooden terrace, this jacuzzi whirlpool tub does not only offer relaxation through a hot soak but also because of the stunning view. This luxurious outdoor bath is complete with a table-and-chairs set and grilling station. This is the perfect venue for a party and for entertaining guests.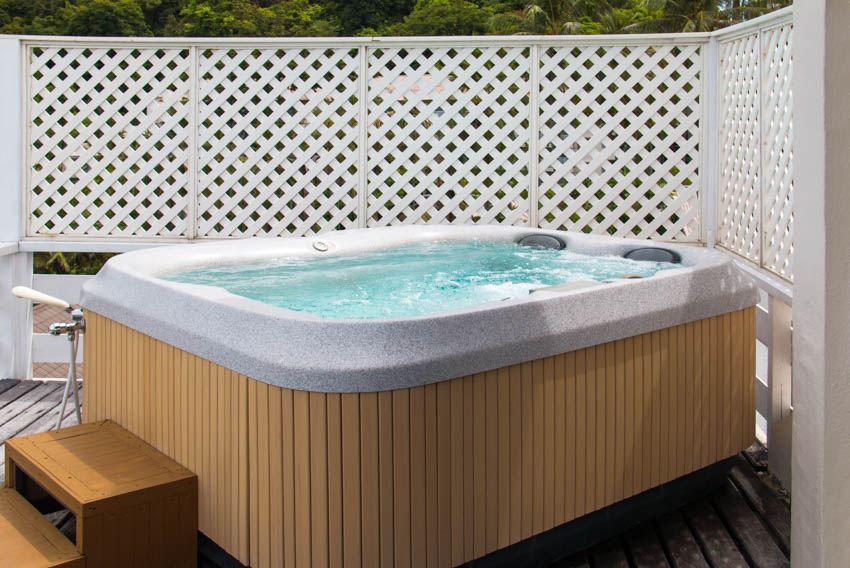 This wooden jacuzzi showcases hot swirling water for maximum relaxation. The wooden planks and staircase offer a minimalist vibe to it and the white fence offers a bit of privacy. There's also a handheld shower on the side for washing.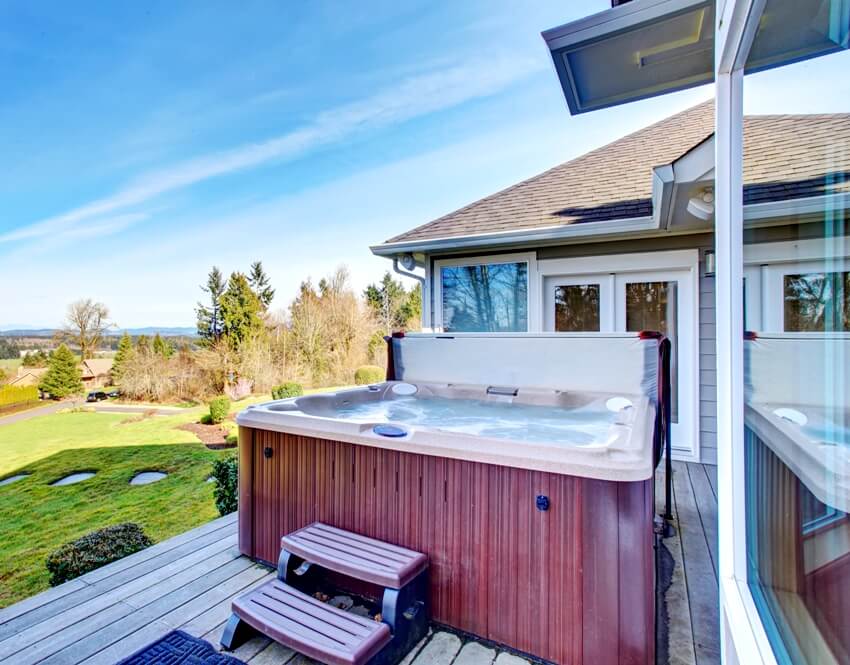 This traditional backyard deck is outfitted with a large hot tub and excellent views of the outdoor countryside. Hot tubs are great for personal relaxation, socializing with friends and family or can be used to add value to short term rental properties.
Japanese Outdoor Bath
Japan is known for public outdoor baths and onsens so it's not surprising that these are also used in homes today.
Ofuro is a Japanese bathtub made of wood, which is usually deep and has straight sides. It offers the same minimalist look as onsens, focusing on its purpose, which is relaxation and therapy, same as onsens.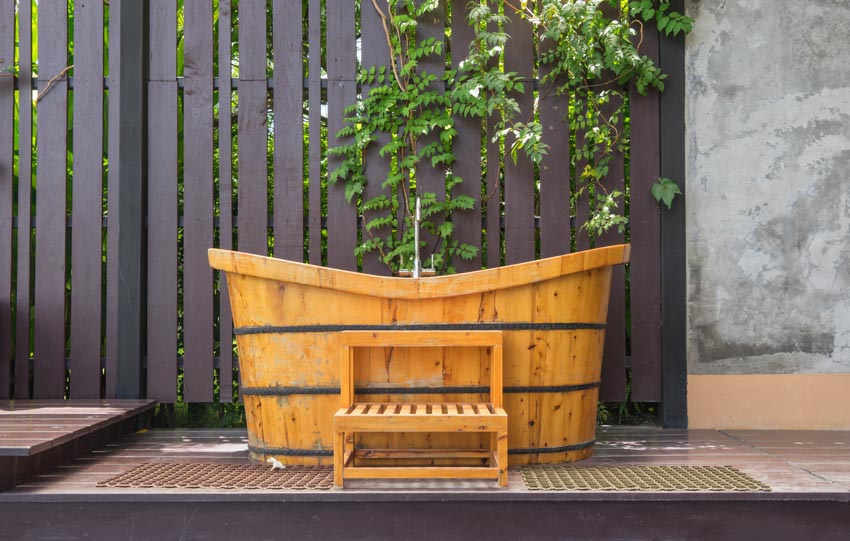 With a dark brown wooden face as its background, this Japanese outdoor bathtub is made of vintage wood that looks rustic. It also has its own ladder step to make it easier to get in, especially since this ofuko is deep and getting in can be difficult. The greenery on the fence adds charm to the entire outdoor bath.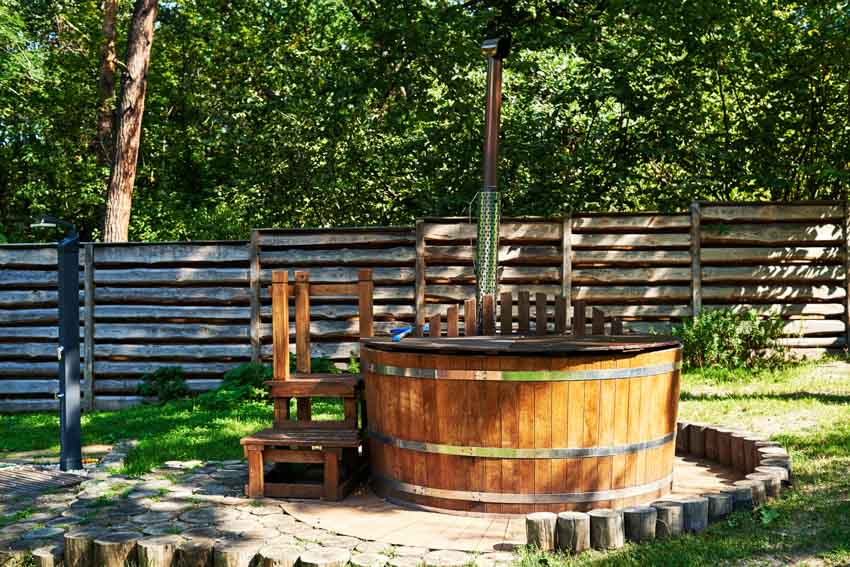 Featured in the middle of a garden, this ofuro is traditional in its aesthetic. The wooden tub has a paving stone border marking the space of the outdoor bath. Privacy is ensured by the metallic fence surrounding the property. And being surrounded by trees and nature in general offers a more relaxing vibe.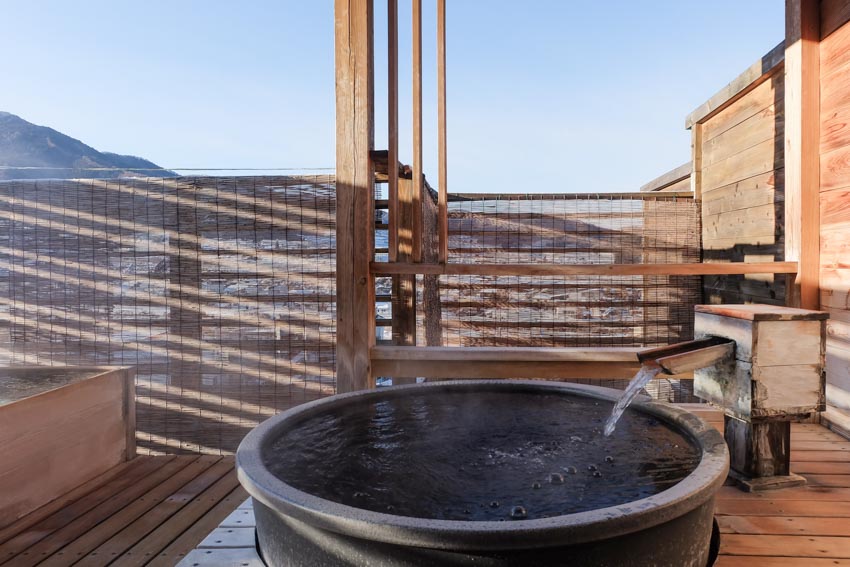 This outdoor bathtub is somehow similar to Japanese onsens, with the water connected to the hot springs and has a stunning view in the open space.
Outdoor Bath DIY
You can build your very own DIY outdoor baths in your backyard and you only need the budget, time, and knowledge in installing one for your home.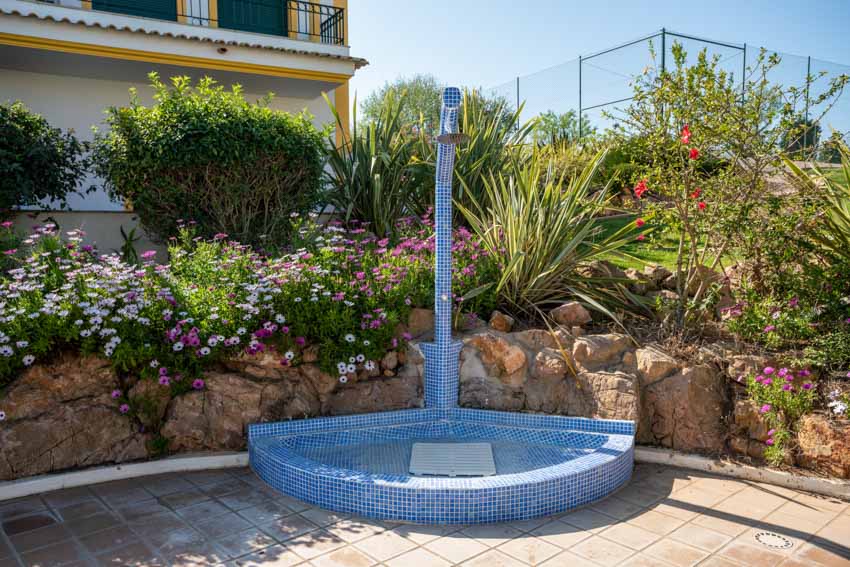 This DIY outdoor bath features a traditional ceramic mosaic shower area complete with a small tiled pool to make sure that the water is contained in the area.
It has a rainfall shower head and a white platform to step on when you use the shower. Privacy is not a priority in this outdoor bath since it's pretty bare with nature surrounding the area.
Installed in between groups of plants, this outdoor bathroom showcases a shower area with the rainfall shower head mounted on the wooden wall. The wooden planks serving as the platform also add to its tropical feel, along with the wooden shelf where you can place your bathroom supplies as you shower.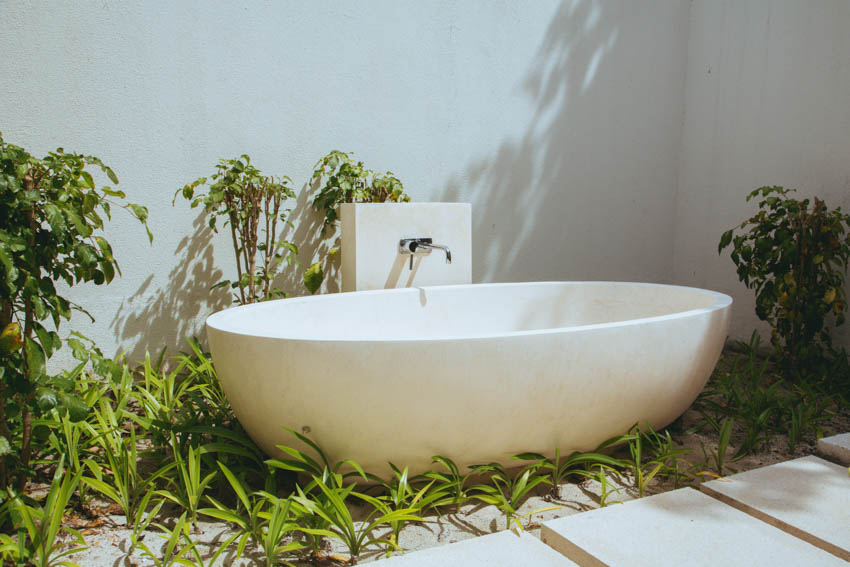 Nestled on the ground with grass and plants surrounding the area, this stylish ceramic bathroom is minimalist in its appeal and basic in its function. The water supply comes from the faucet mounted on a concrete slab beside the bathtub.
Can I Put A Bath Outside?
Yes, you can put a bath outdoors and it's already being done by many homeowners. Just make sure you know the pros and cons of having an outdoor bath.
Take into account what you'll need to build one in your backyard or porch, including plumbing and the additional cost it will require from you. In addition consider adding a privacy fence or hedges to block the line of site of any nearby neighbors.

If you value your privacy, this might be crossing a line for you. If you want the thrill and a new level of relaxation though, you can give it a shot.
How To Make An Outdoor Bath
If you're not into DIY, rely on the professionals to build your outdoor bath for you. If you want to do it yourself though, here are simple steps you can follow.
1. Decide on the kind of outdoor bath you want to install (bathtub, shower, or a tub inside shower design), as well as the style and design you want to use for it
2. Decide on the location of your outdoor bath
3. Check on your home's plumbing if it is near the location you chose
4. Check your budget if you can follow through with the plan you have and adjust accordingly
5. Make sure to add a bit of privacy (whether in a form of a fence or a couple of shrubs)
6. Lay down the gravel and tiles and start building
7. Make sure to hook up the plumbing and add the drainage
How To Heat Outdoor Bathtub
The simplest way you can heat your outdoor bathtub is by using an old cast-iron enameled bathtub. More than that, you can also use the traditional fire pit with bricks. You may even install a heater if that's the most convenient option for you.
Do Outdoor Tubs Need A Drain?
Yes, your outdoor tubs need a drain. In fact, draining the water for your outdoor tub is not as easy as emptying a pail of water. There are several types of bathtub drains you can use, including the following:
• Drain plug/spigot
• Dry or wet vacuum
• Submersible drain pump
Can I Put An Acrylic Bath Outside?
Yes, you can put an acrylic bathtub outdoors. An acrylic tub is similar to the traditional cast iron tubs in appearance but it is less authentic, lightweight, and more affordable.
The good thing about this is that it is also low-maintenance that would only need light cleaning regularly using a mild cleaning agent. It can even retain heat and so is also a good option for a long warm bath.
Can You Put A Bath On A Deck?
Yes, you can put a bath on a deck as long as the surface underneath is stable and water-resistant. Make sure that the deck can handle the weight of the bathtub you choose to install. The most affordable option for a deck you can choose is a wooden pallet that you can install on pebbles or grass.
See more related content in our article about the best outdoor shower ideas on this page.