Here's our gallery of outdoor shower ideas with the different types, design styles, features, materials, and the best outdoor shower flooring.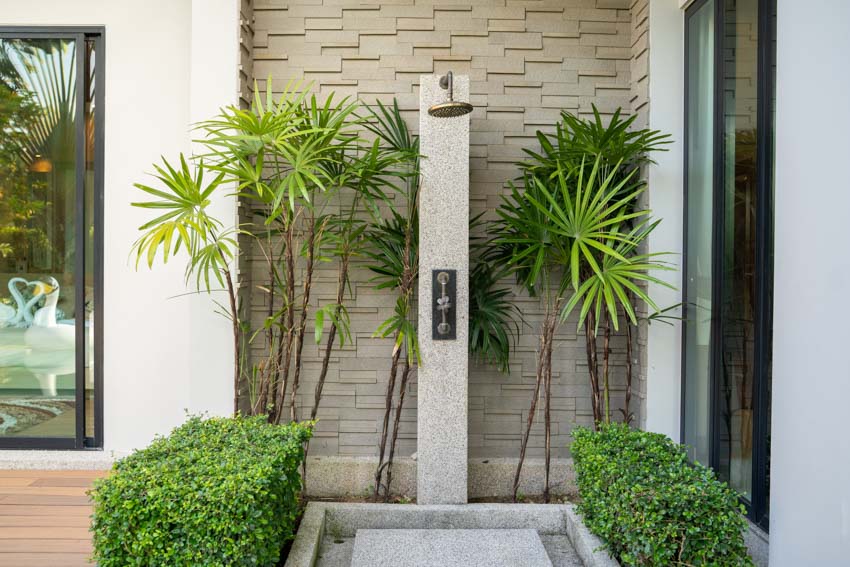 Showering feels like an intimate activity that you'd like to have as much privacy as possible. But if want the freeing feeling of being outdoors while enjoying how water trickle down your body, you can actually opt for an outdoor shower. Yes, a shower outside your own home!
Enclosed or not, an outdoor shower may use a simple plumbing system consisting of valves, water pipes, and a shower head with the water source in the form of the home's main water supply.
Pros and Cons of an Outdoor Shower
Here are some of the advantages and disadvantages you can face when using an outdoor shower.
| | |
| --- | --- |
| Benefits | Drawbacks |
| Adds value to the home | Possible lack of privacy |
| Helps keep the pool clean | Needs regular cleaning |
| Can cool you off in the summer | Not usable all year round |
| Excellent to clean off children and pets | Some may be expensive to buy and install |
Outdoor showers are guaranteed to add value to your home and can dramatically increase the home's asking price, whatever the style it may have from minimalist to modern.
Types Of Outdoor Showers
There are different types of outdoor showers you can choose from when planning for one in your own home. Would you want it wall-mounted and connected to the infrastructure of your home or do you prefer a freestanding one? These are questions you would need to answer as you plan out your outdoor shower.
Plumbing can be made simple and tidy like this outdoor shower, with a shower head at the top, a valve at the center of the wall, and a platform you can step on at the bottom. The greenery on both sides somehow adds a fresh look to it.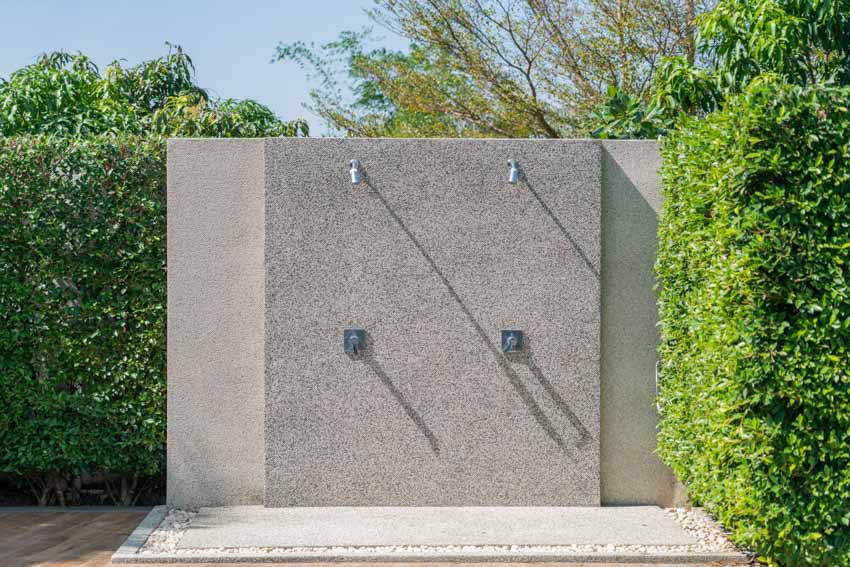 This outdoor shower features two shower heads and valves attached to concrete, allowing the use of two people at the same time.
Minimalist in its style, this will seem like having two showers which is beneficial if you have a big family. But of course, that's if you can be comfortable showering with another person.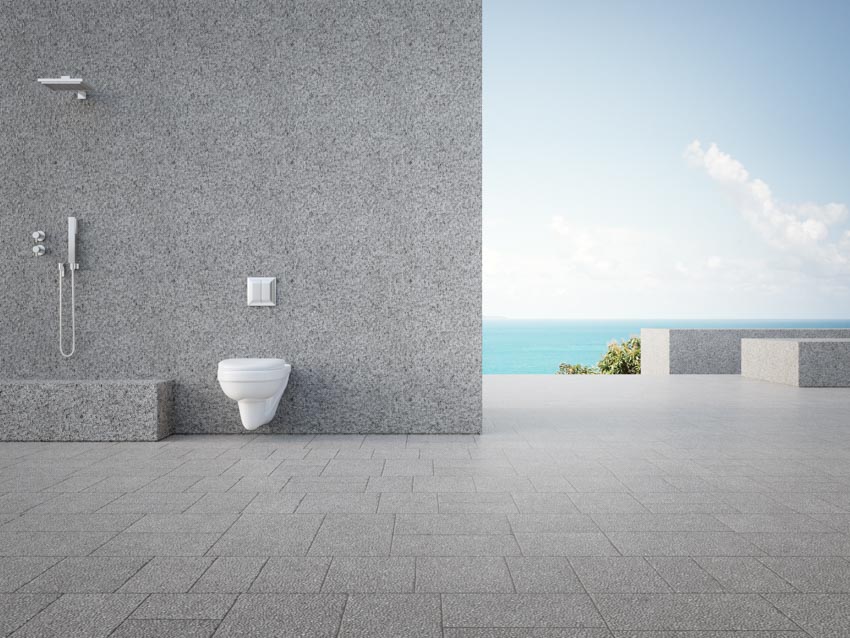 Attached to a gray concrete wall, this outdoor shower offers a luxurious view of the sea that you can enjoy. The gray concrete shower wall matches the gray floor tiles, giving it a unified look.
The drawback though is that privacy seems to be the last thing on mind when this outdoor shower was designed because of its large open space.
There is a variety of options to consider once you plan your outdoor shower. Check out these ideas if they can come in handy for you.
Outdoor Shower Enclosure
Having an outdoor shower does not mean you have to give up your privacy entirely. You can create a sense of privacy by using a solid enclosure, whether it is a full one or just a part of it.
You can erect partitions just enough to cover up to your head or just around five feet just to cover your intimate parts. Position the partitions where you will be hidden in public eyes.
One good thing about enclosures is that you can get creative with the materials you use. From wood to stone, your enclosure could be styled in whatever way you can.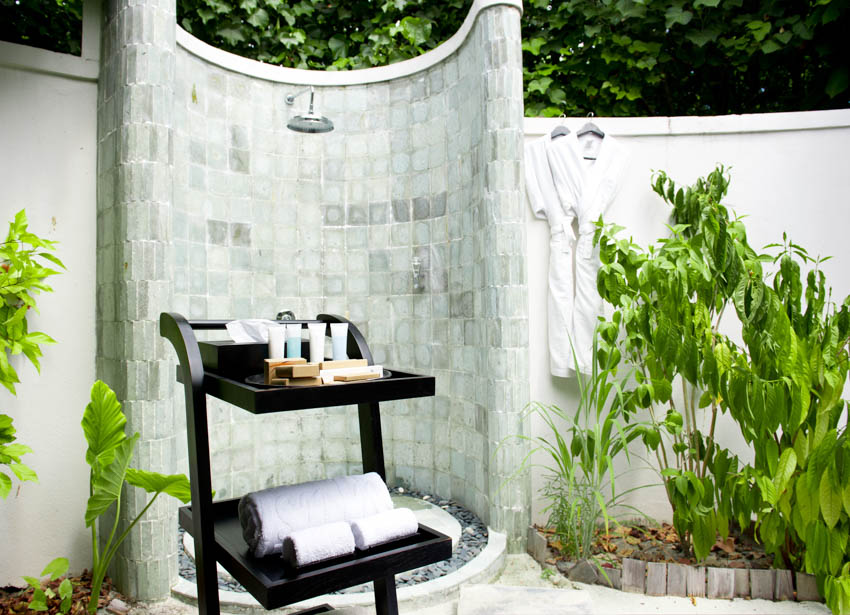 This outdoor shower features a solid round enclosure with a rain shower head installed at the top. The enclosure has this rustic old stone look balanced by the plants on its sides. It also features a black shelf in the open part of the enclosure holding your toiletries while you shower.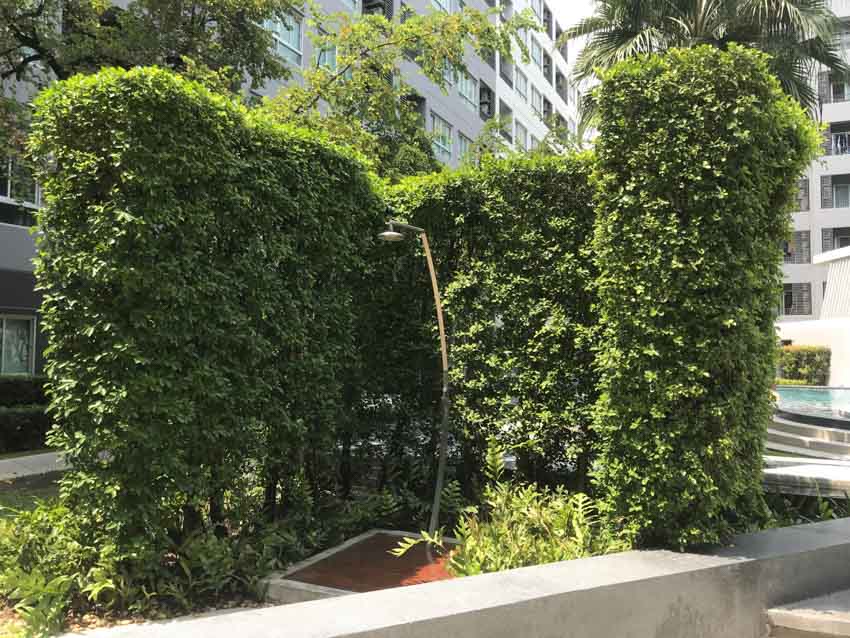 Featuring a natural kind of enclosure, this outdoor shower has a simple shower head hanging on top and a single line of water tube connecting it to the water source.
The enclosure is in the form of a reverse U-shape shrub that covers way above your head for your privacy. It also features a concrete platform to support your solid footing while showering.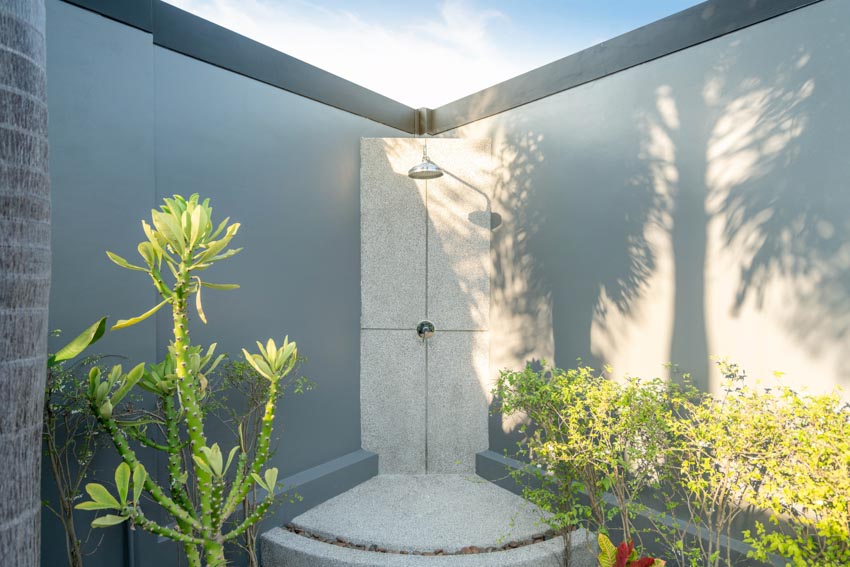 This outdoor shower with enclosure features a concrete platform you can step on to shower. The shower head is attached to the wall that's connected to the two connecting perpendicular high walls. The enclosure is made up of concrete walls and is accented with plants on the side to improve its aesthetic.
DIY Outdoor Shower
If you want more flexibility in designing your outdoor shower, you can actually build it on your own. If you have the time, consider it a summer DIY project. And yes, it takes more than just hanging a garden hose on your garden wall!
Consider your budget, the materials you want to work with, and the design and style you want your outdoor shower to have. Whether it is free-standing or night, decide on these factors before you even start working on the outdoor shower.
This option is more affordable, especially since you won't have to pay for labor in building the outdoor shower. You just need to consider a simple plumbing system, basic lumber, and corrugated tin if you go for the most affordable elements. An outdoor shower kit can help you if you don't know where to start with this.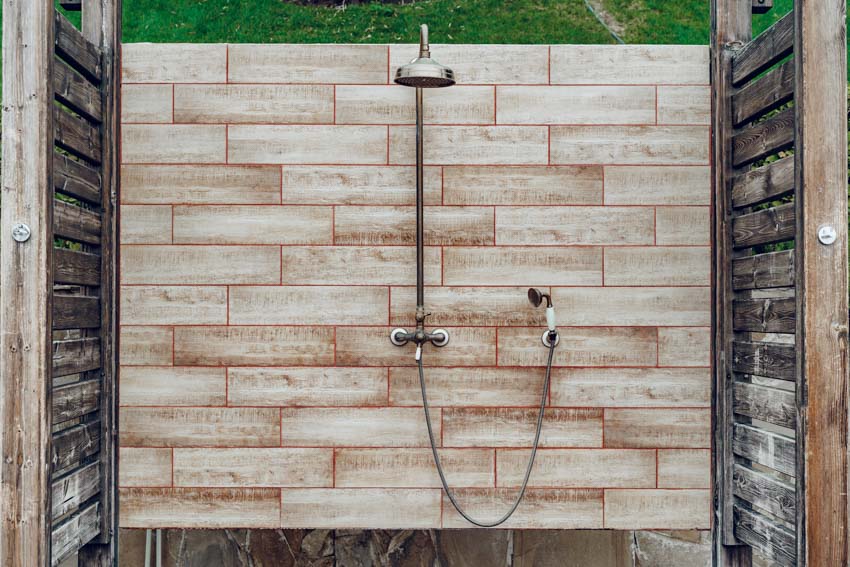 This DIY outdoor shower showcases a rain shower head on the wall, with a wooden enclosure. Wooden planks are arranged like bricks with the shower walls on the side made from dark-colored wooden planks. The wooden enclosure offers a rustic appeal to your home.
Outdoor Shower Kit
A convenient and easy way to DIY an outdoor shower is by using an outdoor shower kit. Rather than building from scratch, an outdoor shower kit is an easy solution you can check out. An outdoor shower kit will include all the hardware needed to build one like a decking floor, shower walls, and a door.
Most of these outdoor shower kits are made from low-maintenance PVC, which can look stylish and elegant without costing you too much. If PVC is not your thing you can go for a more organic style then check out wooden designs. And the best thing is that you can complete your outdoor shower in just a day.
Outdoor Pool Shower
Installing an outdoor shower near a pool is a logical thing to do since you would need to wash before and after you use the pool. So if you have a pool at home, make sure you also have an outdoor shower near it.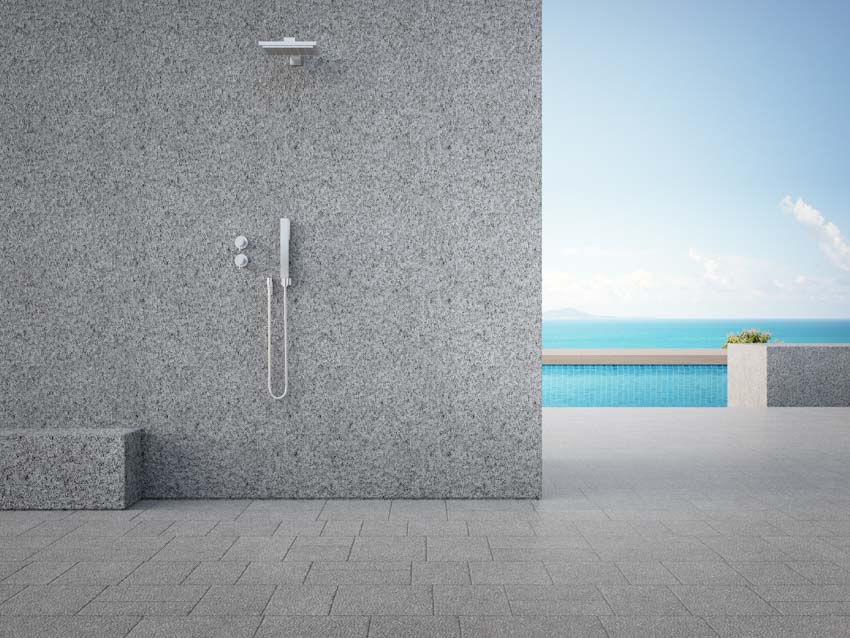 This minimalist outdoor shower is installed near this swimming pool and with a wonderful sea view you can enjoy at the same time.
The gray concrete wall and floor tiles match the sky blue color of the sea and the tiles on the swimming pool. Very open and spacious, this outdoor shower has two types of shower heads a rain shower and a handheld shower.
This luxury swimming pool features an outdoor shower that has two showerheads. This means more than one person can shower at the same time. While it uses the same floor and roof as the lounging area on the left, the shower area uses a different color of walls with the pillar separating these areas.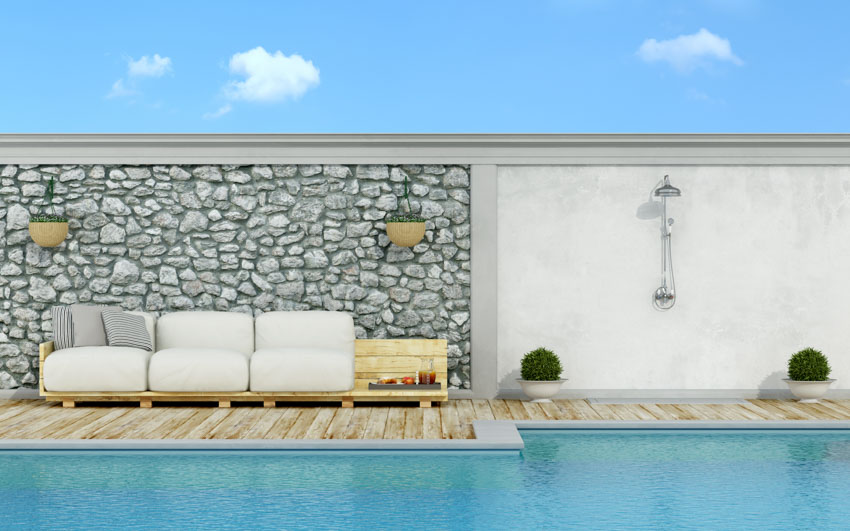 The outdoor shower and lounging areas both use the same light wooden planks for their flooring but have different walls and potted plants to set them apart from each other.
While the lounging area uses stone walls, the outdoor shower area uses concrete walls. The potted plants in both areas offer additional character to them.
Outdoor Solar Shower
An outdoor solar shower uses a more cost-effective mechanism to get the water running, compared to the expensive and complicated hot water lines, especially the ones from the pool area.
While limited in water capacity, this solar-powered shower can provide enough water for several people. The water can also be heated directly by the sun, making it cheaper when operating compared to a traditional indoor shower on top of an affordable installation.
Portable Outdoor Shower
A portable outdoor shower is ideal for your grooming and showering during camping and other outdoor activities you might be involved in. You won't have to worry about cleaning up after a sweaty and hot day in the middle of nowhere. It will also work perfectly well for bathing kids and dogs and washing dirty dishes.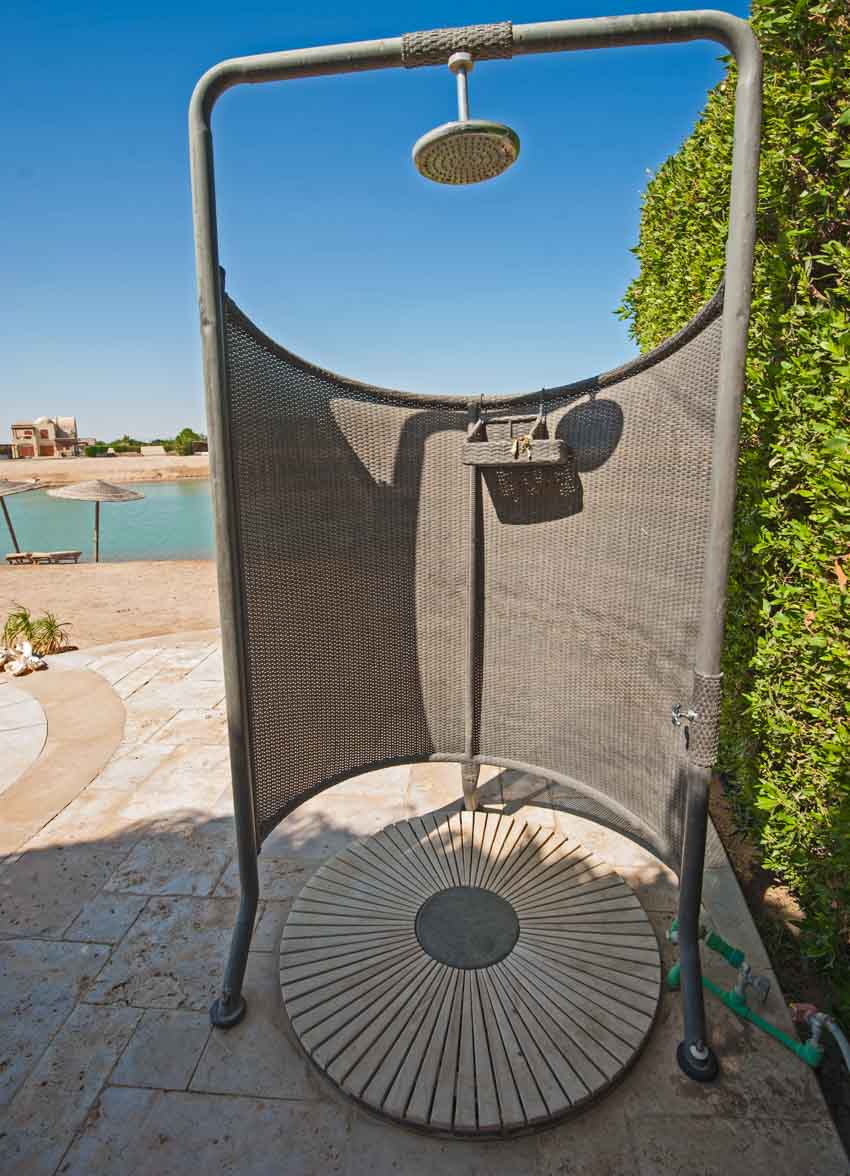 This outdoor shower features a portable cubicle with a rainfall showerhead at the top of it. The cubicle is made of metal, making it much more portable than wood. And the round platform can also easily be set up and packed up when you need to bring it somewhere.
Freestanding Outdoor Shower
A freestanding outdoor shower is one of the most common types of outdoor showers today. Compared to a wall-mounted outdoor shower, a freestanding one means that it is not directly connected to the home's structure. It is in a separate area and can either be a portable or a stationary fixture.
Portable freestanding outdoor showers are more affordable and cost almost nothing to install while stationary ones are more expensive due to water lines and pipes installation.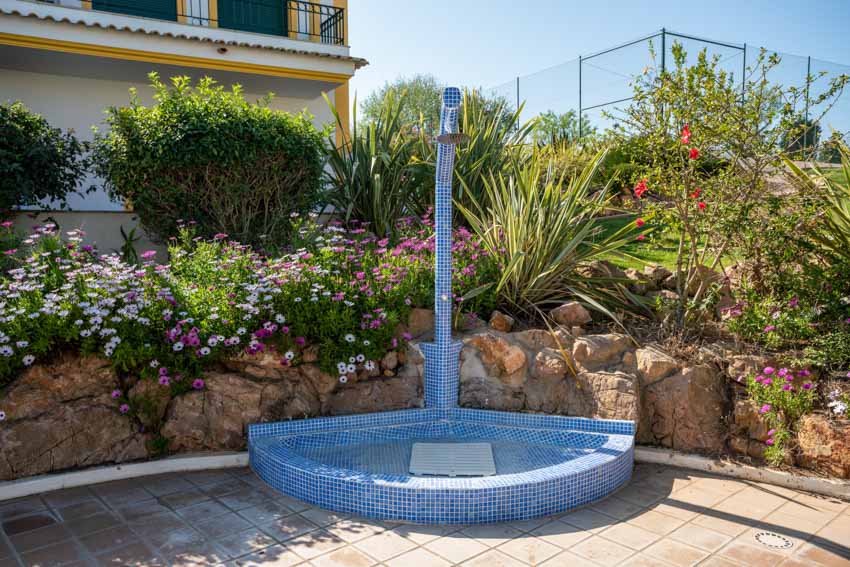 This freestanding outdoor shower features a traditional ceramic mosaic design using a rain shower head at the top with a shallow platform you can step and stand on.
The water is gathered in the platform while you shower and then flows towards the drain outside. The color blue stands out among the beige tiles and the nature around the area.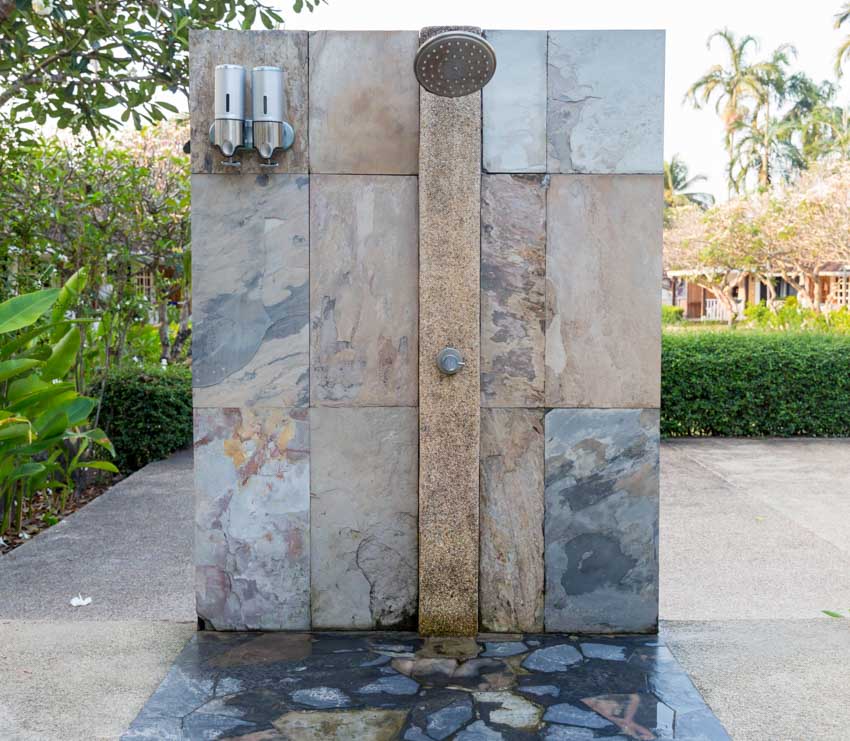 This freestanding outdoor shower features a large slab of stone to which the shower is connected, along with the controller and a shampoo and body wash dispenser on the left top part of the shower wall.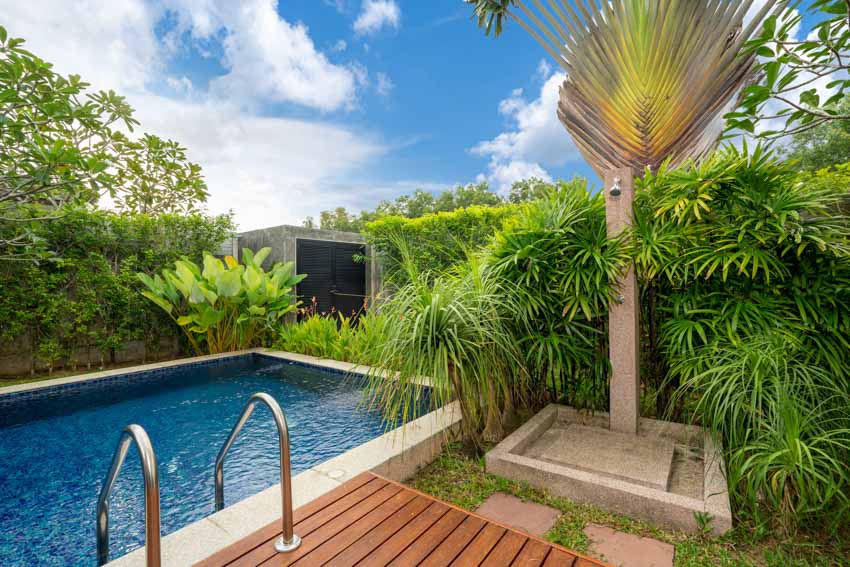 This freestanding outdoor shower is installed near the pool for convenience. The shower and controller are attached to a long plank of concrete with a square platform.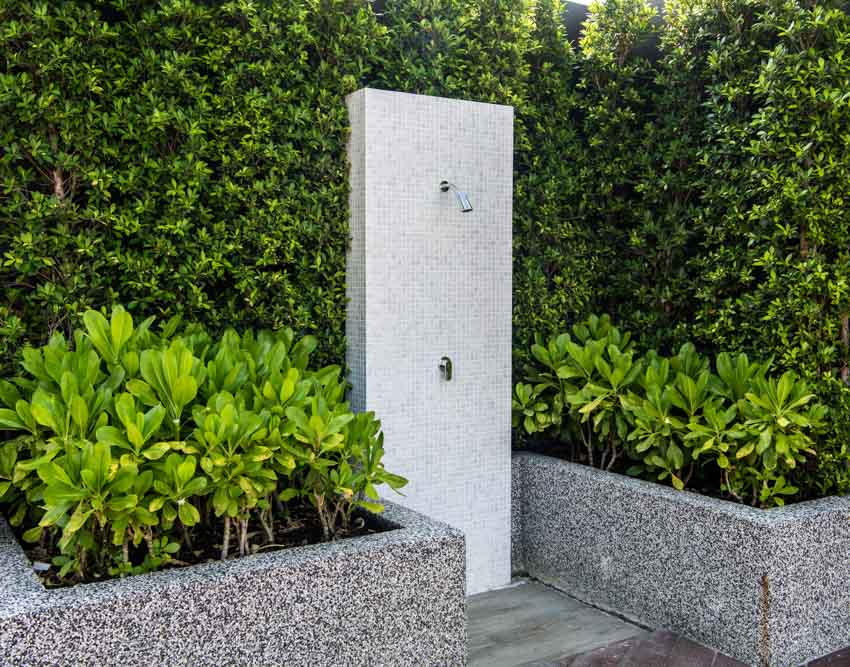 Inserted between two concrete plant boxes, this freestanding outdoor shower is simple inside with the head shower and controller connected to a slab of stone. The greenery adds freshness to the shower area amidst the solid concrete and stone.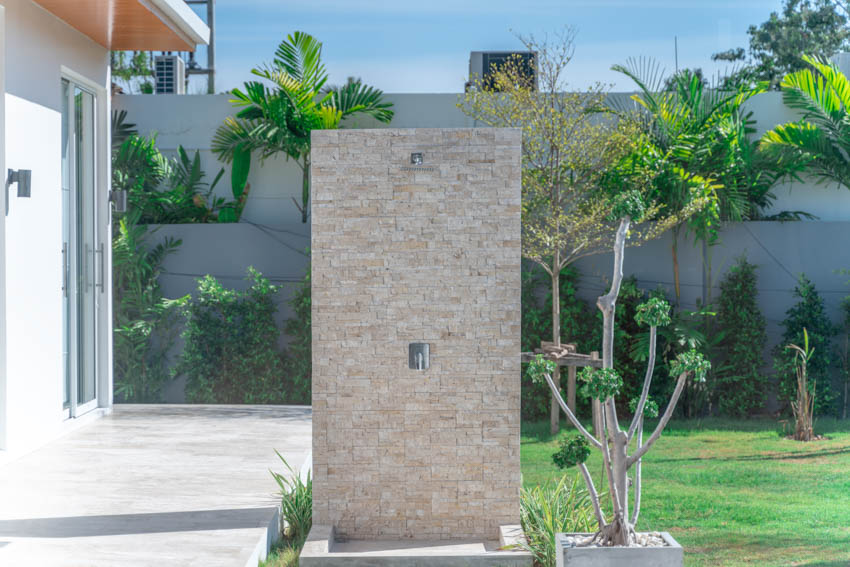 A beige stone lab houses the showerhead and controller of this freestanding outdoor shower. Styled in small bricks, the outdoor shower has a minimalist style. The plant beside it adds a natural vibe to the outdoor shower, which is perfect since it's located in the garden.
Outdoor Stone Shower
Stone is an excellent material for outdoor showers primarily because it remains cool when underfoot in hot weather. When you shower, the water will remain soothing and comfortable.
Water-resistant, the material is durable and can withstand its constant exposure to water. It is also mildew and mold-resistant, which means that slipping is not a problem.
An outdoor stone shower is low-maintenance and won't require much checking and cleaning. Its aesthetics also looks more authentic and natural compared to concrete. You can consider natural stones like river rock or bluestone as great options.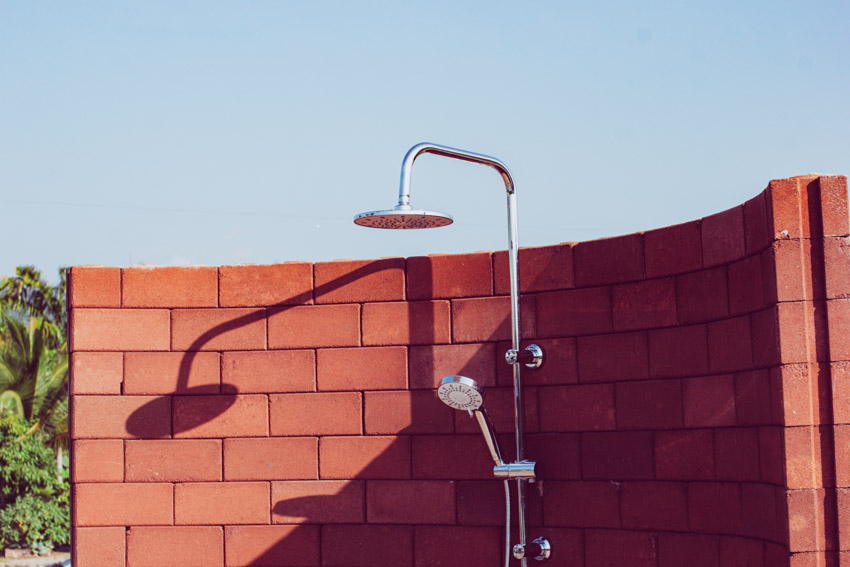 This outdoor stone shower features a red-brown brick wall where two types of showerheads are connected – a vintage rain shower head at the top and a handheld connected to the pipe.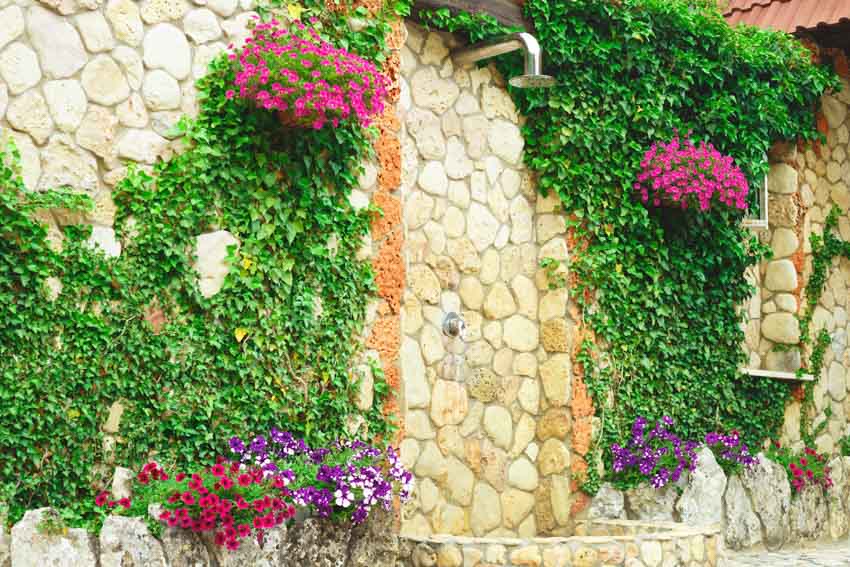 This stone outdoor shower is a wall-mounted one, where the shower area is connected to the wall of the building. Large rocks were used to build the wall, as well as the shower area and its platform. The outdoor shower is bordered by greenery and flowers so you can easily recognize where the area starts.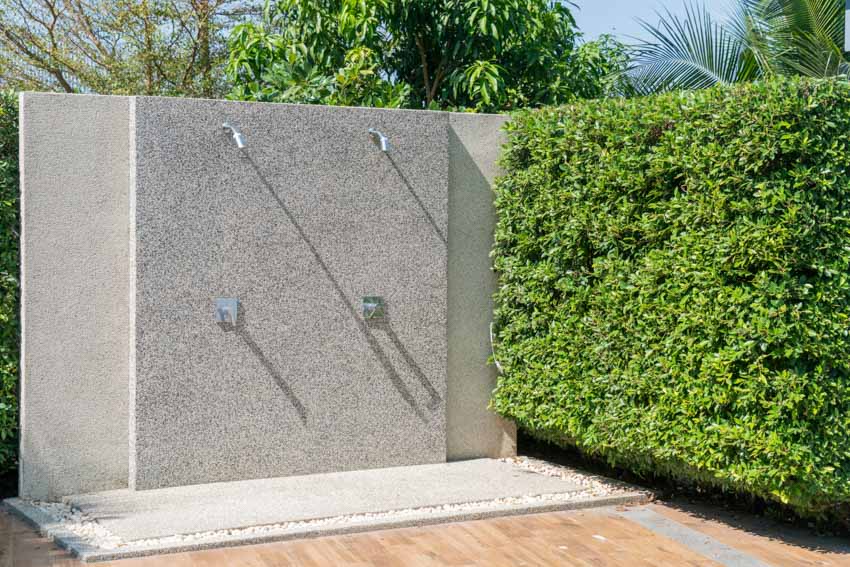 This stone outdoor shower can accommodate two people at the same time. Simplistic in its design, it has a concrete platform with small pebbles bordering it. Greenery adds a bit of vibrancy on the right side of the outdoor shower.
This luxury stone outdoor shower is found on the side of the home, along with a white marble bathtub. The rainfall showerhead and handheld shower are wall-mounted on black stone tiles, standing out amidst the neutral-colored walls, white tub, and wooden flooring. A glass sliding door may be used for more privacy if needed.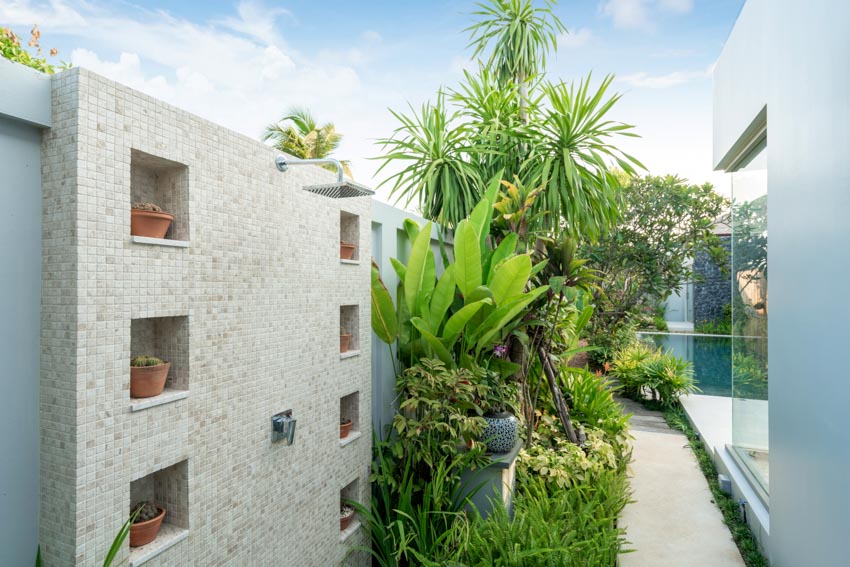 This stone outdoor shower is discreetly settled beside the house and mounted on the wall surrounding the property. It seems to be integrated into the garden, with a neutral-colored stone tile where the rain showerhead is installed.
The wall also has pockets where pots of plants are settled in. The shower area is also hidden by big plants and shrubs that you won't notice if you don't look for it.
Wood Outdoor Shower
Wood is another material you can choose for your outdoor shower. Flexible in aesthetics, you have the option of either going for hardwood or softwood depending on your budget and preference.
Hardwood is more durable than softwood but can be expensive, especially since they come from slow-growing trees and can last longer. Some examples of hardwood are Oak, Cherry, and Teak.
Softwood on the other hand is more affordable but it may not last longer than hardwood. In fact, you might actually pay more for softwood in the long run through its annual maintenance in an effort to make it last longer and protect it against weather elements. Some examples of this are Pine, Cedar, and Spruce.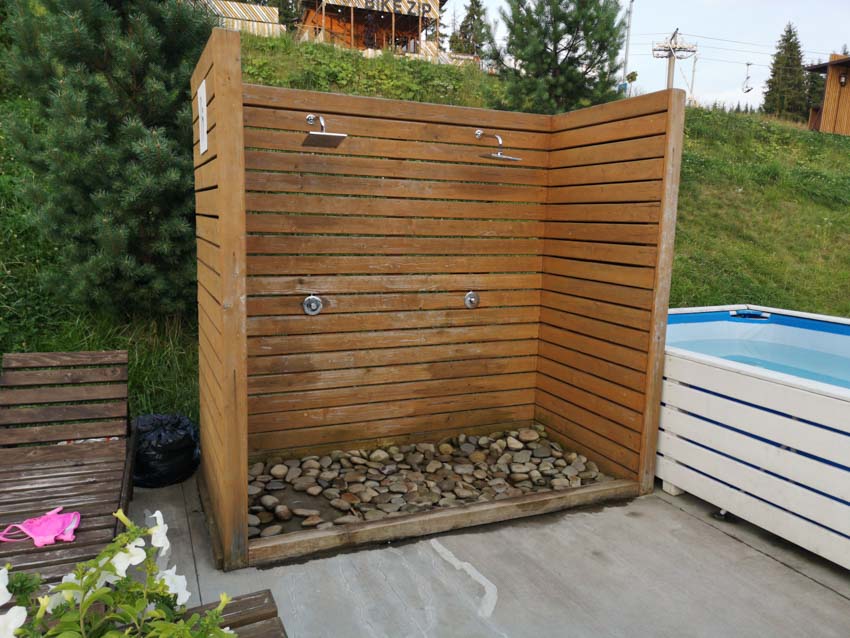 The theme of this outdoor shower is nature, with a wooden enclosure and platform made of stones. This outdoor shower is made from brown wood, with the enclosure made from wooden planks arranged horizontally.
The wooden outdoor shower is integrated with two rainfall showerheads on top, which can accommodate two persons to shower at the same time.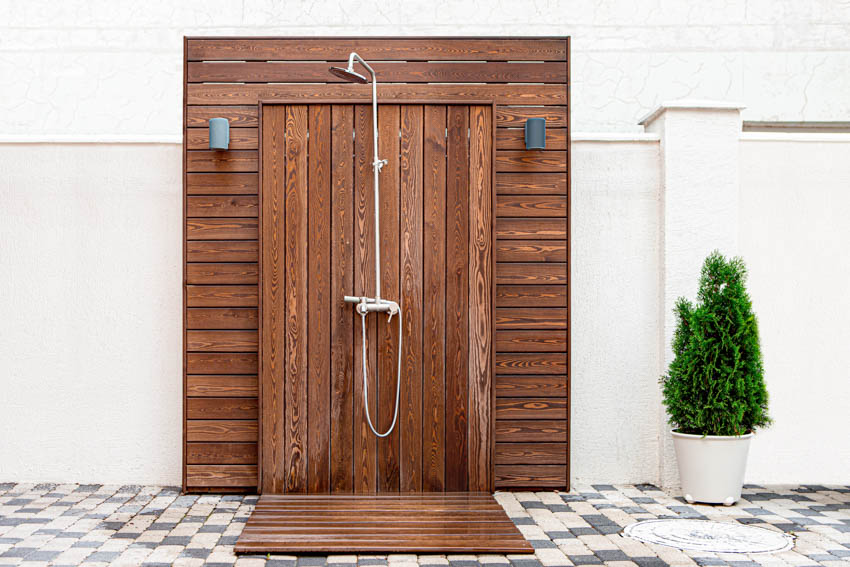 This trendy outdoor shower has brown wooden panels walls and flooring, where two shower heads are mounted, including a rain showerhead and handheld shower.
The wooden panels are arranged both horizontally and vertically and they stand out as they are surrounded by white walls and checkered flooring.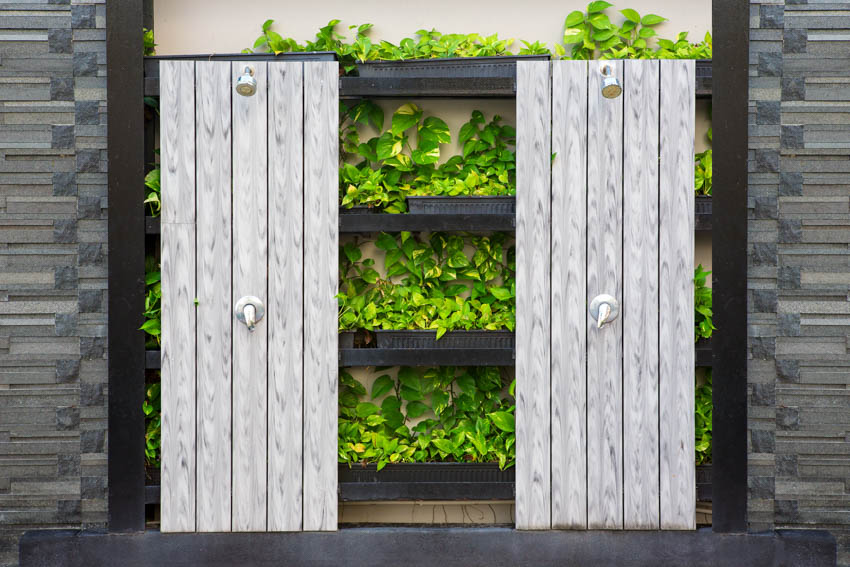 This modern yet rustic wooden outdoor shower features two areas with their own respect showerheads and control. The showerheads and control are mounted in white vertical wooden planks. The greenery at the back of the wooden wall offers a fresh look in the outdoor shower, giving the area more character.
Cedar Outdoor Shower
Cedar is a kind of softwood that you can use as an enclosure for your outdoor shower. While it may not be as durable as hardwood, cedar performs well amidst moisture and can even resist mildew and mold.

This cedar outdoor shower features a rainfall showerhead and horizontal wood panels as well as flooring. The beige wooden panels look wonderful surrounded by white pebbles, walls, towels, a bathtub, and greenery in the background.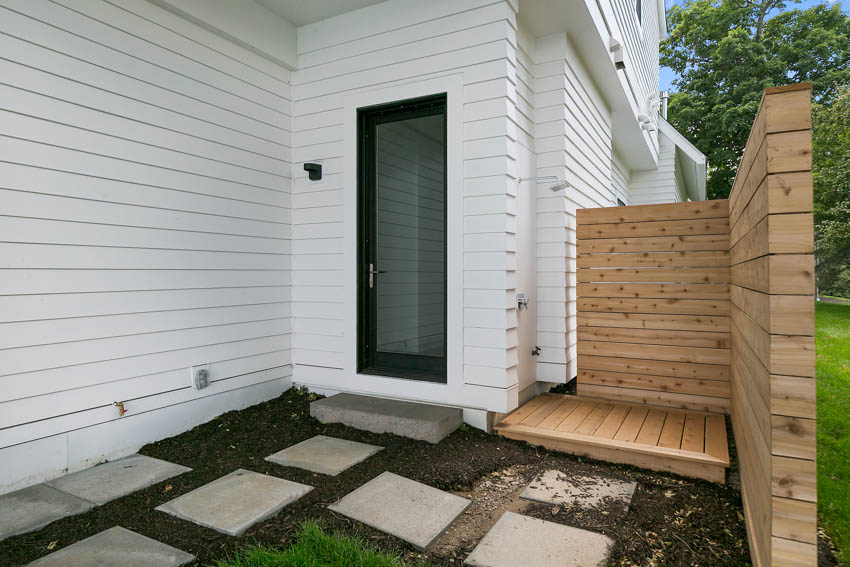 While the rain showerhead is mounted on the white wall of the home, the outdoor shower area has a cedar wood enclosure that offers a bit of privacy to its user. The platform that acts as flooring is also made from cedar wood, matching the enclosure.
Concrete Outdoor Shower
A concrete block outdoor shower is more affordable to build compared to wooden and stone outdoor showers. Concrete blocks are flexible to use and so you can create whichever design you might want to have. It may be less elegant to look at when compared to other types of outdoor showers.
This block outdoor shower is installed inside the garden with concrete and pebbles as the platform and a rain shower head mounted at the top of the concrete. The outdoor shower area is nestled in between lines of plants and shrubs.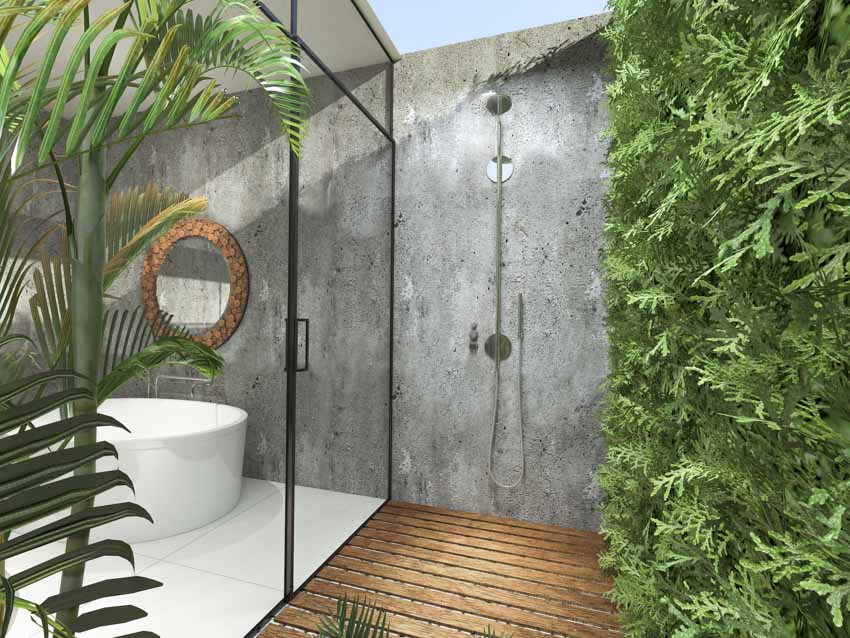 This block outdoor shower has a tropical theme, with wooden planks as flooring and a concrete wall, where the rain shower head is mounted. The concrete wall extends to the entire bathroom and the shower area uses a glass door, serving as its partition.
Rustic Outdoor Shower
If you're looking for something familiar and comfortable even with less privacy involved, a rustic outdoor shower may be the one for you.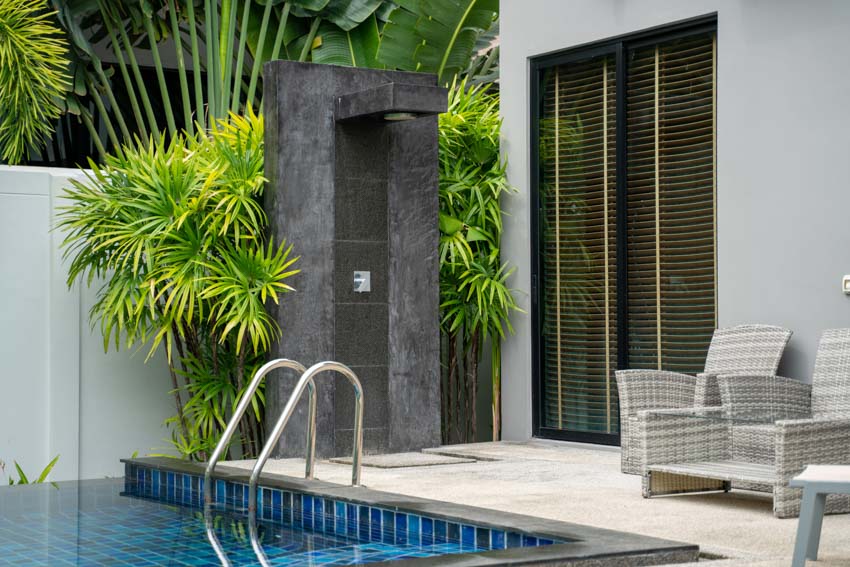 This rustic outdoor shower features a black concrete wall which the shower is integrated into. It is installed beside the pool for easier access. Adding greenery at the back of the wall provides the fresh look it needs to somehow lift up its vibe.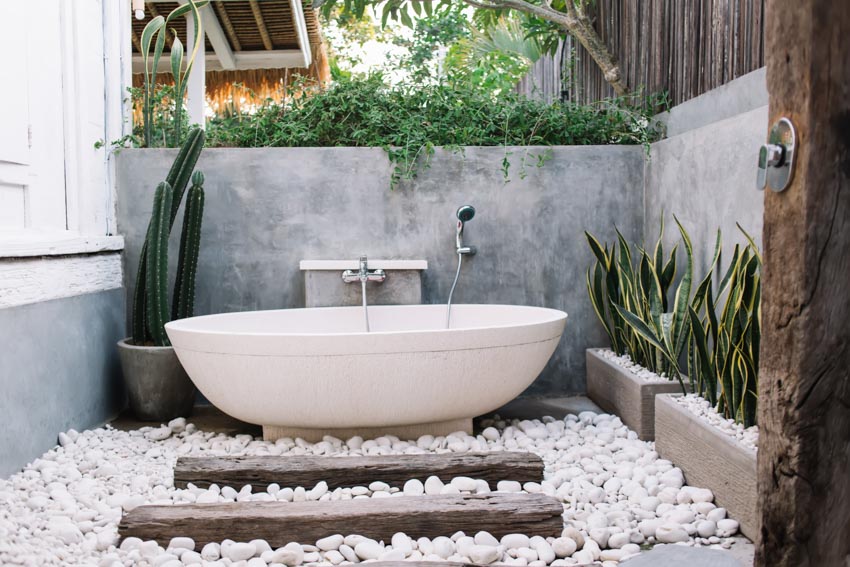 Set up surrounded by white pebbles nestled behind the house, this outdoor shower includes a handheld shower and a white oval bathtub.
The wooden large planks that serve as steps and the wooden plant boxes at the side reinforce a classic rustic vibe. The plants were used as accents in this rustic outdoor shower.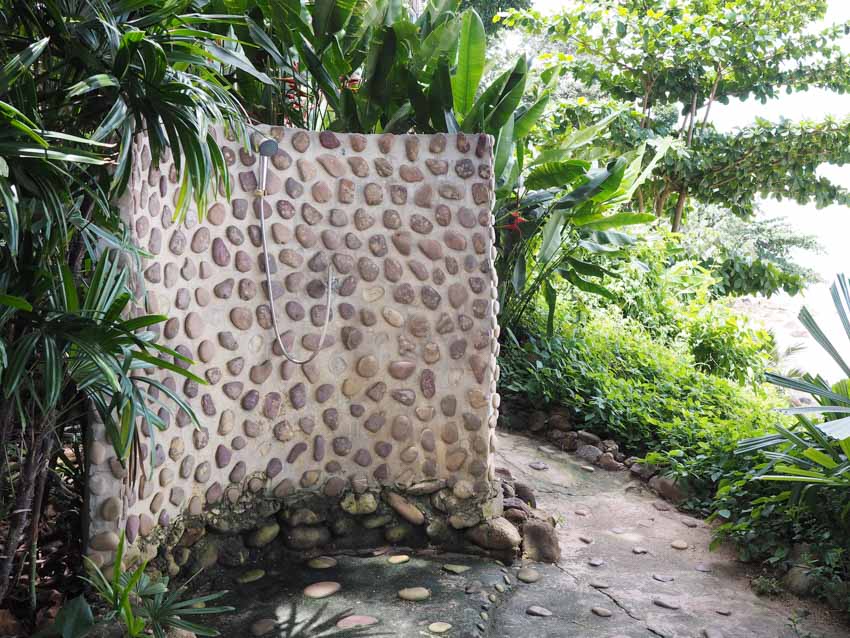 This stone outdoor shower features a rustic vibe that you might feel in a tropical resort. This stone wall has a handheld shower you can use. The design and shower used are simple in their essence.
Modern Outdoor Shower
If you are thinking about installing a modern outdoor shower, you can either go for something unique or a trendy style.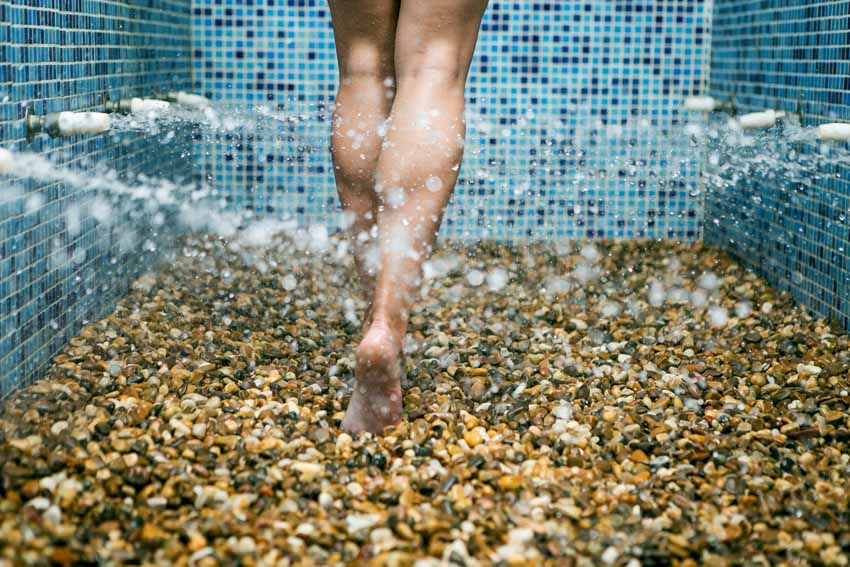 This modern outdoor shower features horizontal shower shots. While you won't be able to shower here, you can clean your feet with it. The pebbled flooring looks magnificent when paired with the blue shower tiles.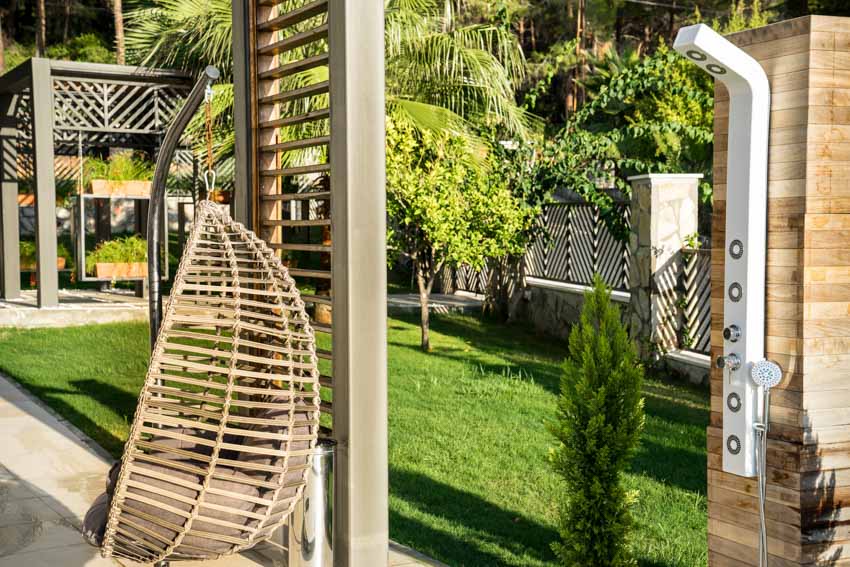 This modern outdoor shower uses a trendy shower with an overhead shower and a handheld one. Its white color offers a clean look that stands out in the wooden pillar it's mounted to.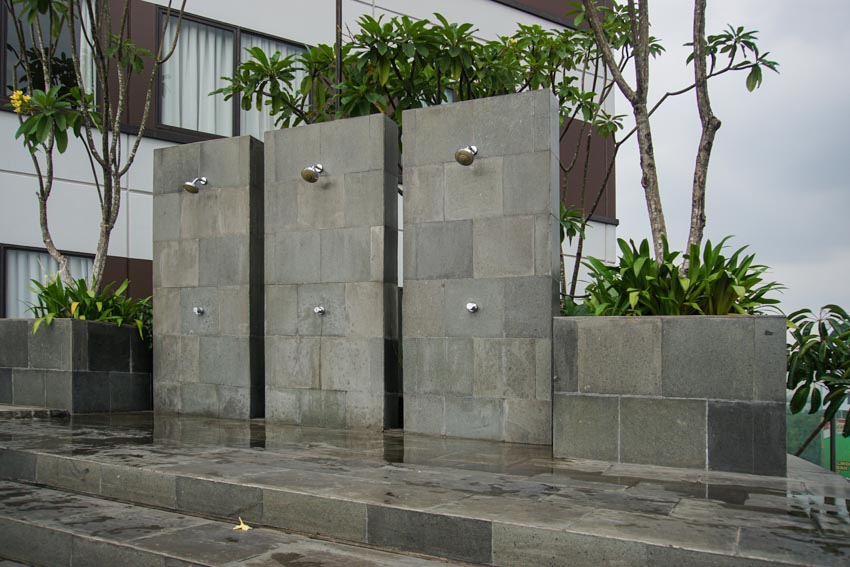 This modern outdoor shower features three sets of pool showers, accommodating three persons all at the same time. These three outdoor showers feature dark-colored stone tile walls and flooring that looks sleek and clean.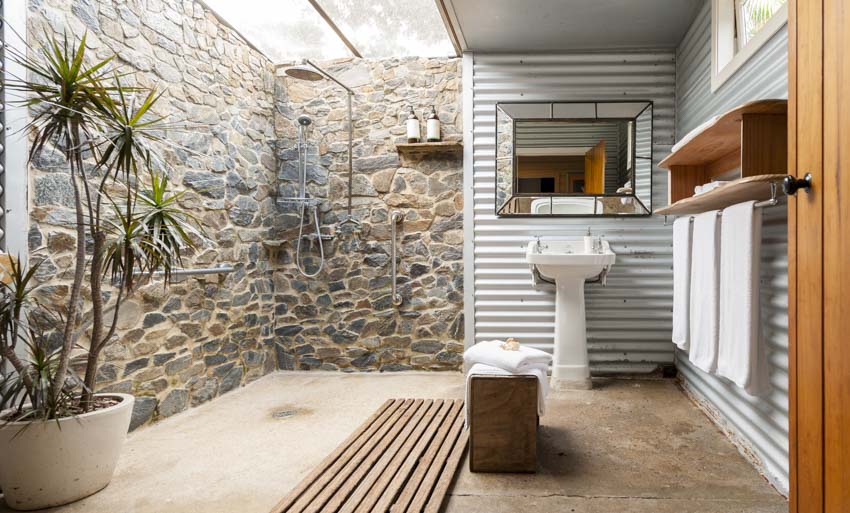 This modern setup is a mix of an indoor bathroom and an outdoor shower. The outdoor shower area features two shower heads – one rain shower head and one handheld shower.
The stone walls look creative and the concrete flooring matches perfectly with the walls. The large potted plant acts as an accent in the area.
Beach House Outdoor Shower
One of the best places to install an outdoor shower is the beach house where you need to wash up before and after you swim on the beach.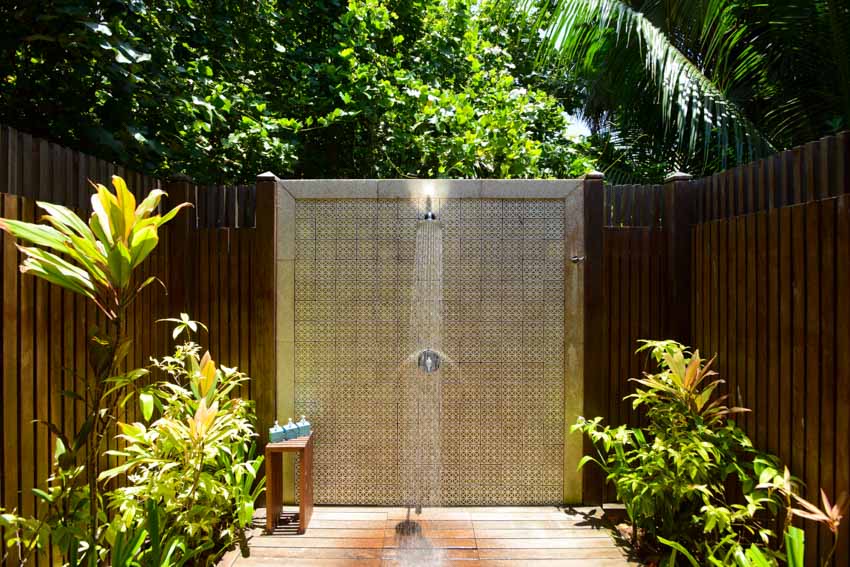 This beach house outdoor shower features an overhead rain shower that flows through the wooden planks flooring. The plants add charm to the area and the wooden walls contribute to the "nature" feel of the outdoor shower.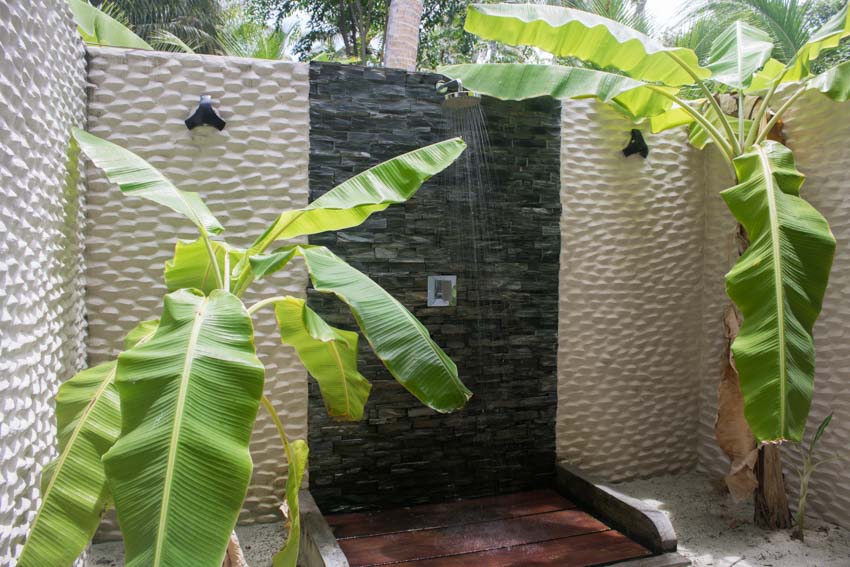 With its tropical vibe, this beach house outdoor shower has wooden flooring and creative stone walls. The shower area is evident in the black wall area. It also has several banana trees growing inside, adding a relaxation appeal to the area.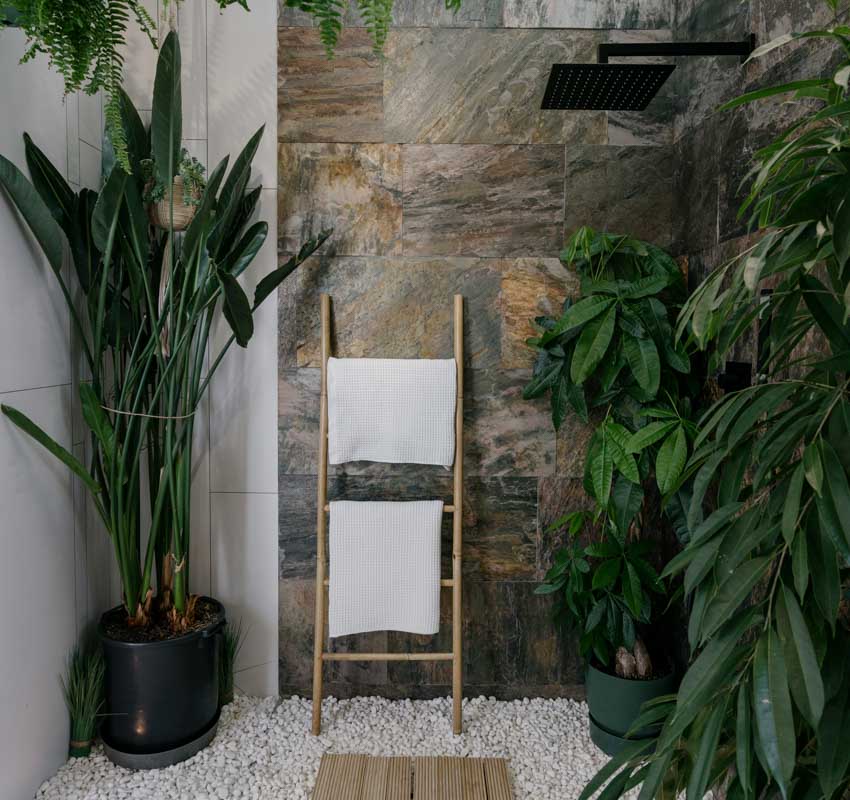 This beach house outdoor shower features a black rain shower head mounted on the stone tile walls. The entire look is tropical, with a wooden hanger with clean towels, a white pebbled floor, and a variety of green plants.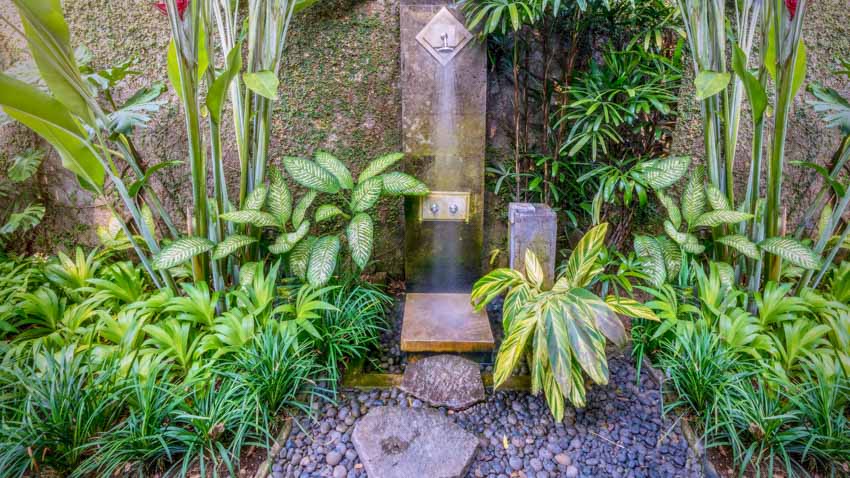 Limited in space, this beach house outdoor shower is nestled in the middle of a tropical garden. Its platform is made from natural stone and pebbles, giving a luxurious vibe to the area.
Stainless Steel Outdoor Shower
Stainless steel is another flexible and customizable material that can be used for your outdoor shower. When exposed to the sun, the metal may turn hot, including the water.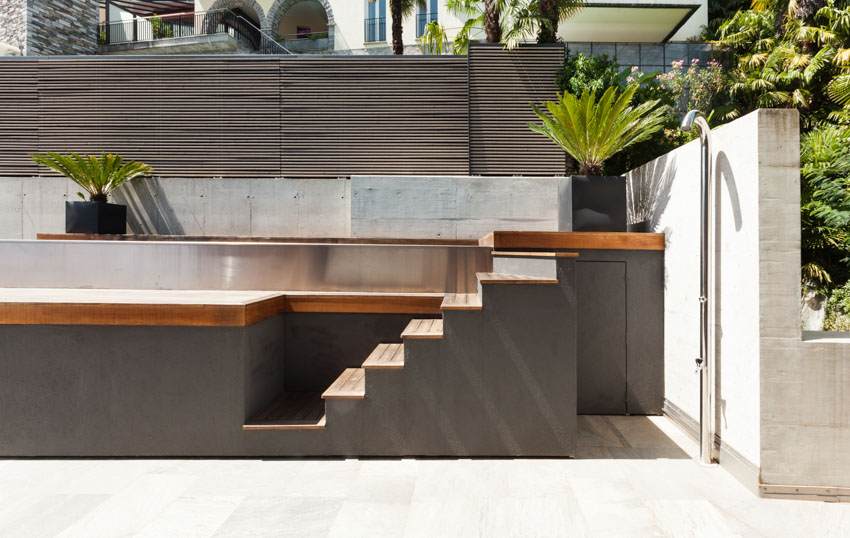 This stainless steel outdoor shower is minimalistic, with the pipe installed and connected from the underground. This is a no-nonsense shower that you can use before and after going in the pool for a swim.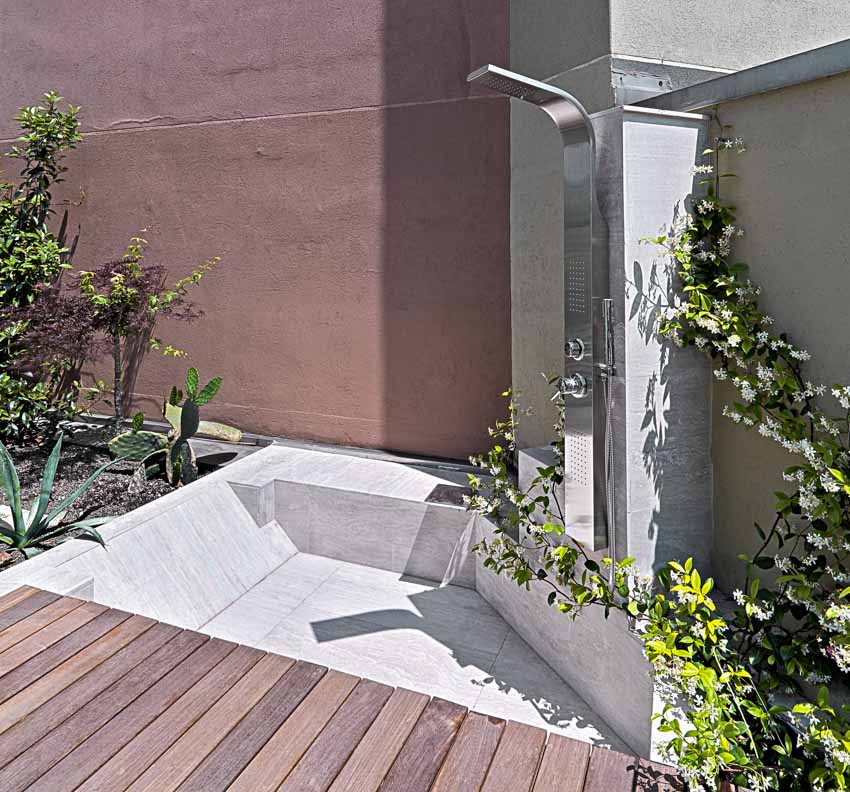 This modern-styled shower area uses a stainless steel shower head. The shower set is mounted on the stone wall and surrounded by nature in the form of wooden flooring and greenery.
Outdoor Shower Platform
An outdoor shower platform is an element in the shower area that you would have to step on in order to enjoy the cold water from the shower.
The platform should be durable, practical, and aesthetically pleasing at the same time. Of course, it should also match the design of the entire shower area.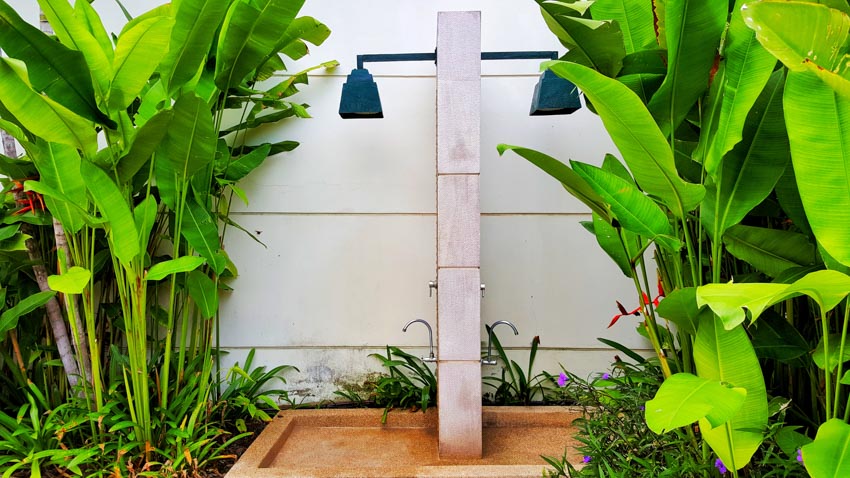 This rustic outdoor shower features a concrete platform on both sides of the elongated concrete bar, where two head shower water streams are installed in.
Outdoor Shower Floor Ideas
When it comes to an outdoor shower floor, there is a variety of materials you can choose from. Whatever you choose, make sure it matches the shower and t`he entire shower area's style and running vibe.
Concrete Outdoor Shower Floor
Concrete floor is a good consideration and one of the most popular. This usually comes in the form of a dug-out square/rectangle platform.
The gravel is usually on the bottom of the platform and it is bordered by a different material. A concrete outdoor shower floor normally has a non-skid surface that makes sure you won't slip while showering.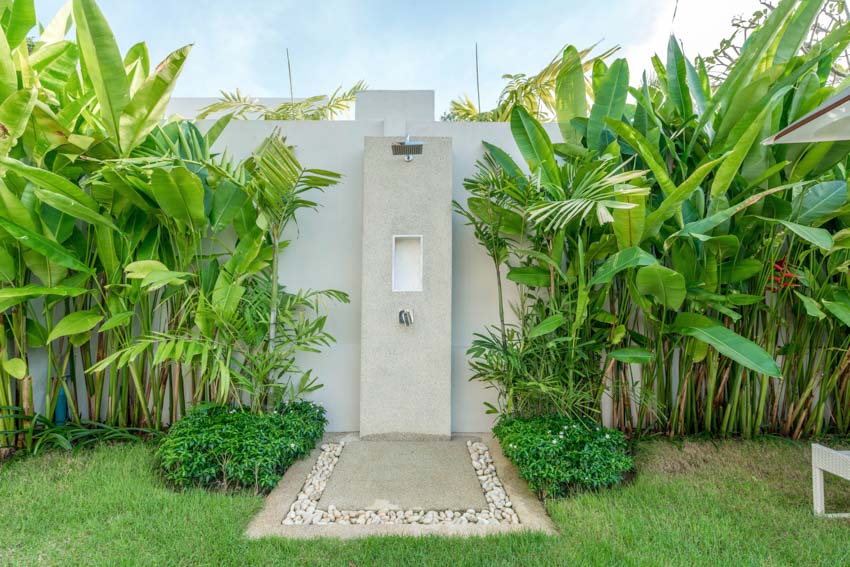 The concrete floor in this outdoor shower features the same material that the concrete used on the wall where the shower is mounted. The platform used white pebbles as its border.
Wood Outdoor Shower Floor
Wood is another excellent material you can use as a shower floor, whether you choose weather-resistant wood as a deck-type flooring. Make sure to leave a space below the deck to support air circulation for mildew prevention and air drying. You can add a frame over the deck.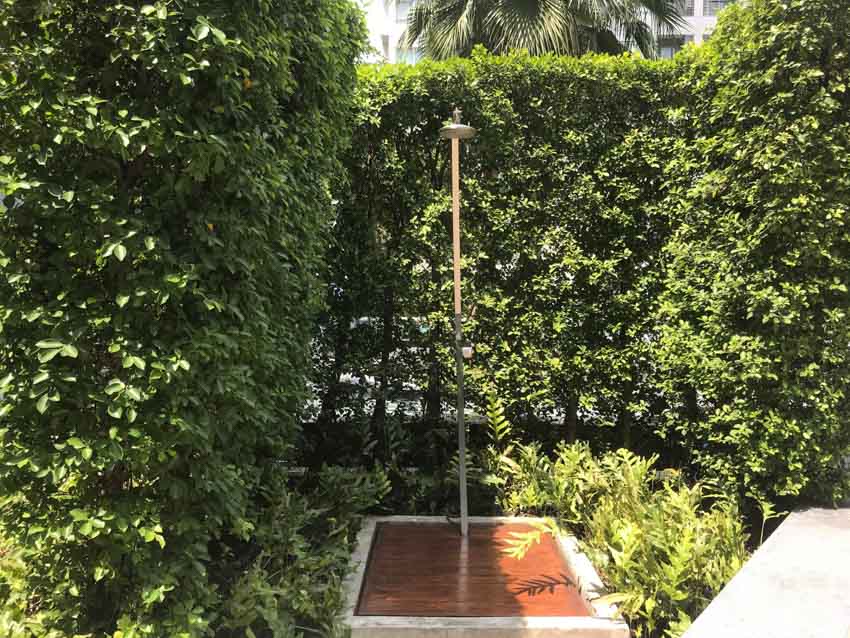 This outdoor shower area features a wooden platform with a stone/concrete border as its frame. The wooden flooring matches the "nature" vibe in the shower area reinforced by the large bushes and greenery as its enclosure.
Stone Outdoor Shower Floor
Stone is another durable material you can choose for your outdoor shower floor. Weather-resistant, it is guaranteed to be capable of enduring constant exposure to water without making your feet slippery since it's textured. Limestone and bluestone are popular choices as the stone outdoor shower floor.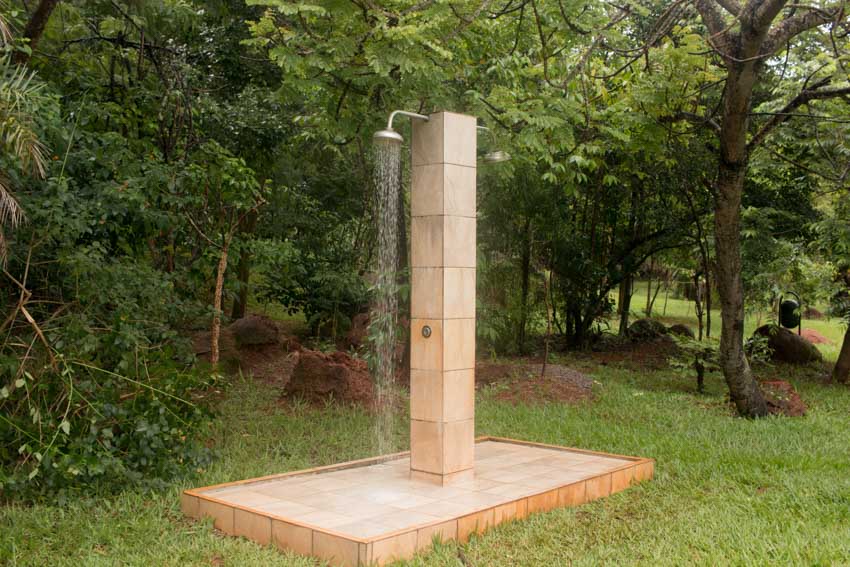 This stone outdoor shower floor has the same material as the pillar where the showerhead is mounted and installed in. The tiles will feel comfortable when in contact with your bare feet without the risk of slipping.
Drain Outdoor Shower Floor
Besides having a natural kind of drain (like the soil), you can also choose to install a drain outdoor shower floor. It would require more budget and effort though since you would need to install one in the area.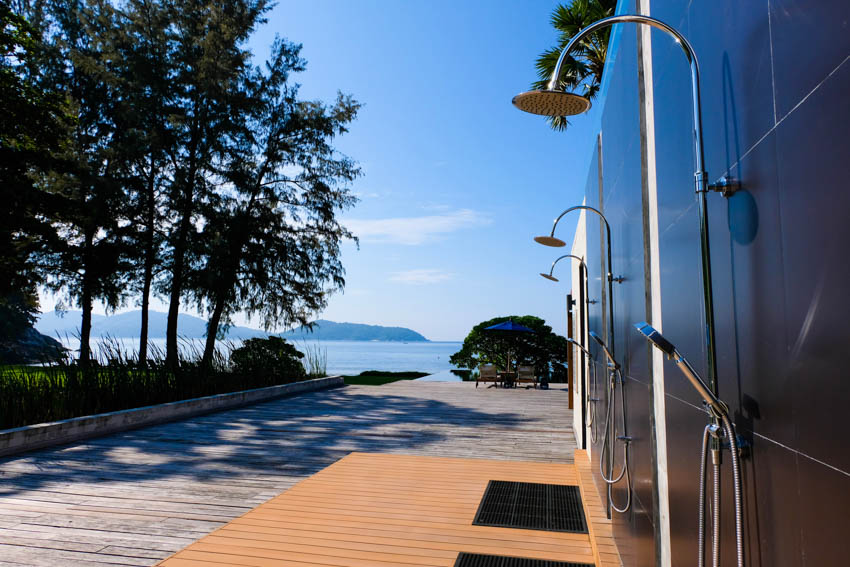 This outdoor shower area features three sets of showers that all have a rain shower head and handheld shower. The drain is just right beneath the shower and is framed by wooden planks.
Outdoor Shower Water Heater
You can install outdoor types of water heaters if you somehow prefer warm water even on the hot days. Most outdoor showers do not have a water heater though since you won't be able to shower outdoors if it's too cold in the first place. If you want though, there is also a natural form of the heater through the sun.
How Much Does An Outdoor Shower Cost
Outdoor showers cost around $500 to $8,000 with an average of $3,000 depending on the materials needed to build one, as well as the plumbing necessary for it to function.
Wall-mounted showers fall around $100 to $500 while freestanding ones are around $500 to $2,000. And finally, the most affordable type is the portable showers, costing $50 to $300.
Professional installation alone costs $100 per hour. If you prefer a shower kit though, it will definitely save you a lot of money since it only ranges from around $350 to $450.
Is An Outdoor Shower Worth It?
Yes, an outdoor shower is guaranteed to be worth it. If you're thinking about the fun experience itself, it's actually more than that. An outdoor shower can actually increase the value of one's home. While building one may be expensive, it's going to be worth it once it doubles the value of your home.
Can Any Shower Fixture Be Used Outdoors?
No, you can only use shower kits and parts that have been specifically designed for outdoor usage. Make sure you check the shower fixture first if it's compatible with outside use before purchasing it.
Do Outdoor Showers Need A Drain
Many outdoor showers use a natural drain with the water running off into the ground. With some of the city's strict codes about drains though, you might be required to install water disposal.
If you're not too sure about the capacity of the ground where you plan to install your outdoor shower, choose to install a drain to play safe. This will also avoid the possibility of the shower water running off inside your home.
See more related content in our article about an open concept shower on this page.