Here we share our open concept shower design guide including what it is, its elements, the pros and cons, and the different ideas you should consider for your bathroom.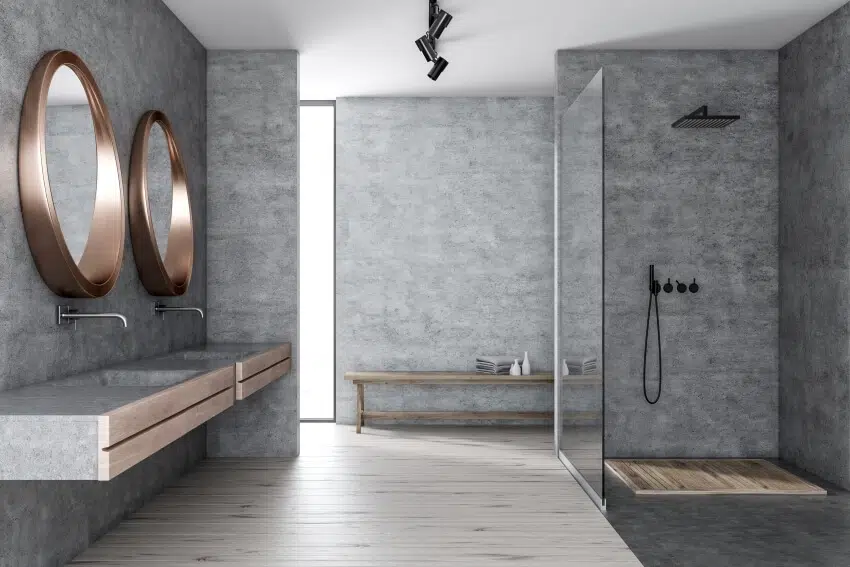 The open concept shower is a design that became a trend in the year 2019 but its feasibility and comfort have still been up for discussion today. In fact, in the late 2000s, it became a hot topic that drew media attention, especially when different hotels joined in the trend.
What makes an open concept design something worth debating over though?
What Is An Open Concept Bathroom Shower?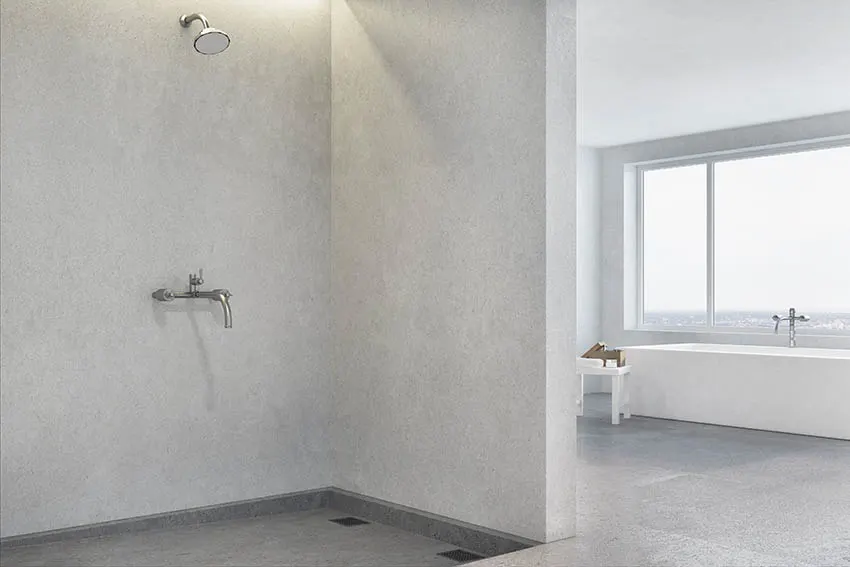 While generally applied to the kitchen, this open concept design is also reinvented to be applied to the bathroom too.
An open concept bathroom shower simply refers to bathrooms without traditional doors. Some may call it walk-in showers but the concept is that the bathroom can easily be seen from the room it's connected to.
This makes it a bit controversial since everything you do in the bathroom can be visible in that connected room. And some may see this as too bold and a bit of an "exhibitionist" for them.
Homes with an open concept bathroom shower can either be a deal-breaker or a deal maker for house buyers. Since it reduces privacy, buyers are scared to commit to it and be willing to be vulnerable and expose themselves in that way.
If you want help in deciding whether this trendy design is ideal for you, learning more about it is important.
Open Concept Shower Elements
Here are some elements of the open concept shower you should be aware of.
Space: Open concept bathroom showers are generally larger than a standard 3-foot square size shower. It features an open space with custom walls that can start at 6 feet (measuring from the door of the shower towards the plumbing wall).
This is the reason why they are ideal for master bathrooms with a lot of space available for it. You would need to allow enough space for the drainage and splashback, which are relevant elements for an open concept bathroom.
Drainage And Plumbing: Since the bathroom is an open space, it is not only visible from the bedroom. It also means that splashing is a legitimate risk since the bathroom does not have doors.
The plumbing wall and drainage need to be installed far from the "doorless" entryway in order to avoid splashing.
Design Elements: An open-concept shower has a very bold and untraditional design. Since showers and bathrooms are all about privacy, this design takes that out of the equation.
Normally, showers are hidden in walls, doors, and various shower curtain sizes. With an open space, you have more room to decorate and integrate aesthetic elements in the bathroom.
You can integrate patterned tiles and even glass panels to add to the bathroom's aesthetics. And glass can particularly be elegant to look at.
Accessibility: One of the benefits you get from the open concept shower is excellent accessibility. This is why it is a good option for disabled individuals since they need more space for special access.
You can also install elements that can further improve accessibility, including benches and grab bars.
Pros And Cons Of Choosing An Open Concept Shower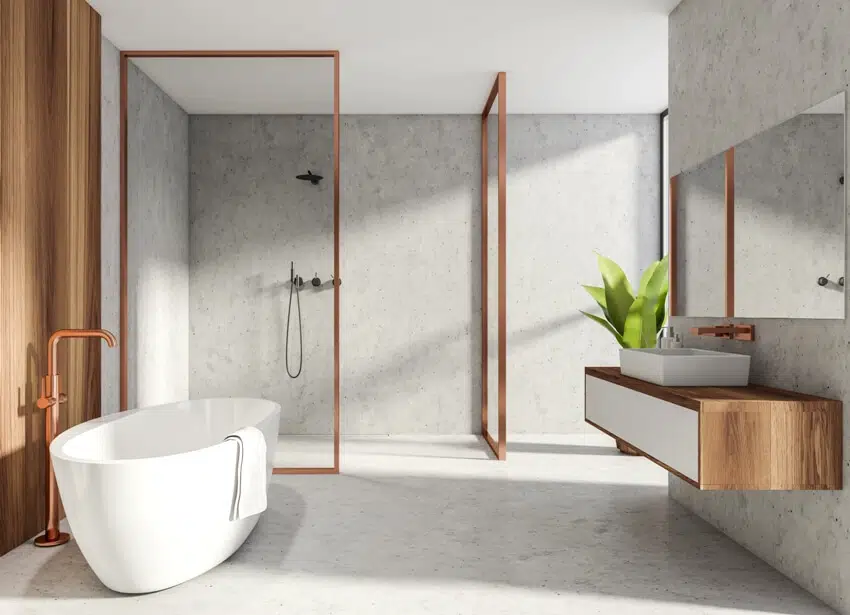 To help you more in your decision whether to choose this concept or not, here are the pros and cons you can consider.
| | |
| --- | --- |
| Pros | Cons |
| Easier access for elderly and disabled individuals | A lot less privacy |
| Excellent foot traffic flow | Tendency to be drafty since the bathroom is doorless and cannot trap in steam |
| The bathroom feels more spacious and open | May be expensive but can actually lower your house value |
| Custom-designed and so can be designed however way you want | Requires a professional to customize and design |
| Requires less cleaning of water spots in shower doors | Requires a lot of space and is unsuitable for small bathrooms |
Open Concept Shower Design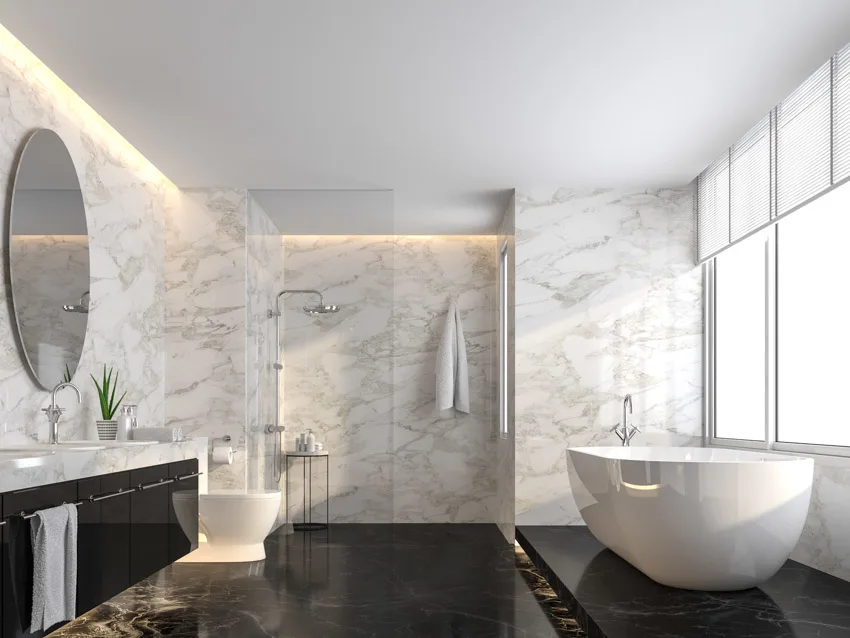 There are different ways you can apply an open concept shower design to your bathroom.
The key is to know what you want and whether the design fits you best. And it's important to consider if you can actually pull it off and be comfortable in using this style of bathroom.
It will be a good option to hire an expert to help you with this project, especially since it is more complicated to take on.
An open concept shower needs to be functional and aesthetically pleasing at the same time. Here are some tips you can follow when designing your bathroom.
1. Make sure you have enough space to accommodate an open concept shower
a. At least six feet of open space from the entryway to the shower (Considered as splash zone)
b. Recommends five feet by five feet for the shower (for mobility reasons to accommodate disabled individuals, including shower chair and even an aide)
2. Consider installing multiple drains to decrease the risk of water getting out of the bathroom
3. Consider using waterproof fixtures and lights
4. Consider an excellent ventilation fan
5. Consider partitioning the toilet for at least privacy in that aspect
6. Choose a rainfall shower head to avoid water splash from the walls that might end up outside the bathroom
7. Install a non-slippery flooring like matte flooring
8. Choose glass panels for small-sized bathrooms to create an illusion of more space
9. Install overlapping short walls and be creative in installing them both for functionality and aesthetics
Open Concept Shower Ideas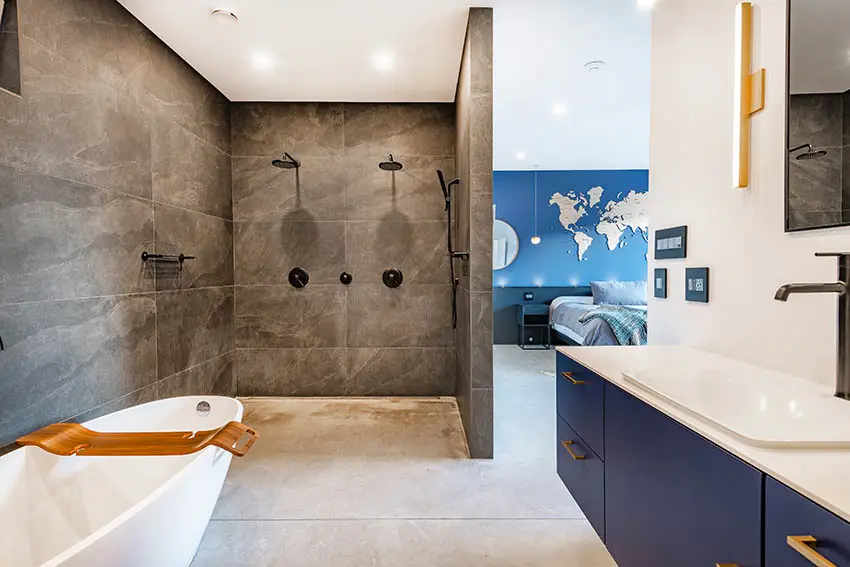 Now that you have an idea of how an open shower concept works, the next step is to check out different ideas to consider in your bathroom. In choosing the idea to apply for your bathroom, its layout plays an important role.
Bathrooms are normally separated into the wet zone and dry zone. The wet zone includes the shower and a bathtub.
In an open shower concept bathroom, everything is out in the open. If you feel uncomfortable going completely for the open concept, you can install some sort of a divider.
Open Concept Shower with Divider
Here are some options for a divider that you can consider.
• Sliding dividers
• Floating built-in cabinetry
• Smart glass panels
• Half-wall with floating mirror
Open Concept Shower and Tub
If you have more than enough space at your hands, you can choose an open concept shower and tub.
Considering the fact that most open concept shower bathrooms are large in size, installing both a shower and tub is easy. Knowing where to install them in the bathroom is the real challenge.
Here are some ideas for an open concept shower and tub.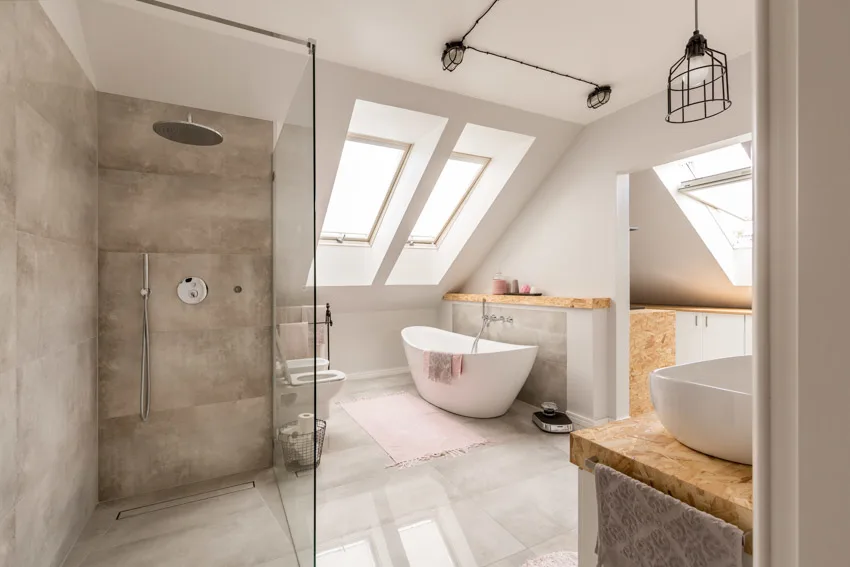 This bathroom has enough space to accommodate a shower and a bathtub. Its modern interior includes a minimalistic shower and lighting, reinforced with a white toilet, tub, and sink.
The roof windows add to its charm and its glass panel acts as a divider between the shower and the other areas in the bathroom.
Despite its minimalistic appeal, there are some trendy elements in the bathroom, including the lighting, roof windows, and vanity console and cabinets.
Open Shower with Glass Partition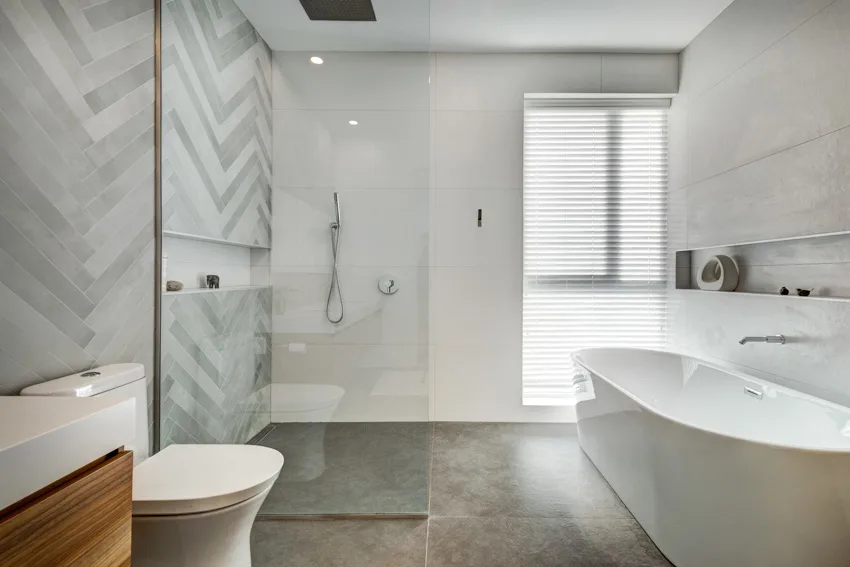 Compared to the previous open concept shower and tub combination, this bathroom offers a simpler application, which can be used in a smaller bathroom.
The shower area and toilet are divided using a glass panel with the bathtub perpendicular to the glass panel and located in between both areas.
Since the bathroom is small, the white-tiled walls and the white toilet and bathtubs somehow make the room look larger and more spacious. The wooden vanity cabinet and brownish flooring add texture to the design.
Open Concept Shower Stall
While open-concept shower bathrooms are void from doors leading to the bathroom and the shower, stalls can be built to create a "splash area".
The stall may be divided too through its design, with the splash area having a distinctive style different from the rest of the bathroom.
Here are some ideas for an open-concept shower stall you can consider.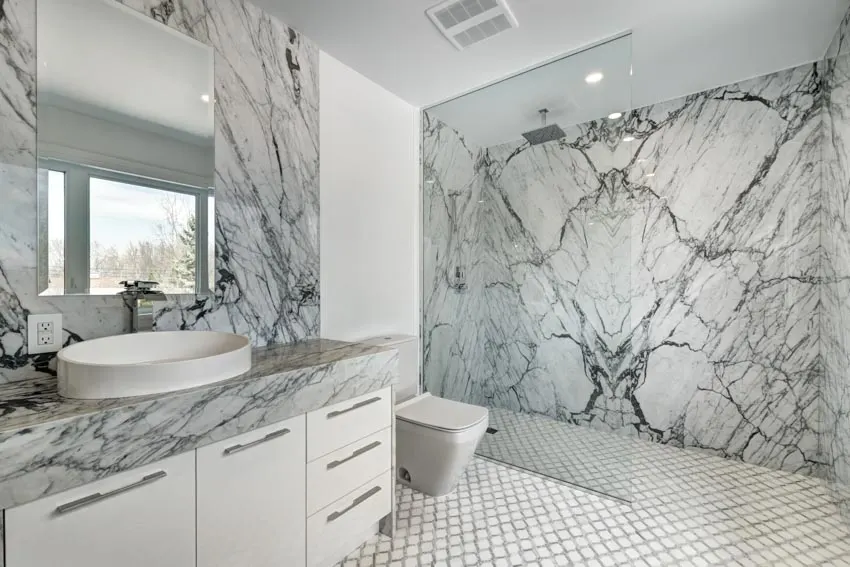 This luxurious bathroom features a shower stall evident with the glass panel partition installed between the toilet and splash area. Its walls and vanity countertop have this marbling effect that extends even in the splash area.
The diamond design on the flooring extends to that area as well. The installation of a rainfall showerhead and the almost invisible glass panel make the splash area not noticeable.
Wet Room Open Concept Shower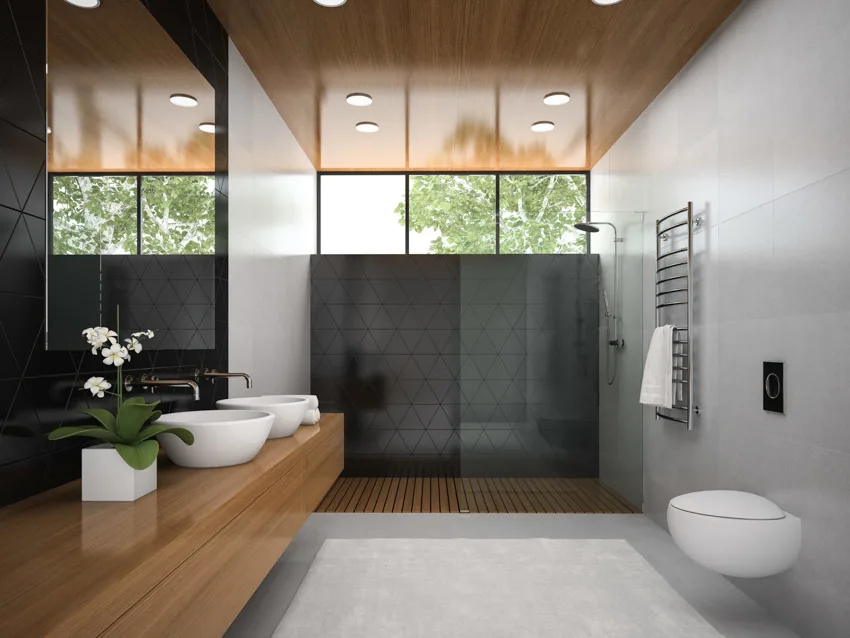 The shower stall in this open concept bathroom is clear from the get-go when you look at the area's design.
With waterproof wood flooring for bathrooms and black walls, the splash area has a different design compared to the walls and floors of the other areas in this space.
Despite the difference though, the wooden vanity and white sink somehow bring the two designs together.
Completely Open Shower
If you want to go all-in though with an open concept shower bathroom, you can go with the design and trend wholly and completely.
Let the shower area be bare and open, without any divider to indicate where it's located.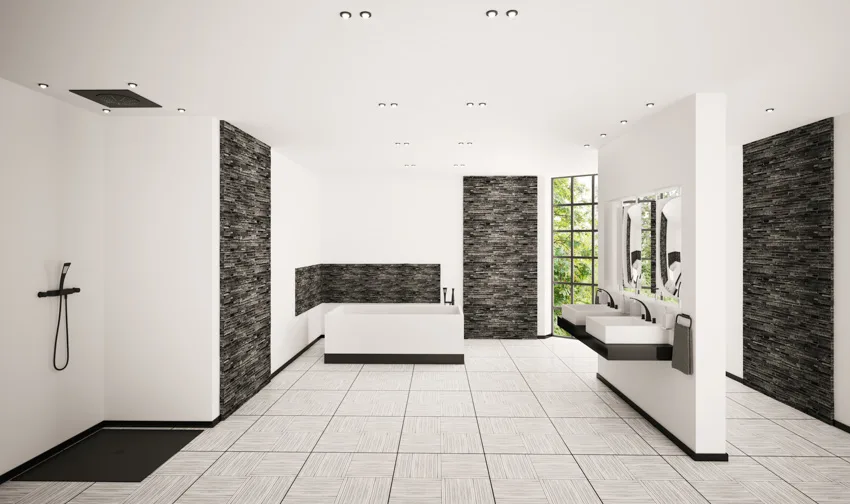 This modern white and black bathroom showcases a completely open shower area where you will only notice that it's an important part of the bathroom once you see the handheld shower.
You will also notice the black flooring that indicates where the splash area is. This flooring matches the black brick walls that accents the entire bathroom.
Open Tile Shower
Another bare design for an open concept bathroom is an open tile bathroom. This design is void of dividers with very simple aesthetics.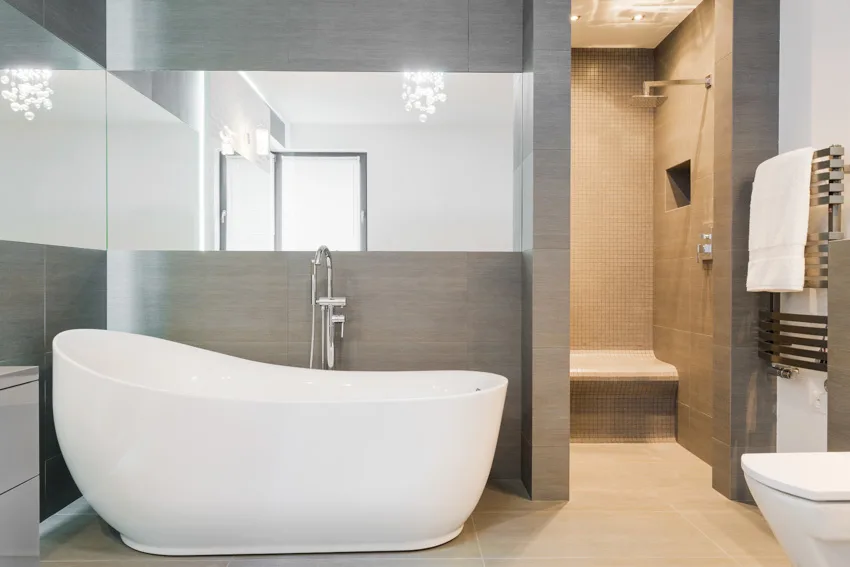 This bathroom offers a simple design with its open tile shower. The bathroom may be small in structure but it is able to integrate all the important elements that a bathroom should have, from the toilet to the bathtub and shower.
The shower area is installed in its own corner, covered in tiles but open to being seen in the entire bathroom.
Low Profile Open Concept Shower
Are you feeling a bit hesitant now with an open-concept shower bathroom? Don't worry too much since you can start with something low profile.
You don't have to get your bathroom to be completely bare. You can try out with something more intimate by choosing a smaller bathroom and installing a divider to protect yourself from draft and breeze.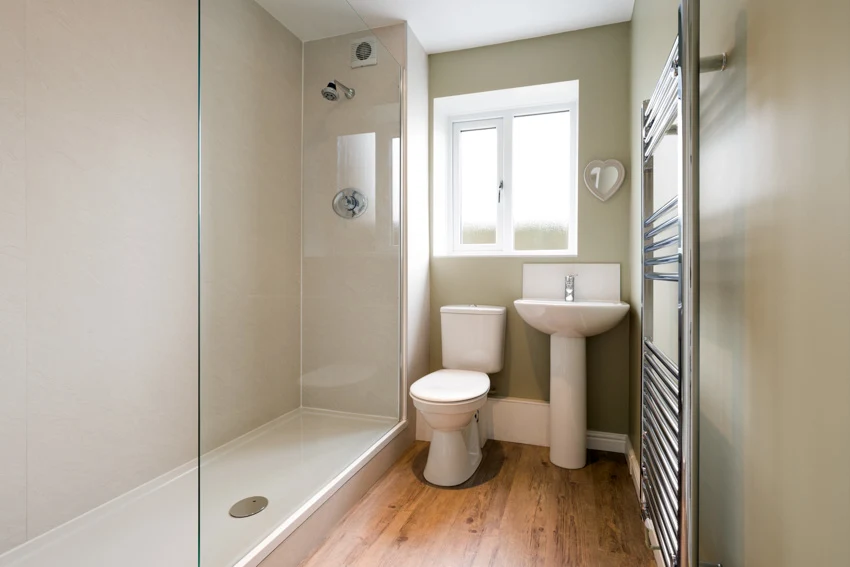 This minimalist open concept bathroom is more low profile compared to other open concept bathrooms due to its simplicity.
Considering the bathroom is smaller than the usual open concept bathrooms, it may feel intimate and more sheltering.
Small Bathroom With Open Shower
Yes, open concept showers are not just for large bathrooms. With the best bathroom layouts and a genius design, you can enjoy the newness of an open shower, even if the space is limited.
Just make sure you install all the important elements and prioritize the factors you would need to consider first.
These important elements include a shower, toilet, and sink. While the factors to prioritize are the water splash and plumbing.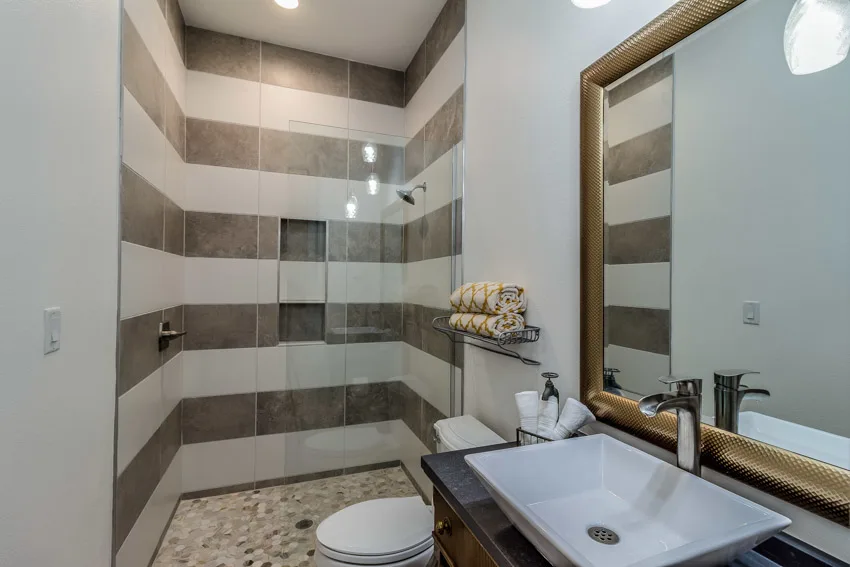 This open concept shower small bathroom features all the elements important in a bathroom. The shower is separated from the toilet and sink through a glass panel.
The glass panel makes the bathroom looks more spacious than it actually is. And it keeps water inside the splash area too, which means it's both for functionality and aesthetics!
Doorless Shower With Open Shower Design
When considering an open concept shower design, everything will be doorless. Your shower or splash area though may use a divider to create a distinction on where the area starts.
But this is only one option since you can easily choose to have the shower area totally bare and open.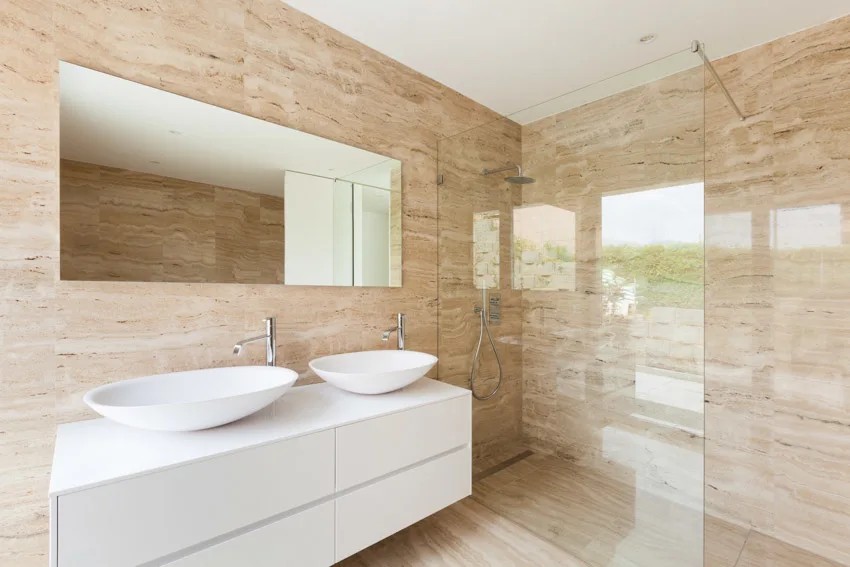 This modern bathroom sports marble walls, white sinks, and a glass panel that separate the shower area from the sinks.
The neutral-colored walls add a more comfortable and welcoming vibe in the bathroom despite sporting a very bold and trendy design.
Open Concept Shower & Tub Combination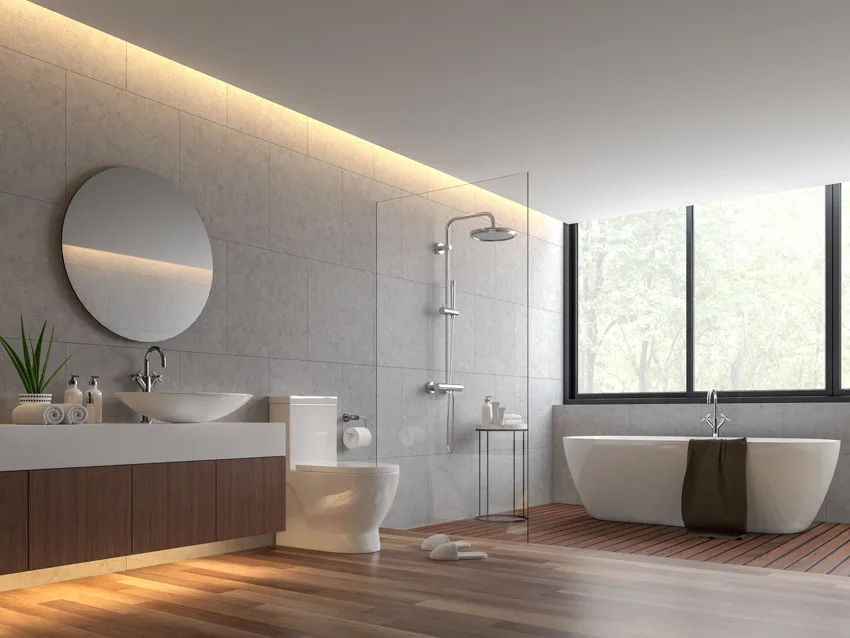 This contemporary open concept shower bathroom screams elegance and luxury with its wooden floor, concrete tile wall, white sink, bathtub and toilet, and large mirror on top of the sink.
It has a clear glass partition to help limit the water splashing in the shower area. It's only limited to the shower area and ends where the bathtub begins.
The open concept shower bathroom also has large windows to let the natural light in. This can also be another level of boldness, especially since the windows are near the shower area. See more related content in our article about modern bathroom design ideas on this page.