See pony wall in shower design ideas including what it is, different height structures, and tips on how to build a pony wall for your shower.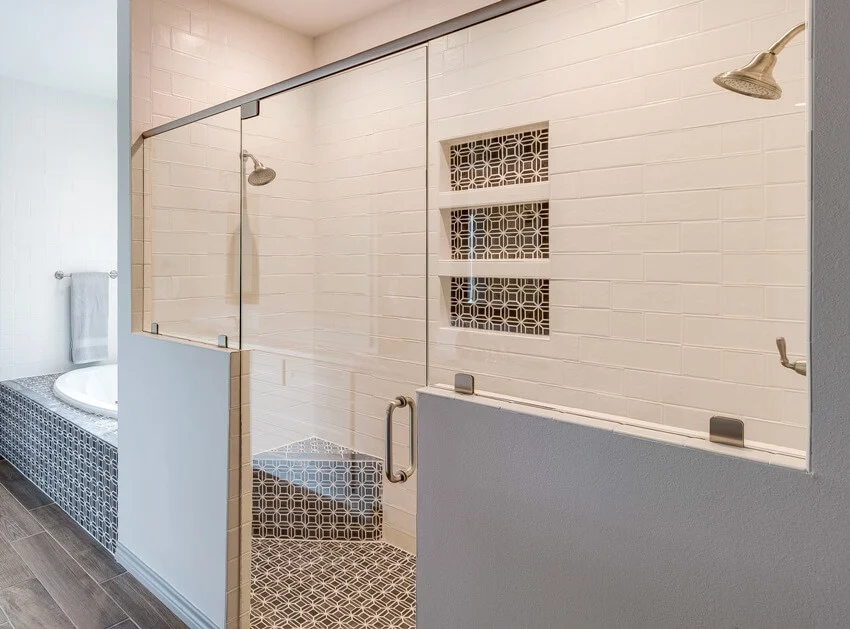 A pony wall is a design element in the home that you've probably seen plenty of times and may not have realized it. If you want an open layout but somehow feel hesitant that the room will feel too bare for your liking, a pony wall is a good solution for that. And the shower is one of the areas in your home where it'll be easiest to install.
What Is A Shower With Pony Wall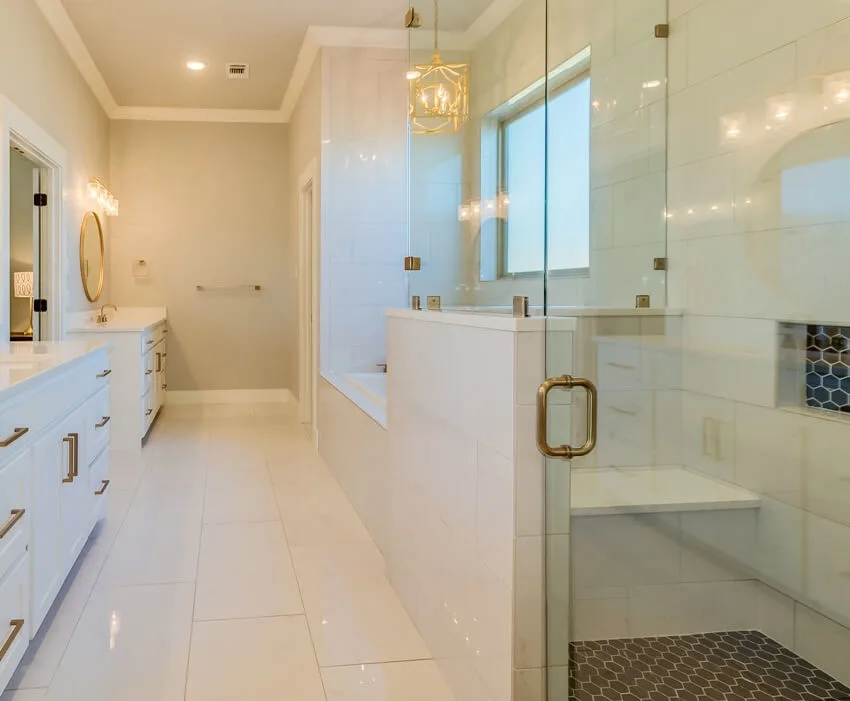 A pony wall (also known as the half wall) is a short wall that extends from the floor towards halfway to the ceiling. The name came from farmer Walter Clydell who lived in Nebraska over a century ago and built short walls in this stable so that he would see his horses better even when in their stalls. The name stuck and until now, people use it to mean short walls created for homes and other infrastructures.
The main idea with a pony wall is to have partitions without losing their airiness and connectivity, which typically can only be achieved in an open layout. The focus of the wall is not just on support but the division of areas. And the clean ceiling line helps you see beyond the division and into the entire room, which is a good idea if you have kids around.
It is also a good consideration if you have a small room but want to create specific areas within the room. While it is used as a partition, it doesn't take out the open layout and make the room smaller.
This is what makes it a good option for bathrooms, which is a small space that needs partitioning for the shower area, the toilet, and even the vanity. See more bathroom ideas for small spaces here.
Another great thing about poly walls is that it's pretty easy to DIY. You can design the pony wall in a way that looks like the room's natural extension. And you can have it popping and standing out, acting as a focal point of the room. The limit is your imagination!
---
Pony Wall Design
A pony wall is a half-wall used to divide two spaces while still keeping connectivity, with the top part of the wall remaining open. Pony walls are constructed the same way as any other wall and can be load-bearing. They can be used anywhere in the home but are commonly found in the bathroom.
A pony wall in the shower can offer privacy while contributing to a modern, open design. Pony walls are an excellent option for small bathrooms because they create separation between the toilet and shower or the sink and shower.
They can also serve as a place to install towel racks or toilet paper holders. Pony walls are also a way to save money on glass, as you will only be using half of what you would if you decided to go with a shower enclosed in glass.
You can install shower benches or niches in the pony wall so you don't have to cut into an exterior wall. The pony wall can also separate a tiled tub and shower, as the tub's faucets and handles are installed in the knee wall on one side.
There are quite a few style options for pony wall design. For example, you can build a singular pony wall on one side of the glass shower or two pony walls on either side of the glass door.
If the shower is large and in an open space, you may still be able to have one entire wall of glass for the shower. It depends on how open or enclosed you want your shower to be.
If the bathroom is smaller, you may opt for a pony wall covering only a small portion of the shower so that the glass shower can maintain a sense of openness.
Although a pony wall in a shower is usually installed with glass above it, there is the option to tile the pony wall and leave the top half open. In this case, you have to consider the height of the pony wall and the height of the shower head so that no water will splash out.
Pony walls are usually thirty-six to forty inches tall, but they can be higher if you need to accommodate the shower spray. Pony walls are a nice feature in the bathroom since they break up the space, add privacy, and can be adorned with any tile you like.
---
Shower Pony Wall Height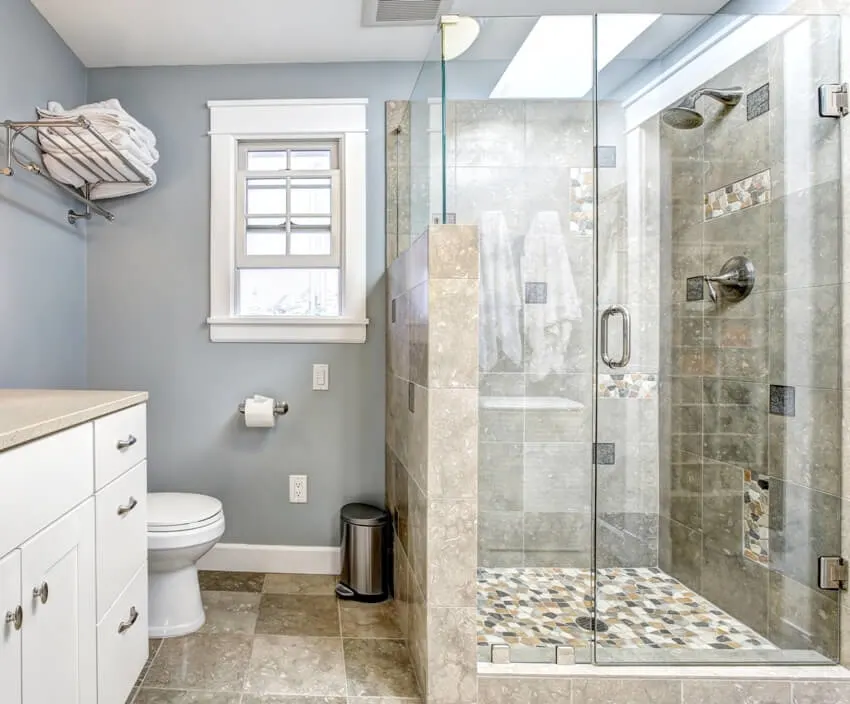 The height of your pony wall plays a vital role in defining if what you have can be considered a pony wall in the first place. In general, pony walls measure 3 to 4 feet without favored measurement for the width and thickness.
Since pony walls are not load-bearing walls, it's not meant to handle any weight in the first place. It can either be secured by a frame or be supported by adjoining the ends to the adjoining walls.
In the bathroom, a pony wall is constructed by either one of the following:
• Around the shower area
• Up against a shower stall
• Surrounding the bathtub
Pony Wall Shower Ideas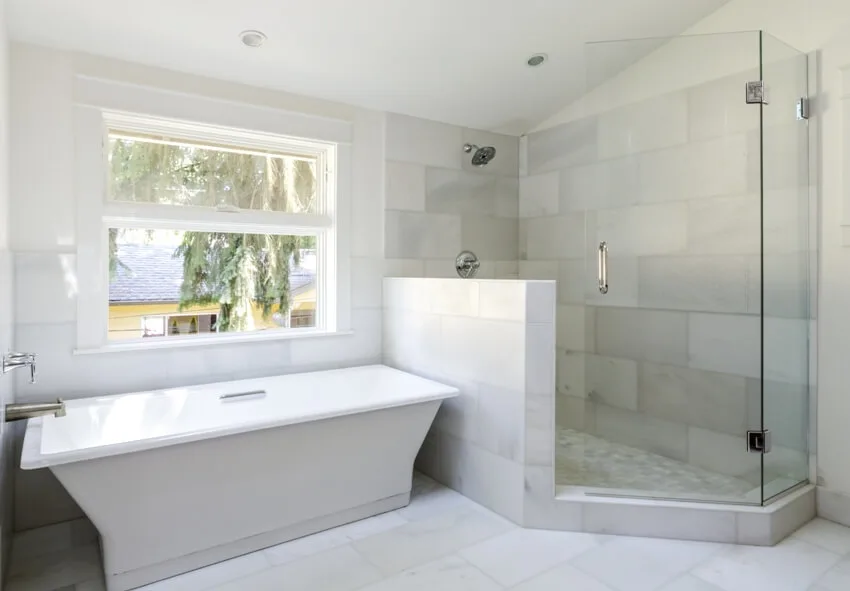 A pony wall shower offers an open partition to the bathroom, providing enough privacy without restricting the entire area. This functional barrier helps divide the bathroom into sections without actually crowding it and making it feel cramped with its retained open look.
The top of the wall, depending on how sturdy it is, can serve as a counter or a storage space. It is an incredibly trendy way to redesign your bathroom and not just go for the standard wall or partition.
If you're thinking about new ways and ideas to install a pony wall in your bathroom, consider some of these options.
Walk In Shower With Pony Wall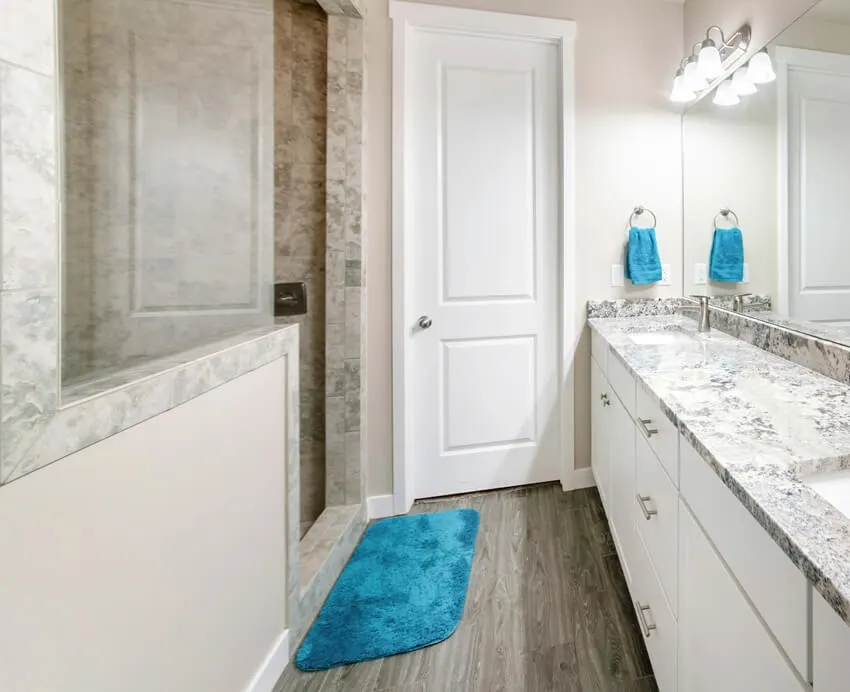 You can choose to have a walk in shower with a pony wall if you plan to create a clear division between the shower and the rest of the bathroom areas, without making the bathroom look restricted and smaller.
Tip: Just make sure to secure the shower pony wall towards the floor and walls.
Shower With Pony Wall And Glass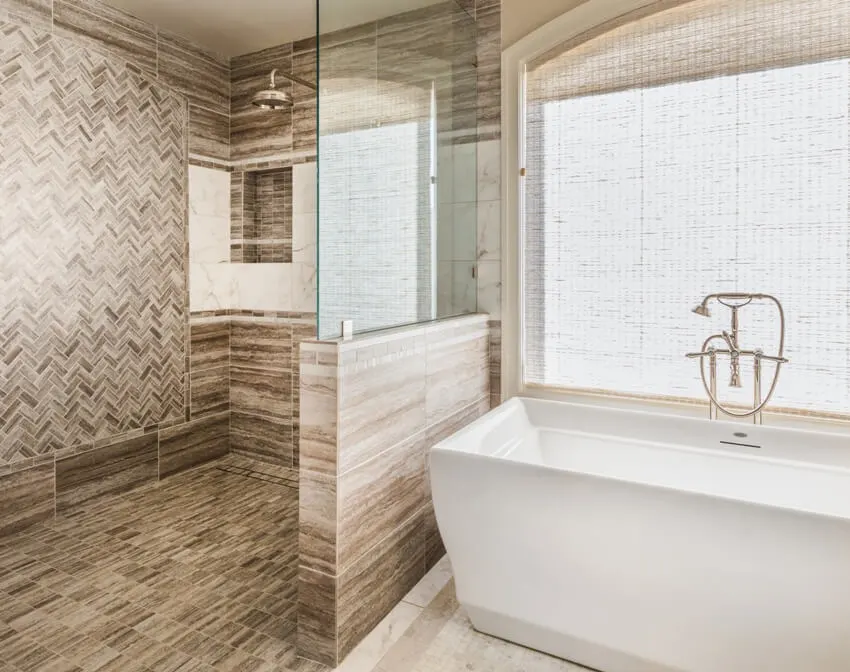 Glass is one of the most elegant and space-saving materials you can use for your bathroom. Whether you choose glass to use as a pony wall or you want to pair it with a sturdier pony wall, glass can only add a unique and aesthetic value to your bathroom, and your home in general. See our guide to the types of glass shower doors for more ideas.
Tip: In using and installing glass, choose steel anchors and screws to provide reinforcement in the material.
Tile Shower With Pony Wall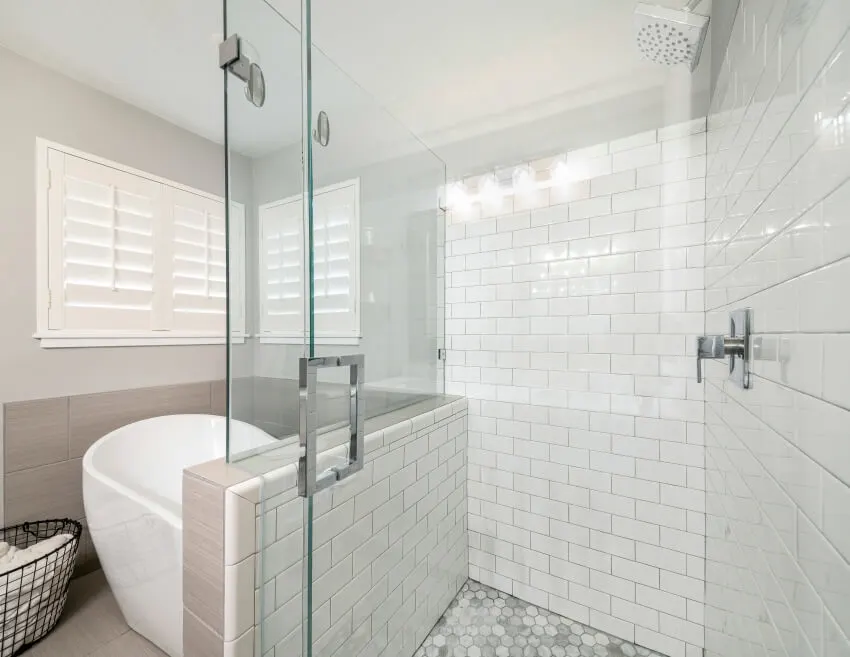 Using a pony wall for your tile shower can also work. It is best that you use the same type of tiles to create uniformity in aesthetics. Bathroom tiles are considered to be sturdy and durable, which is why they are popular home building materials. Check out the best tile for shower walls here.
Tip: With tiled pony walls, waterproofing is a vital process you need to consider to protect the material's surface from moisture and water damage.
Half Wall For Shower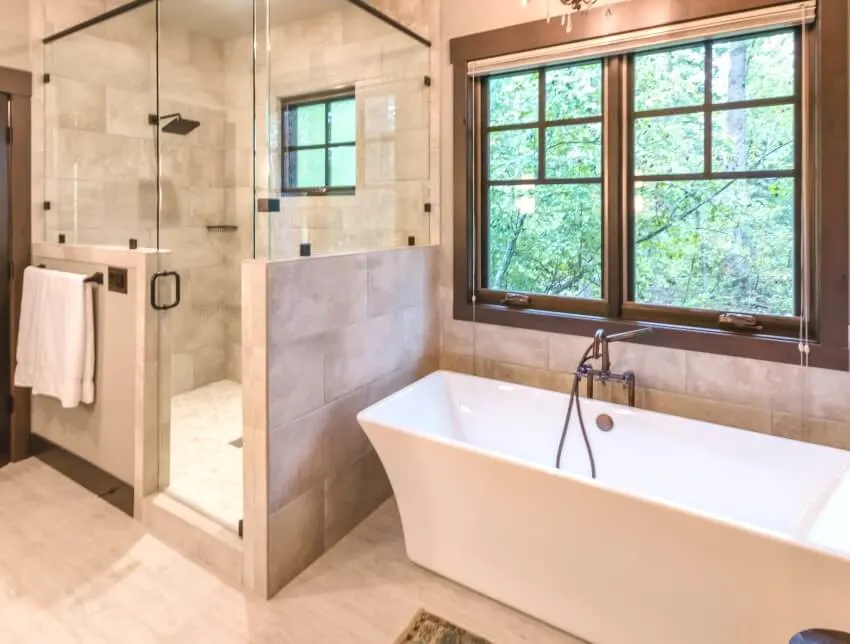 A half-wall, which is basically a pony wall, is different from a knee wall, where the former is an aesthetic addition while the latter is a load-bearing wall. Half walls also serve as dividers and are more commonly installed in the bathroom, either enclosing your bathtub or creating a division for your vanity and shower area.
Tip: If you want a more stable structure in the fixture installation, make sure to add blocking.
How To Build A Pony Wall For Shower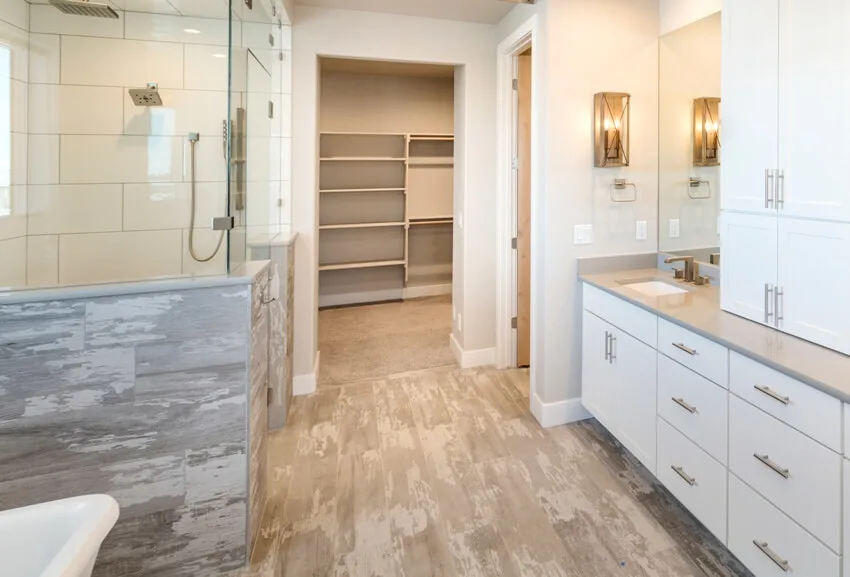 Building a pony wall for your shower is simple if you know what you need and where to start. Here are the materials you need to prepare before you start:
• Pony Wall Frame – While you can always build the frame as you do on installing the pony wall, it is better to build the frame beforehand. The top and base of the pony wall need to be secured and blocked.
• Solid Structure of Pony Wall – This can come in the form of a solid half wall with a frameless glass shower enclosure, depending on the material you choose for your pony wall.
• Waterproof – Since the pony wall will be installed in the bathroom, waterproofing the pony wall is important to protect it from moisture and water damage.
• Screws, Studs, Handrails – These are the materials you will need to connect the pony wall to the adjacent walls.
For a step-by-step guide on building a pony wall, here is an easy list to follow: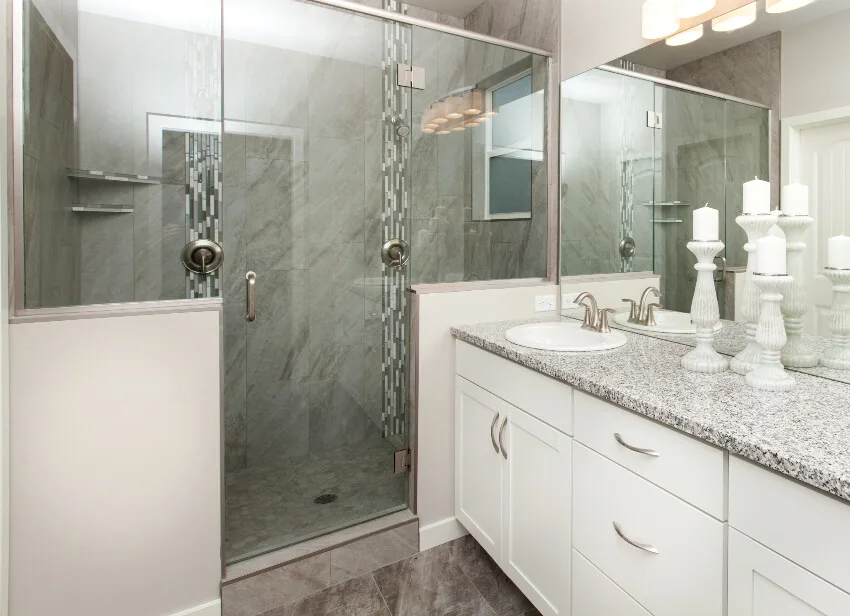 1. Measure your bathroom and the length of the space where your pony wall will be installed. Decide if you want the wall to extend over to the next wall or just partially and midway.
2. Cut your structure to the desired length (Based on your measurement).
3. Encase the structure to the frame and make sure you cover all the sides of the structure for stability and protection. The frame needs to line up well with the floor joists. And make sure that the screws that connect the frame to the structure are stable and sturdy.
4. Install your pony wall.
• Start with one wall and attach it firmly with a screw, both on the wall and the floor
• Screw your pony wall into the other side of the wall (Or in case it just partially covers the area, screw it into the floor and a possible supporting structure in the middle.
Visit our guide to the best low maintenance shower walls for more related content.