In this guide to changing table dimensions you'll see the standard changing table measurements, and average topper & bathroom changing table sizes.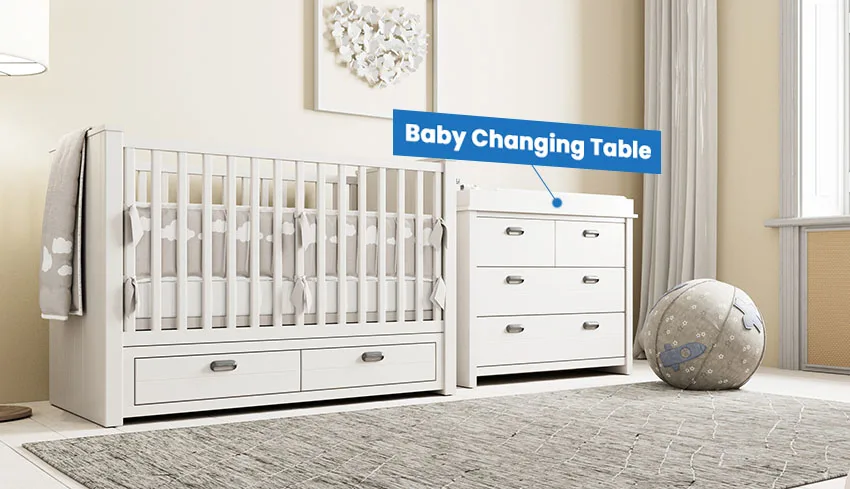 One of the essential furniture pieces a new mom needs when preparing their new baby's nursery is a changing table. Changing tables allow mothers and fathers to change dirty diapers and dress their babies without uncomfortable maneuvering for both new parents and babies.
There are three kinds of changing tables that parents can choose from, with each having its plus and preferences for each new parent. You can go for wooden changing tables with guardrails for extra protection.
There are also more economic fold-up changing tables and the hinged chest adapters, with the latter being the least recommended option because some have flimsy designs, and accidents can easily happen.
Each changing table will essentially have the same purpose. Still, its sizes can vary, and also, the added safety and storage options can add to their final prices, from the safety harness or belt down to the materials used in the changing table.
Average Changing Table Dimensions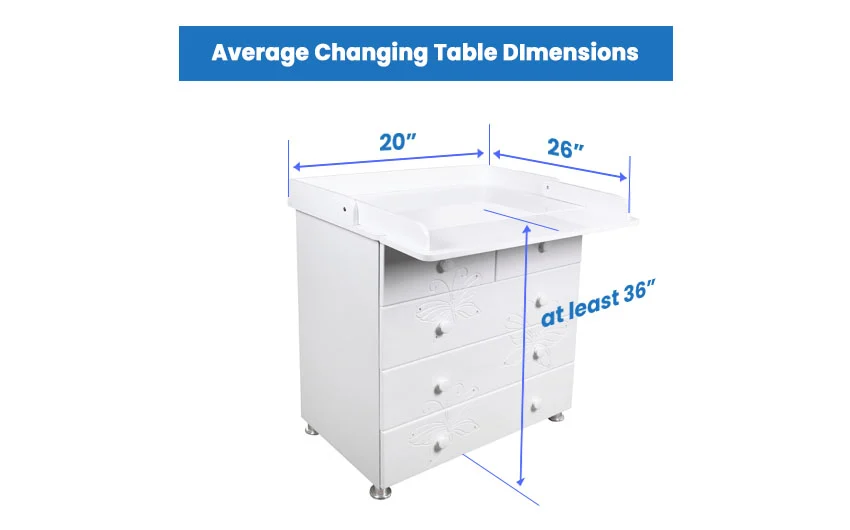 A standard baby changing table will have a width of 20 inches or about 51 centimeters, and it will be 26 inches or 66 centimeters in length.
Each of the changing tables will have a changing pad to ensure that your babies are comfortable. These changing pads will typically be at least 17 inches or 43 centimeters wide with a length of 33 inches or approximately 84 centimeters.
The standard changing table dimension is the optimum starting point in determining what you will need to look out for regarding changing tables.
Anything shorter or less than the standard dimensions will be too small or too uncomfortable for your baby, so getting the size right is essential because it will also dictate the product's longevity and how long your kid is going to be using it.
Standard Changing Table Height
The height of a changing table is there to ensure that each parent who will be using the changing table to change their baby's dirty diaper or wet clothes is comfortable as they do the task.
You want to make sure that the parents utilize the changing table with less bending and hunching over it to lessen the risk of developing any back or neck pain because of the improper posture.
When building or looking to buy a changing table, see to it that it is at least 36 inches or about 91 centimeters high.
At the same time, there are also changing tables as tall as 43 inches or 109 centimeters to guarantee the maximum reaching and best posture height for people taller than the average height of 5'4" for ladies or mothers and 5'9" for males or fathers.
How Tall Should A Changing Table Be?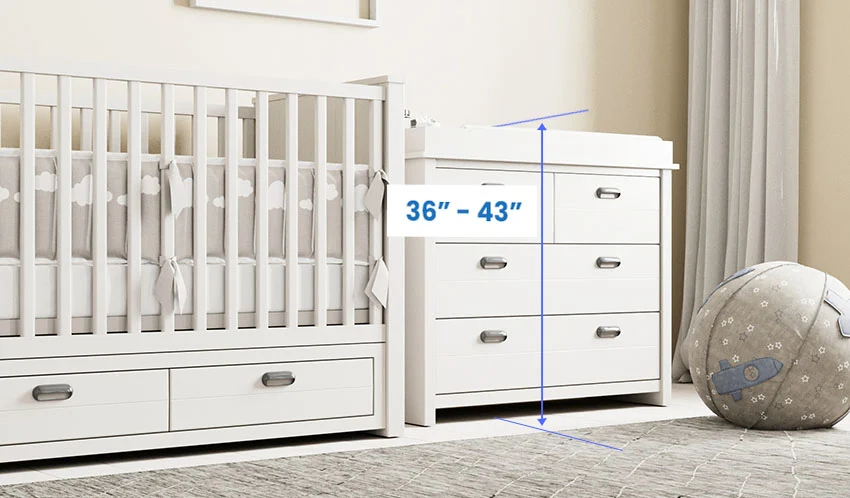 As stated above, the surefire changing table height should at least be 36 inches or about 91 centimeters; however, changing tables can be as tall as 43 inches or 109 centimeters depending on their features like storage availability or if your height calls for it.
Suppose you have already found the perfect changing table for your nursery, but the height is too low for you. In that case, a happy compromise is using furniture risers to boost the height of the changing diapers up to 8 inches or 20 centimeters.
Say you have the perfect changing table with an average height of 35 inches. With an 8 inches riser, you can add 8 to 35, and it will bring up your changing table height to up to 43 inches.
The best thing about this is that risers are safe, and some of the best can hold up to 1300 pounds which is more than you and your baby's weight!
Changing Table Topper Dimensions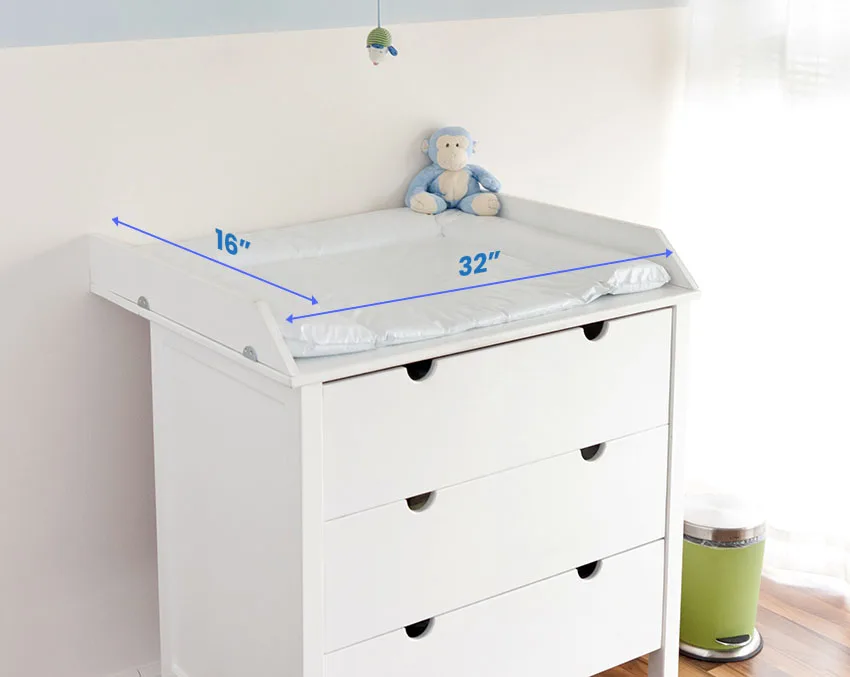 Changing table toppers are also known as pads, and these are what many changing tables will require so that changing diapers or clothes can be done in a comfortable and safe place where babies can lie down.
Aside from the pad itself, parents will also opt to put a cover on the pad or foam, and this can add a design element to any nursery to fit the theme or the color of the space.
For a changing pad or topper, standard ones have dimensions of 16 inches or about 41 centimeters for the width, with a length of 32 inches or 81 centimeters. These standard changing table toppers or pads will usually have foam that is 4 inches thick.
If you plan to opt for a topper cover to fit the entire interior design of the nursery, anything close to these dimensions by 1 or 2 inches will fit them perfectly.
Bathroom Changing Table Dimensions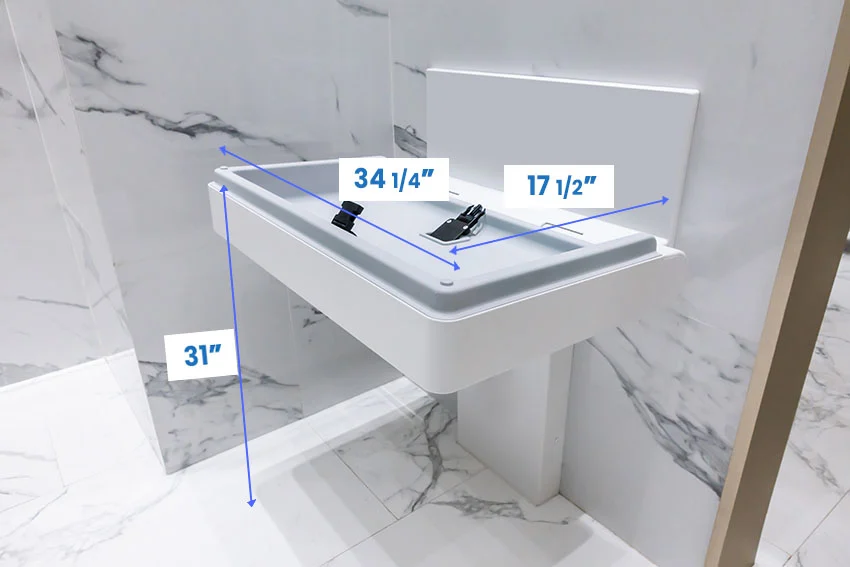 Public spaces should also have access to changing tables, and this is where commercial bathroom changing tables will come in. If you have a business and would like to give mothers and fathers in need the option to have this available in both comfort rooms, then here are their dimensions.
A standard bathroom changing table will be horizontal and mounted on the wall. It will have a width from side to side of 34 1/4 inches or about 87 centimeters and a height from top to bottom of 31 inches or 78 centimeters.
For it to be comfortable for the baby who will be laying down on it while being changed, these bathroom changing tables will usually have a depth of 17 1/2 inches or about 44 centimeters.
Do You Need A Changing Table?
The short and sweet response to this question is no. Parents don't necessarily need to purchase a changing table for their babies. It will be valuable to have a solid piece of furniture parents can trust in the first two months of being parents.
Still, parents will be more comfortable changing their children on their beds with more surface area available once the babies start to crawl, turning the changing table practically obsolete.
The best bet for parents is to go for changing tables with shelves or drawers. Once the babies are too energetic to use the changing table safely, they can easily convert it into another storage unit that can house all the baby's valuables like diapers, clothes, or formulas.
Visit our crib mattress sizes guide for more related content.