Here's our shower bench dimensions guide including different types of shower bench sizes and measurements for a walk-in shower with bench.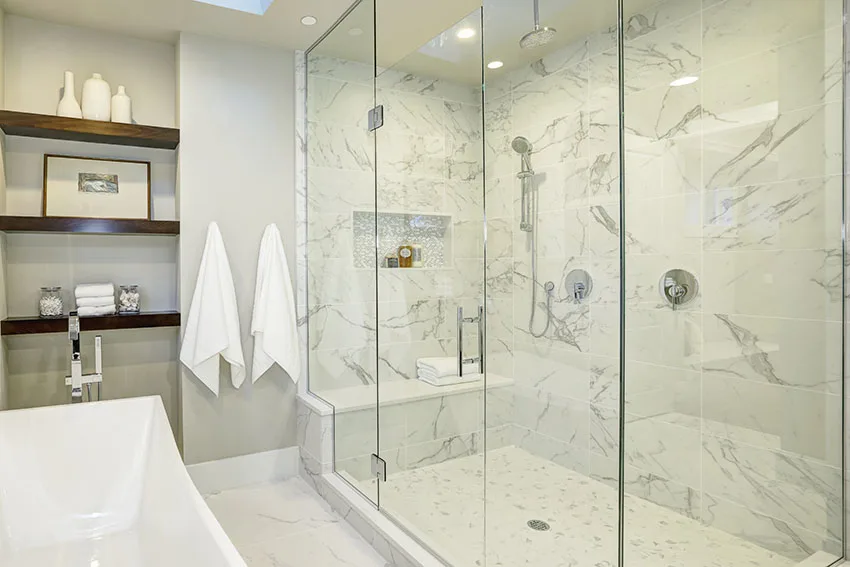 Many design options can be considered when building or remodeling the bath and showers, and one of them is considering the installation or the alternative of a moveable shower bench.
A shower bench has many benefits; not only does it ease the showering process for the disabled and the elderly, but it also is a good investment for the future. Slipping can be avoided with the utilization of a shower bench, too.
Shower benches can also be the avenue for you to satisfy yourself with an in-house spa treatment; heated benches are available exclusively for this purpose.
A shower bench makes the simple task of cutting your toenails or shaving your legs more accessible and safer than without it.
In considering your future shower bench, essential dimensions are involved. Here we present a compendium of measurements to find a suitable shower bench for your home.
Standard Shower Bench Size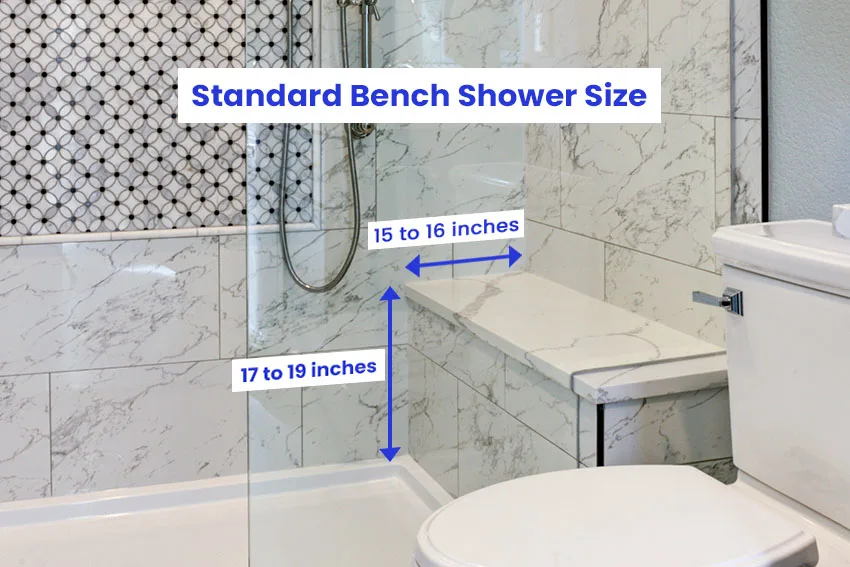 As a general rule of thumb, the standard shower bench size is 17 to 20 inches high with a depth of between 15 to 16 inches. This will have any length needed to fit the shower wall and be able to sit comfortably.
Adding a bench inside your shower could change your daily shower routine, not just for your hygiene but also for adding a bit of self-care system on a stressful day.
Safety is also a significant factor. As the National Council for Aging Care studied, people at the age of 65 and over are prone to head traumas and broken hips when an accidental slipping happens in the bathroom.
When choosing your next shower bench seat, the widely available standard size is always available. Check out some of these considerations.
Shower Bench Depth
The depth for the seating area should be between 15 to 16 inches from top to bottom for maximum comfort while seating.
Shower Bench Height
The standard or usual shower benches available on home depots or warehouses have a dimension of about 17 to 20 inches in height, from the floor to the seat. Tall enough for an average person to sit with his feet firmly placed on the floor.
ADA Shower Seat Height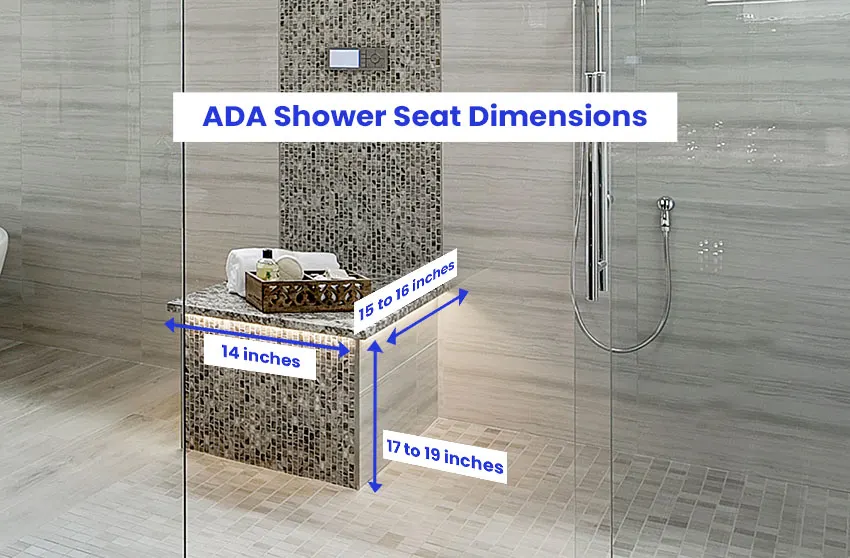 The Americans with Disabilities Act recommends a 17 to 19 inches bench height. The minimum width is at least 14 inches wide, and a depth of 15 to 16 inches — enough space to move and sit comfortably. Source: ADA compliance
Corner Shower Bench Dimensions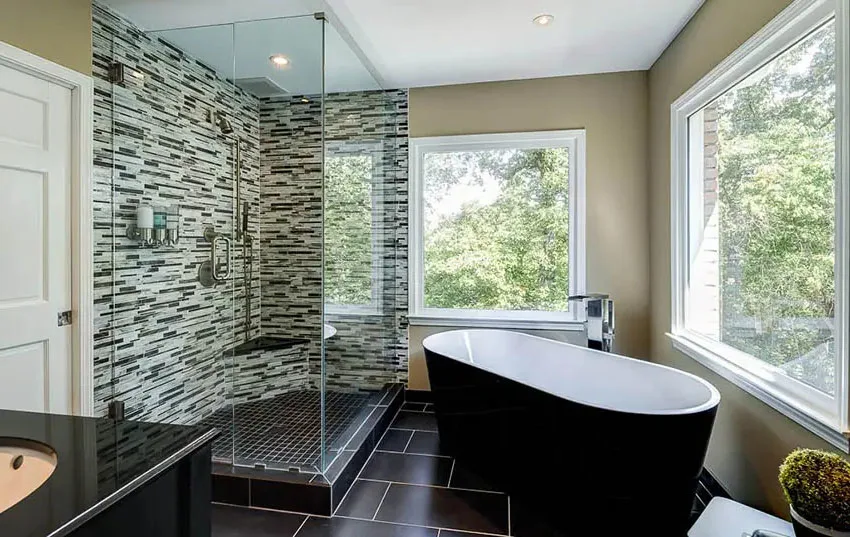 When you have a smaller shower and would like to have a bench but don't have the space for a standard-size one, a corner shower bench seat is perfect. Corner-sized benches are great for any size of shower, but they are especially efficient for smaller ones.
Side benches are usually smaller, triangular in shape, and sometimes have one curved corner. They offer functionality that takes up little space in the bathroom.
A usual corner shower bench is 15 to 16 inches long from the floor to the seat and is 18 to 24 inches wide.
There are many advantages to corner shower benches, but there are also some downsides.
Nearly all of them are smaller and do not meet the ADA's recommended dimensions for shower bench products. An alternative to a corner shower bench that has the ADA specifications is a folding L-shaped seat.
It should be, at best, 24 inches in length and has a minimum width of 24 inches, and it could be rectangular. This type of chair could be folded or mounted on the wall for added stability.
Built-In Shower Bench Dimensions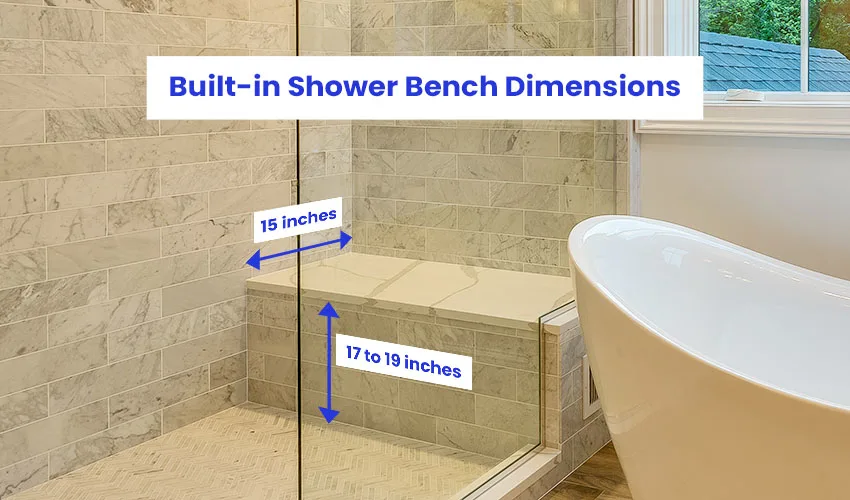 A built-in shower bench has many advantages; the convenience gives homeowners a choice to prop up their legs when shaving and a place to lounge on a stressful day.
A built-in shower bench can age with the bathroom; it does not shrink as a wooden bench does and does not stain as a plastic one would. It's also a sturdier option than a folded bench or an ordinary standing corner bench.
In order to install a built-in shower bench, the homeowner has to have a larger bathroom than average. A 36″ x 36″ interior space in the shower is advisable to install a built-in shower bench with a height of 17″ to 19″ and a depth of 15″ for the ordinary standard size built-in shower bench.
There are also various built-in shower bench styles you could adopt and install in your bathrooms—a built-in corner seat for maximum shower space for a smaller bath.
Another alternative is the built-in bench which can run along the total length of your shower. They often are installed near wall niches to keep shower accessories within easy reach.

The L-shaped design can also wrap on two wall sides of your shower. Additionally, there's the U-shaped design to run along three sides of your shower or a floating bolt-on bench that is space-efficient but still highly functional.
The possibilities for a built-in shower bench are endless. See built-in shower bench pros and cons here.
Floating Shower Bench Dimensions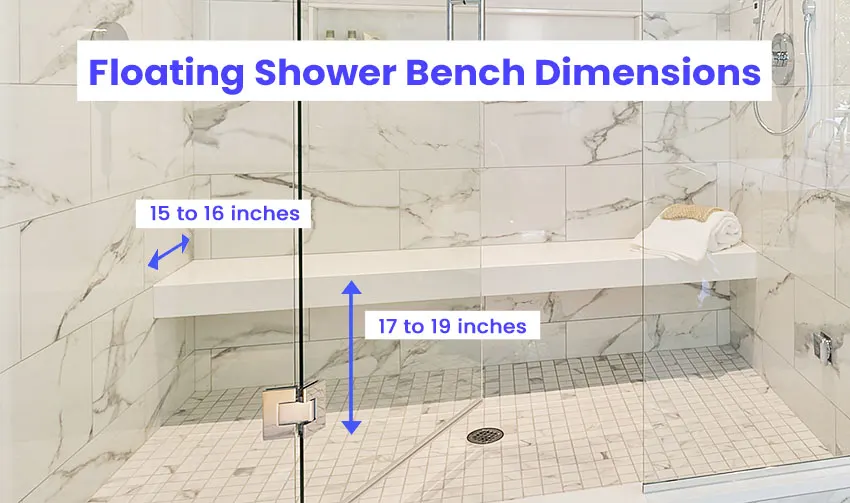 A built-in floating shower bench not only adds to your bath's aesthetic appeal, acts as seating for comfort and functionality, but also doubles as an added storage unit. This type is also practical and space-saving, a plus for smaller bathrooms. The space on the bottom of the seat can easily be used for storage and extra leg space.
An array of materials can be used on your shower bench, from granite and marble tile to bamboo and teak, which are water-resistant wood.
Dimensions depend on the homeowners, but the ADA standard is a floating shower bench with a minimum height of 17 inches to 19 inches. It should have a depth of 15 to 16 inches, not too deep to make it hard to stand up, especially for a person with disabilities.
Homeowners need to ensure that the floating bench will hold a weight of as much as 400 pounds. Read more about floating shower bench here.
Size of Walk-In Shower with Bench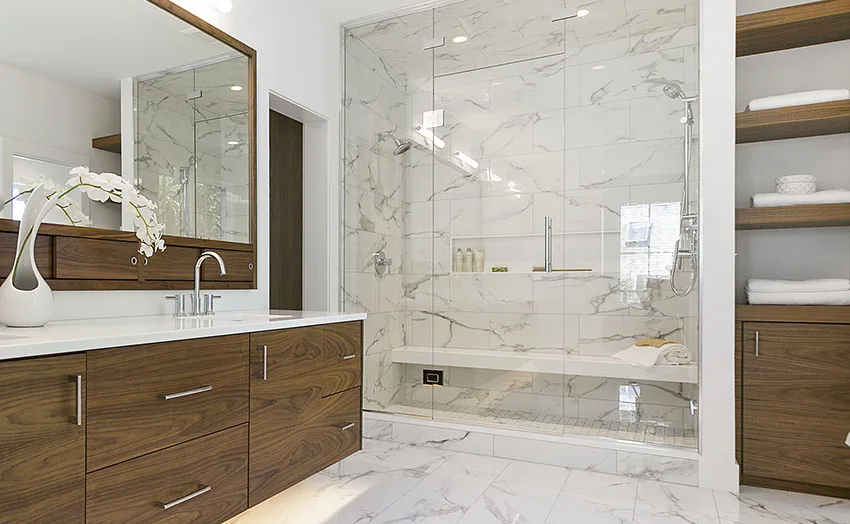 A walk-in bath will be considered a walk-in bathroom if it's 36 x 36 or much bigger. A walk-in shower with a bench will meet ADA recommendations if it meets these dimensions.
If your walk-in shower with a bench needs to accommodate a wheelchair, the measurements to have in mind are 30 inches by 60 inches, with enough space for the wheelchair to move comfortably and with ease. This size even accommodates a caregiver if needed.
If there is limited space, a transfer bench, also called a portable shower bench, can be used. These can help those with limited mobility get into a tub or shower. These frequently have adjustable aluminum or stainless steel legs that can be adjusted based on the user's needs.
For another related article, visit shower bench ideas here.