Take a look at our floating shower bench design guide including its cost, materials, and the right dimensions to make the best aesthetic and long lasting shower bench.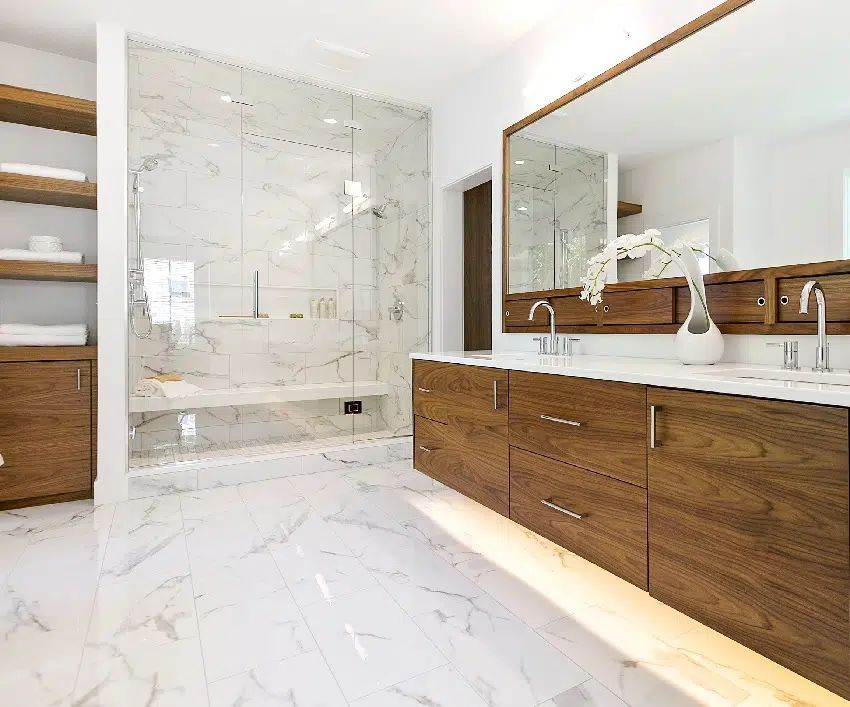 A shower bench is increasingly being added and installed in bathroom showers by new home designers and homeowners. Although many people prefer the older form of a box-style shower bench because they require a solid foundation to support weight.
Did you know you can make a floating shower bench with the same strength? That's right! Floating shower benches are the new way to go!
A shower bench is a seat placed in a shower and allows individuals to sit and relax while they wash. Shower benches may be permanently installed, or they can be movable.
When choosing a material for your shower seat, keep the following in mind: Budget, aesthetics, and maintenance.
What Is A Floating Shower Bench?
A floating shower bench is attached to the wall at seat height but does not have any legs or support below it, creating the floating appearance.
When not in use, these benches may be permanently installed in the sitting position, or some floating benches feature hinges that allow them to be folded up against the wall. It provides a stylish, streamlined appearance while maintaining the same strength as a box-style shower bench.
It improves the looks of your bathroom while also providing a spa-like experience to help you relax—all of this, plus EXTRA storage space.
Let's take a look at why you should consider getting a floating shower bench.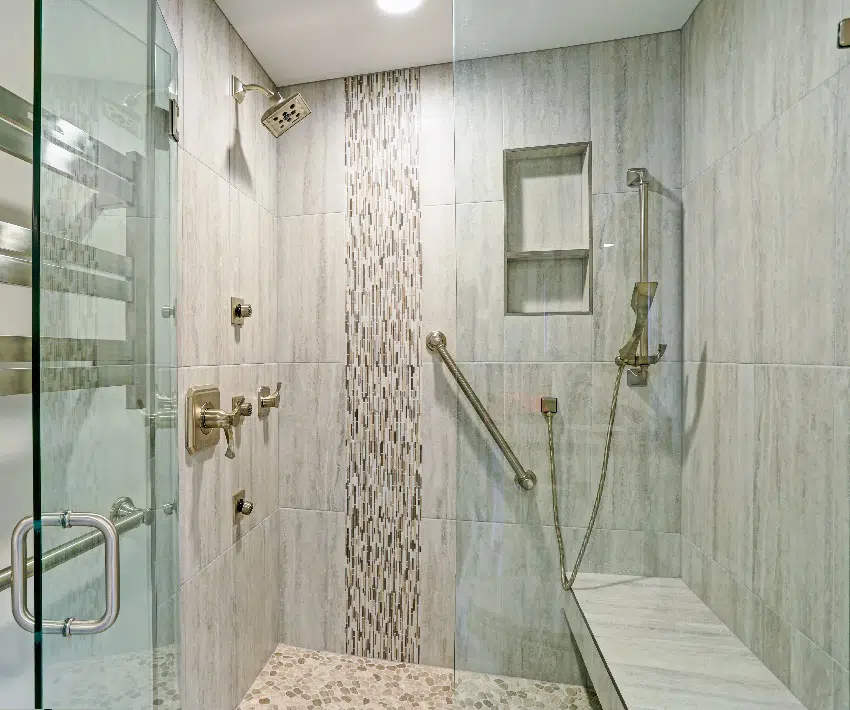 Space Management and Storage
If you have a small bathroom but still want to incorporate a bench, the floating shower bench is ideal since it does not take up more space. Floating benches feature storage beneath them that you may utilize to tidy your area.
You can store small cosmetic goods, like shampoo bottles, shower gel, and scrubs under the bench. It is an excellent place to store wheelchairs if constructed at the proper height. It also provides extra legroom and keeps you comfy while you sit in your bathroom shower.

Design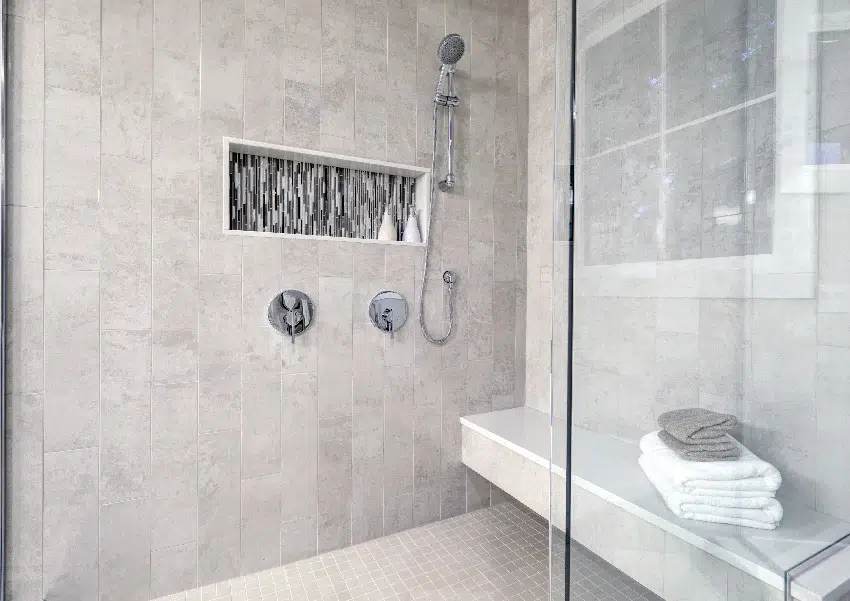 If you get creative with your ideas, floating shower seats offer a different feel and appearance to your bathroom area. The kind of material utilized for the surface may also influence the design.
You might coordinate the bench with other bathroom items to make it seem more cohesive, such as a matching wooden frame mirror or a marble soap dispenser.
Easy Installation
A floating shower bench may be added to an existing bathroom at any time and will not detract from the overall design. Floating benches are not intended to be incorporated like built-in benches and may instead be screwed into place using the appropriate tools.
Floating Shower Bench Dimensions
The size of your shower bench will be determined by the size of your bathroom and the number of people using it. It should be wide enough to be able to sit comfortably without overwhelming the shower space.

The Americans with Disabilities Act (ADA) proposed a minimum height of 17 inches (430 mm) and a maximum height of 19 inches (485 mm). Read more about standard shower sizes here.

How Deep Should a Floating Bench Be?
The depth should not be more than 15-16 inches, but it should not be so deep that standing is difficult. The amount of space available should determine the length. The basic guideline is that users should feel at ease when sitting on the bench.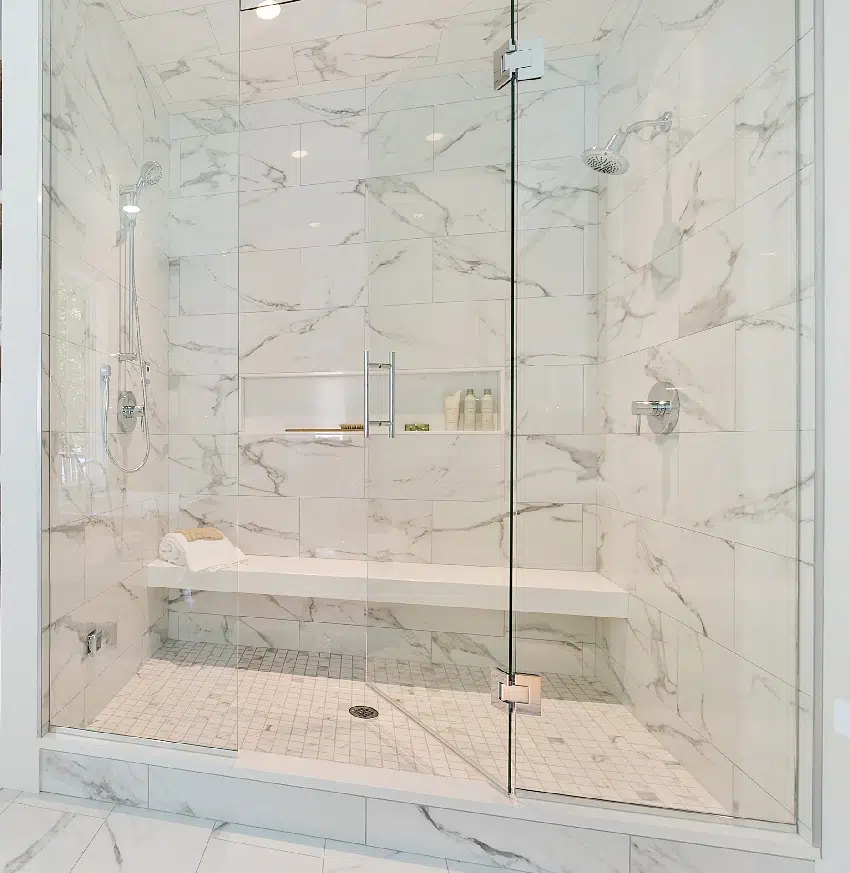 How Much Weight Can a Floating Bench Hold?
The typical weight capacity of a shower bench is 200 to 500 pounds, while a floating bench must support at least 400 pounds.
Floating Shower Bench Cost

How Much Does A Floating Shower Bench Cost To Install? It all depends on how you go about doing it. For a full-sized sit-down bench, floating shower bench kits will cost about $300 to $400.
In most regions, the cost of hiring a professional to install it will range from $50 to $100 per hour.
To have a floating shower bench adequately built, you should budget at least $500. The cost of tearing down sections of your wall may be as much as $1000. Custom benches for walk-in showers are much more expensive.
Corner Floating Shower Bench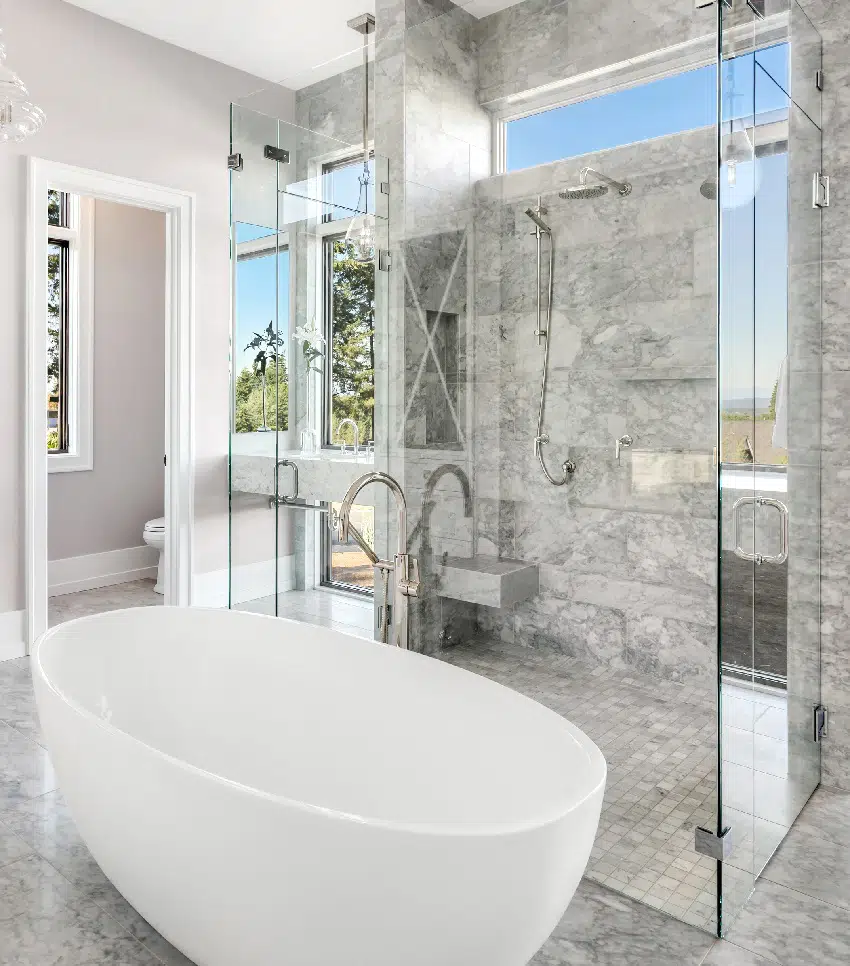 If you are thinking of installing a corner shower bench, make sure you know what to look for. A corner shower bench with a depth of 18-24 inches is suggested. It is crucial to make sure you have the appropriate size.
Choosing a size that you may later regret can be a great pain to change. Corner shower benches are an excellent choice for limited space, or you don't want the shower bench to take up too much space.
Which Material Is Best For A Floating Shower Bench?
A floating shelf slab, preferably constructed of stone or granite, is required. You also need to purchase a floating bench kit.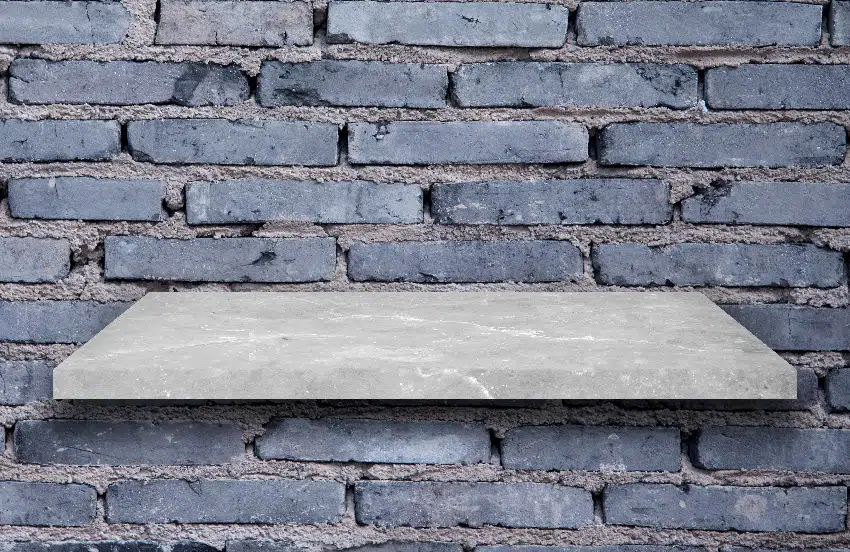 The shelf slab should also include slats to facilitate installation. When purchasing, we recommend explicitly asking for a floating shower bench slab.
Stone, such as granite, marble, or quartz, is generally the finest material for a floating shower bench. Although wood may be used to make floating shower seats, it is not a suitable option.
Even if it is carefully cared for, wood will decay if it is exposed to enough water. This is true even for timbers such as teak.
It is a different thing if you could remove the shower seat. Teakwood, for example, can withstand high amounts of dampness, but it would still need to be replaced every five to ten years.
Teak shower benches are also more comfortable to sit on since they are warmer.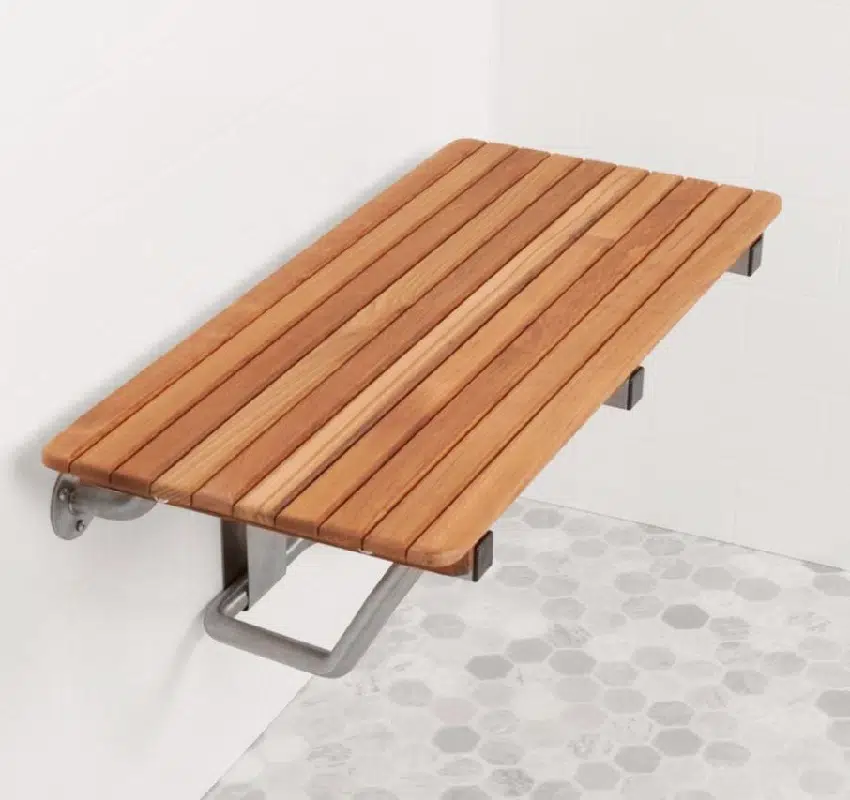 How To Make A Floating Shower Bench?

Purchase the shelf components and the bench bracket kit.

Pull out the tiling and a piece of the wall where you opt for the shower bench to go.

Attach hidden brackets to the wall frame.

Hang the two of the free-hanging brackets against the studs.

Use the bolts that come with the shower bench to secure it to the brackets.

Finish by sealing the area and, if required, retiling it.
Honestly, constructing and putting up a floating shower bench on your own is not a brilliant idea, mainly if you are not familiar with bracket installation or brickwork. Creating a floating shower bench requires precise measurements and is not the same as building a shower seat.
Whatever method you choose, make sure it is slanted forward a little to allow water to drain.
How To Make A Long-Lasting Floating Shower Bench

If your floating bench is made of wood, be sure you clean it after usage to keep mold and seepage at bay.

When washing, use lukewarm water and mild soap. After rinsing, dry it with a soft cloth.

Another alternative is to spray a solution of warm water and vinegar to avoid molds.

If mold begins to grow, clean it with a baking soda and water combination.

Never use bleach-containing materials since they may easily fracture and destroy the floating shower seat.
For more related ideas visit our gallery of the best shower bench ideas here.