Here's our clawfoot tub dimensions resource including the standard small, medium & large clawfoot tub sizes and clawfoot tub shower curtain dimensions.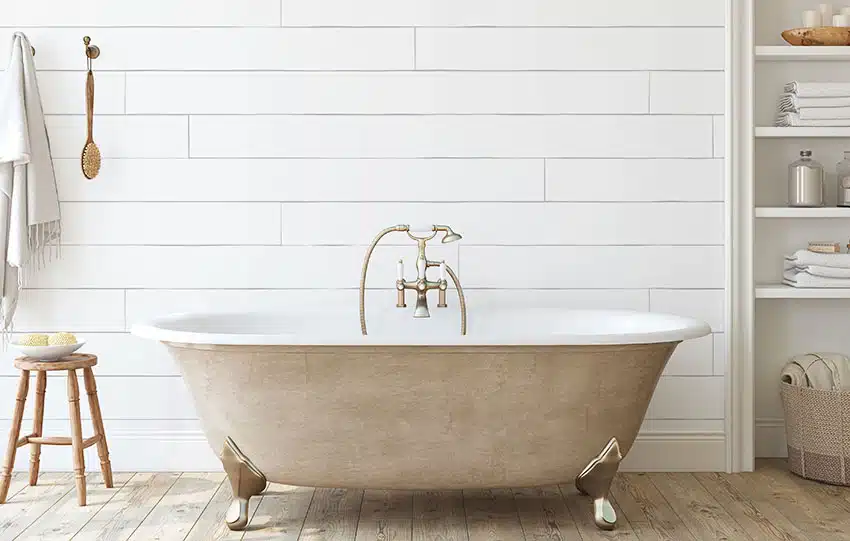 Timeless, vintage and elegant, these are just a few words to depict the novelty of clawfoot tubs. Clawfoot tubs are freestanding bathtubs that rest on four feet, making them the choice for many people looking to replace the tubs in their bathroom during home renovations.
Aside from being freestanding, what makes the clawfoot tub appealing to many is its look and the fact that they never go out of style. There are many benefits to having a clawfoot tub aside from its looks.
Clawfoot tubs are often larger and deeper than any other tub style and are also easier to clean because of the empty space beneath the tub.
Standard Clawfoot Tub Size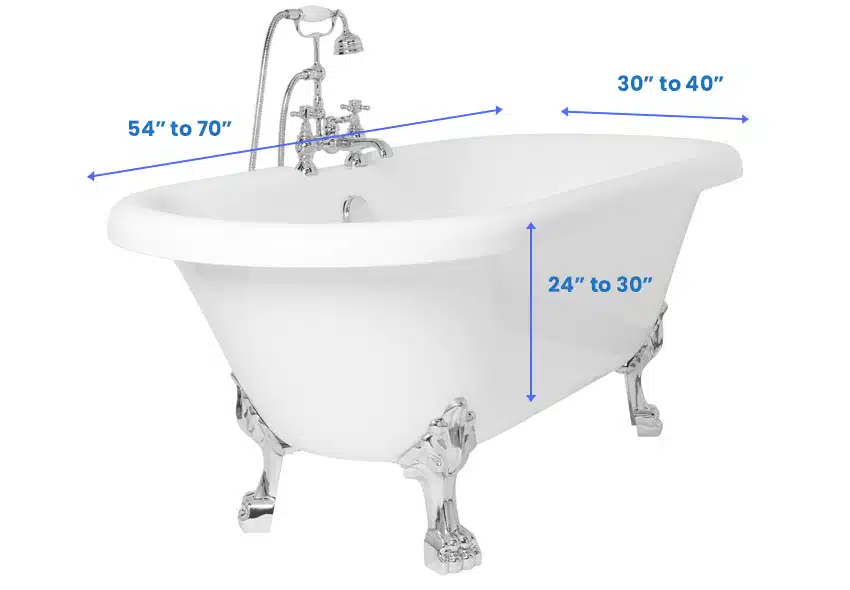 One thing that appeals to homeowners is the clawfoot tub's generous size. This is also a drawback since a bigger space is often required to fit clawfoot bathtubs. To make sure that it fits the room, at least a space of 3 to 6 inches or around 8 to 15 centimeters is required on all sides of the tub.
Owing to their larger size, they are also more comfortable. Clawfoot tub lengths come in a compact size of 54 inches or 137 centimeters to larger ones at 72 inches or about 183 centimeters. For most homes, the length of clawfoot tubs generally purchased is 59 inches or 150-centimeter ones.
For the clawfoot tub width, it will often range from 30 to 40 inches or 76 to 102 centimeters, with a width of 32 inches or 81 centimeters being the most popular. At the same time, the depths of clawfoot tubs will range from 24 to 30 inches or 61 to 76 centimeters.
Cast Iron Clawfoot Tub Sizes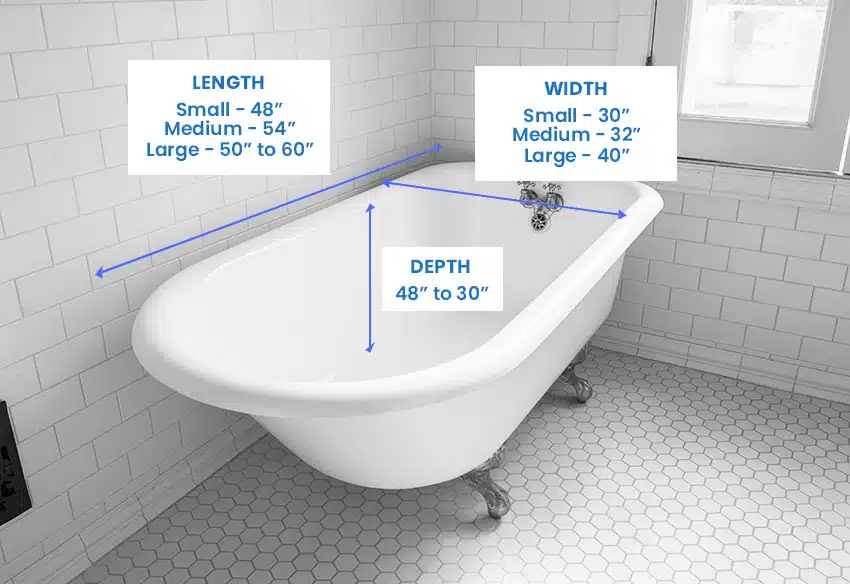 Among the most famous and durable materials of clawfoot tubs is cast iron. Cast iron clawfoot tubs are the best when a homeowner requires a tub that is very sturdy and has the best heat retention.
The only drawback to clawfoot tubs made with cast iron is their weight, which is one of the heaviest in the market, making floor reinforcement a requirement before acquiring one for the home.
In terms of size, most are available with a length of 54 inches or approximately 137 centimeters and a width from side to side of 32 inches or 81 centimeters. This is considered medium, but homeowners can go smaller at 48 by 30 inches or about 122 by 76 centimeters.
In contrast, larger cast iron clawfoot is available with lengths ranging from 50 to 60 inches or 127 to 152 centimeters, with a width of 40 inches or 102 centimeters. Depths for cast iron clawfoot tubs will range from 24 to 30 inches or around 61 to 76 centimeters.
Antique Clawfoot Tub Dimensions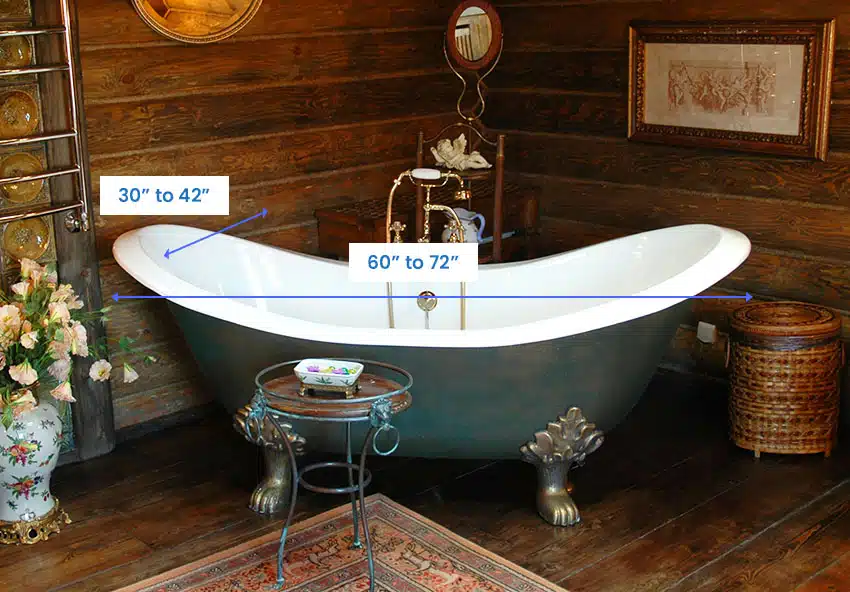 Modern manufacturers are everywhere, and they produce some of the best there is. However, many homeowners are still on the hunt for vintage or antique clawfoot tubs since they offer a unique design and the novelty of the history attached to them.
Antique clawfoot tubs tend to be larger, and sometimes they are even more extensive than the biggest ones available in the market today.
The standard for antique clawfoot tubs ranges from 66 to 72 inches or 168 to 183 centimeters. However, there are also smaller ones at 60 inches or 152 centimeters that many can find. The width is standard at 30 to 42 inches or 76 to 107 centimeters.
Small Clawfoot Tub Dimensions
The height of luxury for smaller bathrooms is a small clawfoot tub which is made available to tick all the boxes that a regular-sized one can. Whether for a hotel or residential bathroom, their compactness will add the same style and elegance to any space.
Most small clawfoot tubs have a length of under 60 inches or 152 centimeters, with the smallest at 48 inches or around 122 centimeters.
Their widths will also vary but usually range on the smaller 18 to 24 inches or about 46 to 61 centimeters. Because of the smaller size, it usually holds less water, and most can only have around 11 to 21 gallons.
How Heavy Is A Clawfoot Tub?
Although the regular bathtubs are already heavy, expect clawfoot tubs— no matter what materials they are made- especially cast iron ones- to be heavier.
One cast iron clawfoot tub can easily weigh around 200 to 400 pounds without water. Fill that up with up to 33 to 60 gallons of water plus the weight of the person soaking in the tub— it will be heavier.
This is why floor reinforcements are needed before considering a clawfoot tub, especially if homeowners are looking to install it on the upper floors. It is integral to check the clawfoot tub weight first and ensure that the floor can handle it before purchase.
What Size Clawfoot Tub Should I Buy?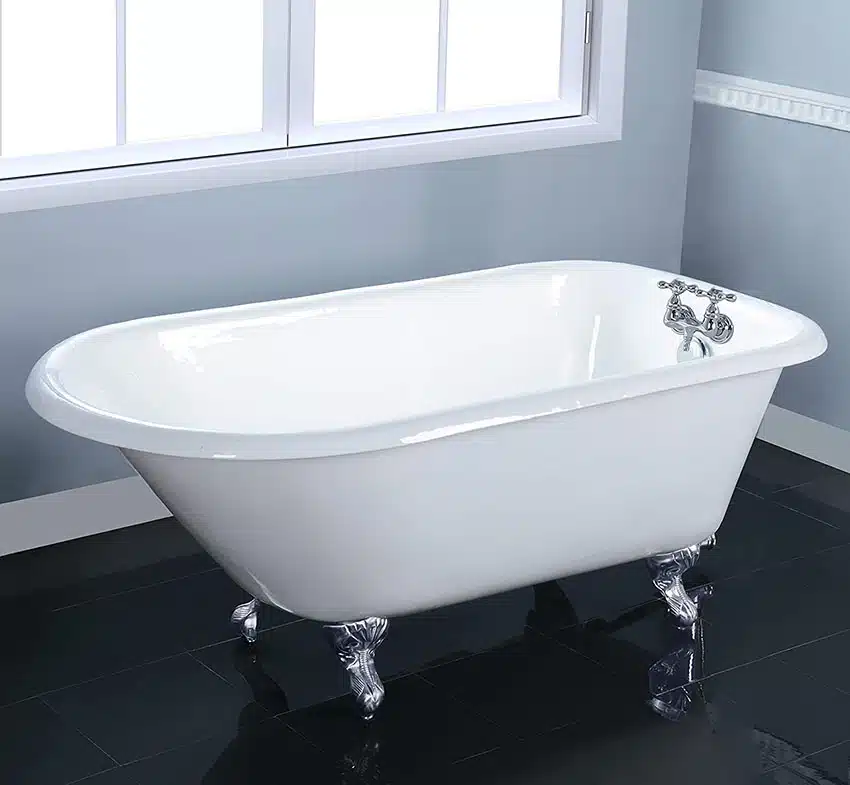 See this clawfoot tub at Amazon [sponsored link]
There are many things to weigh when it comes to what clawfoot tub size will work, but a significant consideration is the person's size when seated and when inside the tub. It will also take into consideration if there are times when two people will use the tub at one time.
For an average 5.5 feet tall person to fit in a tub, a classic 54 inches clawfoot is perfect, while a 66 inches double-ended will work for two persons at the same height using the tub at the same time.
Clawfoot Tub Shower Curtain Size
Regular shower curtains will not work for clawfoot tubs as they will require unique curtains that have suction cups, magnets, and a heavy fabric in their mechanism. This will ensure that the curtain won't blow inward or that the hem won't stick to the tub.
Most clawfoot tubs are 180 inches or 457 centimeters. This length is enough to ensure it will circle a regular clawfoot tub size.
For standard-size curtains to fit and encircle a full clawfoot tub, about two to three of the regular-sized ones are needed to do the job. Curtains for clawfoot tubs can also be water-resistant and machine-washable for easy maintenance.
Visit our bathtub dimensions guide for more related content.