Here's our desk size dimensions guide including measurements for different types of desks to help you find the best one for your home office design.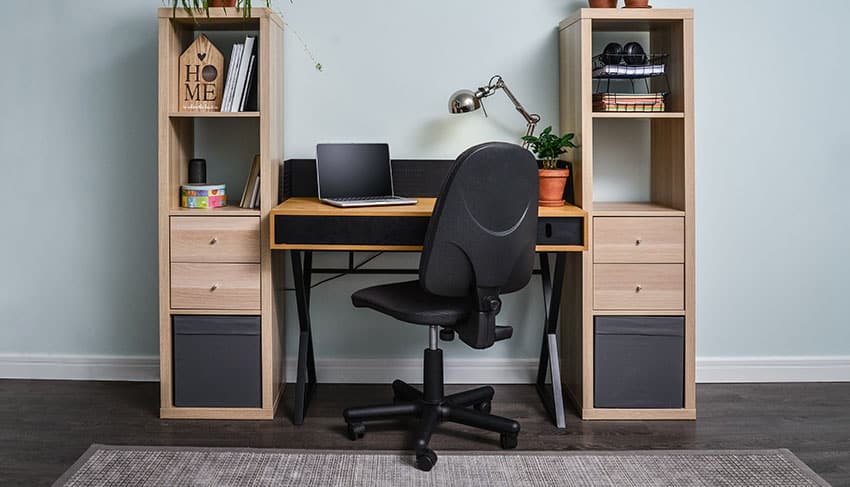 There are millions in the world working from home right now; many people are probably commandeering the dining room table doing work and studying at this minute.
The typical home office needs a computer (or a laptop), some file storage, a printer, a chair, and a little space to write in.
The question is, how do we determine your ideal desk size when commercially sold desks are made in all shapes, sizes, and configurations?
Some desks are constructed for sitting, and there are those meant for standing. Some have a fixed height, but you can find those with adjustable height, too. You will even find desks with shelving units, additional storage space, and other design elements.
Which aspects are most important for you? Think about them to help you decide which desk to invest in because they have to do with what are essential for you and what you want to do on the desk.
In this guide, we put together information about typical desk dimensions to help you on your quest to find a suitable desk for you.
Standard Desk Size
Typically, an adult with an average height between 5.5 feet and 6 feet should practically have a desk around the height of 28- 30 inches.
This height permits you to sit comfortably underneath, fitting your knees, feet, and thighs with space for you to fiddle a little, and this height will also allow you to sit comfortably without hunching down.
If you are much taller than the average, around 6 inches more or above, ergonomic height-adjustable desks with a height above 30 inches are available for your consideration.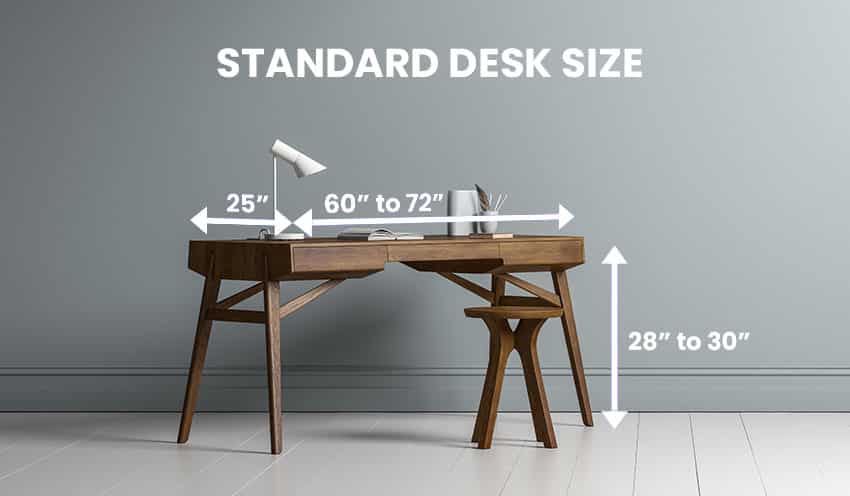 Length of a Desk
The standard length of a desk is about 60 inches long. They typically can be found in lengths from 60 inches to 72 inches.
Desk Width
The minimum width for any desk type should be 25 inches, this size is big enough to fit a regular sized 20-inch monitor — anything less, and there will require effort to use it for much of anything involving a computer screen.
Standard Office Desk Size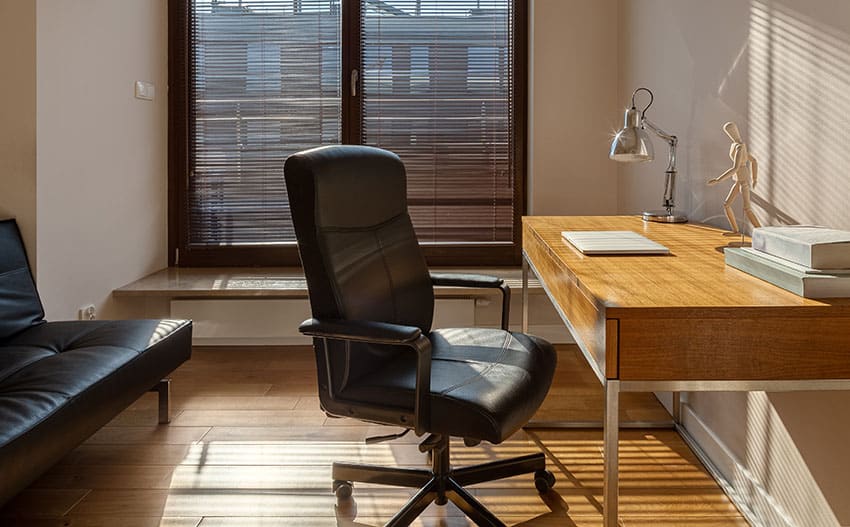 Standard office or executive desks should have the largest workspace and the most storage options.
This type of desk would commonly have a large desktop monitor in the middle with a pillar for added writing space on each side of the desk.
A typical office desk width is usually 60 inches with a depth and height of about 30 inches or even bigger.
This desk size offers a maximum workstation that could fit a computer monitor (or a laptop), keyboard, a writing area, and a lamp on some occasions. It could also have additional storage underneath.
Computer Desk Size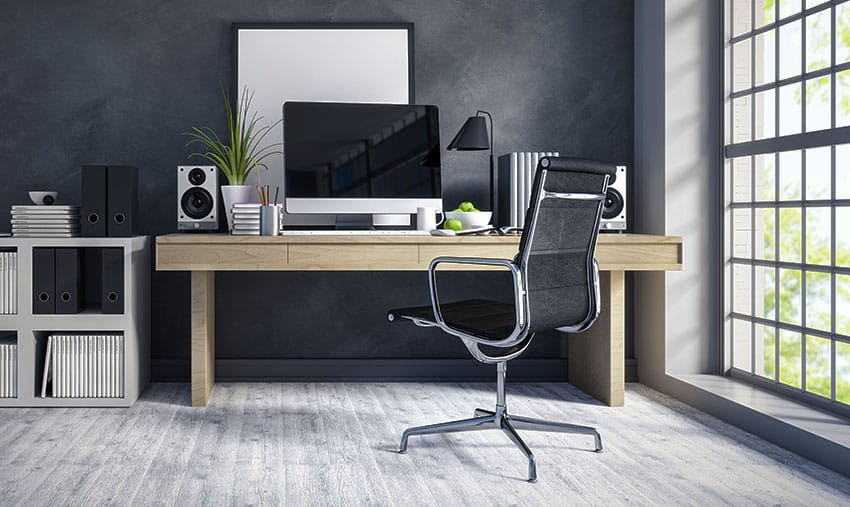 The standard computer desk has 50 inches in width, a height of 28-30 inches, and a desk depth of 25 inches. The depth of the desk should be generous enough to fit a computer monitor, a keyboard, and a mouse.
These types of desks are usually seen in the library, in children's study rooms, and in-home offices and are characterized by their space-saving capabilities.
There are computer desks created to fit in a closet, incredible space-saving models that make good use of every vertical and horizontal inch with a pull-out tray to house your keyboard and your mouse. See more closet office ideas here.

Desk against the wall and corner desks have become an efficient subset of the computer desk family, offering a wide array of designs and possibilities.
Desk Size for Two Monitors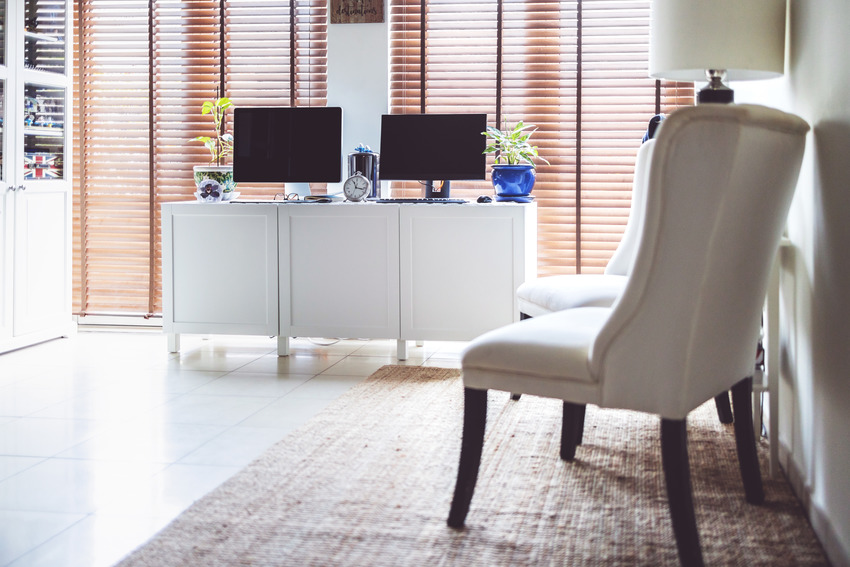 Having two monitors could require a pretty big desk, a desk that could support not just multiple monitors but office essentials, a few resource books, and what have you.
Ideally, the desk should accommodate two screens beside each other and be tilted at a slight angle.
Assuming that your monitor comes in the usual size of at least 20 inches wide, you should have a desk with a width of somewhere not below 50 inches with a depth big enough to fit both your keyboard and a mouse.
Small Desk Size
A smaller desk, like students' desks, is not as large as it should be. Most don't provide adequate space for both a book, a notebook, and writing paraphernalia at the same time. Small desk sizes usually come in sizes no bigger than around 24-30 inches in width and 18 inches long.
A utility desk is another desk you should consider under the small desk category with a depth of 24 inches and a width of 48 inches. It could house a screen and enough writing space perfect for the distance education set-up for students.
Desk Chair Size
Desk or office chairs are specifically designed for performing desk tasks. They are constructed with a high level of adjustability to conform according to the user's ergonomic inclination and height.
Office chairs usually should be capable of rotating a full 360 degrees, rolling on wheels, and office chairs could adjust both armrest and seat.
Some chairs are made for optimum back support, and other high-end office chairs are ergonomically designed to support prolonged seating.
Usually, a desk chair should be at a height just below the length of a user's knee cap when standing. This height allows your feet to rest flat on the floor and your knees to ergonomically bend at a 90 degrees angle.
Desk chairs are recommended to be in the height of around 16 to 20 inches tall and somewhat 18 inches deep. If backs are available on the seat, they are typically about 14 inches high. If an armrest is available, it should carry the arms without raising the shoulders.
Exercise Ball Size for Sitting at Desk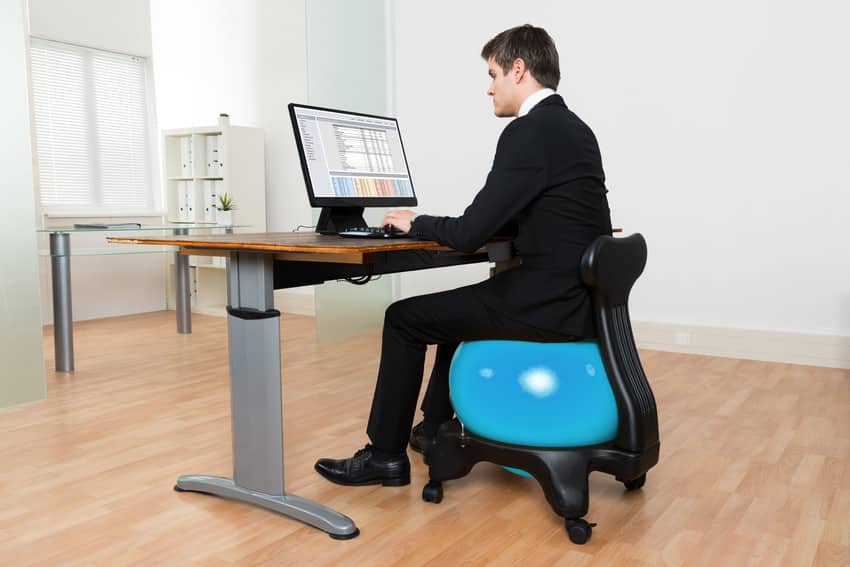 The exercise ball has recently entered the workplace and home offices due to its physiological health benefits.
The instability of an exercise ball necessitates the need for an increase in trunk muscle activation and, in turn, improves and increases core strength, improves posture, and decreases discomfort.
When using an exercise ball as an office chair — for an average person between the height of 5.5- 6 ft an exercise ball with a height of 29.5 inches or 75 centimeters is advisable.
When sitting in an exercise chair, the thighs and knees should still be adjacent to the floor with your knees bending at a 90-degree angle, and the feet should lay flat on the floor.
What did you think about this desk size article, is there anything we missed? If so let us know in the comments. See more related content at our article about setting up a home office for remote work on this page.