In this guide of folding chair dimensions you'll see standard and different types of folding chair sizes, and how to make a folding chair taller.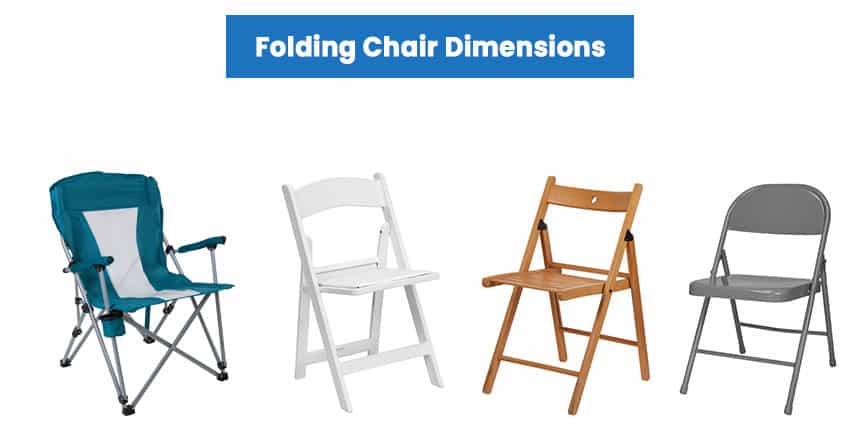 One of the most versatile seating options you can use is folding chairs, whether you are looking to decide on seating options for an event or you are a business specializing in events and entertainment.
Aside from being versatile, there are a variety of folding chair features, styles, and materials to choose from, giving you options, and not to mention that they are also easy to store if you are looking to purchase one for your home.
Folding chairs are very affordable; however, there are many factors that you need to consider before buying the perfect one to be used for your home and your events, and the most important thing is the size.
There are no set standards for the dimensions of a standard folding chair, although there are typical chairs widely manufactured and bought by many. There are two dimensions to consider, and one is the dimensions when the folding chair is open and one when it is folded.
If the typical folding chair is folded, it will usually have a height of 38 inches or about 96 centimeters. It will have a width of 18 inches or approximately 46 centimeters with a thickness of 2 inches or 5 centimeters.
Once the chair is opened, the height will reduce to 31 inches or 78 centimeters because it will recline. The width will stay the same at 18 inches or 46 centimeters, with a seat depth of 20 inches or about 51 centimeters.
How Tall Is A Folding Chair?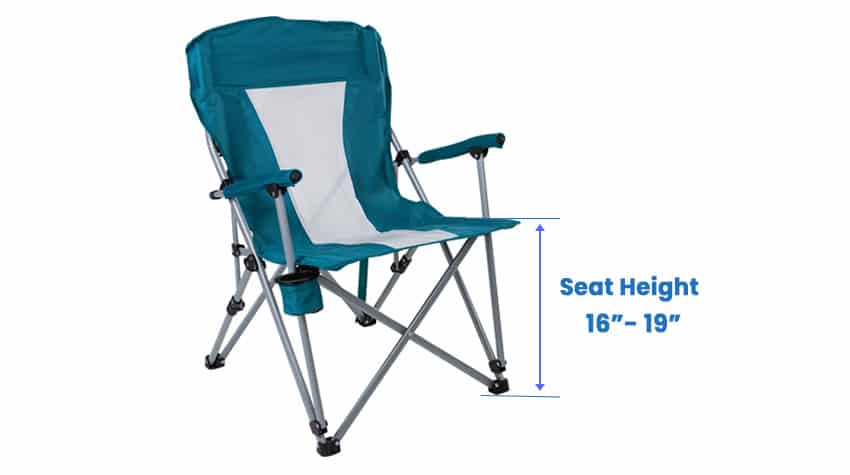 The size of a folding chair will vary according to the type of the folding chair or who manufactured a folding chair. There are also padded folding chairs available for more unconventional events, and they will have a difference when folded versus the standard folding chairs.
The same goes for the height, which will differ if folded and decrease when unfolded and reclined.
The height of the chair seat from the floor to the seat will range from 16 to 19 inches or about 41 to 48 centimeters. This height for the seat will fit under a conventional table that is 28 to 30 inches or approximately 71 to 76 centimeters.
Standard Metal Folding Chair Dimensions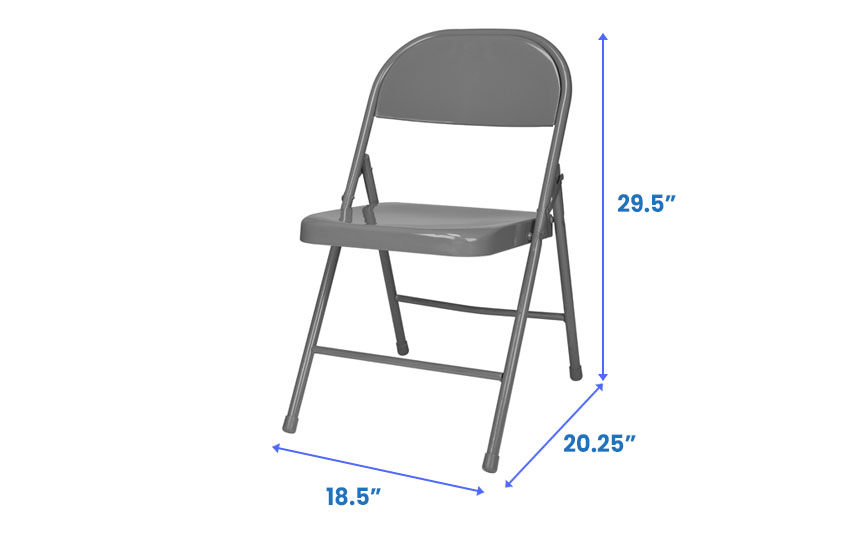 One of the most widely manufactured types of folding chairs is the metal folding chair. They are used for temporary seating and are very efficient to store; also, one can easily rent chair covers for metal folding chairs if you are looking to utilize these chairs for your event.
The typical metal folding chairs will have a seat depth of 20.25 inches or about 51 centimeters. It will have a width of 18.5 inches or approximately 47 centimeters, with a folding chair height of 29.5 inches or 75 centimeters.
You can usually see these types of chairs at many public seating venues like schools and community halls.
White Resin Folding Chair Dimensions
A folding chair perfect for events like weddings or birthdays; if you are planning for these events or are you are a party rental company looking for the ideal chairs, a white resin folding chair is the versatile seating option you need.
A standard white resin folding chair will have a width of about 17.5 inches or 45 centimeters. It will have a chair depth of 18.5 inches or about 47 centimeters.
The number of white resin chairs you need for an event like a wedding can be easily calculated if you know your room size. For example, for a hall about 50 by 50 feet, the number of chairs you will need are about 374 white resin folding chairs.
Wooden Folding Chair Dimensions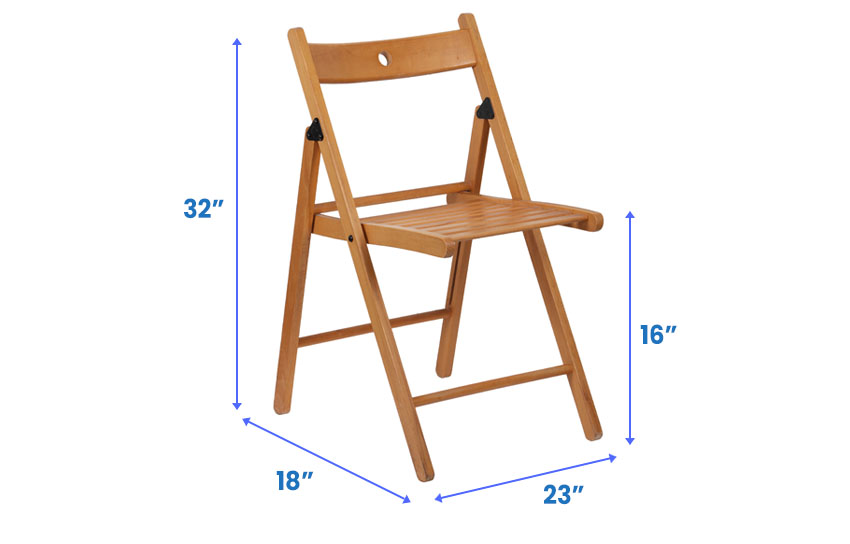 Wooden folding chairs are perfect for activities like camping, beach excursions, other adventures, and even more rustic events like a backyard barbecue or a backyard birthday party. They will offer the seating you need and will be durable and space-friendly enough to last you a long time.
A standard wooden folding chair will be about 32 inches or about 81 centimeters tall. It will have a seat height from the floor of 16 inches or 41 centimeters and a seat width from side to side of 23 inches or 58 centimeters. The seat depth will be at least 18 inches or 46 centimeters.
Lawn Chair Dimensions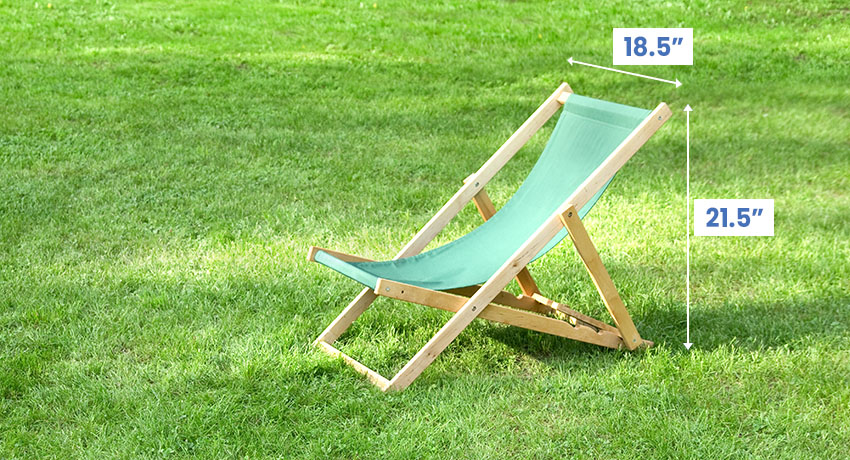 A great way to enjoy a lovely sunny day after weeks of rain or snow is acquiring a lawn chair for your home that you can easily fold and unfold as you please. Most lawn folding chairs will have an aluminum frame with a webbed plastic feature for the seating.
The classic lawn folding chair will have a height of about 21.5 inches or 55 centimeters. It will have a seat width of 18.5 inches or 47 centimeters.
You can also have a more oversized lawn folding chair which will usually have a height of 21.5 inches or 55 centimeters and a width of 20.75 inches or 53 centimeters.
How Much Space Do You Need Behind A Chair?
Folding chairs are narrower, allowing for efficient use of space so that many people will be accommodated all at once. If you plan to use a folding chair for your reception and guests will be seated in front of a dining table for their delicious meals, allow at least 24 inches or 61 centimeters of space from one folding chair to the next.
For anyone to quickly go in and out of the chair, a space of 2 feet or 24 inches on the back of the chair should be provided. Read more about dining chair sizes here.

How Do You Make A Folding Chair Taller?
There are many ways to add to the height of a folding chair, from casters to screw-in legs but the easiest and surefire way to add to your folding chair height is by adding a seat cushion.
Using high-density foam for this task is recommended, and it will also provide the user with an added cushion of softness for comfort. As a tip, seat cushions are better when they are a little shorter than they are too long in terms of depth.
For example, a tufted cushion will flatten out a bit over time. So, if you're ordering one that's too big, they will in time hang over the chair's front end; thus, they will not look good. Get the right size by measuring properly.
For more related content visit our article about how to make a table taller.