This gallery showcases the types of bar stools, including the different design styles, materials, and tips on how to choose, measure, and make a seat taller.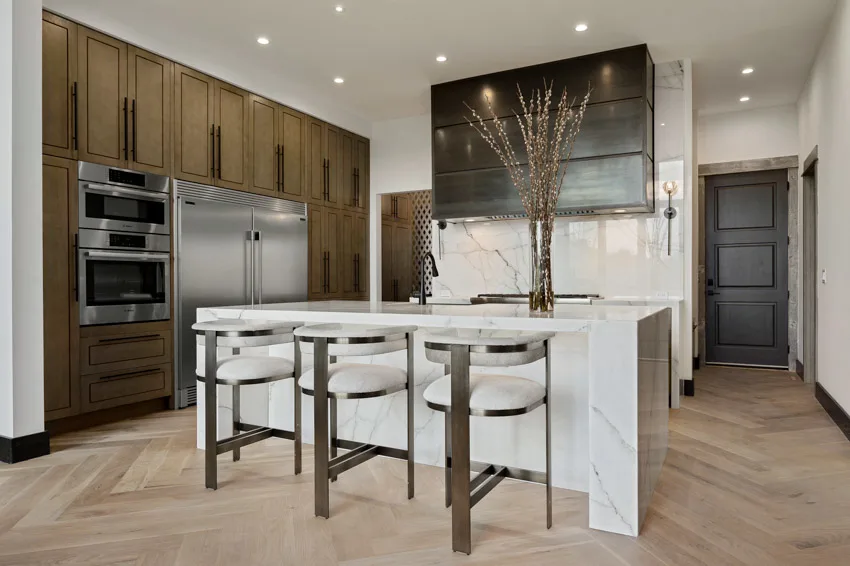 A bar stool is a type of chair, particularly one that is taller than standard stools, and allows individuals to sit at a bar for a drink or eat a warm meal.
Bar stools have gained great popularity in restaurants and bars, but nowadays, they have become increasingly prevalent in houses with kitchen islands, which is why sometimes, they are referred to as counter stools. Aside from their height, both types seem to be identical.
Numerous homes now have higher kitchen bars and counters; thus, there are lots of products available in a variety of sizes to suit both business and household use. As a result, the terms "bar stool" and "counter stool" are commonly used interchangeably.
Bar Stool Styles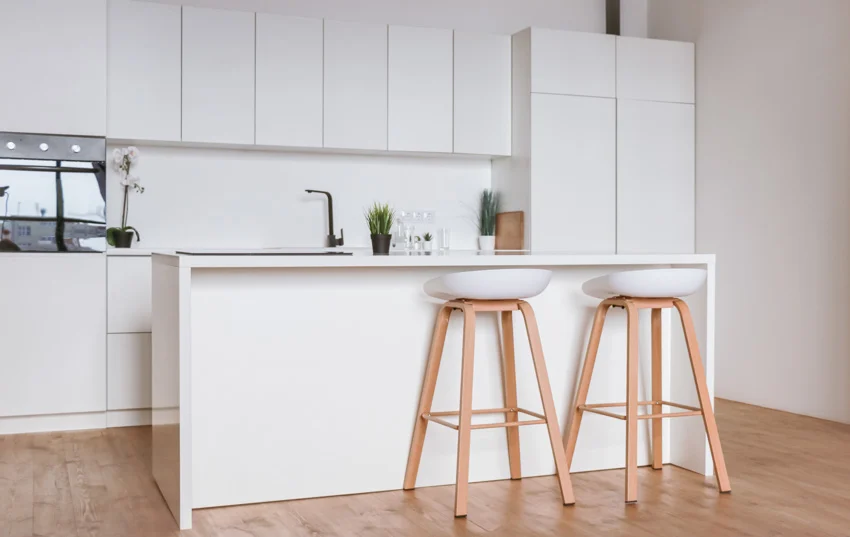 Here are the most popular types of bar stools and some of their benefits and functionality.
Swivel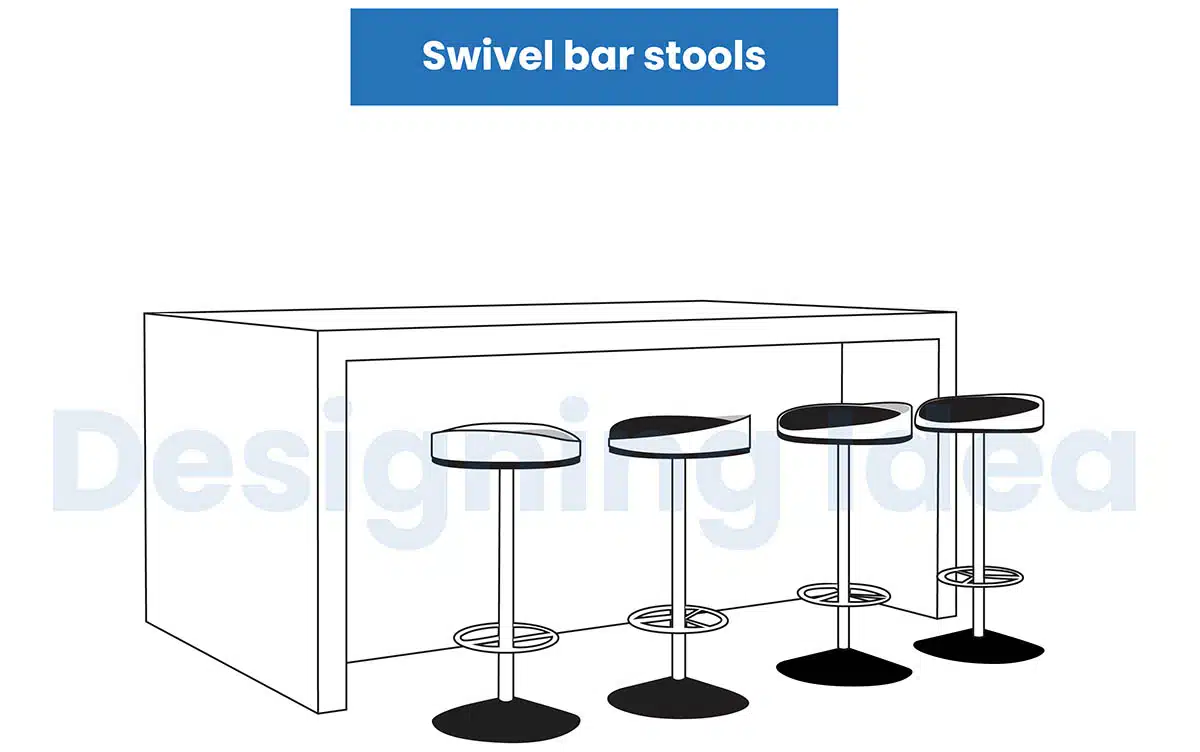 Swivel bar stools contain a technology that allows the seat to rotate 360 degrees. These are great for entertainment because you can quickly rotate around to face various people or look in various directions.
Moreover, swivel stools allow you to easily adjust your angle without getting out of your seat; you must pick it up to rotate it around and retake a seat. These chairs can be of any design, but pedestal base products are the most widely known for featuring the swivel functionality.
If you have kids, you should eschew swivel seats since they can mess with their balance and lead them to fall. They can also be bothersome when youngsters learn to swivel proficiently and refuse to sit properly during meal periods.
Generally, swivel stools are available in two heights: fixed and adjustable. Indeed, the major feature that unites the swivel type is its 360-degree mechanism, which enables the seat to rotate 360 degrees.
Of course, one of the advantages of these chairs is that they are enjoyable to sit on while communicating with others and relaxing.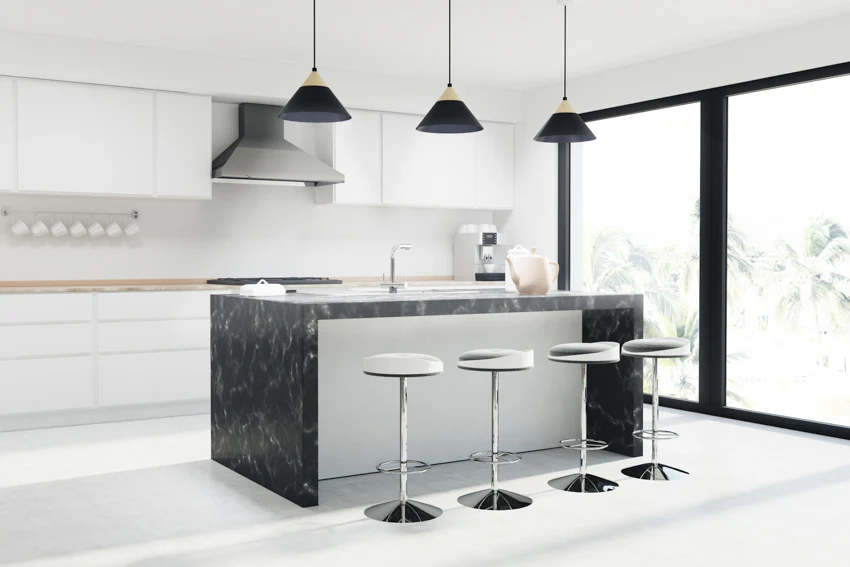 Fixed height swivel stools offer the benefit of not having an obtrusive gas lift system. Adjustable swivel bar stools, on the other hand, are much more adaptable in a way that several members of the family will be able to sit conveniently at the kitchen island bar.
However, in the end, when choosing a swivel seat, it all comes down to your household's needs, the layout of your home, the bar dimensions, and your particular design choices.
Pedestal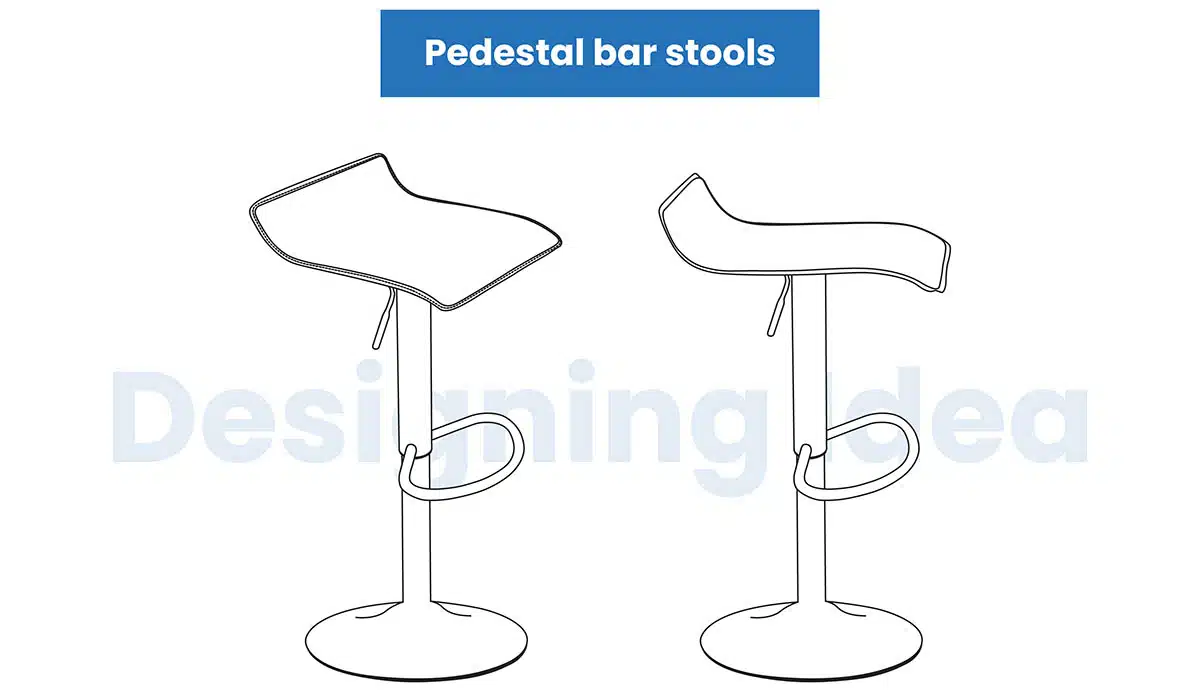 Pedestal bar stools feature one solid supporting pole beneath the seat that connects to a base. The base is most typically round-shaped, but it can have any shape.
To guarantee proper balance, the base will be roughly the same size as the chair's seating.
Furthermore, pedestal base seats are often designed with a swivel mechanism and the option to modify the seating position.
Because they do not have any legs, they do not get tangled up with each other underneath the countertop, although the bases occupy more ground space than those with legs.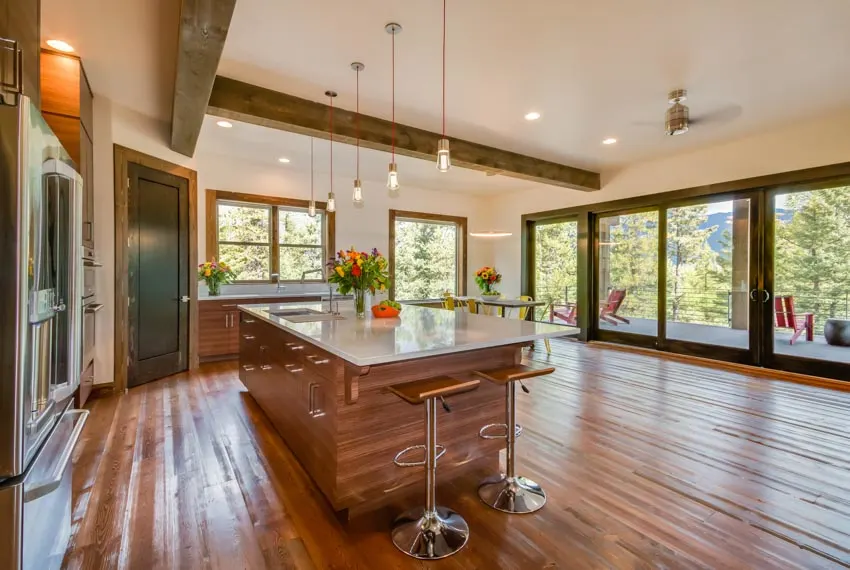 Such bar stool products can be rather heavy and awkward to move. In addition, they cannot be stacked like other standard stools that can.
Adjustable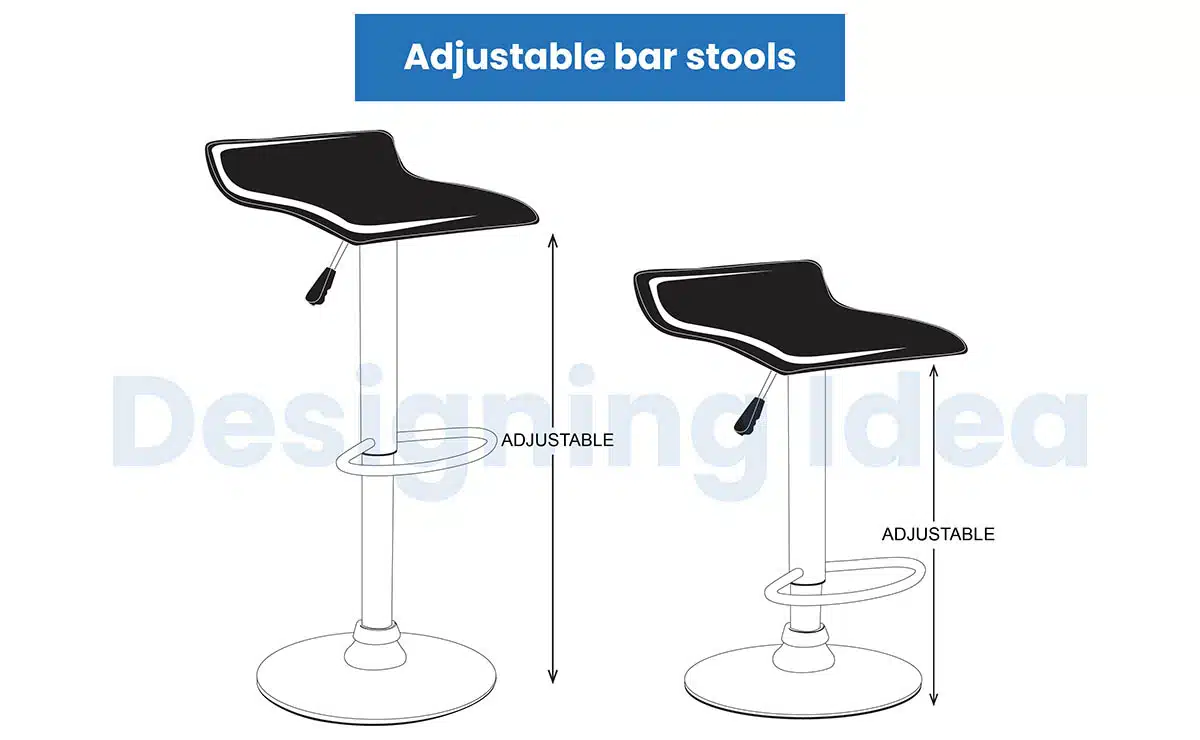 Bar stools with adjustable seats are a preferred feature since their shifting heights make them quite adaptable. Several types with adjustable seating height can be scaled back to serve as additional seats surrounding the kitchen table.
Since they have an adjustable seating height, they can function with any bar height, making them an excellent alternative if you move, as you can be certain that they will function with any counter height you may have in the future.
These seats provide comfort to people of all sizes since each individual using the seat can change it to a level that matches their body and allows their knees to be relaxed to a suitable degree. They work by moving a lever that permits air to circulate in and out of a valve.
Aside from that, the passage of the air in the valve of the bar stool causes it to rise and descend. These chairs, also called gas lift stools, pertain to how they operate.
Bucket Seat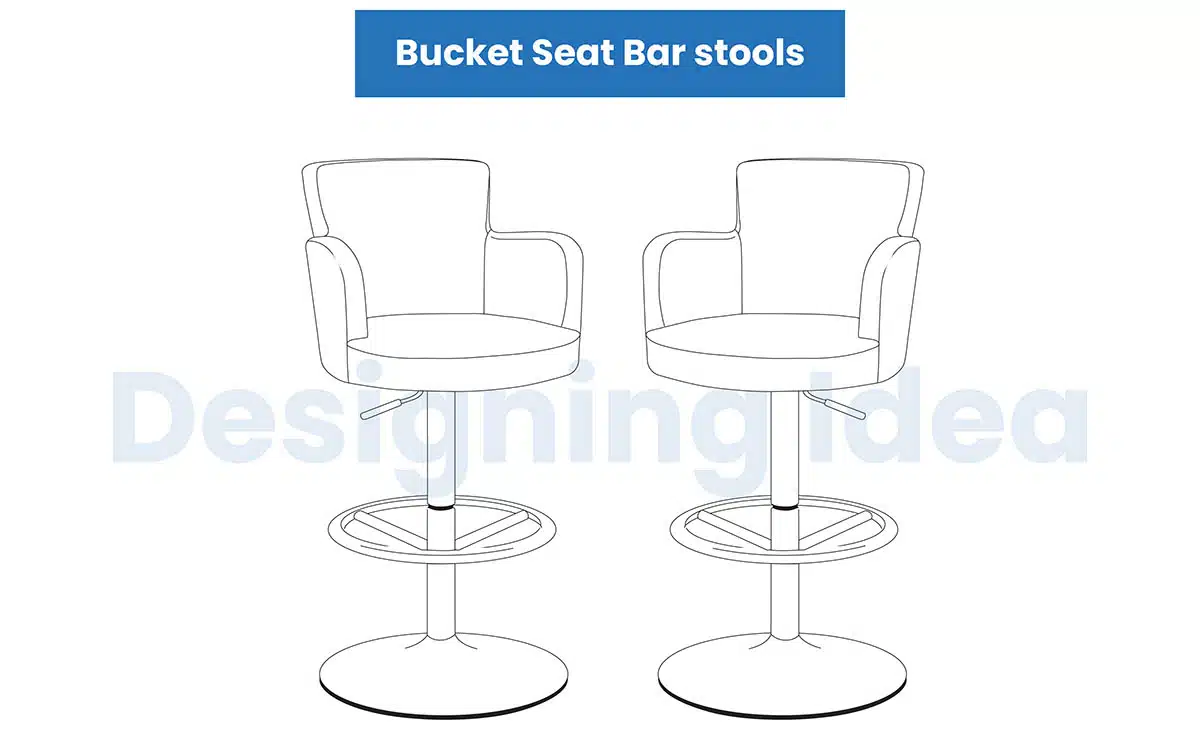 A bucket stool is a cozy seat that looks like a tub, and it comes with a bar or counter-height seating elevation. The deep seating allows you to burrow into the cushions and relax due to its low supporting backrest.
These seats are unique chairs with a curved design and a relatively minimal seating space. A bucket style, like any other chair, has a seating area, armrests, a soft backrest, and legs.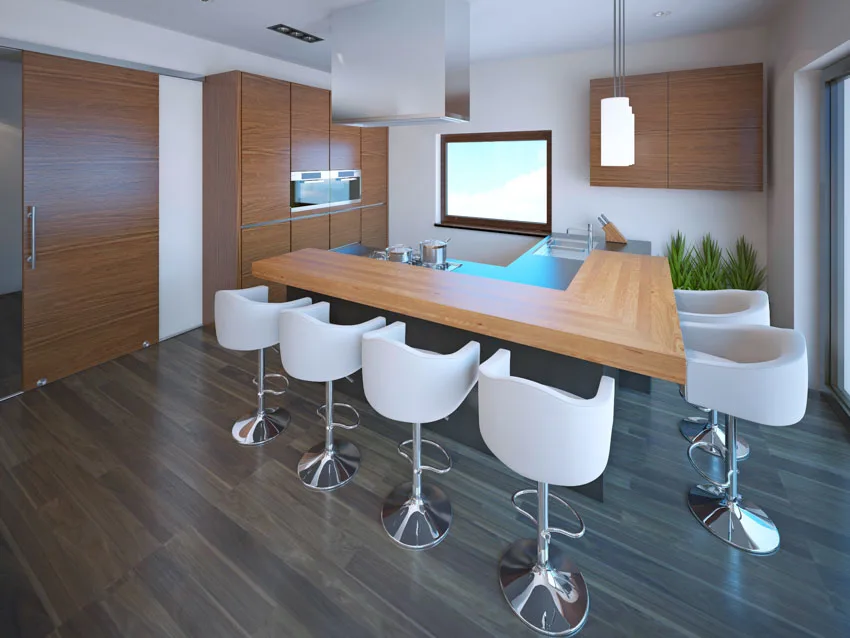 Bucket bar stools are uncommon in homes and offices. These chairs, however, are popular in pubs and restaurants since they have a solid construction that can endure more wear and tear than others and have simple to clean surfaces.
Backless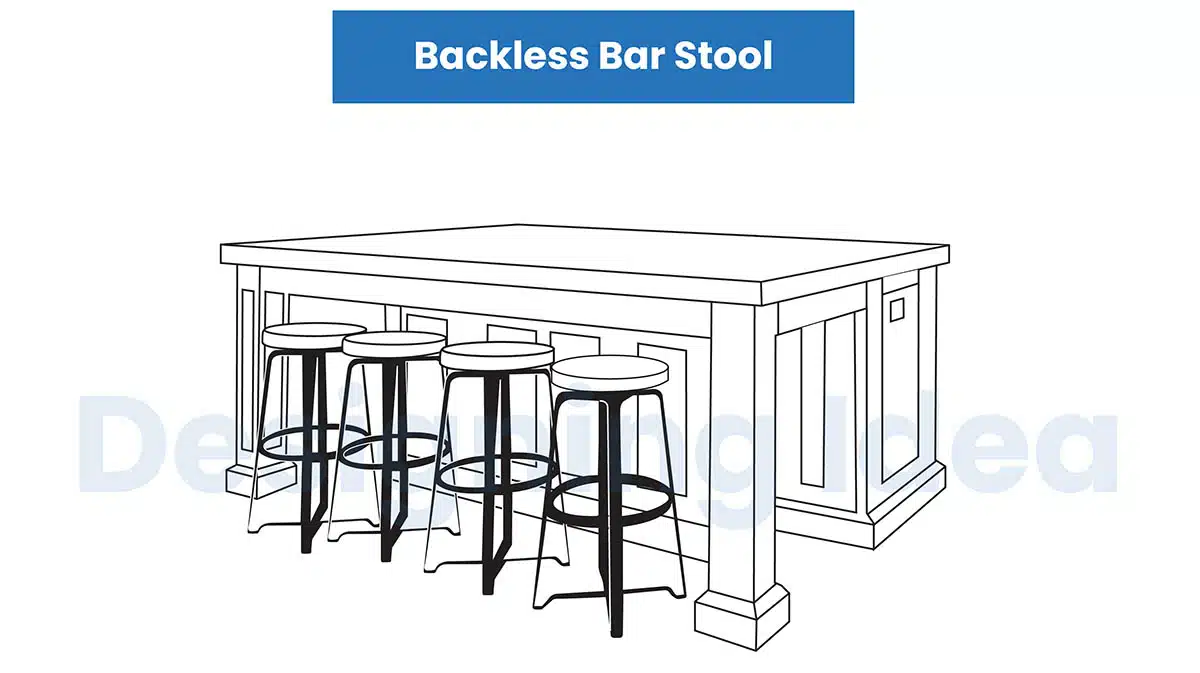 A backless bar stool is a simple chair design with a flat seating surface and no backrest. If the seat is fully level, this model is ideal since it may be used from any position without a front or rear.
If your seat does not swivel, a backless stool will suffice because you may rotate your body to head in another direction rather than rotating the entire seat.
Furthermore, backless stools are prevalent in taverns and classic bars since they provide a very relaxed seating choice. Certain backless styles have curved seats, but they prevent them from being operated from any direction.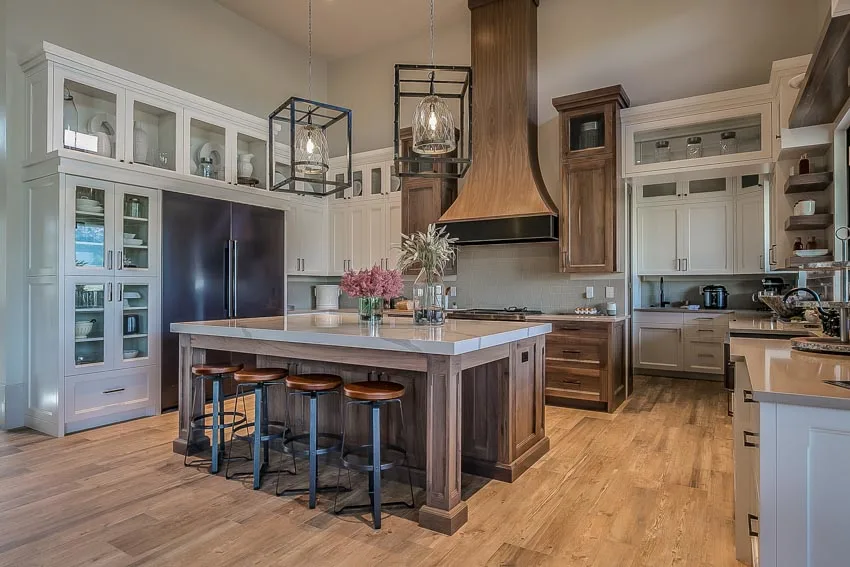 Additionally, backless stools are much less expensive than ones with backrests, even though they are not ideal if you prefer seats with back support when sitting at your counter. They are also unsuitable for kids because they may tilt backward and tumble.
Low Back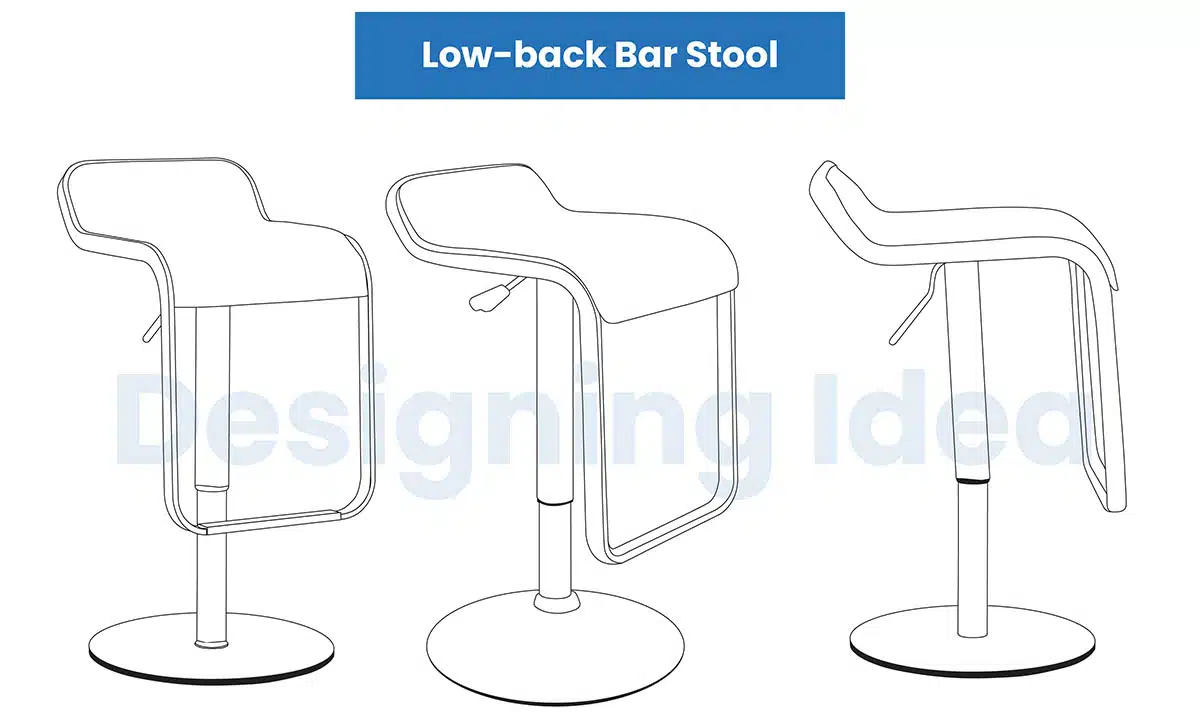 A low-back bar stool usually includes a backrest only several inches higher on the back than the seat. These are an excellent middle ground between a design with no backrest and one with a complete back.
Although a backless bar stool provides minimal back support, a high-back chair, conversely, will obtrude over the counter's surface, which certain individuals will find unsightly.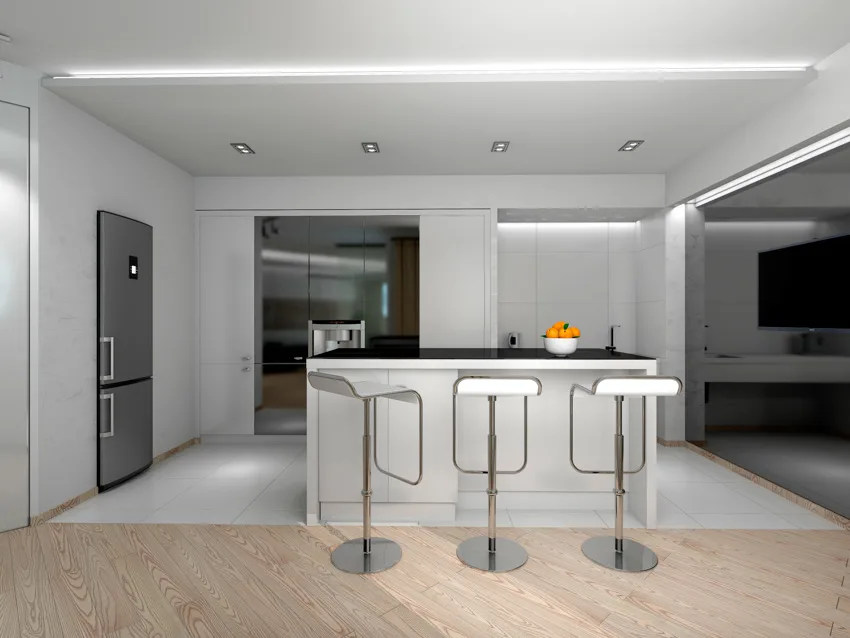 A low-back stool provides some backrest while being low enough not to be visible from the other side of the counter. Even though you cannot completely lean backward on a low-back chair, it still protects you from falling off the rear side of the seat.
High Back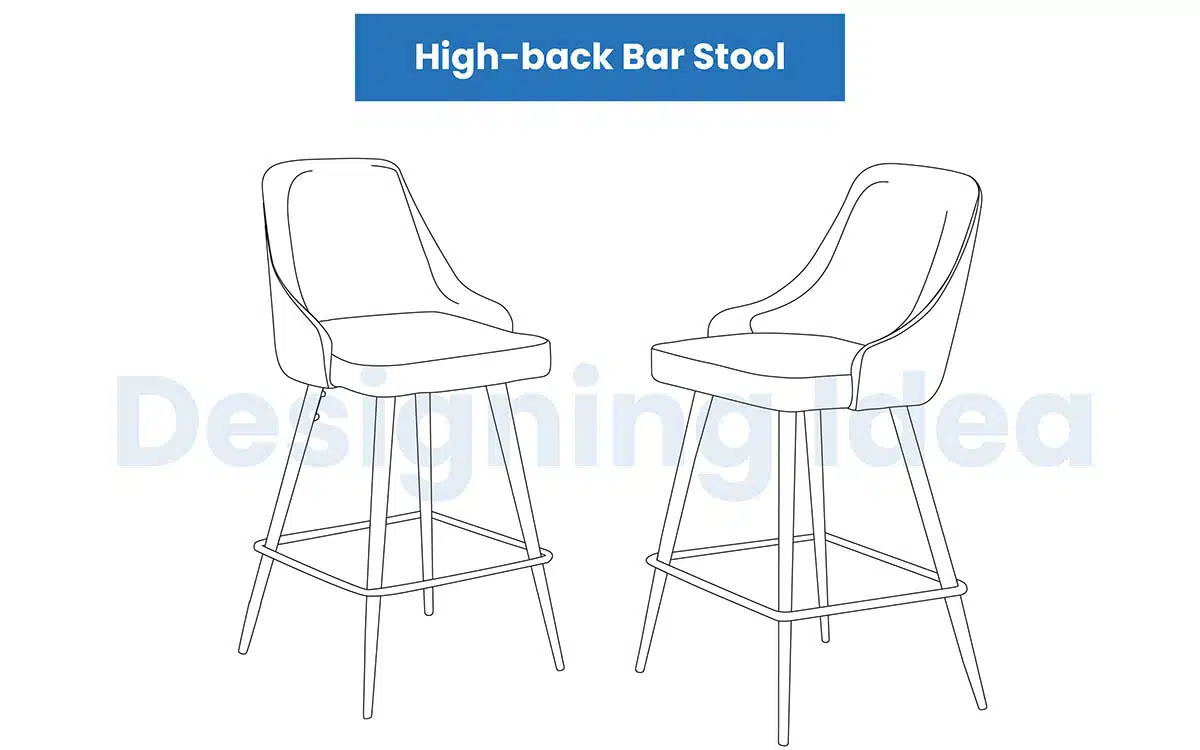 If you consume a lot of hours at your kitchen island, a high-back stool would be a fantastic choice since it provides maximum back support. This is beneficial for your posture and will assist in preventing back and shoulder strain.
A high-back bar stool, like standard types of dining chairs, will feature a full-size comfy backrest. This also allows the individual to lean backward on the seat and relax thoroughly.
High-back products can either be made out of metal, plastic, or wood, and they can be upholstered for additional comfort and seat protection. If you have youngsters in the household, such types will provide them with greater support and balance, preventing them from tumbling.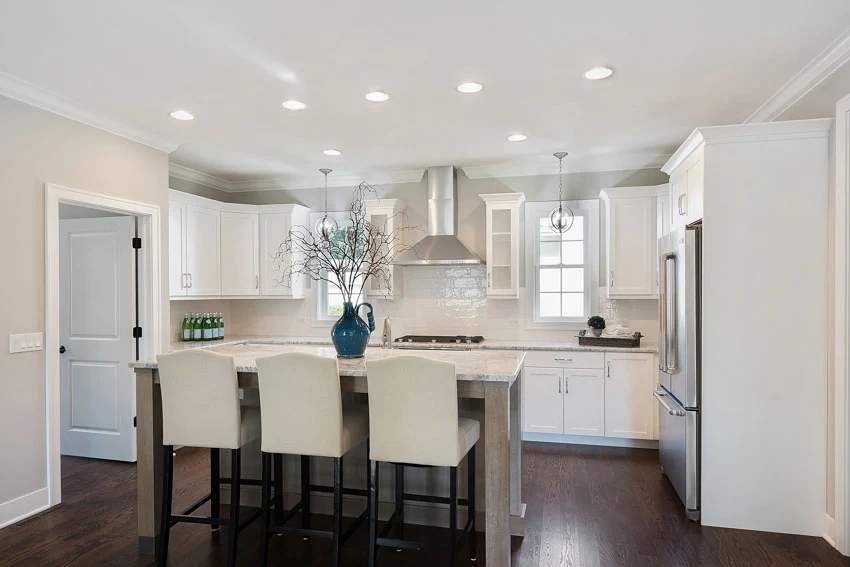 High-back barstools, nevertheless, have backrests that can be visible beyond the top of the countertop, which can impede establishing a neat open area, and as a result, they are not preferred among minimalist home designs.
Armless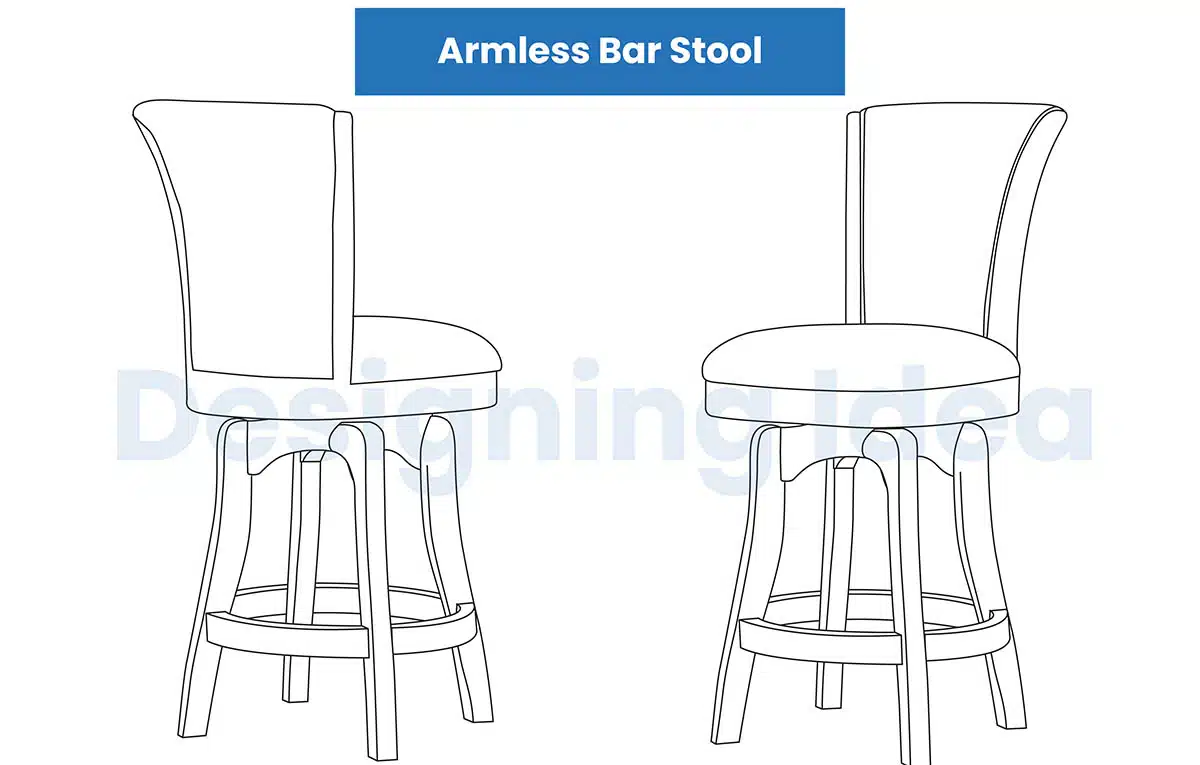 Armless bar stools are noticeably smaller, yet most are meant to seem aesthetically expansive and simplistic.
When looking at several of these with arms from the side, they can appear considerably bigger and more cluttered than those without arms.
Hence, armless products are often seen in houses with minimalist decor. Because there are no arms to bother with, armless models may be conveniently stowed beneath a countertop for storage. With less to them, these items will take fewer bumps and scratches.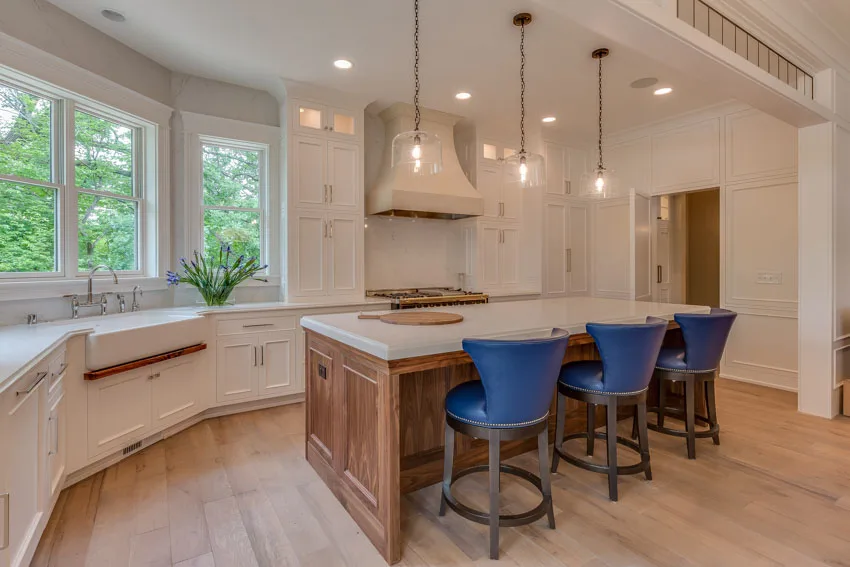 Since most of these bar stools do have backrests, armless products are still common. They maintain a subtle minimalist style while being ergonomically designed to deliver that necessary comfort.
Armchair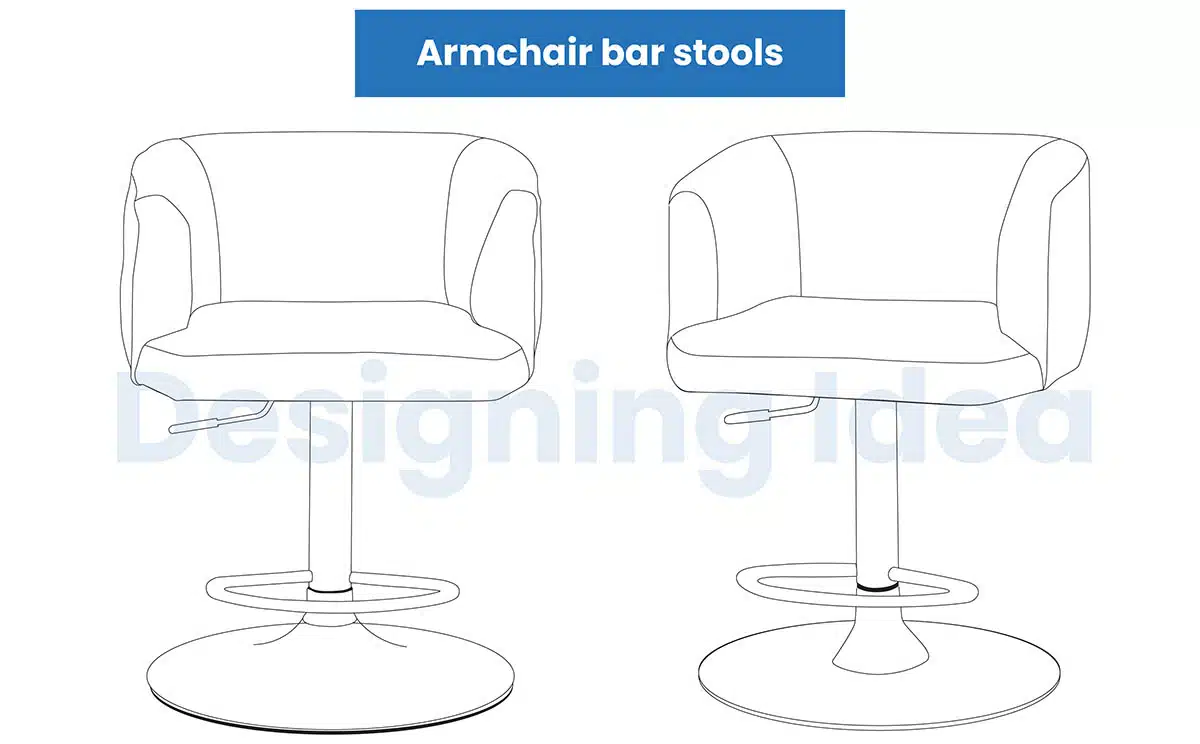 Armchair bar stools are a style with armrests. These are commonly seen on low-back or high-back seats and generate a sheltered area for the individual, making them experience comfort and relaxation.
Armchair bar stools are more sophisticated than armless varieties and are usually encountered at high-end pubs and diners.
These styles of seats are especially appropriate for children's usage at home as there are limited chances for them to slide and fall off since the chair's three sides enclose them. For added comfort, the armrests can also be movable or solid, as well as covered with fabric and cushions.
Armchair seats are excellent for the convenience and enjoyment of spending quality time at the bar since they provide a place to rest your arms apart from the counter itself.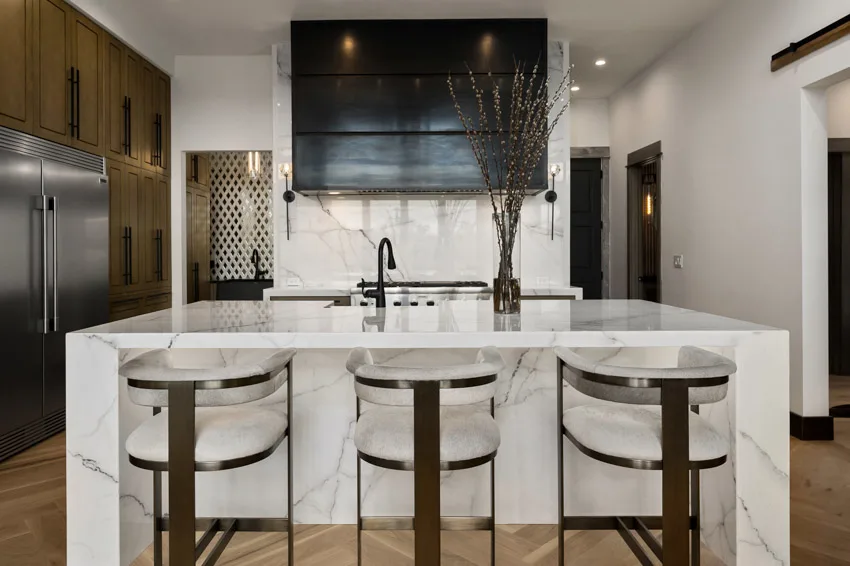 They are a little wider than other types of bar stools, so you may need to limit the number you can place at your counter if you choose these. Aside from that, the armrests must be sufficiently low to allow the items to be stowed underneath the counter whenever it is not used.
Otherwise, they might hinder the way and start posing a hazard or wasting significant floor space. One disadvantage of armchair-style seats is that you cannot stack them for convenient storage or cleaning.
Bistro Style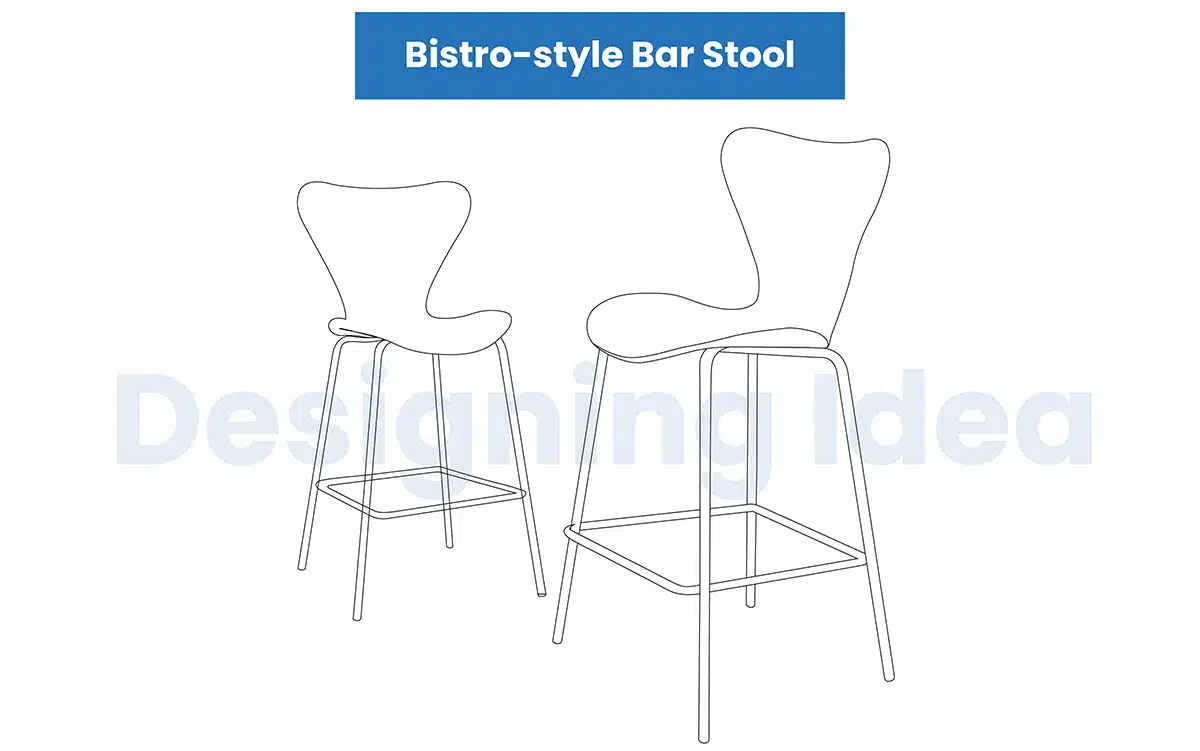 The bistro-style bar stool is a widely known chair design typically used in break rooms or cafés. A café or bistro-style chair usually boasts a sleek hardwood seat and back, as well as an iron framework. It blends in with most décor styles and is simple to maintain.
Bistro-style seats are available in practically any design, material, and color conceivable.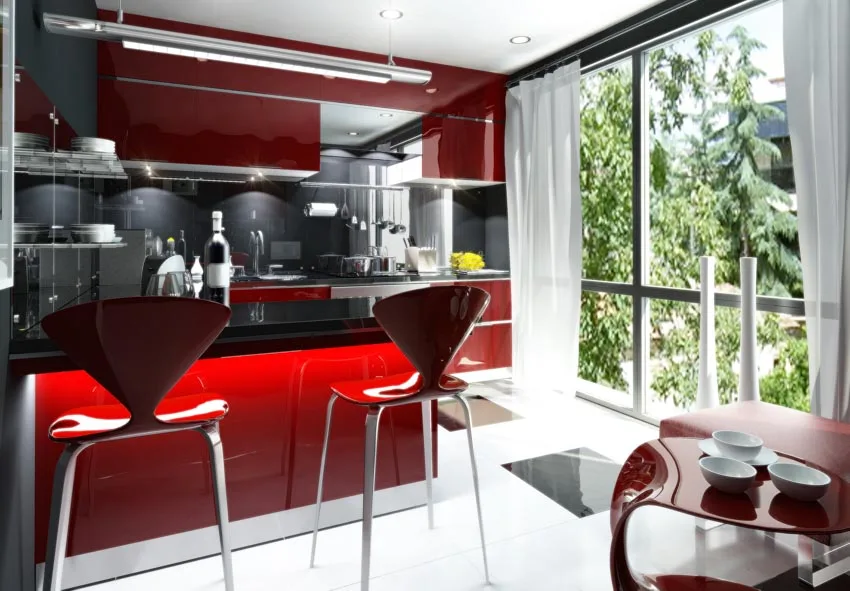 Bar stools made of wood with carving or intricate details, aluminum, stainless steel, which puts off a modern aesthetic, and durable cast iron are the most prevalent selections.
Pub Style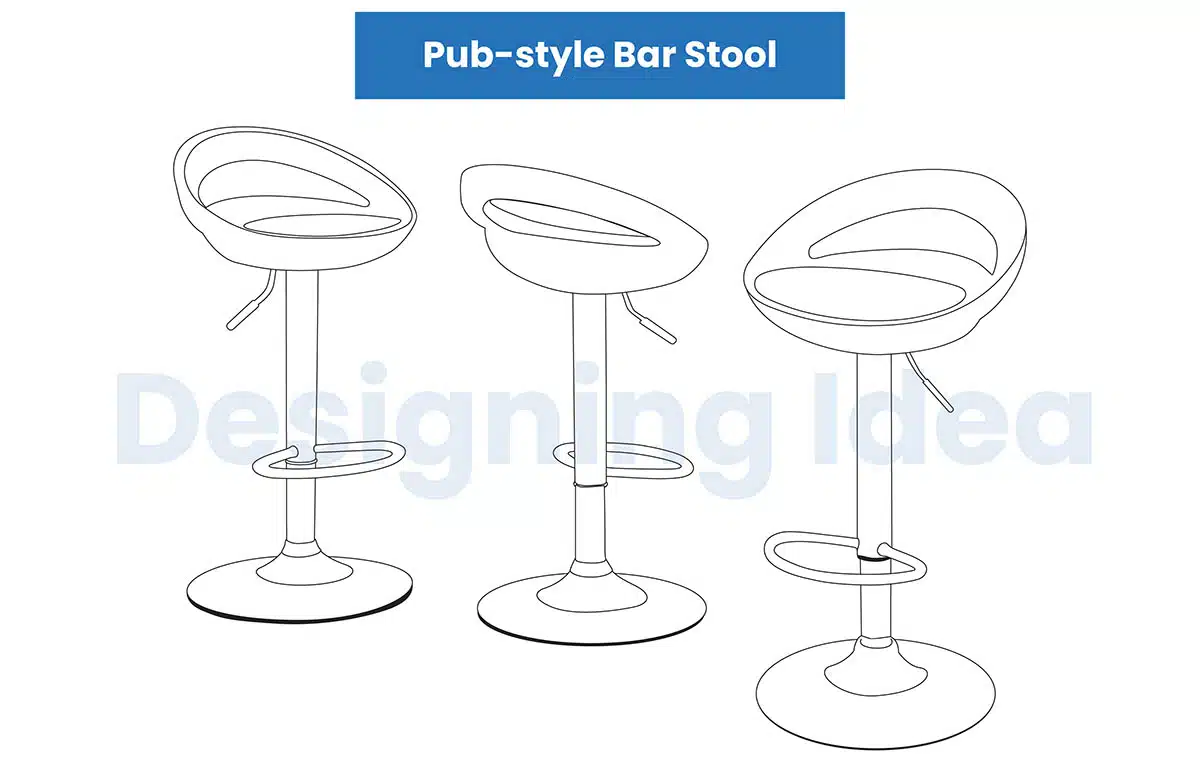 Pub-style bar stools are ideal for use in restaurants and bistros. The vinyl-made or leatherette seat is quite easy to maintain, and the chair height is ideal for counter height bars and tables.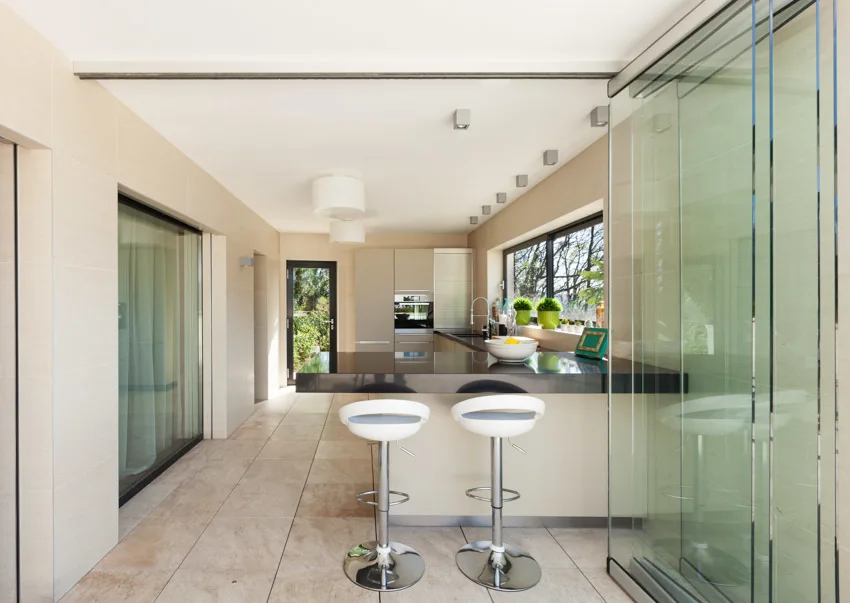 These bar stools can either be backless or low-back and they are often made out of sturdy wood.
Extra Tall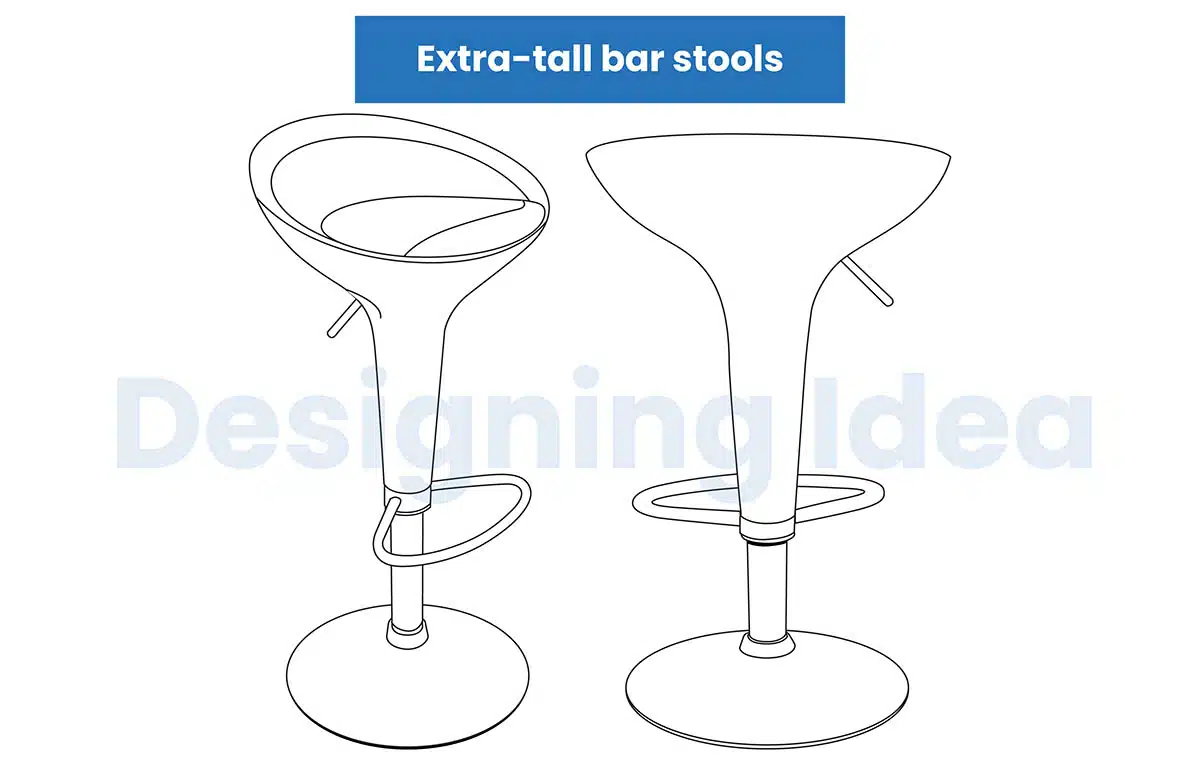 Extra-tall, also referred to as spectator-height bar stools, usually feature a seat height of 33 to 36 inches from the ground.
These extra-tall stools are designed for counter or bar heights ranging from 44 to 47 inches.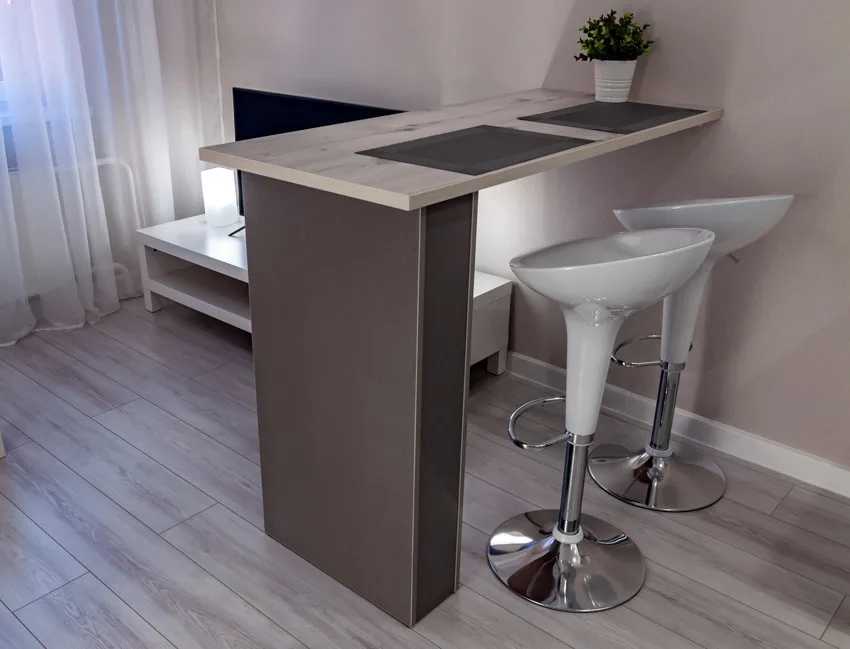 Counters of this height, meanwhile, are the least prevalent. As a result, they are not widely used in most homes and restaurants.
Tripod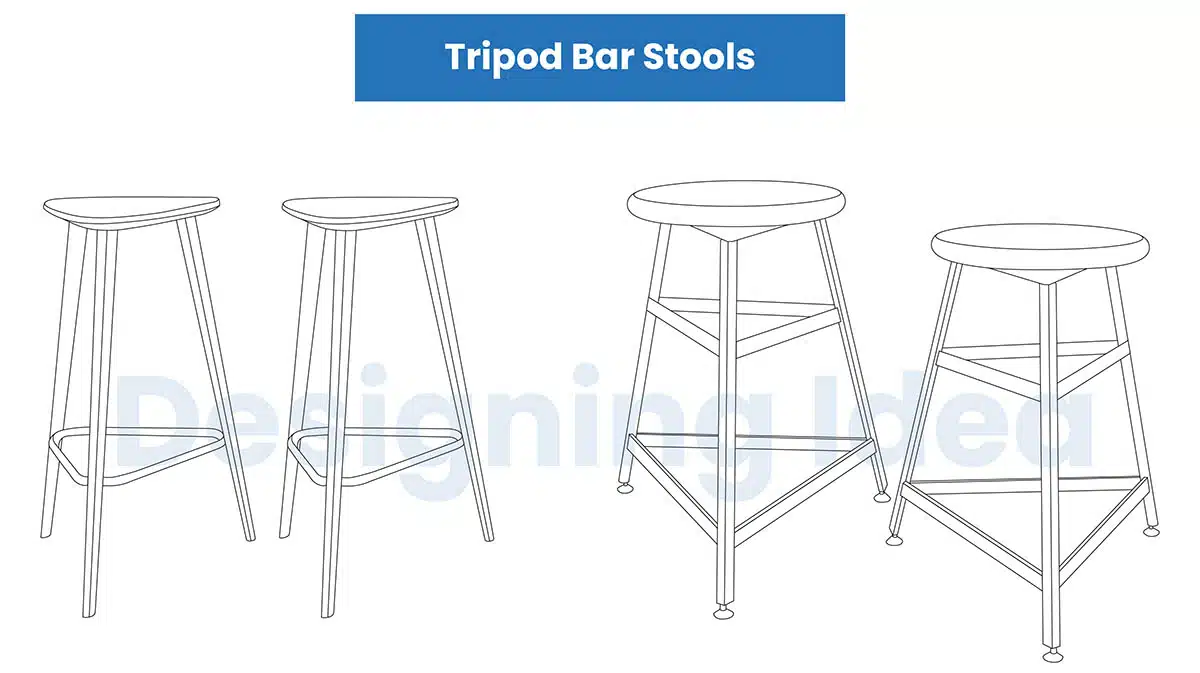 A tripod bar stool includes three legs spaced at equal distances to sustain the seat. These chairs are originally made of wood and are a typical element in taverns since they are robust and stable while remaining affordable. They usually, but not always, have a circular seat with no backrest.
The three legs in this type of construction will be linked by horizontal frames that are roughly two-thirds of the way down; these will help to enhance the chair design while also serving as a footstool for the user.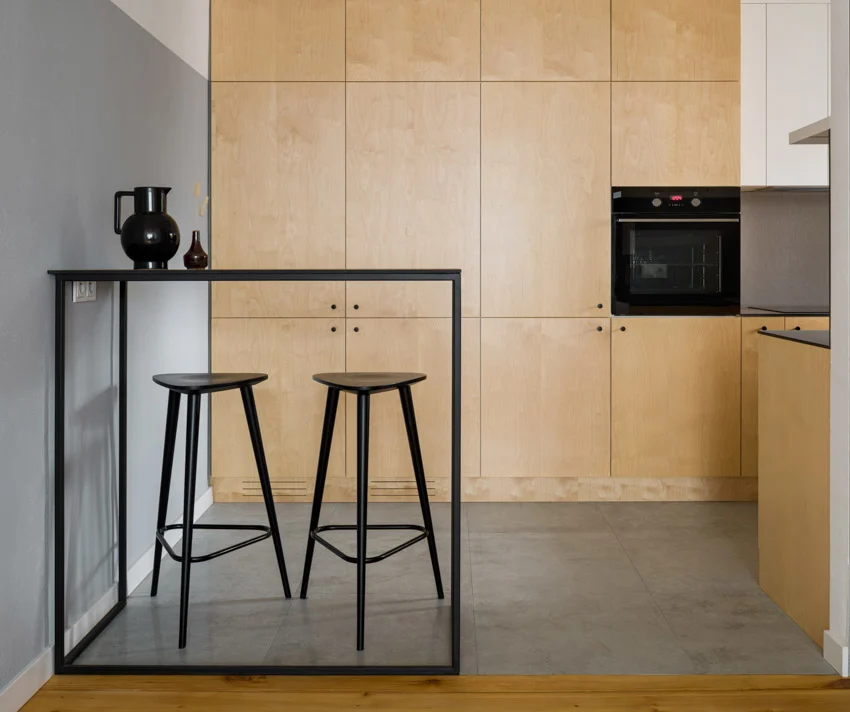 Tripod bar stools are frequently stackable, implying they can be conveniently stowed. It also helps make cleaning the floor easier because the chairs can be stacked on top of one another to clear up flooring space, eliminating the need to move the cleaner around all legs.
Ladder Back
The ladder back bar stool is a conventional industrialized steel-tube type of design. With its horizontal frames and gentle and modern appearance, this style has a ladder-like shape. The ladder back is also available with wooden or upholstered seating.
The slats on a ladder back chair are typically fashioned in subtle arcs, which provide a beautiful touch to the stool's classical appearance while also providing pleasant lumbar support.
Sturdy crossbars that also function as footrests enhance the sturdy and boxy legs. The broad seat is curved for added comfort and features rounded corners.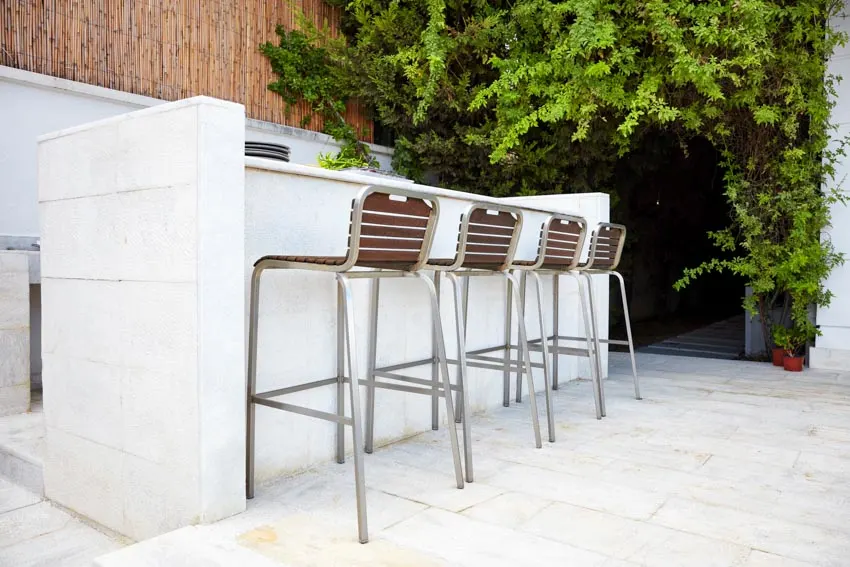 Furthermore, certain ladder-back stools come with a swivel mechanism so you can angle them effortlessly, and most of them combine a vintage style with the attractiveness and durability of solid wood.
Cushioned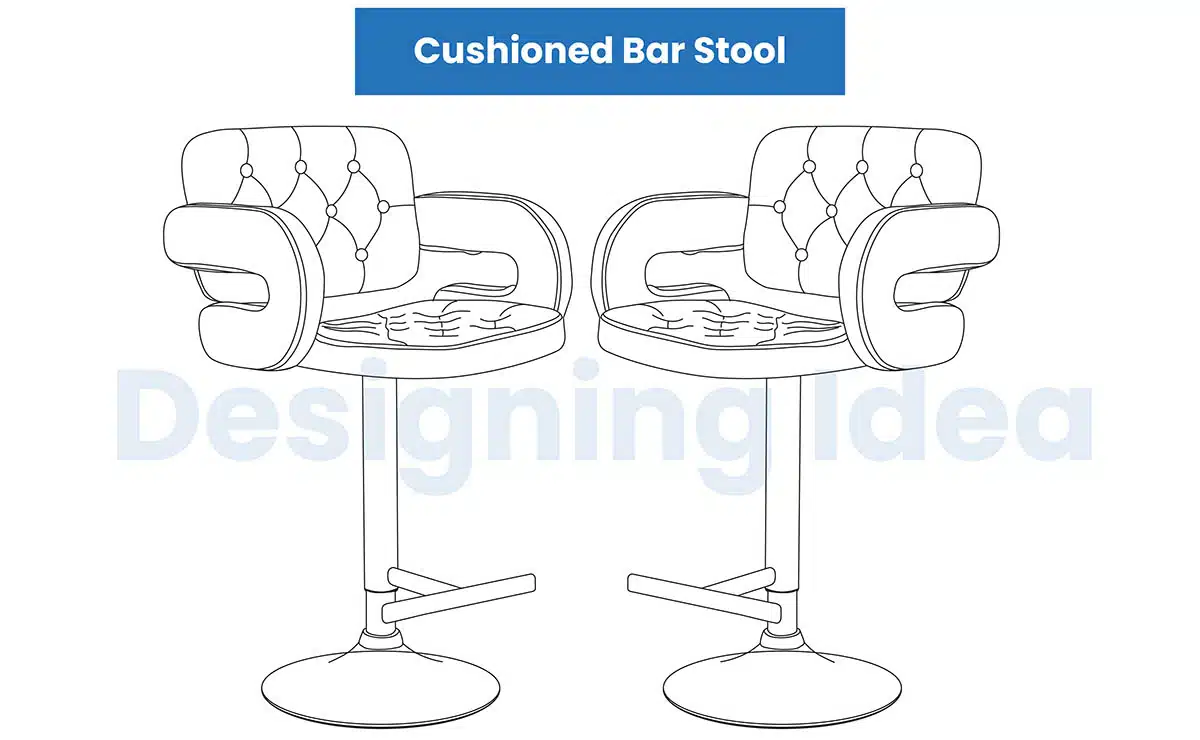 A cushioned bar stool can be adjustable, swivel-enabled, stationary, low-back, high-back, armless, or backless. It can also feature a wooden or metal framework and legs. However, the only thing that makes it distinctive is its cushioning or upholstery.
Cushioned seats are very comfortable to sit on. Their exterior surface can either be fabric, leather, or faux leather.
Cushioned seats provide comparable convenience to upholstered dining chairs, but with longer legs to place you at a higher level.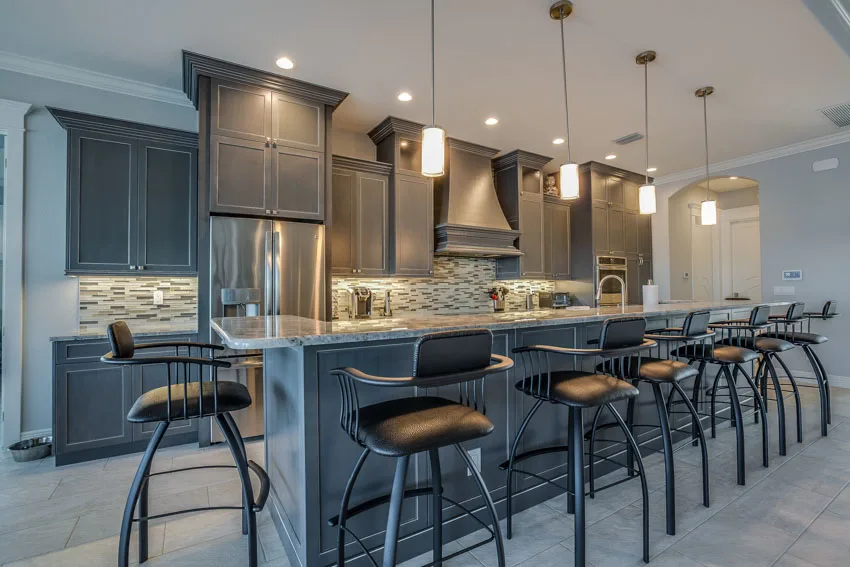 These bar stools are ideal for socializing since they are comfy enough for visitors to lean backward and unwind, and you can spend a lot of time dining or socializing with them without discomfort.
Foldable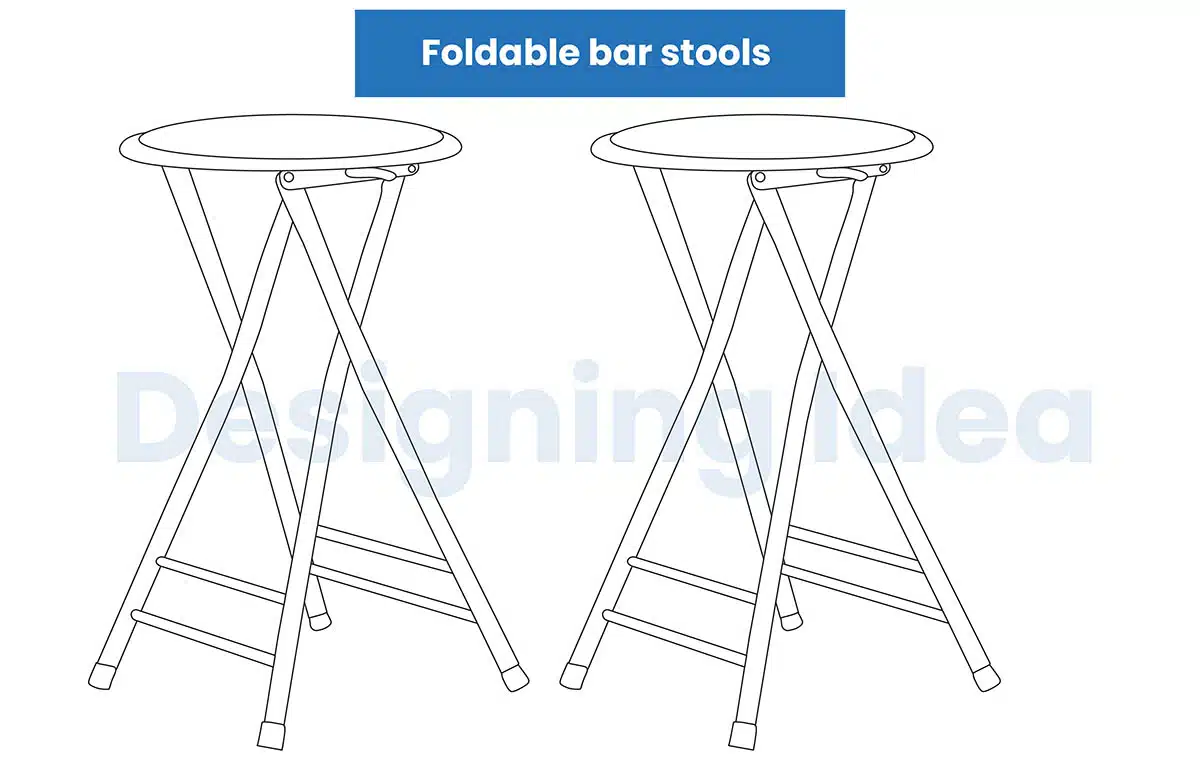 Foldable bar stools are pretty nice since they shrink in size and can be packed away when not in service, giving you more space whenever you need it.
Folding bar stools are also perfect for having on hand when you have more people arriving for lunch or dinner in your house.
You might use your foldable chairs to add extra seating around the kitchen peninsula or island and then store them when you are finished.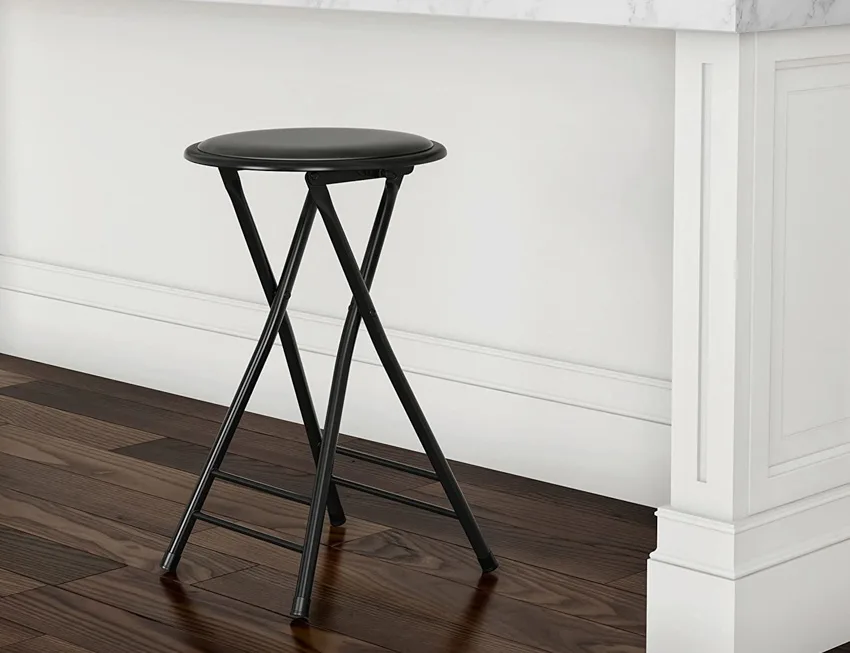 See this foldable backless seat at Amazon [sponsored link]
Foldable kitchen stools usually have no backs and are composed of metal. This chair's space-saving design is useful for those with limited space, ease of storage, and portability.
They can be easily taken out of storage and moved when you need to accommodate extra people for entertaining or want to use them in a different part of the house.

Whenever you unfold or refold them, be mindful not to get your fingers caught in the mechanics. Therefore, it is preferable not to allow youngsters to handle them.
Stool Materials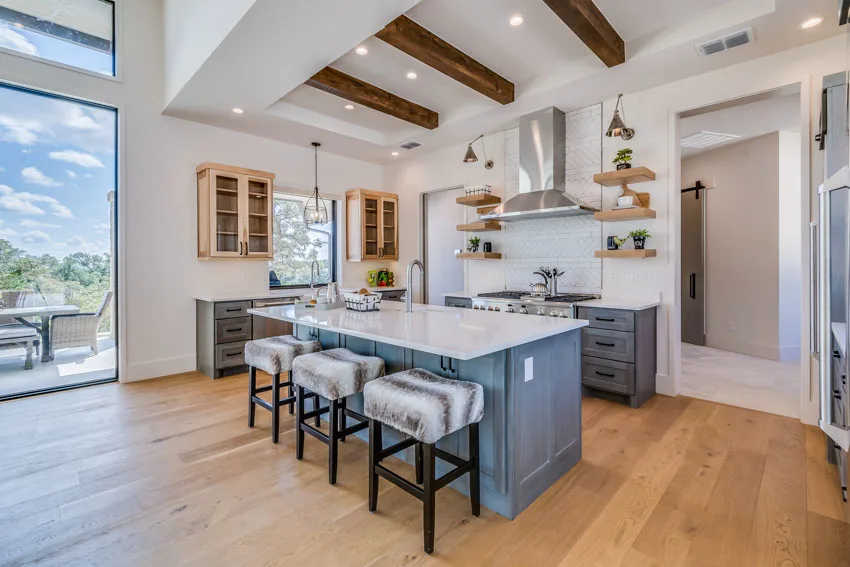 The type of bar stool materials will have a big impact on the look and feel of your chair. Here are some of the common types and what décor and design styles they work with.
Wooden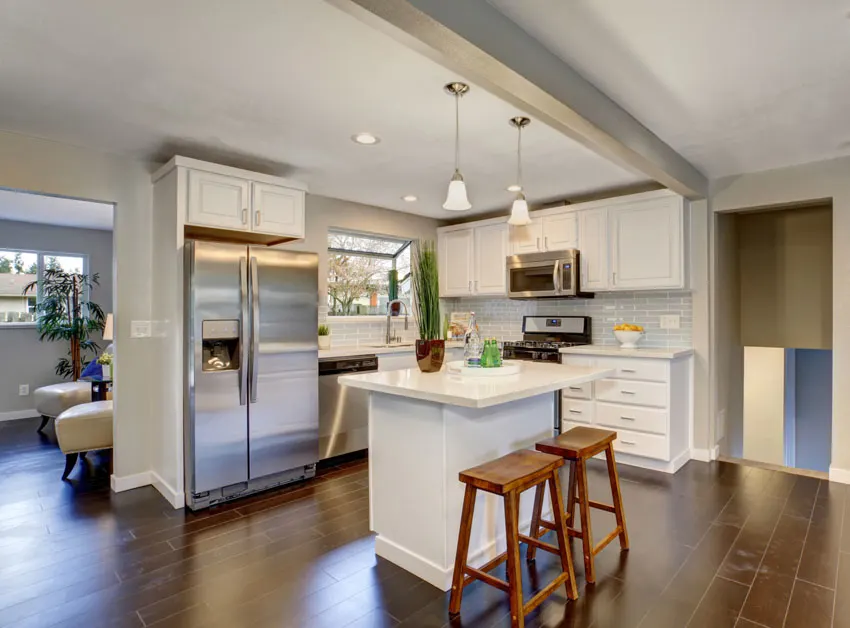 Wooden bar stools are a classic material option that complements any architectural theme, whether contemporary, modern, rustic, minimalist, etc. Regarding material composition, wooden products are long-lasting and affordable, making them a favorite pick.
A round wooden seat style is common in bars and cafés, but it is also widely known in homes. The rustic finish and simplistic design harmonize well with the kitchen or dining space, creating a warm and inviting atmosphere.
The wooden surface, on the other hand, is a bit hard, making it ideal for sitting for a limited duration only. However, soft cushions can be added to the seat for additional comfort.
Leather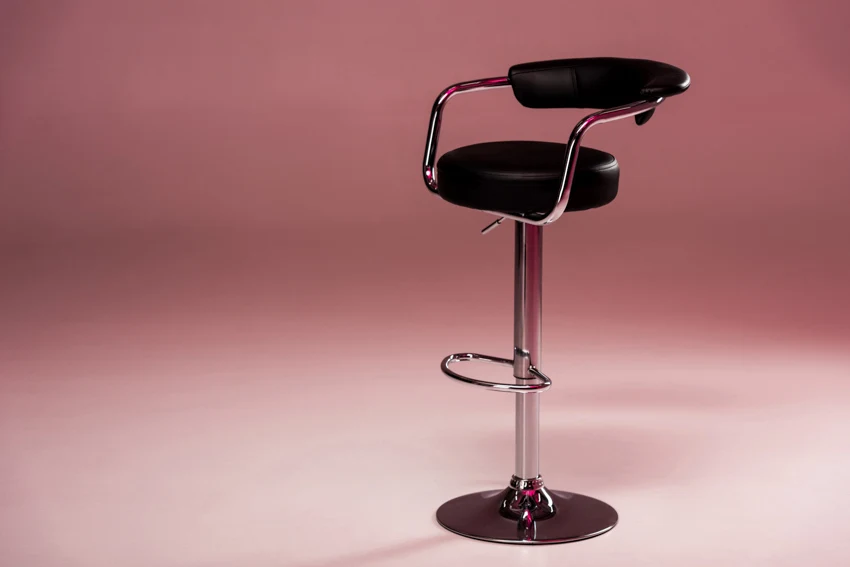 Leather bar stools come in many styles that may complement practically any décor. They are indeed long-lasting and simple to clean up after mealtime. Several leather options are available in faux leather or vinyl, which decreases the price but may sacrifice the quality.
A leather seat, undoubtedly, appears more expensive and stylish than any other type. Its distinct beauty can be used to adorn your breakfast bar or coffee counter while also catching the attention of your visitors.
Numerous leather stools are heavily cushioned, with padding on the seats and the backrest, to provide maximum comfort when seated.
If you select a less cushioned leather stool, the seat could be rigid and incapable of providing adequate benefit to your body. This material is appropriate for contemporary, modern, and rustic themes.
Faux Leather
Faux leather bar stools may be a cheaper alternative. Although not genuine, they also appear costly, resembling real leather. Various types of plastic are utilized to create faux leather, and the particular type dictates whether it contains any eco-friendly properties.
Faux leather is a word that is widely used to describe the application of this material for furniture upholstery, particularly for the seats. Alternative names for this material include leatherette, vegan leather, and eco-leather, to mention a few.
This leather-like material is frequently less expensive than genuine leather seating. This is because it is made from synthetic components.
Since faux leather is a man-made material, it can also be manufactured in a handful of fashionable colors, designs, textures, and patterns, much like genuine leather.
Metal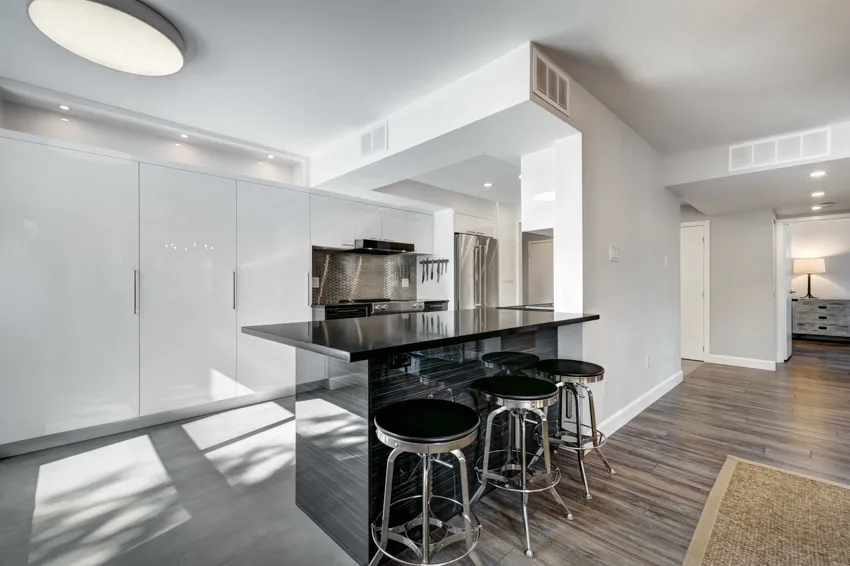 Metal bar stools are indeed durable and simple to maintain. They can also frequently be stacked while not in use, making them ideal for a kitchenette.
However, if you are searching for a comfy perch, the hard seating that a pure metal stool offers might not be the best choice since it might create soreness in your butt cheeks after a long period of sitting. Hence, metals are mostly designed for chair frames and legs only.
Nonetheless, if you want to utilize metal in your seating because of its durability but want enough comfort, you can always add cushioning to make it more comfortable.
Moreover, metal stools are ideal for industrial and retro-style spaces, but they can also be used in almost any type of home or restaurant architecture.
Brass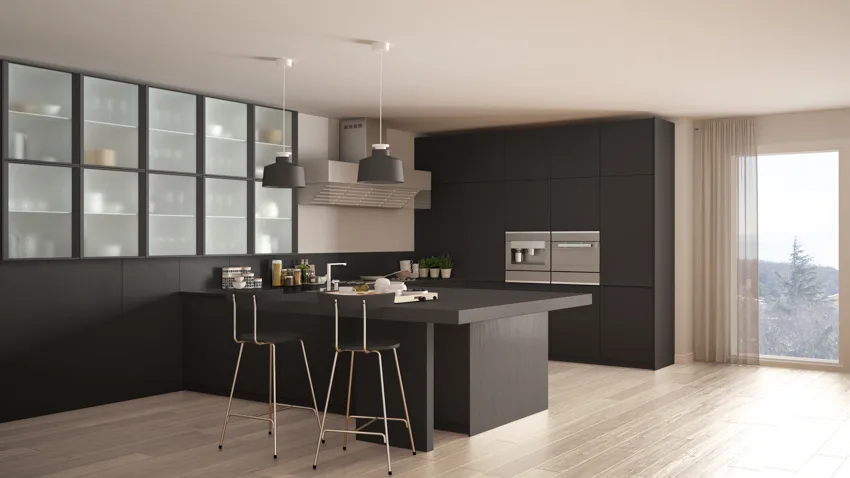 Brass is a very durable and long-lasting bar stool material made from a combination of zinc and copper. Any chair with a solid brass or brass finish will be rust-proof and waterproof. Plus, it is not that costly. However, brass seating is not widely used.
Chrome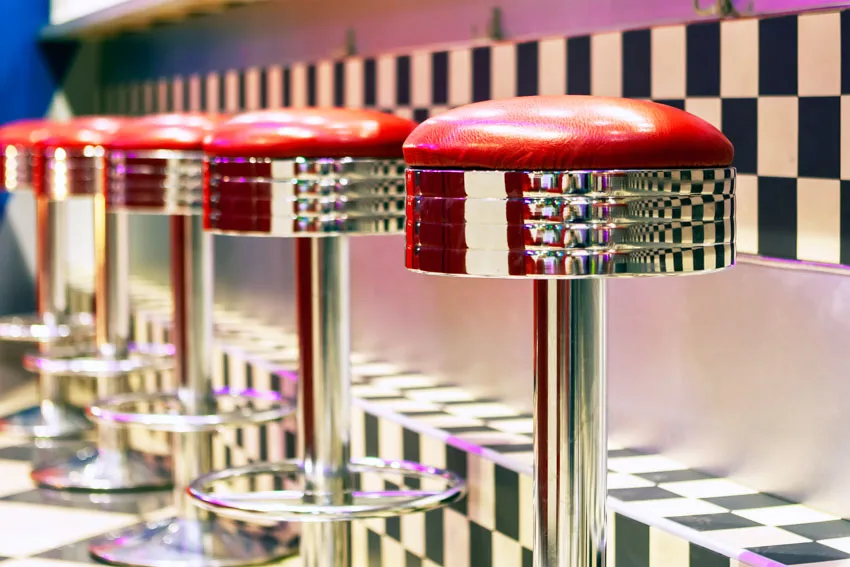 Chrome bar stools are likely found in retro-style houses, diners, or other commercial areas. Chrome is often employed in industrial interior architecture.
The benefit of this material is that it reduces the risk of corrosion and reinforces the base material's durability. Furthermore, it is less expensive than metal, although it is less durable.
In terms of design, chrome is shinier than metal, making it more eye-pleasing. Chrome material is well-known for its appearance but not so much for its longevity.
Distressed Metal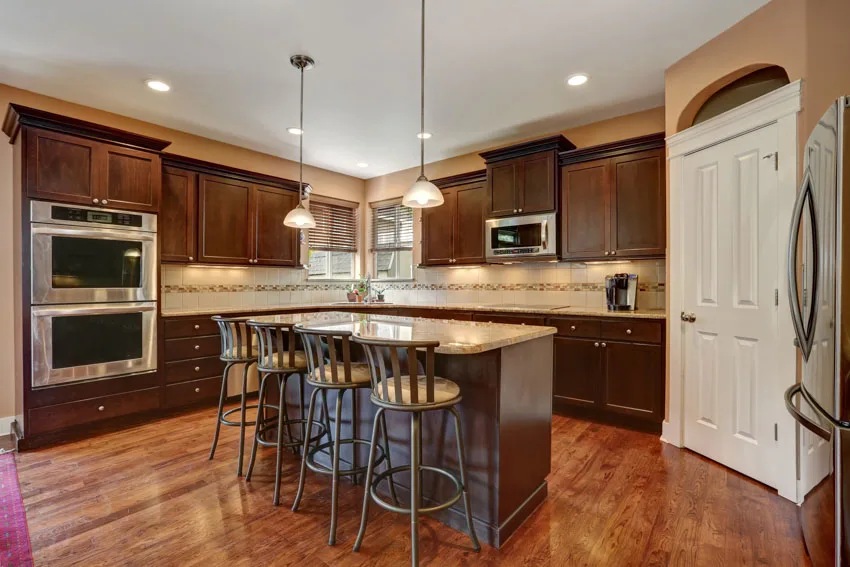 Distressed metal bar stools have the appearance of being weathered, aged, and antiquated. The shimmering luster of raw sheets or frames of metal can appear to be devoid of charm, uniqueness, and style at times.
Thus, to lend a vintage feel to various metals, you can use fine abrasives such as sandpaper and steel wool to make it distressed.
Bar stools that are made out of distressed metal are typically found in vintage-style restaurants, as well as nautical interior décor. They are a one-of-a-kind material choice, making them great for individuals looking to experiment with their seating design.
Upholstered Fabric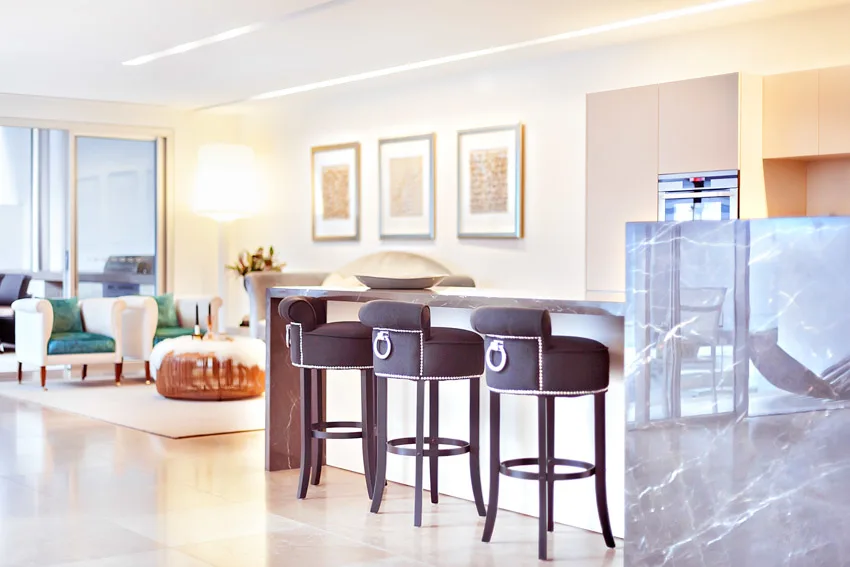 Upholstered fabric bar stools are a terrific choice for people who value relaxation and luxury. The surface of an upholstered fabric can be very soft, skin-friendly, and permeable, especially if it is made out of cotton, velvet, or linen.
Furthermore, most fabric products have padded seats, and the majority of them have padded armrests and backrests as well. This type of stool material allows you to sit longer while being comfortable.
The fabric appears more professional and sophisticated in comparison to other chair seat materials, making them ideal for modern, classical, as well as ancient-inspired living areas.
Nevertheless, the fabric finish can be easily discolored and difficult to clean. If you have children or pets, you should contemplate carefully before buying.
Tufted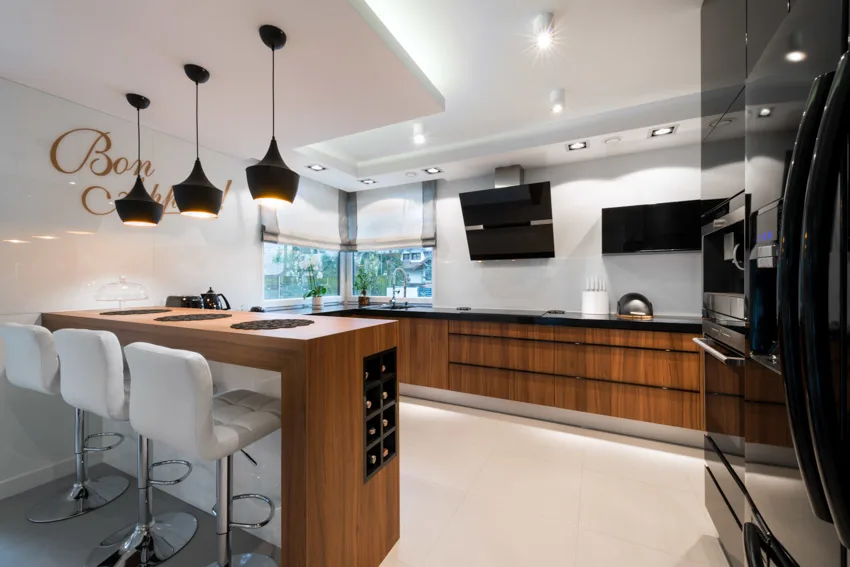 Tufted bar stools are made by sewing buttons or stitching through cushioning or padding, generally in a diamond-shaped arrangement. This method is both attractive and practical as it is intended to keep the padding from moving or wrinkling.
In addition, tufted fabric stools may enhance a minimalist aesthetic while maintaining a welcoming and pleasant ambiance. This could be all you need to make your modern kitchen more presentable.
Tufted seats and backs are delightfully comfy. The cushions stay smooth and voluminous without having to be regularly realigned, and choosing the proper fabric for your seat will undoubtedly make it seem softer and more comfortable.
Acrylic & Plastic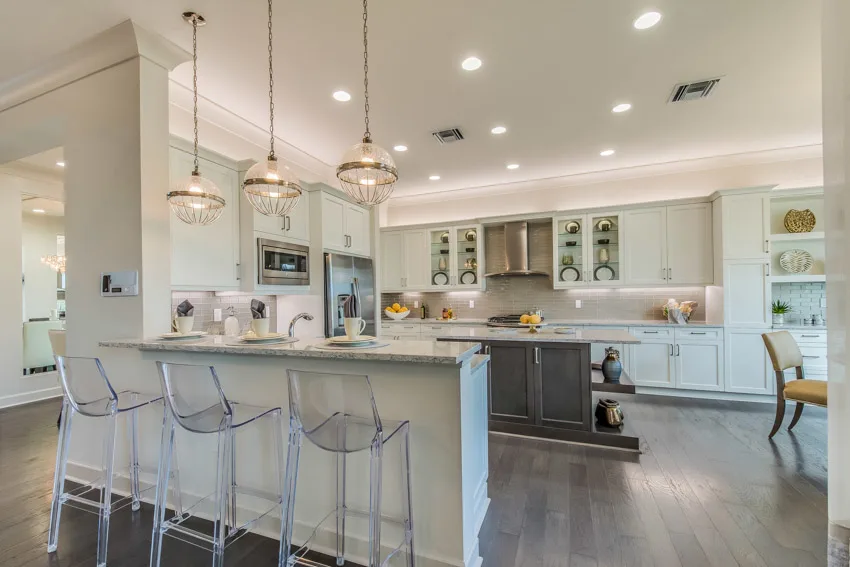 Acrylic-made bar stools are gradually becoming trendy these days and for an excellent purpose. This material is extremely sturdy, easy to maintain, and UV-resistant, which implies that it will not discolor even when exposed to sunlight.
Acrylic seating is also non-toxic, making it less detrimental to the ecosystem than plastic. It also appears that scratches and stains on acrylic surfaces are much easier to eliminate than on wood or other related materials.
Acrylic stools are great since they do not impede your sight in any manner, which you should take full advantage of. You can find products that use transparent glass-like material on the market. Just in case you are wondering where they are made from, well, they are made out of acrylic.
Furniture that is made of plastic, on the other hand. is unarguably less expensive than other materials. They are also tough to shatter despite their lightness. A plastic stool is also available in various styles, shapes, and colors, making it easy to complement the mood of your space.
When subjected to spillage, a plastic-based chair, the same as acrylic, is resistant to scratching, color fading, and smears. It is also easy to clean with light rubbing or wiping, lowering maintenance costs.
Furthermore, this material could be easily shaped into appealing and user-friendly designs that can be customized for your home and capture the interest of your guests.
Rattan & Wicker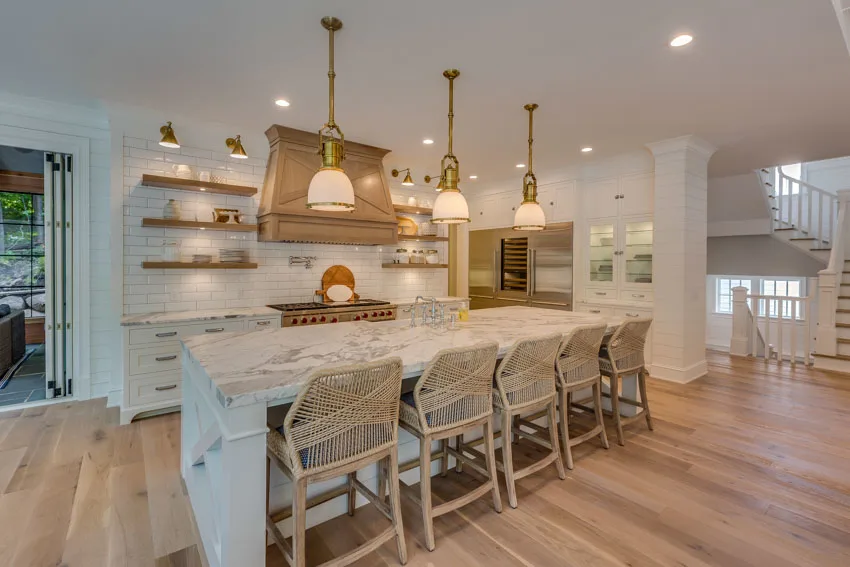 Rattan or wicker bar stools are constructed from rattan vines that are braided together to form the framework, and they are widely used in farmhouse or rustic interior designs. Rattan can be naturally derived or man-made.
Rattan seating is also an excellent alternative, owing to its appealing appearance. The traditional woven rattan texture is easily identifiable, incredibly refined, and will remain fashionable for many years.
The design, which seamlessly blends rustic elegance and a modern theme, provides a hint of artistry to any kitchen with an earthy aesthetic.
How To Choose Stool Color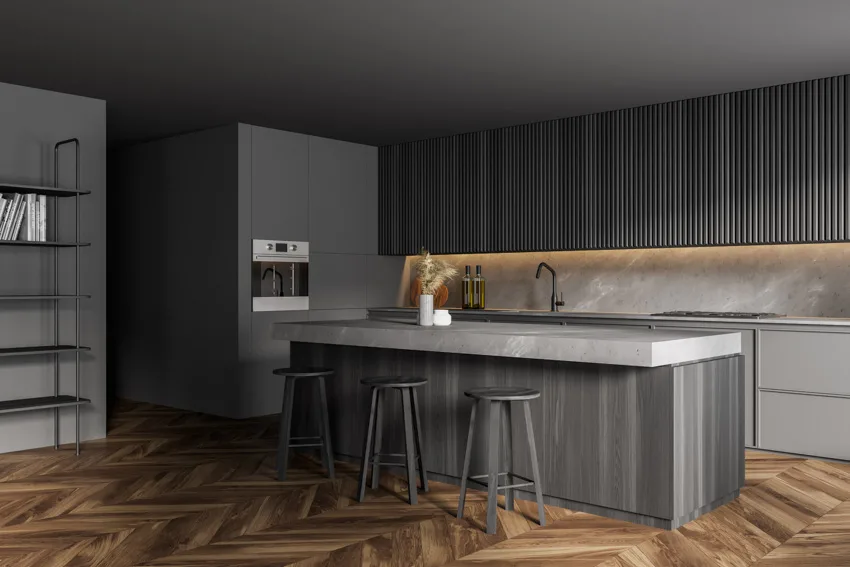 Here, we share the best tips on how to choose a color for bar stools.
• Take a glance at the colors in your kitchen carefully. Prepare your pen and paper. Determine the answers to these questions: which colors stand out in your kitchen? What are the colors that do not appear striking? Consider these when choosing your furniture pieces to generate contrast.
• The same guidelines hold if you have wooden elements in your kitchen. On the stool, you can select a single color or a two-toned mix (same colors for the seat but different colors for the legs). Furthermore, the same idea would follow for selecting padded seats (colors should be contrasting).
• When choosing colors, it is great to start by drawing some colors from your kitchen counter or home bar and incorporating them into your seating, whether on a metal surface or fabric.
• A hanging lighting fixture just above the middle of the countertop can sometimes be coordinated with the design of the stool. Stylish pendant lighting might complement an embellished design. Similarly, minimalist lighting can complement minimalistic style stools.
• If the kitchen does have a lot of chrome or metal appliances, metallic or steel finishes might be a beautiful accent to the space if they are not too near each other.
• The flooring beneath the seats must be a contrasting color to the chair. A stool made of wood or metal must not be in a similar tint or color as the flooring. If the chair materials are the same color as the flooring, it may appear bland and non-contrasting.
How Many Stools Do I Need?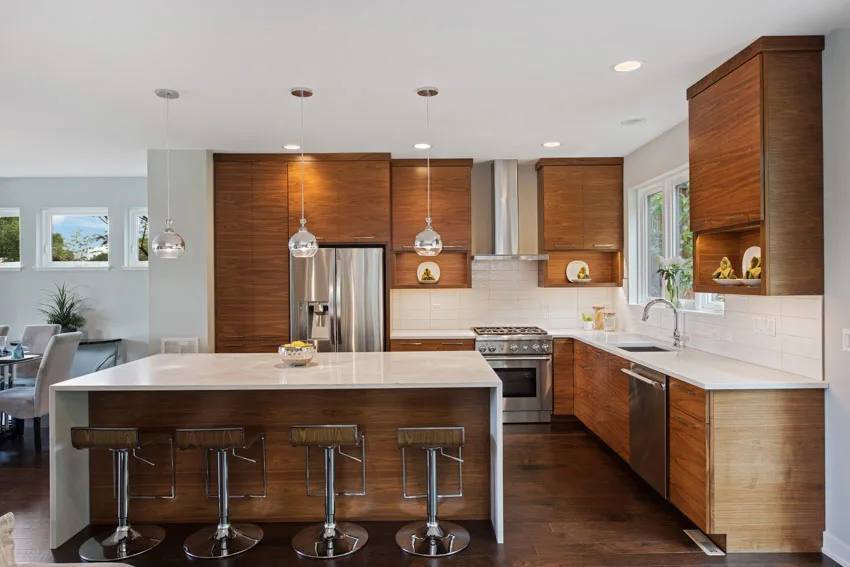 Before deciding on how many bar stools you will need, you should first know the length of your kitchen counter since this measurement will be the one that will determine the number of seats you will need for your area.
To ascertain the best possible bar stool placement, each chair seat must have around 21 to 24 inches of space.
To put it another way, there should be around 26 to 30 inches from one stool's middle to the middle of the one beside it. This allows you to eat and drink without bumping the person near you.
To figure out how many stools you need, measure the overall length of your counter or kitchen bar, then divide that number by the room you want to set aside for each person sitting.
How Much Space Between Stools?
At the kitchen counter, your stools must be approximately 8 inches apart. This enables you to move freely and easily in and out.
Nonetheless, if you believe you will require more space than a typical individual or if you have a tiny home, you should expand this distance. However, it will be entirely up to you, but we suggest at least 8 inches.
How Many Stools Per Foot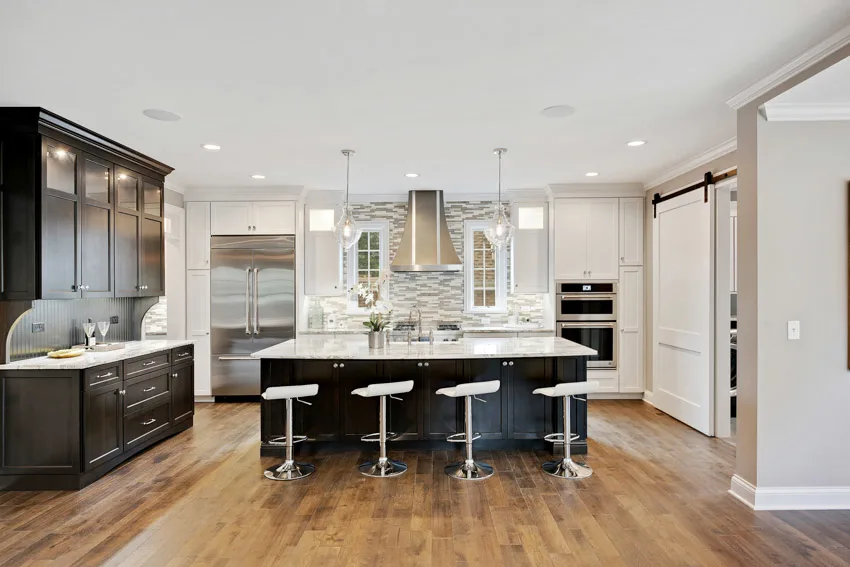 Here, we share some tips on how many bar stools should be per foot.
How Many Stools for 6 Foot Island?
If you have a 6-foot counter, you can fit 3 standard-sized stools. If you have a 6-foot kitchen island, nevertheless, you can fit 6 standard-sized seats.
How Many Bar Stools for 7 Foot Island?
If you have a 7-foot counter in your kitchen, you might fit 4 slim stools; although you can fit 4 standard-sized seats, the space might be cramped. If you have a 7-foot kitchen island, on the other hand, you can fit 6 slim-sized seats.
How Many Bar Stools for 8 Foot Island?
If you have an 8-foot counter, you can fit 4 standard-sized seats. If you have an 8-foot kitchen island, nonetheless, then you can most certainly fit 8 standard-sized seats.
How Many Bar Stools for 9 Foot Bar?
If you have a 9-foot counter in your kitchen, you might fit 5 slim-sized seats; although you can fit 5 standard-sized seats, there will be less wiggle room and arm space. If you have a 9-foot kitchen island, however, you can fit 10 slim-sized seats.
How To Measure For Stools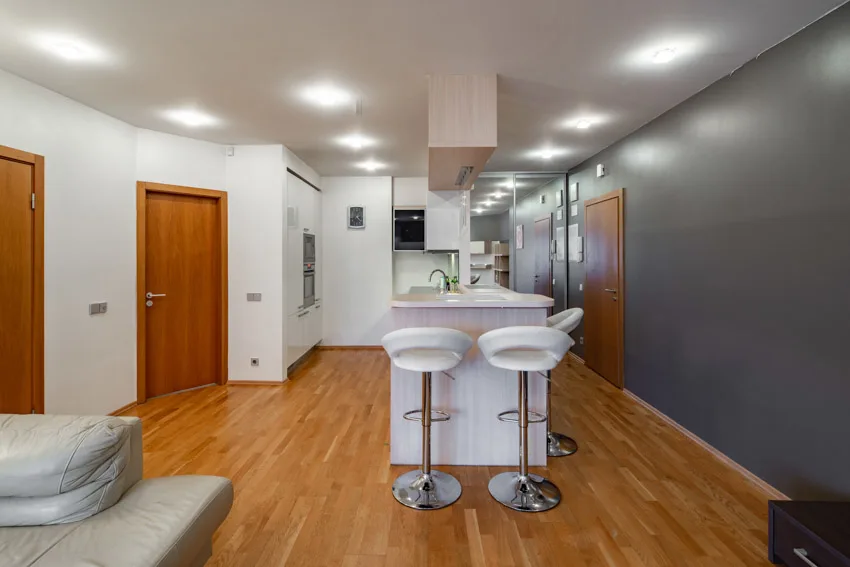 Here, we share the different tips that will help you measure for bar stools.
• The height of your countertop should be measured from the flooring to the top of the surface.
• Decide how much space you want between your lap and the counter.
• Subtract the value obtained in step 1 from the number obtained in step 2.
• Determine how many chairs will fit by measuring the bar from end to end.
What Is The Standard Stool Height?
Bar countertops are typically 40 to 42 inches high. For this reason, the standard height for a conventional stool is approximately 28 to 30 inches tall.
How Wide Are Stools?
The most typical widths for bar stools are 15, 17, and 21 inches. The seating width, on the other hand, has a significant effect on how many stools you can accommodate in your area.
Seating width accounts for the person's body and ability to move around without being squished. When looking for stools, measure the width of your counter and bear this figure in mind.
We recommend keeping 26 to 30 inches between the centers of every stool seat, as previously mentioned. This provides at least 6 inches between each seat bottom, allowing you to comfortably move in and out of your seat without colliding with others.
Wider seats must have even more space between each other, with 8 to 10 inches between 19 to 22-inch-wide stools.
How Tall Should Stools Be?
The usual kitchen bar-counter is between 40 and 42 inches tall. Using our bar stool height guide, we need to subtract 9 to 13 inches from the height of the counter. This leads us to the conclusion that the typical bar stool height must be between 27 and 33 inches.
However, there are some exceptions to this principle since custom bars are becoming more frequent these days. Hence, you should always measure the counter height before buying stools.
How Deep Are Stools?
Most stool seats are around 16 inches deep. Thus, they will not push one to the underside of your counter.
Counter Height Vs. Bar Height Stools
Counter stools must be at least as tall as a standard restaurant table. In general, the average height for a counter height is 36 inches above ground level. A counter stool seating will, as usual, measure 24 to 27 inches from the bottom up.
A bar-height tabletop, on the other hand, often measures 40 to 42 inches from the ground. Hence, the seat height must be around 29 to 30 inches from the flooring.
How Much Counter Overhang for Stools?
A suitable seating area must have an overhang of 10 to 12 inches. This will allow for appropriate knee movement and space between the counter edge and the individual sitting. Thus, as the depth of the overhang rises, so does the bar's functionality and comfort.
How to Make Stools Taller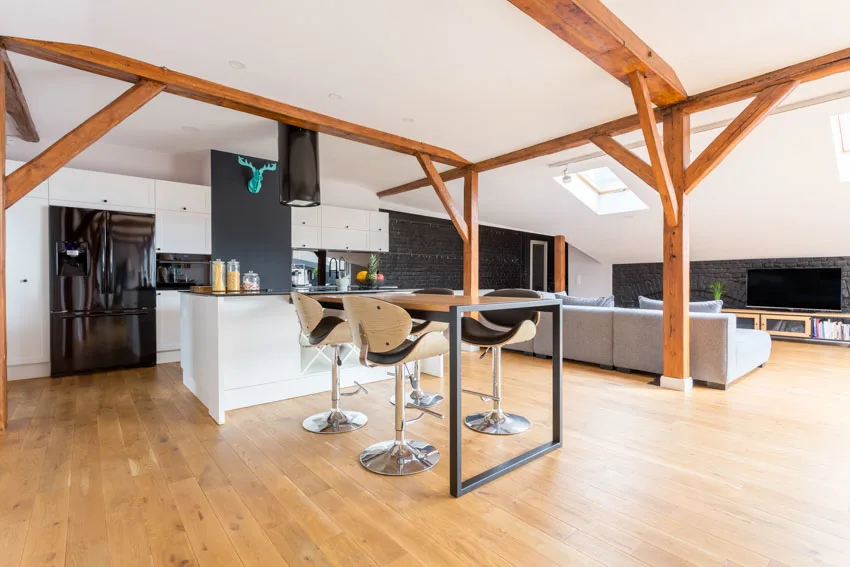 Add a Cushioning: A good-quality seat cushioning with cotton pads aids in getting out of the seat while also giving a layer of coziness on the surface for pure relaxation. This is also the simplest and most reliable method of increasing the height of a stool.
Install DIY Furniture Leg Extenders: Indeed, one of the most effective and proper ways to increase the height of bar stools is to make your furniture leg extenders. You may accomplish this by flipping it over and placing one leg extender on each leg.
Ensure you do it correctly so that the extenders do not slip off. You can make an extender using extra wood pieces. Just make sure that all of your extenders are in the same measurement so that the bar stool will be balanced.
See more related content in our article about spectator height bar stools on this page.