Here's our bar stool height guide which includes how tall a bar stools should be, how to measure bar stools, how bar stool style influences size and more.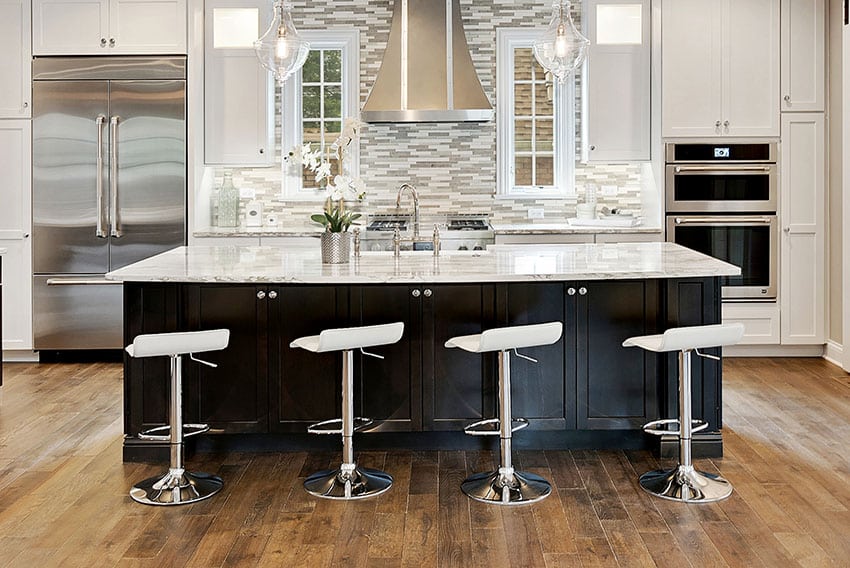 Stools are a casual, flexible seating option that can be used at a table, counter, or bar. There are three standard height ranges for stools.
How Tall Are Bar Stools?
Bar stool height is between 28 and 30 inches high. This suits most bars, which are between 40 and 42 inches high. A higher or shorter bar would require an adjustment in the height of the stool to ensure guest comfort.
The seat of a counter stool is between 24 and 26 inches off the ground. Since counters are generally between 38 and 39 inches in height, this allows for approximately 12 inches of space between seat-top and counter-top, which is comfortable for most people.
The seat of a table stool is usually about 18 inches off the ground. Tables are generally 28 to 30 inches tall.
As discussed, the rule of thumb with stools is to allow 12 inches between the surface of the stool seat and the top of the table, counter, or bar. Read more about standard height for counter, bar & table here.
However, for table stools this can be reduced to 10 inches. Stools shorter than 18 inches are likely to feel uncomfortably low, and should be avoided for the comfort of your family and guests.
How Tall Should Bar Stools Be?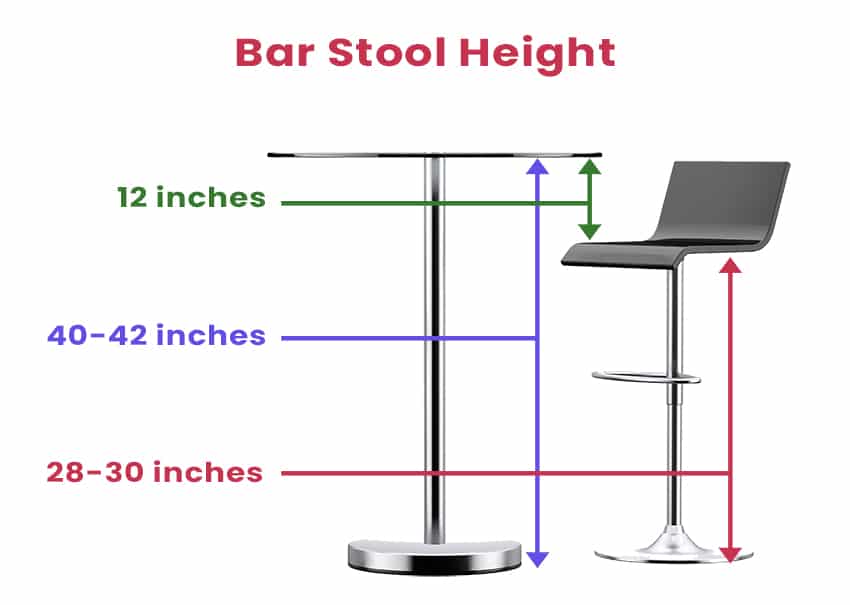 Above is our illustration showing our bar stool height guide with distance from table to seat, floor to seat and floor to bar tabletop.
Aim for about 12 inches of space between the seat and the top of the counter or bar. When seated, the rim of the counter should come to the mid-chest region. Your guest should be able to rest their forearms on the counter.
For a bar that is 40 inches tall, 28 inches would be the perfect stool height. For a taller bar, that is 42 inches from the ground, choose 30 inch stools.
How Tall Are Bar Height Stools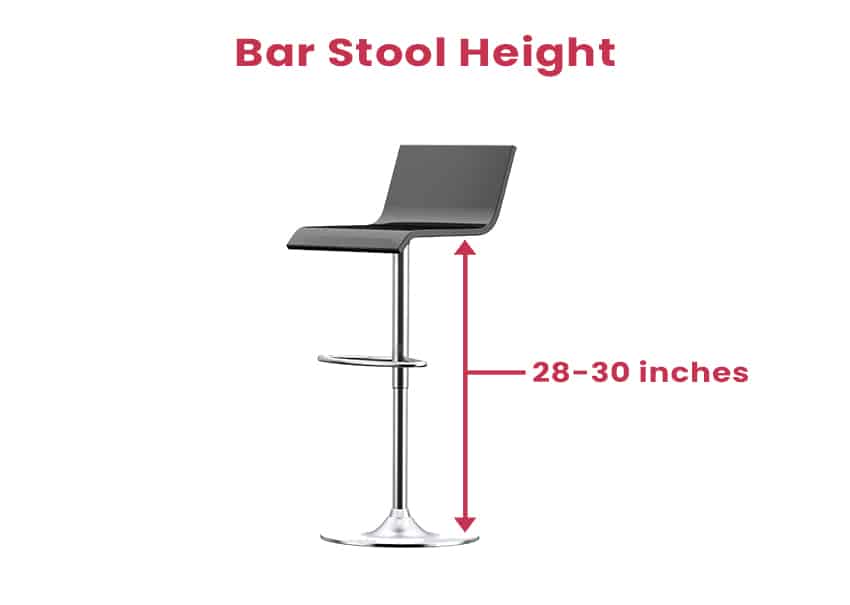 A bar top usually stands between 40 and 42 inches off the ground. If your bar is a standard height, you can choose any stool labeled 'bar height.' Bar height stools are 28 to 30 inches tall.
How Tall Are Counter Height Bar Stools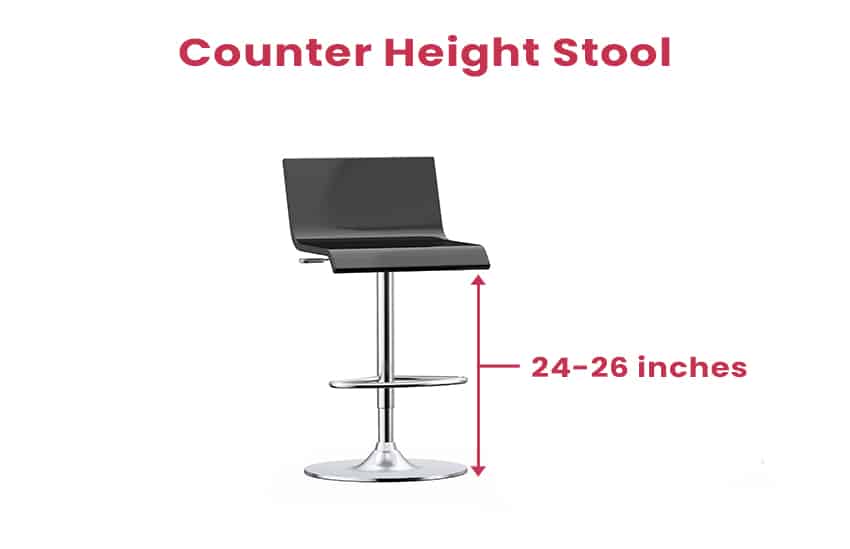 Stools that are intended for use at a counter are generally labeled 'counter height'. To allow 12 inches of space between the bar and the stool top, choose a stool height of 24 to 26 inches.
How to Make Bar Stools Taller
If your bar stools are uncomfortably short, you can purchase or make furniture leg extender pieces to close the gap between the seat and the bar.
Pre-made furniture leg extenders are tube-shaped, and lock onto the bottom legs of the stools using clamps, snaps, or screws. Spacers can be inserted on each leg to customize how far the tube extends, dictating the height of your stool.
If your stool has crossbars (horizontal reinforcement that connects one leg of the stool to the others), you can make your own stool extenders out of PVC pipe.
Choose PVC of the smallest diameter that can comfortably contain your stool leg.
Measure from the crossbars to the floor.
If you want to raise the stool by two inches, make the PVC extenders two inches longer than the distance from the floor to the crossbar.
Note that this kind of stool extender must be cut perfectly level to provide a stable seat. Also, because the PVC extenders aren't attached to the stool legs, the extended stool won't be very portable.
How to Measure for Bar Stools
To determine the appropriate height for your bar stools, first measure the height of your bar. Measure from the top edge of the bar down to the floor. Subtract 12 inches from the measurement to find the ideal height for your bar stool.
How to Measure Bar Stool Height
Bar stool height is measured in a straight line, from the top of the bar stool seat to the floor underneath it.
You may need to drop the tape measure between the legs of the stool to get an accurate measurement of how tall your bar stool is.
Determining How Many Bar Stools Can Fit at your Counter (Calculating Space Between)
Overcrowding your counter with stools will make it less enjoyable to sit there. At the same time, you want to seat as many guests as possible, provided you can do so comfortably.
To seat the most guests, choose stools that are 16 to 18 inches wide, and that do not swivel. Leave six inches of space between the end of the counter and the first stool. Each stool should have at least six inches of open space between it and the next seat.
For small stools that swivel, or larger stools (between 19 and 22 inches wide), more space is needed for the comfort of your guests.
At least eight inches between every stool is recommended, with another eight inches between the end of the counter and the first or last stool. 11 inches would be more spacious and comfortable.
More than 11 inches is too much space, and your guests will feel uncomfortably far from each other.
How Bar Stool Style Influences Size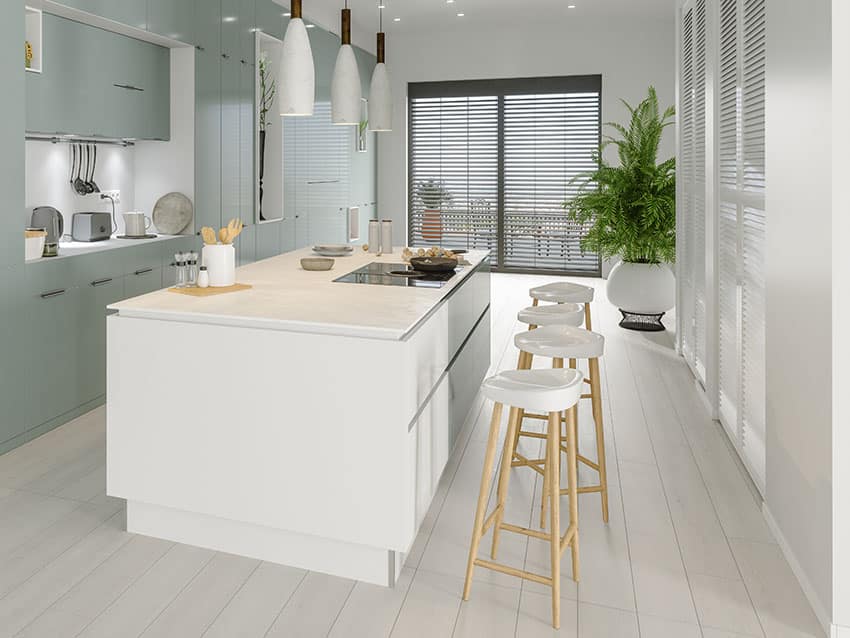 Bar stools can be simple wooden perches or lushly upholstered seats with arms and full backs. If the seat swivels, has arms, or features a full back, you will need additional space between stools for your guests to get in and out of their seats.
Plan on eight to 11 inches of space between each stool.
More minimalistic stools don't need as much space for maneuvering. You can get away with as little as six inches of space between seats.
When the bar stool is cushioned or upholstered, this can make measurement tricky. Press into the cushion at the seat edge to find the hard stool underneath. Start your measurement from that point, as the weight of your guest will compress the padding somewhat.
How Tall Should a Bar Stool Be For a 32 inch Counter?
A 32 inch counter is a non-standard height, as counters are usually between 36 and 39 inches tall. If you can, find a stool that is 20 inches tall.
How Tall Should a Bar Stool Be For a 36 inch Counter?
For a 36 inch counter, choose a stool that is 24 inches high.
Are there any sizes we missed in this bar stool height guide? If so let us know in the comments. For more related content about spectator height bar stools visit this page.