Here we share our tanning ledge pool guide including what is, the ideal size, cost, add-on ideas, and if it is worth it or not.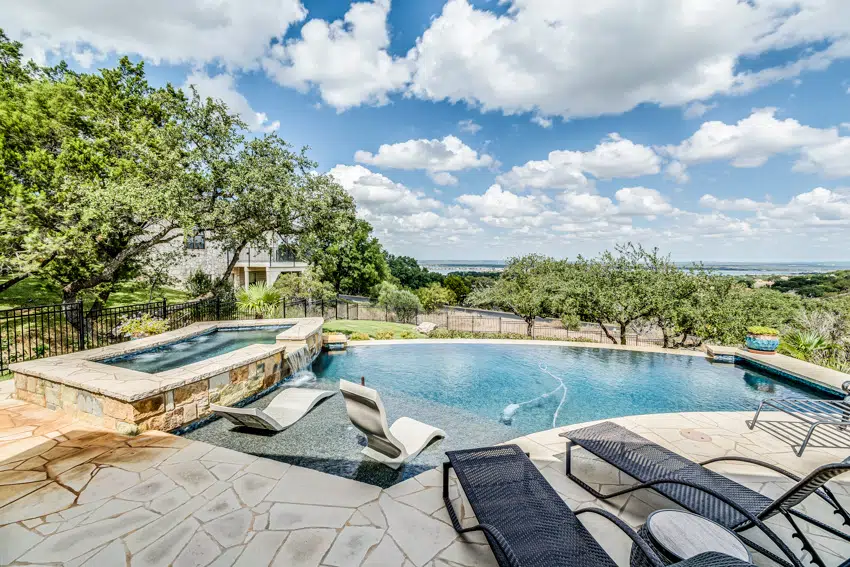 Almost everybody wants to temporarily escape from work and go relax in a pool. But aside from getting your body relaxed in the water, you also want to get a bit of sunlight.
A combination of swimming in the pool and relaxing under the sunlight is like every busy person's dream. However, we do not want to expose our skins under the sun too much as it can get us sweaty and uncomfortable. That's just what we do if we want to heat ourselves a little.
Nevertheless, it's tiring to move back and forth between the pool and your lounge chair beside the pool. Some people ask, can you add a relaxation area inside the pool? The answer is, yes. How?
You might have heard about a tanning ledge water feature. This could be a cool addition to your pool so you won't have to continuously move back and forth from your pool and to the lounge chair beside the pool. What then, is a tanning ledge?
What is a Tanning Ledge Pool?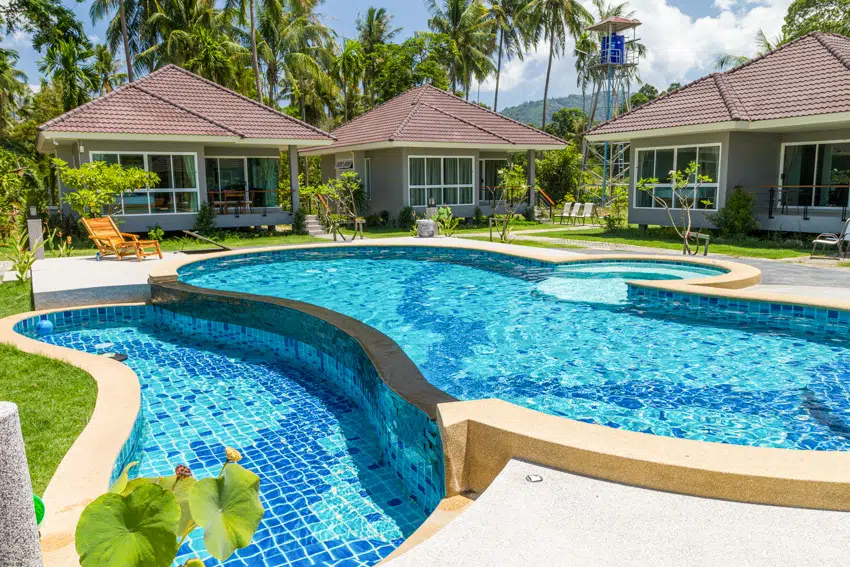 A tanning ledge is a great addition to every swimming pool. It usually comprises an elevated platform or surface within the exceedingly shallow water. The purpose of adding a tanning ledge is to let you sit in the pool without requiring you to float, swim, or leave the pool to sit and relax.
Tanning ledges are customarily used by families, children, and couples. Some people generally use it to relax, warm themselves up for a while, read a book, or play a game. Most homeowners incorporate furniture in tanning ledges such as tables, umbrellas, and lounge chairs.
This pool water feature must be deep enough for the users to be in the water without having to float or swim. If you wish to add a tanning ledge in your pool, you will have to coordinate with your pool designer regarding the depth, size, and features that will suit your preferences and needs.
Tanning ledges have been undoubtedly trendy for quite a few years. Nowadays, it becomes even more well-known because a lot of aesthetic qualities and versatility are arising right now.
Tanning Ledge Size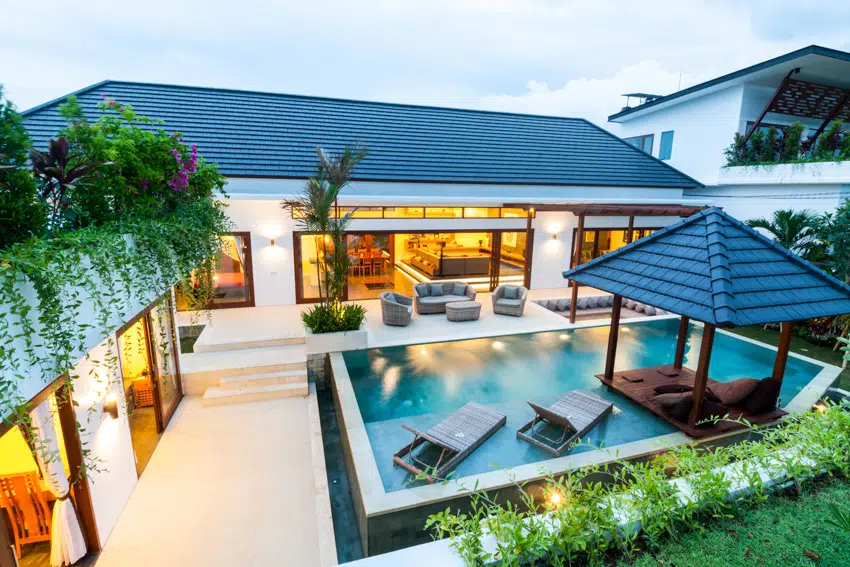 What is the usual depth of a tanning ledge? Generally, it's an extremely shallow shelf in the swimming pool that's normally at least 5 feet wide and 0.75 feet deep.
The most recommended depth should not exceed more than 1 foot. This is the most ideal water depth for both small children and pets. Moreover, it's the most recommended depth just in case you wish to add furniture, such as a lounge chair, in the water. Any depth that's exceeding more than 0.75 feet won't be ideal as the furniture will float.
What should be the width of a tanning ledge? Well, the size of an in-ground concrete or vinyl pool tanning ledge will depend on the pool designer's outlook and design. However, customarily, the ideal measurement is at least feet wide to create enough space for 1 or more lounge chairs.
A fiberglass pool tanning ledge has a common width of 5 to 8 feet wide to make enough room for additional chairs, an umbrella, etc. Read more about our guide on swimming pool sizes here.
Tanning Ledge Cost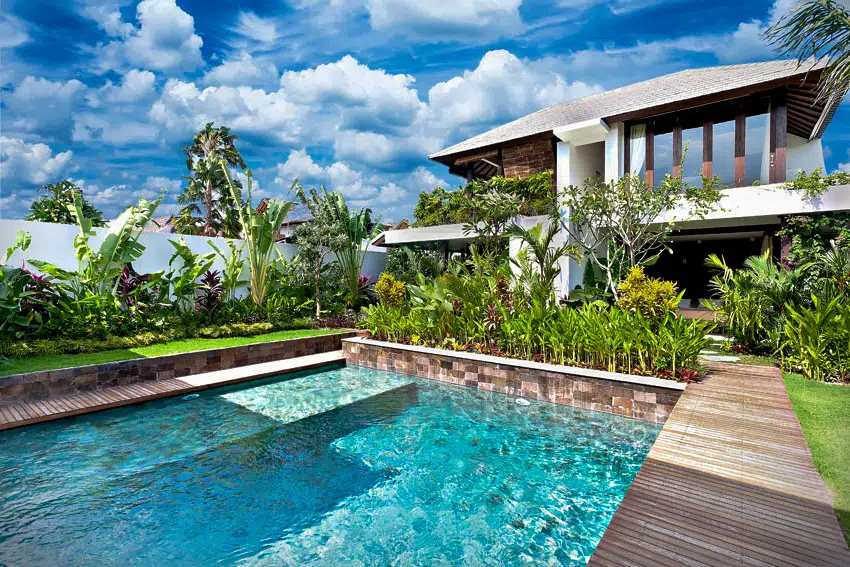 Incorporating a tanning ledge into your in-ground concrete pool normally costs extra and it usually depends on the ledge's square footage.
As an example, if the tanning ledge covers 80 square feet and your swimming pool costs $100 per square foot, then the tanning ledge will probably cost $8,000. Supplementary constructing crew expenses are also applied as integrating the tanning ledge stretches the project timeline.
On the other hand, if you're selecting a fiberglass pool with a built-in tanning ledge, it will add a range of an additional $370 for the installation. However, a separate fiberglass tanning ledge water feature costs around $5000 to $15,000. The price may vary if it's elevated.
If you're planning to save money, the best selection would be to pick a fiberglass model with a built-in ledge so that there would be fewer expenses.
Tanning Ledge Chairs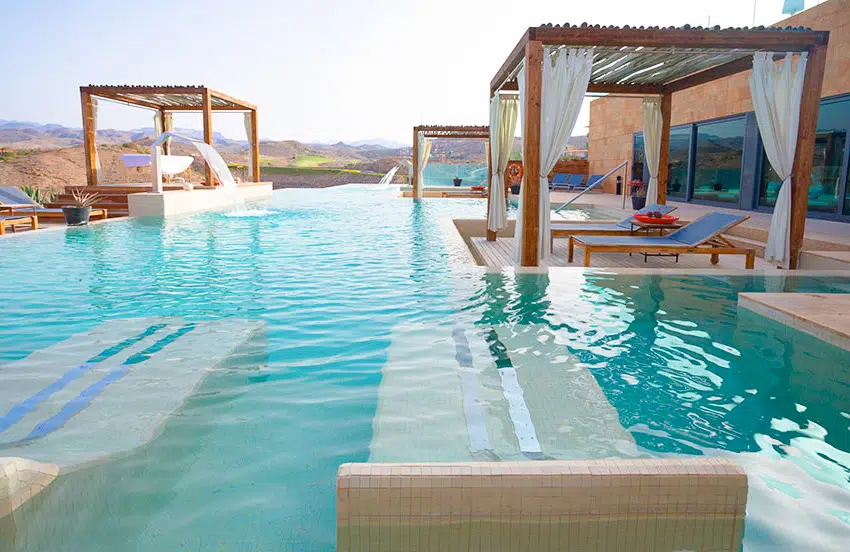 A tanning ledge chair can be an excellent addition to your pool. Some of these chairs offer ultimate lumbar support created to provide maximum relaxation. It is also designed for a tanning ledge with a water depth that measures up to 9 inches.
It can excellently provide the most ideal spot to experience relaxation on your ledge while drinking a refreshing beverage, observing nature, and appreciating the ambiance. It is built to withstand pool chemicals and it's also compatible with all pool kinds as well as vinyl pools.
Some of the best tanning ledge chairs are available in 12 different eye-pleasing colors, and its high-grade color is stabilized for up to 960,000 minutes of direct sunlight.
Tanning Ledge Lounger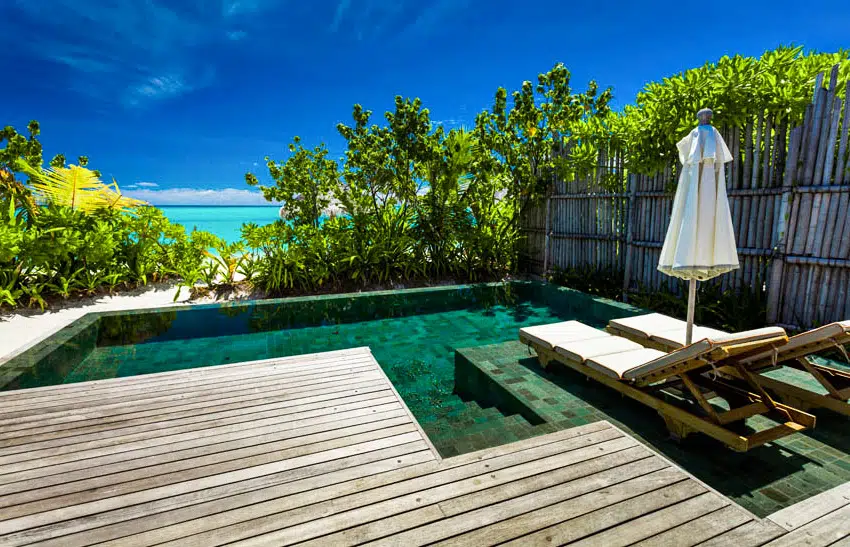 With this highly relaxing ledge lounge chair, you can just easily lay back and enjoy the atmosphere with style while you're in the water.
Some use a ledge lounge chair design that's usually found on numerous pool tanning ledges around the globe. This ledge lounger renders a truly comfortable spot so you can fully relax on your ledge with class.
It is created to work best in exceedingly shallow areas that have a water depth of 0 to 9 inches. A ledge lounger doubtlessly turns every tanning ledge into a favorite area to hang out and experience the relaxing slight rays of sunlight.
This tanning ledge lounger is also made to withstand pool chemicals. It's compatible with all pool kinds and it is available in 12 different colors as well.
Tanning Ledge Pool Ideas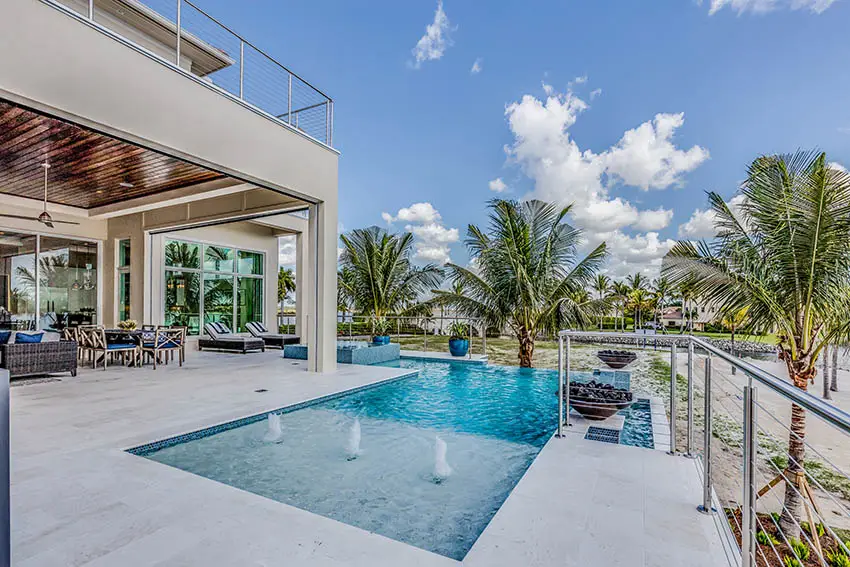 Here we share the different ideas you can add when considering a tanning ledge for your pool.
In-ground Pool With Tanning Ledge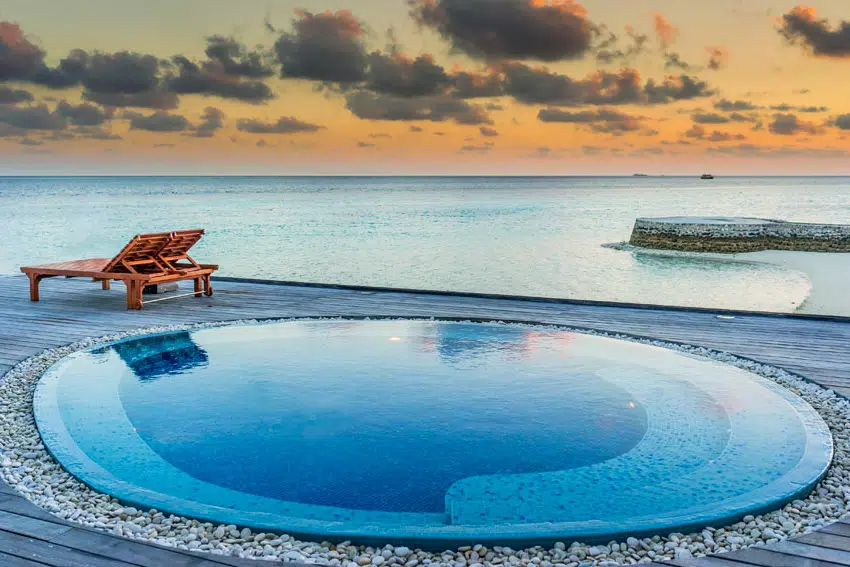 If you like to live in the idea of the famous line, "the best of both worlds", then no doubt an in-ground pool with a tanning ledge is undoubtedly a great idea. This allows you to experience a refreshing ambiance the water gives while enjoying the rays of sunlight.
In-ground pools become much more enjoyable for people to luxuriate in at the moment. They're also ideal for old people as they get to go on and off the water without having to take huge steps. There are a lot of tanning ledges made for in-ground pools.
Rectangle Pool With Tanning Ledge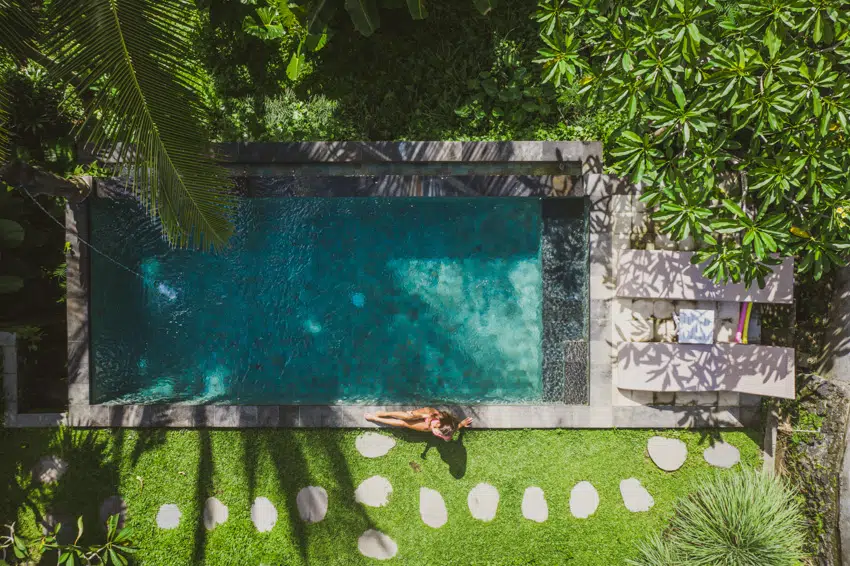 Rectangular pools are some of the people's favorite because of their simplicity and class. However, you may want a rectangular pool with additional charm.
One thing that does the trick is to add a tanning ledge. With the correct planning, your ordinary-looking rectangle pool can transform into an eye-catching atmosphere.
L-shaped Pool With Tanning Ledge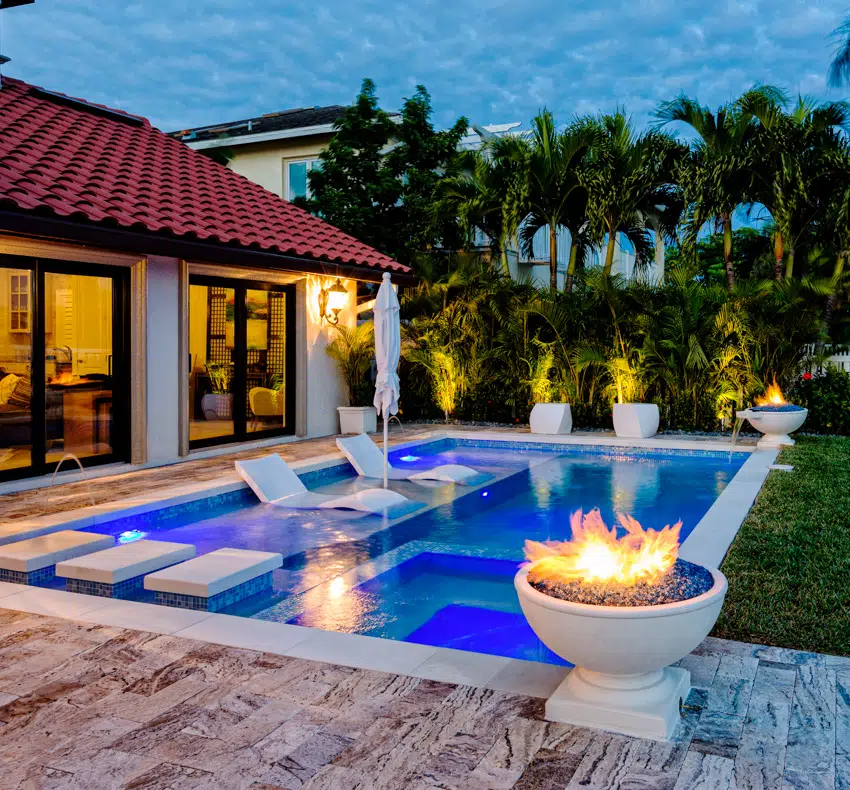 An L-shaped pool is one of the most unique pool appearances. However, adding a tanning ledge to it makes it even more interesting and functional. It will allow small children to enjoy the pool much more by playing various games. Read more about our guide on the different swimming pool shapes here.
Fiberglass Pool With Tanning Ledge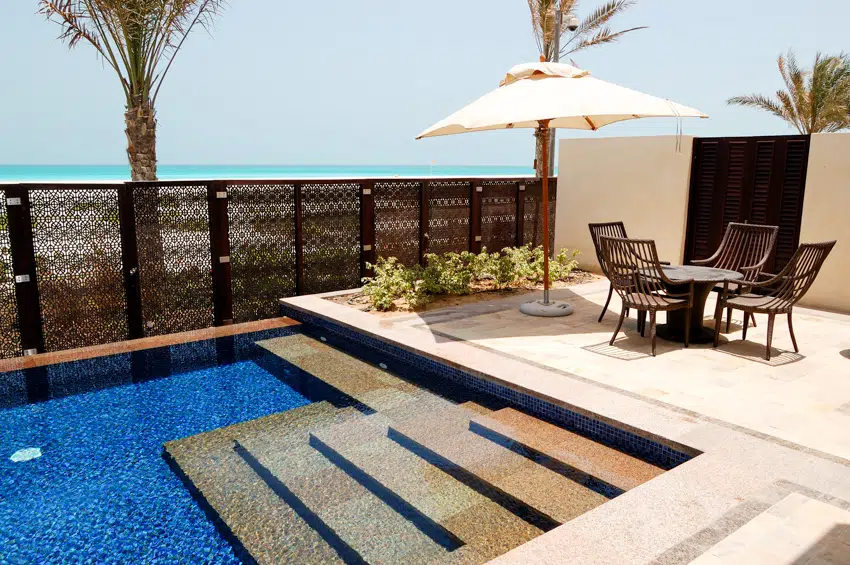 Adding a tanning ledge on fiberglass will make the pool more classy and stylish. There are two good things about a fiberglass tanning ledge. First, the ledge surface is smooth but slip-resistant. It allows a smooth surface for users.
Second, you have a choice to add a separate fiberglass ledge according to your preferences and create more swimming space.
Vinyl Pool With Tanning Ledge

There's one good thing about vinyl pools – they're less inexpensive to construct. However, the liner is quite sensitive to wearing and tearing. Adding a tanning ledge might put your family and pets at great risk. It's not quite a good idea to add a tanning ledge on a vinyl pool.
Tanning Ledge Regrets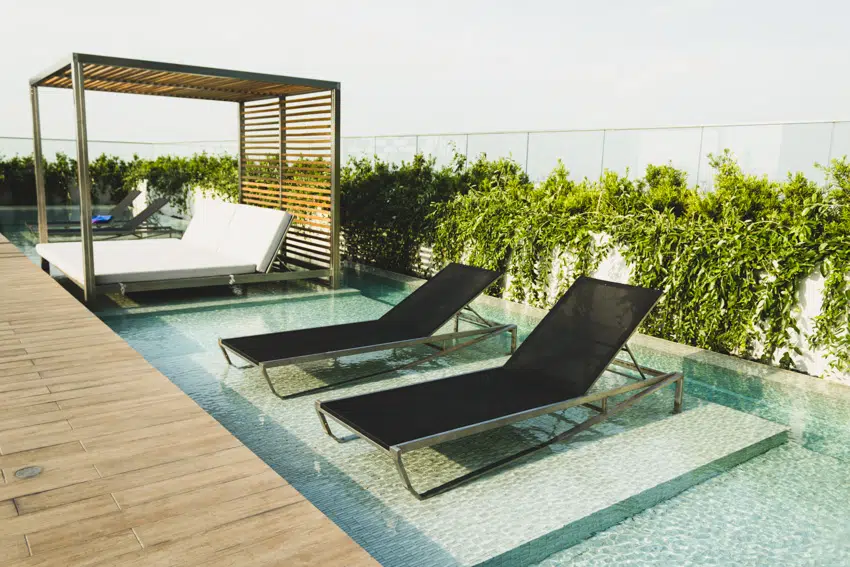 Most people who have decided to add tanning ledges to their pools didn't have regrets. Because most kids get to enjoy playing on ledges and most adults also get to relax on them.
However, if you and your family aren't always staying in your house, adding tanning ledges in your pools won't be a great idea as it won't serve any purpose. ​​Read more about our guide on small swimming pool ideas here.
Are Pool Tanning Ledges Worth It?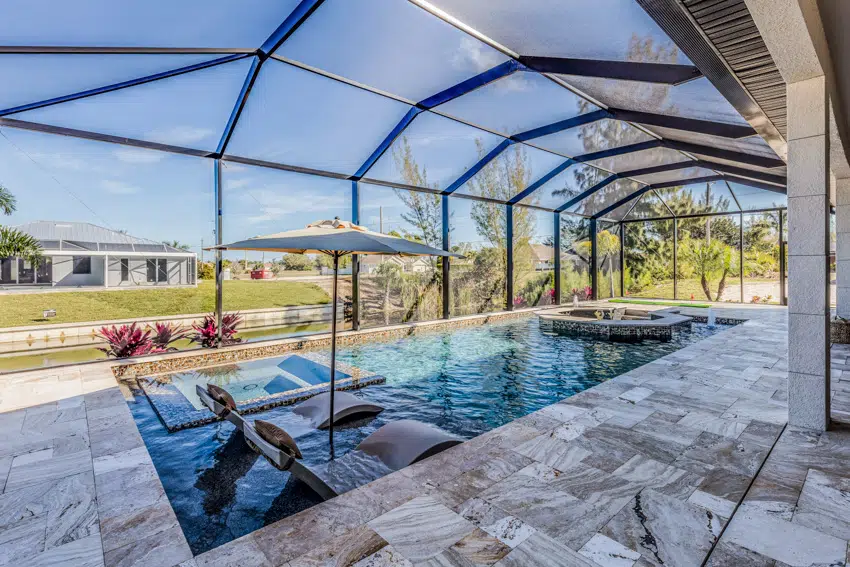 Generally, yes. Indeed, a lot of kids of all ages truly enjoy the use and function of tanning ledges. Plus, numerous parents love the idea of tanning ledges as they give toddlers a very safe and secure area to enjoy the pool with their families.
However, if you're not a fan of in-pool loungers, chairs, and tables, and no one in your household is fond of doing this either, then tanning ledges aren't a good idea. If your main objective of designing a pool in your house is to practice swimming and perform exercises, then building tanning ledges is not necessary.
Adding another dimension, if you're a bit interested but not 100% decided on making one, then you can try doing this one. Pick a model with a built-in smaller ledge. Or, you can try installing a separate fiberglass tanning ledge just beside your swimming pool.
If your pool is vinyl or concrete, you can try constructing a small tanning ledge inside or beside your pool so that you can have the recourse to using it.
Therefore, adding tanning ledges means you can create modifications that will truly enhance the appearance, safety, and functionality of your pool. See more related content at our article about modern swimming pool designs on this page.