Here's our pea gravel pool deck design guide including what it is, pros and cons, exposed aggregate and resurfacing.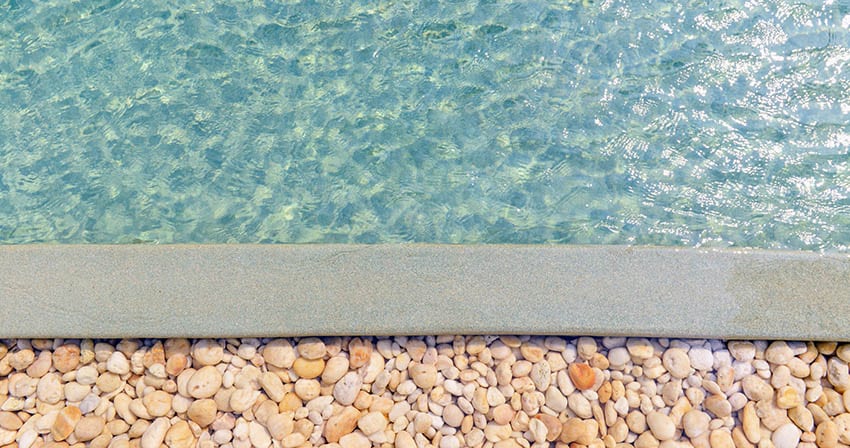 If there's a material a new landscaper or an enterprising homeowner should look into, it would have to be pea gravel. This material is very versatile and cost efficient; it really stands out as one of the aggregates to use for home applications. Pea gravel can be used for a myriad of different things.
Pea gravel can be an excellent material for walls, for walkways, driveways, drainage, and swimming pool decks. That's how versatile this material is. It has been nicknamed as the Mystique of outdoor landscaping because it can pretty much be turned into anything.
What Is A Pea Gravel Pool Deck
A pea gravel pool deck is made up of many small round stones that are about 3/8 of an inch in size. During installation a 3 inch layer of pea gravel is placed on top of larger coarse crushed rock.
Pea gravel is a great material used as backfill or decking for pools. The main reason behind it is that it has its permeability factor and encourages healthy drainage in the areas where it is installed or applied. It's also very nice on the eyes.
If you're looking for a budget friendly pool deck option that would make the pool look great; pea gravel should most definitely be at the very top of that list.
Pros And Cons Of Pea Gravel Around The Pool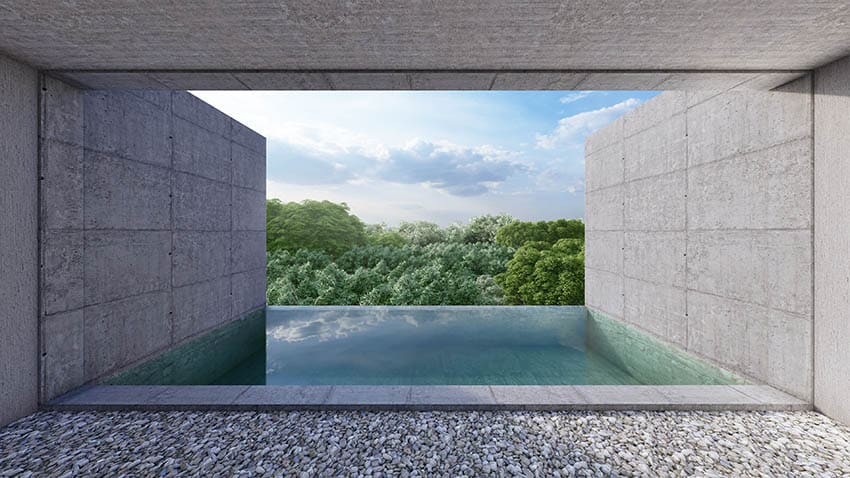 Pros:
Excellent drainage – An obvious pro for pea gravel being used around the pool is for its aesthetic and drainage purposes.
Inexpensive pool deck material – Gone are the days of skyrocketing prices because in this day and age, you can order literally anything and everything off of the internet and prices can turn out to be quite competitive. Although, to be honest, a homeowner or pool decker's hands may be a little tied in terms of purchases in such a way wherein convenience still lies on buying it locally.
Easy to buy locally – Stone can turn out to be quite heavy and a lot will be needed for as far as pool decking is concerned. The best way to source this out would be to look up local stores in the area. Most of them, if you buy in bulk, would even offer free delivery. Price rates can also be quite friendly, as with all commodities, if bought out in bulk.
Easy to walk on – Another upside to pea gravel is that its edges are rounded and smooth. It is much larger than regular gravel and is much easier to walk on. It highly minimizes the possibility of discomfort when pool bathers walk around in bare feet; which is more or less oftentimes the case and this is why pool decking should be critically selected and planned.
Prevents weeds from growing – It prevents weed growth as the recommended inlay for it is roughly around 4 inches or more above the ground. No weed will end up growing in between. It means that its mess free and has little to no maintenance at all.
Low maintenance – More than that, if it does rain or get wet; it doesn't become muddy or messy compared to the rest of the other types of gravel and varieties out in the market.
Cons:
It can be kicked in to the pool – A major con for pea gravel pool decking though, is erosion. It has the tendency to get carried around to other areas or parts of the outdoor space if not installed correctly. Luckily, this is something that can be easily remedied with a little bit of edging; the preferred material for such would be concrete or a mixture of other fine-grained aggregates.
Can be hard to remove – It is also not for the fickle-hearted. In the event that decisions and preferences change and there is a want to change the material for the pool deck into something else completely, this can turn out to be a bit labor intensive.
An awful lot of trouble would have to get into shifting the gravel, moving it around, or getting it removed and changed out completely so it would be wise to keep this in mind when making up decisions.
What is a Pea Gravel Aggregate Pool Deck
A pea gravel aggregate pool deck is also known as an exposed aggregate pool deck. It has pea gravel that can be granite, quartz or other types of natural stones mixed with concrete to create a stylish design.
During the installation process when the concrete and pea gravel are drying, rock salt is dumped on to the surface and troweled away. Then the entire surface of the pool deck is washed down. The result is an exposed pea gravel surface that offers visual interest and is cooler on the feet than bare concrete.
How To Repair Pea Gravel Aggregate Patio
A downside to a pea gravel aggregate patio is that is tends to sink into the soil over time. With years of wear and tear, it has the tendency to look cracked and faded.
A common way to repair this would have to be a process called resurfacing. Although the concept is pretty simple and direct, the recommendation would still be to ensure that professional help is hired.
Can You Resurface Pea Gravel Concrete
For the basis of mechanics though, repairing a pea gravel patio would involve running over the entire surface first with a push broom. This is to remove dirt and excess materials that might not originally be part of the patio.
The next step would be to get the entire surface wiped down, preferably with a damp rag that has a specified mineral spirit or solvent cleaner.
The next step requires a bit of alchemy. Two parts of sand need to be mixed in with 3 parts of pea gravel and then 1.5 parts of cement. The consistency should be similar to that of peanut butter.
Once the mixture is ready, the next step would be to apply a layer of cement or cement paste over the surface area. These materials usually come with applicators so it shouldn't be too hard. This is to ensure the resurfacing mixture stays in place and that gaps in the old paving will be filled.
And lastly, would be to spread out the resurfacing material. The curing period would vary but the general consensus is that it should sit undisturbed for at least a minimum of 48 hours or so. It's also important to factor in the outdoor elements such as rain or high heat and so on.
For more related information check out our gallery of the popular types of pool finishes here.