Here's our Acacia wood furniture buying guide including what it is, durability, quality, cost and maintenance tips.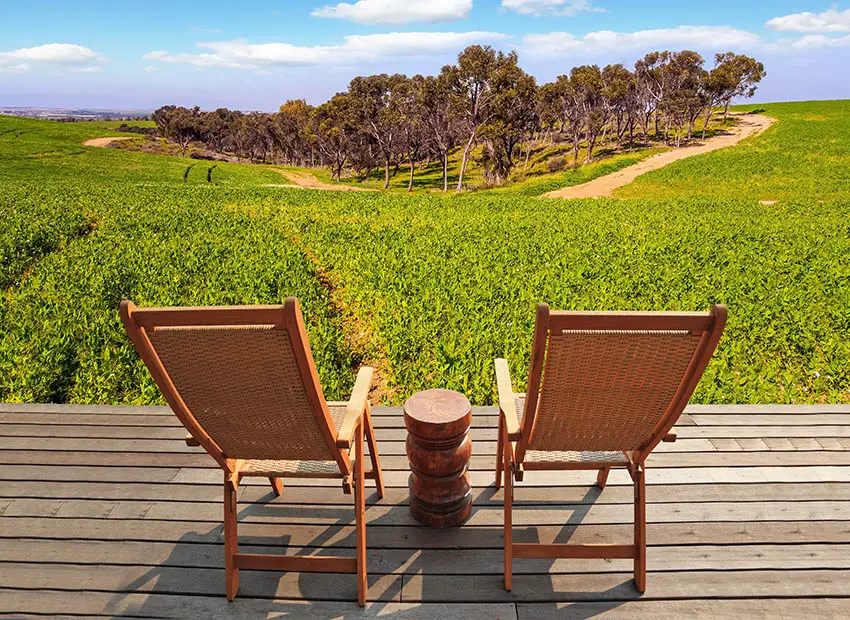 What do you look out for when buying acacia wood furniture? What do you need to know? We will explain all that in this article. Know more of its benefits, why they are loved, and why it's a bang for your buck.
Acacia wood is a beautiful hardwood that's in demand today. We'll go ahead and tell you: it is the perfect material to use for constructing modern solid wood furniture.
Below, we have included interesting facts and a helpful guide if you plan on purchasing acacia wood furniture for your home.
What is Acacia Wood Furniture?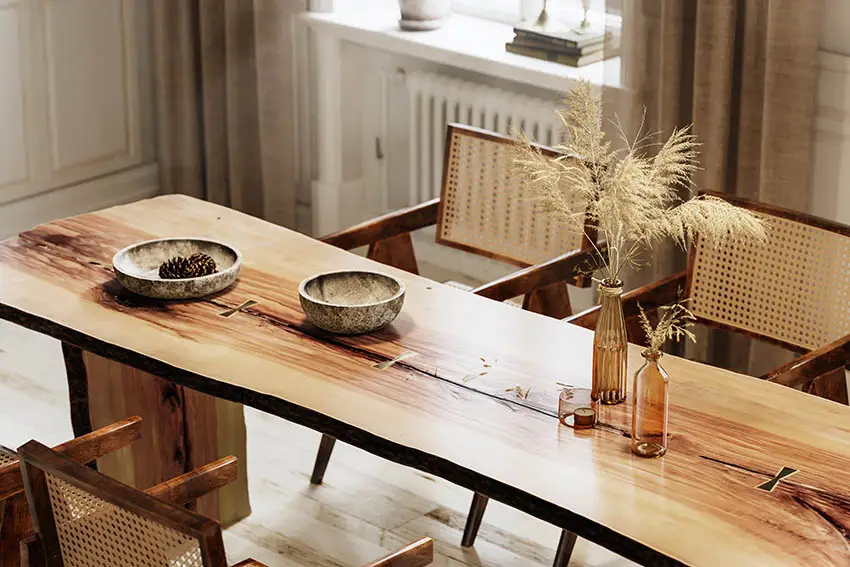 Acacia wood is a practical wood that can withstand climate variations. The hardwood is derived from acacia trees and shrubs native to Australia, which are also now found in other parts of the world. Its strong resistance makes it an ideal wood for crafting long-lasting furniture and homewares.
Acacia wood is known to be naturally smooth especially when polished. It displays a distinctive natural wood grain and the heartwood color can range from light brown to reddish dark tones, depending on the piece.
Because there are over 1000 different species of acacia, its color can considerably vary. On that note, the colors can swirl into a sort of ribbon formation. This alone adds character and details aesthetically to the finished product.
Moreover, its wood has a multidirectional structure meaning the fibers are located towards each other. And, it is rich in natural oils that are keeping the wood rot-resistant.
Is Acacia Wood Furniture Durable?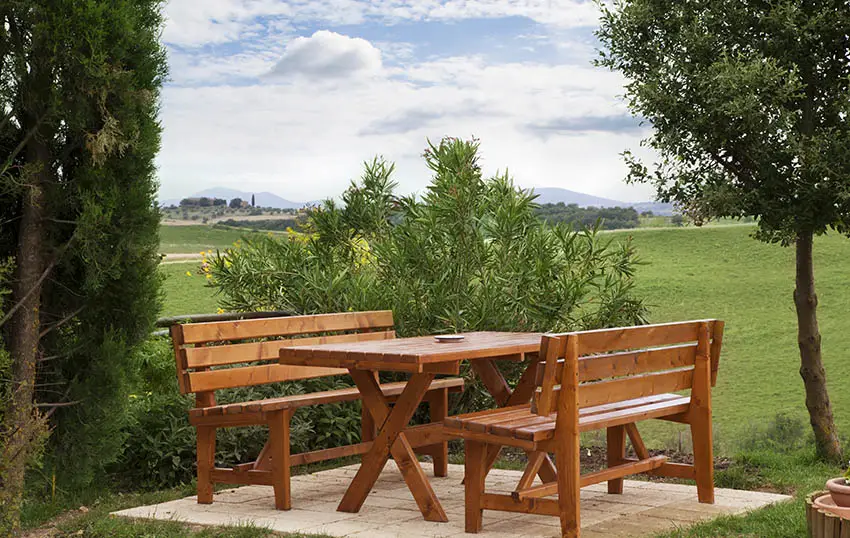 The durability of acacia wood is quite excellent even in the open. It can resist humidity well and is relatively insensitive to insects and fungal attack.
Even if left untreated, woodworkers would claim that you could expect the wood to last for 40 years or more outdoors. Its sign of aging is even minimal. Nonetheless, it is better to treat the wood with glazes, hardwood oils or hard wax.
Moreover, this hardwood is characterized by extreme hardness due to its high density and resilience. It is the only known non-tropical wood to have met the requirements for durability resistance classes 1 to 2.
Due to its high quality and durability Acacia wood is used for many different types of furniture styles.
Is Acacia Wood High Quality?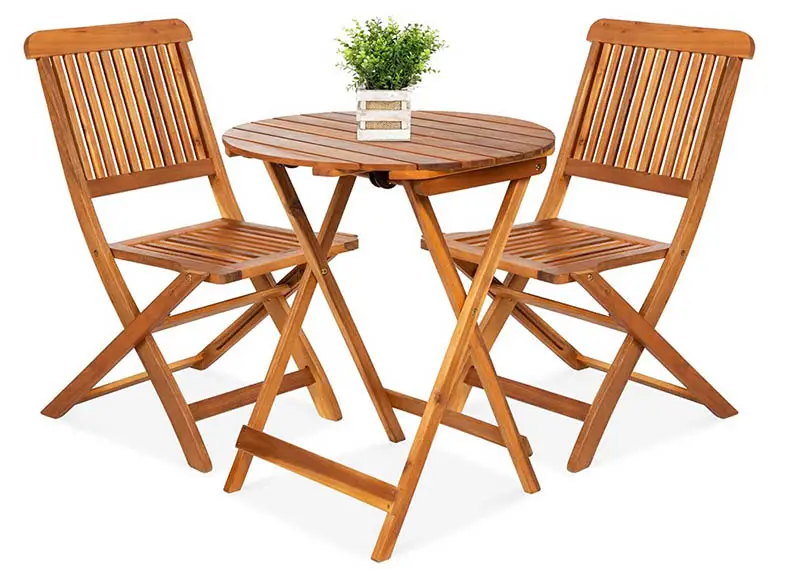 See this acacia wood outdoor patio set at Amazon [sponsored link]
The quality of acacia wood is incredible. For centuries, acacia timber has been extensively used by different cultures. Up to the present, they still manifest to be of great use for all sorts of purposes.
Its furniture designs are one of the best adaptations being suitable for both indoor and outdoor. Not to mention, it is ideal for the thunderstorm-prone areas being heavy and very dense.
Known to be very durable, the susceptibility of the wood is less to scratching and thereby appropriate for premium quality furniture such as coffee tables, among others.
Furthermore, because it is excellent as water-resistant and is antibacterial, the wood befits a premium quality for countertops or serving trays. See more types of maintenance free outdoor furniture here.
Is Acacia Wood Sustainable?
Acacia trees are significantly valuable as they function as nitrogen-fixing plants. Its strong lateral root system nitrifies the soil ideal for some plants that need it.
For those who are keen on sustainability and environmental living, acacia wood is a great option.
Luckily, one advantage of acacia trees is that they grow up easy and fast once replanted. The speed of its natural growth adds up to one or two meters per year and can be harvested in as little as 5-6 years.
For this reason, acacia wood is a sustainable resource while simultaneously not depleting the forest in the process. The number of trees growing are plentiful from all over the world and often without the need for fertilizers. More than that, every part of the tree is being utilized for good use.
Is Acacia Wood Waterproof?
Although acacia wood furniture is water-resistant, it is not considered waterproof. Waterproof would imply that the material provides a complete barrier to water; however, acacia wood tends to be sensitive to moisture.
Besides its durability, acacia wood's good resistance with water makes another key selling point. It makes furniture perfectly suitable for outdoor use. To optimize the use of your hardwood, you will have to keep them away from any standing water.
While you don't have to worry about fungal growth, making it vulnerable to long-term moisture exposure can ensue warping and swelling. For this reason, the longevity and value will be limited, and we certainly don't want that.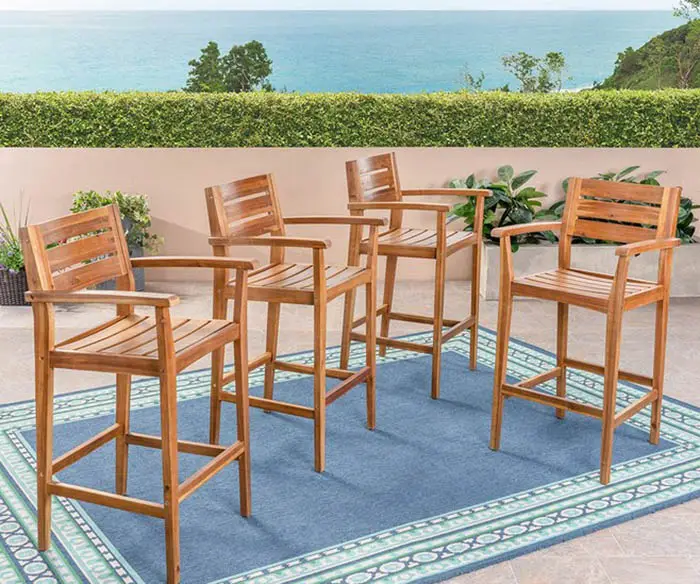 See this outdoor acacia wood bar stools set at Amazon [sponsored link]
Acacia Wood Furniture Cost
Because of its quality, this attractive hardwood furniture is considered more expensive compared to other hardwoods. Building furniture out of this wood produces a high-quality end product. It is practical and is certainly worth its price as it lasts for decades.
For reference, it is more costly than oak but significantly less worth than other exotic species. Besides, if it is an imported product, the price of acacia wood is considerably higher.
Depending on the quality, you can find acacia wood chairs from $50 to $350+, dining tables from $150 to $750+ and living room consoles from $150 to $350+.
Acacia Wood Furniture Maintenance
Like any other wood furniture, there's an added level of care involved. To keep your furniture longer and looking best, only simple maintenance is required.
Below are a few tips on how you can take care of acacia furniture:
Regularly clean your furniture with a damp cloth.
Oil your wood to bring back its sheen and color. Leaving it without maintenance will eventually turn the wood into gray. However, avoid using treatments with silicone as it can dry out the wood over time.
Additionally, avoid using detergents containing ammonia for cleaning.
Avoid spilling liquids over your acacia furniture. Don't place any hot or wet objects on it. Red wine, in particular, can stain your wood. Wipe the soonest possible with a dry cloth if a spill occurs.
Keep your furniture away from extremely hot equipment such as heater or oven and hot areas like fire pits.
The wood reacts with temperature fluctuations. It strongly contracts when exposed to heat and thereby causing it to warp. Then, it expands again after cooling. Positioning the furniture at a constant room temperature will keep it stable.
Acacia Wood Furniture Conclusion
Acacia wood is a powerhouse in the furniture world and for good reason. It can truly last a lifetime, particularly when handled with care.
With that said, your beautiful hardwood has its downsides. The good news is that it can be alleviated. When they are accounted for, you can fully grasp the value of your precious acacia wood furniture.
Finally, they are treasured by most because of their timelessness. Indeed, they produce the finest furniture in the world.
Read more about Acacia wood outdoor furniture on this page.