In this hutch vs china cabinet comparison guide you'll see what they are, their differences & uses, and when to choose a hutch or china types of cabinets.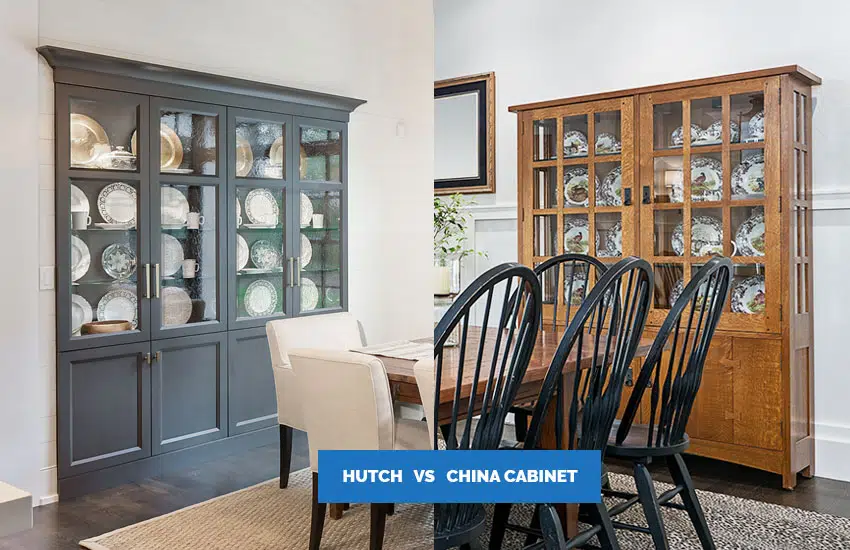 It might be difficult for many individuals to discern the distinction between a hutch and a china cabinet. These furniture pieces both belong to the same genre of furniture classifications, and it is easy to confuse one for the other, especially if you do not even understand what to search for.
Well, you do not need to become a furniture specialist, but understanding the basic distinctions between hutches vs china cabinets will definitely help you drastically cut on the trial and error of locating the appropriate furniture piece for your needs. Read this article to learn more about hutch and china cabinets.
What Is A Hutch?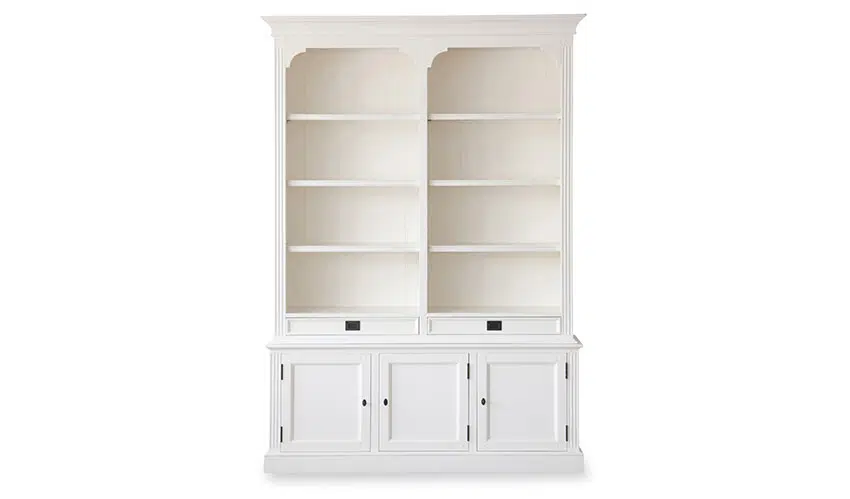 A hutch is a versatile type of furniture that may be encountered in almost any area, although it is most commonly seen in kitchens as well as living rooms. A vertical storage arrangement that contains many shelves and cabinets constructed on top of a buffet-style storage component is the common appearance of a hutch.
Hutches have a greater range of design elements compared to china cabinets, making them extremely versatile. You can even buy hutches with decorative glass cabinets to showcase your favorite objects, similar to a china cabinet. You can, nevertheless, obtain additional storage items to meet your demands, whether they are for exhibiting attractive products or storing all of your household accessories.
Moreover, hutches maximize vertical space, thus you will gain a lot of storage for the small portion of surface area they take up. China cabinets are primarily single furniture pieces used to exhibit elegant cutlery, whereas hutches are usually made out of two different sections.
A hutch's top section, also referred to as its independent or freestanding unit, can differ from layout to layout. Some of them are display cabinets, whereas others are basically cabinets. The top piece of a hutch can serve as both in certain designs. The lower part of a hutch is designed more like a typical cabinet, with drawers, counters, as well as cabinet space.
Hutch Uses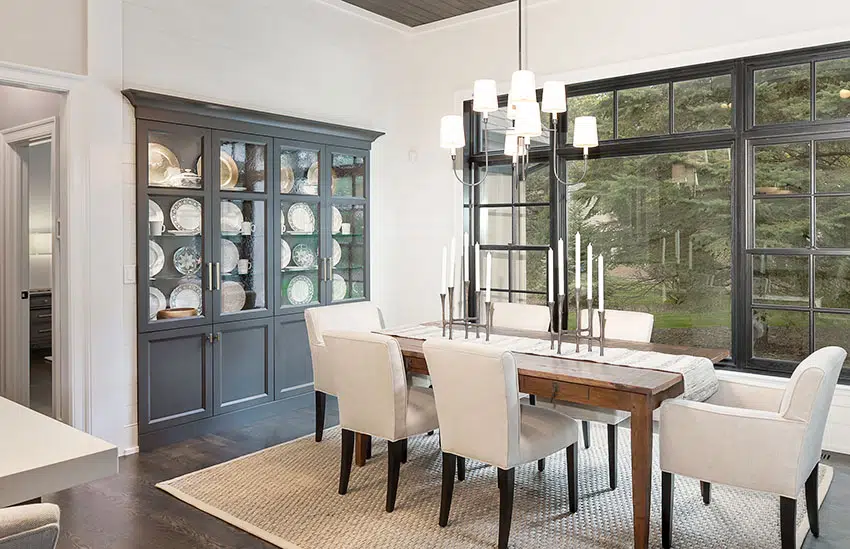 As a Dining Storage Unit – A hutch is frequently used as either an informal or formal dining room storage unit. They are often used to store silverware, china, or tablecloths.
This is especially useful if you are having difficulty fitting all of your kitchen equipment into your current cabinets. If your dining area is unadorned, a hutch, particularly the buffet version, might be a terrific decorative addition.
The hutch's most fundamental usage is to elegantly display china, tableware and glassware. A hutch can, however, be used to prepare food, coffee, or tea. Hutch storage space is often big enough to accommodate bulky or awkwardly sized goods like cake plates or huge serving dishes.
As a Decorative Element in a Corridor – Almost every house has an unoccupied wall, especially in the hallway area. Even a sizable portrait is not always sufficient to occupy the space.
Fortunately, a nice hutch can be the ideal option. Depending on the width of your corridor, you can select a hutch that will fit the space and make it look more interesting.
As a Television Stand – A hutch, specifically a buffet hutch, can function as a TV stand. However, the simplest solution to using a buffet hutch as a TV stand is to ensure that it is sufficiently wide. Very thin hutches might not be able to support your TV safely. A slot for a cable modem or DVD player is also quite useful on a TV stand. By doing this, your living room or entertainment space will look cleaner.
Other Storage Applications – Hutches can be arranged as desks as well. Numerous hutches also include a mirror on the rear of the shelving to provide a sense of extra depth and openness in the room where it is placed. They are often frequently used to store popular dining room essentials.
What Is A China Cabinet?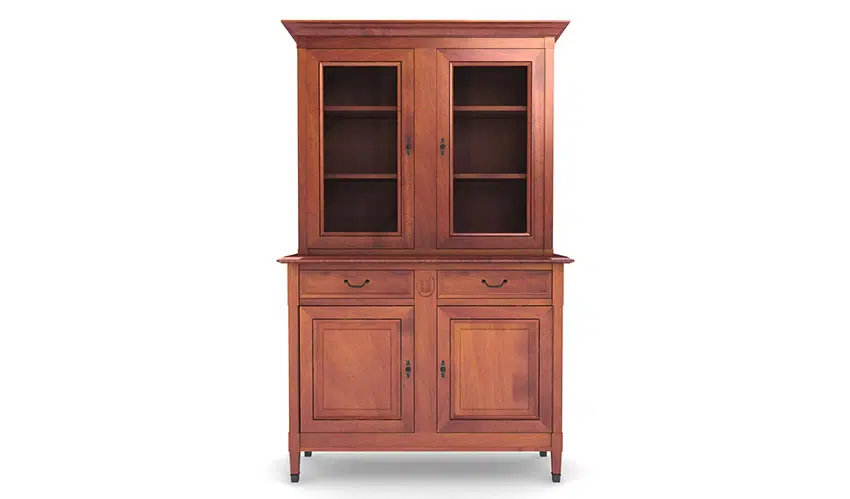 China cabinets are far more popular than hutches. This is partly owing to the prevalence of "china" dinnerware, often recognized as earthenware ceramics. Since many porcelain products were so exquisite in appearance, finding a way to showcase that elegance as a consistent aesthetic became very essential traditionally. As a result, china cabinets became necessary and fashionable.
China cabinets are coming back into fashion, and this time, they are serious about it. Glass-front display cabinets were once linked with older homes, but they are quickly regaining appeal across all interior design styles.
These cabinets differ from hutches because they are normally one piece rather than two, and they are designed to exhibit valuable things rather than hide them away in safekeeping. They range in size from a little single-door cabinet to big, dominating full-wall systems.
China cabinets are becoming more multifunctional as they gain favor in more modern home interiors. China cabinets are popular for showcasing art, trophies, figurines, and mementos. They are a wonderful method to display your treasured possessions without having to constantly tidy them.
China Cabinet Uses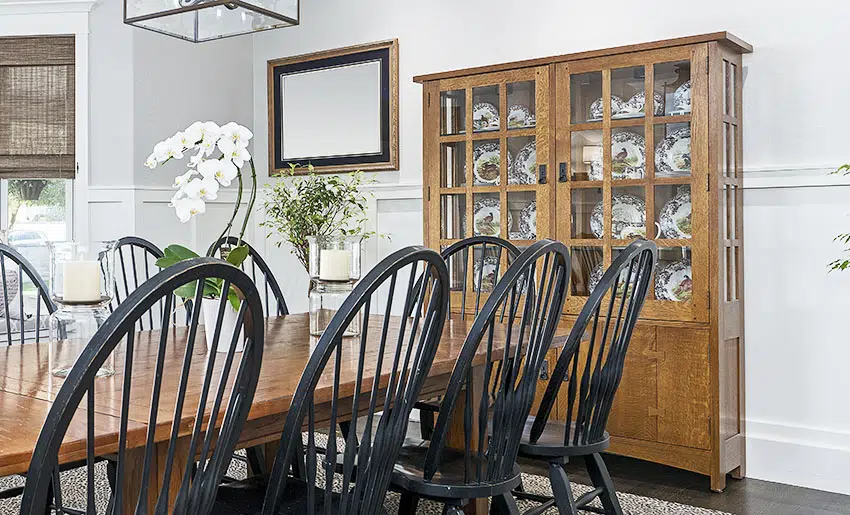 Displaying and Storing Fine China – China cabinets are given the name after their primary use, which is to showcase and secure fine china or earthenware ceramics. Such cabinets feature glass fronts, but they might also contain solid cabinets and drawers at the underside to store extra china.
Showcasing Decorative Elements – China cabinets are currently being utilized to keep and show objects that are not china-related. This can include photographs and trophies, along with crystal glasses and various liquors.
When to Use a Hutch vs China Cabinet – The primary decision to consider in this case is whether you want to display or hide objects. Hutches are intended for storage and efficiency, while some designs include glass doors for displaying highly valued belongings.
If displaying objects, from figurines to fine china, is your primary goal, a china cabinet would be the right option. They appear more sophisticated than hutches and are only encountered in dining rooms, whereas hutches give more versatility. Even so, it is all contingent on the look you want to go for.
After you have determined which selection is ideal for your needs, you might now start browsing or shopping. There are many different styles of hutches and china cabinets to fit every style and purpose.
You should take note of what you will be putting inside your unit, whether you plan to store a few treasured vases or other household objects that are not that valuable. This will assist you in figuring out whether you need a hutch or a china cabinet.
Visit our end table vs side table comparison guide for more related content.