This gallery showcases the types of TV stands with the different design styles, materials, best size to use, and how to choose a stand for your television.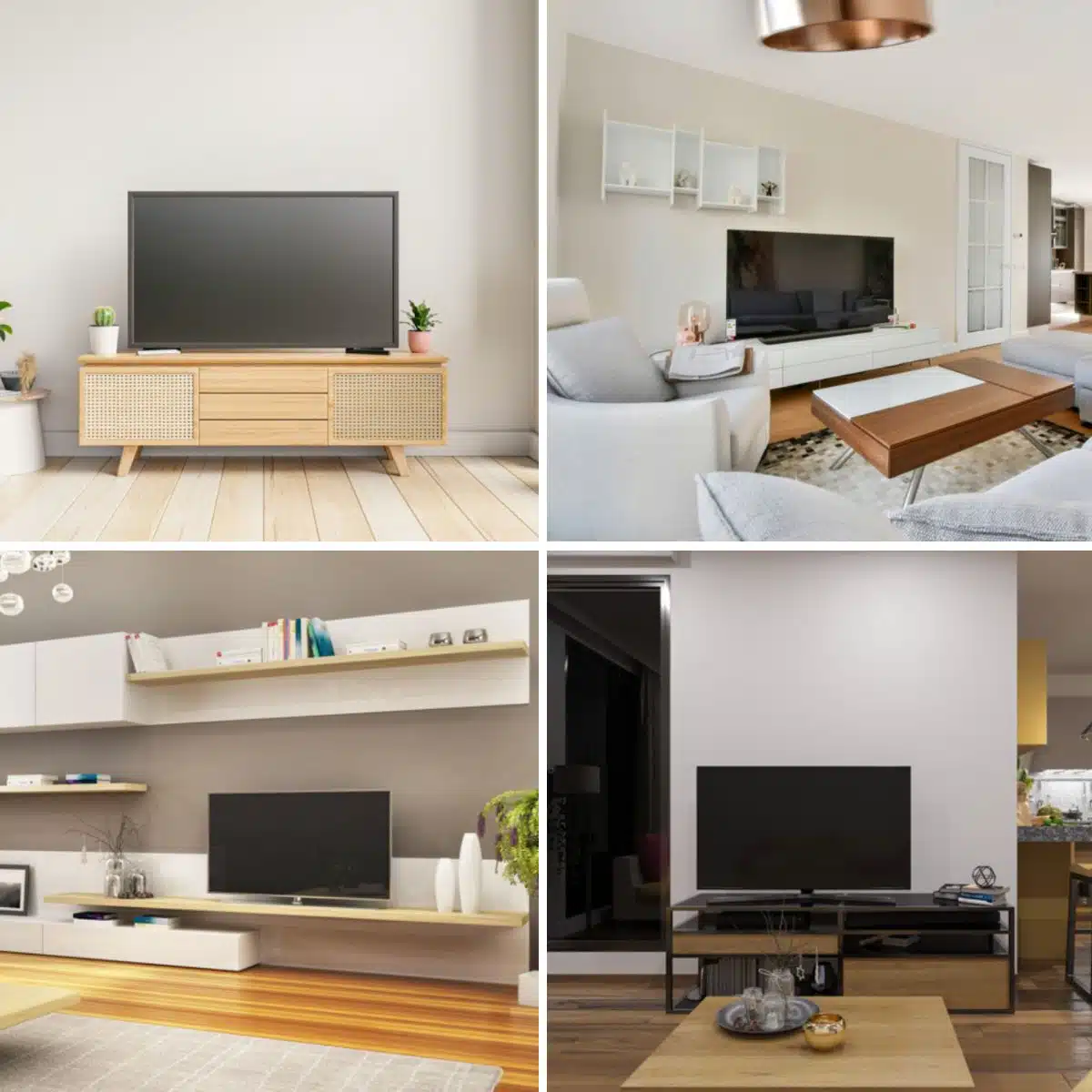 In many households, the TV is the focal point of the living room or leisure area, hence it is always assigned a prominent position on an appropriate piece of furniture. TV stands come in a variety of designs, materials, and styles.
Moreover, they can provide extra storage and make your TV more visible. In this article, we will show you the different types of TV stands. This guide will help you identify what TV stand is ideal for your needs and preferences.
Quicklook: Different TV Stand Types
• TV Stand Designs
• TV Cabinet
• Open Shelf Stand
• Closed Shelf Stand
• Floating Stand
• Hutch
• Entertainment Center
• Swivel Stand
• Corner Stand
• Tiered Stand
• Mobile TV Cart
• Universal TV Stands
TV Stand Designs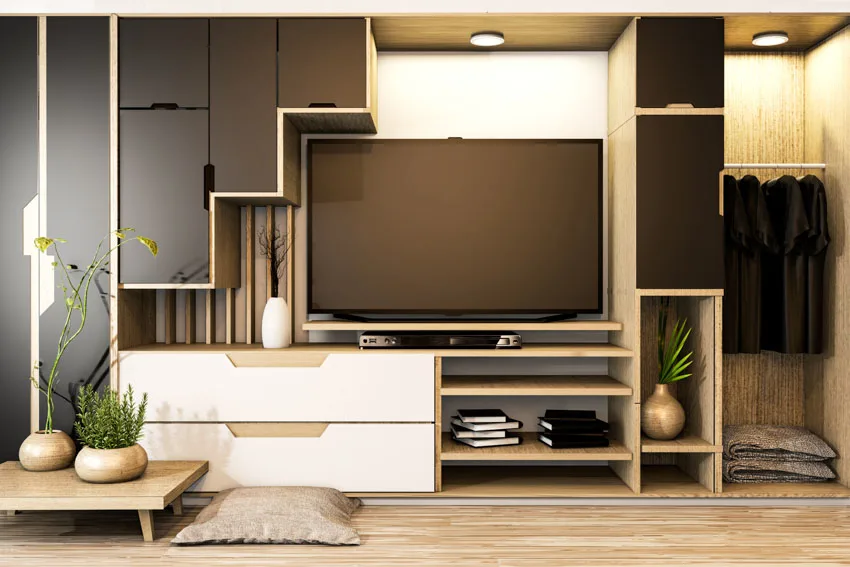 The design or configuration that works ideally for you and your household will be the most crucial consideration when purchasing a new TV stand.
Using a TV stand is another popular option for mounting your TV. One of the biggest advantages of using a TV stand is that it can be a more flexible option than wall-mounting. – TV Buying Guide, Chand Kumawat
Because this is the exact structure, shape, and functionality that you will most certainly use for years, getting the proper design is critical. However, the following are the various types and designs of TV stands:
TV Cabinet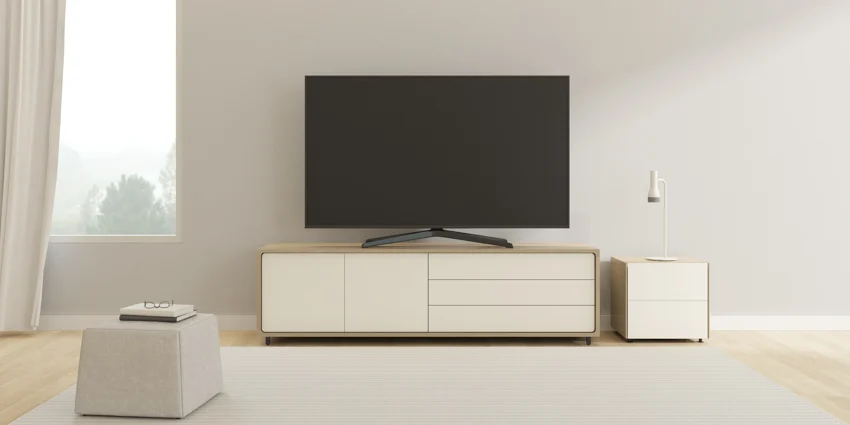 TV cabinet stands are classified into two types based on where the cabinet doors are installed. The first type normally includes storage on the lower half, which cabinet doors will secure, as well as an open component on the upper half, which will accommodate the whole TV.
On the other hand, the second type features cabinets or shelves on the lower half and a huge cabinet on the upper half that covers the TV when closed.
Both of these selections are excellent for storage because they provide lots of room for storing items that you do not wish to display. TV stands that surround the TV behind hinged doors are ideal for formal settings where the TV should not be the focal point.
With TV Cabinets, you have the option to close the cabinet doors so no one will be inclined to turn on the TV. In this way, your guests might also not even notice what is inside the cabinet.
This form of cabinetry is particularly beneficial in spaces where you may only wish to use the TV occasionally, such as a dining area or bedroom, and it could be kept away most of the time.
The cabinet TV stands that cover the TV not only assist in creating a more formal ambiance but also prevent it from accumulating dust, which means your TV will not need to be cleaned as frequently.
On the contrary, the disadvantage of cabinet-style TV stands is that they are often oversized and hence only ideal for huge spaces. Because of their vastness, they normally do not go well with minimalistic or streamlined interior designs.
They also have a rather conventional design, frequently in dark wood with classic carvings, which affects the types of purchasers to whom they appeal.
Open Shelf Stand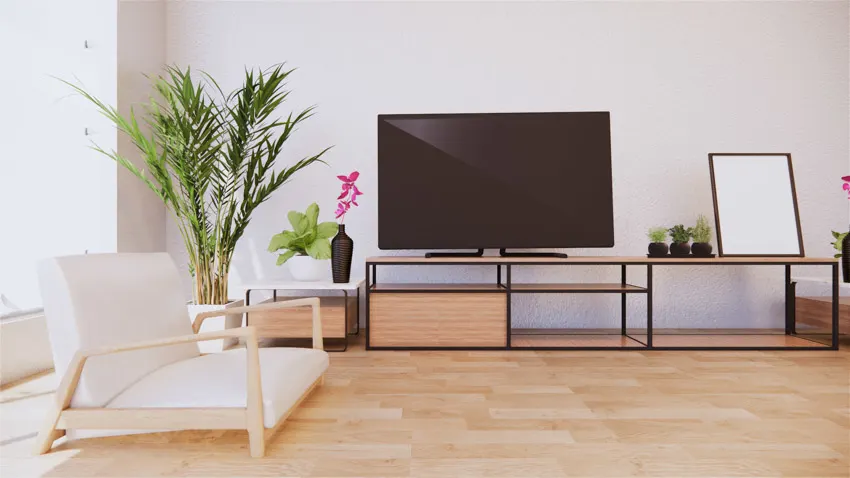 One of the most prevalent TV stand configurations is the open shelf-style TV stand. This is among the minimalistic types of furniture styles that are basically in the form of a compact bookshelf.
An open-shelf TV stand usually features two or three shelves beneath the topmost surface, which will house the TV. It might or might not come with a bracket on which the TV can be affixed. Such TV stands can look wonderful if they are always clean and organized and do not have too many objects piled on the shelves.
Moreover, they function well in compact spaces as they are an open piece of furniture that stretches the vision path to the rear of the shelves, giving the impression of greater space. These TV stands are great for homeowners who have electrical devices that must be managed routinely.
Low-level shelves, like those seen on an open-shelf TV stand, tend to accumulate more dust, thus they, along with any things placed on them, will have to be dusted on a constant schedule.
Closed Shelf Stand
TV stands with closed shelves beneath frequently take the form of a console worktop, with the TV on the upper end and the obscured shelves underneath that are providing lots of storage capacity.
The benefit of using closed-shelf TV stands that are normally covered by a sliding glass door or a cabinet-style movable door is that any clutter is kept out of sight, giving your living space a more orderly and sleeker appearance. The doors also keep dust and dirt away from your stored objects, allowing them to remain tidy.
If you have a network cable device or a video game system that necessitates your TV remote to interact with the device, covering it up will block it from functioning, thus you will have to leave the doors open and transform the TV stand into an open-shelf style. Furthermore, if you want to minimize the clutter, a TV stand with one or two open shelves would be a suitable solution.
Floating Stand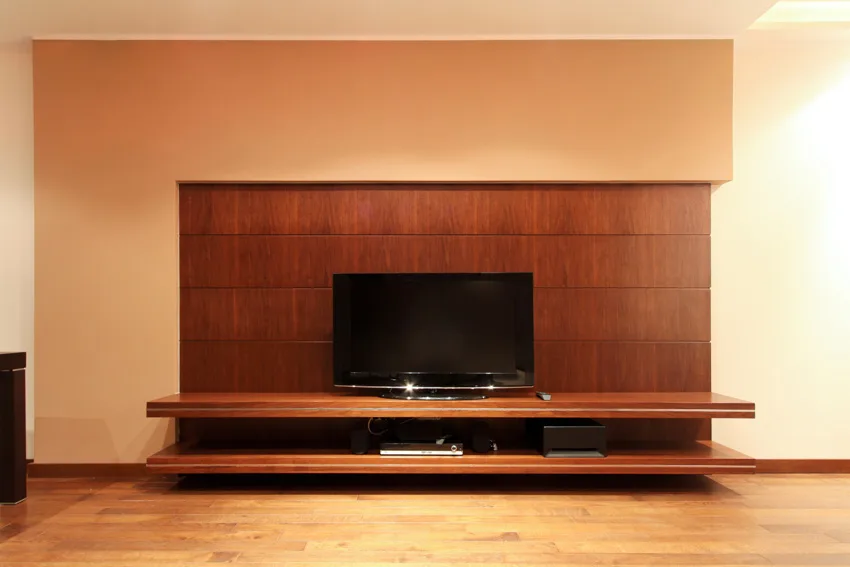 A floating TV stand functions well without legs, and it is, therefore, directly attached to the wall with empty space beneath to give the illusion that the furniture, as well as the TV, is floating.
These TV stands have a modern and streamlined appearance, making them ideal for minimalist-design environments. They are ideal for small spaces since they clear up floor space while giving the sense of extra space at the same time.
To install a floating TV stand, you have to ensure that have holes in the wall where the TV stand will be fastened using screws because this will provide it with strength when screwed in and prevent it from collapsing, protecting your TV and supporting its weight properly.
Aside from that, floating TV stands are typically compact because larger ones would place too much tension on your wall. This implies they only have a limited storage capacity for objects that require to be close to the TV such as a network cable box or gaming console.
Hutch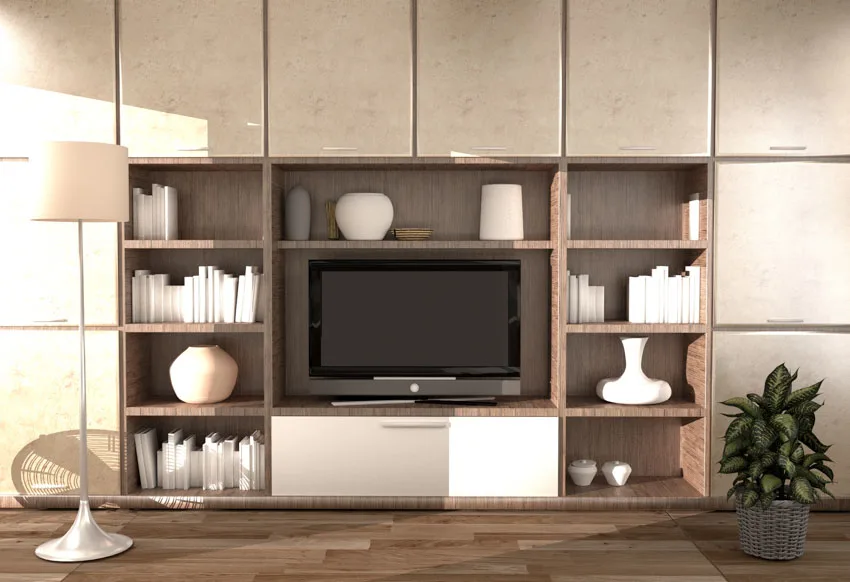 A hutch is a large furniture piece that generally comes with shelves, drawers, or cabinets on the bottom half and a centralized location for a TV accompanied by extra shelves on the sides and above. This TV stand can provide a lot of storage and even serve as a bookshelf or a place to store household board games.
A hutch is a large furniture piece that generally comes with shelves, drawers, or cabinets on the bottom half and a centralized location for a TV accompanied by extra shelves on the sides and above. This TV stand can provide a lot of storage and even be a bookshelf or a place to store household board games.
Furthermore, a hutch is often made of wood. However, it can be decorated to appear either contemporary or vintage. Substantial wall space is required for a hutch TV stand, which might be the room's center point. This can work effectively if your living area does not have a point of focus, such as a fireplace.
Entertainment Center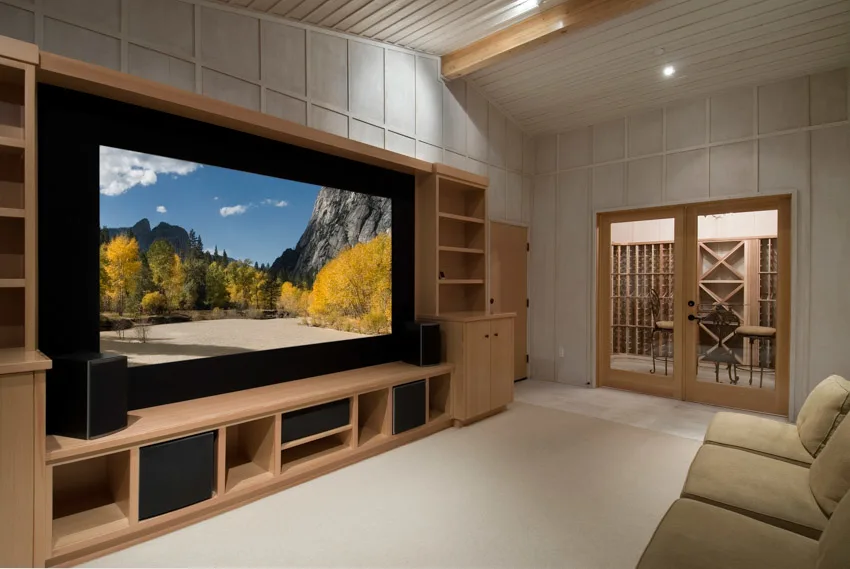 An entertainment center is the biggest form of a TV stand, and it is indeed capable of taking up the entire wall space from flooring to ceiling. It will normally include a spot in the center for the TV, and the remainder of the furniture will be for storage, cabinets, and shelves.
There may also be space for speakers and other entertainment devices such as video game systems, amplifiers, or music-playing equipment.
Understandably, entertainment centers are some of the most premium and costly types of TV stands, but they can be extremely functional and have a significant aesthetic appeal in a space.
In addition, because they are normally too large to fit through a doorway, entertainment centers are frequently delivered flat-packed and must be installed on-site. They come in a variety of patterns, styles, and designs.
Nevertheless, if you have a household that enjoys electronic entertainment, you may consider an entertainment center to be a desirable piece of furniture.
Swivel Stand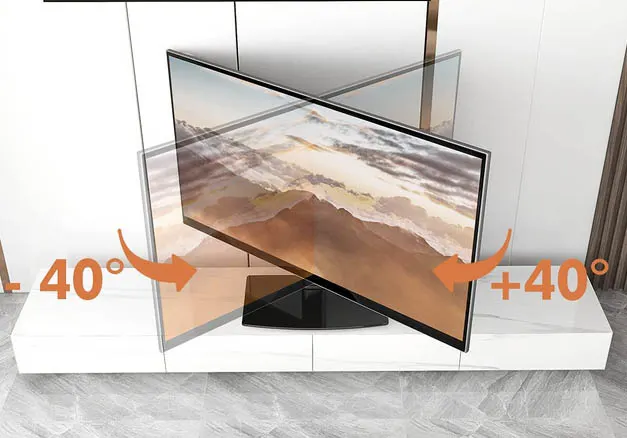 See this swivel stand on Amazon [sponsored link]
A swivel TV stand, in general, features a rotating foundation that allows the stand's main component to swivel sideways. This implies you can alter the orientation of the TV to obtain the best possible picture depending on where you are in the room.
Additionally, this TV stand can be used to position the TV away from the brightness of the sunlight if it is interfering with your watching. This style of the TV stand is also ideal for televisions that do not have a built-in rotating base or for people who want to put speakers in or on the stand.
Corner Stand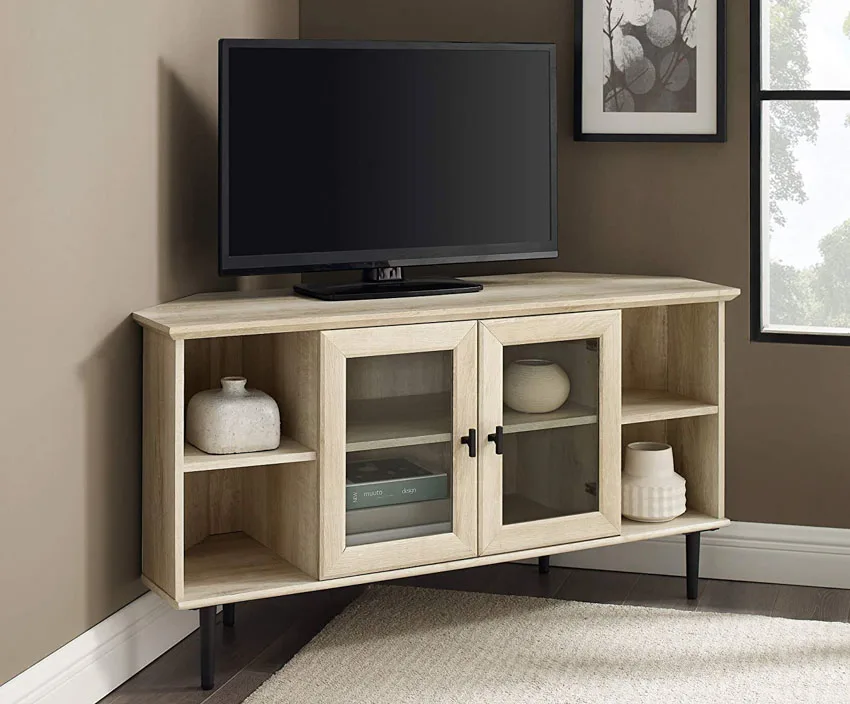 See this wooden corner TV stand at Amazon [sponsored link]
A corner TV stand includes a back that is positioned at a perfect angle. This indicates that it can lay securely in a room's corner rather than flush against a particular wall. It is indeed a smart technique to save room if you wish to place your TV in a corner, rather than putting a standard TV stand on a diagonal inclination, which consumes space.
By extending the furniture straight into the corner and establishing a corner storage space underneath the TV, you can maximize the remaining space using a corner TV stand.
Corner TV stands are available in a range of styles and configurations, as well as corner cabinet TV stands and corner shelved (open or closed) TV stands.
Furthermore, they work nicely when you have a particular location planned for your television, but if you relocate to a new home or reorganize your living room furniture pieces, you might realize that a corner TV stand is not very adaptable. It will usually have to be placed in a room's corner, which will not constantly work in every situation.
Tiered Stand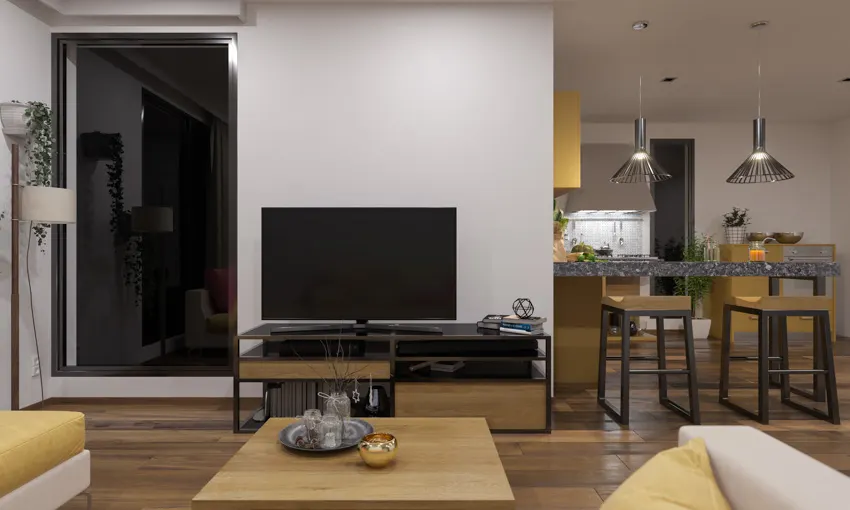 Tiered TV stands are somehow similar to conventional TV stands. However, these TV stands normally have two or three tiers or rows. These additional rows can be very useful for holding other devices that are meant to be near the TV such as gaming consoles and cable boxes.
Tiered stands are normally medium in size and have minimalistic designs. They are very much ideal for homes with minimalist decor. They can also be easy to move anywhere you want as they are mobile.
Mobile TV Cart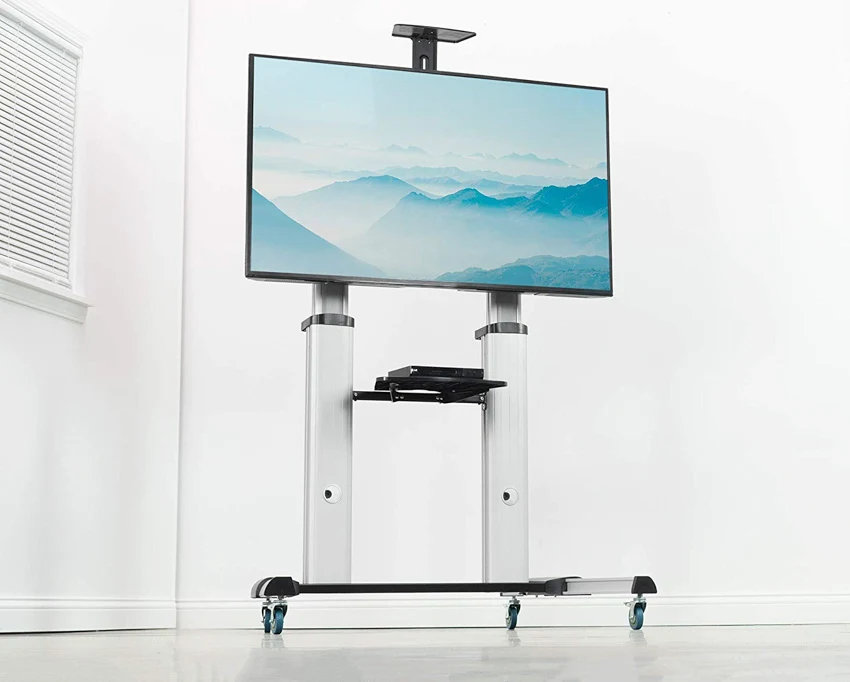 See this mobile TV cart stand at Amazon [sponsored link]
Mobile TV carts are often used in business settings to engage employees about corporate performance, forthcoming events, and other necessary details.
It is perfect for companies who wish to move their screen from one area to another without needing to buy multiple televisions. This holds true for academic institutions as well.
Schools are sometimes on a small budget and may only need a limited number of monitors, thus these mobile TV stands would be an ideal solution. A mobile TV cart is typically composed of strong steel, making it suited for use in high-traffic areas.
Generally, a mobile TV cart includes shelves for electronic devices such as tablets and laptops, enabling the screen's display output to be readily accessible. Audio and visual carts have plenty of space for projectors and several tiers of storage.
Furthermore, the shelves may be modified for added convenience. Some models even include height adjustability, allowing you to raise the TV to a suitable viewing position.
Universal TV Stands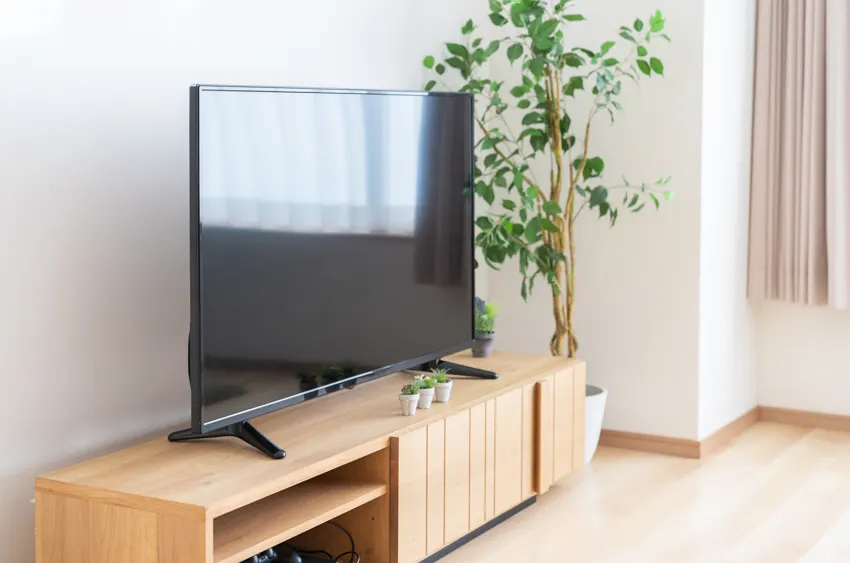 If you no longer have your original platform mounting and want to be able to position your television on a table, cabinet, or console, a universal TV stand would be a useful solution. It usually works best with mid-to-large-sized televisions.
Universal TV stands are a decent option. They can accommodate practically any type of TV. However, you should expect that the appearance of these stands is just basic.
TV Stand Materials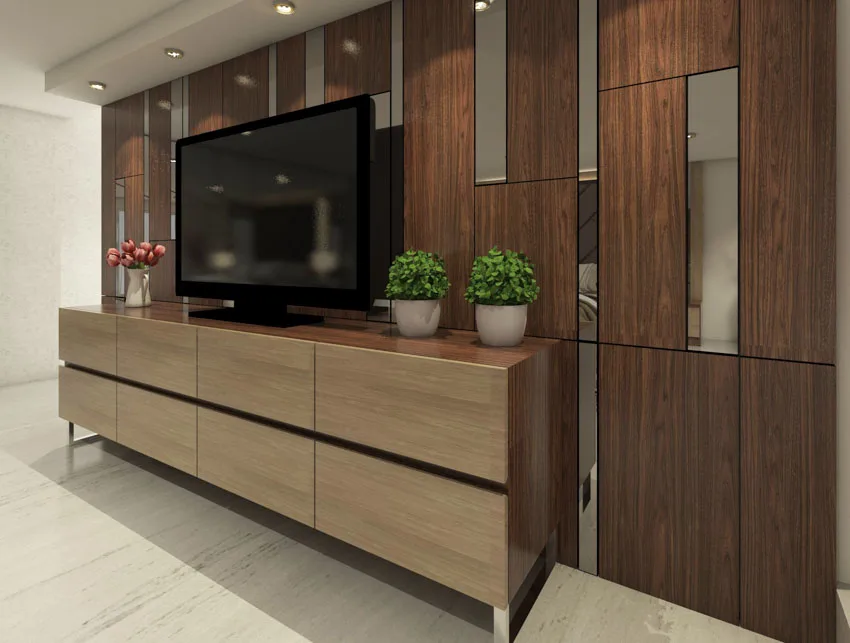 The material used to construct your new TV stand is also an essential factor to take into account. You might like a more classic and ageless wood framework. Or, you may like something more utilitarian or minimalist in metal structure.
Glass models are becoming increasingly popular as well, with a slew of strengthened glass models, making the practically transparent TV stand a familiar sight.
Without further ado, here are the different TV stand materials you can choose from:
Wood: Wood is such an adaptable material since it comes in so many different tones, textures, and designs. A white-washed wooden TV stand or a typical dark wood TV stand may be what you are normally looking for. In any case, a wooden structure ensures that your furniture will be strong and will not break quickly.
Even though metal- and glass-made TV stands have grown in popularity, wood has an advantage in terms of style, color, and practicality. The most opulent models are frequently made of wood, with intricate embellishments and rich surface hues.
Glass: Glass-based TV stands have grown in popularity over the years. They are not totally composed of glass, but rather, they have glass shelves atop metal or wood frames.
Since glass is clear, it can make a room appear larger by not obstructing sightlines with heavy and substantial furniture. Indeed, it works well in a modern design or in a compact area because it is transparent.
Glass, on the other hand, has the disadvantage of being easily smashed, thus it should be discouraged in houses with small children.
Metal: Metal TV stands are noted for their durability and strength. They have a more forceful appearance than wood, which offers a more spontaneous touch. Metal TV stands to look great in industrial-style environments and can be painted to match your current décor.
A metal TV stand will always be more stable, lighter, and possibly thinner than a wooden TV stand. These models are frequently molded into extraordinary variations and have distinctive patterning and incisions. Metal is frequently used in the building of the most modern units, whether alone or in conjunction with glass shelving.
Laminate: Laminate TV stands are often made of synthetic materials that are laminated together to make a thin covering that resembles wood. Laminate components frequently appear manufactured because they are not composed of wood. The printing method gives the laminate its wood grain texture.
These printed sheets then adhere to a long-lasting core material such as medium-density fiber (MDF). Laminate TV stands are ideal in terms of enhancing the ambiance of your lounge space as they frequently have a glossy appearance.
Laminate is a manufactured product that is resistant to heat and damage. Because of its robustness, laminate does not require as much maintenance. Hence, some customers prefer laminate for a larger TV stand that also supports a huge and heavy TV.
MDF Board: TV stands made with MDF Board are distinctively constructed of an engineered wood combination. These boards are composed of solid wood fibers that are combined with synthetic compounds at high temperatures and pressures to form sheets of various thicknesses.
Because these boards have the appearance of wood, they are utilized to make TV stands that replace genuine wood.
MDF boards are extremely stable, making them ideal for non-solid wooden TV stands. MDF-based stands are also less expensive than some hardwood TV stands. It also has a relatively flat surface, which makes it ideal for painting and embellishing.
Plastic: Plastic is rarely used for TV stands as it is not meant to hold weighty objects. However, they are among the most inexpensive materials. If you wish to use plastic as the base material for your TV stand, you have to ensure, at least, that it is high-density.
Wicker: TV stands constructed of natural wicker have a distinc vibe, making them ideal when considering different rustic themed living room ideas. Wicker TV stands are typically supported by top-quality medium-density fiberboard, which is exceptionally durable and does not break or distort easily. To maintain stability, certain models have a metal foundation.
Mirror: Mirrored TV stands are attractive in both architectural style and contemporary settings. They are ideal for small rooms since the mirror bounces illumination and gives the appearance of more space. Because mirrors are composed of glass, they might shatter or crack, and hence you must exercise caution when handling them.
TV Stand Styles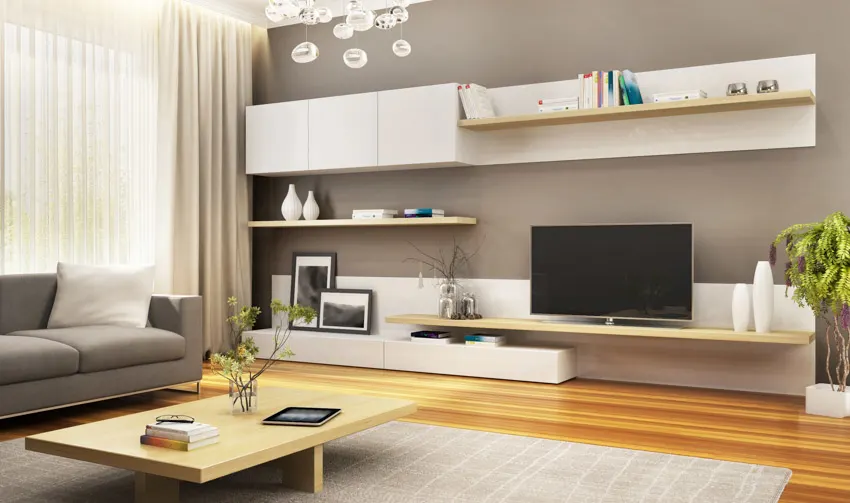 After you have decided on the overall design and construction material of your TV stand, you have to narrow down your options for a style.
This is the last distinguishing feature of any piece of furniture, and its significance is amplified as the central focus of your living space. Here are the different styles of a TV stand:
Modern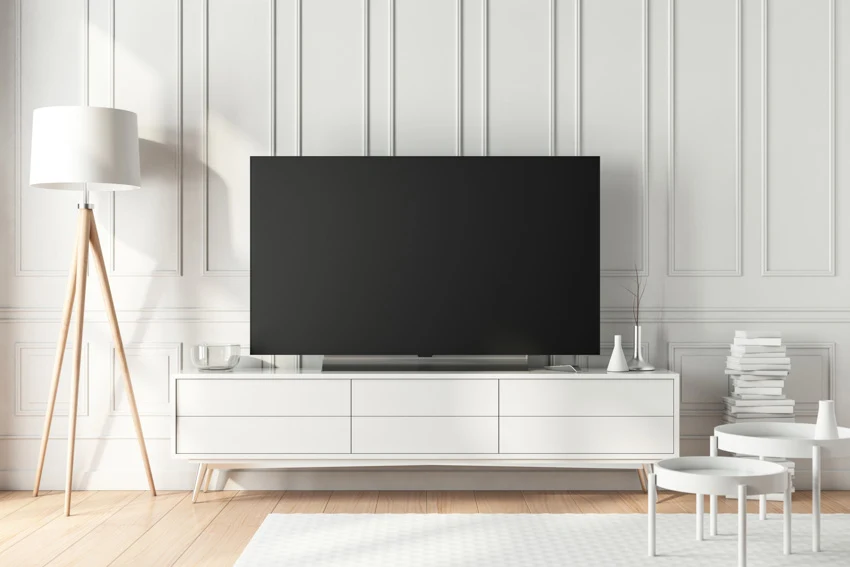 Clean lines are an important aspect of the architecture of modern TV stands, which are normally constructed out of glass, wood, or metal. These TV stands are frequently seen at big market outlets like IKEA, where they can be purchased at a bargain.
Numerous modern TV stands will be made of particleboard and laminate to provide them with a sleek and consistent appearance. Modern furniture has a distinct, forward-thinking appearance since it is based on cutting-edge designs from the mid-20th century. This style promotes utility and form in equal proportion, with bold, often minimalistic features.
Mid Century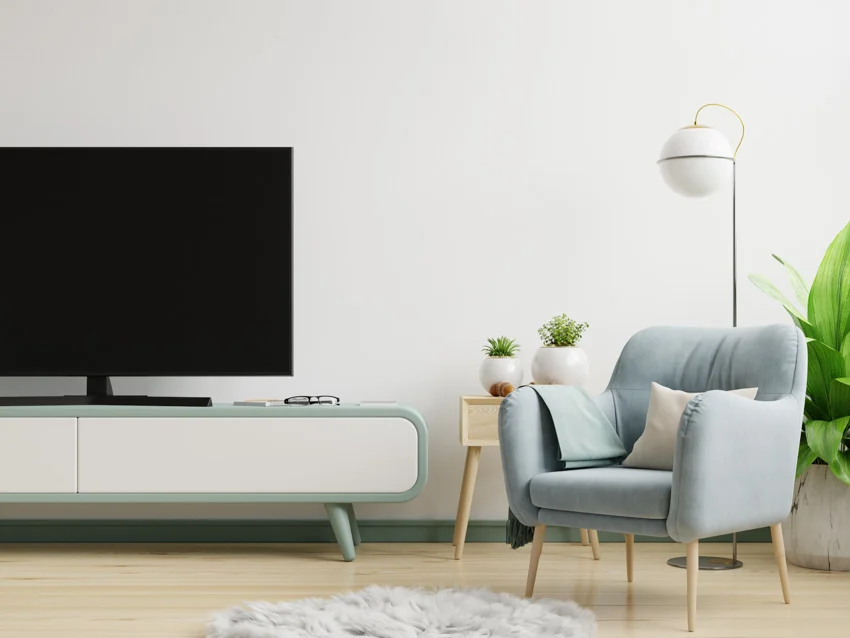 Mid-century TV stands are an excellent addition to any living, family, or TV room. Simplicity, minimal lines, as well as gorgeous materials are all trademarks of mid-century TV stand design.
These stands often have less storage available than more conventional kinds of TV stands, which helps them mix in easier with minimalist interior décor, but this may leave them less functional. Furthermore, mid-century TV stands can be made of any material but are often quite plain and non-flashy in appearance.
Traditional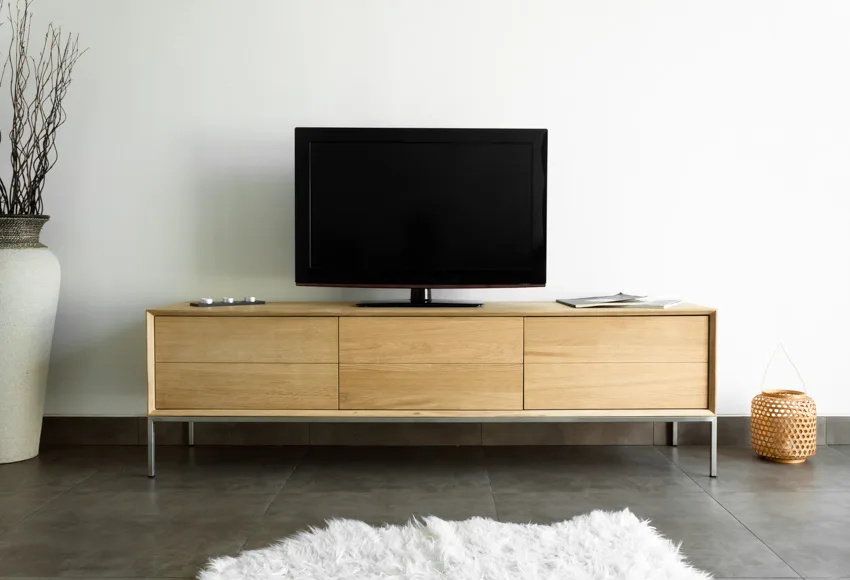 Traditional TV stands are typically constructed of wood and have decorative carvings or be varnished in a highly glossy sheen. Oak, as well as deeper variations of wood like mahogany, is a common choice for traditional TV stands.
Indeed, traditional TV stands complement a variety of design styles and provide durability as they have a timeless look that never goes out of fashion.
Rustic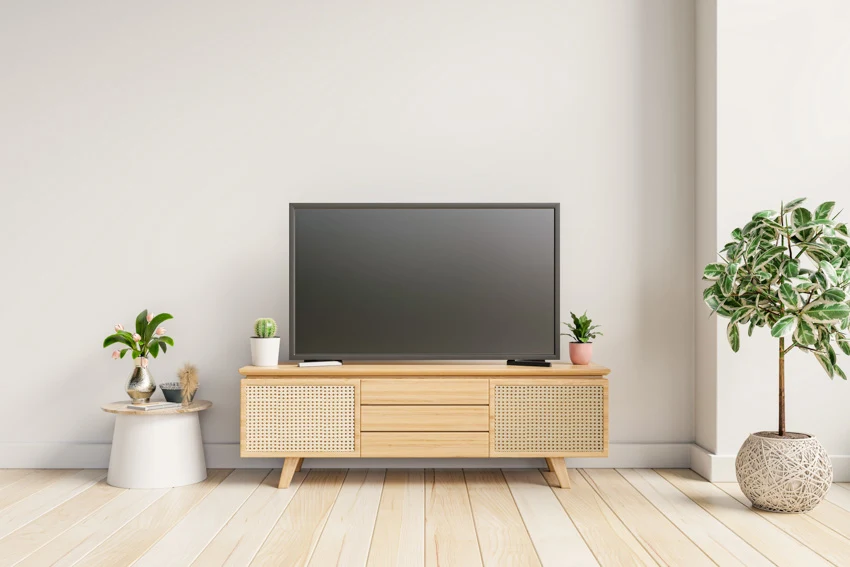 Rustic TV stands are generally made of wood and may have an unpolished, raw, yet natural look to them. Since rustic styles are distinguished by their functionality above their visual attractiveness, rustic wooden furniture frequently has seams or hardware that may be visible from the outside.
Farmhouse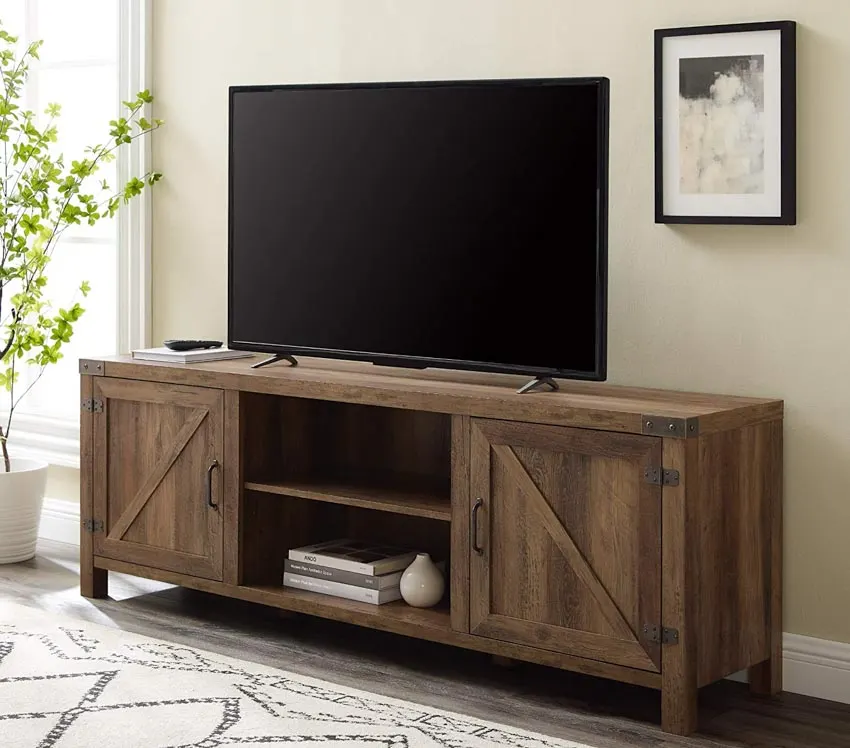 See this farmhouse TV stand at Amazon [sponsored link]
Farmhouse-style TV stands value functionality, simplicity, and earthy warmth. Although the farmhouse style is impacted by countryside design, it also includes modern settings, resulting in a warm and beautiful appearance. If you have a farmhouse-style living room, this TV stand material would be the best choice.
How Do I Choose a TV Stand?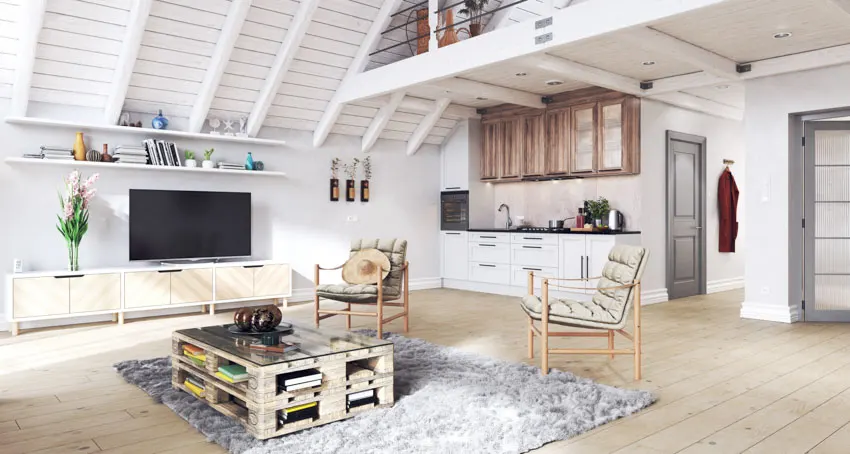 Select an Appropriate Viewing Height: Raising and adjusting your neck at odd angles for hours on end would be a cause for pain, hence your TV stand must situate the screen at eye level.
You have to measure your eye level while seated to ensure the center part of the TV is not too much over your field of vision. You can try purchasing a TV stand with a bracket that allows you to adjust and customize the display height as needed.
Ensure that the Size and Width of Your TV are Well-Coordinated: If you have decided to bring into your home a 40- or 50-inch TV for cinema-quality watching, you have to take into account how much wall or floor space you will need to make room for an extra-wide screen.
When space is available, search for TV consoles that are broader than your display to avoid excessive overhanging, particularly if your TV is in the center of the space. See some living room TV arrangement ideas here.

Even though a flat-screen TV generally contains a base for balanced weight distribution, if the TV stand is excessively small, you are at risk of collapsing your display. You must also ensure that the stand can withstand the weight of your TV.

Match the Room Design: Managing a small or oddly shaped space does not imply you need to renounce your ideal TV and viewing quality. When the available area for your TV does not easily match up with your seats, you can select a swivel TV stand to achieve your best viewing position.
Furthermore, a corner TV stand allows you to put a large display in a small space, whereas a wall-mount TV stand allows you to make more room next to your seating for simpler mobility and entertainment. Even if you put the TV without a stand, a wall console would be essential for increasing storage space in the room.
Pick the TV Stand Style that Goes with Your Preferences: TV stands come in a range of aesthetic components, such as tiered shelving, curved bases, and geometric designs.
Combining styles contributes to mismatched décor, thus stay with TV stand styles that complement your existing style. The minimalist atmosphere of a contemporary environment is captured by simple architectural lines and exposed shelving.
To make the space appear brighter and more expansive, consider pale neutrals, white, or grays. Contemporary décor features dark solids and crisp lines, but elaborately stained woods, larger frames, and ornate accents accentuate the grandeur of many classic spaces.
Choose the Most Ideal Material: Wood, MDF board, and metal are all long-lasting materials, and since wood TV stands are relatively weighty, they frequently stay stable. Numerous glass TV stands nowadays are also sturdy as they normally include metal brackets for strength.
However, if you wish to keep them pristine and devoid of fractures, it might be better to place glass units in low-traffic areas. Nonetheless, you can review the different types of TV stand materials aforementioned to see what is the best for your living room.
Keep the TV Stand Clutter-Free: One of the greatest ways to highlight your TV is to keep your TV stand devoid of clutter and disorganized wires.Read more about decorating around a TV here.

You can consider purchasing a TV stand with extra storage to store media or publications and search for models with a large surface area if you want to feature complementing decorations.
How To Choose TV Stand Size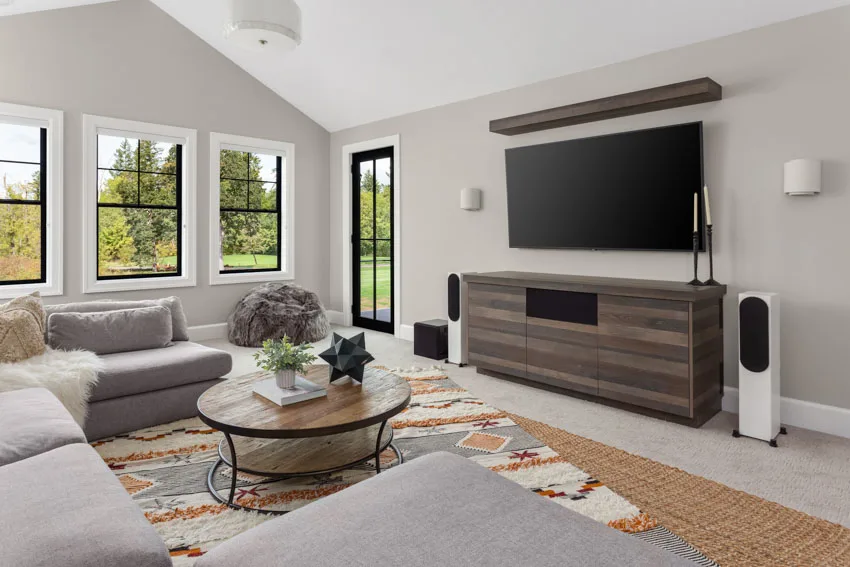 Here we share the different tips that will help you choose the right TV stand size.
How Big Should My TV Stand Be?
• We suggest a stand that is at least 57 inches in width for a 65-inch TV. If you wish to add decorations to the surface of the TV stand, take into account going slightly larger. However, if you do not have a lot of spare space in your lounge room, this size will suffice.
• Medium and large-sized stands will accommodate a 55-inch TV, so the size you choose will be determined by the amount of floor space you have available. A 55-inch TV, nevertheless, will fit perfectly on an 80-inch TV stand.
• A mid-sized stand would be ideal for a 43-inch TV. With a width of 57 inches, this set seems ideally proportioned and allows for ample space on either side of the TV for a few modest accent pieces, remote placing, etc.
• If your TV is not the center focus of your living room, a relatively small screen, such as a 32-inch TV, may be appropriate. A 32-inch TV will fit practically any 40-inch-wide or higher stand. Even with the TV stand's compact size, you will still have more than enough room to work with.
How High Should A TV Stand Be?
The standard height of a TV stand is around 40 to 43 inches; however, the ideal position is determined by the height of your couch or armchairs.
How To Measure For A TV Stand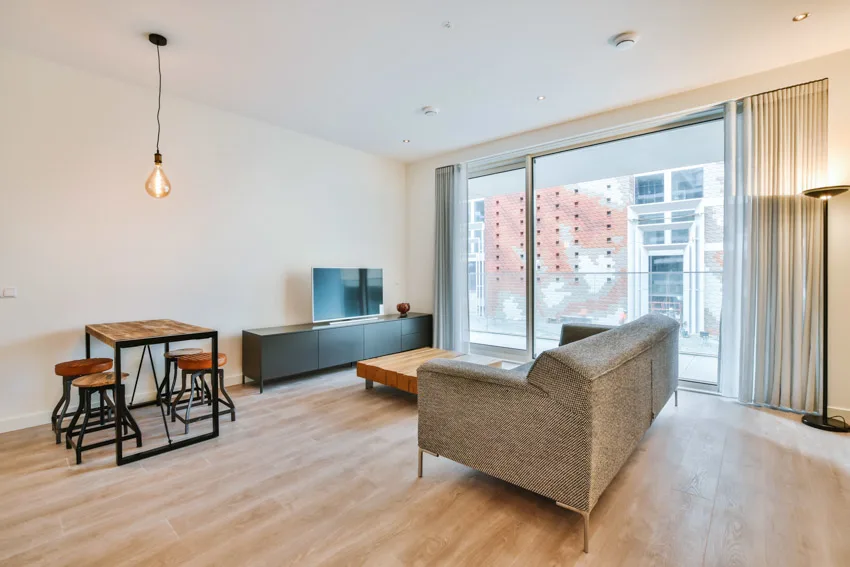 To determine the proper TV stand dimensions, you have to measure the distance between the topmost left and bottommost right corners of your TV. TV stands are normally sold in the largest TV size they can handle, which is defined by that diagonal measurement.
When measuring for a corner TV stand, you have to position the tape measure's front extremity in the corner and determine the distance from the corner to the first obstruction on 1 wall side.
Do the very same procedure with the intersecting wall. Identify which wall has the least amount of working space before encountering an obstruction.
Is It Okay if TV Is Bigger than Stand?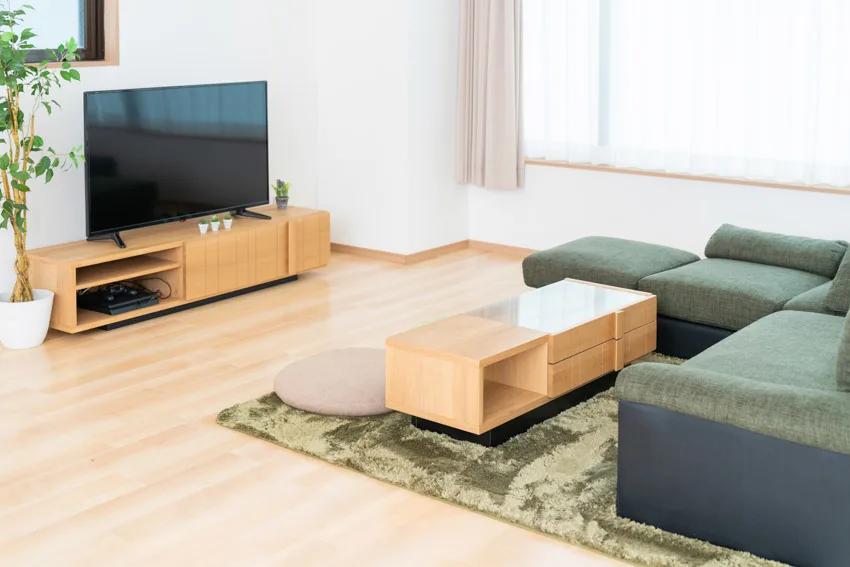 Generally speaking, no. It is indeed risky in terms of stability. A TV that is larger than the stand would not be a smart idea. It might be possible to execute, but the general guideline when it comes to these things is to have a wider TV stand. It will properly support the weight of the TV while looking eye-pleasing and not awkward.
Best Type Of Wood For TV Stand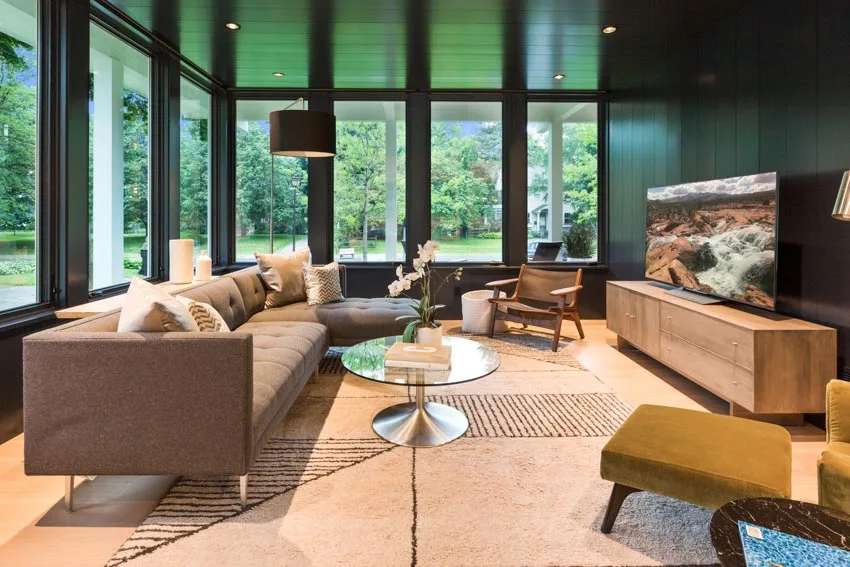 Arguably, mahogany is the best wood for a TV stand, particularly in terms of stability, durability, and elegance. Mahogany wood is exceedingly durable, massive, and sturdy, with rich, red-brown color and a distorted yet very appealing grain.
Mahogany wood is one of the world's most valuable and long-lasting woods, and it is mostly used to make high-class furniture.
See more related content in our article about TV dimensions on this page.